Aliexpress Shipping Time: How Long Does It Take to Ship?
While buying products via AliExpress, it is so normal that buyers raise questions about how long it takes for their orders to arrive or why they have not received the products ordered yet. When it comes to entrepreneurs, they get confused to realize that selling products from AliExpress becomes more challenging when the shipping time lasts for two or three weeks (even longer in some cases). The company of AliExpress cannot know the exact time your orders will come or decide if this situation is normal or not.
Having many years experiencing in this major and knowing the demand of getting to know more about Aliexpress shipping time, we would like to share with you some knowledge about which orders take longer, how long it takes for an AliExpress package to arrive. We will also explain some case studies to help you have a better understanding of all the facts demonstrating how long shipping takes. From that, you will find yourself the best shipping method.
Related articles
How do shipments work on Aliexpress?
Before getting to know about how long it takes for your AliExpress order to arrive, we should know how shipments usually work on AliExpress, which means the processing and shipping time in Aliexpress. Firstly, when you finish choosing the favorite items, adding them in your shopping cart, and clicking to the Pay button, your payment has been submitted. The seller of the shop you buy products from is high time is responsible for starting to prepare your order.
Usually, the app will tell you that it takes nine days for sellers to prepare the order, in which the preparing time will depend on the size of the package, the state of the items, or if the seller has had multiple sales lately. This may take from some hours to several days. The seller often prepares your order in much less time than 9 days, which is about 2-3 days, and your order is ready to be on its way new home. You can see how much time the seller asks to prepare the order before buying in the following picture (you can only see it in the app).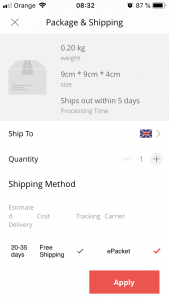 If the seller takes more than 9 days to prepare your order, after 9 days from when you click the Pay button, your order is still preparing. The seller does not send the order to customers; you will be sent your money back automatically via the beginning payment method that you used to buy products. However, don't worry because this case hardly happens. When the seller finishes preparing your order, you will receive a notification telling you that the package has been ready to be sent. Now, it's time the shipping time starts.
How long does Aliexpress take to Ship?
Similar to preparing time, the seller will also estimate the delivery time when you purchase from their shops. It is just an approximate number based on the shipping method you choose when paying. The actual time it takes for an AliExpress order to come to your home depends on multiple factors. We will mention the three most common factors of those right away in the following part.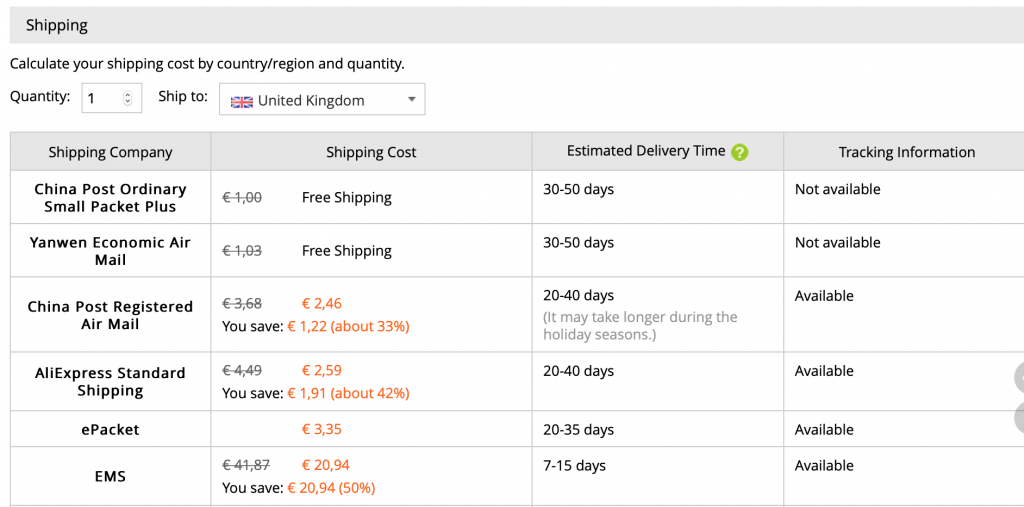 Shipping method
There are multiple methods of shipment in the market nowadays. However, they are divided into two main categories: those sent by private courier (such as DHL, seur, ups, FedEx, and more) and the second ones who are not sent by them. If you choose to have your package sent by private courier, your products will come to you in record time. As usual, most of the time, you need to pay for extra customs fees for that service.
On the other hand, if you choose any other shipment methods, the time it takes to ship your orders will vary according to shipping companies. In almost every country or state, the AliExpress team will have a negotiation with all local couriers of these nations to get deals that will allow your shipped packages to arrive much faster and earlier than usual. In general, it takes much less time to ship the package when you use registered mail instead of regular mail.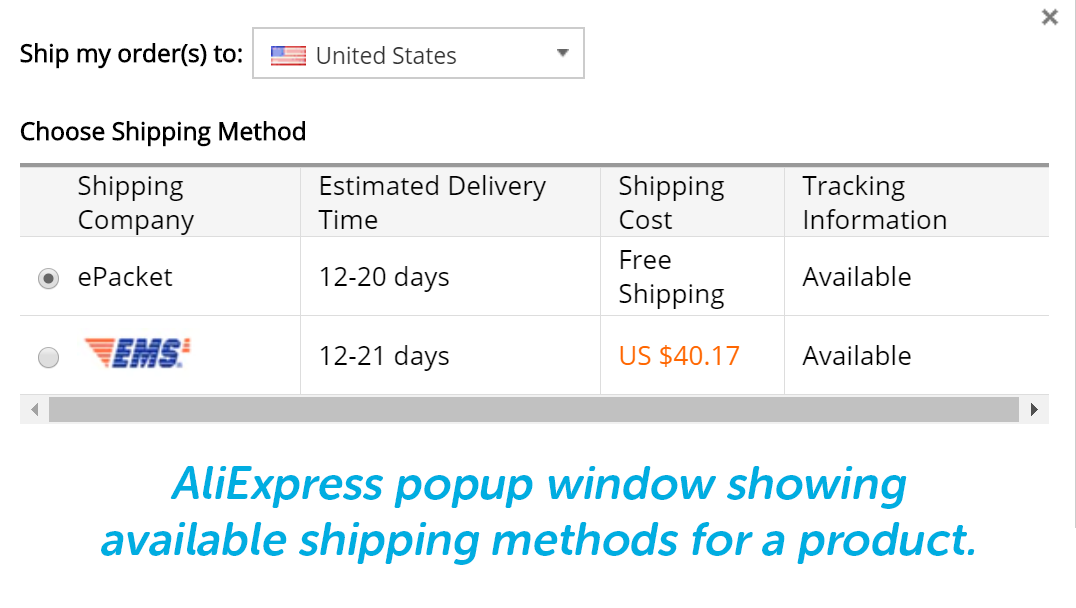 To understand more, we suggest you research and read more about it, let's check out the blog post Definite guide on shipping methods in AliExpress
Destination country
It is necessary to know that AliExpress is a global company, and it will ship items to almost every country in the world. However, if you are in countries where various international orders are being created or somewhere with an appropriate state postal service, the package shipped through AliExpress will arrive in a much faster way. Although it will typically take a package 3 weeks to 1 month to be shipped completely and arrive at the destination country, there are still cases when the buyers receive their orders after 60 days because the protection time is up to 60 days. The time shipping your package will base on the time of the year and the location of the country you are in. Usually, it is because of the weather related to the selling and destination country that the time will be longer than what the buyers expect. Therefore, buyers should be always ready to receive their items later than the time offered at first by the sellers.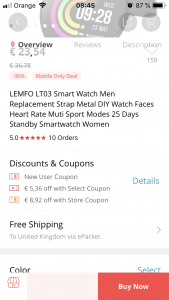 Time of year
One of the most common factors that impact the shipping time of your package through AliExpress is the time of the year. Your orders will often take longer than usual when more and more purchases are made. Therefore, in some events or periods of the year when people around the world tend to shop more, such as famous Black Friday month or Christmas, you will for sure receive your package after some months instead of some weeks. There are two rooted causes for this, which are that in the original country in which the shops selling the items you want are based, too many orders assemble quickly. The second reason is that when the order already steps in your country, the postal service, on the other hand, might be collapsed as well.
Except for some international events, we also need to consider China's national holidays, where the whole country, and some Asian nations, are celebrating. Imagine that when a large population of the biggest country in the world celebrates a holiday at the same time, the number of orders will be increasingly accumulated. For example, the Chinese New Year is held at the beginning of February or at the end of January, lasting for less than 1 month. If you are about to go shopping online at this time of year, your orders will take longer than usual.
Aliexpress shipping time in different methods (case study)
Now, let's find out more about shipping time in different methods by experiencing multiple AliExpress free shipping and AliExpress premium shipping. In the lists below, we would like to mention:
FedEx
ePacket
AliExpress Standard Shipping SunYou Economic Air Mail
The following image is showing the mix of items we will order as an example.
FedEx
The first method we will introduce is FedEx. FedEx is one of the AliExpress premium shipping methods that customers can choose from. As we mentioned in the previous part, when it comes to private couriers like FedEx, it will take a shorter period of time for your items to be sent. Moreover, it seems to provide you with one of the shortest Ecommerce shipping times. However, a short time will pay, of course. You also need to consider before choosing this shipping method since it unluckily comes at one of the highest costs. There are some cases when you are recommended to select FedEx despite its high cost.
In this example, we order the beads stone bracelet and have it shipped by FedEx. Though the sellers offer the estimation of the delivery time appearing on the website, which is up to more than two weeks (7-15 days), it had the fastest shipping time of only three days at last. And of course, the amount of money you have to pay for this quick shipping time is up to $23.84.
Epacket
The second shipping method, which is considered to be less expensive than FedEx is ePacket delivery. Being also one of the most famous AliExpress shipping solutions in the world. It has a more affordable AliExpress shipping cost, but it also can have its packages shipped to customers in a faster way than the traditional shipping methods that have the same price range. Sometimes, ePacket delivery takes you a small amount of money for shipping products, and in some cases, it costs you nothing instead.
It is not kidding! You can get the shipping services for free, sometimes based on the products, categories, and locations of you. Therefore, this free shipping will help save a few extra dollars for you, as an online merchant and your customers, of course. As a result, the less your customers have to pay for shipping, the more likely they will reach your store again, and the bigger your profit will probably be.
Using ePacket delivery, we decided to order and have a women's watch and bracelet shipped. When ePacket was chosen to order the women's watch, the watch was delivered and arrived at the destination country in 18 days while the AliExpress delivery time listed was estimated to be from 16 days to the maximum of 18$. Besides, ordering customers had to pay $4.00 for shipping costs.
When it comes to Bracelet set, which was also shipped by FedEx, the AliExpress delivery time was offered to be from a minimum of 16 days up to 26 days. However, the bracelet set came to its new house even earlier than the minimum guideline. According to the product page, the package was delivered in 15 days, 1 day earlier than the estimated time. What's more, ePacket costs buyers only $2.94 to have their items shipped.
AliExpress standard shipping
AliExpress standard shipping is what most people buying products online from AliExpress use to ship their packages. The key reason for this case is that AliExpress Standard Shipping is also an affordable shipping method. Moreover, in some cases, it is regarded as the cheapest shipping method among multiple solutions in the market provided by AliExpress. Most of the time, customers can get a free shipping plan on AliExpress if they tend to use AliExpress standard shipping.
In terms of our study, when we ordered the Buddha figurines and have them delivered by AliExpress Standard Shipping, the estimated shipping time range was up to a maximum of 22 days only. However, they arrived at the destination country in 26 days, which means the actual shipping time really beat the maximum time listed on the product page of AliExpress by four days. It is such a specific situation that the shipping method was automatically changed from the AliExpress Standard Shipping to another shipping solution, which is ePacket delivery, another shipping method. Undoubtedly, the shipping cost is free in this case. You can see the AliExpress shipping time range estimation for the small Buddha figurines in the product page through here.
The next ordered product, which is the heart necklace, showed a more positive potential. Also being shipped with the AliExpress Standard Shipping, the heart necklace we ordered came in just 16 days that is one day later than the minimum of the estimated time range. To be more specific, the predicted AliExpress delivery time listed on its product page on as per was from 15 days to 30 days. Nonetheless, you have to pay $4.05 for this quicker shipping time. You can see the estimation of the AliExpress shipping time range for the heart necklace in the product page through here.
An even quicker order came with the fake lashes, which are also a product we ordered and use AliExpress Standard Shipping as the seller's shipping method for it. Whereas the approximated AliExpress delivery time was predicted to be from 15 days to one month, the real delivery time it took to have the fake lashes shipped to us was only 13 days, which means it beat the earliest estimated time by even two days. Also, AliExpress Standard Shipping costs you $4.63 for such a fast shipping order. You can see the estimation of the AliExpress shipping time range for the product page's fake lashes through here.
The last item we ordered from AliExpress using AliExpress Standard Shipping as the shipping method of choice is the bowtie shoes. Allowing online customers to have a free shipping plan, which means we did not have to pay for the delivery cost, the package arrived after 22 days. On the bowtie shoes' product page, they estimated the shipping time range to last from 15 days to 30 days. The actual arriving time of the product was finally within that scope.
SunYou Economic AirMail
The last shipping method we would like to introduce is SunYou Economic AirMail. It turned out that SunYou Economic AirMail is one of the fasted delivery solutions with the shortest shipping time in this list of four methods.
The calendar keychain, one of the ordered products, was delivered with SunYou Economic Air Mail. The time range was estimated by AliExpress to be from 1 month to nearly 2 months (30-50 days). Surprisingly, this calendar keychain was on the way home in just 10 days. Moreover, it is AliExpress free shipping, so buyers do not need to pay anything for the company. The second item using SunYou Economic AirMail is the stickers. They were ordered with China Post but, at last, were shipped by SunYou Economic AirMail. Also, applying for AliExpress free shipping plan, it costs us 0 dollars for shipping costs. While the estimated time range was from 39 days to 2 months, the actual time the stickers were delivered was just in 10 days.
Why is Aliexpress standard shipping the best choice?
We have just recommended the most common shipping methods that users trust in the globe. However, it does not mean that what we suggest matches your demand. The best shipping solution (or the most suitable one) for you will be based on the order's purpose. In case you are going to deliver items to yourself to do a speed-up quality assurance test or ordering a sample, FedEx will be an ideal option since it helps ship your products in a quick way. On the other hand, the receivers are your customers and online buyers instead of yourself; you should consider AliExpress Standard Shipping and ePacket, which will provide you with consistently fast shipping service. The rest, which is SunYou Economic AirMail can probably be another good alternative though the estimated shipping times are a little drawn-out. The products shipped via SunYou Economic AirMail will be delivered much faster than estimation, but the sample size was so small that it cannot be conclusive.
Now, we will show you some typical reasons why AliExpress standard shipping is the best choice for entrepreneurs and customers.
AliExpress standard shipping offers the best pricing
The best pricing is usually provided by AliExpress instead of Amazon, as we always suppose. The origin of the products is from China, and most AliExpress providers are Chinese, so it will be easy to understand that they often offer the best prices on the most well-known eCommerce platform in their nation. Therefore, online merchants will then be capable of giving affordable prices to their buyers, especially those looking forward to having a great deal.
What's more, the cheaper the deal customers get, the more patient they will be while waiting for the product and likely not to get angry to cancel the order. When you can already offer a good deal, what you need to care for now is how to set realistic expectations for your buyers. To sum up, it is highly recommended you should include AliExpress standard shipping times on your product page and your advertisement to set the right expectations for your potential customers.
Most online stores don't offer express shipping
Using AliExpress shipping, some entrepreneurs often worry about the Amazon shipping method, which is called Amazon's two-day shipping. However, remember that multiple online stores in the world do not offer anywhere near to two-day shipping. In other words, most stores, even some most popular ones, will not provide express shipping.
For example, Wish is one reputable brand that millions of people rely on and has hundreds of thousands of followers ship products in two to three weeks. Amazon is such an international company with over 25 years working, so don't ever compare between Amazon and your brand new business. Shipping is obviously very costly, and there will be no direct competitions. Therefore, one piece of advice for you is focusing on promoting the appropriate products to the right potential customers at the right time and work hard to develop a long-term relationship with them.
Customers want the product
The next reason why the AliExpress shipping method is the best option is based on the buying attitude of customers. When a buyer searches the web and sees the product on your website first, they will arise for themself a desire to own the products and then decide to purchase from you instead of Amazon. When you want something a lot, you will obviously be willing to wait for it. Great products come to those who really desire to have it.
Customers prefer free shipping
Shipping cost is an indispensable part of an online order from another place different from your country. Some people will be ready to pay for this cost. However, most customers will decide not to buy any products and leave their cart if a free shipping plan is not offered. Shipping will be normally has a price attached to it, it is necessary you add those costs into your product. However, the cheaper the shipping cost is, the slower the delivery process will be. It is obvious that free shipping is usually the slowest shipping method. Therefore AliExpress free shipping is the best worth your time waiting.
Moreover, AliExpress standard shipping is also suitable for entrepreneurs because it focuses on the most critical factor related to managing and growing a business: Money. When you decide to pay for AliExpress premium shipping to go up against Amazon, it will probably eat into your margins and make you earn less money or even lose profit. On the other hand, if you choose to offer AliExpress free shipping plan, you will have a chance to increase your product price instead while evaluating your product at retail value to add the shipping costs to your product purchasing cost.
As you can see, AliExpress standard shipping is an ideal option for building up a long-term business. Comparing this pricing plan to other types of drop shipping like print on demand, the shipping costs adding to the product selling price are so high that it makes your margins turn into smaller. As a result, it tends to let you price above retail price, which means you will get fewer sales.
Further readings
Final words
Choosing whether to use AliExpress Standard Shipping or not depends on you as well as your business size. In general, AliExpress will let you run a profitable business in the long run because the shipping costs will not make you lose money. The case study we mentioned in the previous part explains each shipping method's pros and cons to give you a better understanding of AliExpress shipping time.
The post above has shown you all things you need to know about AliExpress shipping time. Comment below and share this article if you find it helpful. Thank you!
New Posts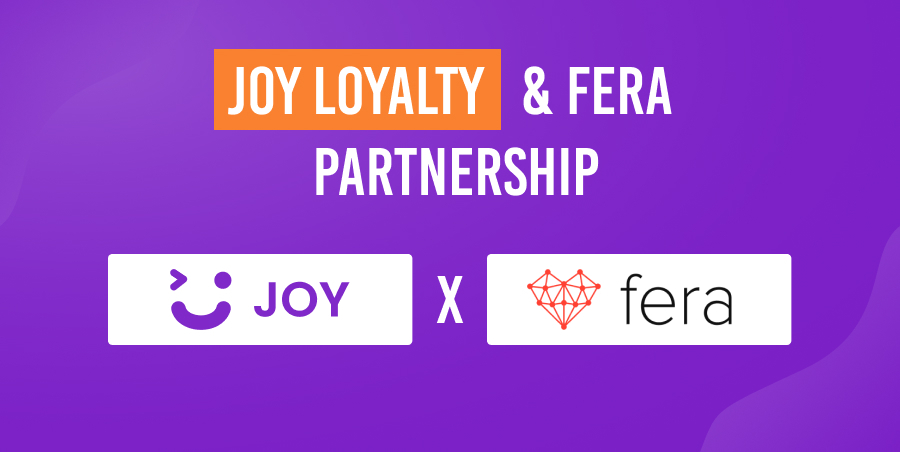 Subscribe
Stay in the know
Get special offers on the latest news from AVADA.
40k
subscribers has been joined!
Earn $10 in reward now!