How to Cancel an Order on AliExpress
It's not uncommon that a customer pays for an order, but after a few seconds, for some reason, changes their mind and wants to cancel it. In that case, what can you do to cancel the order so that your supplier won't ship it out.
The good news is AliExpress reserves 7 business days for dropshipping providers to ship the parcel to your customers. During this time, you can still cancel the order and get your money back without facing too many difficulties.
Therefore, in this article, I will address how you can cancel an order on Aliexpress.
Considering why you want to cancel the order?
Before you move on to how to cancel the order, please make it clear to yourself about why you want to cancel that order first, as well as be sure you're being reasonable.
It's not rare that Aliexpress sellers have to refund because the buyers are not happy with the product they received. However, I have heard of stories where some buyers request refunds while the product shipped out is in great condition. Then the seller still has to settle with a partial refund to please the buyer and prevent them from leaving a bad review.
So, be mindful about order cancellation. If your customers change their mind a few seconds after placing the order and want to cancel it, you can contact the provider immediately to do so, and they will be very happy to cancel it for you. But, if your customers want to cancel the order after a few days when the product has already been shipped out, please do not request a cancellation, because there's no way the provider can take the shipment back.
Related Posts:
Common Causes of Refunds/Returns
There are a couple of common causes of refunds and returns, and they are acceptable for almost every online seller.
The product received does not match the online description:
If the customer receives a product that does not look like how it was described, they will return it. This is a real problem. The reason usually is that the supplier was mindless and shipped a defective product. However, if you edited the description of the product yourself and created false expectations, then you're at fault.
The product received is damaged:
This is not uncommon because Aliexpress products are shipped all the way from China to your country, so damage can easily happen along the way. Good suppliers will make extra efforts to package the product carefully to minimize the risk of damage.
The product does not fit properly (they might order the wrong size):
Ordering the wrong size is another common reason for returns. This often happens with clothing and footwear dropshipping stores. Here, either you or the supplier are at fault, but it's the customer. However, your customer will truly appreciate it if you tolerate their mistake and help them with their mistake order. You should check with your supplier and see what they often do with mistake orders.
How to cancel an order on Aliexpress?
Before we dive into the details, it's worth keeping in mind that your customer can only cancel right away if the order is not shipped out yet.
In the case when you have already paid for the order on AliExpress, the cancellation request will need to be approved by your supplier first. If an agreement is settled, the supplier won't ship out the order, and the payment will be returned to your customer. You will receive their refund within 3-15 business days. In case the supplier has shipped out the order, there's no way to cancel, and your customer has to take the order.
Step 1: Cancel order from your supplier
Firstly, go to AliExpress.com and open My Orders page.
Next, find the order you want to cancel and click on the Cancel Order button next to it.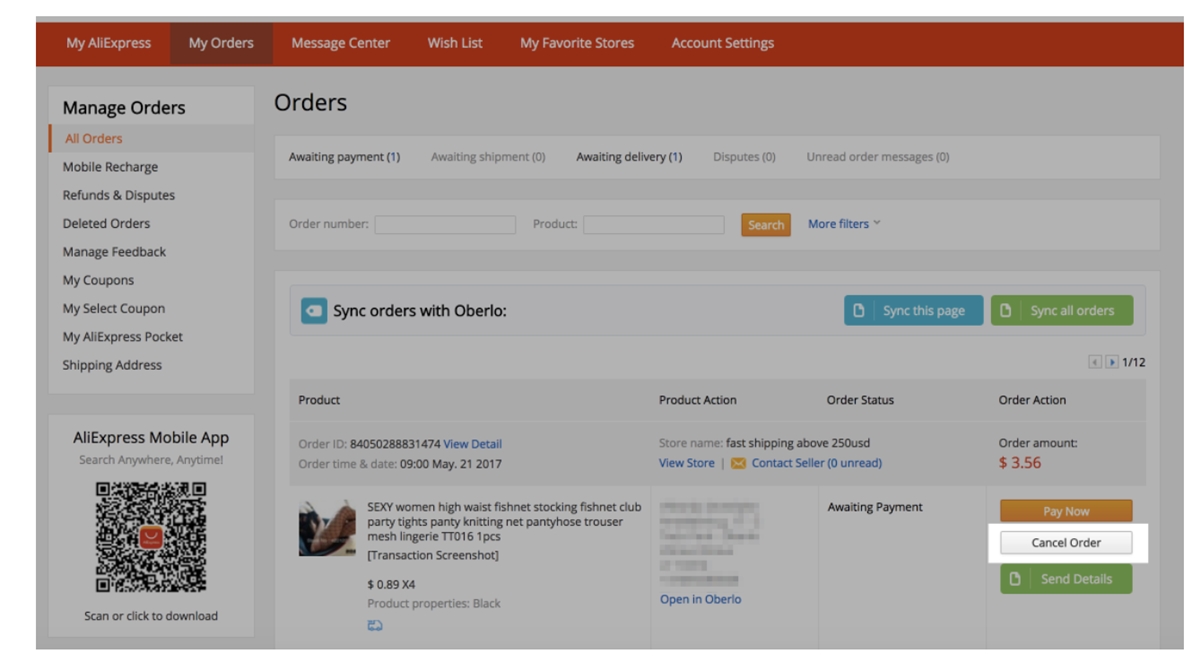 A small pop- up will appear. In the pop-up dialog, confirm the cancellation request.
If your supplier accepts the request, the transaction will be automatically canceled, and they won't ship out the order.
After that, you will receive an email notification about your order cancellation.
You should also reach out to the supplier and notify them of the order cancellation immediately to prevent them from shipping the order in case they miss your request.
Step 2: Cancel order in the Shopify admin:
After canceling the order from your supplier, you need to cancel that order in your Shopify admin. Here is how you do it:
Go to your Shopify admin, and head to the Orders page.
Select the order you want to cancel.
Click the More actions button and then click the Cancel order button.

In the pop-up window, modify the refund amount if needed and choose a reason for canceling the order.
Note: You can only cancel orders whose fulfillment status is Unfulfilled. If the status of the order is Fulfilled or Fulfillment requested, you can only choose the Refund items option.

What to do when the seller refuses to issue a refund?
There might be times when the supplier refuses to cancel the order. The reason is that they might ship out the order, or simply do not want to lose that sale.
In the first scenario, if the seller has actually shipped out the package, you can no longer cancel the order because you send your request too late. However, you can verify that by asking for the tracking number for the parcel within 5 business days. If they can provide it for you, what they are telling you is the truth.
In the second scenario, if the supplier has not shipped out the order but just doesn't want to lose the sale, they won't be able to provide you with a tracking number. You, then, can open a dispute and ask for a refund. Aliexpress will jump in and track all of the information, if the package is shipped out is after the day you filed the dispute, you will get your money back.
Tips for managing refunds and returns
#1: Understand your supplier's return and refund policies:
If you offer your customers refunds in cases where your suppliers don't, you will have to pay for those refunds out of your own pocket. So, it's important to understand your supplier's return and refund policies so that you can set up policies for your customers.
Here are some necessary pieces of information that you should get:
How long after the sale will your supplier accept cancellation?
In which cases does your supplier allow for returns?
How long does it take to resolve refunds/returns?
Do they have a clear guideline for refunds/returns?
etc.
#2: Create your own refund and return policies:
After knowing clearly what your supplier's refund/return policies are, now it's time to create your own policies. The first thing to keep in mind is your policies need to be as similar to your supplier's as possible so that you can minimize your loss.
On your website, create a separate page dedicated to your refunds/returns policies, and answer any questions that your customer might have related to these aspects.
Here are a few things that you need to keep in mind when creating refund and return policies:
Make it clear about the reasons for return that you will accept. For example, you can put: "All sales are final, apart from when the product received is wrong or damaged." into the policies.
And if you don't have a physical store, don't provide any return address on your policy page, you just need to ask the customer to contact you via email to receive further instructions.
If you want your customers to return by shipping the product to you, you can get a P.O Box address and use it for returns.
Final words
It's not hard to cancel an order on Aliexpress, but your customer needs to send their cancellation request at the right time. Otherwise, you can no longer cancel the order, and the items will still be shipped to the customers even if you have refunded them.
Hope this article can provide you necessary information on how to Cancel an Order on AliExpress. If you have any further questions about this topic, please leave a comment below.
Further Reading:
---
CEO and Founder of Avada. Pursueing a simple and healthy lifestyle. A friend, a husband and a dad of four children, a trainer and an influencer wannabe. He is a big fan of sports and travel, also.
New Posts
Stay in the know
Get special offers on the latest news from AVADA.