How does Shopify Work with Amazon
Last updated: December 01, 2023
Shopify is not so popular for any online merchants as the most effective eCommerce software to sell everything. Shopify is effective for all multiple-purposes shops with the custom design. The Shopify store can be your own by customizing all the features in the shops.
Considered as the leading commerce platform, Amazon which has millions of visitors a day will be the ideal platform for anyone who wants to boost their business. These numerous benefits that Amazon brings you all the key functionalities to make your business better. In addition, there are many potential customers in this marketplace like massive exposure, fulfillment services, and more.
It is possible now for these entrepreneurs to take advantage of both two eCommerce by Shopify Amazon integration. This article How does Shopify Work with Amazon with helpful guidelines will make your business on Shopify have more revenue.
About Shopify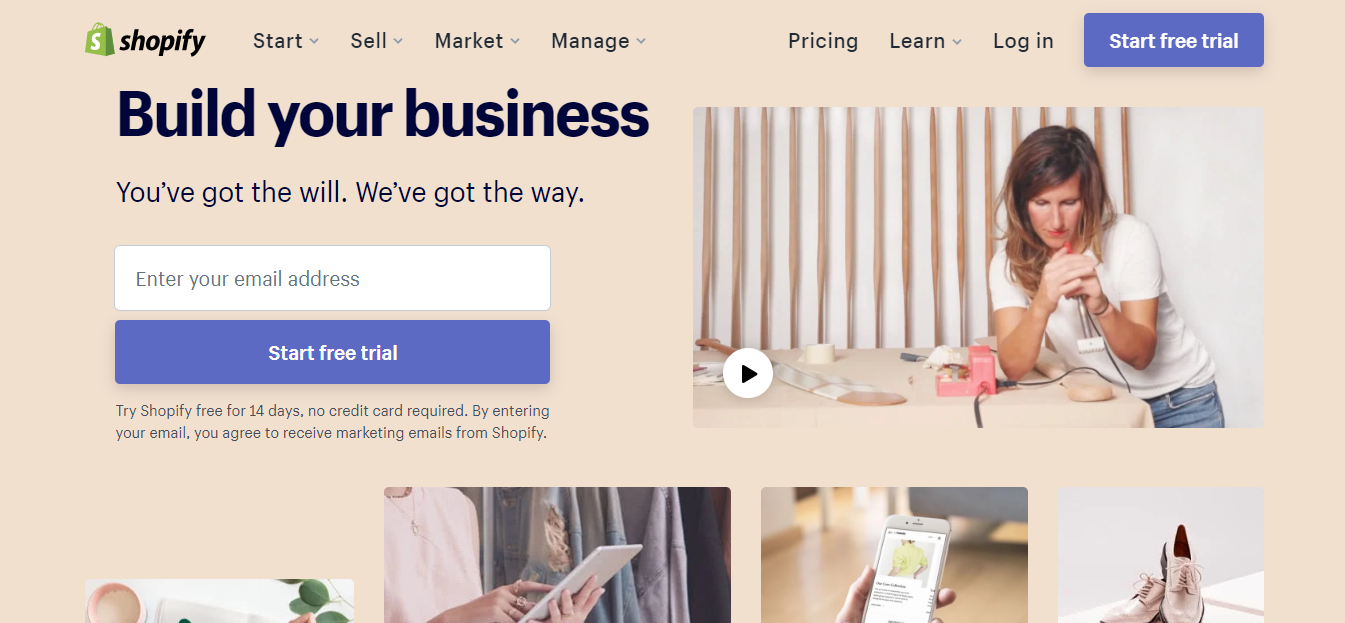 For more than ten-year development, Shopify was founded by Tobi and his company, who burst an idea to sell the online snowboard platform called Snowdevil. This idea has ultimately been developed as Shopify- one of the most useful and popular commerce platforms. Now any online sellers can create their own online shops on Shopify to sell any products. This online market allows the online sellers not only sell online or on social media but also in person with Shopify POS.
Shopify is also highly customizable, which allows the Shopify store owners to design their own shops with multiple tools. Today with the rising of online shopping, Shopify has nearly a million shops and the total revenue can reach $100 billion until now. Especially, it does not require online sellers to enable coding or have technical knowledge. Therefore, it is easy for anyone to set up a Shopify store.
What is Amazon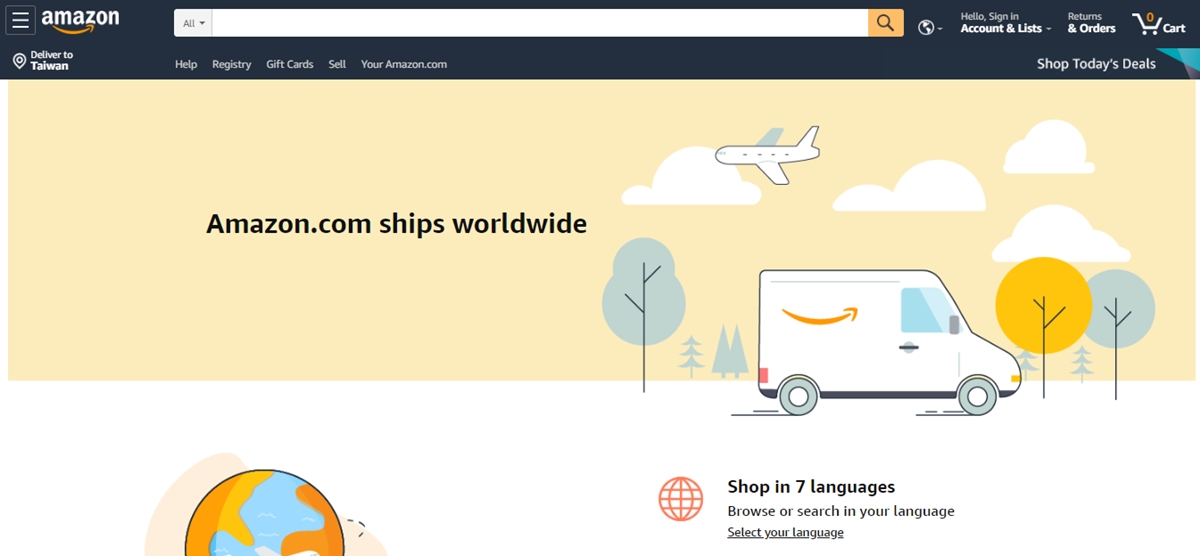 The booming of Amazon as a top eCommerce merchant in online shopping. This is also considered as a tool for online sellers to launch their products around the world. Every day there are millions of visitors coming to this platform to search about their wanted items, which is the reason why Amazon can be the best place to approach more customers. The advice for online sellers to sell anything on Amazon is creating both personal or professional accounts.
Besides increasing the profits as well as the number of purchased products, merchants can utilize multiple functionalities from this marketplace such as:
As the eCommerce marketplaces, it is easy for Amazon users can reach to any targeted market that you want. Recently, there are 14 Amazon marketplaces that shop owners can easily reach to all customers they want.
Comparison of the benefits of products:
Amazon also allows shoppers to have more options by comparing different types of products and prices. Therefore, the customers are satisfied by discovering the products as well as your shops.
The shops on Amazon can have more than 30 types of items. By diversifying their products, shop owners can easily have more and more customers as well as more profit.
Having a lot of loyal customers:
Amazon is a place for online merchants to approach millions of visitors. This marketplace brings not only a huge amount of customers but also their loyalty. They trusted the Amazon sellers and are highly willing to buy products from them.
By optimizing the A9 algorithm, Amazon easily boosts conversions of their pages as well as your shop's conversions.
Implementation of Affiliate Marketing:
This giant has invested a lot for Amazon Affiliates which is considered as is the most popular affiliate marketing.
More Growth Opportunities:
In the future, Amazon has continually developed its platform to optimize business opportunities for online sellers.
The bank account of sellers will be settled and their revenue would be directly deposited to their bank accounts. The regular period is from 1 to 2 weeks.
Read our guide:
How does Shopify work with Amazon
The integration is necessary for online merchants to earn profit from both the most popular eCommerce platforms. Keep reading this article to know more about how Shopify works with Amazon to optimize the revenue.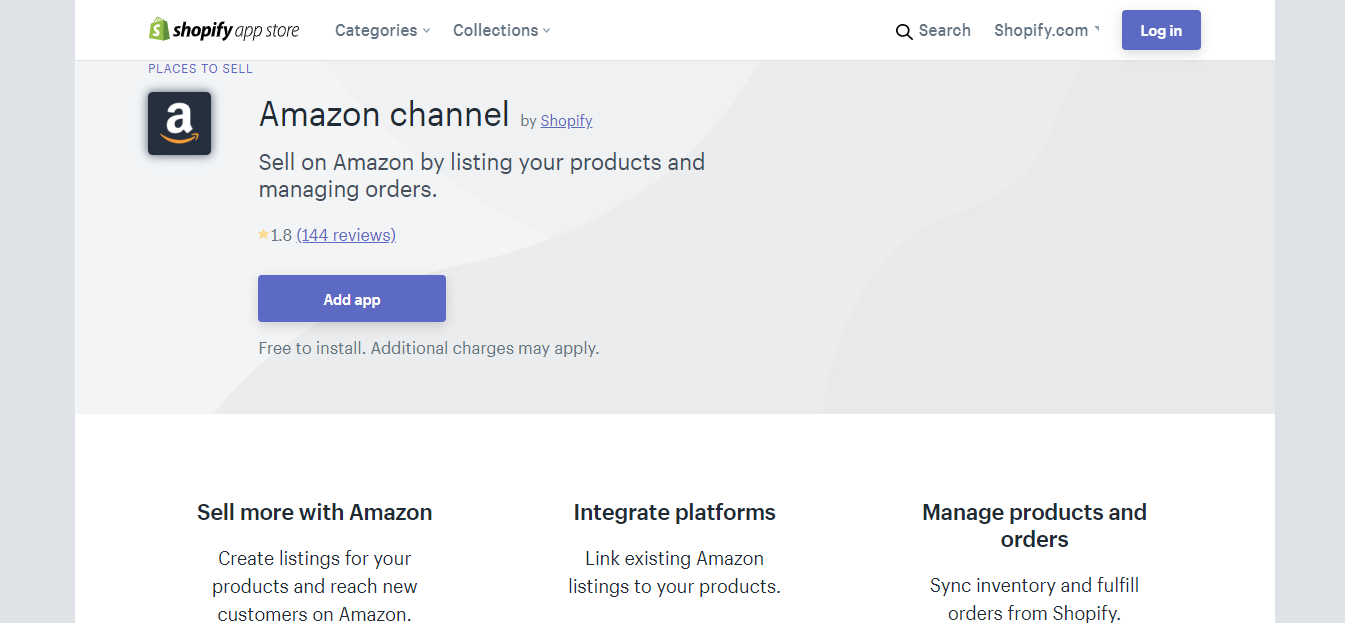 How do Shopify retailers benefit from Amazon?
Owning a Shopify shop is simple for anyone. By creating a shop on this eCommerce platform, they can sell products without technical requirements. However, there are some limitations such as the process of acquiring visitors and optimize conversion takes a lot of time as well as efforts. Amazon will be the best solution to lead its shoppers to reach the products by their campaign.
Especially when you are a new beginner on online shopping, Amazon is a helpful site because it has millions of visitors. Although the shop owners did not have little marketing knowledge and conversion optimization, they still can approach a lot of customers and sell products for them. Moreover, even if they did not know about your shops, they can easily know about your products on Amazon Marketplace by searching bar about expected products or similar ones. Therefore, the more product categories you have on Amazon, the better revenue that you can earn.
In addition, Amazon provides an affiliate program that allows marketing the products deeper and larger. The retailers on Amazon can get a specific commission amount. As long as their products are on the top of Amazon's search, their profit keeps growing Shopify to Amazon in the long term.
Shopify Amazon Integration requirements
By integrating Shopify with Amazon, the products on Shopify stores will be listed on the world's largest marketplace. Moreover, they will earn the next-level brand visibility. Let's read below requirements to boost the Shopify products on Amazon marketplaces.
Depending on the choice of tools to integrate, this process can be done without complexity. The good tool will boost efficiency and effectiveness. The ExportFeed can be one of the choices to help you streamline this process. Or if you want to integrate manually, you should be the only one who can manage your integration. But firstly, your shops should follow these below requirements:
There are two types of seller accounts offered by Amazon such as the Individual seller account and the Professional Seller Account. The differences are the functionalities as well as the charging cost. For example, a professional seller account costs $39.99 per month including a subscription fee and other selling fees depending on the category.
Complete Information on Shopify store:
A store on Shopify needs to provides required information about its manufacturer brand, color, size, and other product attributes. More importantly, the online sellers are required to have the UPC/EAN or ASIN codes to seamless Amazon integration. In case that you do not have them, the GTIN exemption can be another option. Furthermore, the stock levels presented need to be correct values in your Shopify.
There is a tool to grab information and sync in both marketplaces:
In the Shopify App Store, there is an effective tool Shopify Amazon App. When you finish installing this app, it is easy to sync your products and perform complex feed operations.
How to sell on Amazon using Shopify?
You have a Shopify shop, but you also want to launch your shop on a great platform like Amazon because it has multiple benefits in research, expansion and acquisition strategies, etc. The online store owners can show their brands and offer the best customer experiences. In addition, they enable expanding their market besides Shopify. It allows you to do even more. Therefore, selling on Amazon can reach new shoppers and boost sales.
The Shopify Amazon integration process can help retailers grow their sales. Reading those nine steps below, the Shopify store owners will know how to sell on Amazon using Shopify.
Step 1: Prepare requirements for your store
First of all, the online sellers need to fulfill all the required things to start selling on Amazon via the Shopify stores. These requirements such as:
Having an active Shopify account The sold products need to be fit into a supported category
Listing their prices in USD or CAD.
Shipping the products by using Fulfillment by Amazon.
Step 2: Create professional seller account on Amazon
As a free channel, it is easy for anyone to create an account in this marketplace. But among one of two account types, shop owners need to have a Professional Seller account on Amazon . This account that needs you to pay Amazon $39.99 per month and a referral fee depending on the product's categories. The Amazon Professional Seller account will be supported by a lot of functionalities.
Click to visit Amazon Services and then choose Start Selling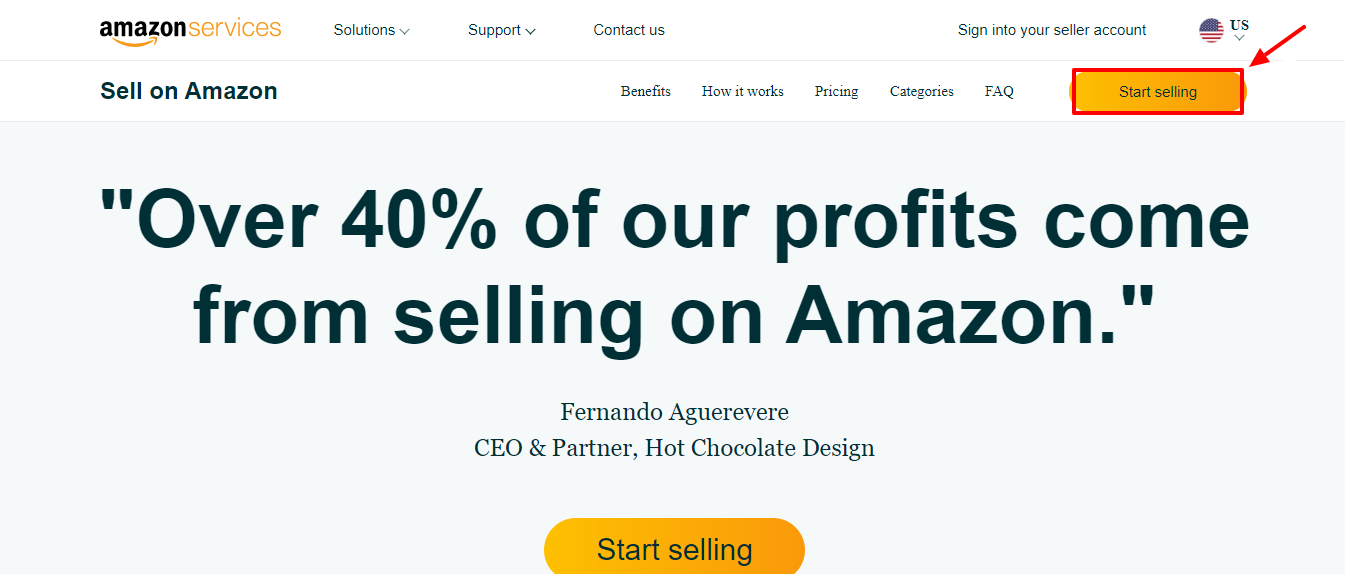 Next, fill in your name, email address, and choose a password to create your account.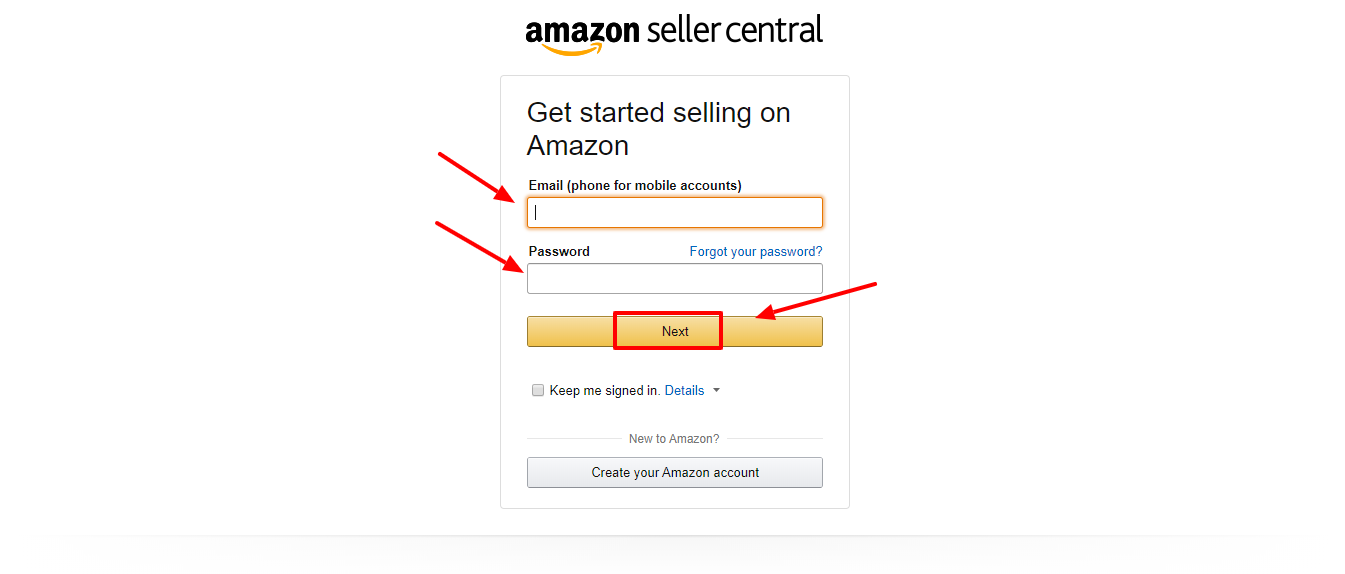 After the above step, the shop owners sign up successfully their accounts. However, they need to continue with five more steps on the Seller agreement to set up their accounts. Firstly, they have to fill these following information:
Business name
Business address
Phone number
Credit card (the fee will be charged monthly)
Bank account (the sales will be deposited into it)
Taxpayer Identification Number (according to US taxation only)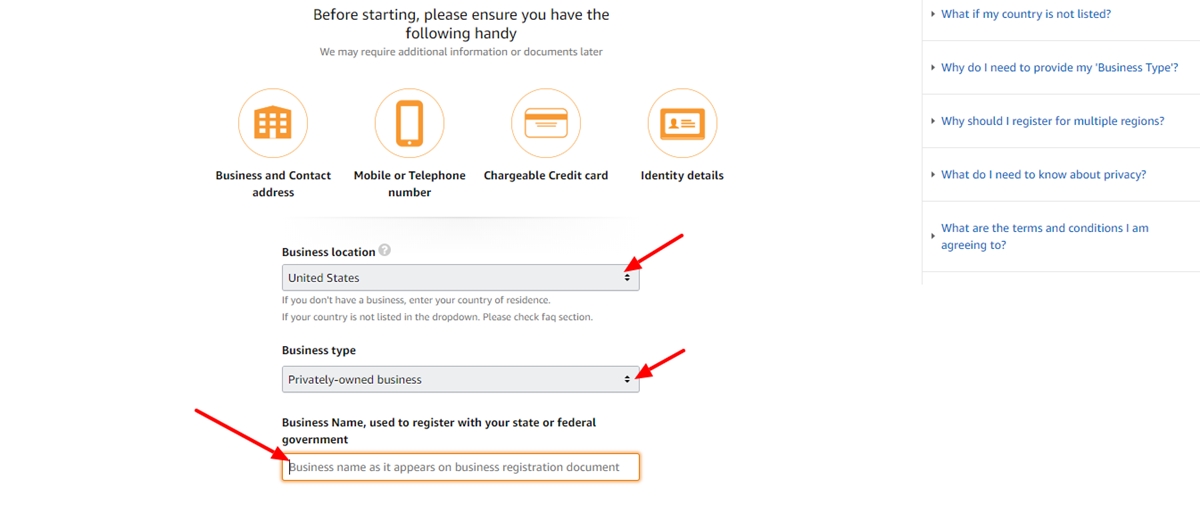 Step 3: Category Approval
After creating a Professional Seller account, the online sellers need to ensure their product's categories fit into Amazon's required approval. When all of the required approval is met, it is time to apply.
Step 4: Integrate Amazon with your Shopify store
When you have Amazon Professional Sellers account, you can continue by adding the Amazon Sales Channel to your Shopify.
On the Shopify's admin dashboard, the online merchants click + button which is next to the Sales Channels button.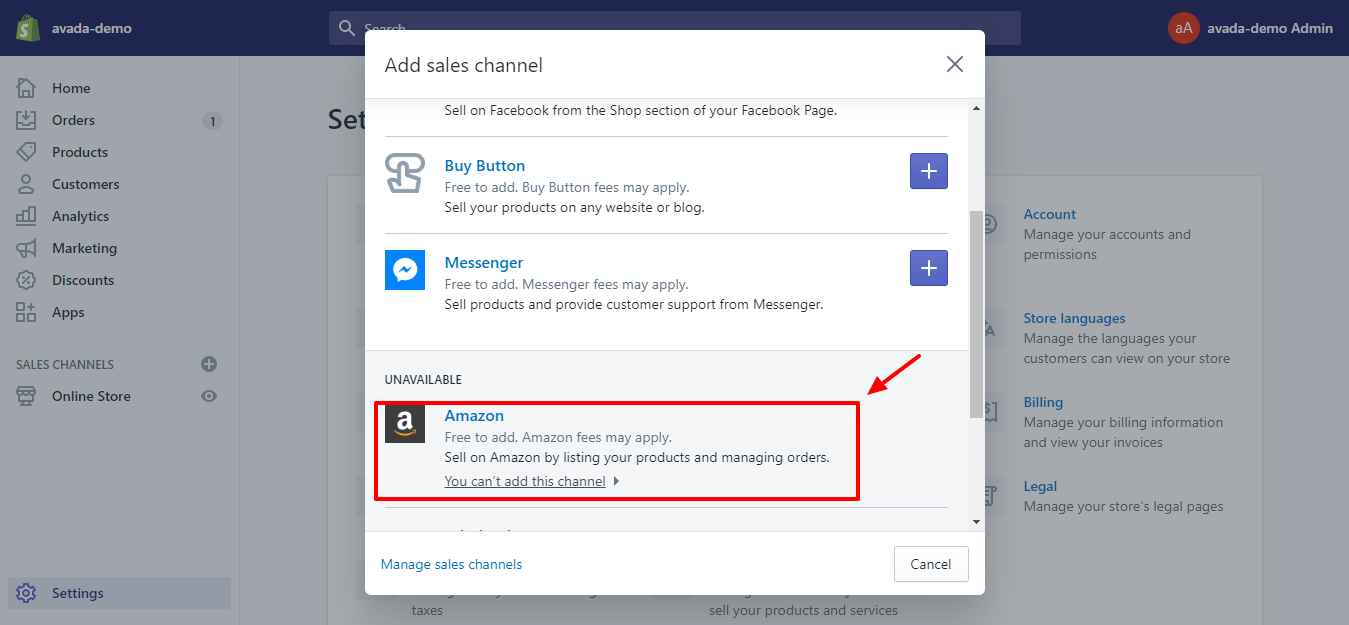 After that, in the Add sales channel section, you will see the Amazon sign and then choose Learn more. Then the Amazon detail page will appear with the information of this marketplace.
To confirm, click Add channel.
At the same time, the online sellers come back to the Amazon page, and they will click Connect to Amazon to link Amazon with Shopify stores.
As a result, this process allows the users to share information between your Shopify and Amazon Seller Central accounts. After finishing, it will be redirected back to Shopify.
Step 5: Provide UPCs for your products
The product identifier is a UPC that is required for most categories. It is used to create new product pages and offer listings on the Amazon website. This tool is popular for all online sellers.
When your shop's products do not have a UPC, EAN, or ISBN, there is an error message. Since it is high time to add the product's identifier to create a new product detail page on Amazon's catalog, another option is completing your inventory offering on Amazon.com.
Reselling products means that the shop owners can have available UPCs that they can use. But you can buy the need to buy a UPC from GS1 is the official supplier. If you want to have a lower cost, the resellers will be the best for sellers.
Step 6: Create Amazon products listing on your Shopify store
When the online sellers start selling on Amazon, they should follow the rules as just adding a supported product category. If these products are supported, they can easily create Amazon products listing on the Shopify store.
Firstly, on Add channel section, the users choose Amazon to navigate to the Amazon sales channel that you have already installed.

Then, you click Create Listing. At this step, you need to choose the wanted product from your Shopify to list on Amazon. After that, the online sellers click Select product at the bottom.

Next, there are two options that online sellers need to choose one of two options based on the origin of products such as made by your own brand or you're reselling.

If the product is your own brand, just fill in the details to create your listing.

If you're reselling, it is essential to click Search to know whether any same product existed on Amazon. If it matches after searching, this product will be displayed as a list in the Amazon catalog with the most similar products. And then, the online merchants just need to click Select to create an Offer to sell the same product.

If your product doesn't match any of the search results, you can proceed with creating a new listing, even if you're reselling someone else's product.
It is noted that any option that online sellers proceed with, they all need to complete the product details. Finally, click Publish to finish creating a list.
Step 7: Claim Existing Amazon Listings
If this is not the first time your shop has been on Amazon, in your Shopify store, you can easily claim existing Amazon listings. Also, in case the expected products that you want to sell are not supported, just click to create listings on Amazon and come back to add them to your Shopify store. The Professional Sellers accounts will allow their existing Amazon listings to appear on their Amazon Listings page in Shopify.
To do this, the first step is choosing Link products.
After finding out the Amazon listing that the online sellers want to link, they can click Browse products. Then searching for the product they want to link. After choosing the appropriate product, it is easy to link to their Amazon listing, and variants are also necessary to be added.
Step 8: Inventory Tracking Policy
There are many options for online sellers to customize their inventory settings. That allows them to manually control their Amazon inventory when they have Amazon listing in Shopify.
In case that online sellers want to manage their Amazon inventory manually, it is necessary for them to set a specific quantity of inventory that is available for Amazon buyers. These number of inventory that will be automatically decreased when having purchases on Amazon. But online merchants have to replenish the inventory when they need to add more manually.
In contrast, if they want to use their Shopify store's inventory settings, there are three cases for each product.
Shopify will track inventory:
Shopify has the functionality to track the selected product's inventory, which is set Track inventory means that the online sellers can choose to track somen products. Moreover, the Amazon listing on Shopify will be automatically updated to match the total inventory in this platform.
Shopify will NOT track inventory:
This scenario happens when the inventory policy is set to Don't track inventory. Shopify store owners should ensure that their products can be purchased on Amazon in all cases.
The default number of inventory is 100 in their Amazon Seller Central; however, it does not appear in Shopify. Since the products with unlimited quantity are not supported, Amazon will set 100 as a placeholder. As a product is sold, it will be decreased, but this number 100 will be updated every 10 minutes.
Allow out-of-stock purchases:
If you've decided to make a product available to purchase even when the quantity runs out, then Shopify will make sure that your product can always be purchased on Amazon. The inventory number will be set to 100 in your Amazon Seller Central, but won't appear in Shopify.
Amazon doesn't support products with an unlimited quantity, so 100 acts as a placeholder. That quantity might decrease as you sell products, but will update to 100 every 10 minutes.
Step 9: Start Selling!
At this step, on the Orders page, all orders on Amazon will sync up automatically with Shopify. Moreover, the new orders on Shopify also appear in the orders list, which will be marked as Amazon. On the other hand, Shopify will syncs all orders which include products not listed through Shopify yet.
The order notification that the customers receive are from Amazon only, but online sellers will be informed by both Amazon and Shopify. However, unless the Shopify store owners fulfill their order through Shopify, the Shopify order will not be updated.
Shopify Amazon sales channel other checklists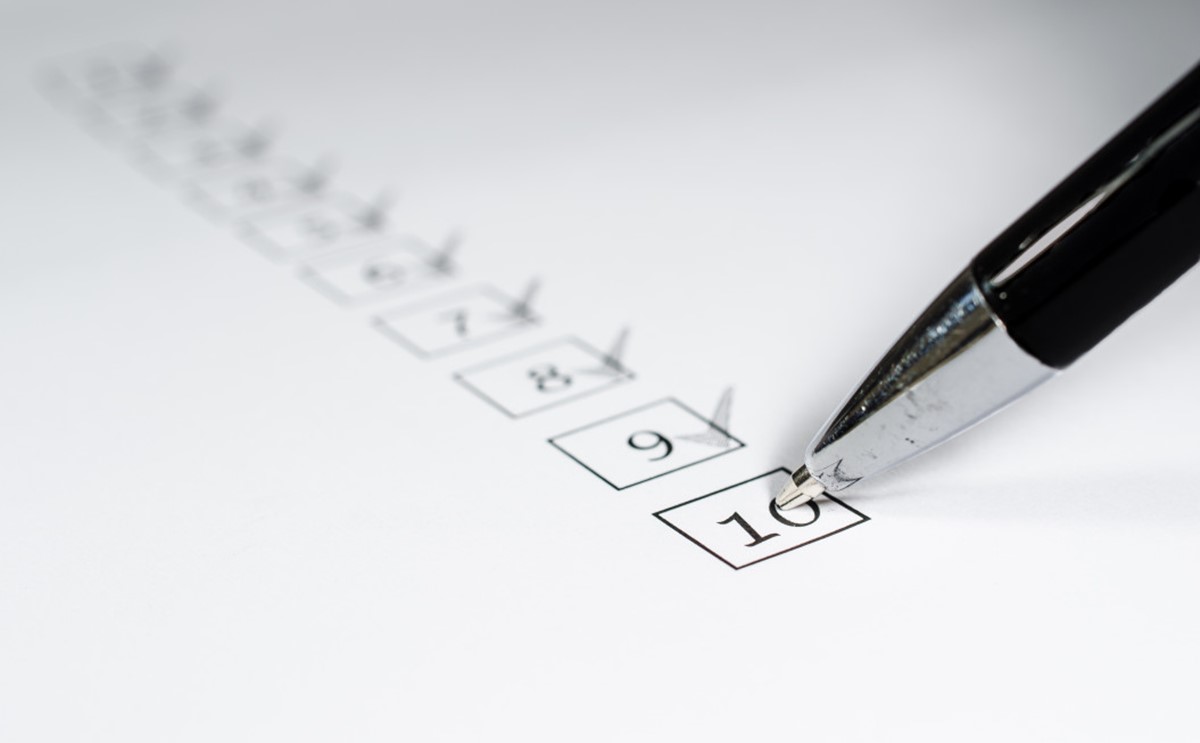 After setting up the Amazon sales channel, on the Account page, Shopify store owners can find a useful checklist that is useful for Shopify admins to track their tasks as well as complete them on Amazon Seller Central. This checklist includes these below criteria to grow any Shopify Amazon sales channel:
Amazon name needs to match with your Shopify store name so that the shoppers will feel your shops more professional.
Fulfillment all the information about your business such as tax identification as well as ready sales tax information
Investment in SEO and marketing which is the necessary budget to market your Shopify Amazon efforts and easily to have solid results
Email notification from Shopify Amazon sales should be priority emails; therefore, the shops will stay on top of sales and the number of orders.
Provision various SKUs for Amazon buyers, which allows the store owners to meet all their different customer's needs on Amazon.
Powerful product descriptions will be the best tool to grab any online customer's attention
Concise Amazon product titles that will ensure the Amazon shoppers do not lose their attention.
Assignment all categories in the listings in separated Word documents so that the store owners will cut off time when inputting these categories into the Shopify admin section.
Conclusion
Both Shopify and Amazon are the most popular and lucrative marketplaces. The online sellers enable utilizing all the functionalities from all of them. The Shopify store owners can optimize their benefit with these platforms by reading this article.
By this tutorial, we hope that online merchants can easily understand how does Shopify Work with Amazon. If you have any questions, it is easy to leave for us a comment below.
---
Sam Nguyen is the CEO and founder of Avada Commerce, an e-commerce solution provider headquartered in Singapore. Sam aims to support more than a million online businesses to grow and develop.