How to Sell on Amazon? A Guide To Start Quickly!
Amazon - the king of online retails is used by millions of customers all around the world. This is an enormous eCommerce site for sellers and shoppers without being confined to any country. With more than 12 million products, Amazon.com always attracts a large number of customers, from which brands are guaranteed with the best and most prestigious services to engage and sell more.
So how can you as an online business entrepreneur find the ideal road to sell on Amazon? By reading our comprehensive guide, you can have a step-by-step plan to start. We have gathered all you need to know in this article, so make sure you have something to note in. Let's begin!
What is Amazon anyway?

In case you don't know, Amazon.com is a website belonging to Amazon.com Inc, which is considered the world's largest online retailer up to date. It is a place for people to buy and sell anything online. Customers who want to own high-quality goods just need to visit Amazon.com and freely choose the favorite products from a huge warehouse with items in all areas.
On average, 9 out of 10 consumers price check on Amazon before purchasing anywhere. Because Amazon is known for its competitive pricing, light speed shipping, and superb customer service.
If you have something to sell, Amazon is for sure the place to find who might buy it.
Why are so many people selling on Amazon?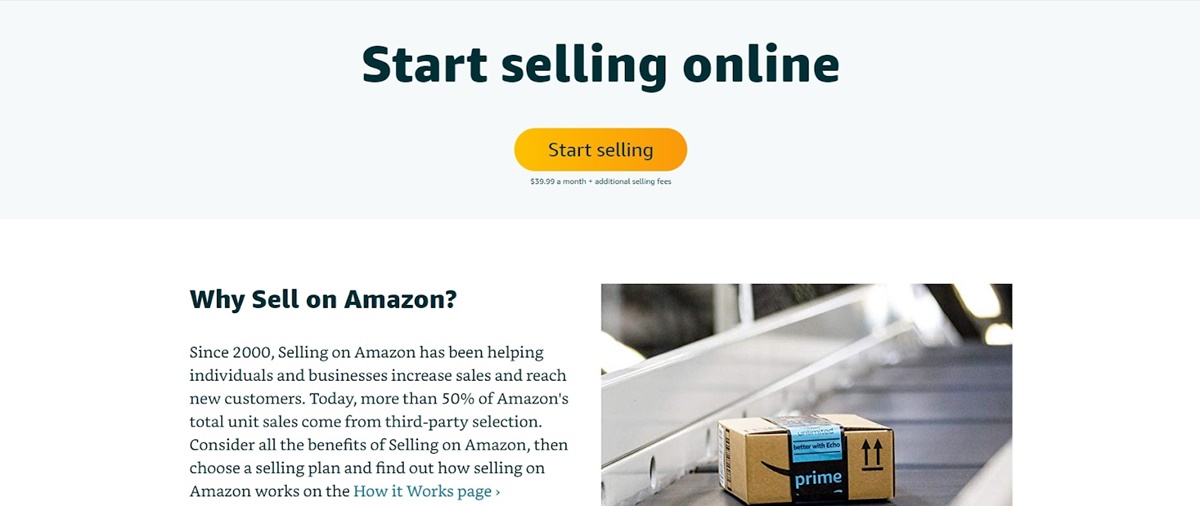 With that said, it still doesn't show enough the reasons so many sellers are on the platform (over 5 million across all marketplaces). There are 6 more whys that will really convince you to start selling on Amazon.
1. There are many people succeeded in making money on Amazon
The fact is that many people earn thousands of dollars a month on Amazon. Some professionals even claim to make millions of dollars. This proves this is a fantastic and reliable way to make money online.
Amazon is the number 1 reputable e-commerce website. So a lot of online shoppers trust. Amazon is a popular website in the US, where e-commerce has grown from marketing to payment and delivery.
2. High commission
Product commission is earned when you sell products on Amazon, about 4% of the product sale price. If you only sell products that cost a few dollars like ebooks, this commission is still insignificant. However, Amazon sells not only books but also many expensive electronic products like thousands of dollars worth of cameras and computers. So if you can sell those, the commission earned is very high.
3. Enjoy commissions of many products at the same time on Amazon
With every shopper on Amazon, they will tend to order multiple products of the same type in a single purchase. So you will earn a commission not only due to the direct link you refer to, but you also receive commissions from the buyer's order in the next 24 hours. For example, if they chose your computer monitor and in advance, ordered more USB, hard drives,…These products all bring commission as long as the order is completed within 24 hours from the link you refer to.
4. Easy integration with the website
Amazon's marketing program already has an API to help you integrate into the website. Embed product links, product image embedded, etc. all for you to manipulate. There are also many other customizations to help you present your Amazon product on the website in a logical manner.
The parameters click, an order placed from any source, date, etc. are also fully racked. This is the best kind of report to help you evaluate and improve your business. The information you collect in the report will be a sign to help you adjust to achieve maximum efficiency.
5. Outstanding growth during shopping occasions
Amazon has the main source of customers from the US. At Christmas or Thanksgiving, Americans go shopping a lot, really a lot. This is an opportunity to increase your income on Amazon.
In addition, Amazon also organizes seasonal discounts. These are campaigns that help bring in a large number of customers. So when marketing, you can also take advantage of these opportunities to increase income.
6. Low-cost investment
To make a product introduction website on Amazon, you need to buy hosting, domain name, and setup website. If you have good keyword analysis, you can write sale articles yourself or hire external resources from sites like Fiverr.com.
Investing in an Amazon product introduction website requires you to focus on a large amount of quality content. After your website spent the first 3 months, it will evaluate its effectiveness.
The website has access to sources from search engines. At this point, you will start having your first customers. You can then replicate and create many other similar websites.
How to start selling on Amazon?

Now we are talking! Amazon with all benefits can be the first step to begin your eCommerce journey, and well worth it to try too. So we are going through step by step so you can easily start with the platform.
Cost to begin
We talked about Amazon as a low-cost investment, so how much is it actually? Currently, we have 5 costs directly affect starting an Amazon business. These figures can change depending on how much you are willing to invest, and how you want to spend at the beginning of your business:
Buy initial inventory: 150$
Open an Amazon account: 39.99$/month
Buy UPC Codes: 10$
Products photography: Free - 295$
Create a logo and product branding: Free - 25$
=> Total Amazon business startup cost: 200$ - 519$ Pretty solid and low to start a business at the largest retail market in the world.
Set up an account
To sell on Amazon, you can go through the following steps:

If you want to go straight to the individual sign up page, scroll down and click the sign up button.

Step 3: Select your country and your business type. As a beginner, selling as an individual is recommended, which Amazon charges $0.99 per sale. For other professional seller accounts, charges are $39.99 per month.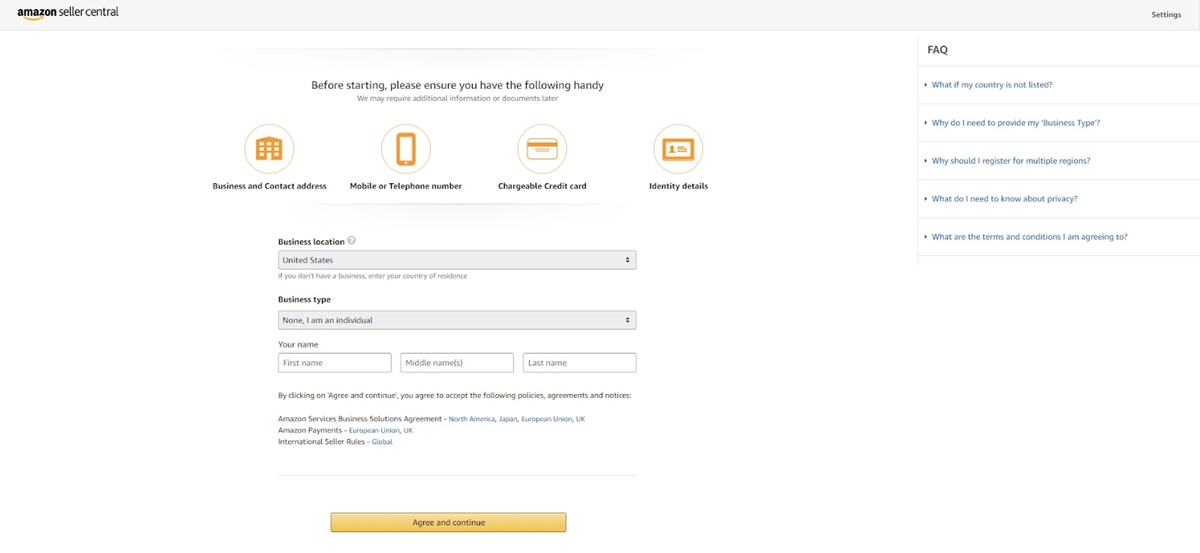 Step 4: Fill out all of the required information and once you're done then you've officially become an Amazon seller.
Your personal tax information (or social security number) is perfectly fine because you can claim any earnings as personal income to start. There you go, it's that simple.
Choosing "Professional" or "free individual" account
Initially, if you have not completed the claim or are unsure, you can use a free personal account monthly. However, if you have the conditions and the product can be good, you should consider switching to a professional account because of its tremendous advantages.
The benefits of a Professional account over an individual account.
It costs $40/month and free the first month, in return, you will enjoy the following policies of Amazon: Unlimited product list, 20 categories when selling goods (Amazon accessories, Amazon kindle , baby products, Books, Cameras - photos, electronics (accessories), consumer electronics, home and garden, music, musical instruments, office products, outdoors, personal computers, subjects sports, tools and home improvement, toys and games, video games)
You will be listed an unlimited number of products sold (Individual accounts you can only list up to 40 products/month)
There is no charge of $0.99/product sold (think if you sold 1k of products, the amount charged would be very high)
More specifically, you can run setup and run ad campaigns for your own products on Amazon and normal accounts do not support running ads.
If you are outside of US
If you are looking to sell on Amazon from outside the US, this is what you will need:
A Credit Card marked international. Visa or Mastercard are the most common choices.
A local bank service in your country that supports what's known as ACH (automated clearing house) which means that this bank can receive electronic transfer payments from Amazon.
Home address where will you receive personal mail.
A local phone number that has your countries prefix.
A US EIN number. This doesn't require you to be a corporation or have any type of legal status in the US to get this number. This can be obtained by filing IRS Form SS-4, known as Application for Employer Identification Number.
Fulfillment by Amazon of Self-Fulfilled

Next, you will need to decide if you want to self-fulfill or have Amazon fulfill service.
Self-fulfilling orders can benefit from low rates when using Amazon-approved carriers. When a customer buys an item from you, you have the ability to print a prepaid postage label from your Amazon account. If not, you can choose to use your own preferred shipping and postage labels.
Amazon FBA, also known as Fulfillment by Amazon, is a service when Amazon stores your products, ships, and processes all customer services and returns it on your behalf.
The FBA program is for all sellers, whether you are the professional or individual seller account planner. If you want to use FBA services, you will need to send your warehouse to the Amazon warehouse.
Benefits of using Amazon FBA:
Your product will be available for Amazon Prime shipping (2 days, next day, same day shipping)
Scale faster by hiring employees, warehousing, packing and shipping, etc.
Award-winning 24/7 customer service from Amazon on your FBA products
Automate your business so you have more free time to work for your business instead of in your business
To add FBA service to your merchant account, you will need to register first. This can easily be done by logging into your merchant account and visiting your Account Settings tab. From there, you will be able to turn on the option for FBA.
If you are inside the US, FBA is a great program for selling without the need of storage, and if you are doing dropshipping, this service can help as well. Of course if you have a storage solution of your all, then pay no attention.
Finding products to sell on Amazon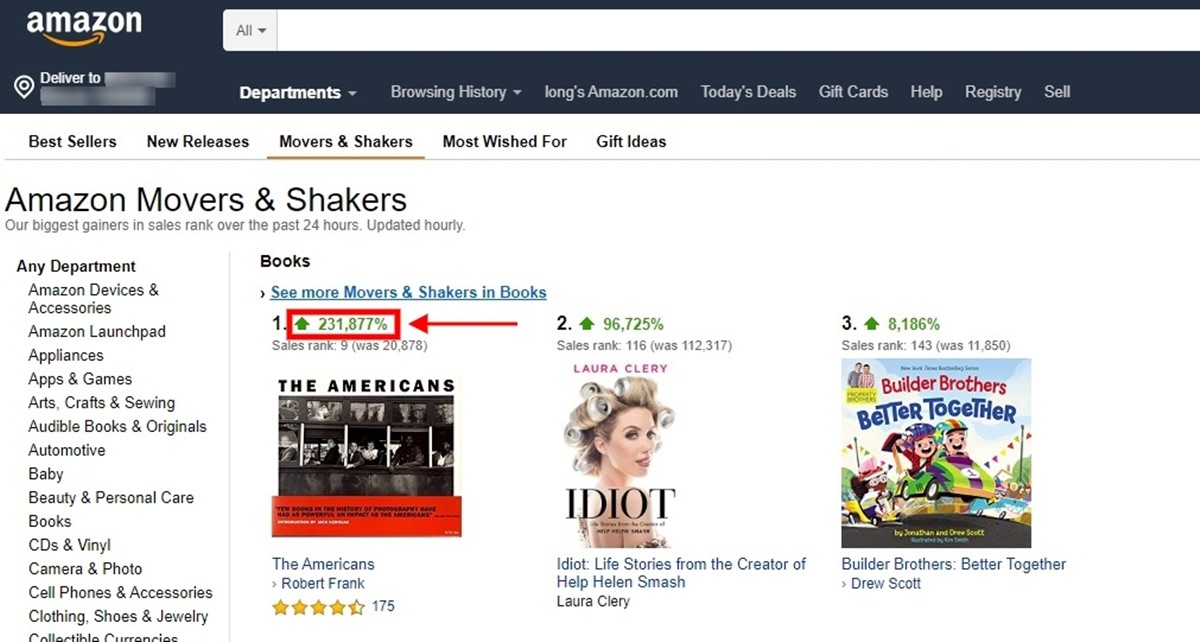 We have covered how to find products to sell before, so we will keep this part short since it is not much different from Amazon.
When you want to sell or trade anything, market research to understand your customers' needs, tastes, trends, and competitor research is very important and necessary. Then, it is important to design and adjust products to suit the tastes of international customers. There are many products sold on Amazon, but to find products that are consumed strongly and have a lot of profit, you need to research carefully.
You can look for ideas right from Amazon with 2 simple steps:
Step 1: Seach the keyword Amazon bestseller on Google => you will immediately see the best selling products on amazon.
Step 2: Choose New releases - this is the list of new products on the shelves that sell best, and Amazon always updates this tab. Inside:
+ Mover & Shakers: These are the best selling products in the past 24 hours, amazon updates it every hour. You can see the image above)
+ Most Wishes For: These are products that consumers add to the basket for which reason they have not purchased or purchased later.
Identifying the products you need to sell at Amazon is important for sustaining your business on this site. So, through this search method, you will be able to get information on the products that are most interested in consumers, from which you will gain more experience in finding the right products in your locality and start creating sales on Amazon.
Add your products to Amazon catalog
Once you know what to sell, you will need to create a new product listing in Amazon's catalog to show your item for sale on the site. This is because you are selling a new product under your brand name that has never been sold on Amazon before.
You can do this through your seller dashboard. From your "Inventory" tab, just access the feature to add a new product to the catalog.

This product listing will be your sales page to convert your potential customer into a paying customer. So, there are some optimizations needed to have the best conversion results. We will start with the product title.
Create titles

Product title is one very important area when it comes to optimizing your Amazon product page.
Try to have the below features to make a good Amazon product title:
Keep Within the Character Limit: The title should be under 200 characters in length. Amazon can even suppress your listing if it's longer.
Make it informative: Keep the title informative and clear, while also encourage browsers to click to your product page
Use Your Keywords: Remember to include the most important product keywords in your title.
Include Your Brand Name: You should also contain your brand name in the title.
Add the Quantity of Product: If applicable, show the quantity count within the product package in the title.
Adhere to Amazon's Guidelines: There are Amazon's Style Guidelines for the title which can be found in SellerCentral.
Optimize images

For many ecommerce businesses, having great product images can further increase the chances of your product being sold.
Some requirements of good product images on Amazon can be listed are:
Use a White Background: Main images should be on a clear white background
Optimize the Pixel Density: Images have to be at least 1000 pixels on the longest side and at least 500 pixels on the shortest side so it can be zoomable.
Take Real Photos: Use real pictures of your product, if possible, instead of computer-generated images or copied images.
Include Lifestyle Shots: Show your product in use in real life.
Add Detail and Alternate Angle Shots: Take close-up pictures of your products with various angles to provide details.
If you would like to edit and improve your product images, you can use services like Fiverr.com or Pixc.com or do your own photo editing skills with Photoshop.
Write great descriptions

It is an art to write product descriptions that sell which is called copywriting. Writing sales copy using words that can convert potential customers is a big market these days.
So if you want to write a winning product description, follow these:
Discuss the Features & Benefits: Present product features with their relevant consumer benefits
Solve a Problem: Address clearly the problem you are solving with your product
Make it Relatable: Paint a picture in the consumer's mind of how your product can help them
Add a Call-to-Action: Always end with a call-to-action. Tell the customer to buy it!
In case you are not naturally good at writing sales copy, it shouldn't be a problem. There are some Amazon related copywriting services like Marketing Words, that can help write product descriptions for you.
Getting your first sale on Amazon

Once you added products to Amazon's catalog, the next mission of the business is to get your first sale! The primary objective of gaining the first few orders is it can give your products a boost in its ranking to gain more organic visibility. New products on Amazon are usually buried in the search results so it's vital to immediately get sales as soon as your product is live on the site.
So if you've previously sold your product elsewhere and already have a customer list available to you, you should use this for your Amazon product launch right the way. Make an email campaign for your customer list with a special discount coupon with Amazon code for your product to help generate these first few sales.
If you haven't had a customer list available to you, then these are some options to use for obtaining your first orders.
Product Launch
Use deal site services such as Snagshout can attract bargain buyers to purchase your product at a low price and the product would be boosted easier.
Social media advertising, such as Facebook Ads, can gain a lot of buyers with little budget to have people try out your new product.
Making paid traffic for your product listing using Amazon Sponsored Ads. Thisservice iss only open to sellers with a Professional Seller account though.
Product Promotions
Having a promotion for your product is a great way to gain more sales. In your seller central dashboard, Amazon provides a variety of options to choose from and run a promotion.

One of the most commonly used promotions is the "Money Off" promotion. In this, you can create a special discount code that will be distributed to potential buyers, whether its goal is for boosting ranking during your product launch or others.
Product Reviews
Now that you have more sales, it's time to reach out to customers and ask for feedback on your product. Product reviews help ensure potential buyers that they should purchase your product if you have many positive reviews. These are important for gaining new customers and helping your business have a higher rank in the search results.
This process can easily be automated if you use software services such as Feedback Genius or Feedback Five.
Dropshipping on Amazon

What is dropshipping?
Dropshipping Amazon can be interpreted as a process of selling products for which the seller is not responsible for storing, packaging and shipping goods to customers. Dropshippers can set their own prices. Manufacturers are responsible for producing products, maintaining inventories and delivering goods to customers.
What are dropshipping benefits?
In this dropshipping guide on Amazon, you will learn some benefits of dropshipping. These benefits will help you understand why and how to start a dropshipping on Amazon.
You do not need to keep inventory
You do not need a lot of skill
You can easily start a business
You can easily test your products
You will have low startup costs
That is because, with this model, you gain all the benefits that you can only get when doing dropshipping on the largest selling site on earth - Amazon.
No warehousing costs
Large customers base to approach
Lower advertising costs
Dropshipping process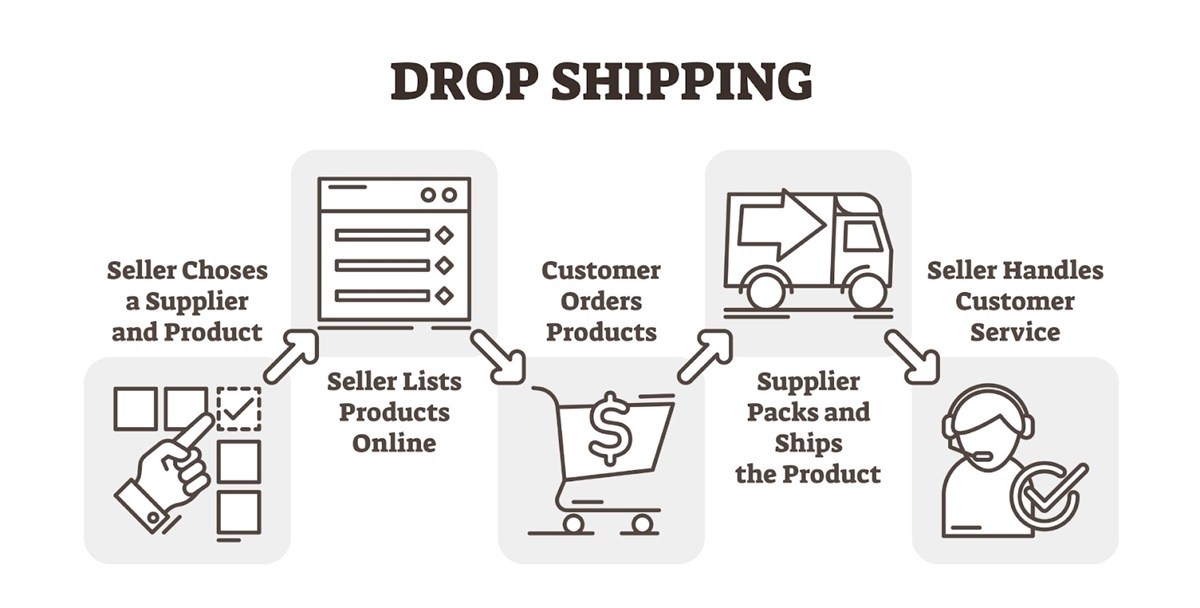 You can see the picture above following steps 1,2,3,4,5. I will explain as follows:
Step 1: You will be a reseller. So when you chose a supplier and product, you'll post that product on your store for a higher price that is just right for a profit.

Step 2: You list your products online, customers will come to your store and see if the product suits their needs or not.

Step 3: If appropriate they will pay you that including product price + deposit (shipping)

Step 4: After the customer pays, you come back to the wholesale dealer where you get the product to post for sale (in step 1) buy the product at a retail price (cheaper than the price you posted on your store)

Step 5: Then you send the purchased product to the customer and handle their requests, the customer who receives the item finishes the dropshipping sales process.
So that is it! Dropshipping is a great way to sell online and globally, so if you want to try that as you are outside of the US, Amazon is the place to start.
Related Post: How To Find A Profitable Niche For Dropshipping
Some more FAQ
When do monthly costs start to be charged? Only a Professional account will pay this fee right after successful account registration.
How to manage sales accounts on Amazon? You can manage sales activities by using Amazon's Seller Central website. Seller Central is a website where you can manage sales accounts, post product information, update inventory, manage orders and manage payments.
What to do when the product you want to sell is not in the Catalog? If you want to sell a product but are not currently on Amazon's retail catalog, you can create a new page using the "add a product" function in your account. Once this page has been created, you can list the products on the website.
Please note that retail products and catalogs will have restrictions and Amazon does not guarantee that your products will be accepted into Amazon's catalog.
Should you choose a Professional sales plan? You need to pay a $39.99 monthly professional sales registration fee to sell on Amazon. However, if you sell more than 40 products/month, you should register for the Professional Selling Plan with many utilities such as:
Post sale of an unlimited number of products
Can be listed for sale on items that Amazon has locked
Support uploading a lot of products through Excel
Can adjust the shipping fee for each product
When will you receive the payment? As soon as confirmation of shipping, Amazon will transfer to your payment account. Time Amazon will pay this amount is every 2 weeks.
Some more tips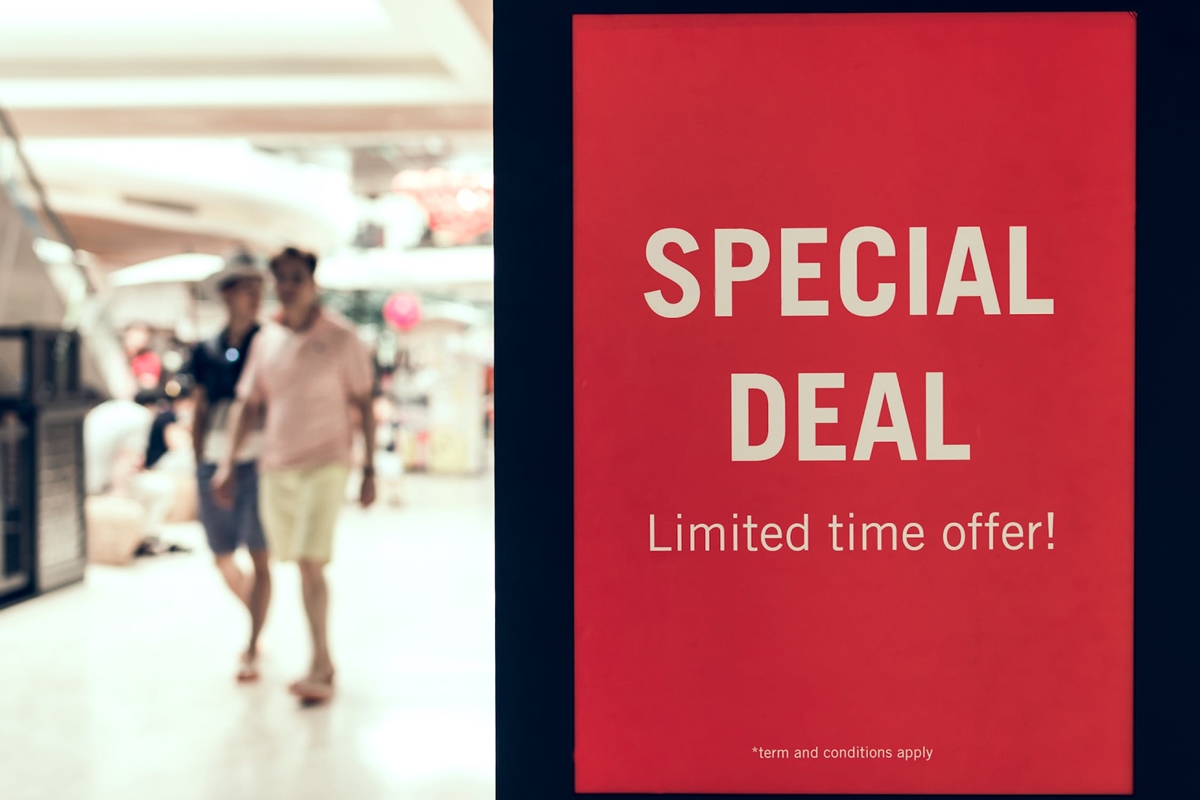 About registration
First, set up your Amazon account at Amazon.com. You need to prepare in advance such as transaction name, address, contact information and should be identified on online map services, an internationally-chargeable credit card account, a fixed telephone number, information on personal tax code for quick account registration.
One advice is to choose FBA (Fulfillment by Amazon). After successful registration of a merchant account, approved by Amazon. Now you have prepared available supplies to move to Amazon's warehouse. Should priority under 2kg items because heavier items shipping on Amazon is very costly. Amazon will handle handling, shipping, etc. But it will also cost you about 20% of the total price, paying Amazon for related services.
About payment
In foreign markets, customers are willing to pay in advance. Amazon will stand to collect money and transfer money to the seller. An advice for you is to register a bank account in the US to receive money from Amazon.
Know how to import and export goods
You must know the shipping method, the fees of importing and exporting goods through amazon, related surcharges and time for one order. In addition to understanding the product, you must have basic English to answer customers. Know the surcharges because customers may require VAT.
Complete the product you have posted
Please describe the product listed on your Amazon is compact but no less attractive in 10 words. Besides, you need to understand and describe in detail the product + image that you will sell on Amazon. Please prepare the necessary information about the product to be able to answer any questions from the buyer.
Building a different brand
If you want to develop a good, impressive product in the eyes of your customers, you need to build a unique brand, creating an impression in the minds of customers is what you need to do. Create your own brand, related to the product is unique, enough to remember in the minds of customers. You will have an effective leverage to push products to consumers quickly.
Doing business on Amazon law
There are also rules and policies for Amazon sellers on the Amazon website. So if you want to be associated with Amazon to develop your products in the long term, you must comply with the regulations. Do not circumvent the law, be honest when selling your products and products. Because if customers find negative feedback, this opportunity to sell on the web is no longer feasible, affecting sales, even being blocked by Amazon.
Provide clear personal information for specific businesses
If a customer who sees your product wants information about the business to sign a bigger contract, but if you don't operate online regularly on, it is unlucky. So to avoid incidents and risks occurring individually - businesses should leave their own email address, phone number, website so that people can communicate more easily.
Recommended: 10 Principles to Help you Sell Anything to Anyone
Amazon success stories to learn from
Case Study #1: Cards Against Humanity

Card Against Humanity can be the most successful private label product ever on Amazon. This game is advertised as the "party game for horrible people" but has proven to be funny, popular and desired to be played by many people. It is now worth over $1.5 million in sales.
So, what can we learn from the success of Cards Against Humanity? First, you don't need to be a super brand to success. The designer of the game was some guy at college who had an excellent idea. He just made the game to entertain party-goers at New Year's Eve – as he found unstructured socializing terrifying. This guy solved a real-life problem with a clever idea – and then recognized that it was a superb idea to have profit.
Case Study #2: Feedbackz

The person behind Feedbackz assumed at first that Amazon would only have resellers – which would never become a legitimate means of making a living – as has proven to be the case with eBay. However, he didn't realize the power of private labeling and that he didn't need to resell to become an Amazon FBA millionaire.
He moved forward with the products that worked, dropped the products that didn't and used the learning to try new products. He addressed three major areas – he wanted more reviews, to optimize his listings and to make his packaging and listing more legitimate.
Case Study #3: Marvin - The Selling Family
How much of a success story is Marvin? Well, he turned a $500 investment in $10000 in less than 4 months. Marvin began his FBA selling business because he didn't want to work 9 – 5 or the next few decades, he wanted to create some passive income that could fuel the lifestyle he desired for himself and his family - The Selling Family.
As with some of the other stories so far, the answer seems to be to start small and learn before building to a bigger profit. Marvin didn't chase big numbers at first – he took on products with a 20% ROI at $2 profit per unit. He chose items that tended to sell within 30 days and chose to build volume. Those items that leverage a 100% to 200% ROI are rare and carry high risk. You are much better off selling small and growing big volumes.
Marvin also went into an area that he knows well and built relationships with suppliers by being honest, knowing names, reaching out to management in companies who can make smaller decisions, and practice respect for those you are working with.
Final words
So, what have you learned so far? Are you ready to make Amazon your playground? Or you still need to prepare some more? We hope our guide can help you go all the way to being a successful eCommerce entrepreneur.
Leave us comments in the section below if you have any questions, and we will make sure they are answered.
Related Posts:
---
CEO and Founder of Avada. Pursueing a simple and healthy lifestyle. A friend, a husband and a dad of four children, a trainer and an influencer wannabe. He is a big fan of sports and travel, also.
New Posts
Stay in the know
Get special offers on the latest news from AVADA.