Why is my Shopify Store Unavailable
Last updated: December 01, 2023
When you are am eCommerce business owner working on the Shopify platform, the thing that you Shopify store becoming unavailable is so frustrating. When it comes to us, knowing clearly about the reasons why Shopify has downtime and figuring out the ways to respond effectively are always recommended.
First of all, you need to understand that Shopify is just like any other website or web-based service, it is designed to run on web servers and sometimes, all servers can totally go down for many different reasons. Even when Shopify is one of the most powerful tech companies in eCommerce field, but sometimes it can engineer a highly robust server setup with built-in fail-safes and redundancies. That's why there's a small hole existed for glitches to make your store unavailable.
But don't worry about that because this article is here, we will carefully show you the reasons why a Shopify store is unavailable and the actions that you need to take to get out of this problem.
Why your Shopify store unavailable?
When there is a sign that you are unable to see your Shopify store and even the line: "We'll be back soon" shows up on the error page, that's when your Shopify store is unavailable.
There are a lot of reasons for a Shopify store to go "down". When it comes to the web servers and hosting technology, the system goes "down" when it often has issues with the server itself. However, there are other elements, which are themes and apps included in Shopify that are able to add and enhance online stores, these two elements can cause problems for your store as well. Plus, it's possible for your store to start having major issues and essentially stop functioning completely or partially — even if Shopify isn't down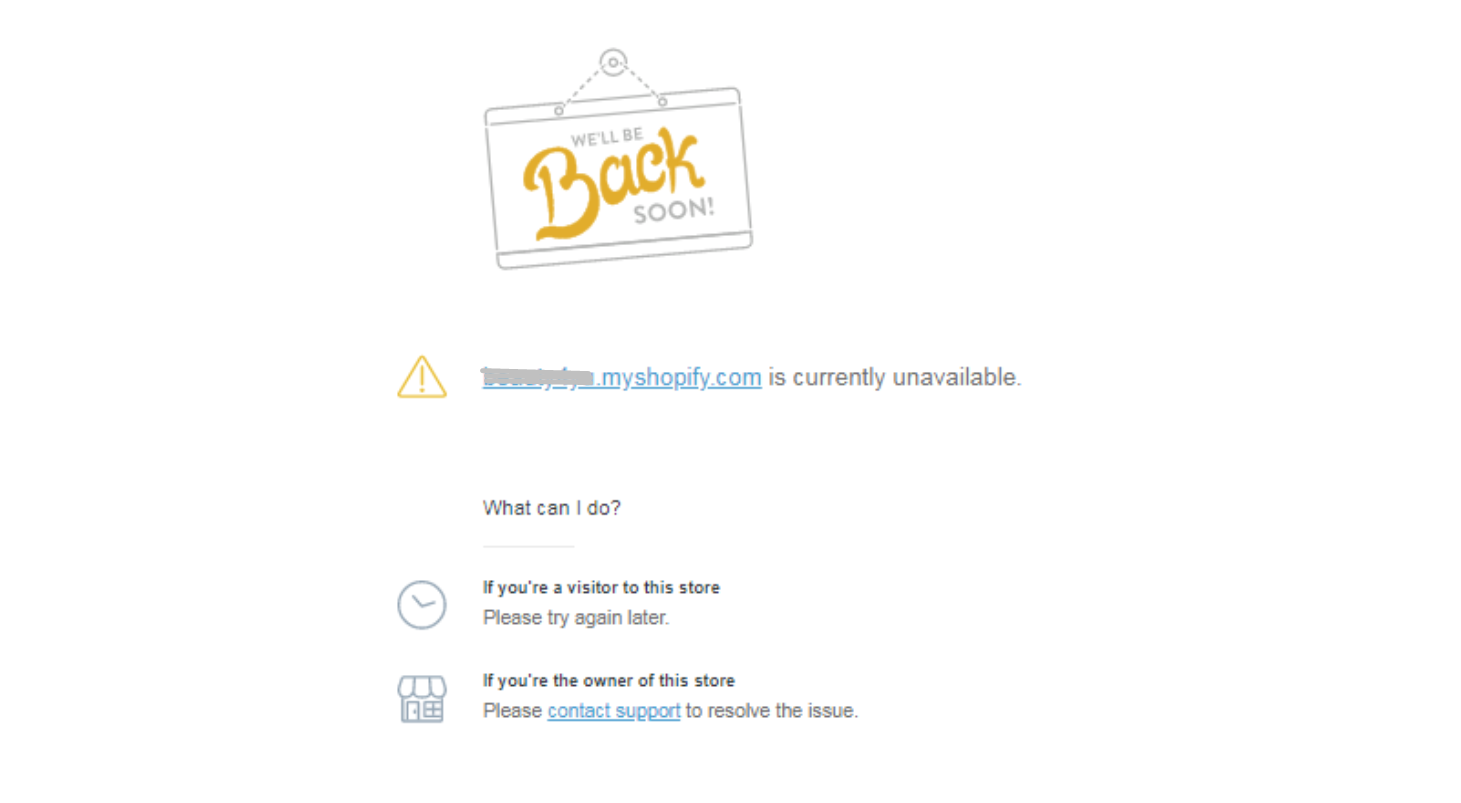 There are some common examples that you might go through when your store is unavailable.
Pages start showing up blank, unformatted or with odd layouts.
Your store pages are no longer clickable.
Clicking certain features causes unexpected results — or no results at all.
Customers can't add items to the cart or complete checkouts.
Normally, these types of issues are triggered by the Shopify theme customizations or apps. In these cases, you can fix this problem by restoring a backup, uninstalling apps, hiring someone for advanced troubleshooting, or using our other Shopify "emergency" tips and so on. That's why we should move to the second part: What to do when your Shopify store unavailable?
What to do when your Shopify store unavailable?

Reach out to Shopify Support for assistance
It is not a strange phenomenon when your stores are placed under review when you first create a Shopify store, as Shopify needs to verify some information. So the error of unavailability is probably going to be experienced by everyone. In this case, just reach out to the Shopify Support to let them know, and you will soon get you back up and running ASAP later.
You can inform the support team via the Support email: [email protected]. When you send your email, remember to leave your ticket number to make it easier for the team to gather your information.
Leave your ticket number
In these cases, sharing your store's ticket number is needed to help the Support Team to gather more information about your store. After that, your ticket number will be moved to the Business Operations team and they will reach out via email as soon as they have an update on your shop. Normally, users have to wait for about 24 to 72 hours to run this process. Finally, you will be informed about your account being active and your issues being solved.
How to contact Shopify support team
There are multiple ways to get in touch with the Shopify support team to inform your problem and get the guidelines and help to fix it. Normally, people would choose to use the 4 ways below.
Chat directly
In this method, you will get into contact with one of our Shopify support team members via the chat system available. This will save you a lot of time if you choose to authenticate with your store first.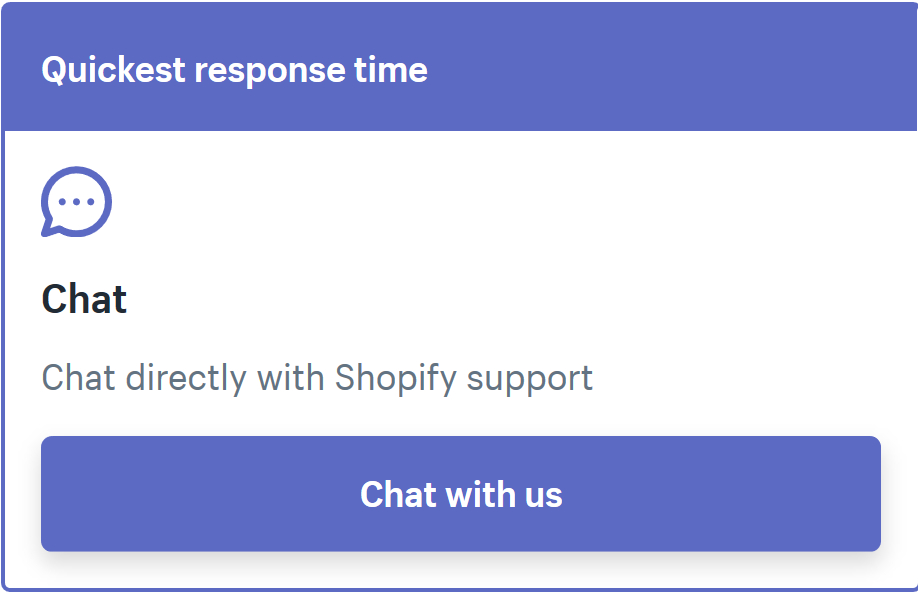 Email
For this method, you will get in touch with a Shopify support member via email. Remember to authenticate with your store first to save a big amount of time.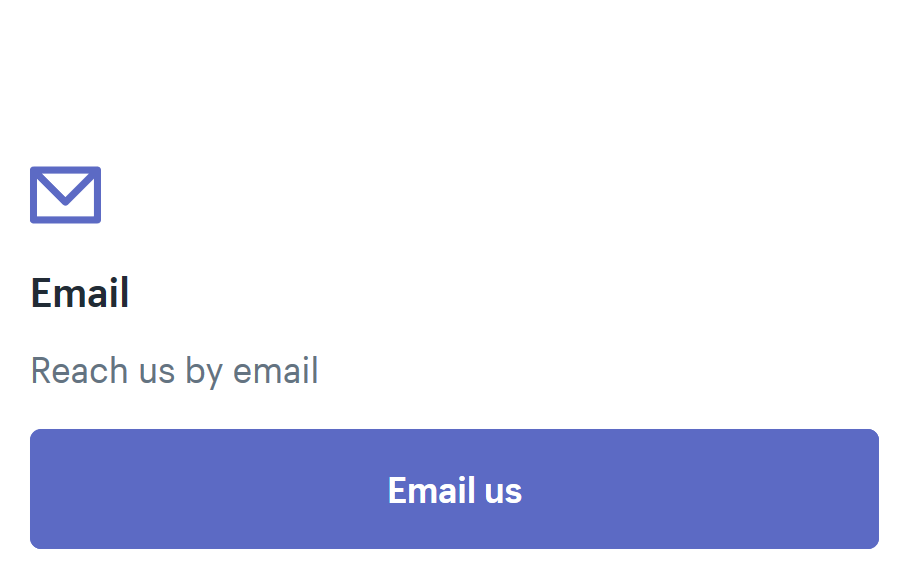 Phone
If you choose to contact via phone, just call the Shopify support team using one of the phone numbers below:
North America: 1-855-816-3857
United Kingdom: 0800-808-5233
Australia: 03-8400-4750
Ireland: +353 1800 851 000
New Zealand: 07-788-6026
Singapore: +658008526699
Hong Kong: +852800931270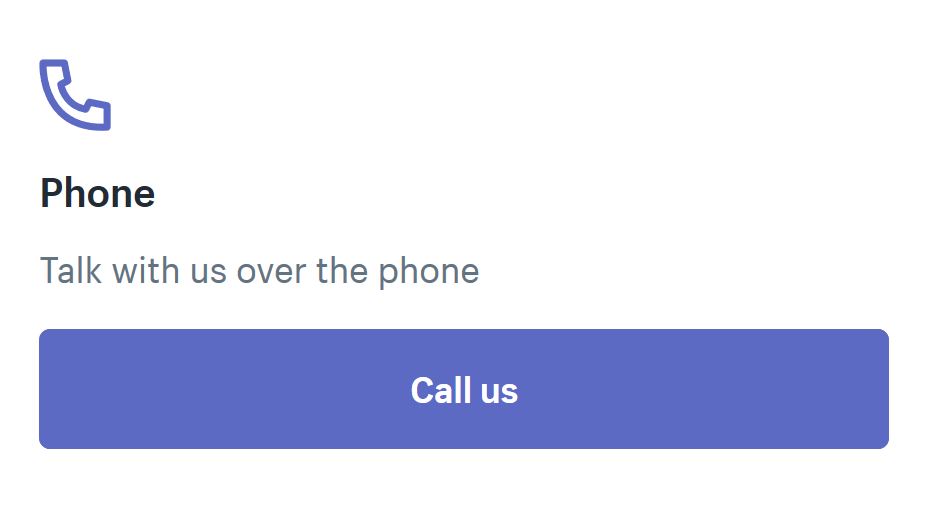 Remember to authenticate with your store first to save a big amount of time.
Twitter
Using social media to inform problems is also recommended. In this case, Twitter can also be helpful when you just need to simply message the support team on Twitter and they will contact you directly.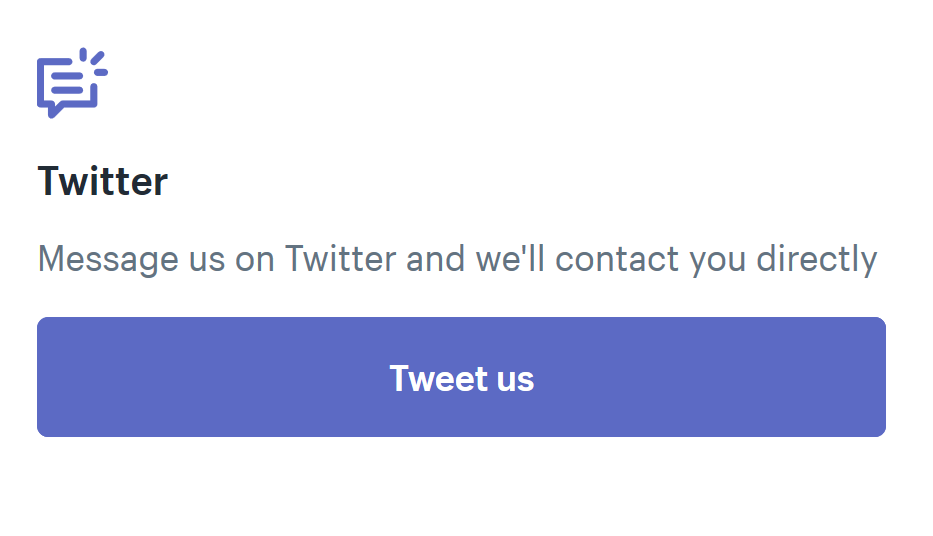 Conclusion
That's all the information that I want you to know and understand about the Shopify store unavailability and the way to fix it. If your business is going through a downtime like this, we are sorry to hear that. However, it is more important to figure out the way to fix and plan ahead for unexpected dips in revenue for any number of reasons.
I hope you will find this article helpful. Please let me know if you have any other questions in the meantime.
Related Posts:
---
Mike is a content writer at Avada, with a love for video games, gadgets, and software. He has been writing about the industry now for over 7 years. He likes to keep up-to-date with the latest software releases. He's also an avid reader, and he enjoys spending time outdoors with family and friends. When he's not working, you can usually find him playing video games or exploring new outdoor activities.