How to Change Shopify Store Name
Last updated: December 01, 2023
Think about one case when you first opened up your Shopify account and you just simply tried on using a quick name. After setting things up, you decided to set your store another name and tried changing it through your account. However, you do not know the way how to Change Shopify Store Name as well as how to do it without creating a whole new account as well. So, this article is here to help you fix your problems in every corner of its matter.
Read through this and I am sure that your customers will be inputting or finding my new store name in a simple way.
Can I change my Shopify store name?
The answer is Yes, you can absolutely change Shopify store name. However, before you decide to register any domain, just seriously consider your choice because the business name you use on any business is key to so many things.
Here is some advice that I recommend you to take into considerations:
First of all, think about how long has your domain been active.
Look at how much revenue you have received through it.
What kind of traffic data that you have?
What is the size of your list?
How do people respond to your list?
Why do you choose to change it?
In case your store has been in operation for some time, however, it gained a bad reputation to your business when visitors meet some circumstances that every data is lost, people visiting find the error 404 or the problem of Site not found. It is more likely of you to start from scratch to grow the business with the new name, at the same time, inform the person that was on the early list about the change of the business name.
As a result, the data of your store will be lost as you are not able to transfer data of one site to the other. So, if you are ready to lose all the necessary information above, scroll down our article here to figure out the way.
4 Steps to Changing your Shopify store name
The method is super easy. Follow the detailed instructions below and I believe that you will get your goals.
Step 1: Go to your Shopify Admin page
On the main page, click on the Settings option, sited on the lower left side of the panel.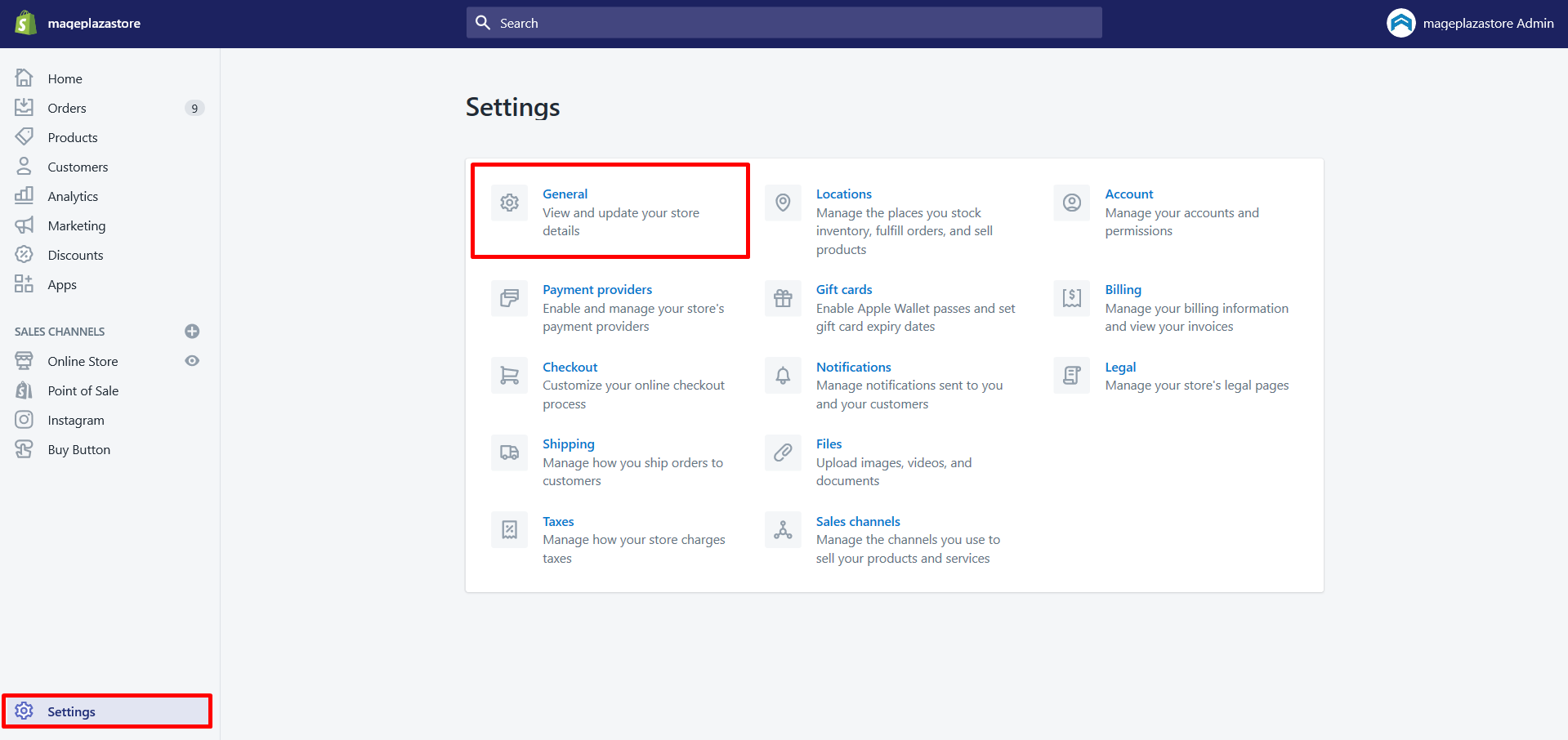 Step 2: Click on the General option
You will see that option in the Settings page, which is sited on the top of the left row.
Step 3: Edit the Store name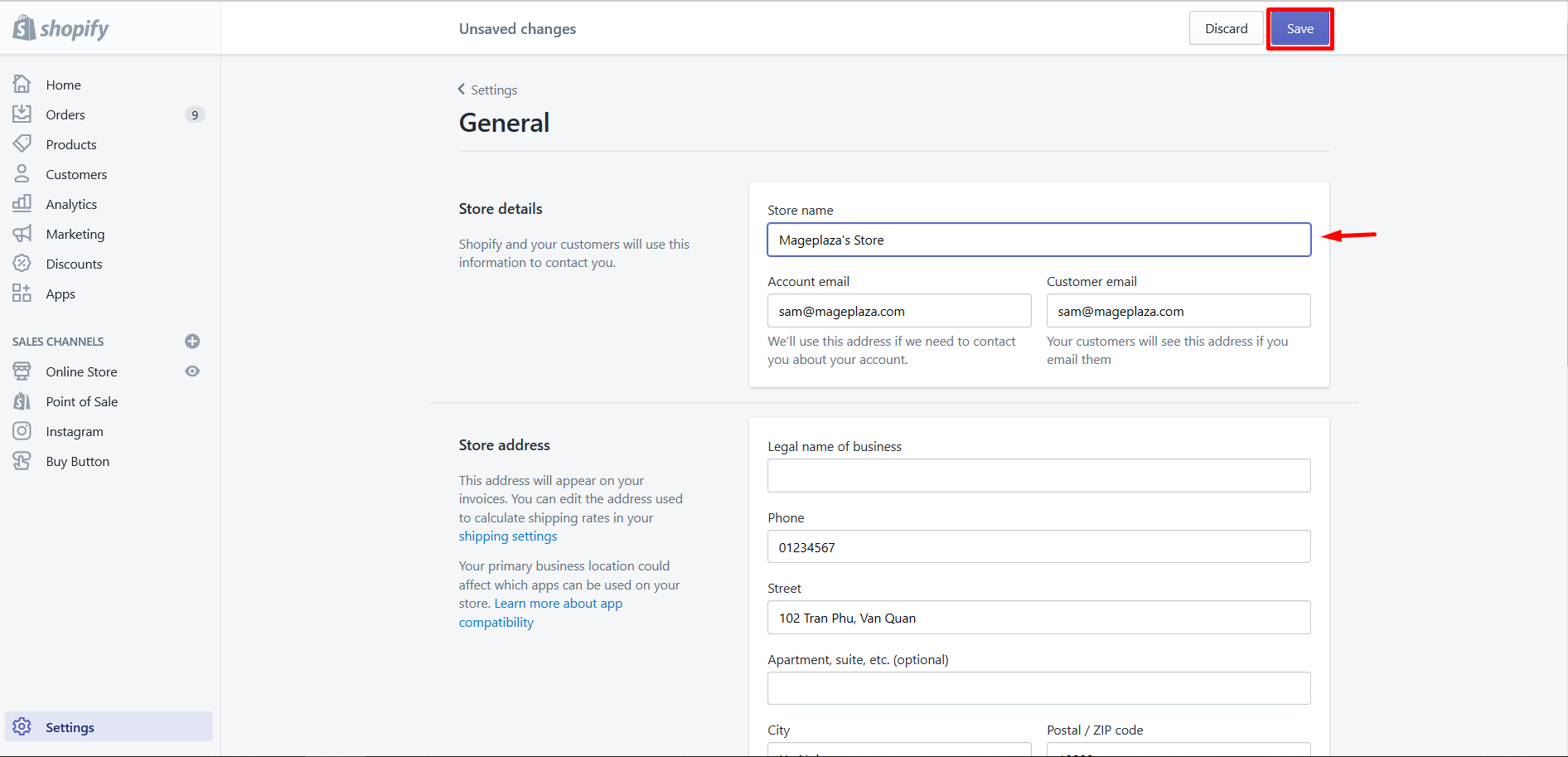 In this example that I want to change "mageplazastore" to "Mageplaza's Store", so I just write down the name that I want in the Store name box, then just click on Save.
Step 4: See your result
Go back to your Shop and see your result by click directly at the eye icon next to the Online Store option.
Finally, look at what you can get from your displayed changes.
BEFORE:
AFTER: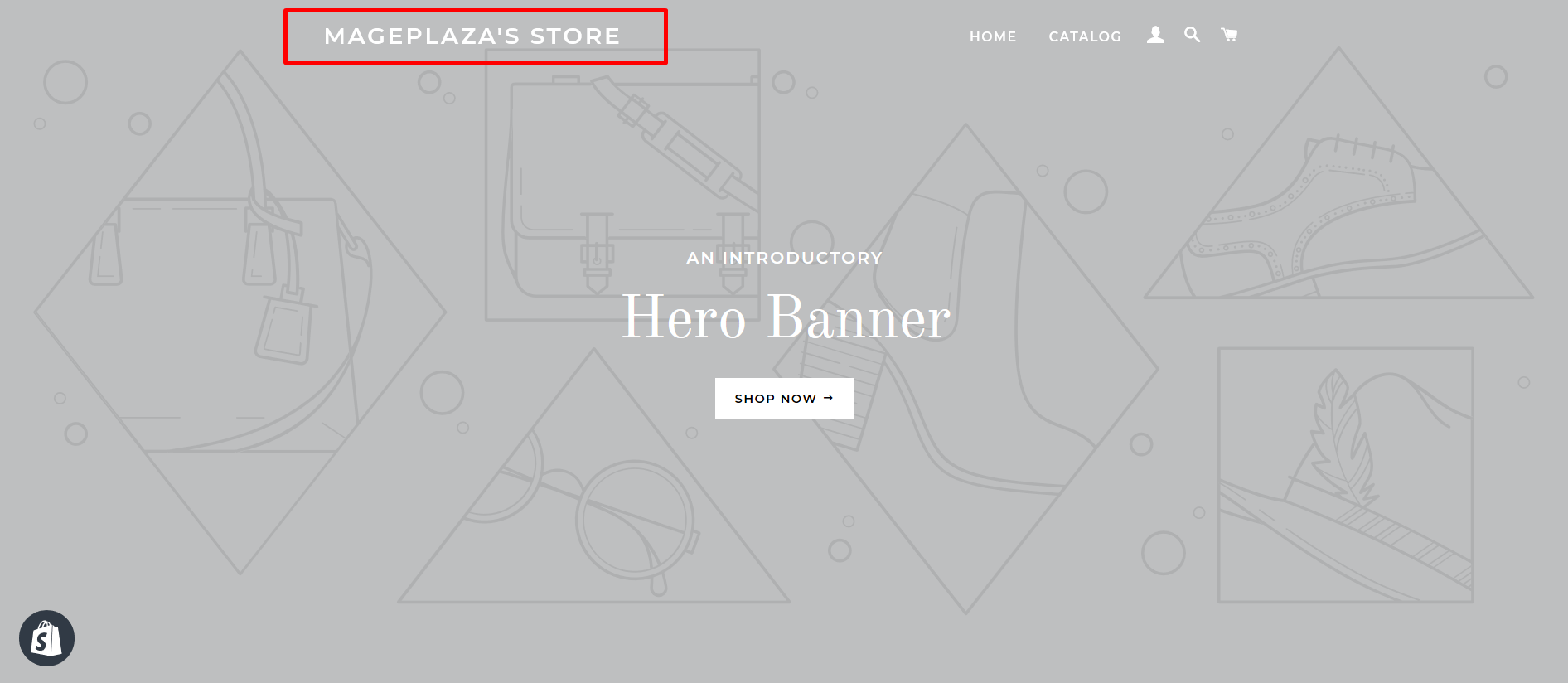 And, that's how I change my Shopify store name.
Using Custom domains
What about using a third-party domain in changing your store name on Shopify? When you have already owned a domain from a third-party provider, such as GoDaddy or Bluehost, so you can totally use it for your Shopify online store. As a result, people will be able to type your URL into theirs and then end up on your site. The third-party domain for your Shopify store has the role for transferring your URL to Shopify or by connecting it to Shopify. You can get more information about changing your domain name in another blog on our site as well.
Conclusions
On the whole, everything about changing Shopify store name is really simple and easy-to-follow, right? However, pay attention to some cases that whether this matches your actual store name before or whether you have to create a new account. If you care about this matter, consider duplicating your store so that you can create a new account without losing what you've done by then.
That's probably all the necessary information that I want you to know about changing Shopify store name. I hope this you fix your problems. If there are still any concerns, inform us through emails or comments below. We are always willing to help you.
Related Posts:
---
Mike is a content writer at Avada, with a love for video games, gadgets, and software. He has been writing about the industry now for over 7 years. He likes to keep up-to-date with the latest software releases. He's also an avid reader, and he enjoys spending time outdoors with family and friends. When he's not working, you can usually find him playing video games or exploring new outdoor activities.