How to Use Bulk Editor in Shopify
Last updated: December 01, 2023
In this writing, I would like to take you through a special guide which brings you lots of benefits about how to use Bulk Editor in Shopify.
There will probably be many new things you want to learn when you read this title. But I'm sure that if you know the correct way to edit products or items in bulk, you will be able to save a great deal of your time and effort to build and generate your store better and better.
Now, let's follow this detailed instruction to do this successfully.
Related Posts
What is bulk editing?
First of all, I want to clarify what is bulk editing.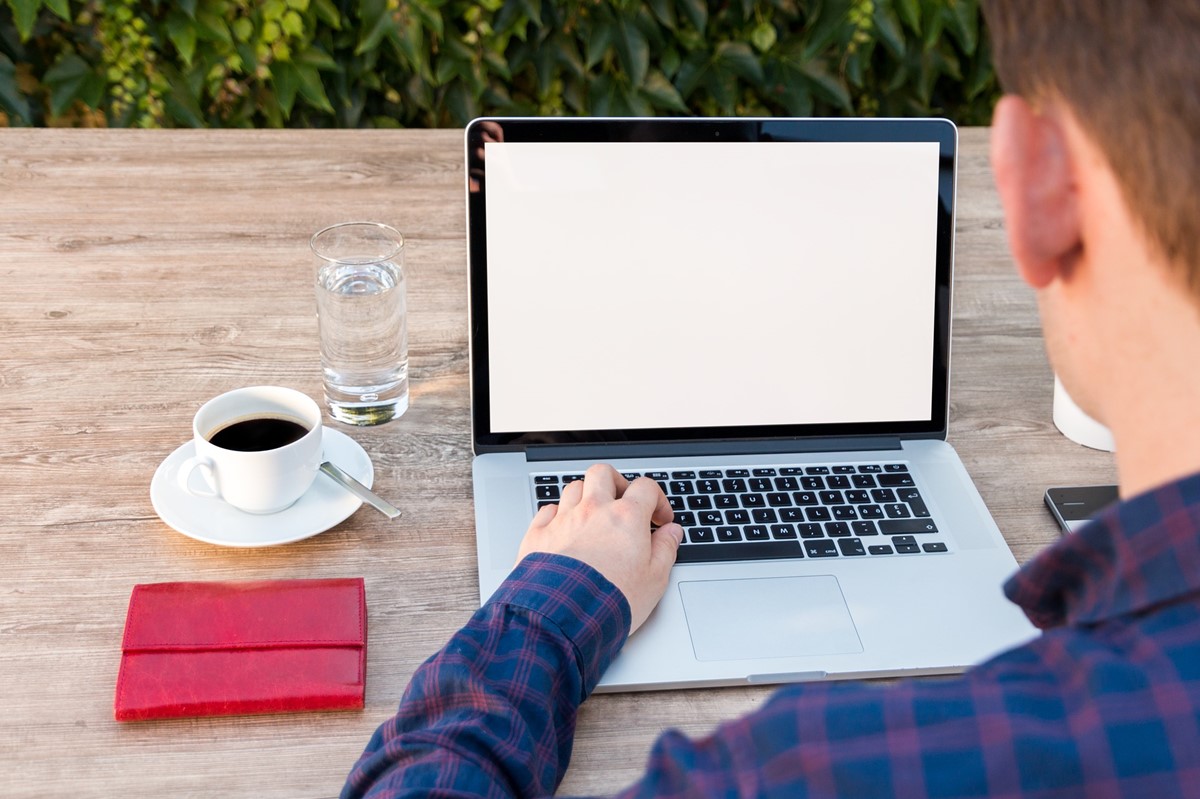 This allows you to simultaneously edit multiple products in terms of editing weights and prices on Shopify. Furthermore, you can set up your shipping rules for lots of items at once.
In particular, you will be surprised and impressed to figure out that the bulk editor can also be used for editing customers, collections, inventory, pages, and blog posts. Therefore, it will bring you a great experience and become your powerful tool when you run the store on Shopify.
A small tip for you: Use web browsers like Safari, Chrome, and Firefox to get the best compatibility. Thanks to this, you can use bulk editor smoothly.
How to use Bulk Editor
Step 1: Select products or items to edit in bulk
You must be in the Products section now. Then, you will see a full list of all the products of your store. Make sure to tap on the checkbox I've marked in the following picture to select all of them in a blink of an eye. This helps you edit all your items at once.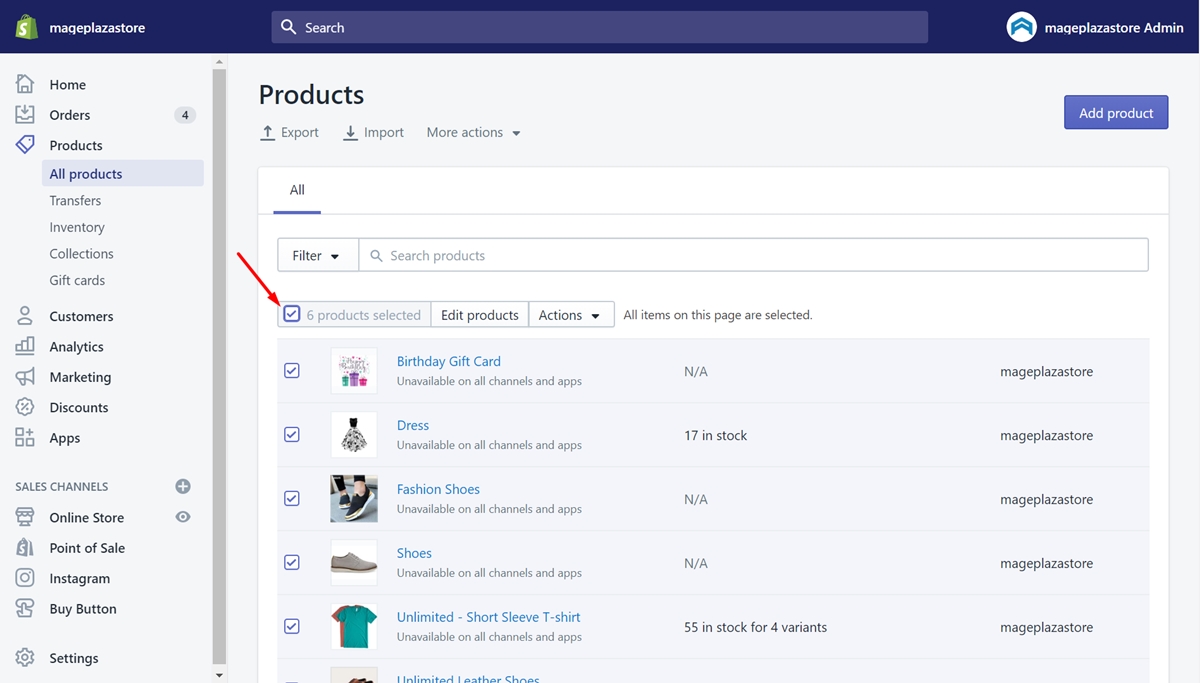 Step 2: Click on Edit products
When you've clicked to the checkbox, it will be ticked and display a sentence to inform you how many products are selected. Next to this field, there is a button named Edit products. Choose this button instantly to use the bulk editor.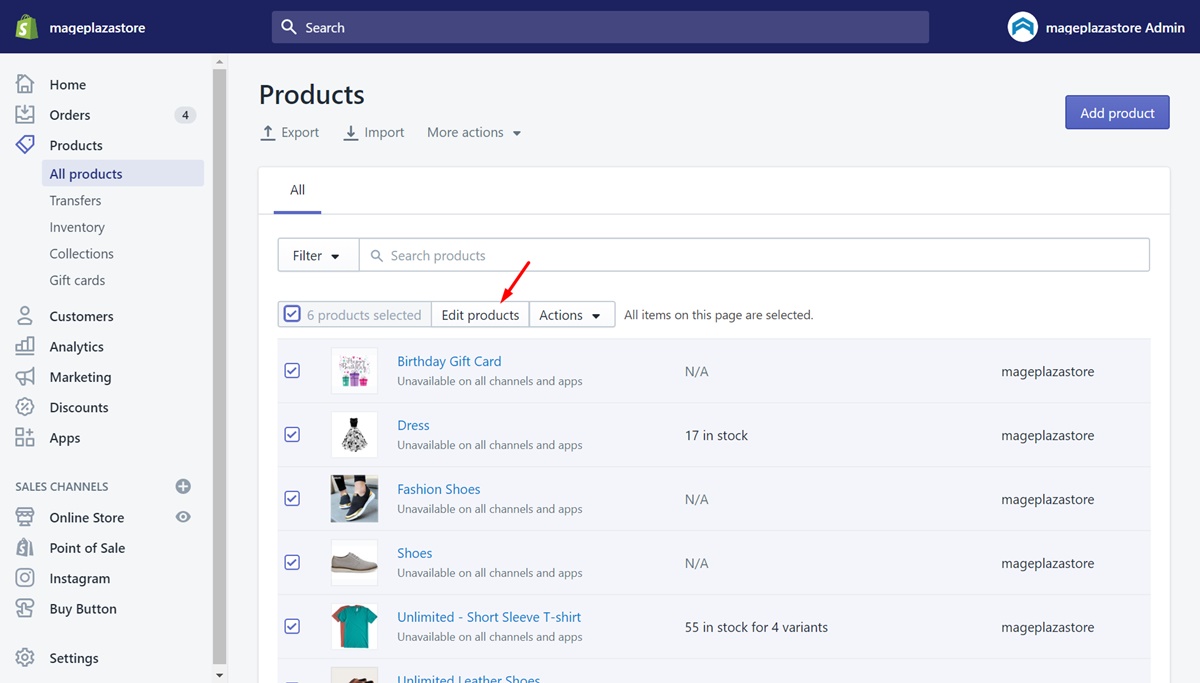 Step 3: Edit products or items in bulk
In this step, you now can customize your products in terms of their prices, weights, sizes, colors and so on. To do this, click on the textbox corresponding to each product and enter your reasonable edits.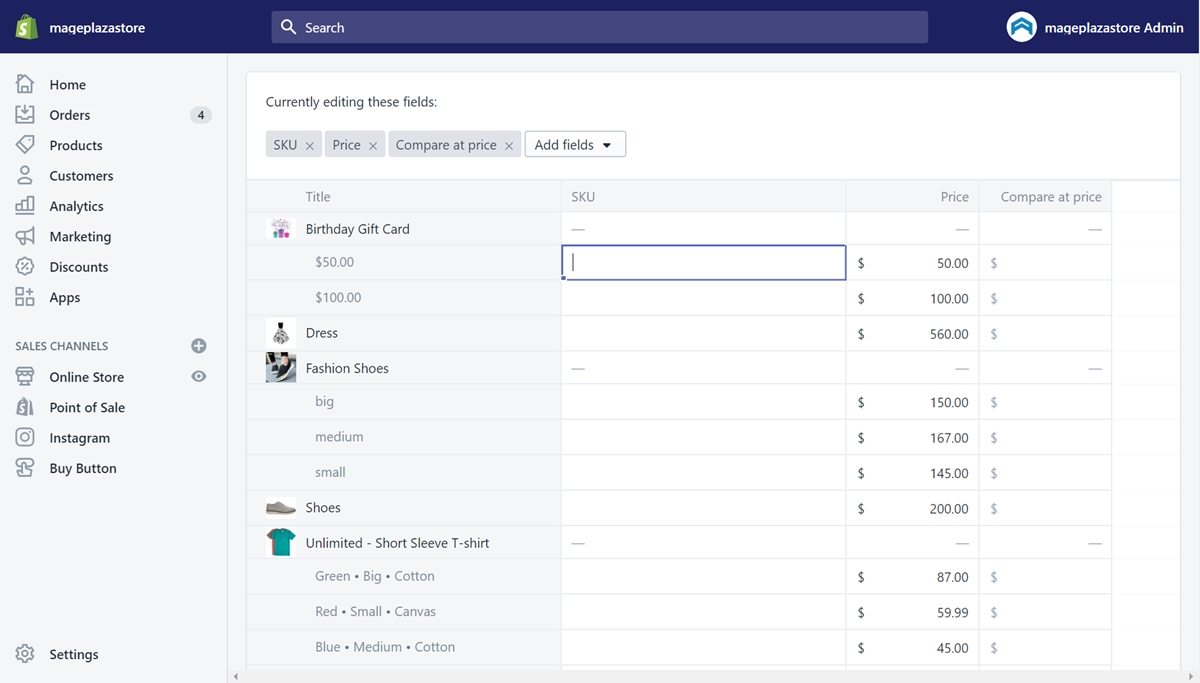 List of bulk actions in your Shopify admin
Shopify allows you to do lots of bulk actions so that you can do many things quickly and effectively. This will help you avoid confusion because bulk actions will allow you to change multiple variants at once and make it easier to compare. Therefore, if there is something inappropriate or difference, you will quickly recognize and change it accordingly.
Surely you also realize the importance of bulk action in managing and operating your store. Therefore, I would like to give you a list of the bulk actions available that Shopify allows you to do. When you need to make an edit and wonder if it's possible to use the bulk editor to do that, you can take a view of this awesome list below.
Admin page
Bulk actions available
Orders
Create shipping labels (requires Shopify Shipping)
Fulfill orders
Capture order payments
Archive ordersUnarchive orders
Add tagsRemove tags
App functions (depending on installed apps)
Orders / Drafts
Delete draft orders
Add tags
Remove tags
Orders / Abandoned checkouts
Archive checkouts
Unarchive checkouts
Products
Make products available
Make products unavailable
Delete selected productsAdd tags
Remove tags
Add to collection
Remove from collection
App functions (depending on installed apps)
Products / Transfers
Archive transfers
Unarchive transfers
Add tags
Remove tags
Products / Inventory
Continue selling when sold out
Stop selling when sold out
Create transferUpdate quantity
Products / Collections
Make collections available
Make collections unavailable
Delete selected collections
Products / Gift Cards
Disable selected gift cards
Customers
Delete selected customers
Add tagsRemove tags
Discounts
Enable discounts
Disable discounts
Delete discounts
Online Store / Blog Posts
Publish selected blog posts
Unpublish selected blog posts
Add tags
Remove tags
Delete blog posts
Online Store / Pages
Publish selected pages
Unpublish selected pages
Delete pages
Online Store / Navigation / URL Redirects
Delete selected redirects
Settings / Files
Delete selected files
These are the things you can bulk edit on your store pages like Orders, Products, Customers, Discounts, Online Store and Settings. With the bulk actions above you can perform, you will be able to save a lot of time and effort.
All editing will be done on a single page so you can easily perform, observe and compare between variants. Thanks to this, you can make reasonable changes and come up with interesting plans to grow your store.
Bulk editor apps on Shopify
If your store has hundreds or thousands of products, managing and editing them will become extremely difficult. You can choose to do them manually; however, this is laborious and time-consuming. As a shop owner, you will be extremely busy and have a lot of things to handle. Therefore, so that this bulk editing does not turn into an obstacle, I highly recommend that you should install a bulk editor app.
An ideal bulk editor app will bring you lots of benefits. When you try to use it, you will find it extremely necessary for your store and happy with what it offers. Are you excited and looking forward to it? Visit this Shopify bulk editor apps and select the app that best fits your store. Below, I would like to present a short paragraph for you to refer to. I will show you an outstanding app, along with its useful features. From there, you can better understand the bulk editor app and how to choose an app in a smart and fast way.
First, I would like to introduce a bit about this app. This great App is called Bulk Product Edit & CSV import which is created by Hextom. The reason I chose it to mention in this article is that it has several reviews of about 1047, a lot more than other applications. By reading them, you can learn more about this application. Moreover, having many reviews proves that this is an app that receives a lot of attention from customers who have used it. Hence, it is believed to be one of the favorite apps.
About salient features, I can't wait to recommend that it can support both CSV and Excel formats. Also, it allows you to provide a link to the CSV or Excel file. You will feel comfortable and satisfied because it will not require a fixed column format. What you only need is one column to locate variant and another column to edit a specific variant section. This makes it easy to bulk edit without having to worry about formatting.

Regarding pricing, there will be four different levels for you to choose from. To use the bulk editing feature, you will experience this app for $9.99 / month for 10 bulk edit & CSV import tasks per month, $19.99 / month for 300 bulk edit & CSV import tasks per month, and $49.99 / month unlimited bulk edit & CSV import tasks per month. With such an attractive price, this Bulk Product Edit & CSV import is a good choice for you.
Summary:
To sum up, I've taken you through How to use Bulk Editor quickly and effectively. With only a few simple steps with a few clicks, you can successfully perform in a blink of an eye. Besides, there is a list of bulk actions in your Shopify admin that gives you information about bulk actions that can be performed on the pages of your store. In particular, it will be very time-consuming if you perform manual bulk editing. Therefore, I hope that the Bulk editor apps section on Shopify can be helpful.
Hopefully, you find something useful after reading this article. You must be eager to drive lots of customers to your store. One of the most effective ways to do this is to make your theme eye-catching and appealing. Let click on our post about How to Change Theme in Shopify.
---
Mike is a content writer at Avada, with a love for video games, gadgets, and software. He has been writing about the industry now for over 7 years. He likes to keep up-to-date with the latest software releases. He's also an avid reader, and he enjoys spending time outdoors with family and friends. When he's not working, you can usually find him playing video games or exploring new outdoor activities.