How to Set Up International Shipping on Shopify
Last updated: October 01, 2023
International Shipping is obviously a fact of life in eCommerce as it sells products from suppliers all over the world and creates a chance for stores to sell to a larger audience. It seems like there is a person here that wants to figure out the way to ship internationally in order to grow his or her own eCommerce business, expanding beyond borders.
To set up the international shipping in the right way, you'll need a strategy that works for you and your business. It's not necessary to know everything about shipping, but I assume that there might be some questions that you need to understand just to work fluently with International Shipping.
Here is the most basic information that I am going to present to you in order to help you make better shipping decisions and expand your business on your terms.
Exclusive Offer: Get Shopify 93 days for just $3 + The Online Store Starter Kit
Start a 3-day free trial, then get Shopify 3 months for $1/month plus the premium package designed especially for new Shopify merchants!
Start Free Trial
Can Shopify Ship Internationally?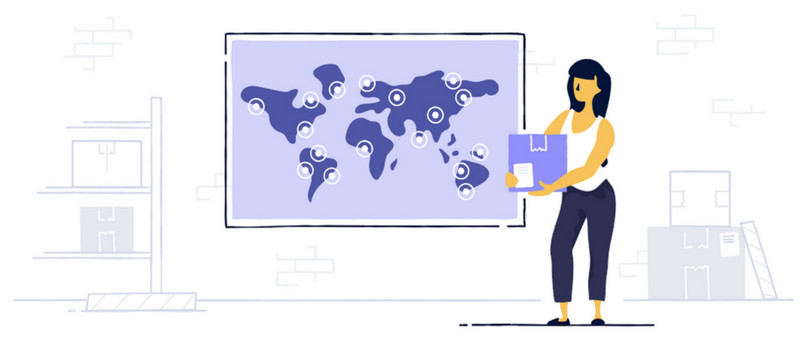 As Shopify is one of the best eCommerce platforms that has everything you need to sell online, on social media, or in person, of course, is support International Shipping for all users.
Cheapest way to Ship Internationally?
It's necessary to get yourself the cheapest way of shipping internationally. Here are some tips provided to help you deal with that matter.

Tip #1: First of all, you should utilize multiple carriers for shipping internationally. Because each carrier sets its own rates, then you can take advantage of it so as to check their rates and make a list to hold the information of the company offering the lowest rate based on destination and the type of package. The international USPS shipping rates, for example, cheaper than others are UPS and FedEx.
Tip #2: Secondly, it's a smart choice to cut down on product packaging because bulking down on packaging is able to lighten the weight and consequently, shipping costs. Also, you should consider the sourcing free packaging material from shipping companies. For instance, the USPS company offers free boxes and materials for packaging.
Tip #3: Another way to lower the costs of international delivery is to avoid shipping express, which means a longer shipping time. However, it can only amazingly work when your customers are willing to wait.
Tip #4: Moreover, depending on your eCommerce platform, you can get the chance to get discounted rates negotiated with international shipping companies. For example, Shopify supports users in the US and Canada negotiated rates with shipping companies including USPS, UPS, DHL Express, and Canada Post. Meanwhile, if you use UPS and FedEx to ship internationally without a business account, it is likely to become really costly, with rates almost being 3x higher than USPS.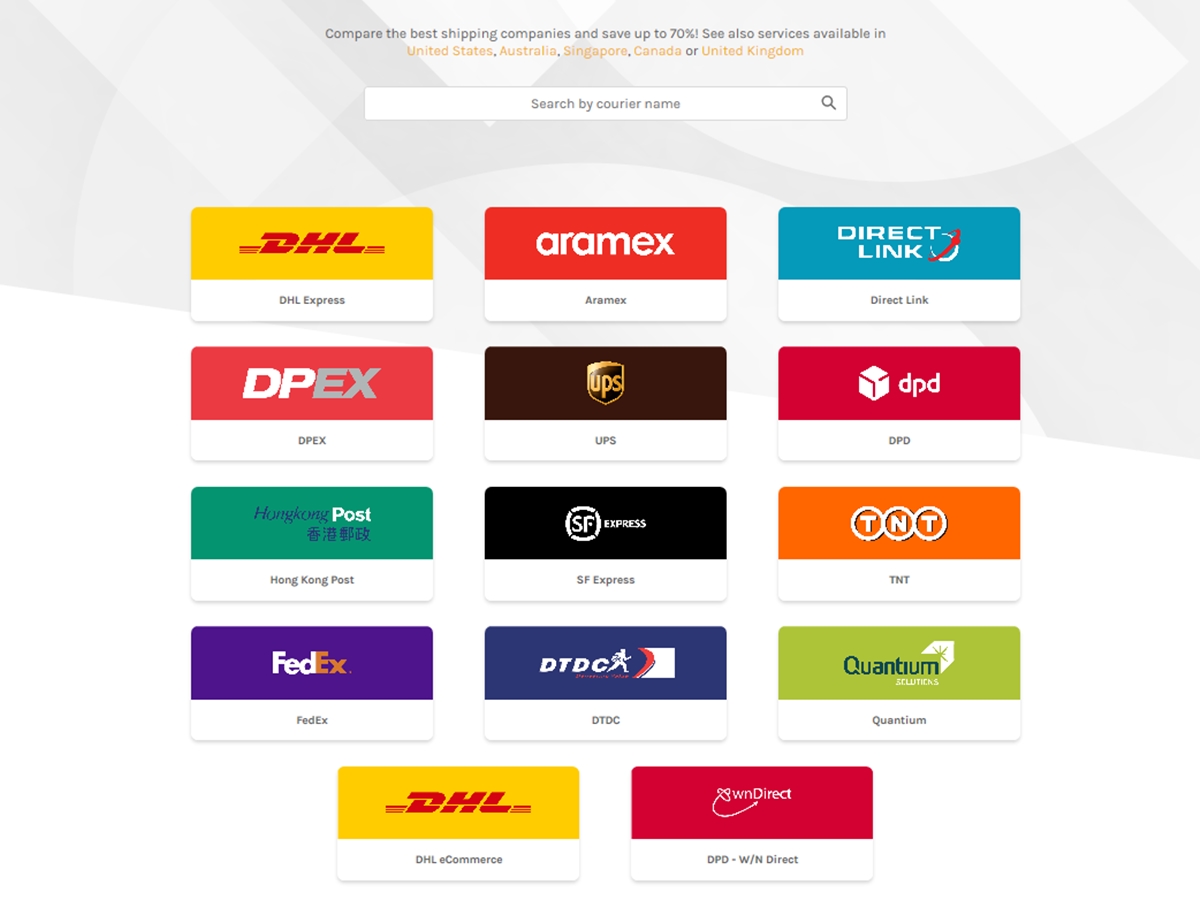 If you want to learn more about shipping internationally, I recommend you to start from more detailed article
The cost to Ship Internationally?
If you want to know how much will the shipping cost, there are the Multiple carriers available as a way to save your shipping costs.
Postal carriers are often cheaper, but it can be slower and might not offer many options for package types and speeds. With the Express carriers, everything will run faster and there are more service options like insurance, but it can be more expensive.
I have this table below to show you the rates for an 8 lb package, 14" x 12" x 4", from Connecticut, the USA to Hong Kong as an example of International Shipping:
| Courier | Service | Delivery Time (Days) | Cost (Retail pricing) |
| --- | --- | --- | --- |
| USPS | Priority Mail International | 6-10 | $34.65 |
| USPS | First Class International | 7-21 | $35.00 |
| USPS | Priority Mail International | 6-10 | $50.70 |
| USPS | Priority Mail Express International | 3-5 | $69.10 |
| FedEx | International Economy | 4-6 | $111.34 |
| FedEx | International Priority | 1-3 | $118.10 |
| UPS | UPS Worldwide Expedited | 2-5 | $106.70 |
| UPS | UPS Worldwide Saver | 3-5 | $113.33 |
How to Ship Internationally with Shopify Shipping?
First of all, you have to make sure to implement Shopify Shipping. The Shopify shipping options can be found in your admin by navigating to Settings and then click on Shipping.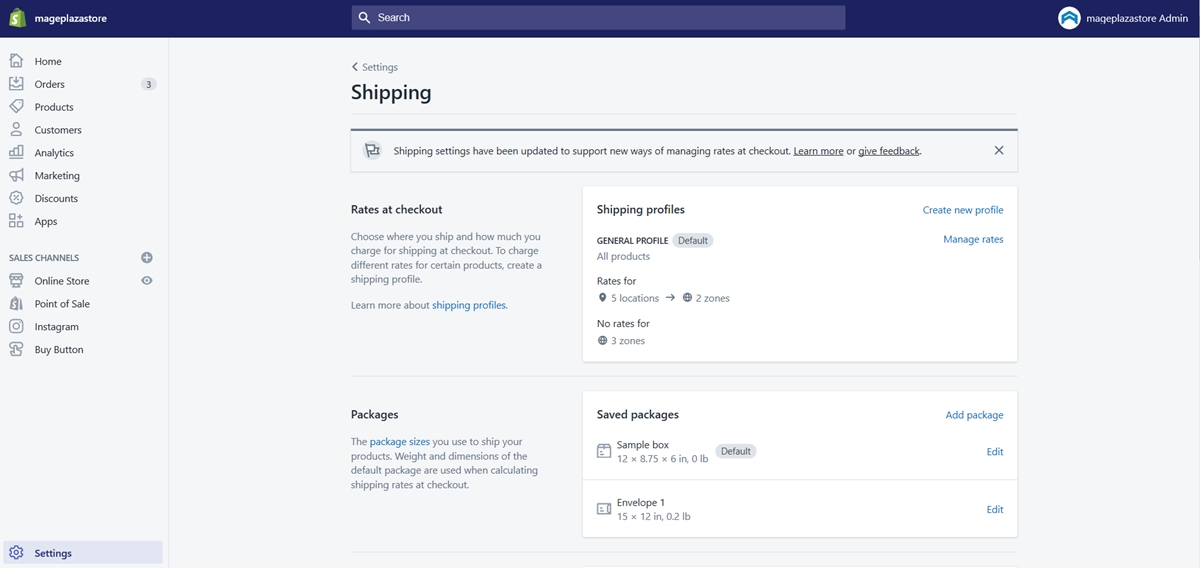 This action will enable you to connect with shipping carriers, create new shipping zones, and add dropshipping services. There will be several shipping options listed below the product information so that you can choose to remain your customers' selected shipping speed or upgrade them to a faster or cheaper service.
In the Shipping labels section, which will identify your international orders and create customs information. From this step, you are able to reduce the shipping rates offered through USPS, UPS, and DHL. Although almost all Shopify customers have the right to benefit from this discount, however, the merchants on higher plans will save more money on shipping.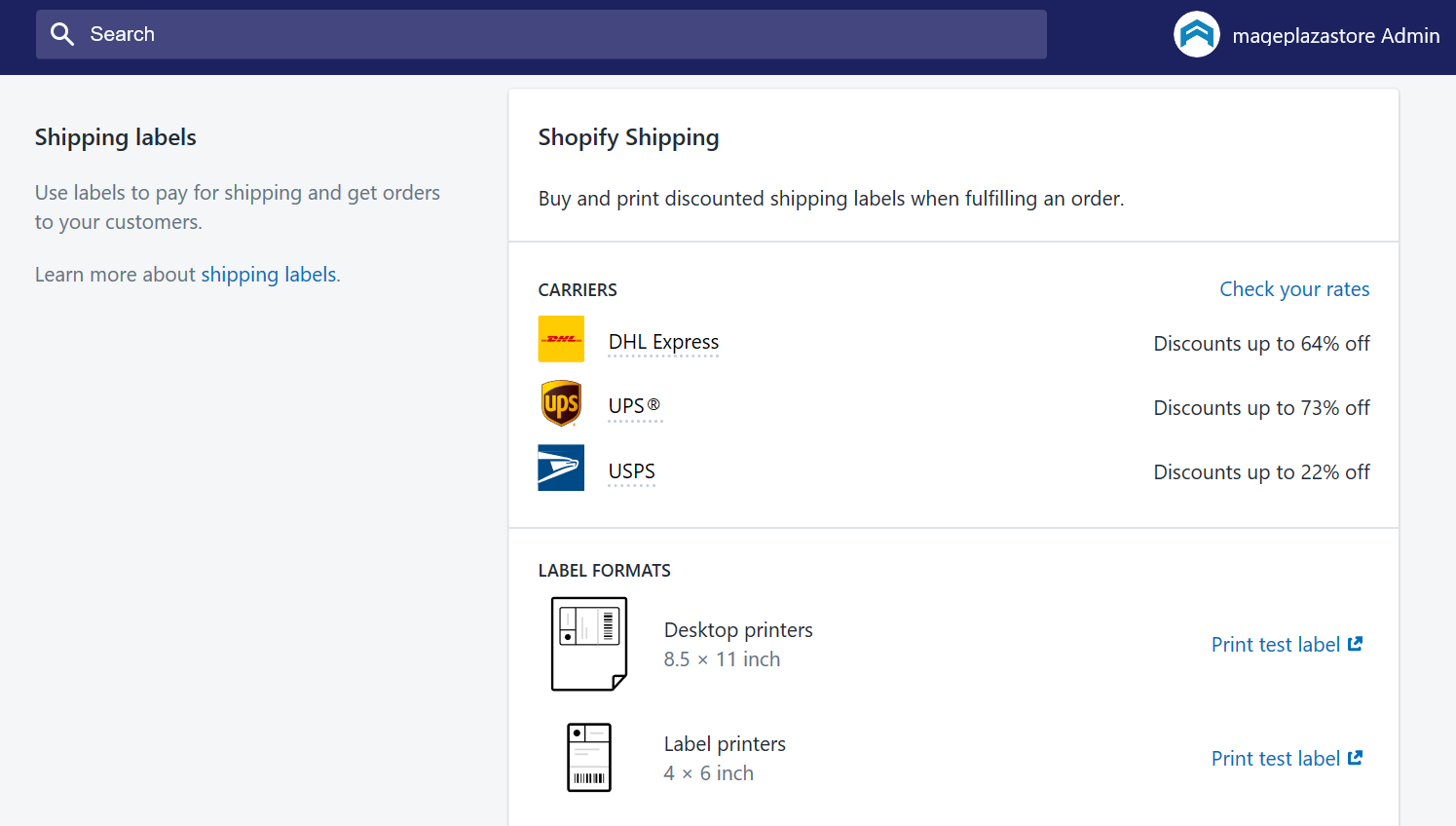 When you purchase international shipping labels via Shopify, the correct customs forms as well as documentation are generated automatically for you and can be printed on any standard printer. In this step, I recommend you to use DHL Express to ship because this documentation is electronically transmitted to customs–no additional paperwork necessary.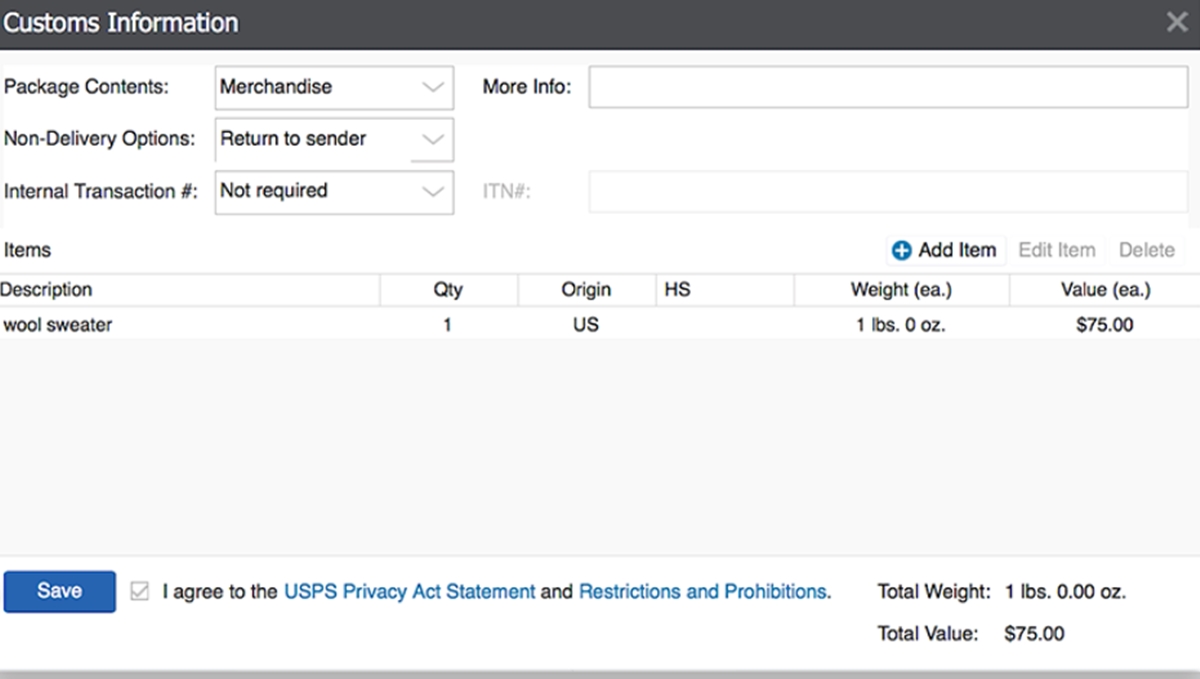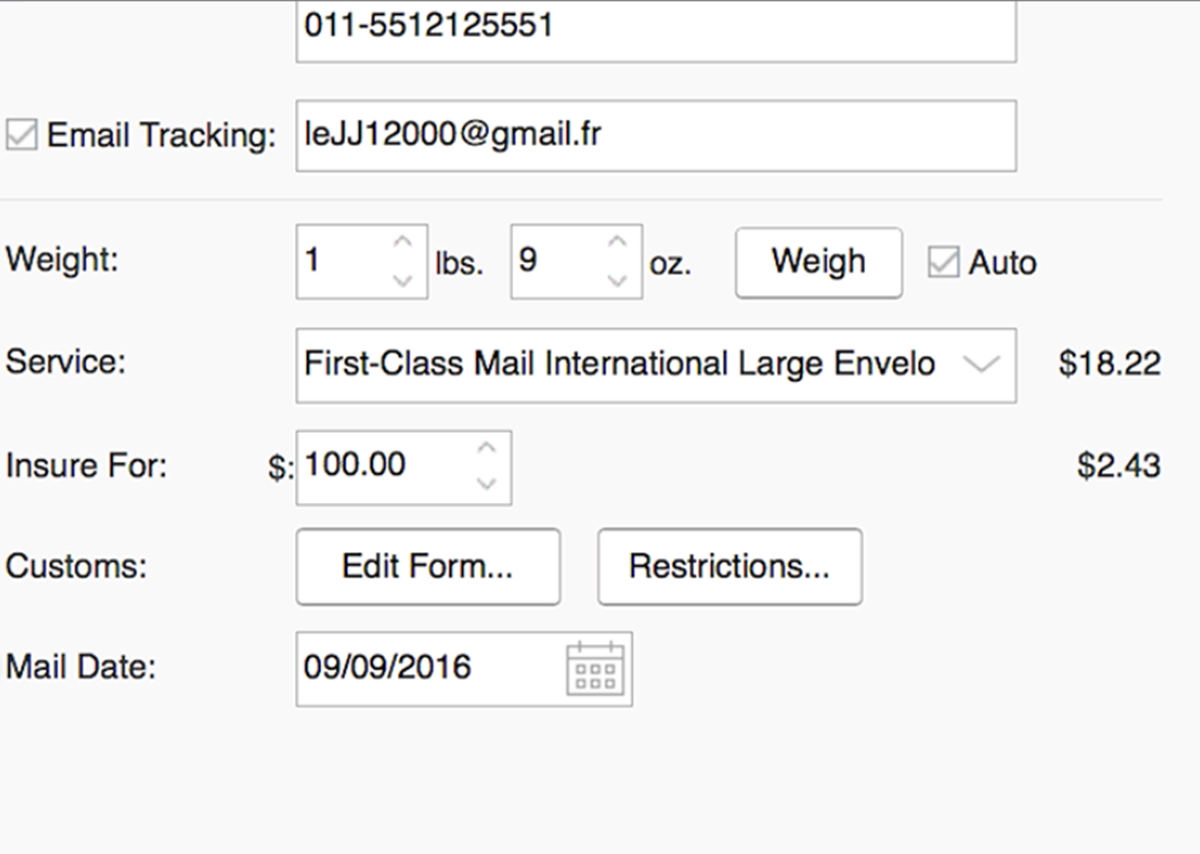 After all, when you are done filling in all details in the Custom information section and about to get your shipments out the door, it's also your privilege to set the option to set a pickup for any UPS or DHL Express shipment, which should be considered on the shipping carriers that you may use.
What fee for International Shipping?
For International Shipping fee, in total, these kinds of fee are commonly considered in shipping payment:
Shipping-related charges: This can be based on the details of the shipment, such as the pickup location, the delivery destination, and delivery hours. Generally, the farther you're shipping, the higher the international parcel delivery cost. For some remote area or Extended area, you might have to pay more fees because the pickup or delivery locations may cost you extra.

Parcel handling charges: You will have to do deal with elements of the items you want to ship such as their container, their weight, and their dimensions. In case your parcel doesn't fit their criteria, you possibly have to pay additional charges.

Tax & duty-related charges: This is likely to depend on the type of product. As different countries apply different rates of taxes and duties on different products.

In some cases, when you choose better services express carriers, it might cost you more expensively.
I have included the chart below to help you list out the associated costs to ship a product:
| Cost of product | $12.00 |
| --- | --- |
| Packaging | $2.25 |
| Cost of Shipping | $6.50 |
| Handling charges | $2.00 |
| Duties and taxes | $4.50 |
| Credit card fee | 2.9% |
| Profit margin | 50% |
| Total price | $56.00 |
Time for International Shipping
After reading all the sections above, you may come to ask this question: "When is the time for International Shipping?
Normally, people will go for having a strategy in place as the first step.
However, before decided to set up International Shipping, you will need to consider carefully at your shipping location and which way that you will ship, to where and at what cost—giving these factors to get better prepare for you to grow your business globally. Take some approaches and techniques that you found into considerations because shipping can be seasonally changed. It's necessary to refine your strategy as new offers or changes take place.
When you have considered all of these carefully, it's now the right time for you to get started.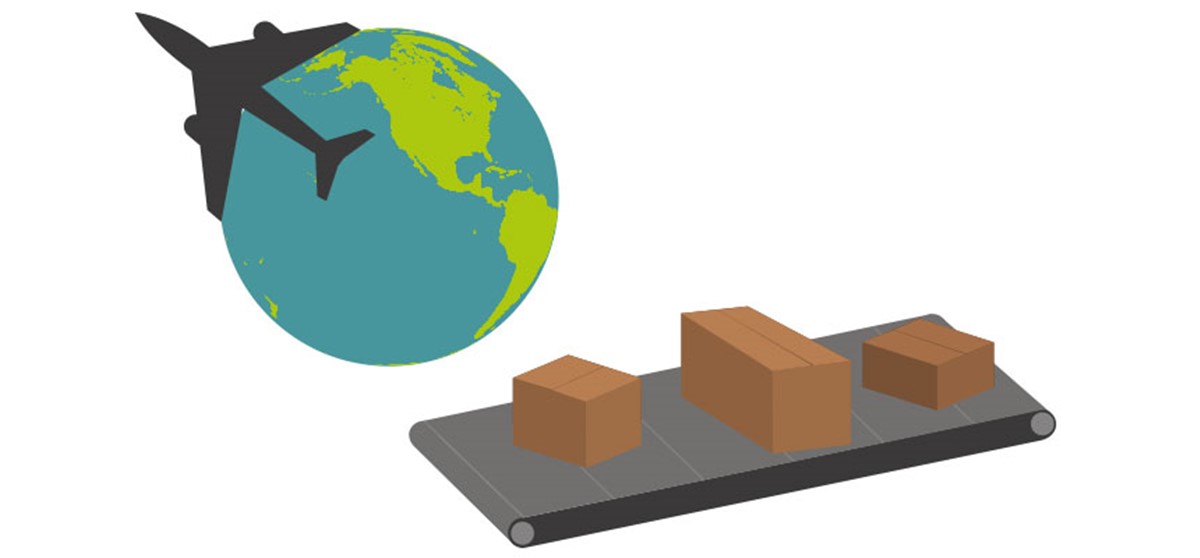 Shopify International Shipping App
Under circumstances that you get more and more International orders in my Shopify store, and it is getting burned on shipping costs. Meanwhile, the basic Shopify shipping settings are not able to deal with all your settings. You might need some Shopify International shipping app at the moment, and I will introduce you to some.
The first one that I would like to mention is the Intuitive Shipping, which is known as our Advanced shipping Calculation app. It is possibly a good choice to get your International Shipping under control, and even for your domestic shipping. You will be enabled to set live rates based on dimensional-weight and utilize our 4D boxing algorithm to make sure the appropriate size, weight, and a number of boxes are used for the calculation.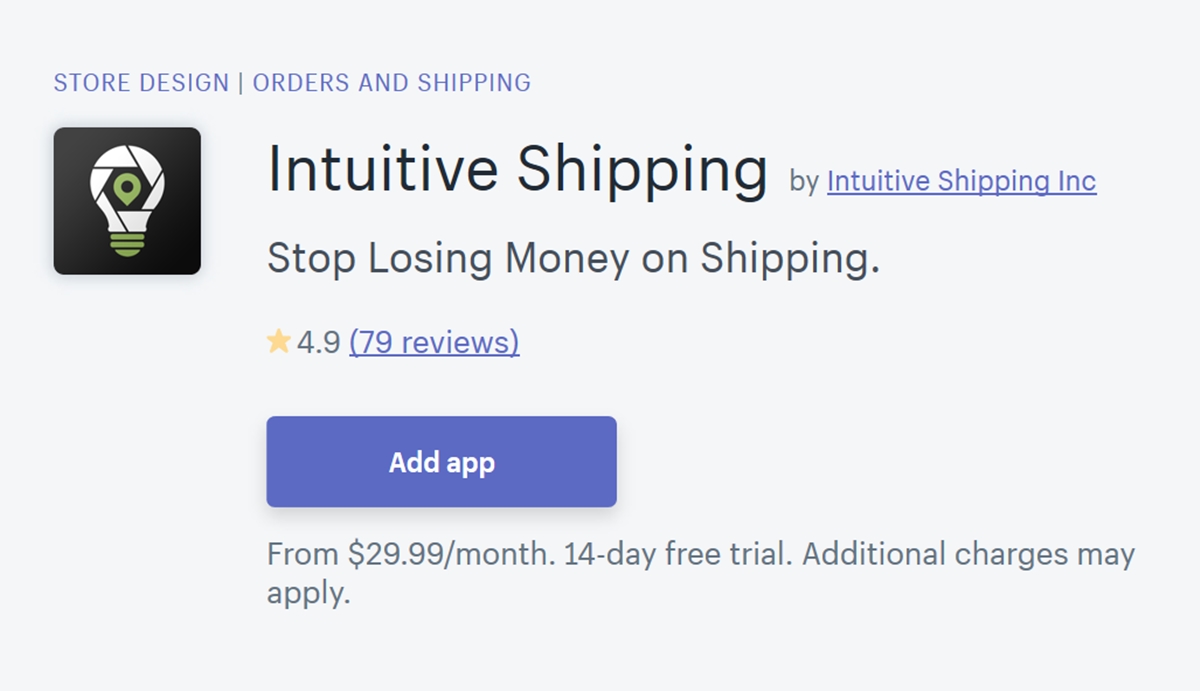 Secondly, I have another choice for you, which is the Easyship shipping platform to reduce shipping costs, especially when you are selling worldwide, at the same time, increase conversion rates to save your time and money. The great news is that it is completely free.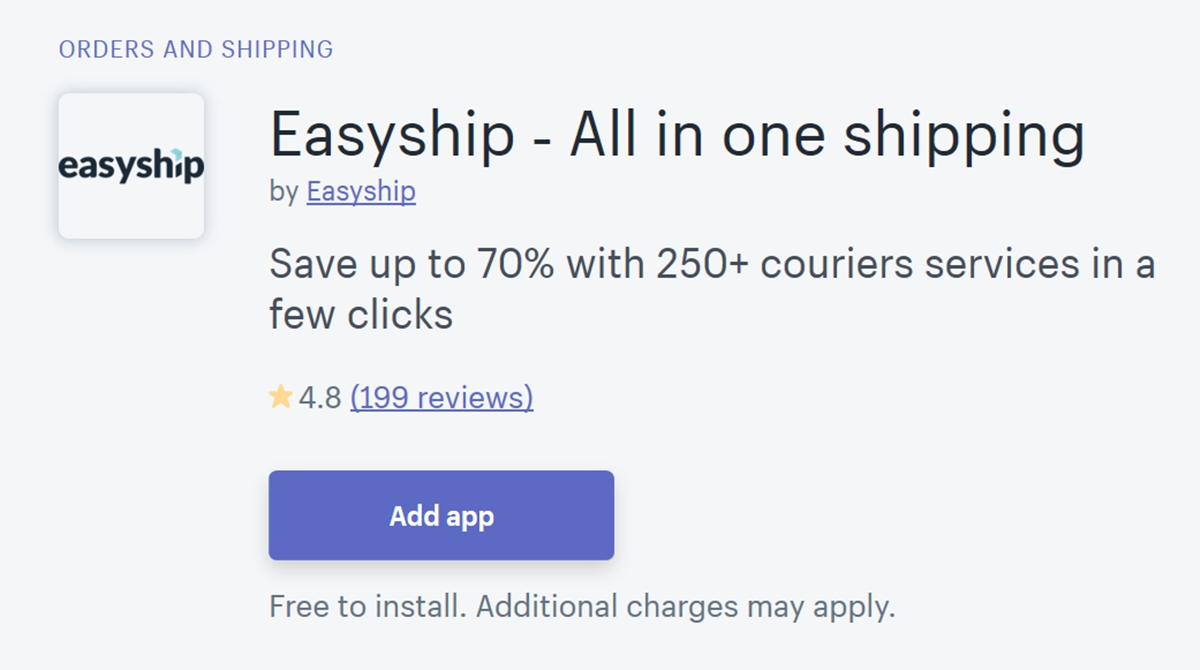 The last one that I would like to show is the EzySlips ‑ Shipping Automation that is going to help you a lot in generating custom shipping labels in bulk, managing accounting with generate bulk Standard Manage and even creating reverse pickups, keeping track of refunds, creating exchange order, etc.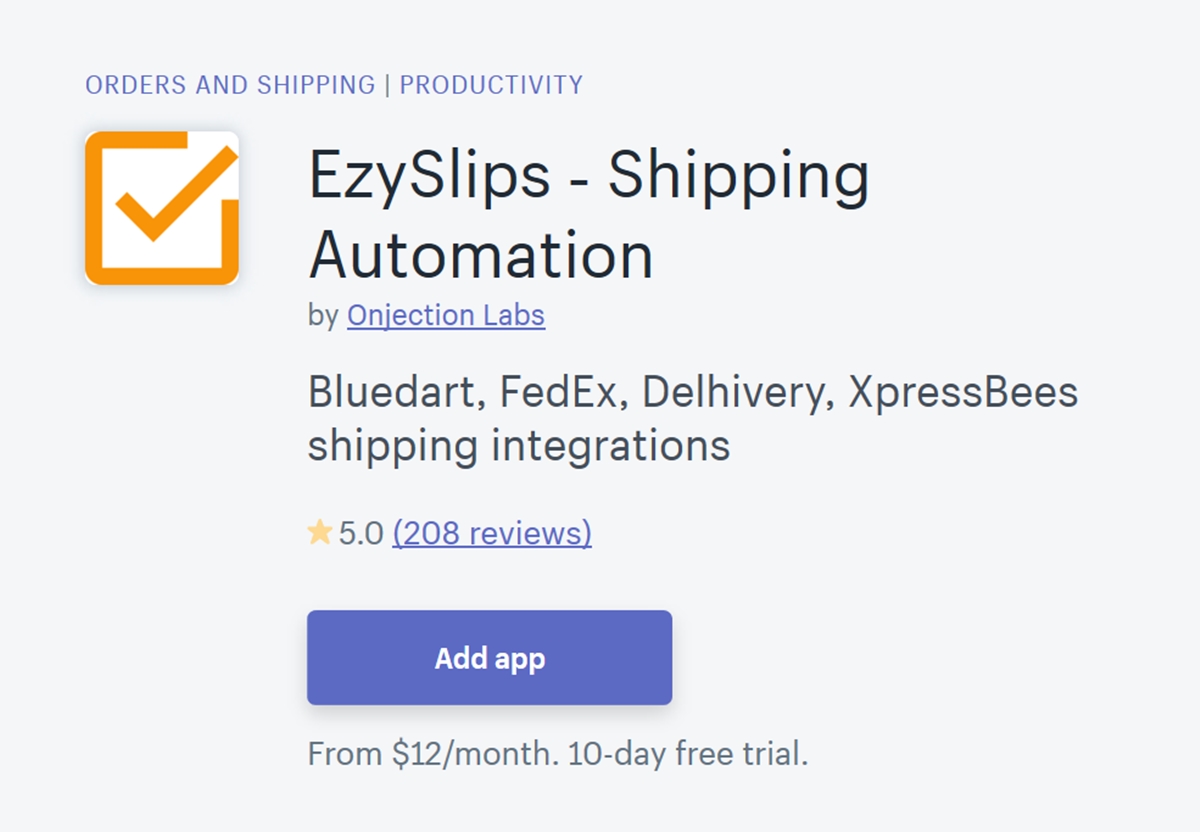 Conclusion
After all, whether you are a person that is considering International Shipping as an option, or you've even tried it once or twice, or maybe you never think of shipping internationally before, it would be my pleasure if this article helped you a lot in setting up the international shipping in your business.
Related articles
---
Mike is a content writer at Avada, with a love for video games, gadgets, and software. He has been writing about the industry now for over 7 years. He likes to keep up-to-date with the latest software releases. He's also an avid reader, and he enjoys spending time outdoors with family and friends. When he's not working, you can usually find him playing video games or exploring new outdoor activities.