Shopify SEO Help: Where to find Shopify SEO help?
Last updated: October 01, 2023
If you want to launch and sell a new product in the Shopify store market, SEO is the best choice to approach more to customers. By simple and default Shopify SEO functionality, it is easy for store owners to create more presence in the search engine.
Among thousands of competitors on the list of Google searches, you will be stood out if you can utilize SEO appropriately. The more easily shoppers find your store, the more traffic that you have. And your eCommerce stores also have more revenue because of the higher rankings.
Although we know that Shopify SEO is so useful for any online sellers, it is not easy to for them to because SEO also has Pros and Cons. Especially for beginners, it is necessary for them to find support from multiple Shopify Seo Experts
The Shopify store owners can easily find out the help to build up better rankings by reading the following article Shopify Seo Help.
Why do you need help with Shopify SEO?
It can not deny that Shopify has all the primary functions for setting up an online shop. In addition, SEO in Shopify is also one of the best features to boost the performance of searching engines for online store owners. Read our review on Best Shopify SEO Apps
Widely used and widely revered, Shopify has been used to build over 600,000 stores and counting. Ecommerce is a big deal, with annual sales already in the trillions. It pays to get your products online and in the mix. As Shopify themselves say, global ecommerce isn't a choice; it's a necessity.
When they look for their items on Google, the search engine optimization (SEO) will list down? People who find your online store in a search engine are probably looking for products like yours, so they are more likely to buy something. You can use to improve the search engine ranking for your store and help customers find your products.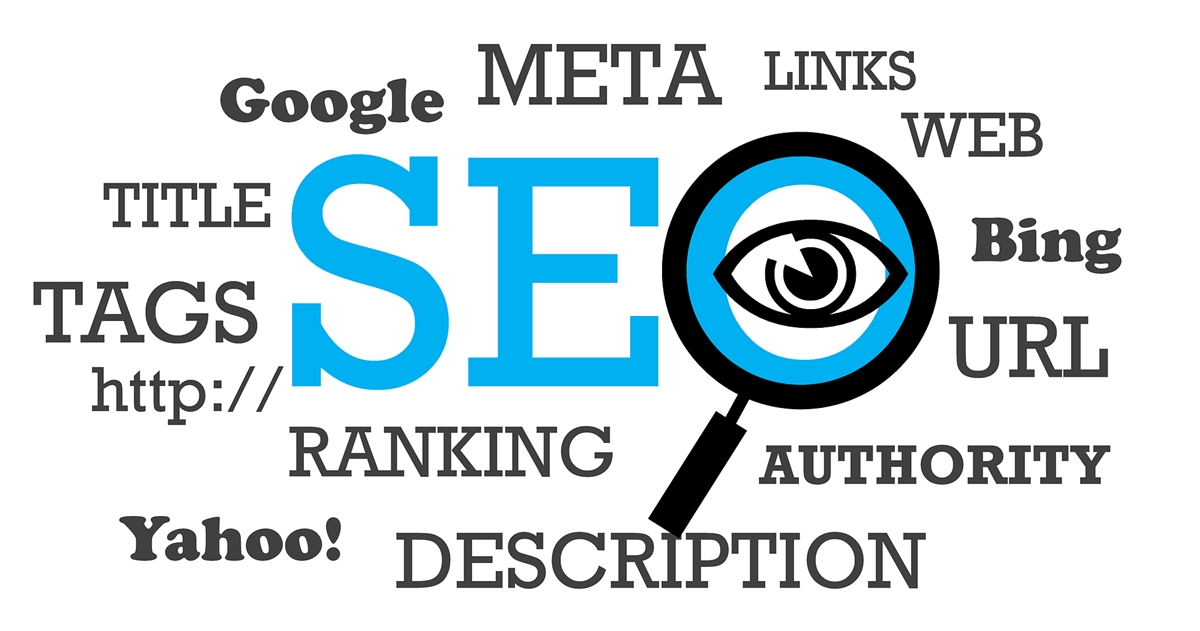 SEO is important for online store
SEO would be a perfect framework because the SEO process includes many rules and guidelines to build up user-friendly faster shops. By a number of stages and a set of controls, it is the best method to increase the quality of a website. Moreover, as a primary functionality, SEO helps online merchants to create traffic naturally without paying anything. Therefore, Shopify store owners can boost sales and create more competitive advantages for any E-Commerce store.
Shopify SEO is not easy
The first thing that any online merchants should think about when they start their business is SEO their shops. The better strategy in Shopify SEO will make their products, as well as their shops outstandingly. Different from making their pages have better ranks, the Shopify store owners should concern more about their products ranking as well. In spite of the same fundamentals, the methods for SEO different.
Although most users are happy with Shopify's SEO, if you read some comments, some people can advise you to steer away from it because of the lack of advanced SEO features. For example, URL changes, there is a recent troublesome with automatic 301 redirects or they can not access the Robots.txt. Besides, it is difficult for online sellers to edit URL structures and automatically generated sitemaps.
Where to find help about Shopify SEO?
Launching a product or building a website requires the users to understand their strengths as well as how to maximize their presence such as retail location, customer preference. SEO makes your business easier by leading the customers to find your stores. However, depending on different purposes and different target customers, Shopify structures the SEO options. In addition, these SEO troubles can be solved by reading professional articles or SEO services. There are multiple methods that Shopify store owners can choose to deal with these limitations are listed down below.
Ask questions on Shopify Forum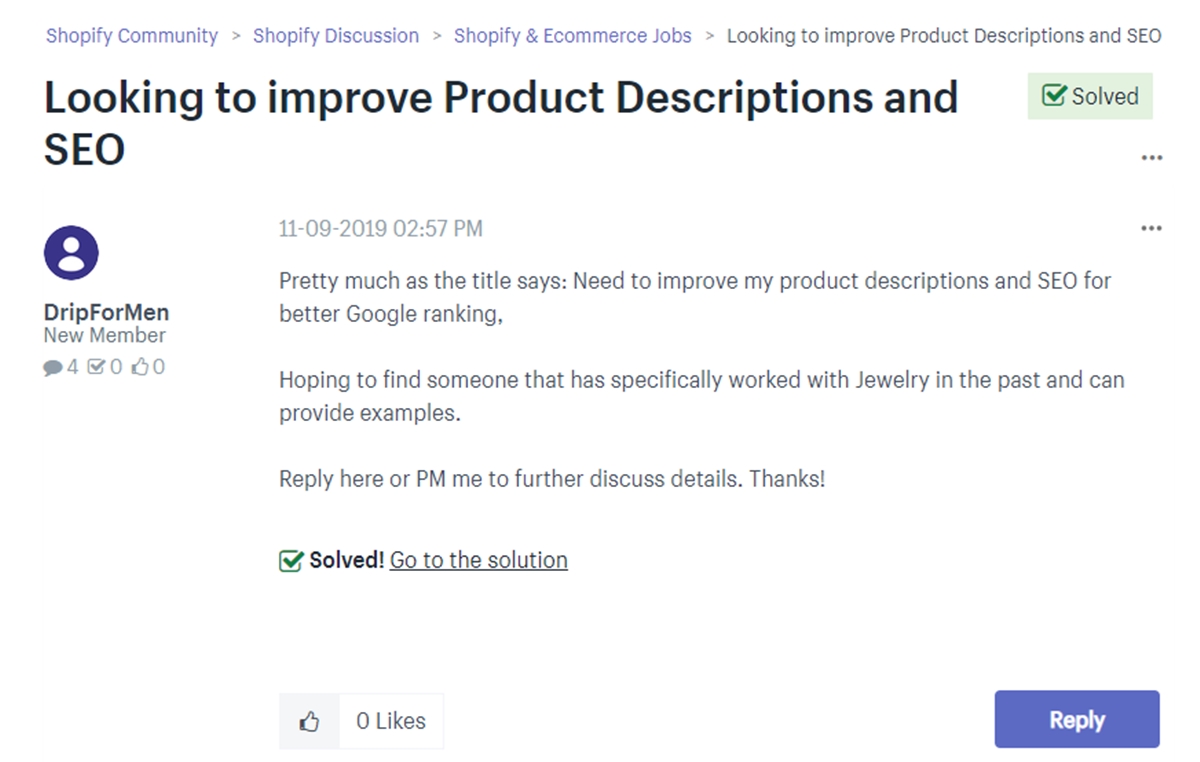 You are looking for a free source to solve basic troublesome, this method is the best choice for you. The problem that you meet can someone also have met before so you just need to search the answers on Shopify Forum. Because Shopify is one of the most popular marketplaces, this forum has millions of members, as well as a professional Shopify support team, who can help you with the guidelines to deal with all SEO difficulties.
Read SEO articles on Shopify Help Center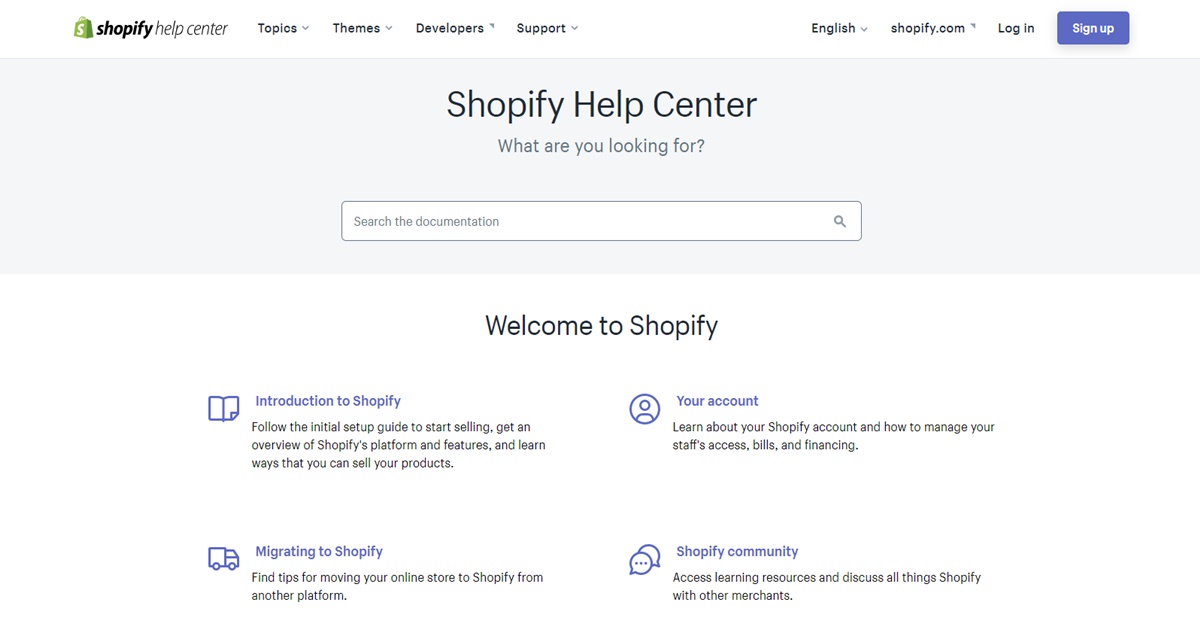 Shopify Help Center is one of the best options for any online sellers who have basic knowledge about Shopify operation can deal the difficulties by themselves. On this website, Shopify store owners can approach all these topics such as the introduction in Shopify, from beginning to advanced. This method is totally free and simple, you just need to read SEO articles. However, it really takes time and effort, especially for beginners, this method is not suitable.
Hiring outsource Shopify SEO services
Another way to solve all problems quickly and professionally is by hiring a Shopify SEO agencies. But the amount of these companies is huge, so it is necessary for online merchants to find the right one. It highly recommends for Shopify store owners to follow four ways to determine which company fit for their business.
To find the right Shopify SEO eCommerce company, you must establish where your website could be improved. This way, you can identify and hire a company that offers the services you need.
There are some usual problems that online merchants have such as branding, page speed, site organization, keywords, etc. In case that the Shopify store owners could not identify which needs improvement, the agency as WebFX will help you analyze the site and supports with recommendations where they need improvement.
Check the offers from the agencies:
Then Shopify store owners can list down all the possible agencies. After that, it is essential to compare which fields they enable working. These Shopify eCommerce agencies can supply multiple services
A good Shopify SEO will specialize in different fields such as:
Branding
Branding is important for any online Shopify website because it could boost the new leads for the website. In addition, by good branding, the Shopify store owners enable keeping their customers engaged with their business. If online merchants show their brand consistently across the sites, it is easy for them to impress with their visitors.
Besides, the agencies can offer design services that optimize the visual performance of the website. With stunning designs such as graphic web design, visual strategy or typography too, their websites are visually appealing to these different audiences.
Page speed
This service will boost the Shopify store owners satisfaction because it will reduce their waiting time. By cutting the loading time, online buyers can access their expected products as well as information faster and easier. Therefore, it will optimize the SEO for your sites.
When the sites are heavy with multiple images and content, it is high time for online merchants to use this service. A fast-running site will not only keep their audiences happy but also increasing ranking on search engines so the online merchants can easily increase their sales.
Pay-per-click advertising
Pay-per-click advertising PPC service usually parallels Shopify SEO, so it is necessary for Shopify store owners to find help from experts with these paid advertising services. Because they can help you to understand the audiences more, choose better keywords. These PPC advertisements will appear at the top of the search results even higher than organic listings; therefore, it is easy to attract interests and increase the number of leads.
The Shopify SEO company which is considered as a good supplier offers PPC services in the term of SEO services. It means that they will provide the right keywords for your Shopify website with keyword selection as well as learn more about your audiences to satisfy the SEO plan.
Check prices
Since the budget is also one of the key factors to decide which Shopify SEO service should be chosen. Firstly, you should research multiple agencies, whether that service is valuable with that range of price. And then, depending on the budget, it is essential to set the priority about the services that you need to improve and what elements crucial to choose the right company.
Within a standard budget, there are many choices for you. However, suitable judgments will help you a lot in dealing with and finding affordable ones. In contrast, it is also essential to consider the SEO service that is cheap. The suitable approach will guide you to the right choice for the Shopify SEO agency.
Check the testimonial
The best method to know more and have better insights by looking at their client testimonials. Client testimonials will be the mirror that reflects the results from these Shopify experts and what they did the best for their customers. From these comments, online merchants can narrow down their lists and have the best particular experts to meet all their needs.
The clients will be the ones who experienced that Shopify SEO experts knew what is the real service that they had. The list of Shopify experts that are ranked as the best agencies to provide the best experiences in managing and optimizing the successful shops.
SEO Page Optimization service
Improving the ranking in search results will be the best choice to attract more traffic as well as optimize site content. Below is the list of top service suppliers as well as Shopify SEO experts who will help you have the recommendations to optimize the page.
Ecommerce Storez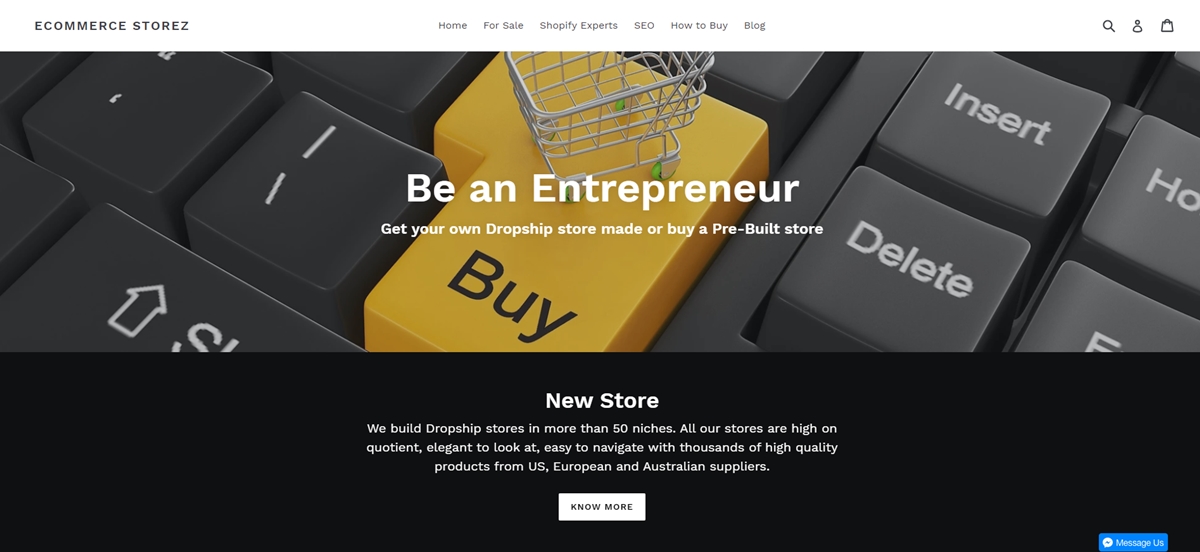 This Ecommerce Storez which is located in Lemars, United State. This expert specializes the Ecommerce coverage include Store Setup, Mobile App, SEO, Ads, and Marketing. For optimizing Conversion, the store owners can use the service to increase the sales. Moreover, with customers, there are many other services for them such as Dynamic Testing, Technical SEO, Research and Discovery. In addition, Content Marketing will be the best choice for shop owners to want to build their shop's content. All of these jobs will be done at the price of $100.
There are 51 testimonials which are all in 5 stars. That shows the satisfaction of customers in using their service before.
Carlow SEO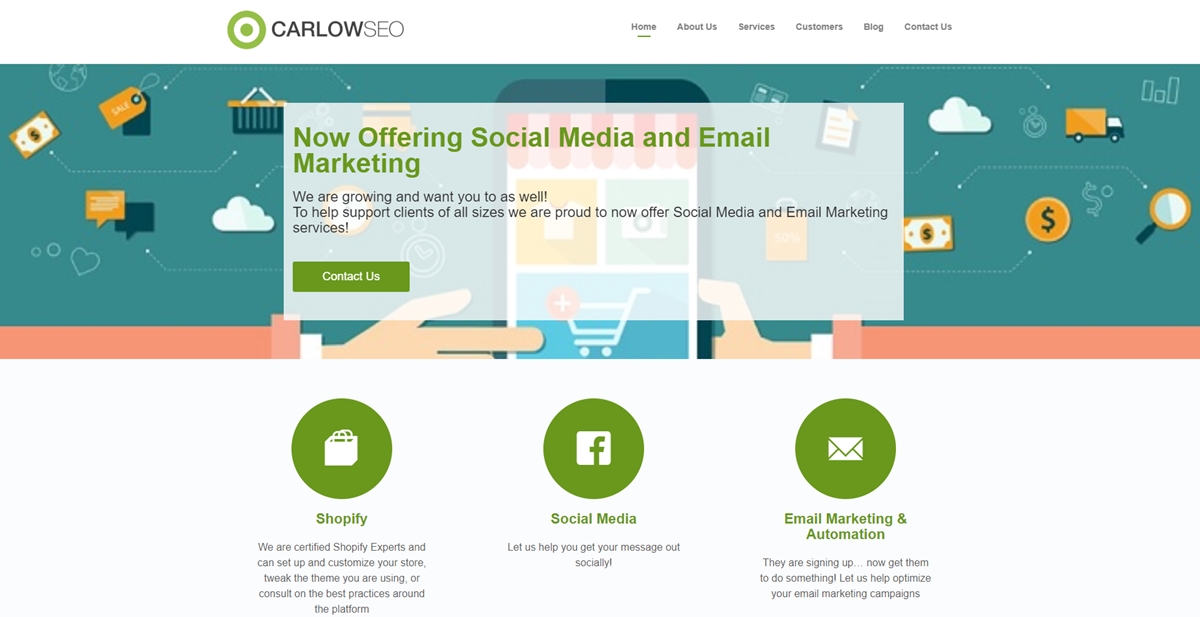 Carlow SEO is an American Shopify expert with more than 8 years experiences in Shopify. Moreover, it is easy for any online sellers to design their own shop with multiple SEO functionalities such as email Marketing or Social media, the theme will be more effective for any online merchants to maximize their business from marketing and sales. Moreover, price is affordable with the range from $25 to $175
In addition, there are more than100 five-star reviews that allow online sellers to have better insights from previous customer's experiences. The shop owners also can optimize their shops with content writing services or have. Or even if they do not have any idea how to improve their shops, the Shopify experts will provide them with guidance.
Realm LCC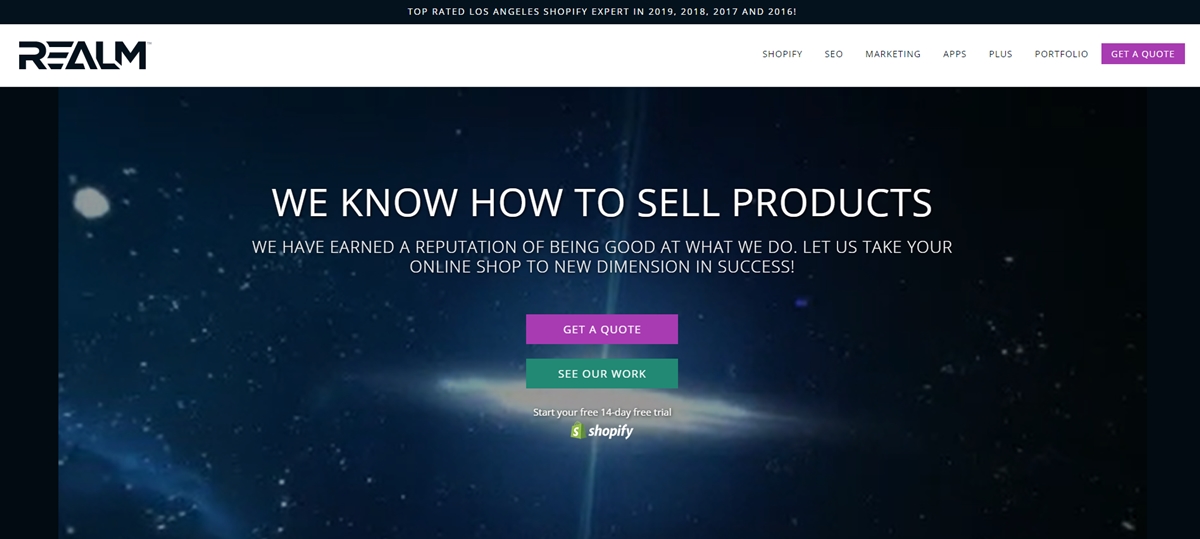 Considered as one of the top Shopify Experts in Los Angeles the US Realm LCC will be the best choice for any online sellers to boost their sales and ranking. With 4 years in Shopify experiences, Realm LCC has many customers from Los Angeles, San Francisco to the entire USA. Besides, there are more than 10 years of experience in building stores online, which is easy for online merchants to have success.
With the price range is from $250 to $5,000, there are multiple services for the Shopify store owners to maximize their business such as visual content and branding. Moreover, they can have supports to develop and shoot their sales by marketing and sales service. Content writing is also one of the options that online merchants can choose to boost sales.
Minion Made

Minion Made which is one of the best choices with Shopify Experts in New York. It won the award as a top website to develope dynamic Shopify custom shops around the world.
With the price starts from $250 to $5000, Shopify Experts enable developing and troubleshooting. Other services that the Shopify store owners can easy to set the store up. Visual content and branding are also one of the best choices for users to boost sales.
WhiteCap SEO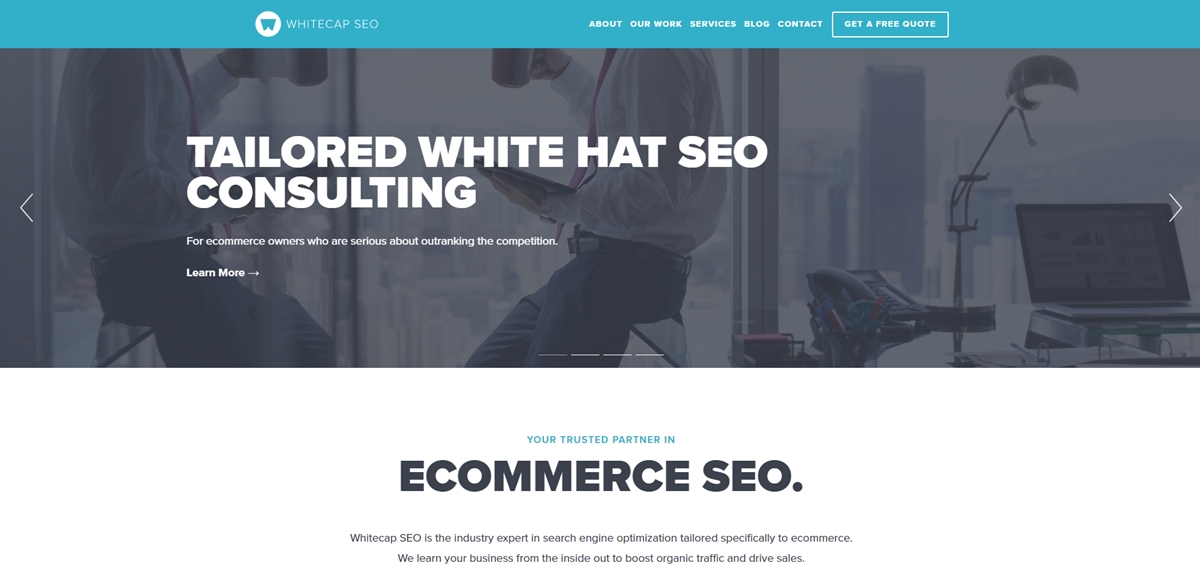 WhiteCap SEO os an US-based company to optimize the SEO effectiveness. With these services from an agency from Miami, Florida, it is easy for online merchants to maximize their ranking and their sales with Shopify SEO experts. By WhiteCap SEO, the store owners can improve their traffic as well as optimize content with better meta descriptions, title tags, etc.
The price starts from $1,500 and there are a lot of services which include such as:
Analyze the Technical numbers
Analyze Content
Analyze Competitive Advantages
Analyze Keywords
Provide SEO Scorecard
Provide detailed SEO Roadmap
Improve Off-page SEO and inbound links service
Building a good Shopify SEO requires online sellers to understand more about search engine results pages (SERPs). The rankings depend on not only the quality of your site's content but also the actions outside of your website.
Off-page SEO helps raise brand awareness and increase organic traffic to your website. There are many below Shopify experts in Off-page SEO for online sellers to choose from their shops.
Thriftizier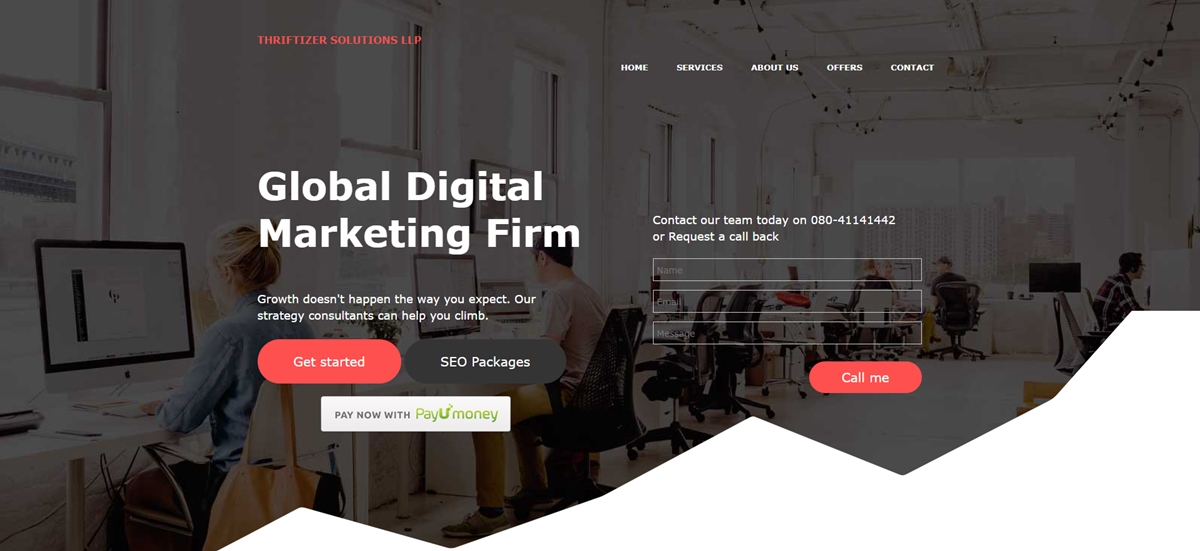 Thriftizier will be a suitable choice for any startup who wants to establish their business and brand. With the price is from $150, Shopify store owners can measure their ROI and convert more visitors to customers.
In addition, by this agency, online merchants can find out the best solutions to boost Google Ranking and set up Seo Backlinks. Other services that the Thriftizier can create better SEO website by:
Provide additional information such as work and price
Increase the Dofollow
Design Homepage
Create powerful inbound links
Create high-quality SEO backlinks
IT-Geeks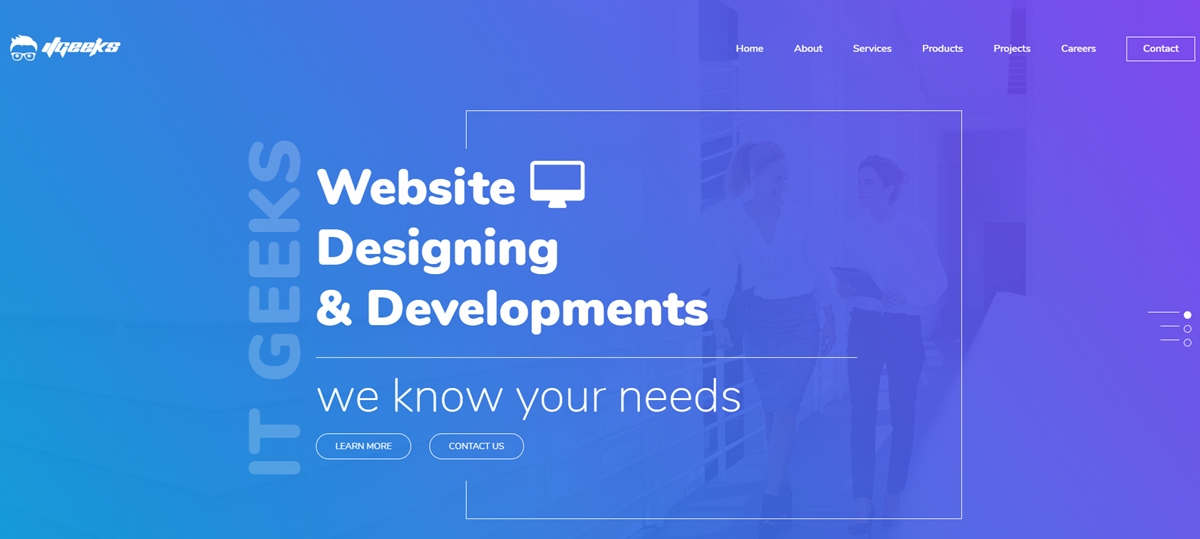 A Indian Shopify experts as IT-Geeks has more than 5-year experiences in multiple fields such as web designing, off-page SEO. With the experts, it is easy for the challenges and
IT-Geeks costs from $150, which helps the users to do their business success all around the world. IT Geeks brings all solutions for the Shopify store owners to improve your rankings to attract more traffic. For the shop owners, they also can be supported by
Providing Manual Search Engine Submission
Providing Yahoo / MSN / Bing Listing
Providing Local Business Directory Submission
Providing Google Local Listing
Providing Manual Relevant Directory Submission
Providing Social Media bookmarking
Root Creative

Root Creative is an innovative American Digital Agency. The price falls from $995 includes the Offsite SEO and inbound links services. From these services, the shops will increase their rankings in search results. And by increase the number of traffics as well as the quality of links in their sites, Shopify store owners can boost their sales easier. There are many services that online merchants that can boost their sales by Root Creative such as:
Provide 20 Article Submissions
Provide 15 Classified Submissions
Provide 15 Social Bookmarking Submissions
Provide 10 Press Release Submissions
Provide 10 Blog Submissions
Provide 10 Link Wheel Submissions
Provide 2 unique word articles
Provide 1 unique word press
Bluetech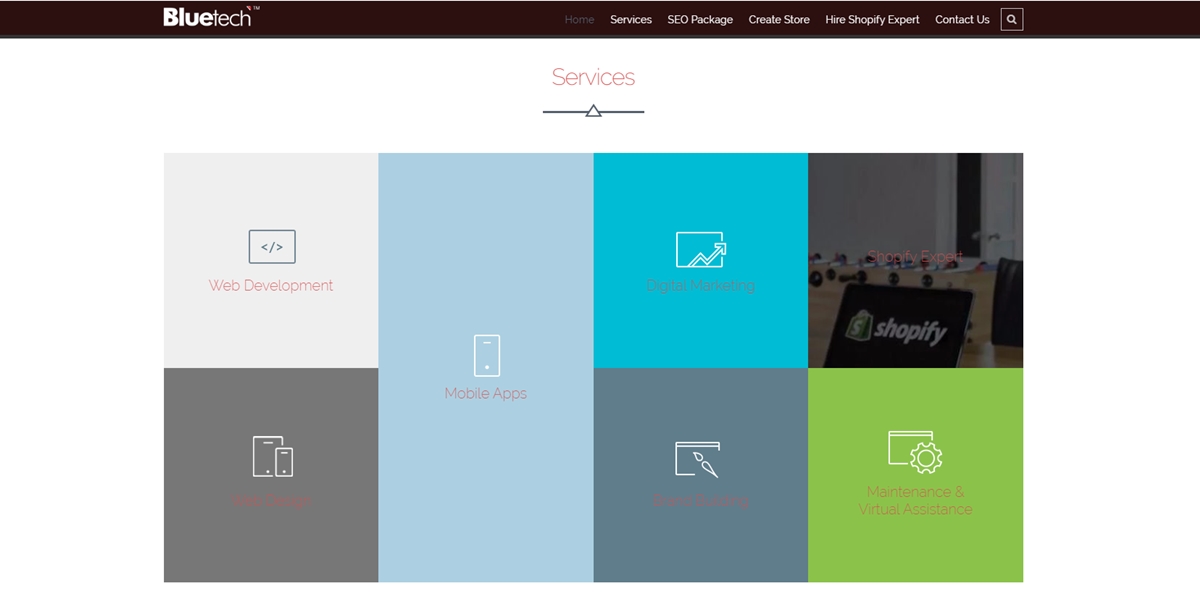 Considered as a lead in IT company, Bluetech brings all the best functionalities for a Shopify store. With a team of expert in web deignning and developing Shopify ecommerce shops.
The cost that online merchants need to pay is from $200, they will have multiple supports from SEO, SMO, DM or quality services. Therefore, the covert rate will be higher. Other services that the online merchants can be supported such as:
Provide additional work and price information
Share URLs out of the store
Support with keyword research and competitor analysis
Set up backlinks
EXEN Labs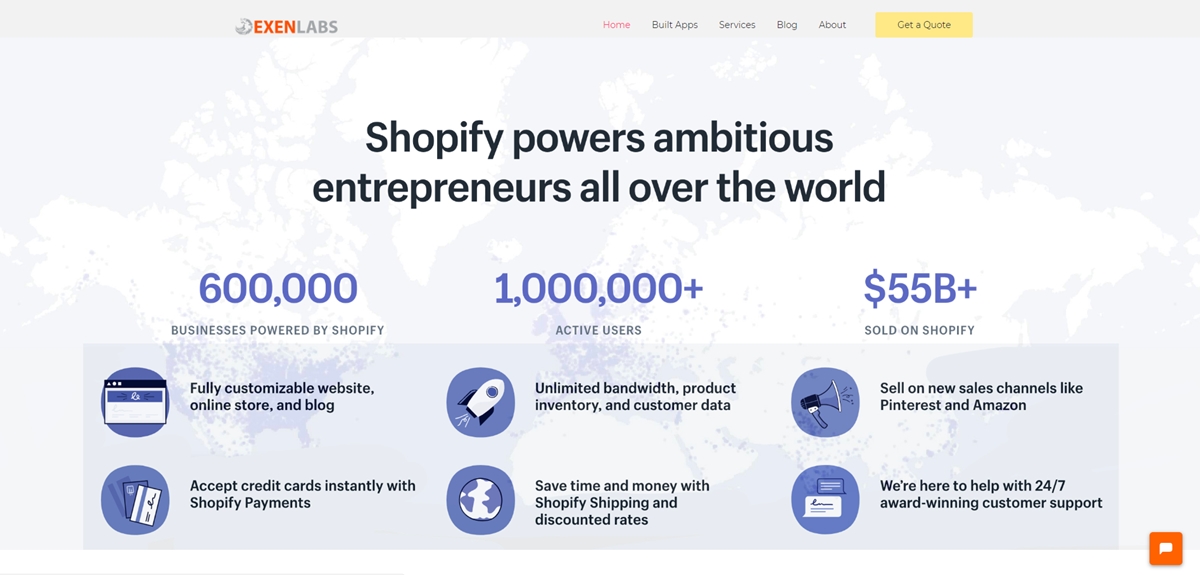 EXEN Labs which is a Shopify expert located in London, United Kingdom. It can provide full in-house service on Shopify. Moreover, it has a group of experts in optimizing SEO.
Including in the starting price, Shopify store owners can have multiple functionalities to bring the effectiveness for off-page SEO such as:
Provide additional information
Add inbound links
Support social media strategy
Influence by marketing strategy
Conclusion
With the development of Shopify, SEO Shopify plays a more important role for any eCommerce site to improve ranking in search results and attract more traffic. By choosing a suitable SEO Page Optimization help, the online sellers will easily boost their sales professionally without spending a lot of time and effort.
This above article Where to find Shopify SEO help? with the hope that helps any online merchants to find out the best choice for their Shopify SEO and contribute to their success.
Related Posts
---
Mike is a content writer at Avada, with a love for video games, gadgets, and software. He has been writing about the industry now for over 7 years. He likes to keep up-to-date with the latest software releases. He's also an avid reader, and he enjoys spending time outdoors with family and friends. When he's not working, you can usually find him playing video games or exploring new outdoor activities.