Shopify SEO Experts - How to choose the right one?
Last updated: October 01, 2023
Search Engine Optimization, which is also known as SEO, is the designing web content process that maximizes its visibility in the organic search results of popular search engines. As a result, it will make a helpful contribution to most businesses' marketing strategies.
However, SEO is not simple because the most well-known Search Engines such as Google often use complex algorithms to evaluate websites, which requires the proper SEO takes knowledge and skill.
With so many companies and individuals nowadays who have mastered the art of Shopify and become the Shopify Experts and they will be the person to assist you in dealing with these demanding tasks like migrating your store from another platform or creating a new e-commerce site from scratch.
But why should you hire a Shopify SEO expert? How to choose the right Shopify SEO Experts? Or What are the recommendations for SEO Expert agencies? Read through our article and I'm sure that your questions are somewhere in it.
More about Shopify SEO:
Why should you hire a Shopify SEO expert?
Our Shopify has already been a user-friendly platform; however, there are several reasons that a Shopify SEO Expert can help you build your store more efficiently.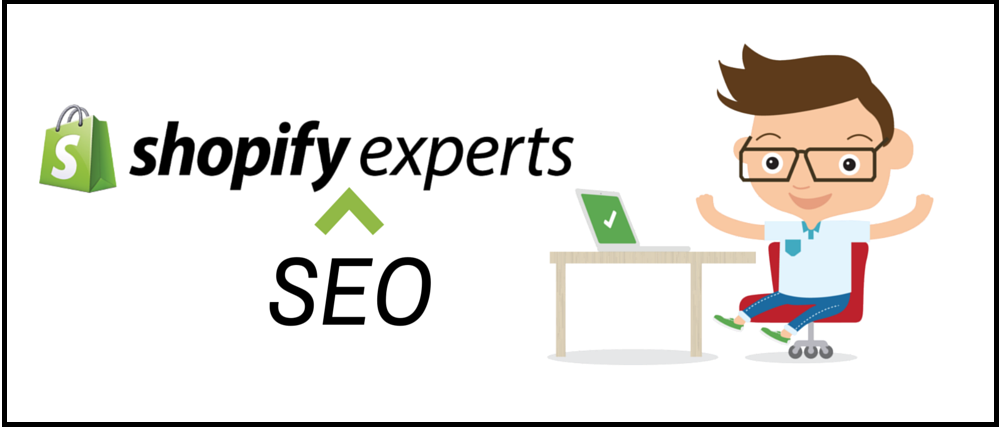 Search Engine Optimization
Whatever people say about SEO, it is undeniable that it is powerful. Specifically, the search engines will bring specific preferences that are necessary to understand.
That's why the search engines need to have specific preferences for you to know if you want your store to remain visible. As a result, the initial investment will pay off when you get more targeted traffic to your site.
Shopify experts are knowledgeable
When it comes to running website and business' online presence, and you want your company to work in the most effective way. However, if you don't have experience running an SEO campaign or optimizing your shop, don't worry because Shopify SEO expert has a group of experts here to have you.
The SEO Shopify experts have the knowledge and expertise to improve your online shop as they have spent almost the whole time optimizing Shopify websites to improve their performance. It is advisable to trust them to improve your store and help your business grow.
Give you more time to focus on your business
It will definitely take you a lot of work and time to create and optimize your Shopify website and remain a little amount of time to focus on your business. Hiring Shopify experts that know SEO is a solution in this case.
As a business owner, I know that you always have to worry about the operations, the plans for upcoming changes, and keep an eye on your customers as well. It's challenging to balance all of this together with optimizing your Shopify site. So, hiring a Shopify digital agency will help you concentrate 100 percent on your business. Simply understanding, all you have to do is to dedicate your time to help grow your physical presence while your online presence is expanded by Shopify SEO company.
Better branding
It is obviously true when it comes to the branding of your business. A Partner with Shopify developer credentials with the help of Shopify SEO expert can totally take your branding to the next level. As a result, you will have yourself a stunning, consistently branded site; also the tools to help you develop and maintain your store on your own terms is ready to use.
Ongoing advice
Shopify Experts have achieved running many successful stores and maintained that status by their own wealth of knowledge on the subject of eCommerce. When choosing the Shopify SEO expert, Shopify Expert Partners will help you choose the right eCommerce platform, as well as staying up to date with Shopify updates by giving out many pieces of advice for you.
Outsourcing makes sense
When you are a business owner, other tasks like accounting, bookkeeping, and payroll are probably outsourced. With Shopify SEO Expert, instead of spending hours learning about eCommerce, you totally can trust our experts to do that for you. This will effectively save your time as you have limited amount of time to spend on your store.
How to choose the right Shopify SEO expert?
When you are reading this section, you have probably decided to hire a Shopify SEO Expert. Here are some matters that you should consider when choosing the right one.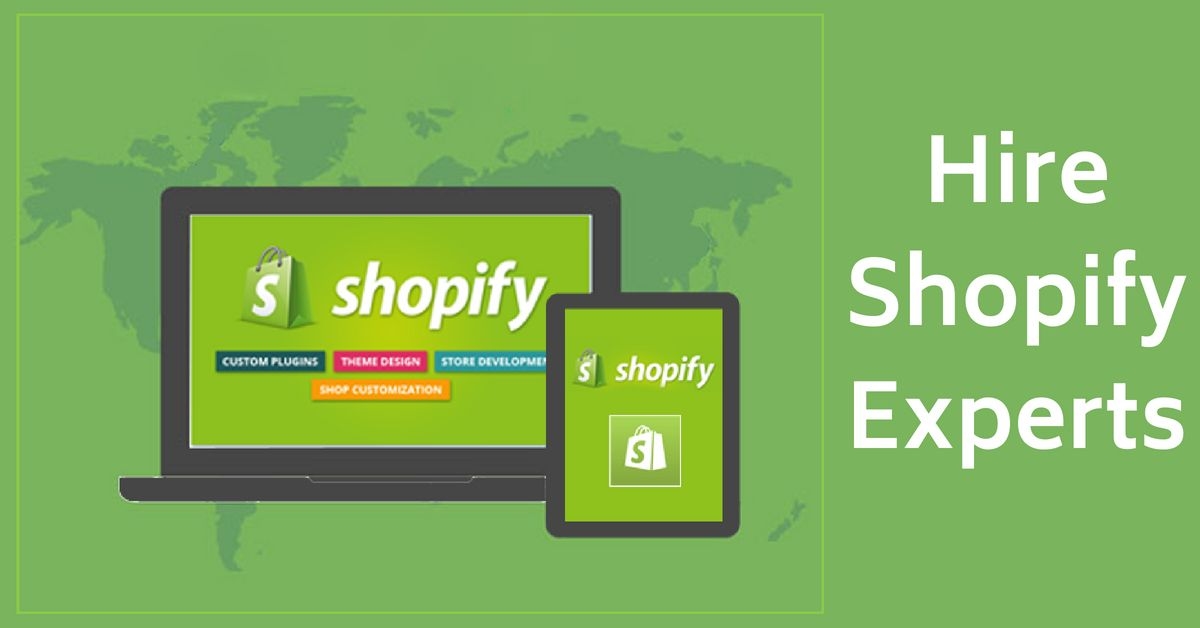 Define where you need work
The first thing that you should define when finding the right Shopify SEO eCommerce company that is establishing what can help your website improve. So then, you can identify and hire a company that offers the services that you need.
To go more in details, you should make a list of the details where you think your site needs to work on. There are many areas that you should think of, such as improvements, branding, page speed, site organization, keyword integration, and so on.
Some agencies will audit your site and provide you with recommendations for improvements in case you are not sure about what to fix.
Make a Pre-Search checklist
It is important to make a list of everything you're looking for from your store. By doing this, you can have to chance to figure out what you're looking for to get a guide while you're browsing. Some sections below should be included to send to your chosen Shopify SEO Expert, which are:
Goals: what you want to achieve from this eCommerce store as well as the setup.
Target customers and all of their attributes: who are exactly the people that will be likely to convert?
Competitors: This is to check in on what they're doing to improve their stores.
Budget: the Shopify SEO Experts often range in price from $500 into the thousands, so consider deciding to invest in.
Essential Features: make sure the Shopify SEO Expert has experience in your type of work.
Overall Feel: write down how you want your store to look and feel here.
Scour their Portfolio
Experts are required to upload at least two examples of their work. You should spend a considerable amount of time in examining these examples to see if it's truly what you're looking for.
And if you have a complex site you're migrating over, Shopify SEO Experts who primarily setup simple stores might probably not the right ones for you should count on. Instead, you should set the aim to find a Shopify SEO Expert who has a diverse portfolio. If one is creating the same designs over and over again, that's a clear sign of an Expert with limited capabilities. Besides, you should make sure that they're creating fresh and modern stores. In the eCommerce world, a dated store will just ask for failure. It's also essential for you to pay close attention to things like responsiveness, cohesiveness throughout the store, cross-browser compatibility, and a real focus on the users.
Check out Pricing
Budget is always an essential part of any kind of business. It will determine what types of services you can invest in and makes you prioritize which services are most important to your company. So, checking out the pricing should be done when choosing the right Shopify SEO Experts.
It is ideal for getting the SEO services at a very low price and guaranteeing big results. However, be careful with these agencies, as they often use unethical techniques to increase your ranking quickly and make you think their services are working.
Because there is no standard price for SEO, so now it's time to give out your best judgment to find affordable SEO services. Just keep in mind your budget and then avoid companies that price too low. This approach can bring you to the right Shopify SEO expert.
Consider Communication
Communication is absolutely a huge part of the setup process. Because it will help you see how a Shopify SEO Expert works. Quick and open communication is always recommended. It's advisable to reach out to at least 3 Experts before deciding who you'd like to hire. By doing that, you will have a vision for your store and remember four questions to consider when you're communicating with them:
Do they respond quickly?
Are they a clear communicator?
Are they eager to learn about your store?
Do they seem to understand your vision?
If they meet all those criteria, then this is probably the right Shopify SEO Expert for your store. Checking out the testimonials of the Experts can be really helpful in seeing how store owners liked working with this individual or agency.
Look at their Client Testimonials
Looking at the Shopify SEO expert's client testimonials will help you to see how others have experienced a company, at the same time, a great way to help you decide on the right Shopify digital agency for your business.
For example, look at the Client testimonials of the Shopify expert like the experience in managing and optimizing successful shops or other fields. By doing this, you will be able to narrow your focus to particular experts that fulfill your needs.
There is a third-party site named Clutch that enables you to check reviews and get an in-depth look at Shopify SEO companies to make sure that they're a good fit for your business.
List of some Shopify SEO Experts
The list below is about 5 Shopify SEO Experts - all of which have SEO blogs worthy of reading by anyone who is looking to learn more about SEO. This list could be subjective, however, I'm sure that it would be helpful if you are looking to learn more about SEO as a source of information.
Whole Design Studios
Whole Design Studios has 11 years of experience in Shopify design and marketing services. Founded in the UK in 2012, their CEO Giles Thomas is one of only a few official Shopify commerce coaches in the world and the ex-head marketing mentor for the Google launchpad accelerator. They're a team of more than 35 experts with more than 100 monthly retainer customers. Working before with brands like Athletic Greens, Joseph Seibel, and more. If you are looking to optimize your Shopify store and get more traffic and sales. Whole is the best one-stop shop for Shopify theme changes and marketing with cancel anytime monthly services.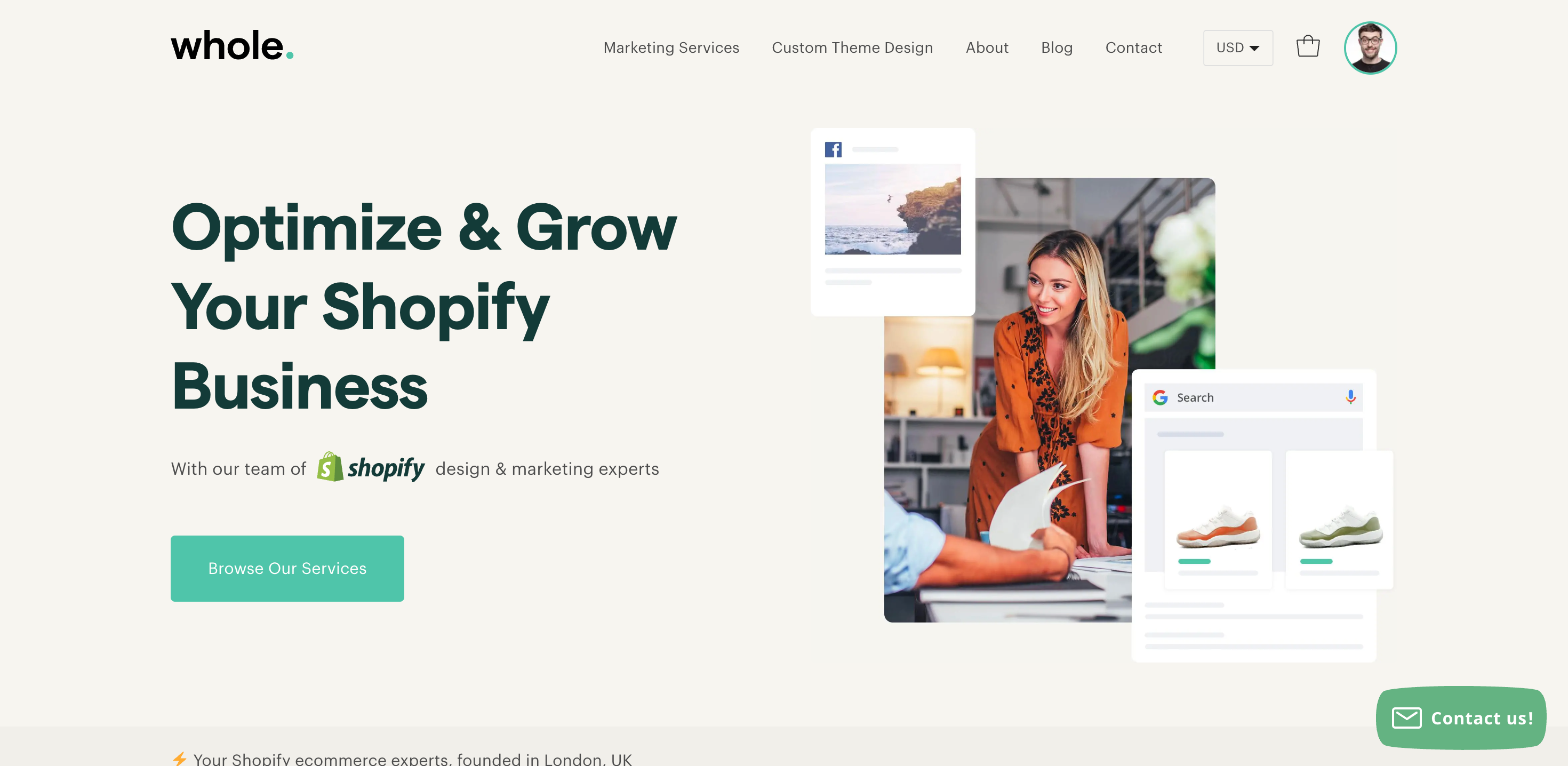 Outer Box Design
Outer Box Design has over 15-year experience in SEO experts focusing on Shopify SEO services that drive higher rankings, traffic and sales.
The agency is really confident in SEO strategies and techniques in eCommerce search marketing to satisfy its customers' marketing goals. When you come to Outer Box Design, your SEO campaign will include these important services, such as eCommerce keyword research, Technical Shopify website changes, Shopify speed optimization, Ongoing content plan, Link profile management and so many more. So, consider yourself this powerful service for your Shopify store.

Profit Addiction
Profit Addiction is known as a Shopify SEO company to be most effective at helping all brands online. It provides SEO services that are needed to understand how the search engines rank on websites. By doing this, you will get the extend beyond a specific industry or niche and instead cover a variety of areas.
When it comes to Profit Addiction, you will be served a bunches of services including Detailed keyword research, Technical SEO research and implementation, Shopify site speed improvements, Comprehensive link analysis, SEO reporting and so on. Visit the original website careful to decide.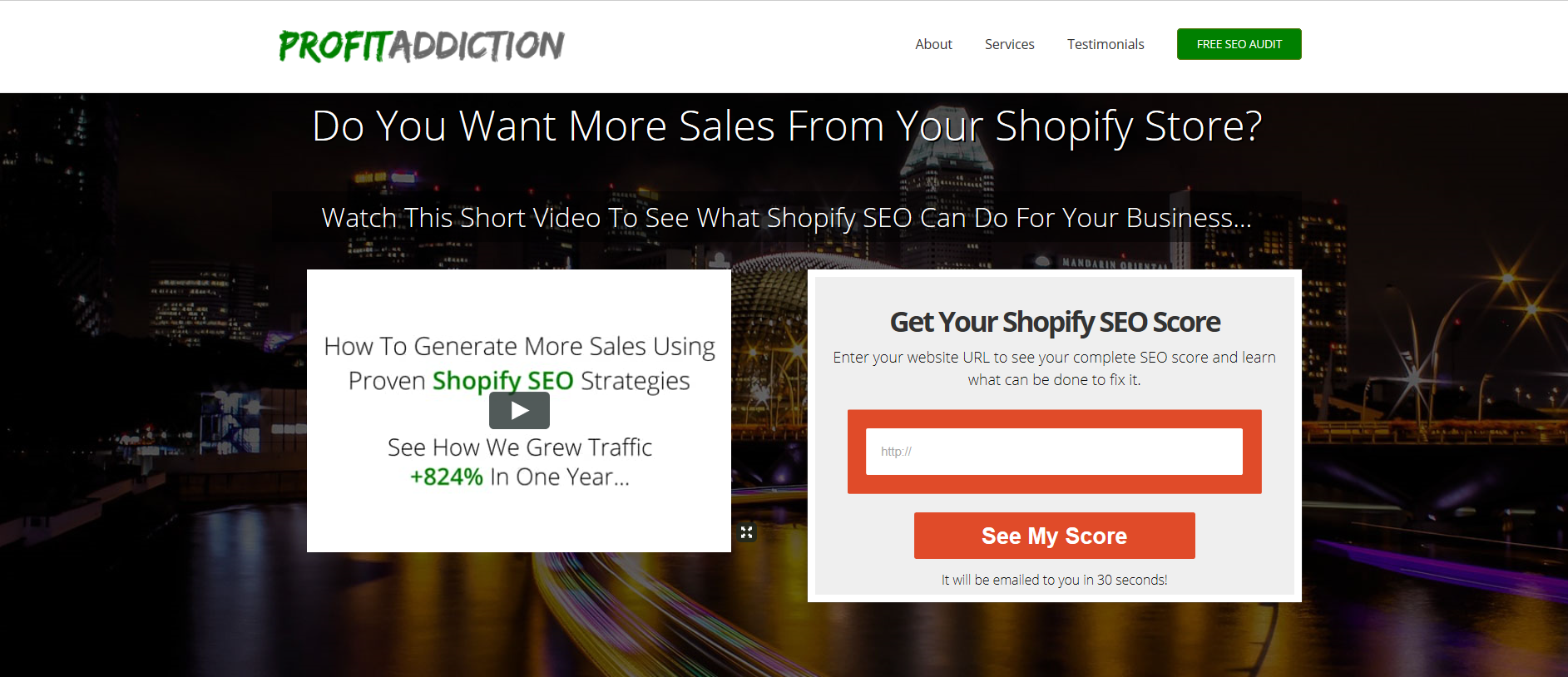 Store Tasker
Store Tasker is known as the first place in outsource design, development and marketing project or Browse the Marketplace. It is a powerful tool as being partnered with the leading Shopify app and theme companies, which would be excellent to work with.
With Store Tasker, you will meet the Handpicked Experts with hassle-free setup and simple project management from start to finish, also Safe Escrow Payments with keeping payment service in escrow until the project is approved, then you absolutely will get your Satisfaction guaranteed when your projects will be completed on time with utmost quality by Store Tasker experts.
Electric Eye
Electric Eye is a boutique agency that focus on helping brands grow their online sales. They are certified to be the Shopify Experts who provide well-designed, data-driven solutions, allow clients to worry less about technology, and focus on running their business. For more information, visit the original website to understand more about Shopify SEO Experts in general and Electric Eye in particular.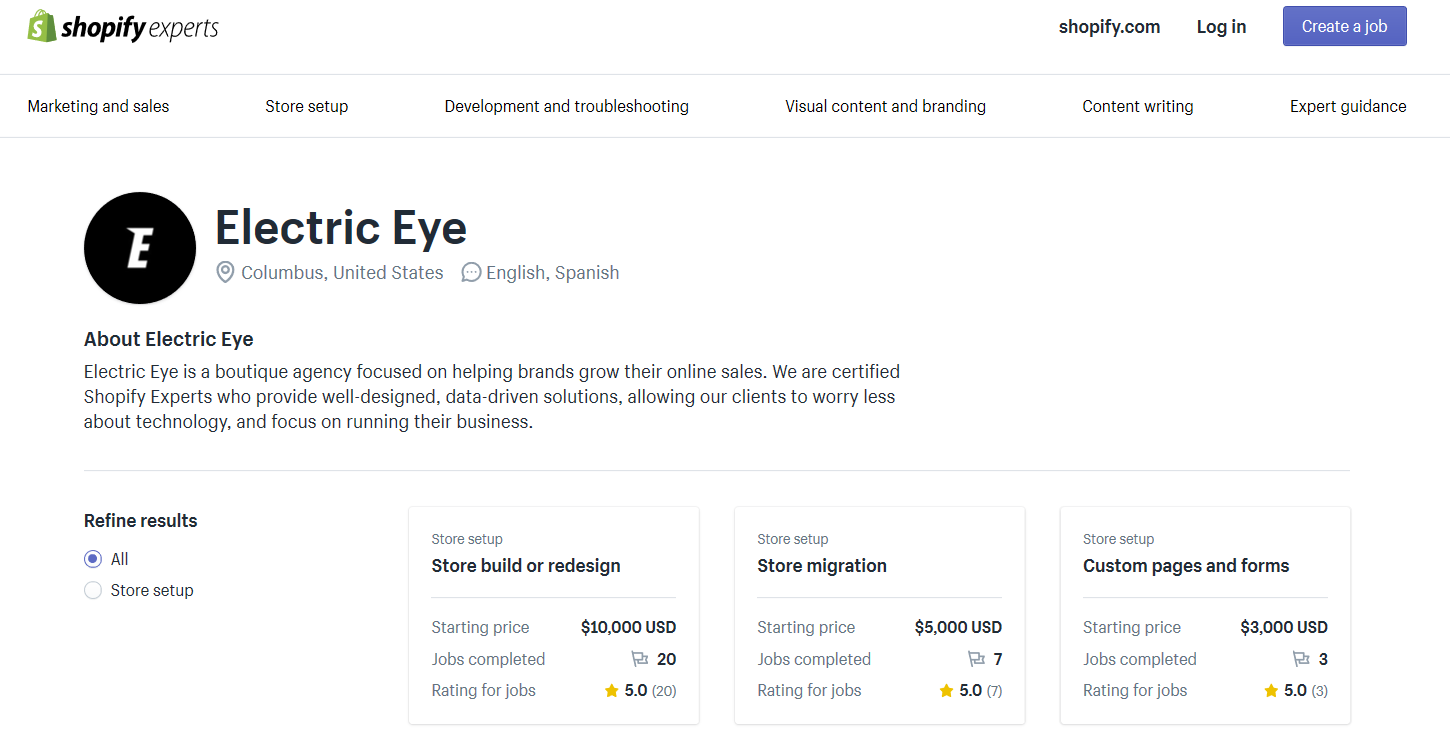 Summary
As we might have already known, SEO is as much an art as a science as well. Not only can industry standards change from day-to-day, but it is subject to incremental updates as time goes on. With the help of SEO experts, who are currently in the field are generally very flexible and capable of adapting to changing environments, I bet that it will make things easier.
Finally, I hope that the tutorial here on choosing the right Shopify SEO Experts will help you stay current on SEO best practices as well as keep SEO top of mind as you run and develop your business on Shopify.
Read Our review: Top 35 SEO apps for Shopify store
Remember to send us your feedback about your experience with our AVADA website because it will help us improve our content quality later on.
---
Mike is a content writer at Avada, with a love for video games, gadgets, and software. He has been writing about the industry now for over 7 years. He likes to keep up-to-date with the latest software releases. He's also an avid reader, and he enjoys spending time outdoors with family and friends. When he's not working, you can usually find him playing video games or exploring new outdoor activities.