How to Reply to Comments on Shopify Blog
Last updated: December 01, 2023
Shopify is designed to embed plenty of capabilities to meet your needs in most eCommerce blogs. Blogging on Shopify is free, quick and easy to get started with, which also covers the basic elements of blogging including inserting images and video, visual editor, automatic SEO for the title and description, ability to schedule posts, comments, and tags and many more. It is widely agreed that the Shopify blog can make it easy for Shopify retailers and customers in many aspects.
Knowing that blogging is essential, but there are another no less important elements of blogging, which is Replying comments on Shopify Blog. Because there are many people still believe that using the right method in replying to comments on the Shopify blog is also a great way to strengthen your brand on Shopify. How to do that? How to utilize this function in an effective way? All these questions will be answered in our article today.
Related Post:
Why should you use blog on your Shopify website?
As there are more and more stores on Shopify, it is vital to find a way to make your Shopify store stand out of search engine results pages. A lot of people choose to input keywords, which are relevant to your products, to their site. This will certainly help. However, you can not always simply insert these keywords without any context. That's why you need to find another way to be outstanding and drive traffic and sales to your business, which is Blogging.
Shopify includes blog section for every site, which you can utilize to write blog without the help of WordPress or another platform for blogging. Especially in an eCommerce marketing strategy, using your Shopify blog will help you run things easier like:
Enable you to advertise your promotions, pull more attention to some products that are less popular, at the same time, demonstrate other messages that benefit your business.
Give the readers content that convinces them to stick around on your site, and then boost the duration of the average visit to improve SEO.
Publish informative content, for example, how-to guides and interviews with experts. As a result, your visitors will be impressed and you can establish yourself as an authority.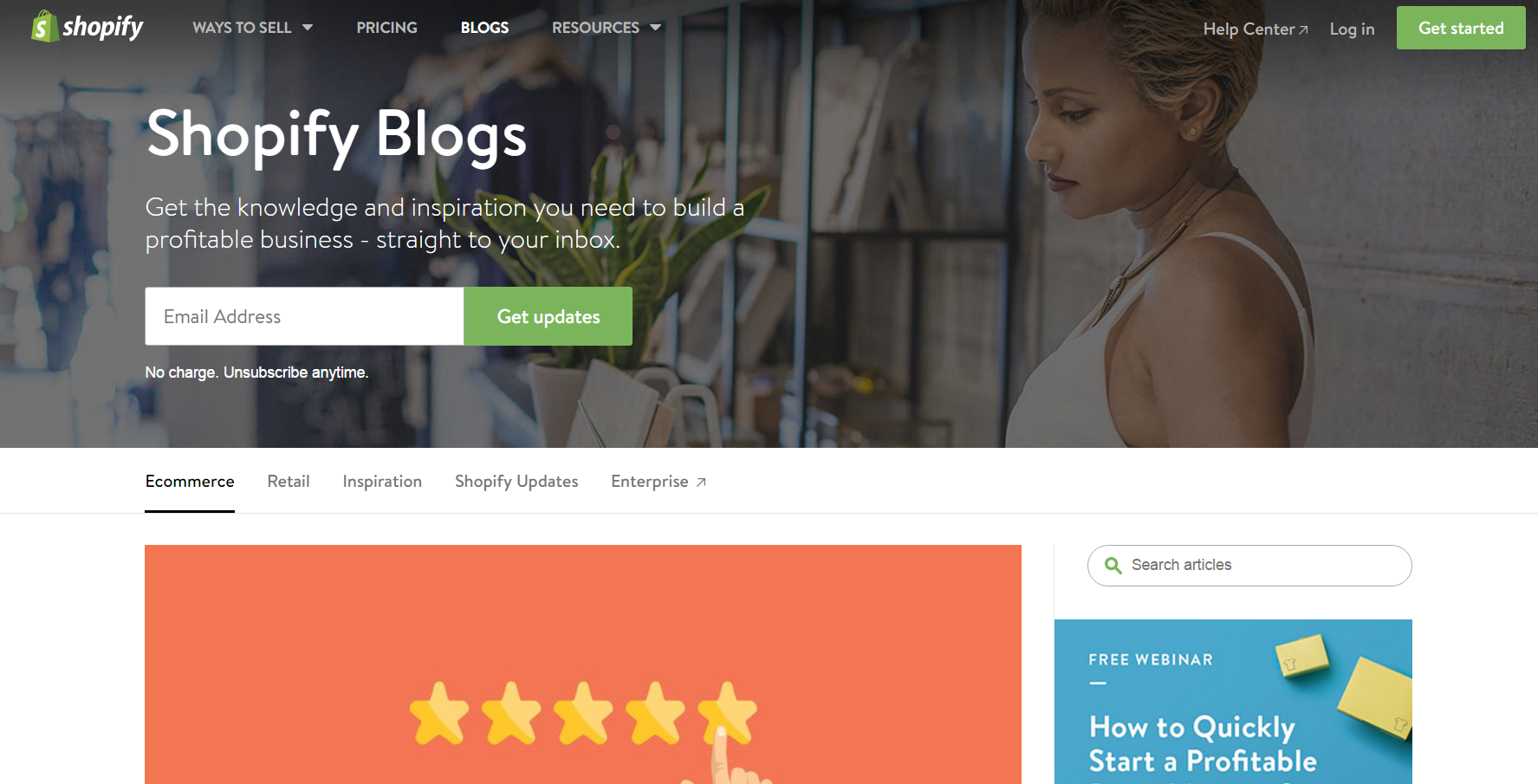 In order to reply to blog comments, you need to navigate to the customer facing side of your store, and then leave a comment there. For example, you are able reply to the comment by completing the fields and hitting the reply/comment button when you are on one page.
There is another option that helps you to directly reply is to use external apps, I will present this option in the below section.
How to reply to comments on Shopify Blog using apps?
This app will help you to suggest related blog posts of yours to readers on your Shopify blog in a quick and easy way. Specifically, when there is someone who ends up reading a blog post, the app will suggest additional articles of yours published inside your store for that person to read. For example, it could be the "You May Also Be Interested In Reading" line to recommend similar blog posts of yours at the end.
Plus, this app has full customization options to display your ideal number of suggested posts and create quality internal links to improve your Google's crawl ability of old blog posts.

This app is considered to be a great tool to improve your product and marketing with the buyer comments. In detail, this app will receive more organic traffic from searches that are based on usage intent, and then it is designed to boost your conversion rate with the positive micro-reviews by showing the Add to cart option. As a customer, you will see an input field for comment next to each product after making a purchase. It will only be visible on the confirmation page on your store and in the confirmation email, which is sent to your customers. At the same time, the auto-publish will be disabled by this app to manually curate checkout comments.
What is more, this Checkout Comments app is totally free of any charge, it is created to ensure that every merchant has the opportunity to bring customer insights to enhance their business quality.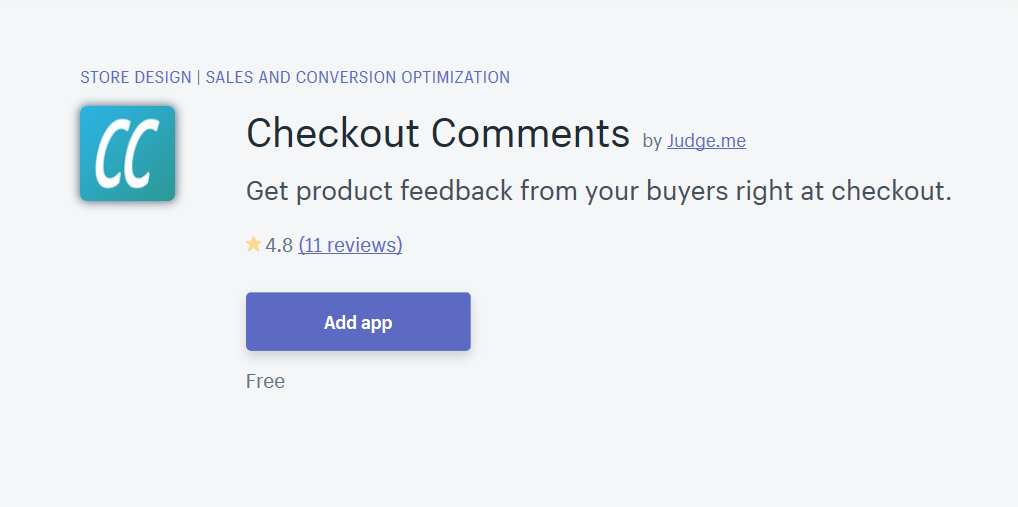 With this Social Proof app, you will be helped a lot in collecting and displaying reviews and star ratings for your products, at the same time, collecting blog comments for great social proof. After that, it will display ratings or comments to highlight popular products. If there are any unwanted comments or ratings and reviews, they will be removed. Plus, new comments, ratings and reviews after approval will be published directly on your blog. When there are any new comments, ratings, and reviews, you will receive the email alert so that you can respond to feedback quickly. Especially, this POWr Comments, Ratings & Reviews is an easy-to-install app, why don't we click the Add app button to get it now?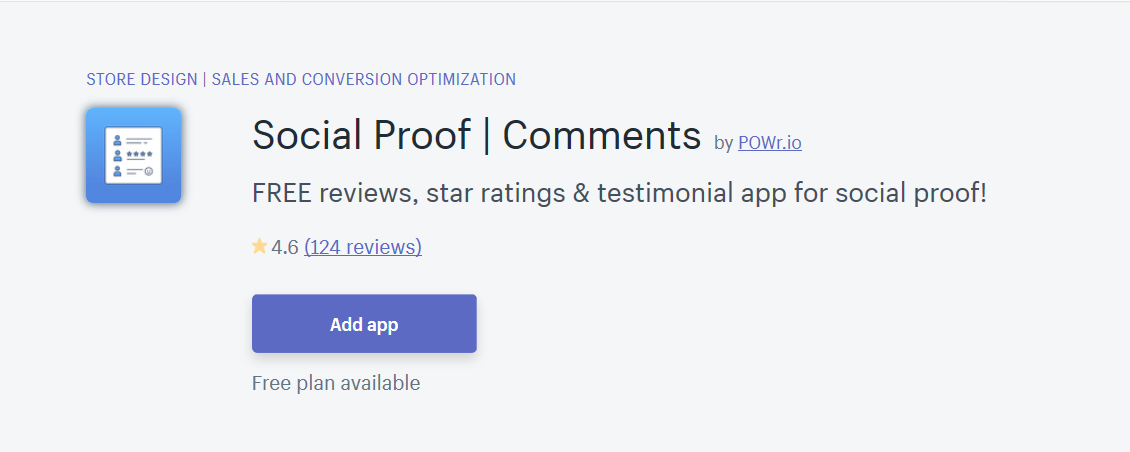 This app is designed to help you in creating beautiful looking blog articles that live on your Shopify store. It will support you in all aspects of creating a blog. You can get creative images here, including parallax and animation effects, or hone your typography with over 600 fonts and many styling options. Even more, you will be provided a powerful interface to help you get quickly duplicate, create, delete, and adjust the visibility of your blog articles as well.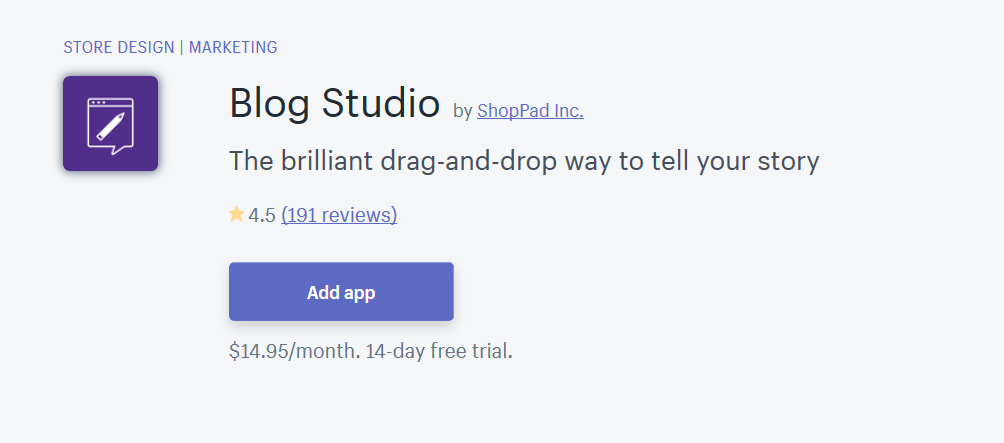 Basically, this app will help you keep both your customers and your content all on the same domain. More specifically, knowing that Shopify is a great eCommerce platform but not built for blogging. BlogFeeder is created to import blog posts into your Shopify store, and then check your blog for new or updated posts frequently. If it finds any new or changed post, the Shopify blog will receive that post in an automatic way. At the same time, you are able to keep using WordPress, Tumblr, Facebook, Pinterest, or any other easy blogging platform.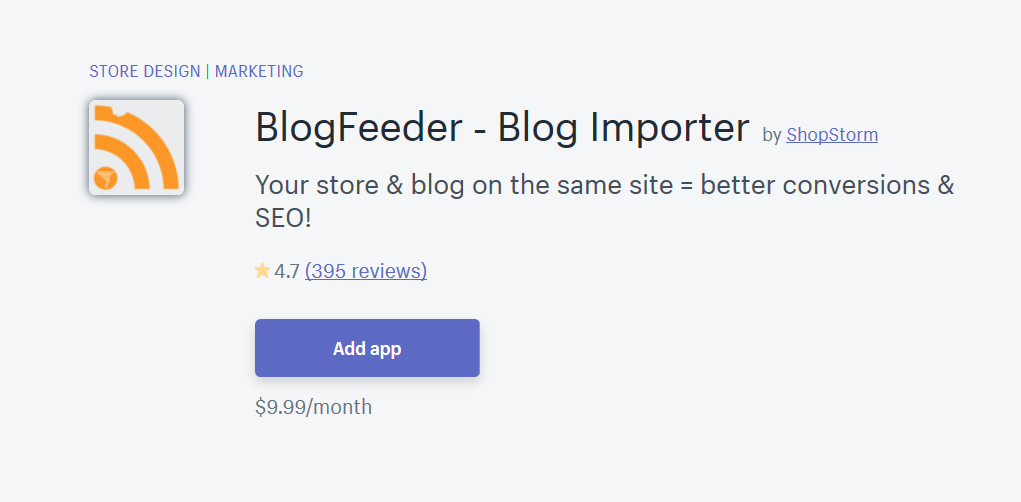 How to effectively reply to blog comments?
When you receive your comments on a blog post, replying to them is like taking care of "interaction". If you choose not to reply to a comment, then it is like you are telling your current and future readers that there's no reason for them to come back and invest in sharing with you. Investing wisely in replying to your blog comments is like convincing customers to trust your store.
So, here are some tips in replying comments that we recommend you to do to keep you focused on developing your business effectively:
Dos
Remember to keep on the topic of the post while replying.
Create a thoughtful and worth reading comment is always the best.
Try to develop further a conversation.
Write things positively, interestingly, and encouragingly.
Correct spelling and good punctuation and grammar using are always preferable.
Offer some options for your customers to be able to subscribe to the comment stream to come back to the conversation and stay engaged.
Creating the opportunity to share a great comment on social media is also a great idea.
Don'ts
Don't reply to a comment on another online platform like Twitter, Facebook, or personal email. Please login and do it on the post for everyone to see and share.
Don't have someone else reply to you. Remember to stand behind and recognize how your comments received if you wrote it and published it.
Don't include some bot or software solution send a canned, generic reply that is off-topic or vague.
Don't utilize chat or texting language like lol, i, or u in your comments.
Don't use some self-promotion words in your replies like "hire us" or "buy now" too much.
Don't offer some too personal information about you via comments.
Don't flame the commenter, if you disagree with them. Be polite instead.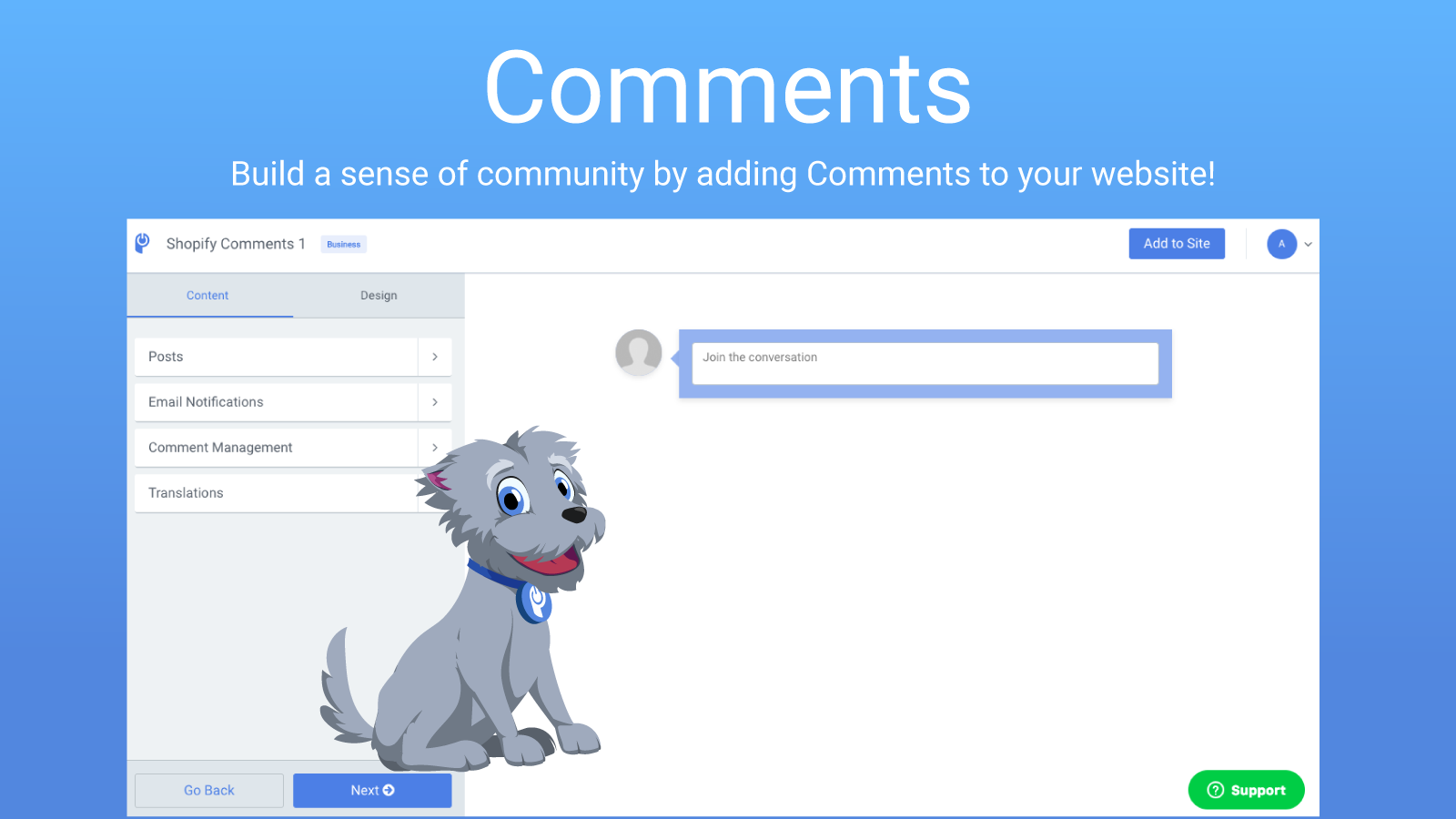 Conclusion
That wraps our article today about the way to reply to comments on Shopify blog in all aspects to reach the most effective way. I recommend you to create your Shopify store a blog and invest in it now if you haven't got one as every day you go without a blog is like you're leaving money on the table.
I really hope the information above can do some help for you in your practice. If there is any trouble occurs, just let us know. We are always willing to help you.
---
Mike is a content writer at Avada, with a love for video games, gadgets, and software. He has been writing about the industry now for over 7 years. He likes to keep up-to-date with the latest software releases. He's also an avid reader, and he enjoys spending time outdoors with family and friends. When he's not working, you can usually find him playing video games or exploring new outdoor activities.