Delete a Variant on Shopify: A Step-By-Step Guide
Delete a Variant on Shopify: A Step-By-Step Guide
Do you want to start? Get shopify free trial here!
During the sale process, there will be times when there is a product which has the variations that you are no longer selling. When these times come, you probably need to delete all the variants of it. You will also need to delete the default of it. Because if you do not delete these, they will still appear to the customers when they are checking the product variants at your Shopify page.
To help you to deal with this situation quickly, here are some steps that I have prepared to help you deleting a variant in the most fundamental way on Desktop, iPhone, and Android.
Related Posts:
How to delete a variant
Step 1: Open product list
Go to this link and log in. Then, click Products to allow all of your products to appear.

Step 2: Select product containing the variant you want to delete
In the Products screen, click the products which have the variants that you want to delete to choose it.
Step 3: Delete variants
In the Variants section, if you drag the horizontal bar to your right-hand side, you will see many trash can icon. Click the one which has variants you that you do not sell anymore to delete it.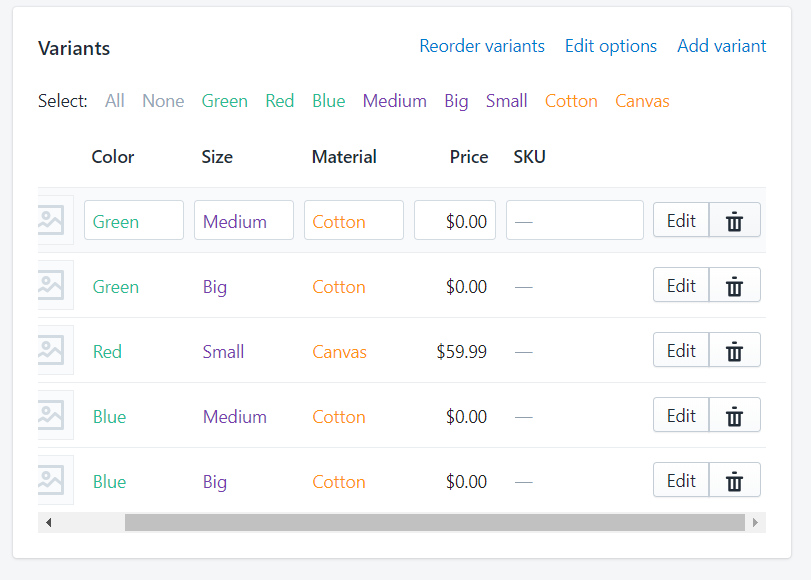 Step 4: Confirm changes
Finally, click Delete to verify your changes.

To delete a variant on iPhone (Click here)

Step 1: First, go to the Shopify app. Next, tap Products and then All products to see your products list.

Step 2: In this step, when you see all the products, tap the one that you want to edit.

Step 3: In the Variant section, continue to tap at the variant which you feel unnecessary.

Step 4: You will see the button Delete variant at the bottom of the screen, tap it to delete that variant.

Step 5: To completely remove that variant, tap Delete to verify and apply your newest change.
To delete a variant on Android (Click here)

Step 1: From your Shopify home screen, tap Products, then open the All products section.

Step 2: Your products will appear in a particular order. Tap the one that needs to be changed.

Step 3: Under the word Variants, you will see that there are different variants available, tap a variant to edit it.

Step 4: At the bottom of the screen which shows the details of that variant, it's the Delete variant button. Right after seeing this button, tap it.

Step 5: A small dialog will appear. If you are unsure about the change which you have just made, tap Cancel to stop it. But when you have made up your mind, touch Delete to complete the removing process.
Conclusion
You have just read the basic instruction on how to delete a variant from your variations list. I hope that these details will help you learn the rope quickly before you can manage your online store. If you prefer deleting many variants at the same time, you can refer more information about adding several variants using the bulk action function.
People also searched for
how delete variant shopify
Subscribe
Stay in the know
Get special offers on the latest news from AVADA.
40k
subscribers has been joined!
Earn $10 in reward now!