How to Add The Instagram Sale Channel to Shopify
Last updated: October 01, 2023
Nowadays, the world is going digital, which also affects the shopping habits of people all over the world and the way businesses are working. Therefore, integrate your Shopify store with an app packed with intelligent marketing tools will certainly help you to boost your sales. Some apps or sale channels you can integrate your Shopify are Facebook, Instagram, etc. In this guide, we will show you the way to add the Instagram sale channel to Shopify
About 80% of Instagram accounts stay connected with businesses with their own free will according to data-driven figures. Additionally, it is said that there is a significant dependence on ads which is over two million to optimize realistic business goals, the ads also help businesses to reach the most accurate audience on Instagram. With more than one billion of Instagram users, most are between the age of 18-34, your products that can attract a lot of attention from the youth can easily increase your sales on Shopify number through Instagram. Does it sound interesting to you?
In this post, you will be led step-by-step through a tutorial showing you exactly how to add the Instagram sale channel to Shopify
Why you need add Instagram Sale Channel?
Being one of the most powerful social platforms, Instagram provides you the opportunity to display all your products in front of millions of users with zero effort. This wonderful opportunity benefits you, your customers and also Instagram. You can gain a positive social impact for your business and your beloved customers, Instagram can easily gain more recognition from both you and your customers. Six out of ten people have the tendency to look for and discover new products on Instagram. Thus, taking this opportunity to integrate your Shopify and your Instagram will certainly make it easier to generate your sales
Instagram stories is an open door for every business to sell on Instagram without a website. With the shoppable post feature from Instagram, you can easily enable your customers to buy from posts without having to log out of Instagram. This is due to the amazing integration of Shopify and Instagram.
Shoppable posts can be seen as a native integration of two websites which are Shopify and Instagram. This is a wonderful feature. Using shoppable posts, you can easily tag your products and allow your customers to make a purchase directly on your Instagram posts. After going global in March 2018, it now can be used in more than 40 countries all over the world.
Ever since Instagram introduced the new feature which allows businesses to tag your products on shoppable Instagram posts, it has shown an exponential growth for businesses. One example can be used to illustrate is the Natori brand. It is a lingerie and clothing brand with a huge 1,424% increase in their traffic. This is thanks to the shoppable Instagram feature. If you want to improve your business and get your sales and traffic boosted, do not hesitate to add Instagram Sale Channel for your businesses.
Let's take a look at some interesting facts that can make you change your mind:
The number of monthly active users is 800 million.
The number of daily active users which are your potential target audience is 500 million.
8 out of 10 Instagram users follow at least one brand, which makes Instagram the perfect platform for all e-commerce.
The Instagram marketing platform is used by 2million+ monthly advertisers.
Before adding Instagram sales channel to your store
1. Requirements needed before using Instagram sales channel
These requirements need to be met when you use Instagram sales channel:
Your store needs to use the Basic Shopify plan or higher plan and have opened an online store.
The password for your online store needs to be removed.
A Facebook Shop is necessary. Your Facebook Shop must be an approved one and must have no age or country restrictions.
Your Instagram business profile and a Facebook catalog need to be connected.
It is a must that you need to comply with the policies for Facebook commerce and the agreement of Facebook's merchants.
Your goods must be physical and tangible.
You must install the latest available version of the Instagram app.
2. About setting up Facebook Shop
In order to add your Instagram sales channel, do not forget to set up a Facebook Shop page and your Facebook Shop page needs to have your products added to the Facebook catalog. If you do not have one yet, you can quickly set up your own Facebook shop and upload products to create a Facebook product catalog. If your products are already on Facebook Shop, then you have met this requirement.
3. How to convert your Instagram profile into a business profile
There are 3 steps you need to follow in order to convert your Instagram profile into a business profile:
Step 1: Open your account settings
Open Instagram app on your mobile phone, go to your settings which can be seen on your profile. Tap Account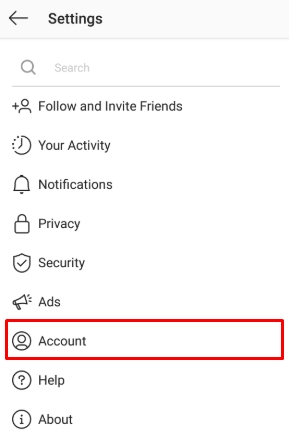 Step 2: Switch to business profile
Find Switch to Profession profile and tap on it.
Step 3: Choose Business
Next, you will choose the option that best describle yourself. In this case, choose Business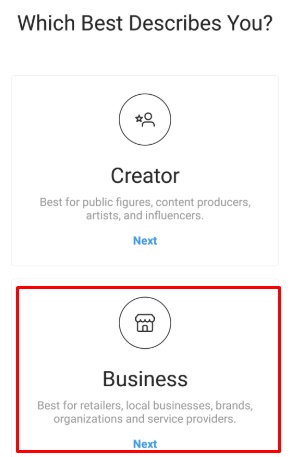 Connect your Instagram to your Facebook business page by following the steps guided by Instagram. Please check whether the Facebook page is the Facebook page that you added to Shopify or not.
How To Add Instagram Sale Channel to Shopify
1. For Desktop version
Four steps are needed for the Desktop version:
Step 1: Go to your Shopify admin and then choose the + button which can be seen next to the Sales channels.

Step 2: Find Instagram on the Add sales channel dialog and check out more details about this sales channel.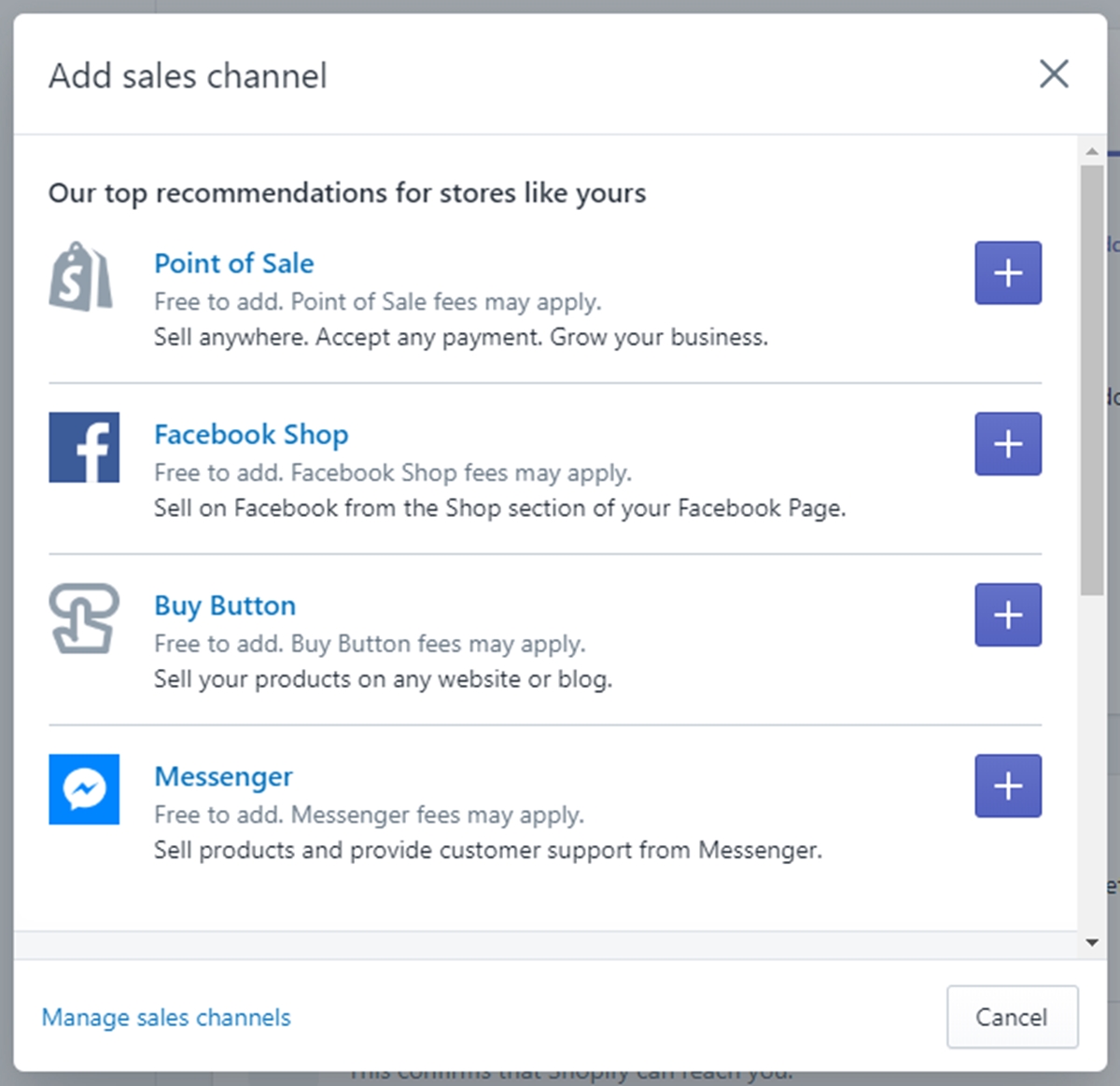 Step 3: Choose Add channel.
Step 4: Go to your Facebook account page and then authenticate the Instagram account in the sales channel.
2. For iOS version
Five steps are needed for the iOS version:
Step 1: Go to your Shopify application and then choose Store.
Step 2: Find Add channel which is next to Sale channels.
Step 3: Find Instagram while you are at the Add sales channel screen
Step 4: Choose Add Instagram.
Step 5: Go to your Facebook account page and then authenticate the Instagram account in the sales channel.
3. For Android version
Five steps are needed for the IOS version:
Step 1: Go to your Shopify application and then choose Store.
Step 2: Find + button which is next to Sale channels.
Step 3: Find Instagram while you are at the Add sales channel screen
Step 4: Choose ADD INSTAGRAM.
Step 5: Go to your Facebook account page and then authenticate the Instagram account in the sales channel.
After you finish inserting your Instagram business profile, Instagram will automatically review your acc and then you can easily access the feature. This approval will be done by Instagram. You will receive a notification about the approval in your Instagram business profile. You can check out for information about your store's eligibility in the Instagram help center.
Tagging products in Instagram posts
Tagging your products in your Instagram posts and stories is now possible with the new feature from Instagram. With this feature, your customers can easily view and buy your products in your online store within the app Instagram.
Please take note that you can only tag your products in Instagram posts or stories if it is available in your Facebook catalog and Shopify online store and your Instagram business profile is approved.
In order to tag products in your post, you need to follow these five following steps:
Step 1: Select a photo or video you want and customize it by using effects and filters.
Step 2: Choose products that need to be tagged on the photo. If you want to upload a video, there will be a tray from which you can choose the products needed to be tagged. You can tag up to five products when tagging on videos.
Step 3: Type the name of the product needed to be tagged and select it when it appears in the search box.
Step 4: Select Done.
Step 5: Select Share.
You can easily preview your posts or save a draft of the post for better quality. All you need to do is click Preview Tagged Products or Save Draft. Instagram also enables you to tag products in the previous posts of your Instagram professional account. With 5 products per single-image post and video posts and 20 products per multi-image post, you can easily promote your products and your store on Instagram.
How to display your Instagram Gallery on your website
Showing your Instagram Gallery on your website can bring you many great benefits. Having it on shows that your brand is up and running and shows the way that you can connect to the people who are new to your brand. They can also go to your Instagram profile and see more beautiful pictures of your products.
In order to display your Instagram Gallery on your website, you need to have a plugin to help you with. One of the recommendations is Instafeed. It is extremely easy to use and it also allows you to choose the size and number of pictures that you wish to show on your Shopify site.

Immediately after you chose to get the app, the installation confirmation will appear on your screen.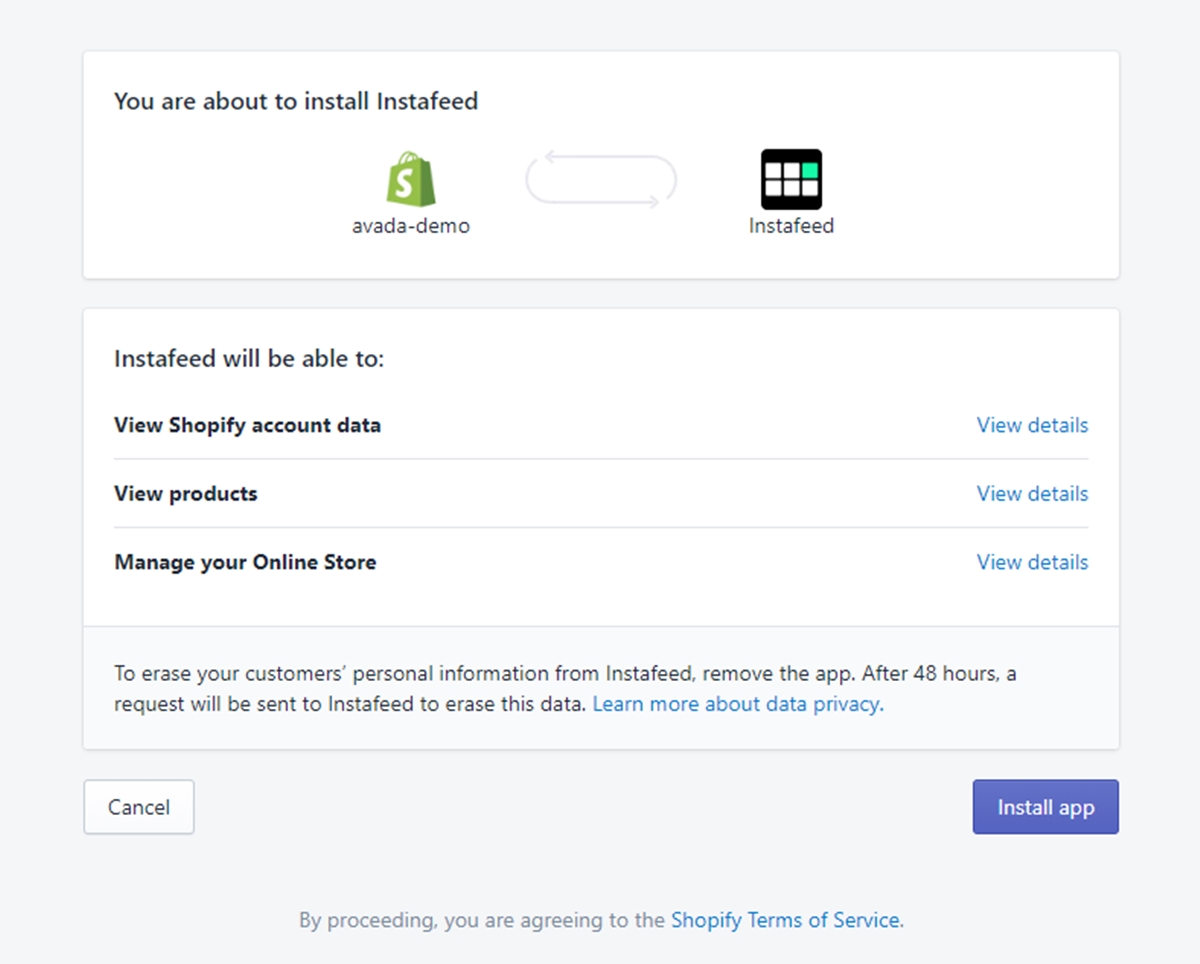 After this step, a message will appear to ask you to customize your feed and sync it up with your Instagram profile. A code to embed on your store will be shown to you. This code will help you to choose the position of your feed on your website.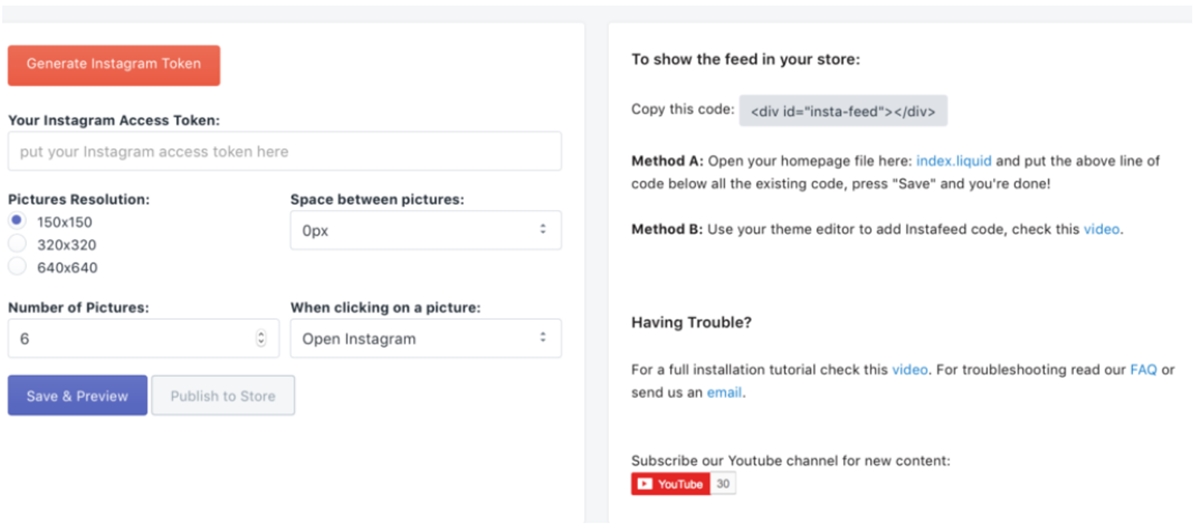 How to place Instagram profile buttons on your site
This is one of the most important steps for full Instagram and Shopify integration. Adding small Instagram profile buttons will show that you are also active on Instagram and customers can also easily find your profile and follow your updates.
All you need to do is find the perfect application for you. One of the most recommended ones is Social Media Icons. After that, go to the app and click Get from the app store.

Click the Install app button to have it installed for you.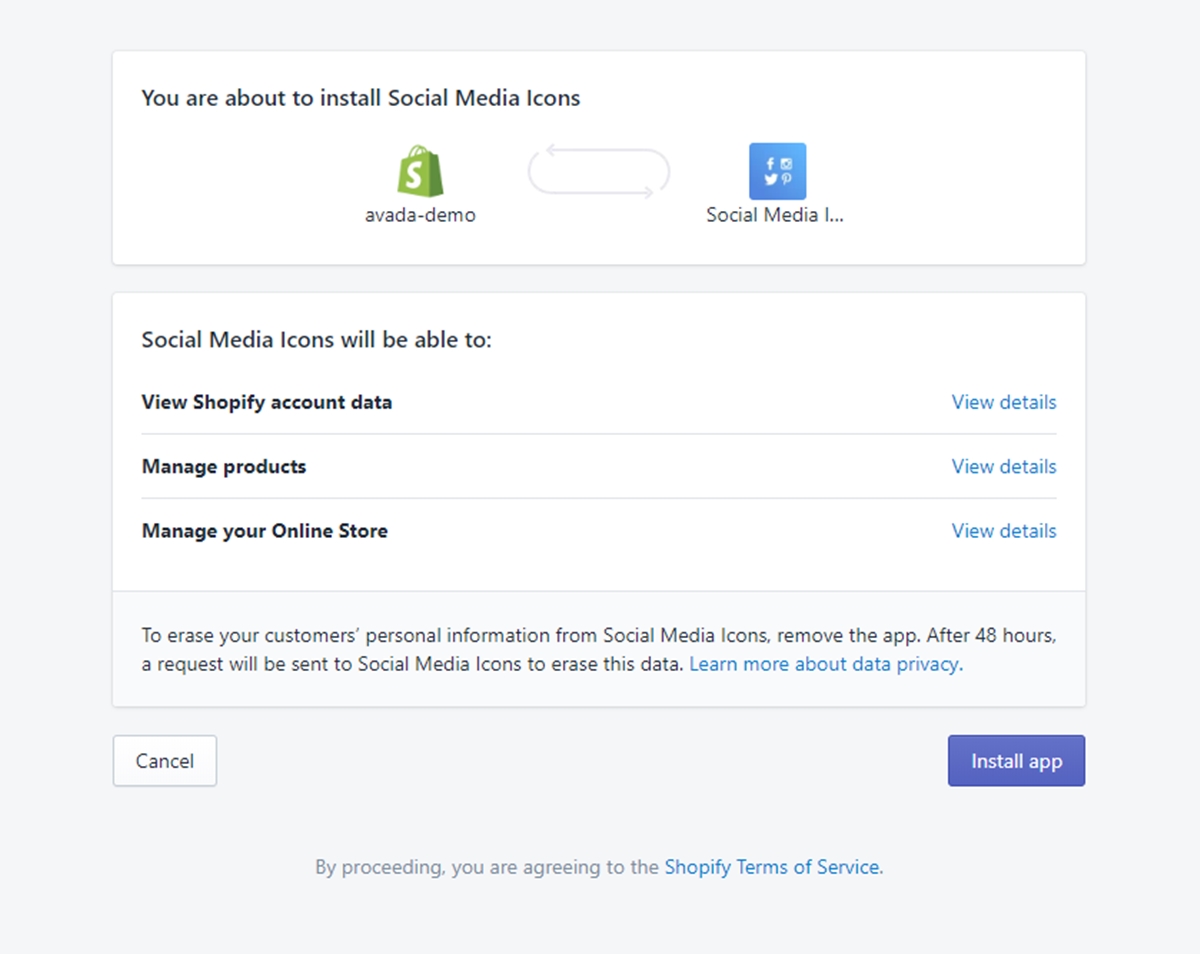 Immediately after the app is installed, it will show an editor in which you can add URLs to your social profiles. Add your URLs and it will do the rest of the work for you.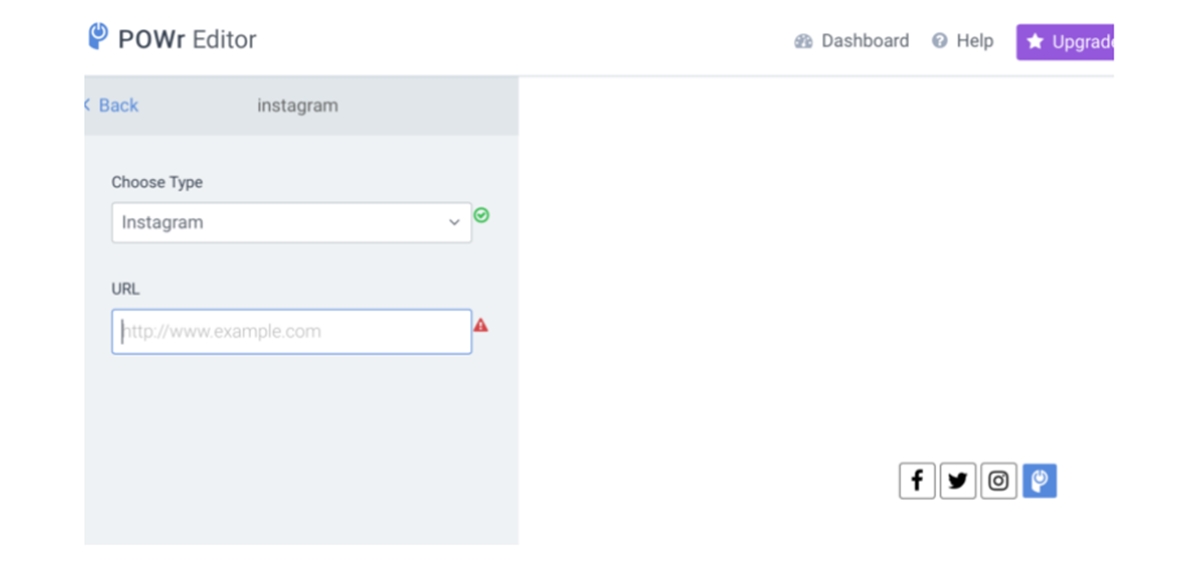 How to install the tracking pixel to run campaigns
Installing the Facebook tracking pixel is a piece of cake. It only takes you two minutes and the result will greatly benefit you and your business.
Firstly, you need to find Facebook's tracking pixel and get it on your Shopify store in order to track and retarget the activities. This not only helps you to run ad campaigns on Instagram but also helps you to run ad campaigns on Facebook.
Go to Facebook and then navigate your Ads Manager or Business Manager, and locate the Pixels tab.

The next thing to do is selecting the pixel of your choice and copy its pixel ID number. No code are needed.
After that, open Shopify and choose Online Store then Preferences The option which allows you to enter your pixel ID number will be shown.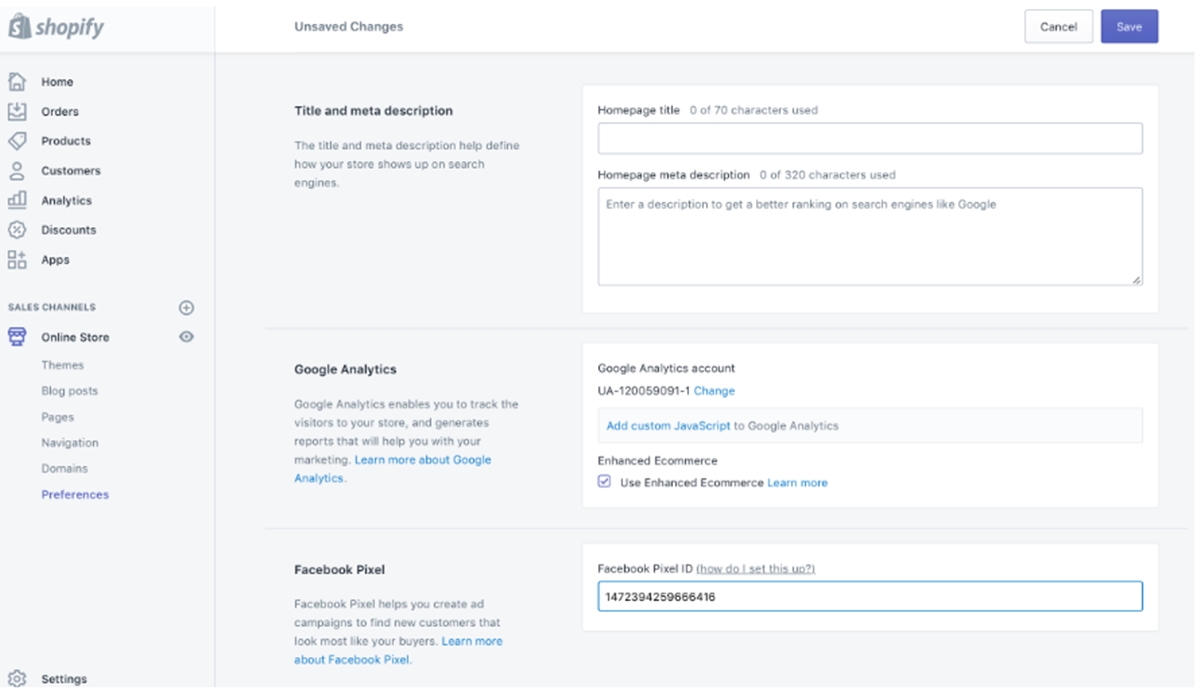 As soon as you enter your ID button, the pixel will be automatically installed on your Shopify store. You are now able to create campaigns and show users ads on Instagram based on recent site activities of users
Final words
Integrating Shopify and Instagram will only benefit your eCommerce business no matter what options you want to utilize. So do not hesitate to add the Instagram sale channel to Shopify and enjoy the benefits of the shoppable posts brought to you.
Thanks to Shopify's exceptional ease of use, the Instagram and Shopify integration will only take you a few minutes to set up and start experiencing all the features. The only thing you need to do is follow all the instructions and all issues will be solved. Thank you for your attention.
Related Posts:
---
Mike is a content writer at Avada, with a love for video games, gadgets, and software. He has been writing about the industry now for over 7 years. He likes to keep up-to-date with the latest software releases. He's also an avid reader, and he enjoys spending time outdoors with family and friends. When he's not working, you can usually find him playing video games or exploring new outdoor activities.