10+ Best Tips on Writing Great Emails
What email marketing can do for the development of a business has come a long way in the last decade. But with all free email marketing tools on the market that you can use, you know what's funny? Well-written, plain-text emails can work just as well (if not better) than highly-designed emails with loads of bells and whistles.
In reality, no matter how fancy your marketing emails look, if they are empty of well-written content, your subscribers will stop reading and start deleting your emails. So, how are you going to write a fantastic marketing email? It all comes down to several copywriting techniques that you can extend to both the subject line of your email and the email body. Next time you send an email for a lead nurturing campaign or just send a one-time note, ask yourself if your copy follows any of these criteria first.
How to write a great subject line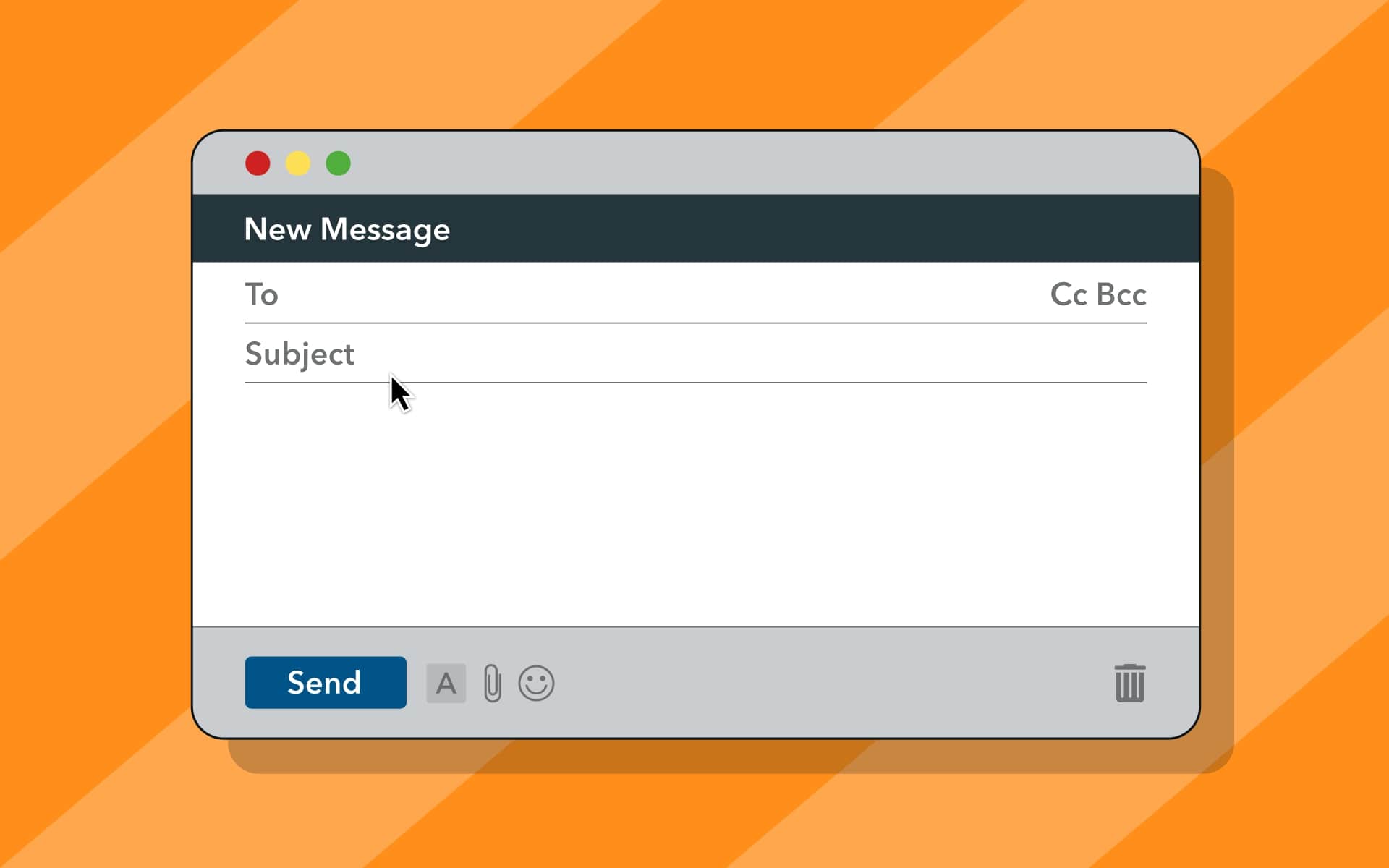 The first thing that your audience will look at and decide whether they want to read your email your not is the subject line. Don't you browse through subject lines in your mailbox, select a few that capture your interest to read, and delete the rest too? So let's look at how you can write an appealing subject line first before going for the body of your email.
Use actionable language
With email subject lines, using actionable language does not always mean using verbs, but it definitely helps. For instance, a restaurant can send a promotional email like "Book a seat this weekend and get 20% off". This is one way to use the actionable vocabulary efficiently in the subject line of your emails: by adding a verb (like "take," "download," "reserve," "ask," "buy," etc.), the reader knows exactly what they should do in the email.
Also, there are ways to use actionable language without depending on verbs, which allows you more space to play with vocabulary. What it comes down to is using a language that tells the user what they can do with the details in the email if they want to open it. In other words, hold the importance at the top of the mind for the customer.
For example, you can send an email saying "Don't miss out on our 20% discount this weekend." While you aren't ordering anyone to buy anything, this headline is a gentle reminder to your audience that they need to shop before it's too late. Both of these examples work well because the recipient knows exactly what they need to do, and can decide whether they want to do it or not.
Personalize when possible
Highly segmented emails are more likely to have better performance — such as higher open rate and click-through rate— than emails that are not personalized. According to a report by the Direct Marketing AssociationAccording to a report by the Direct Marketing Association, segmented and personalized emails generated 58 percent of all the revenue of the marketers surveyed, and 36 percent of revenues were powered by emails sent to unique target selections.
This shouldn't be surprising. After all, the better your email list is segmented, the better able you are to customize the subject line and provide the appropriate material to the recipient of the email. So ask yourself this question: is there a way to make the email subject line of your email more personal? And I'm not talking about the dynamics fields where you can insert the recipient's [FIRSTNAME] — email recipients stopped being fascinated by this customization some time ago.
Be more specific instead. What I mean by that is, for example, let's say you have a huge database of customers who are interested in housing, being more specific about this list of customers is knowing that there are different groups of people with different interests, such as:
Some are looking for houses to rent, while others want to buy.
They all have different target price points with which they're willing to spend.
Their ideal locations are different across several cities and zip codes.
Some are searching for a studio, while others want a two bed-room apartment.
etc.
It's obvious that it's not going to work if you send the same email to all of these different groups of people right?
The subject line of your email should not be the same for that reason. You may have one subject line that says, "List of Houses for rent in Brooklyn" and another that says, "The most affordable two-bedroom apartments in downtown Manhattan." Each subject line addresses the radically different needs of two radically different audiences.
Clarity first, and entertainment second
Write an email subject line that is simple first, a catchy second. In the case of a marketing copy, consistency should always, always, always be the first priority. If, after you've drawn up a simple subject line, you can make it catchy, amusing, cute, whimsical, whatever it is, then go for it. But never lose clarification for the value of entertainment.
UrbanDaddy, a men's lifestyle publisher, is an example of a business that excels in writing subject lines that are often straightforward, and often catchy, funny, or entertaining. Have a look at the subject lines of some emails they sent out to their customers:
| | |
| --- | --- |
| UD | Getting Everyone Together: Now Less Obnoxious |

| | |
| --- | --- |
| UD | Nunchucks. Made from Beer Cans. Finally. |

| | |
| --- | --- |
| UD | It's Ice Cream. It's Beer. It's Beer Ice Cream. |

| | |
| --- | --- |
| UD | Here's a Private Bahamian Island. Do Your Thing. |

| | |
| --- | --- |
| UD | A Hotel in the Middle of an Ocean |
Some of these subject lines either make recipients laugh, or they're strange enough to ignite their curiosity, but it's still clear what the reader is going to get when they open the email.
Deliver what your headline promises
You may already know how crucial it is to match your call-to-action copy and your landing page content. Well, it's no different when it comes to your email subject line and the body message.
What the subject line of your email promises, the email body should deliver it. Why? It's not only that it establishes your brand as reliable — also it's because when readers don't receive what they're actually promised on the subject line, click-through rates drop, and so will your open rates in the long run.
We once did a test on our own. We sent the same email copy with two different subject lines to two different groups of people:
The first subject line, which was straightforward and much more precise, had a higher click-through rate of 15.4 percent over the second subject line, which was vaguer and less accurate. So, what is the take-away here? It's a high open-rate that doesn't mean anything when there are not any click-throughs.
Read more:
How to Write an Email
Now that you've created a stellar email subject line, you've got the full attention of your audience to the body of your email message. So, how are you going to craft a copy that will get them to click through to your offer? Here are some techniques you can try out.
Be relevant
Much as the subject line of the email should seek to create relevance by personalization, so should the main message in the email body. Again, it takes more than a dynamic name tag for your email copy to persuade readers that what's inside is important to them. So use the very beginning of your email to let the recipient know why they should keep reading, or "What's in it for them?"
Below is an example of a great email from Warby Parker: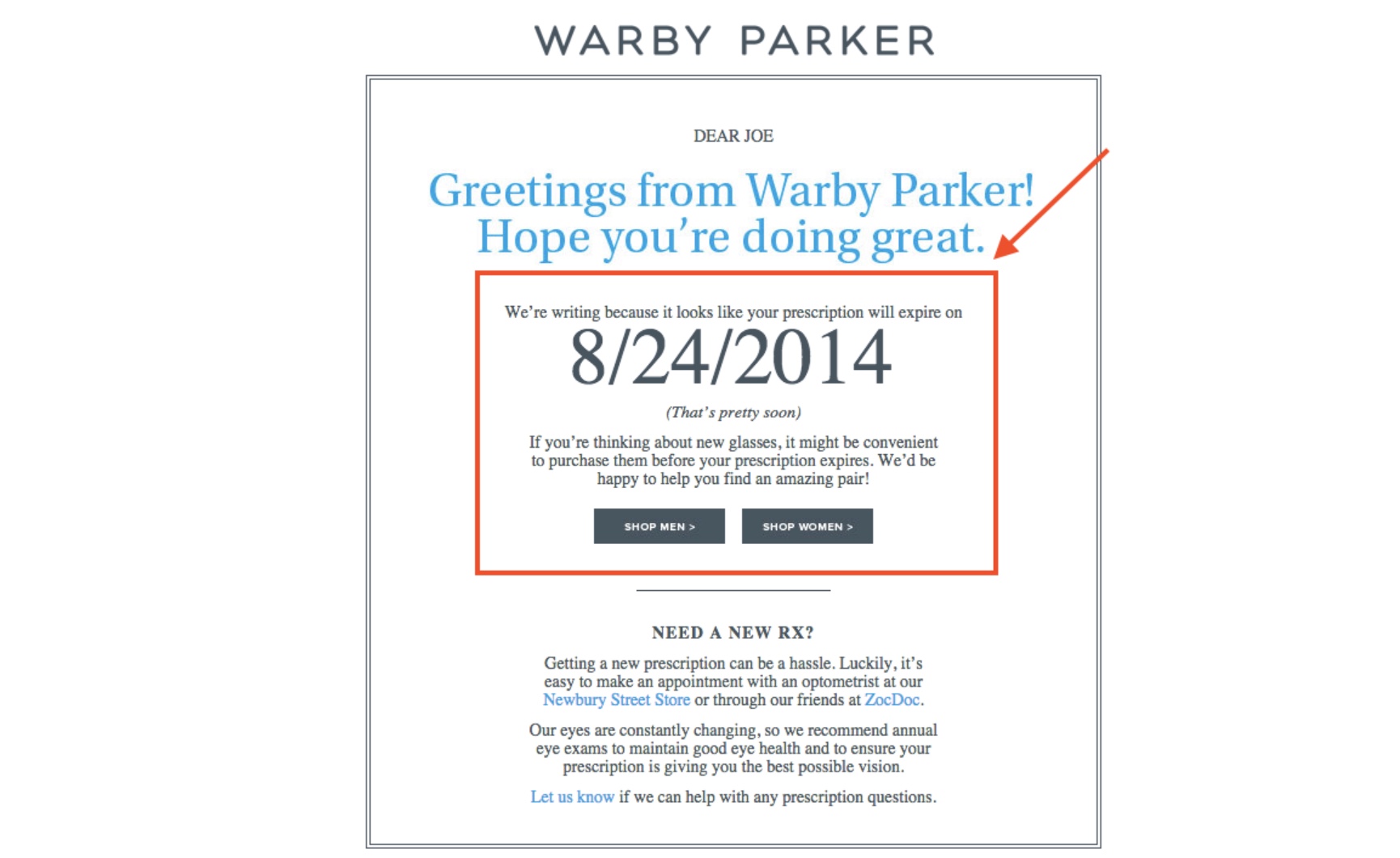 Take a look at the paragraph that is squared in red. Right off the bat, Warby Parker's email tells the reader why they get the email (their prescription expires soon) and that this email is intended to help them get a new pair of glasses before the expiration date.
Imagine if this email didn't have the first line, and instead began with the second paragraph which is from "Getting a new prescription" to "our friends at ZocDoc." The customer would be like: … Why are you sending me a prescription email? Why would I have needed your advice? How do you know that I live near Newbury Street? By reminding the recipient that they have received service from Warby Parker for their prescription in the past, it is more likely that the recipient will click through and accept the offer in this email.
Write in the second person
Writing in the second person is using the pronouns "you," "your" and "yours." For instance, "Before you leave the office, don't forget to bring your jacket." This means that you are referring the copy to the reader, not to yourself. Take a look at the copy in this email from Zappos as an example:
Now, you can count how many times this email uses "You" instead of "we" or "I." Well, we're not going to make you count: the words "you" and "your" are used 12 times, while "we," "our," and "we're" only 5 times.
This is a good balance of the second-person language that holds the attention of the consumer, not the brand. This is a subtle tactic that helps you remain customer-oriented, but this next move I'm going to take is key to deliver the point of your email.
Promote benefits, not features
You are the creator of your product, so you know exactly what value it can provide, do your customers know? The bad news is not yet. And the good news is you have control over providing them with that information. The problem with lots of emails is they keep talking about the features they offer, but not the benefits. Take a look at the copy in two different emails, and see which one is promoting the features, and which one is promoting the benefits?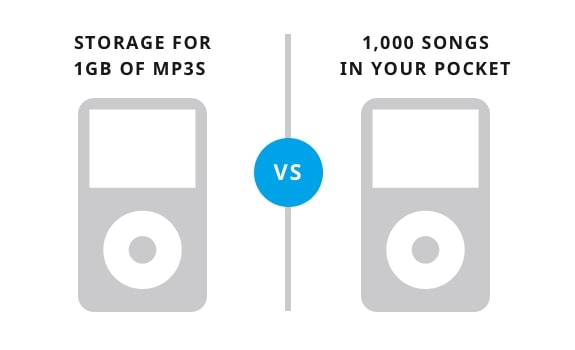 If you think the first picture is promoting the feature, you're right. It says it's offering a 1 GB storage, but it doesn't describe the value behind it. What do 1GB storage of the product do for my goals? How many songs can I have with that much storage?
On the other hand, the second picture promotes the benefit right off the bat. It's 1000 songs that this product can store for its users. The object of this email is to sell shorts, but the copy isn't just shoving shorts down the recipient's throat. It's easy to imagine, easy to understand, and I have 900 songs, so I will definitely buy this music player to keep all of them!
The first picture tells what the feature is, but the second picture tells what the feature can do, which is the only thing that the customers will care about.
Be brief
One of the worst errors that email copywriters make is trying to bring the whole story into an email. Think about opening a marketing email to your inbox. Can you read every word in there? It's definitely not. It is more likely that you will be scanning important points so that you can see the overall message and determine if you want to take some action.
So if you're sending hundreds of words for an email, you're making it a lot harder for recipients to determine if they want to click through—just because they can't easily see all the details in your text. Instead, find a way to explain what the reader can get in a quick but persuasive way, and let them click on a link on your website for more details. Have a look at how Postmates wrote an email encouraging their audience to click through to get a limited offer: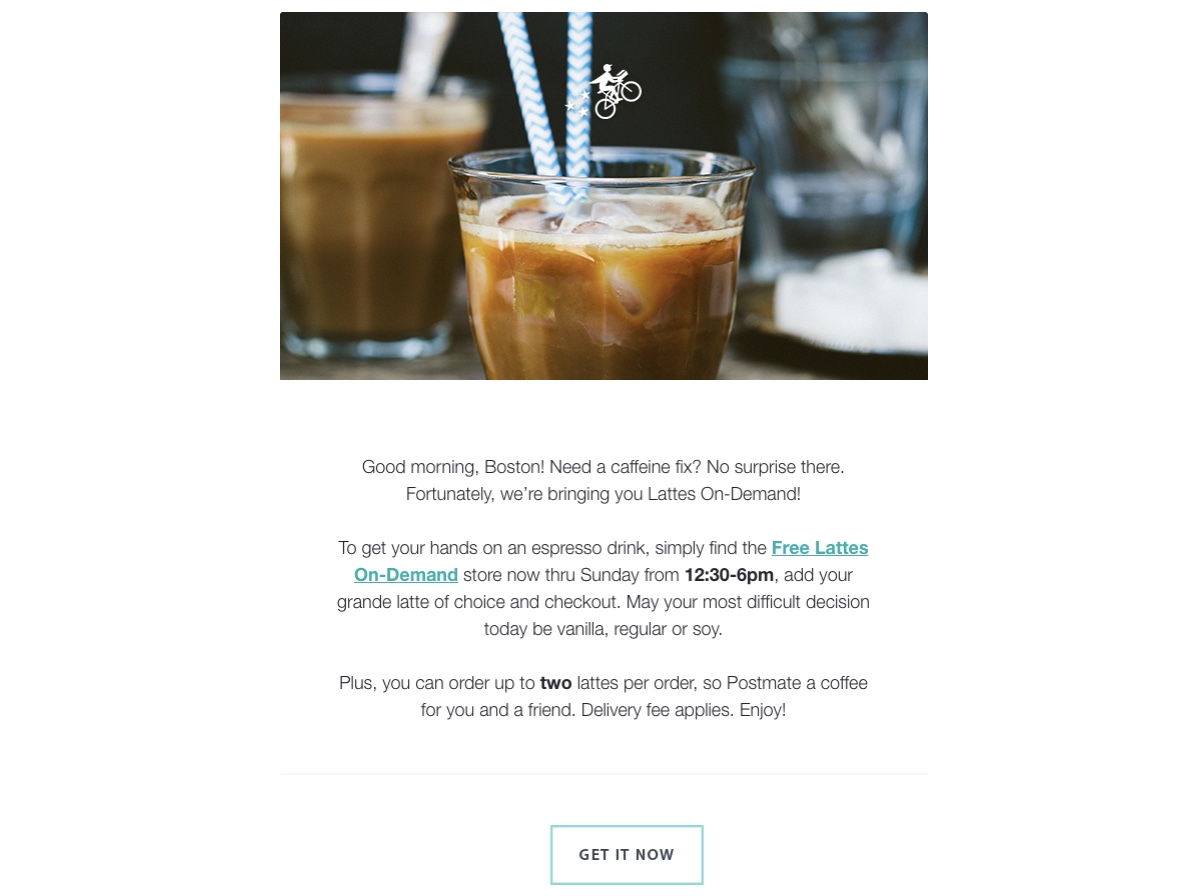 Postmates gets to the point right away without any lengthy introduction. After a short, polite greeting, they get right down to the intent of the email: to inform customers about their new "free lattes on-demand" promotion. After explaining the new concept, they give a few basic information and then get straight to the call-to-action.
Keeping your message short and on-point is the secret to writing effective email copies. What's the point you're trying to do with your email? If you know the action your email can take—the recipient orders free lattes, the recipient remembers to purchase their Bruce Springsteen tickets, the recipient gets inspired to work out—then you'll have a far easier time writing a concise email copy that focuses on that end goal.
Apart from writing a concise email, note that using only one primary call-to-action in your email copies will result in higher click-through rates than using many call-to-actions that compete with one another.
Be lovable
Just because emails are meant to provide information doesn't mean they can't provide fun. In some situations, email can be a perfect way to let your brand's personality shine, helping you develop a positive relationship with the people on your email lists. After all, presenting people with a lovable experience starts and ends with how you interact with them.
Check out the example below from Death to Stock Photos. The point of the email is to apologize for sending an email the previous day that advertised a product that sold too fast, did not ship globally, and basically gave a lot of their customer's a bad experience.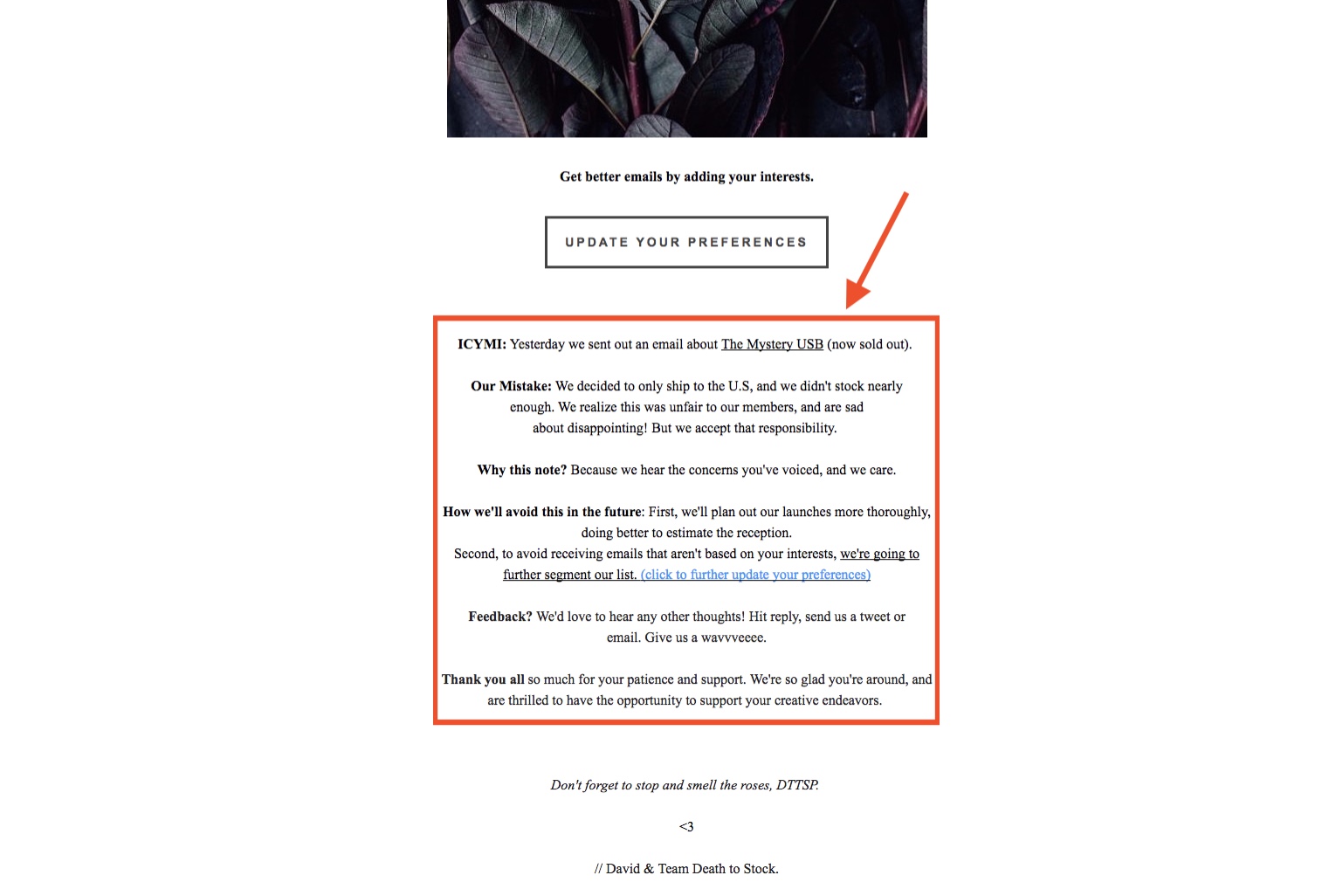 Take a close look at the content squared in reading you will notice that it uses straightforward, personable language to clarify what has happened, then apologize for the mistake, tell what they have learned from it and how they can avoid it from happening in the future, and offer the receiver a variety of choices for follow-up.
The format of this section of the email is tailored for a large number of recipients who are likely to skim their emails. It is quick to follow the bold text and the one-sentence paragraphs. Finally, they're not afraid to introduce some personality by using phrases like "Give us a wavvveeee" to humanize their brand. The consequence, huh? The beneficiaries are possibly far more open to pardoning them for an honest mistake.
Use actionable language in your call-to-action
Yes, your call-to-action should contain actionable language, it's obvious, isn't it? First and foremost, your call-to-action should be easy to see because, remember, people, skim and scan their emails. If you want your audience to pick up on one thing, it's your call-to-action. That's what this email from AmazonLocal puts a ton of focus on.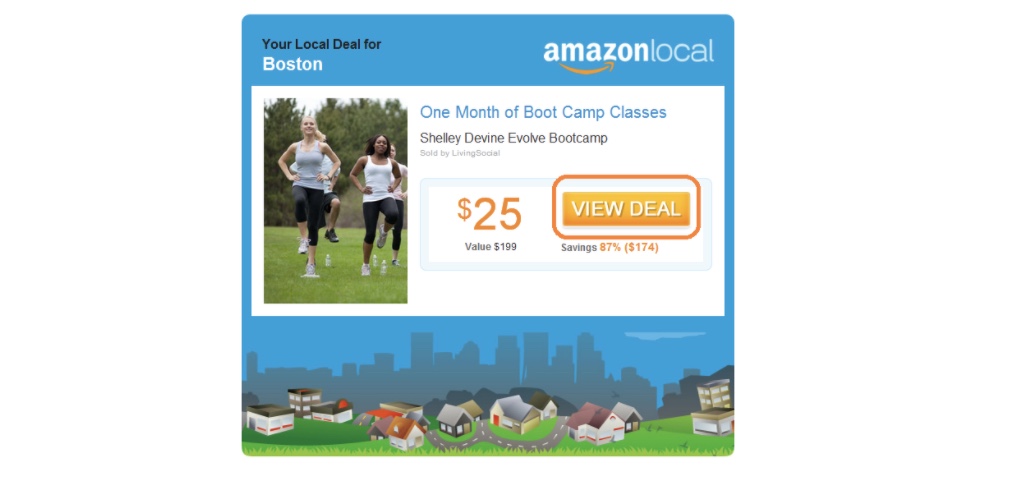 There are two things that make this call-to-action button effective:
The design is on point: First, note how the big, bright orange button stands out from the blue design; the call-to-action is definitely not hard to find.
The copy is great: It's just as necessary to copy on the button. Your call-to-action button should include short, descriptive, and action-oriented language. This AmazonLocal button shows you in a few words what you can do with verbs—you can see the offer shown in the inbox.
So in your next email, don't forget to make your call-to-action loud and clear.
Final words
That's it! I hope this article has provided you with valuable tips on how to make your next email copy great. Feel free to leave comments below for a further discussion on this topic!
A great email will need a great email marketing service to reach the right people at the right time! AVADA Email Marketing, a product of AVADA and a user-friendly email marketing service for small businesses, provides all the features you need to run automated email campaigns from $9/month. Check it out at this link.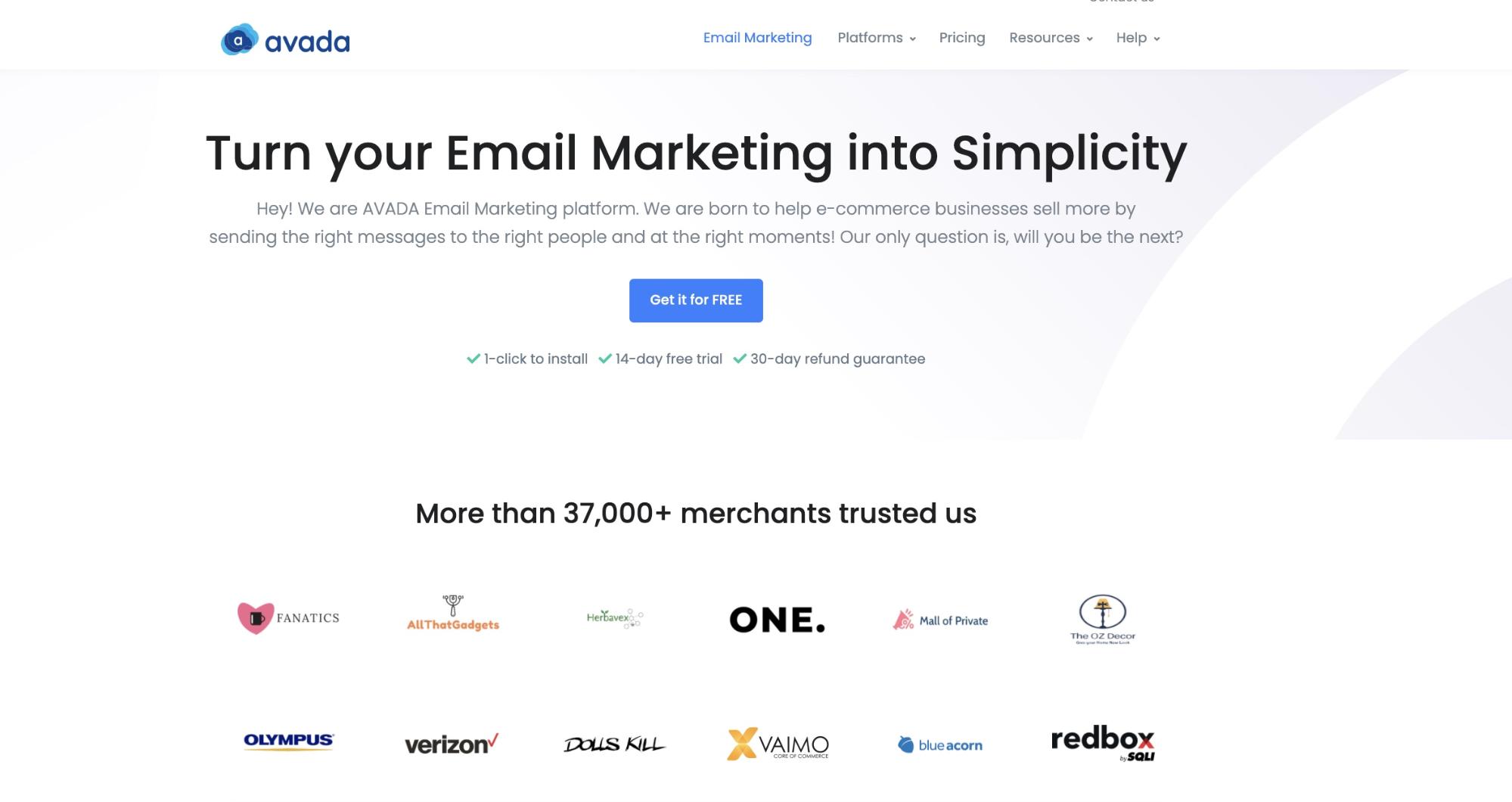 New Posts
Stay in the know
Get special offers on the latest news from AVADA.