99 Tempting Email Subject Lines For Spring Season
A new year is coming, and we can feel the gradual change in the seasons from our homes' comfort. As people are getting ready for a warm spring, you need to start preparing your email campaign. It won't be a normal spring with many outdoor activities this time, so crafting click-worthy subject lines would be more valuable than ever to get your emails opened (rather than those of competitors').
After all, this is a new start for everyone, and consumers are looking for a year of excitement while leaving 2020 behind. If you can tap into the spirit of this spring, you can probably wake up your sales as well. A good subject line will keep your brand on top of customer's minds throughout all seasons.
If you need a little inspiration to make your emails have a high conversion rate, check out my list of 99 best email subject lines for this spring season. You will be able to be topical and seasonally relevant, as well as lead your company into a prosperous new year. Let's get ready to spring clean your email subject lines!
99 tempting spring email subject lines

Here is a list of the best spring email subject lines, grouped by relevant events in the season. One thing to remember is that you always test your subject lines to make sure that customers receive your copy well. A good email marketing app will allow you to A/B test subject lines with informative data to show which option has the best open rate.
Introducing AVADA Email Marketing - an automation email service that lets you send beautiful pre-built email templates with full customization. You can test the subject line, and you can also test the email design, timing, emojis, target audience, and more. The app is free to start, so don't hesitate to give it a try.
Back to the show, the next 99 spring email subject lines will thrill your subscribers for particular holidays and also induce a sense of urgency for more actions from readers. See what can work for your email marketing effort this spring!
Email subject lines to welcome spring
When spring comes (around February or March), it is a good-feeling time to buy some new items for the house, the closet, or simply for the pleasure of oneself. Indulge in the spirit and make your subject lines full of positivity to welcome the warm season. Consumers want to feel great seeing the sunlight, and you want your emails to bring the same good news.
Here are the best email subject lines to welcome spring:
🌸Spring Break is Coming. Ready To Look Great With Our Items?
March into Spring with Our Sales!
Happy Spring from [Brand's Name]! 🌼
I See New Spring Arrivals!
Get happy! The best items of spring are here + 25% off your order
Get Ready for the Warmer Weather with these items
Save 20% on your NEW spring looks
Your 5 must-have spring essentials are here!
SPRING CLEANING – UP TO 50% OFF ALL ITEMS!
New Season, New Styles, New Colours
SPRING ARRIVALS have burst into bloom
Swing Into Spring with us, Buy 1 Get 1
A NEW spring trend to fall for
Pick A Color For Spring!
Spring-fresh finds are here! Shop Here!
Swing Into Spring with these deals!
These NEW spring trends are to fall for!
Spring Fever at [Store's name]
Spring Yo Self!
Just warming up with 25% OFF!
You'd be a fool to miss this Spring deals
Spring showers won't stop this $50 off
Pre-Spring arrivals + an extra 10% OFF
In With The New! Spring Items On Sale!
What's Trending for This Spring?
Leap into spring savings with these deals!
Freshen Up Your Spring Wardrobe NOW!
Feels like spring! Shop with 35% off
Just For You, A First Look At Our Spring Collection
As temperatures rise, [Brand's name] prices decline
Get sprung on these socks
Florals For Spring? We know and so do these items!
A little something for your spring outlook
Spring Fever at [Brand's name]
Transition to spring flawlessly with these items
Trend alert! Check out these Spring styles
Email subject lines for Saint Patrick Day
In 2021, Saint Patrick Day will be on Wednesday, March 17; which is a cultural and religious celebration with public parades, green wearings, and a bunch of drinking. It is a great event for celebrators to find some luck in the new year, and you can give them that with your promotion campaigns. Your subject lines should also be festive and filled with excitement, urging consumers to buy your offers.
What's at the end of the 🌈? 50% OFF!
Get Lucky, Shop Green
Happy St. Patrick's Day! Items start at only $11.99
Lucky You! We're Giving You These Great Deals
Save up to $50 Your Lucky Day!
40% Off Lucky Green Items
Save Some Green on Top Picks + use your 20$ coupon
Feeling lucky? Win $500 in our contest 🍀💰
Lucky Break Save $25 Off Any Purchase And More
Today might just be your lucky day
Email subject lines for Easter
Easter is coming on Sunday April 4th, and the adventure begins with people hunting for eggs everywhere. With the image of a jumping bunny, you can add a fun tone to your spring email subject lines. Try these next examples for your Easter email campaigns.
Last Minute Easter Deals, Hop On!
Hop to The Sales!
We've got eggs-celent deals for you!
Every Bunny Loves Easter, And Sales!
Introducing our 2021 Easter Collection
Enter Our Contest to Win 2 Dozen Chocolate Covered Strawberries
Easter's early: Are you ready?
Go down our savings rabbit hole
The Sweetest Selection for Easter
Is your basket ready? Easter arrivals are here
Email subject lines for Mother's Day
On Sunday, May 9 2021, it is time to show some love to mothers everywhere on Mother's Day. You have many promotion ideas to try on this event, such as gift guides, cooking recipes, free shipping, outfit ideas, and more. Your subject lines should be able to show affective and convince consumers to show their mother appreciation like these next examples.
Treat yo mama with free delivery for Mother's Day!
🚨WARNING: Mother's Day is Here!🚨
Need a Mother's Day Gift?
Mother's Day is TOMORROW
For Mom, For You. Shop Gifts and Clothes.
The Best Mother's Day Gift Ideas
She's Got Taste. Let Her Choose. Send a Gift Card!
Moms are the Best. Shop for her here.
Mama Always Said
To Mom With Love! Shop Gifts On Mother's Day! 🎁
Gifts that will deliver to your Mom in time
Our recommended lineup for Mom everywhere
Show Mama some love with these gifts from [Brand's name]
The ultimate recipes for Mother's Day
Have you called your mom yet?
Email subject lines for Memorial Day
2021 Memorial Day will be on Monday, May 31. Many eCommerce brands have found this a great opportunity to offer some sales, since it is near the start of autumn so many would look for items to upgrade their houses. Also, toys and games see a great opportunity during this occasion. If you are interested in starting a promotion campaign during the Memorial Day, here are the email subject lines that you should try:
Yes, our store is open on Memorial Day!
We're all grateful this Memorial Day
Last day for Memorial Day savings
Memorial Day Sale Starts Today – Buy 1, Get 1 Free
Memorial Day Weekend Is Almost Over, But The Sales Aren't
Happy Memorial Day! 🎆
Stars, stripes & savings!
It's time for grilling and filling your cart
Chill, Grill & SHOP! 50% Off
Big deals for your 3-day weekend!
Memorial Day Sale! Up to 65% off select items
How to Plan the Perfect Memorial Day Party
Long weekend, not-so-long-deals. HURRY!
The Countdown to Memorial Day Sale starts right now!
Sitewide Sale For Memorial Day
Email subject lines for Cinco de Mayo
Cinco de Mayo is a Mexican annual celebration that is celebrated on May 5. On the day, you can see celebrations and festivities in many cities, making it a perfect opportunity to offer some sales. For a cultural event like this, your content needs to have a correct tone, so these next spring subject lines will be a great fit:
Are you ready to guac and buy?!
Happy Cinco De Mayo! Save 15% During Our Cinco Sale
Top 10 Bean & Cheese Recipes
🎉 This 25% Cinco de Mayo coupon calls for your celebration!
Top Deals for Cinco De Mayo!
It's a Fiesta: Save 25%
CALIENTE! Deals up to 50% Off!
Prices worth taco-in' about
Email subject lines for March
Well, March is really not that special, but the wordplay of "March On" is a good enough reason to start a sale. Sometimes, you don't need a holiday to offer a promotion, be active and contact customers first with your amazing deals. Here are some spring subject lines for March that you can apply right away.
March into Spring with Our BIG Sales!
Slam dunk deals for this March Madness
March into savings!
March into Spring with these pretty new tops
March in The Garden at [Event's Name]
9 spring email campaigns for inspiration
With those spring email subject lines above, let's see some examples from other brands to see how you can apply them into your spring email campaigns. And I won't only highlight subject lines, but also the email content and design as well.
Johnny Cupcakes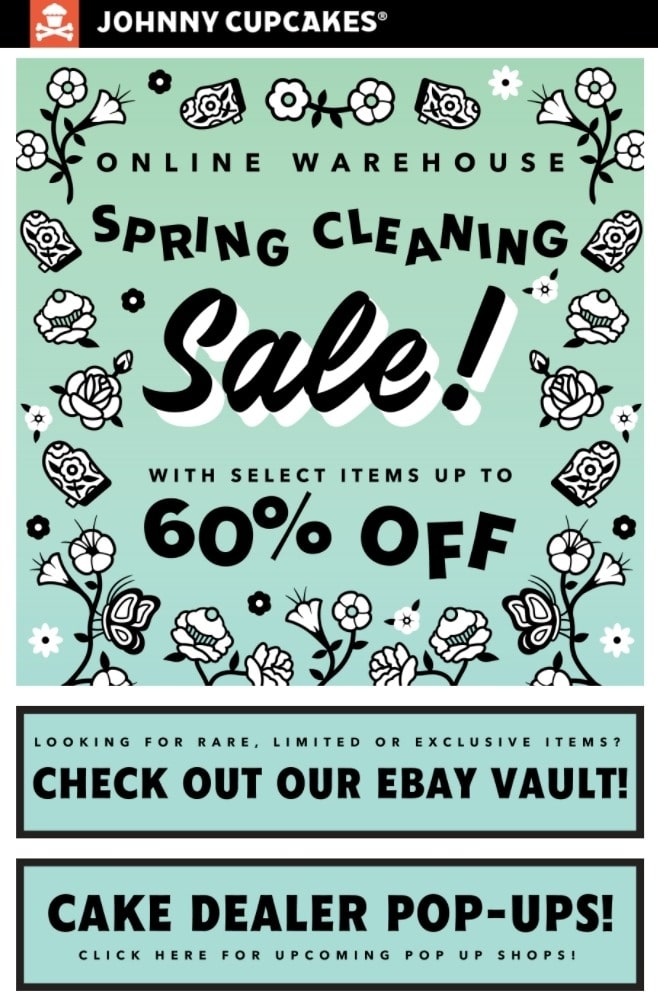 By now, you should know the importance of visuals in conveying information to your customers. Using emoji in your subject lines will help highlight your email and help readers quickly understand what to expect. In this example, Johnny Cupcakes uses 🌸🌻🌿 in their subject line

With three flower emoji and a straightforward copy, the brand invites customers to join their spring clearance sale with a good spring vibe. The email also looks fantastic with a distinctive design that is simple yet effective - which is a great example for seasonal promotional email.
If your brand tone is suitable, don't be afraid to include some emojis in your spring email subject lines. Be careful not to overdo with the emojis, though, or you can get risk getting stuck in the spam folder.
ASOS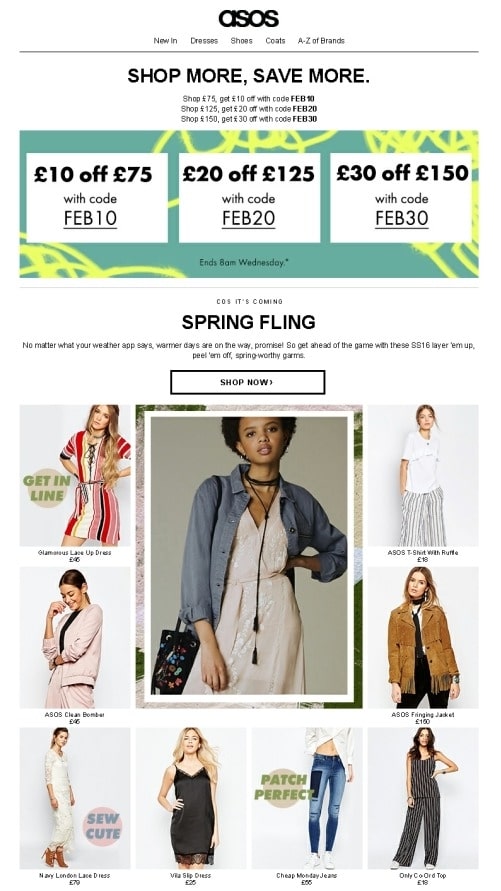 If you are in the fashion industry, you can create a collection of trending clothing, shoes, and accessories at the moment in your spring emails. People love to see stylish ready-made products and imagine how wonderful they would look in those items. This way, you can create value for customers while promoting your spring products.
You can also include interviews with fashionista or KOLs talking about spring fashion trends in your emails to make the most of your message. Whatever your idea is, the email's purpose is to direct your readers to your eCommerce website and check out your products. ASOS offers a great example here.
With the subject line of 'Shop more, Save more', consumers know that they are in for a good deal. The spring collection below is great to showcase different items with stylist pictures. Scrolling down and readers will find even more items in accessories, cheat sheets, and other clothes.
Subject line like this example that you can try: 🌞⛱️ Sun's out, fun's out! Here is our spring collection!
Bombas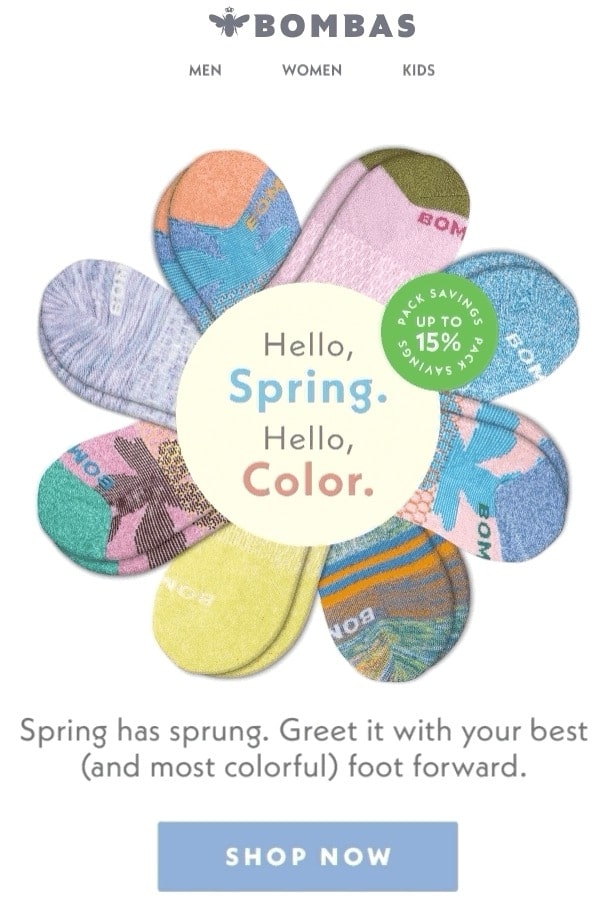 When you think of the arrival of spring, if you know your products inside out, you will be able to make a connection and show their best use in the season. So, your email should be the presentation of your product's usage and create demands for your brands. By doing this right in your spring emails, you will keep your company on top of the consumers' minds.
Socks are probably not a great choice for spring, but Bombas brought the season to readers by moving pictures of their colorful products. In the email, Bombas promotes ankle socks with many colors, simply because spring is the perfect season for that. What you can learn is to stay seasonal with your products, no matter what you are selling.
NordStrom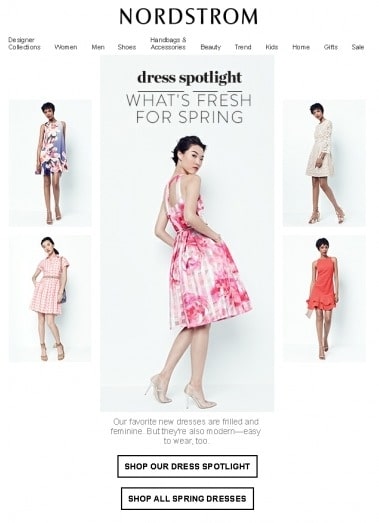 On the first day of spring, you can already start welcoming your subscribers with an email of the best fashionable products you have for the season. Tell them in your emails that this is a great occasion to update the wardrobe, tool shed, or whatever else your customers want.
With NordStrom's spring email, you can see how nicely their dresses are presented. The pictures look youthful and fresh, just like spring. These pics make the email attractive, desirable, and interesting. What you can learn here is to create a spring theme for your email.
If you want to greet your subscribers in a cheerful mode, a themed email template is always a safer option than creating by yourself with little experience in designing. A colorful theme with many nature elements like trees, flowers, and animals can immediately have a spring vibe.
Forever 21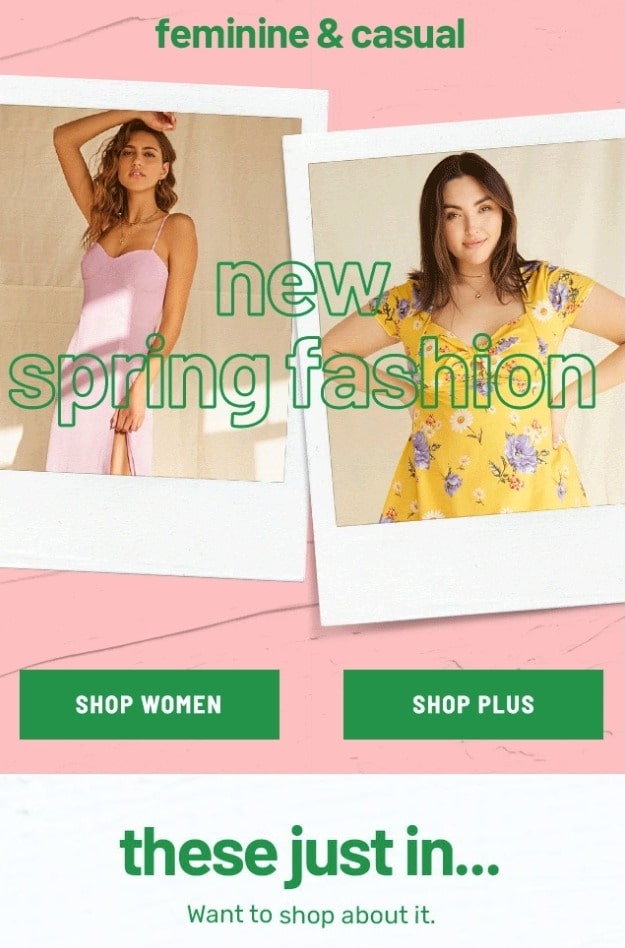 Some deals are just too good to miss, and that is what you want your customers to feel about your spring promotion. To taste this sense of fear of missing out, you should position your products as "must-have" any time in the year. But, since we are talking about being seasonal relevant, Forever21 does a great job with their email here.
They used a bold subject line of "Make room in that closet" for the email above. This spring subject line matches perfectly with Forever21 because it invites you to do spring cleaning and implies that you need new clothes. The chic tone is a great bonus. In the email, the company promotes their new spring arrivals with options for two different sizes.
While this type of subject line can ignite actions quickly, you should use it with caution. If you sound too patronizing or not like your brand, you can end up annoying your subscribers.
Buffy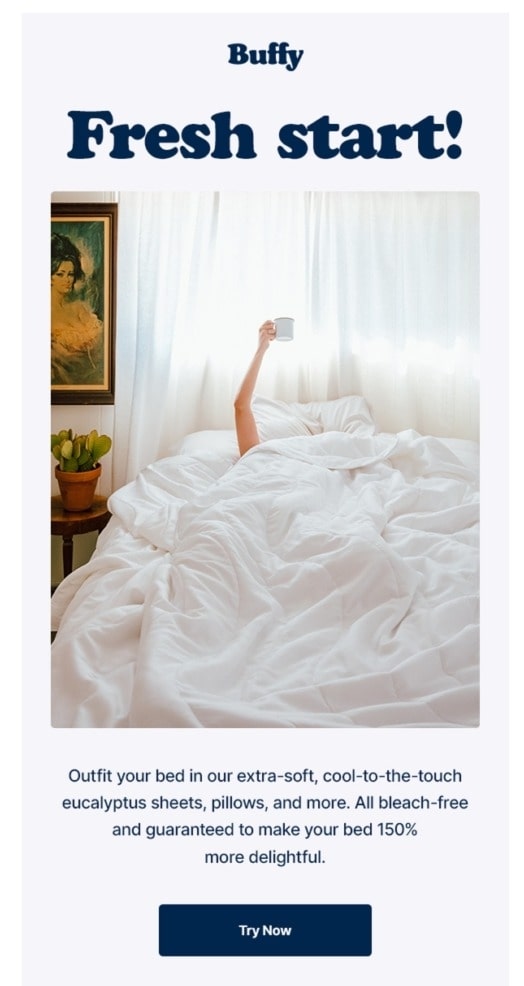 Spring cleaning is a common theme for brand emails during this season. Since your competitors are aware of this too, you should find an approach that can differentiate your email in the consumers' inboxes. Evoking curiosity through the subject lines is a smart path to choose, like how Buffy did with their spring email.

Knowing that their subscribers probably receive tons of spring emails, Buffy invites them to check out their version of spring cleaning. This immediately catches my attention since I wonder how Buffy's version can look different from other companies. In the email, Buffy offers a fresh start with their bedding products. While doing that, they use strong adjectives and pleasant images to give a comfortable feeling.
This is a great example of how you can evoke curiosity with your subject line and use the spring cleaning theme to introduce your products. Also, you don't necessarily need to include a sale to promote your spring products.
Bean Box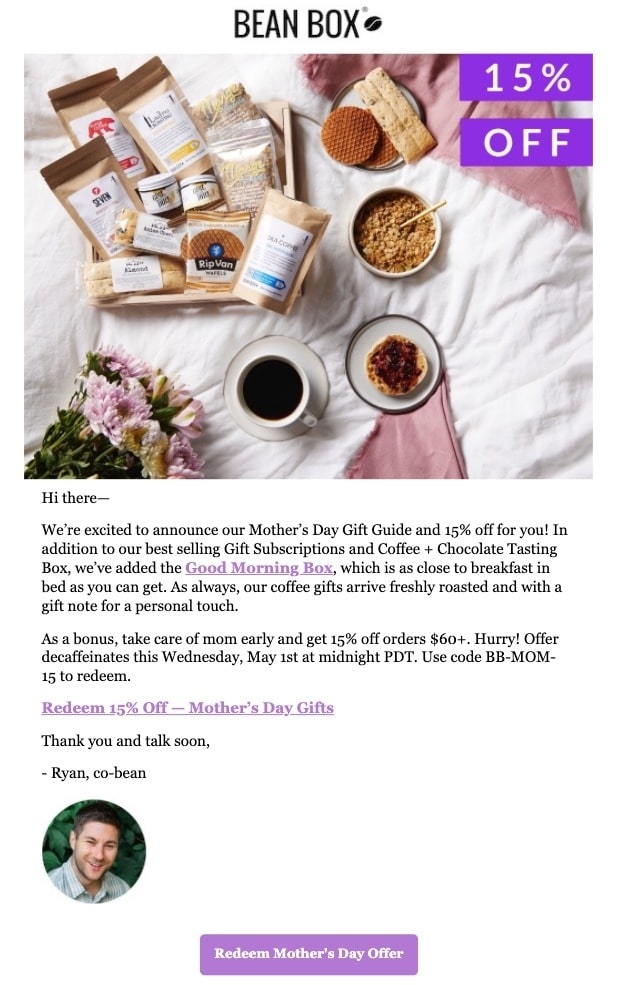 Spring has a special holiday that no one wants to miss - which is Mother's Day. Shopping for mothers hasn't been easy, though. Since everyone buys flowers, it becomes such a common thing that is hardly special any more. Therefore, your brand has a chance to offer something special for mothers everywhere with your spring products.

Bean Box uses a clever yet daring subject line for their spring email - "Mom can't drink flowers". With one simple line, the brand challenges the normal phenomenon of buying flowers for mothers. With 15% off, now subscribers can buy something else - which are Bean Box's fresh coffee to take care of moms.
While most brands have a sweet or witty subject line on Mother Day, Bean Box goes the other way with a hard to disagree statement. That is how they stick to the reader's mind, and you can learn from that. If you can't think of an obvious statement like Bean Box, try including numbers in your spring subject lines to steal attention from subscribers.
Mac Cosmetics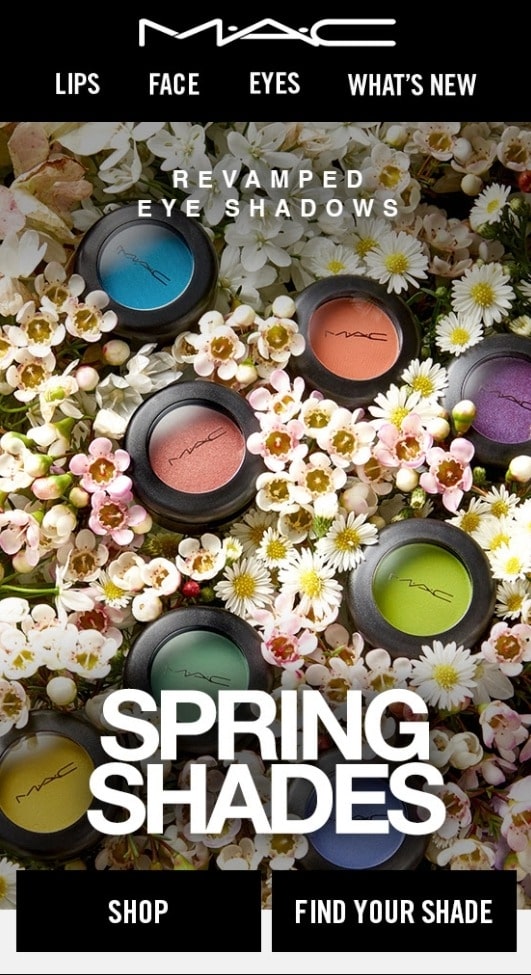 If you are not thinking about discounting your products in spring, that is totally fine. You don't need to offer discounts to leverage your spring items, see how Mac Cosmetics does it in their email. The subject line for the email above was: "Spring for it", then they introduced their new shades of the shadows collection.
Mac's email can easily stand out in the inbox with wordplay and a spring-y design like that. The bright-colored eyeshadows look magnificent in the image, while readers can find more information or their seasonal products below. What's more, subscribers can visit Mac Cosmetics website to virtually try on these shades. This makes the online buying decision much easier for consumers.
Tattly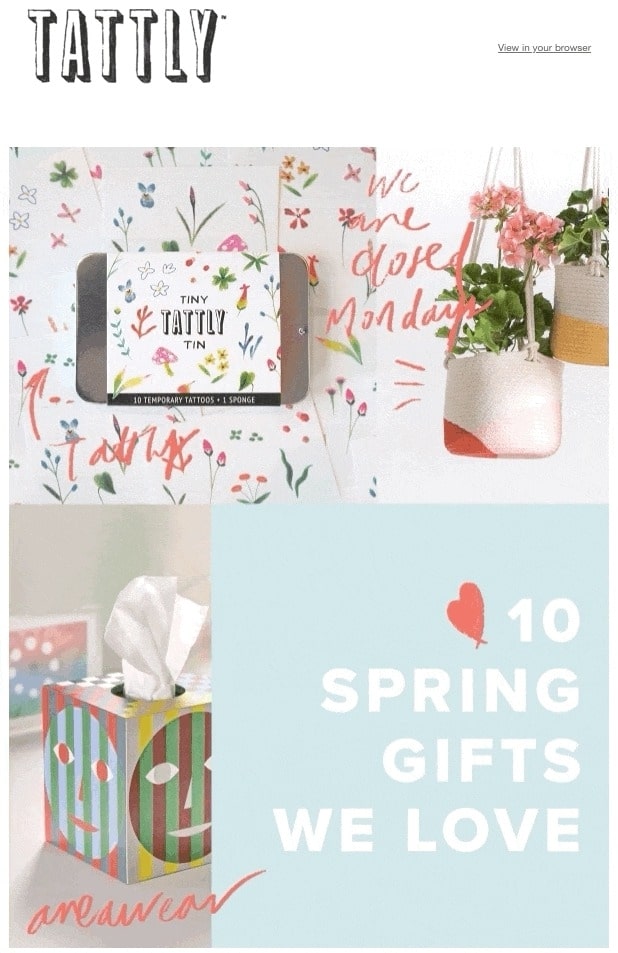 Promotion is only one option to introduce your products during spring. If you give your subscribers enough reasons to purchase, you will create your own special offers without any discount. Tattly - a temporary tattoo retailer and frequently listed as one of the best Shopify stores - does just that in their spring email.
Tattly's email is full of color yet looks very simple. The email curates a list of the best 10 spring gift ideas, featuring products from their own store and some other small businesses. They also give reasons on why the gift ideas are great with links to where readers can buy them.
With one email, Tattly not only promoted other businesses but also kept their own brand on top of consumers' minds. Plus, their spring email reminds you that it is always a good time to send gifts to your dear ones.
Spring on!
Spring is a season full of good feelings, and it is your opportunity to send timely, relevant, and seasonal emails. With the 99 spring email subject lines above, you can make sure that your emails have a better open rate during the season. Don't forget to experiment with your emails for the best result, which AVADA Email Marketing can definitely help.
Have you crafted a spring email campaign for your customers yet? Share your blooming ideas with me in the comments section!
New Posts
Stay in the know
Get special offers on the latest news from AVADA.