An Advanced Guide For SMS Marketing Campaign (Easy Steps)
Nowadays, marketers are troubled not by how to reach the audience, but what is the right way among all new upcoming channels. There are digital marketing channels, email marketing, advertising, outdoor banners, or planes writing words in the sky.
Among all of those, people tend to forget about one channel that is quickly becoming one of the most popular marketing methods - SMS marketing. As people more regularly check their phones and filter out the messages they want to receive, text messages become a powerful tool for customer engagement.
With data privacy laws and optimum approach from marketers, text messaging has evolved to be an effective marketing medium.
However, you can't just take out your phone and start typing words to send to customers. You need a thorough understanding of the channel and the best platform to succeed with your SMS effort.
In this article, we will provide you with an advanced guide for SMS marketing campaigns so you would know how to create one from scratch. The technique is "advanced", but the steps are still easy to follow, so don't worry if you are a beginner. Let's get started.
What is an SMS marketing campaign?
According to statistics, the average mobile user spends five or more hours every day on his or her smartphone. Furthermore, recent surveys show that 97 percent of Americans send or receive text messages at least once every day.
In that sense, an SMS marketing campaign provides limitless chances for your company's message to be delivered to your clients via mass texting. A well-planned SMS campaign is a tried and true method of informing clients about future promotions, product launches, events, and deals.
From a financial perspective, SMS marketing campaign is a low-cost and timely way of reaching out to customers. You can send out SMS messages with a good platform and communicate with millions of customers easily.
From a marketing perspective, SMS marketing campaigns can raise brand awareness, increase buyer retention, and boost sales through the use of effective text messages.
How to send an SMS marketing campaign
As we said, you simply can't just pull out your phone and start sending messages. The process of sending an SMS campaign may be slightly different based on the platform of your choice. However, it's pretty easy to create a campaign since you don't need to design much.
Here are the steps you need to take to send an SMS marketing campaign:
Step 1: Get consent from your audience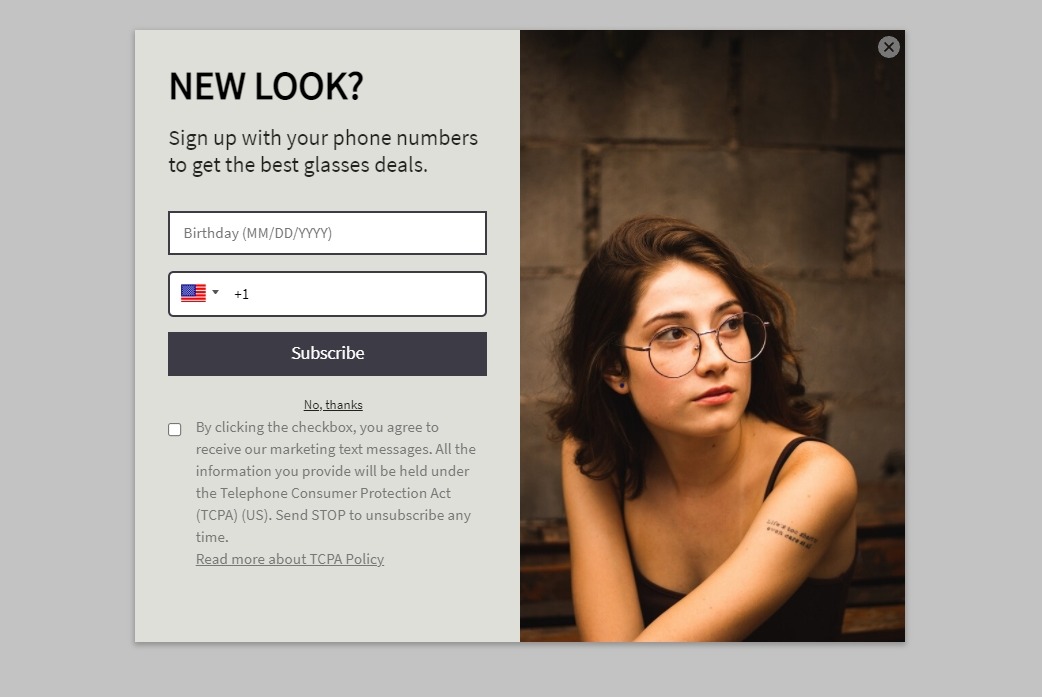 Much like email marketing, sending text messages to customers who have not opted in is against the law. Also, it is a sign of disrespect to the consumer's privacy, which will result in a bad reputation for your brand.
Fortunately, getting consent is easily done if your opt-in form has the right words for Terms of Service and Privacy Policy.
For example, with your website's opt-in form, you can include a checkbox for people to give consent before subscribing.
Once you've been granted access to your consumers via SMS, you must earn the right to keep them on the subscriber list. Don't abuse the channel, and respect their choice to opt-out.
Step 2: Collect phone numbers for your list
There are various approaches that can be taken to collect phone numbers from customers, and they function best when utilized in combination.
Whatever strategy you choose, you should always deliver value. This could be in the form of a discount or exclusive content that is not available elsewhere.
Here are some ways to get more phone numbers for your list:
Web forms: As shown above, the form on your website can help collect phone numbers and grow your list. You can also use this form to collect email addresses and customer information like name, address, etc.

Keywords: An SMS keyword is a short phrase or word that people can text to your business number and sign up for messages. For example, you can put up a board at your store that says: "Text SIGN UP to 900900 to receive the best deals".

Click-to-text buttons: If you want to start 1-on-1 conversations with the customers, add a click-to-text button to your site. This way, when someone browses on the phone, they can click on the button and start texting directly with you or your staff.

Email: Your promotion email messages can sometimes get lost in the promotion folder, so why not ask customers to sign up with phone numbers for better messages? All you have to do is include a call-to-action in your emails to take people to a web form or show them the keywords.

Checkout: You can also encourage people to sign up for text messages as they're checking out. Receiving text notifications about the order's status is convenient.

Ads: You can use ads to target highly specific groups of people and they can click on the ads to provide their phone numbers to learn about your service or product.
Step 3: Choose an SMS marketing platform
Using an SMS platform is the only way to make the most of this form of marketing. When deciding on software for your business, don't rely your decision solely on price. The cost of accessing the program as well as the cost of sending the communications themselves are unquestionably important deciding considerations. However, make sure to compare the value that each platform provides.
The ability to automate text message sending is one of the most important features to search for in an SMS platform. If you're using this medium as part of a bigger omnichannel marketing effort, you should probably look into all-in-one solutions that allow you to combine and control all of your other channels.
We have to mention AVADA Marketing Automation here, as our platform offers one of the best solutions for SMS and email marketing. You can automate both channels through automated workflows, so your customers won't miss any promotion and get drawn into your marketing strategy.
Best of all, AVADA Marketing Automation is free to start using. So give it a try!
Step 4: Have goals for your SMS marketing campaigns
Every marketing medium's primary goal should be to provide value in every communication. It is, however, significantly more important for SMS because of its proximity to its recipients. And, because you shouldn't be sending messages all that frequently in the first place, don't squander your few opportunities if you have nothing genuine to contribute.
Keep in mind that offering value does not necessarily have to be over the top. It's not always about giving away free stuff or offering discounts (though such things certainly help!). Customers may simply want to know that you are thinking about their requirements as well as your own.
So, write down the goal (and the value) that you want your SMS marketing campaign to achieve before sending them.
Some popular types of SMS marketing campaigns and related goals are:
Discount messages: Sharing a discount is a fantastic way to encourage more buying or thank your new subscribers. Good goals for this type of message would be having the open rate over 90% and the conversion rate over 30%.

Sharing content: You can send text announcements about your new content or invite customers to join your event. A good metric to look at for this type of message is the traffic increase (over 50% is expectable).

Tips and advice: You can also share your expert knowledge in the field and provide unique value in your messages. The goal for this type of message should be a good open rate of over 90%.

Collect reviews: Customer reviews are an essential part of boosting the conversion rate. Use your text message to take customers to your review page. The goal for this type of message will depend on the number of customers you have.
Step 5: Send and keep improving the messages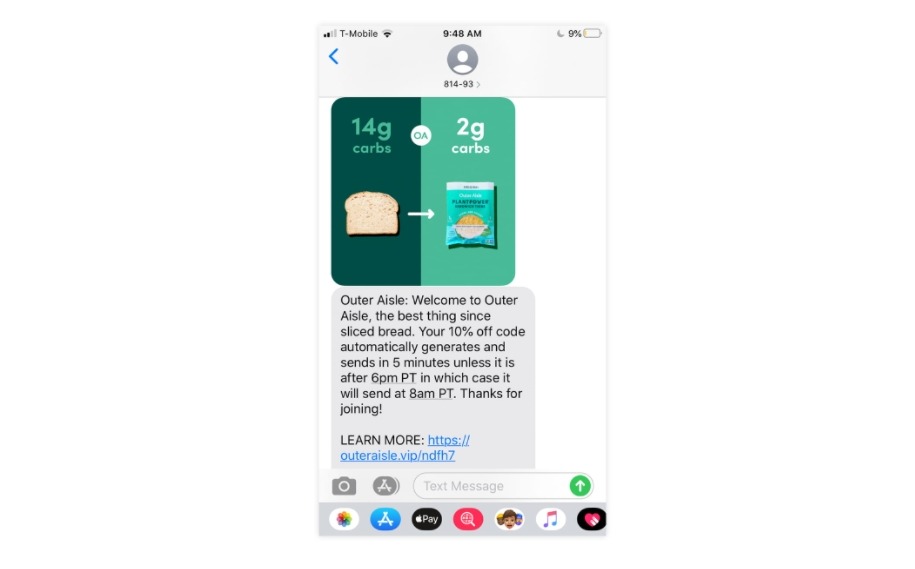 Making sure that every message customers get is relevant to their individual requirements and preferences is part of offering value to your customers. This is when personalization and targeting come into play. Being able to operate a data-driven campaign is one of the most essential success criteria in SMS marketing.
Always segment your subscribers into groups with similar profiles using the data you currently have. As a result, you'll be able to contact each subscriber with the communications that they find most useful or interesting.
This task of improving messages constantly may be overwhelming for beginners. However, if you have a good SMS marketing platform, it won't be hard to send, personalize, and improve the process of your messages.
How to start with SMS marketing
We've spoken about how to send an SMS marketing campaign. But on a larger scale, what else should you prepare? There are actually only two things that you need to pay attention to when using SMS, which are:
Choose your business phone number
What number should someone enter into their phone if they wish to SMS you? You have a few choices.
Local numbers: If you want to have 1-on-1 conversations with customers, you should get a number with your area code. However, it has limitations, you won't be able to reach a large number of people with this type of number.

Toll-free numbers: This is the most popular option, as a 10-digit number, which allows you to send text blasts and even have 2-way conversations.

Shortcodes: 5 or 6 digit numbers like 900900 are this type of number. It usually has a high price, so small businesses should consider getting it if they have the budget.

Your current number: If your current brand phone number is fine for recognition from customers, then you should consider keeping it.
Learn about SMS marketing automation
Texting thousands of consumers may appear time-consuming, but it is not. It merely takes a few minutes to compose a text message and send it, if you have automation technology.
With AVADA Marketing Automation, you can create SMS drip campaigns - which are a series of messages that get sent on a schedule. You will be able to schedule triggers for these messages, such as complete purchases, subscriptions, and more.
For example, you could send out one SMS right away, another two days later, and another the next week. You can also specify delivery periods to prevent messages from being sent at night or on weekends.
Also, if you have a small team, you can set up the office hours for your store, so people will know how to reach out when you are not available.
How to read an SMS marketing campaign's data?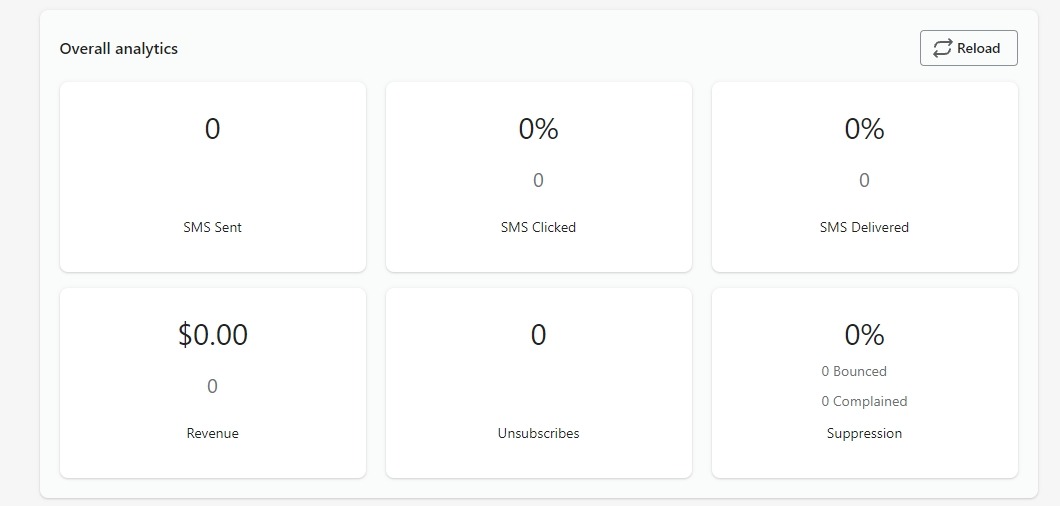 SMS campaign performance data may look a bit different from email marketing campaigns because you have less tracking technology. So, you will need to know which data to understand and improve your campaigns.
A platform like AVADA Marketing Automation can track the number of messages sent, delivered, clicked, and revenue. You can also track the bad data like unsubscribes, bounced, and complaints.
Our SMS marketing campaign report will look like the image above.
Wrap up
Many businesses have now started using the powerful tool called SMS marketing. By creating the right SMS marketing campaigns, you will be able to connect with customers worldwide on their most attached device - smartphones. There's never been a better time to start with this marketing technique than now, especially with automation technology and reliable platforms.
Follow our blog for more knowledge on SMS marketing. We will have more articles to guide you on using SMS marketing for multiple industries in the future. Stay tuned!
New Posts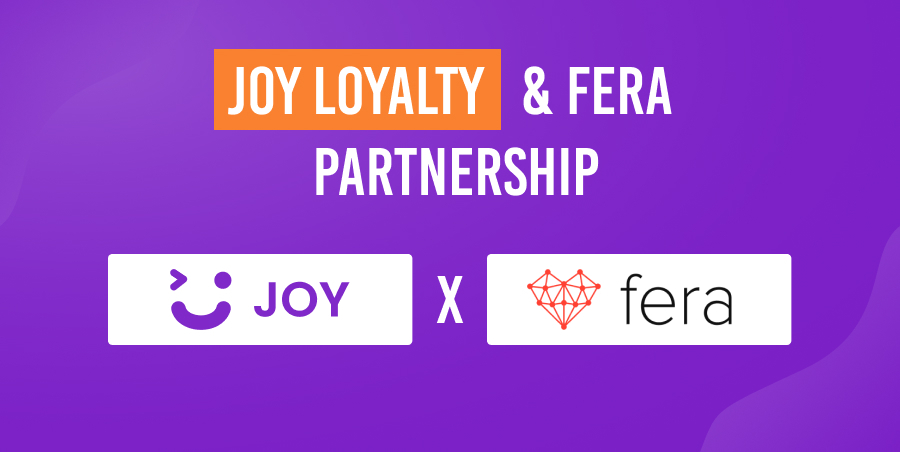 Subscribe
Stay in the know
Get special offers on the latest news from AVADA.
40k
subscribers has been joined!
Earn $10 in reward now!