SMS Marketing Cost: Is it as Expensive as You Think?
SMS marketing (or text messaging) has been around practically as long as the medium has. However, recent years have brought about changes in how customers prefer to interact with brands.
The value of SMS marketing lies in its format and proximity to customers. Not only are mobile devices always at arms-length, but text messages are also short and simple to consume.
Not to mention, target audiences of E-commerce businesses are mostly digital natives - millennials and gen Z-ers who grew up with mobile phones. That makes text messaging the perfect complement to email marketing, which has long been the established channel for digital marketing.
In total, SMS can become an integral part of your marketing strategy - if you use it the right way.
If you are wondering how much SMS marketing costs, this is your stop. This guide will explain everything related to the SMS marketing costs. Let's explore!
Basic information of SMS marketing cost
In 2021, there are much more marketing channels than ever. Choosing the right channel for your business can be challenging. Traditional marketing platforms like TV and print remain costly, while mobile advertising and email marketing struggle against ad-blocking and spam filters. Sending SMS messages has become one effective method due to its open rates of 98%, high conversion rate, and ability to support other channels.
With the help of a trustworthy platform and a little elbow grease, you can convert a 100-word message into thousands of dollars in return. All you need is a strategy for SMS marketing. You can use SMS marketing to:
Deliver messages instantly
Reach a larger audience
Increase brand awareness
Build loyal customers
Communicate effectively
The number of mobile device users has nearly tripled over the last decade, with more than 5 billion people using mobile phones. With more mobile phones in hands, the effectiveness of SMS marketing is rising. It is estimated that every day users touch their phone 2,617 times, which illustrates why targeting mobile phone users is the most direct marketing method.
More and more businesses are now turning to SMS as their desired choice of mobile marketing. Coca-Cola spends about 70% of its mobile marketing budget on SMS services. Meanwhile, 61% of marketers and businesses surveyed are increasing their text marketing budgets in 2020, and 41% have realized an increase in their customer opt-in rates over the past year.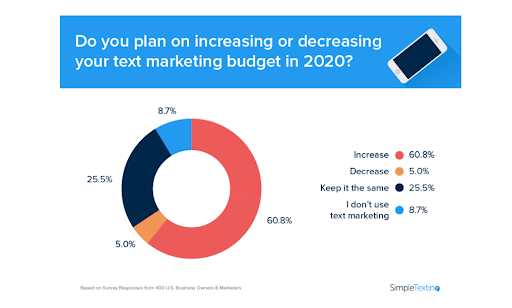 Businesses are seeing the significant benefits of SMS marketing in terms of their ROI (Return on Investment), sales conversions, open, and click-through rates in comparison to other channels.
But we know that every business has its own budget for SMS marketing, so let's talk deeper in the following sections!
Factors that influence SMS marketing cost
The cost of SMS marketing actually varies among different SMS providers. Some factors that influence SMS prices include:
Location. Prices typically vary depending on the country you send your text messages to. For example, one SMS sent to the United States costs $0.015, while it costs $0.07 to send to Hong Kong, things like that.

Channel. The SMS cost depends on whether you send SMS to your native or foreign country. It's called the national or international channels, accordingly.

SMS or MMS. While SMS messages include only text, MMS includes media besides just text (i.e., images, videos, GIFs). Thus, MMS message costs may be slightly higher, depending on which service you use. Read the difference between SMS and MMS.
How much does SMS marketing actually cost?
At this point, you can probably understand how valuable SMS marketing can be to your overarching marketing strategy.
Now, we should move to the main point of this article: how much does it cost to get started with SMS marketing? Below are the costs directly involved in sending SMS texts to your customers.
Monthly fee
Many SMS marketing platforms have tiered pricing, where for a monthly fee, you'll get a particular number or messages and a certain number of keywords. Anything beyond what is included in the monthly price will require additional payment or scaling up to a higher tier.
Credits
Since you're paying for every SMS you send, most SMS marketing platforms will charge you upfront for sending text messages. It's as opposed to billing you after you have sent out these SMS marketing messages.
For that reason, you'll most likely need to buy SMS credits and then use that as you need. For example, you can buy $20 worth of SMS credits for this month and use those as you see fit. In case you use all $20 within the first two weeks, then you can buy more credits for your remaining SMS marketing campaigns.
One other necessary thing to note about SMS credits is that the price per SMS changes depending on the country you are sending the text messages (as we said above!). Plus, it will be different between SMS and MMS.

Short-code, long-code, or toll-free
Some SMS marketing platforms allow you to choose your phone number type before you send messages to your audience. Generally, there are 3 common number types when it comes to SMS sending.
Short-code
Short codes are five- or six-digit numbers used to send and receive SMS and MMS messages to and from mobile phones. There are two short code types: vanity and random. A vanity short code is a particular set of digits you choose, while a random short code is assigned to you.
Short codes can send SMS and MMS at up to 1,500 Messages Per Second (MPS), and this high throughput is perfect for sending time-sensitive messages to many users at once. Besides, since carriers vet and approve all short codes for their intended use, they aren't subject to carrier filtering or suspension for heavy traffic.
However, the approval process typically takes quite long, from eight to twelve weeks. Furthermore, its costs are relatively high, over $10,000/year on average. Due to its high cost, many SMS services use long codes instead.
Short codes are also subject to a strict set of requirements. The CTIA (Cellular Telecommunications Industry Association) has a list of rules that all short code programs must follow. For instance, you must include specific language requirements in your advertisements, messages, and terms page.
Interpretation and enforcement of these rules vary from carrier to carrier. Short codes are subject to random compliance audits established by carriers and the CTIA - your short code could even get shut down if it doesn't meet standards.
Some examples of applications best suited for short code programs include: marketing communications, time-sensitive alerts, large one-to-many notification bursts, and high volumes of one-to-one transactional notifications.
An example of a short code number is 63622.
Long-code
Long codes are ten-digit numbers designed for person-to-person communications, and can send 1 Message Per Second (MPS) per long code. Long code numbers can send both SMS and MMS messages.
Long code numbers are an excellent choice for many businesses looking to quickly integrate SMS into their communication strategy. They are perfect for providing a personalized customer experience.
A standard long code number often costs between $1 to $2 and between 2 to 5 cents to transmit text messages.
Some examples of applications best suited for long code programs include: appointment reminders, notifications, conversations, or 2FA (two-factor authentication).
An example of a long code number is 123-456-3322.
Toll-free
Toll-free SMS is generally used to send text messages from toll-free numbers (8XX) to other mobile phones. For companies with an existing toll-free number, you're able to text-enable it. Having the same number for voice and messaging means a much better user experience for your audience. Use cases with a huge volume of SMS marketing messages aren't unacceptable for toll-free.
Toll-free messaging often works best when your use case is person-to-person communication, such as sales or customer support, with both the sender and recipient having a conversation via text. Nevertheless, because toll-free numbers can support a higher throughput of messages per phone number than traditional ten-digit numbers, some businesses choose them for one-way communications like alerts and notifications.
A standard toll-free number often costs from $2. Some platforms charge you on a monthly basis, from $10 to $15/ month.
Some examples of applications best suited for toll-free numbers include: large one-to-many notification bursts, high volumes of one-to-one transactional notifications, conversations, appointment reminders, notifications, voice/call forwarding, or 2FA.
An example of a toll-free number is 855-123-2222.
Price for AVADA SMS marketing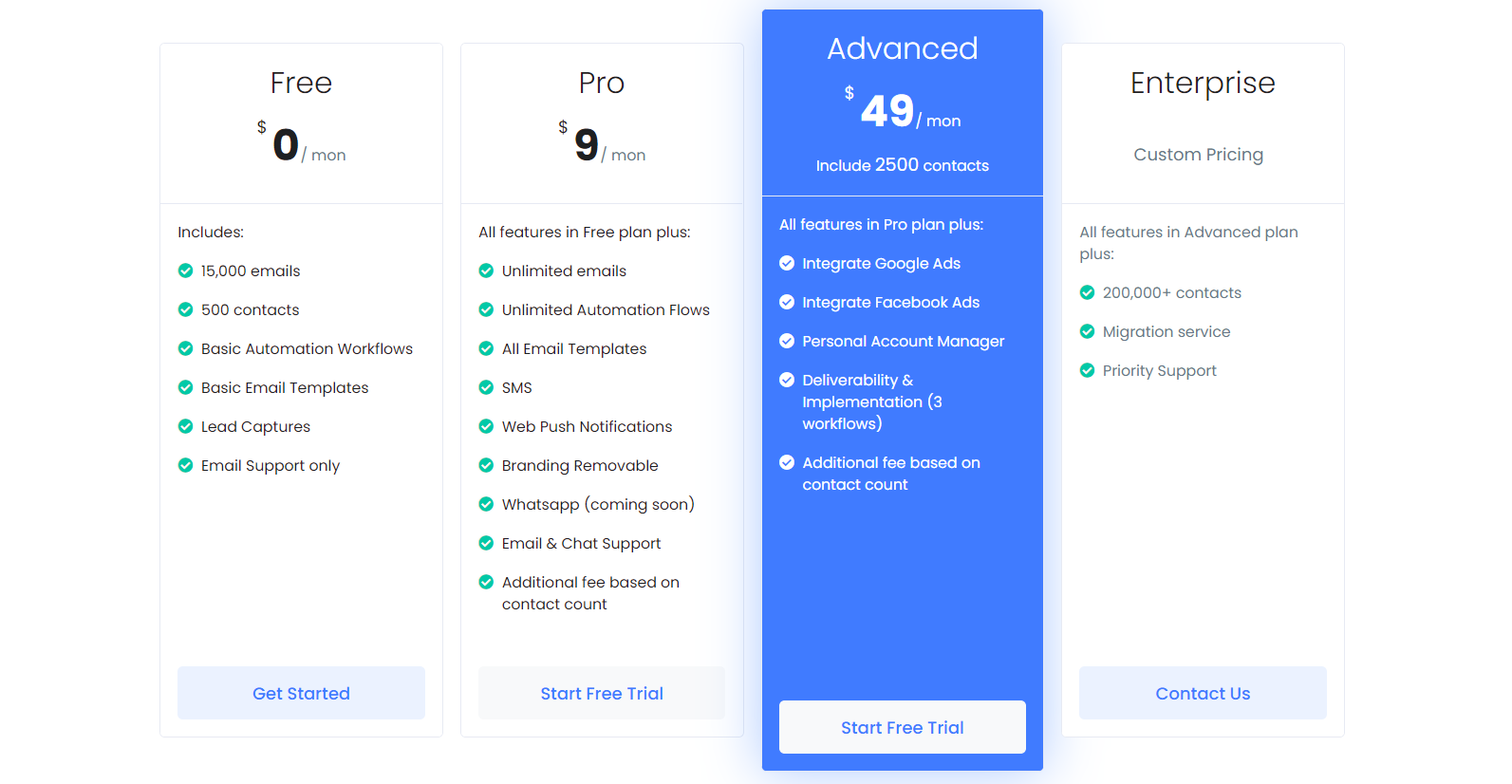 AVADA SMS pricing is charged separately from your Pro/Enterprise plan. Before sending, you need to buy SMS credits, and you only pay for the number of SMS sent out. SMS or MMS price is of course calculated based on the country you send them to.
To avoid your SMS credits running out, you can set a recharge amount and a recharge limit. For instance, if you run SMS automation, and don't want it to stop suddenly, you can set an automatic re-charge of $50 when SMS credits get below $10.
In case you don't use up all SMS credits for a month, you won't lose that money. Let's say, if you buy $100 SMS credits, this month you send $50, you can use the rest to send SMS next month.
AVADA offers a free default long-code number for you to send SMS. If you want to buy another number, you can pay $1-$2/month to buy a long-code or toll-free number. We only support US numbers.
So, in short, AVADA SMS only costs you:
Monthly fee, which charges you based on your sendable contacts count. With the Pro/Advanced/Enterprise plan, you can take advantage of our essential features, including SMS.
Credits, which requires you to pay before sending SMS.
Should you have any questions and problems regarding AVADA SMS, please contact [email protected]. We're always willing to help you.
The bottom line
To sum up, we'll use a great quote by Stephen King, "Sooner or later, everything old is new again." It fits SMS messages well.
For more than three decades, text messages have been used for marketing, but only in recent times have they become a customer's marketing channel of choice. When compared to other marketing channels, like social media ads, Google ads, TV and print, SMS marketing is much cheaper. So, it's completely worth a nice try!
To learn more about SMS marketing, contact us today! Thanks for reading, and happy sending!
New Posts
Stay in the know
Get special offers on the latest news from AVADA.