13+ Best Elements, Types of Marketing Collateral to Incorporate into your strategy
Marketing collateral is a term that being discussed a lot these days as it is a part of a trend that has been rising for decades. As long as people are captivated in marketing, digital, or otherwise, marketing collateral will keep becoming mainstream. No matter how popular your brand is, you will always have to find ways to reach different audiences, which require many proper marketing collateral channels. ISuppose you successfully target different audiences with the appropriate collateral. In that case, you will be able to generate leads, develop your new items and project, appeal new customers, or even re-engage existing ones, and make yourself more well-known in public.
This is why the "marketing collateral" needs to be explained and clarified with some details of what marketing collateral is, how many types this term has, or why your brand needs it before moving further. With these 7 Best types of Marketing Collateral to Incorporate into your strategy article today, I will show you clearly the best kinds of marketing collateral that you should have in your repertoire and give out the instructions for how and when to use each type.
What is Marketing Collateral?
Let's start with the definition of collateral marketing. This term is about any media material that is utilized to promote a company's items or services. The material can be everything from print materials such as posters and flyers to digital content, including catalogs and e-magazines. On the whole, everything that you utilize to deliver your company's brand message is defined as a part of marketing collateral.
In the past, marketing collateral was only used to describe traditional advertising materials, like brochures, catalogs, and other sale support tools because businesses depended heavily on printed stuff. Nowadays, these methods requiring direct contact with consumers are no longer the absolute option for business as the internet has brands to reach more consumers than ever. So, marketing collateral today can be also known as digital marketing with the existence of the wide proliferation of e-magazines, white papers, blogs, social media and even multimedia platforms including audio and video, or everything you see online, which has opened up unlimited chances for brands to develop their products and services.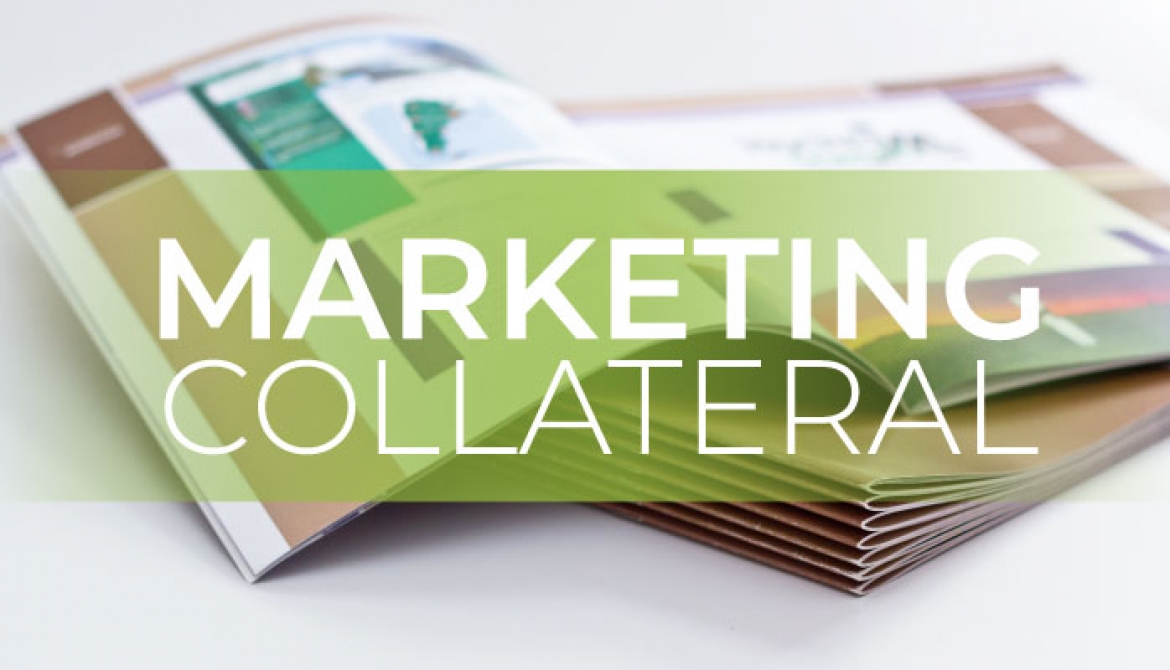 During the process, marketing collateral is often used when a client has made contact with the company. The company can run parallelly with the main campaign or after when everything has finished. The company often uses calls to actions or detailed explanations/information on the product to advertise to the customer to offer the buyers with these compelling reasons to decide their informed purchase and make them ensure that they have made the right choice. The objective of marketing materials is to bring the prospects, the information that buyers need, and guide them so that they can decide to purchase your product or service.
Read more:
Why Your Business Needs Marketing Collateral
Do you know that 70 percent of the customers' journey is completed before a buyer reaches out to sales? Notably, today's buyers are more informed and more tech-savvy than ever. So, before a sales representative reaches out to them, buyers can do their research, look for product reviews, and compare similar products to get the best deal out there.
Only a few words can not describe the term marketing collateral definition completely - for example, the importance of marketing collateral and the reasons for a marketer to consider this kind of content and attach it to the brand's strategy. That's why I have created a section to explain why your business needs marketing collateral, no matter how big your company is.
First of all, marketing materials and marketing concepts are necessary for every company. Promotional items are the most popular part of marketing, but they can not always work well to appeal to buyers and persuade them to buy your products. So, it's vital to have something that helps you craft a compelling argument to support your brand and products, and something collateral is needed in the marketing scene. Here are three reasons for your business to produce and distribute Marketing Collateral so that you can decide to invest time and skills to make them attractive and professional:
Collateral marketing makes the brand more practical
For starters, collateral marketing can help your bran communicate to the audience better, which can convey a more direct message as well as engage with them positively. This can be done via valuable content, information, all kinds of nature, growth exposure on your brand, and the productive correlations of who you are, your values, your products, and the brand itself. That's why collateral can carry the brand and make it more practical by bringing the brand closer to the customer.
Collateral marketing makes your brand competitive
With collateral marketing, you will be able to make your brand outstanding from the crowds, especially from your competitors. If you choose to follow a long-term marketing strategy, you will be able to make your brand more competitive and more remarkable among your targeted audiences.
Collateral marketing helps to diversify your marketing strategy
You will be unable to follow a rigid marketing strategy to achieve success while running your business. Everything should keep developing into something more open to attracting success. The more diverse a marketing strategy can be, the more benefits the brand can gain, and collateral materials can ensure this.
The Six Elements of Marketing Collateral
While making your marketing collateral, there's so much more to design than just placing words and images on a page. So, we will be looking thoroughly at the process that goes behind the design of any piece of marketing material and the six elements that go to build a marketing resource that is powerful and effective. Here are six questions that you need to ask and answer before decide to run Marketing Collateral:
1. Why do you want these marketing resources?
The first question is to ask WHY? Is this for sales, brand awareness, or to make it more information for your customers? Also, what's the purpose of the piece? and what's your preferred outcome? How will you evaluate its success? You should have objectives that are measurable and achievable. For example, you shouldn't say "we want to promote our business," so just say, "we want to increase our revenue by 30% over the next six months" instead.
At last, every goal you set will help you increase your sales. If you don't understand why you want a piece of marketing resource, you'll never really know what specific result you're looking for and how to measure those results.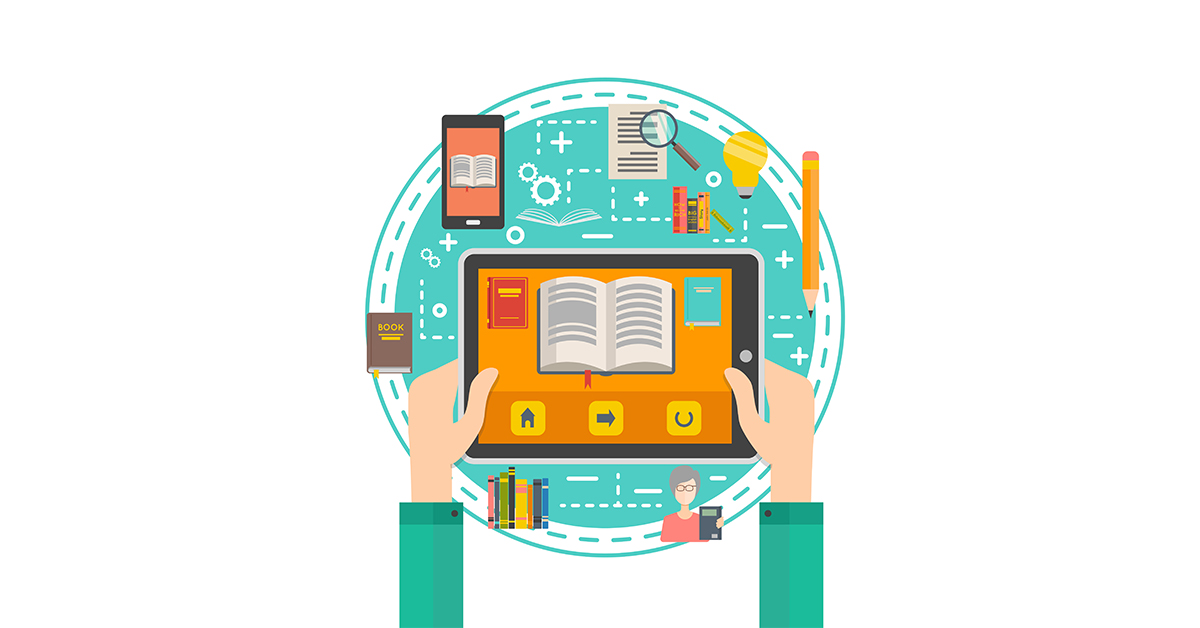 2. Who is this piece aimed at?
The second element is to ask WHO? Is that your existing clients, new market, businesses, or consumers, suppliers or referral partners? This might sound obvious, but you need to keep your audience in mind while making your marketing collateral. Whom are you communicating to? Do you know their pain points, concerns, motivators, likes, and dislikes?
If you understand whom you are talking to, you can help them decide, solve a problem, or fulfill their needs. The type of audience you aim will dictate the tone of voice and the content. If you understand who your target audience is, not only will the design be more appropriate, but the tone of voice (how you say what you say) will also be more relevant.
3. How are you going to say it?
So, it's time to ask HOW? Will you deliver your message by words & images? How much content? How is the design format (website, email, flyer, poster, brochure)? and size? This should fully cover your existing materials, all print and digital advertising, and your general digital presence (website, social media, and many more). The purpose of this question is to decide whether your existing assets are compatible with your new strategy. Once you've understood the why and the who, you can then think about what method is best to deliver the message. This is where having a designer or marketing agency on board really helps.
4. What's your call to action?
The fourth question to ask is WHAT? What do you want people to do with the information you are giving them? By click, call, or reply? The people who work with you need to know more than what you are doing. In case they know what you're supposed to achieve and how they can measure progress towards that goal, they will be more likely to support it instead of falling back. In contrast, if people don't understand what you are going to do with the information you've given them they are highly unlikely to take any action - no matter how interested they might be.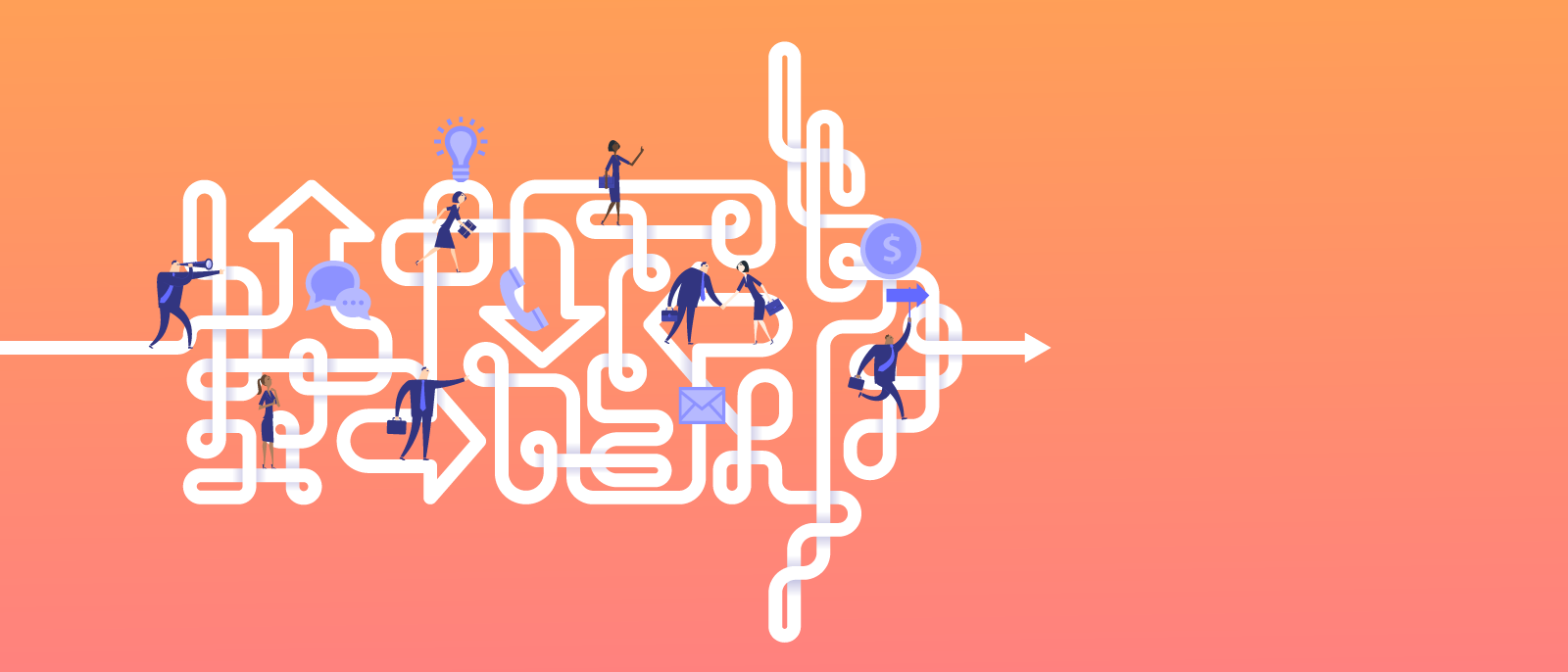 5. When does this piece need to be designed?
Next, ask yourself the WHEN question. Just draw and make your own timeline and plan the deadline for those that need to be finished. Before doing this, you must ask to know is there a tight deadline? Is the content time-sensitive (offer, etc)? In this process, remember that printing resources takes time and don't leave it to the last minute for every deadline. This is time for you to try to plan in advance - especially if content needs writing and resources need printing and delivering. This is where having a cohesive marketing strategy really helps as it aids forward planning and budgeting.
6. Where does this piece need to go to?
Lastly, ask WHERE? After all five questions, it is time to ask where does your Marketing Collateral materials need to go. What's the delivery method? - print (handed) or print (mailed)? - emailed? - social media? - website (downloaded or on a page). The design of a piece will be heavily influenced by the method of delivery so if something is for email only it needs to be designed differently than if it was going to be printed.
7 Best Types of Marketing Collateral
As you might have already known, marketing materials are no longer just only traditional channels like print, but they also are a multitude of digital varieties to select from when you easily share your collateral on social media and then track your audience's engagement, or capture lead information or feedback to decide which collateral kinds that can work for your future campaigns.
Both traditional and digital marketing channels can provide useful categories of marketing collateral. You can determine which types of marketing collateral that you should have depending on your audience and goals. Each type of marketing collateral will have different stages during the buyers' process, so here is a list of 7 most popular types of marketing collateral that you should know:
1. Blog Post
This type is one of the most popular forms of marketing collateral that brands usually utilize to draw attention from a wide range of audiences. Business blog posts are used to educate visitors as well as contain a call to action to convince new readers to check out the company's goods, services, or other content. You can make use of blog posts as a hub for answering questions that people are looking for, or a way to effectively drive traffic to your website and boost brand awareness as a secondary product.
At any funnel stage, blog posts can work well, which also depends on what the call to action is. Nevertheless, they are especially great for the awareness stage of marketing. When you write posts that include the problems that your prospects are facing, you will be able to help them on their journey towards getting a solution, which may help you build brand awareness meanwhile. If you try making a feature story with an influencer who shares your company's values, that would be great.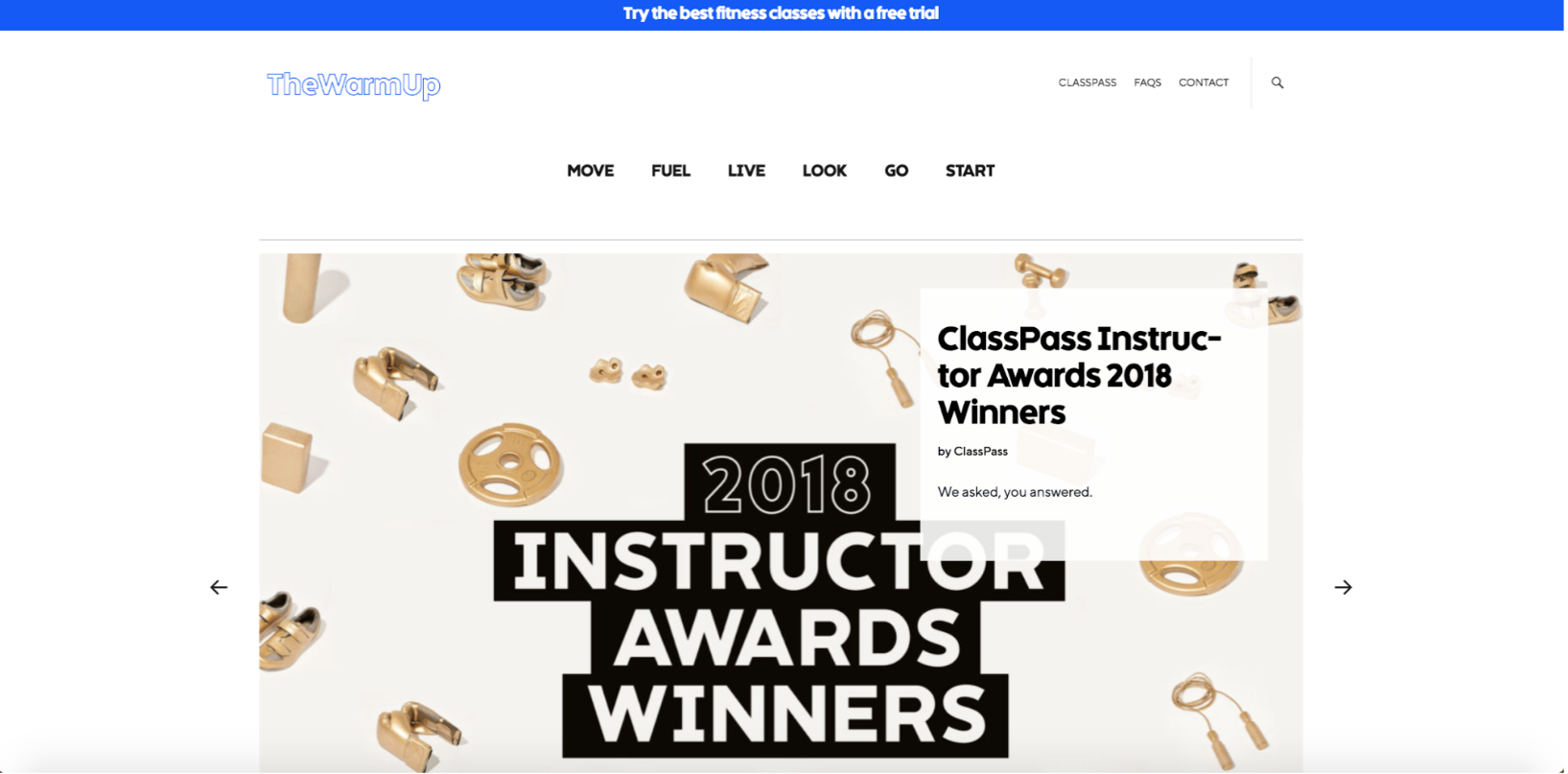 For example, fitness subscription service ClassPass has a blog titled The WarmUp, which is created to look like a standalone publication. This design can bring the benefit to make the look and feel of this website as a lifestyle news publication. As a result, The WarmUp can increase the likelihood of readers trusting what they are reading and seeing ClassPass as an expert in the health and fitness field.
2. Case Study
Case studies would be the best example of consideration stage collateral and are utilized to show your success stories. They are flexible and can be made as single-page or multi-page documents. There are four main components in case studies: the challenge, the solution, the result, and the client's testimonial.
The goal of a case study is to tell how other companies achieved success with your product or service. Ideally, you can draw your prospects to solve the problem while facing similar challenges when you know so many case studies.
It is important to conduct interviews with your clients while writing a case study when you can ask them about their experience with your product or service and what tips they can provide for other buyers. If you ask questions that can touch your client's heart, you will create an even more compelling case study. Also, using quotes is a great idea to make your case study more convincing.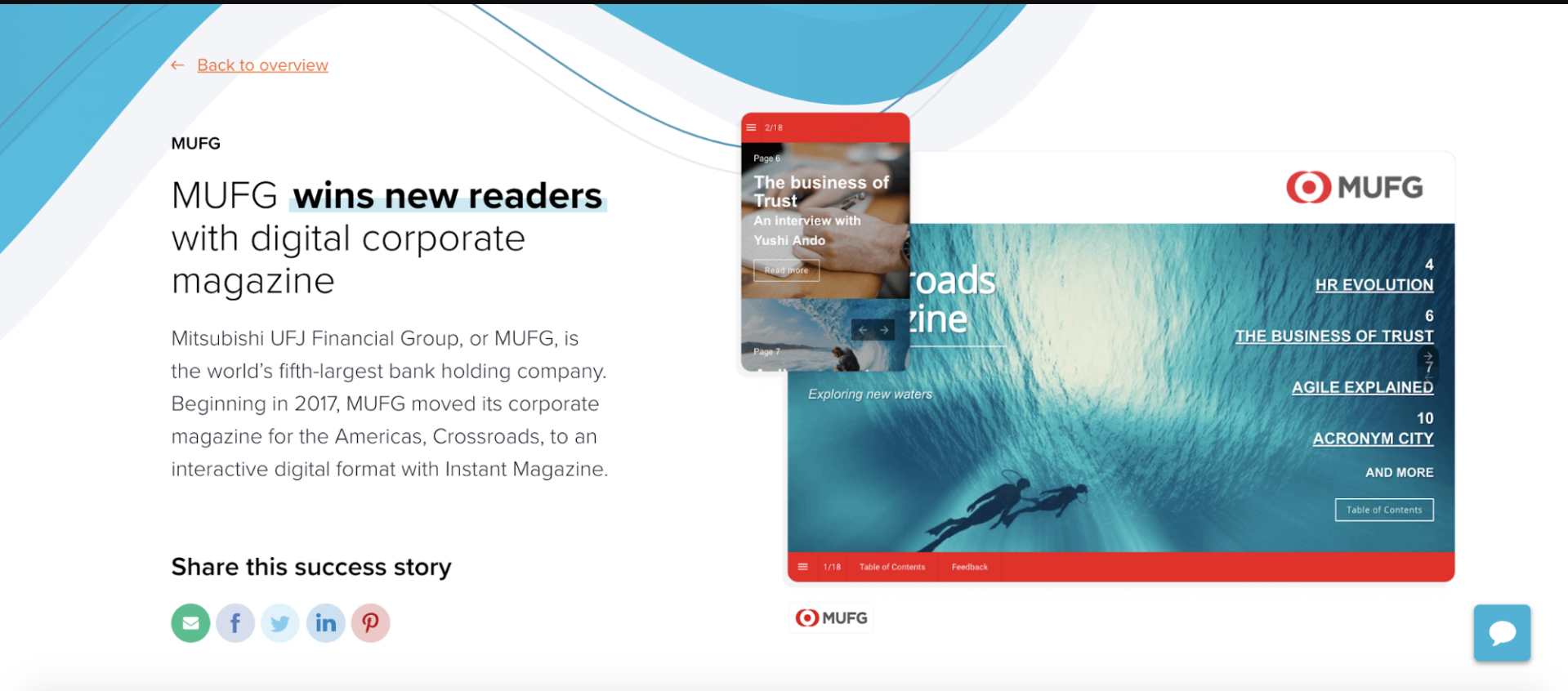 Let's look at a case study from MUFG as an example. MUFG is an old client of a brand called Foleon. From the very beginning, MUFG was helped Foleon win new readers and use that platform to create their digital corporate magazines. After that, Foleon has interviewed MUFG's Director of Corporate Communications to hear about his experience with our platform and the reason he chooses Foleon to help MUFG engage with millennial readers. Of course, Foleon has had a convincing case study that can prove to the audience and make them trust the service.
3. eBook
An eBook is a great way to inform and educate your audience. There are some specific brands that want to position themselves as authorities on different topics, so they launch eBooks to share knowledge in their expertise. eBooks can be different from white papers when eBooks are less technical and often more entertaining though they are both long-form pieces of content that were produced to educate readers on a specific topic. Also, white papers are more suitable for being used during the consideration stage, which is indeed an excellent digital asset.
If your prospects are willing to give and bring the lead information in your expertise, then it is a win-win situation for both sides. Also, while producing your eBook, just make sure your content is engaging enough to keep the interest of your audiences so that they can continue to read. Besides, you can insert social links to sections that you think are highly visual and worth sharing. Here is an example of Gating, which is a good practice for eBook distribution.
4. Landing Page
A landing page is known as standalone pages that are attached to particular marketing campaigns. It is where your audience will land when they click on an ad. On a landing page, it is usually added a form asking for your prospects' contact information, which can be in the form of cover for pages they link to, based on your campaign's purpose.
A landing page can be utilized for multiple purposes at different stages of the buyer's journey. However, landing pages are typically used to gather information for lead generation at the awareness stage. There is usually a form that the prospects fill out before they want to download a content piece or stay on the company's mailing list. With landing pages, you can create many landing pages depending on your different campaigns, or you can also create landing pages to gate specific content in different sections of your website. The content behind each of your landing pages can provide various purposes as well.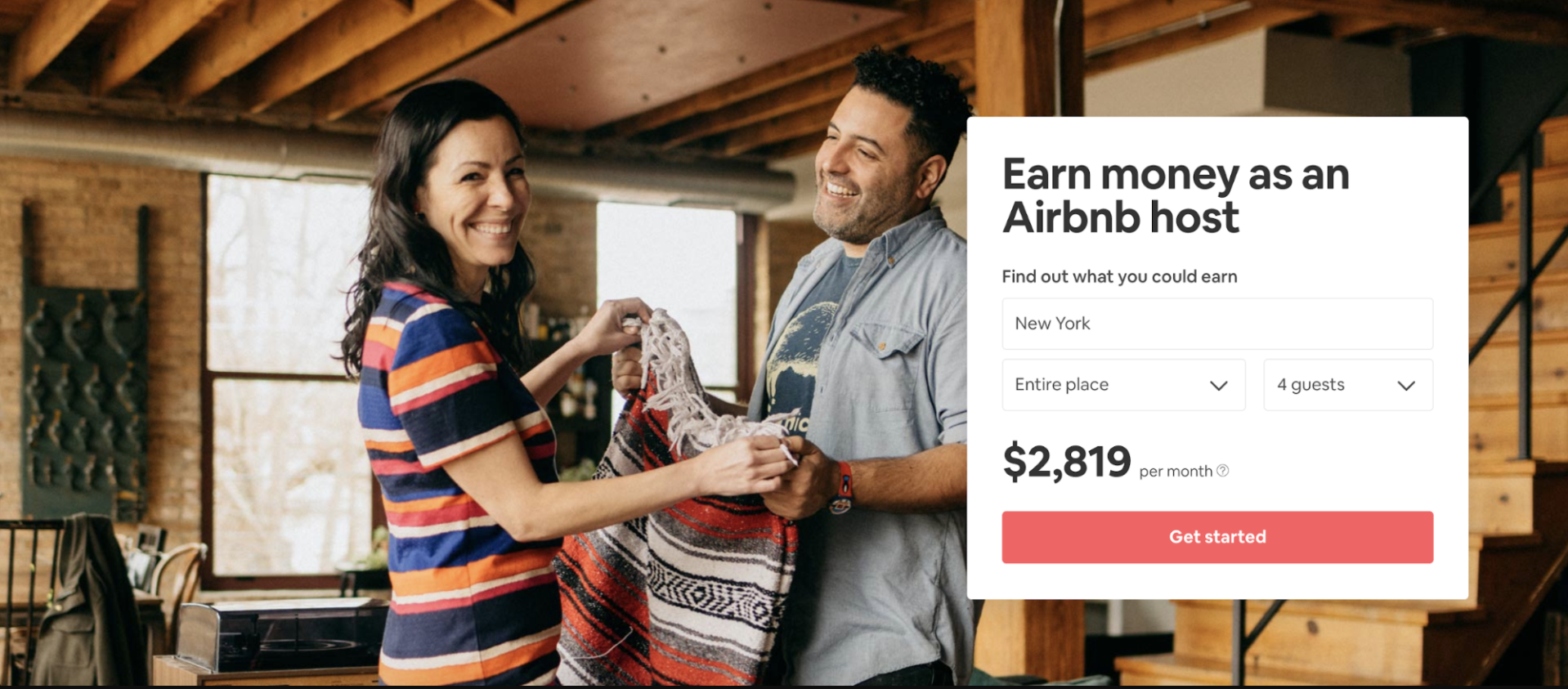 For example, Airbnb owns a landing page for hosts, which includes a widget that foretells how much money users can make by renting out their homes on the platform. Also, it enables users to define their potential earnings based on their location. What a simple but so great for generating leads form!
5. Newsletter
A newsletter is also a typical way of business that is used to keep in touch with current customers. The purpose of it is to keep clients up to date on new features or product updates. The newsletter is commonly sent out in the email format, which has nearly 70 percent of businesses rely on to stay updated with their clients. This can be a good way to send updates to your clients. However, if you send them too frequently, your customers can find your email newsletters meddling.
As there are so many businesses use this method, so you should find new ways to stand out among your competitors. I would recommend you try presenting your newsletter as interactive digital publications instead, which can encourage your readers to be more engaged with all your content. And also, remember to personalize your campaigns to have better engagement from your clients.
Apart from connecting with customers, newsletters can help you drive traffic to your site via CTAs. During the consideration or decision stage, you can use them to drive sales and get prospects by offering incentives like coupons. Usually, newsletters target your current or loyal customers, but you can still use this method to distribute them to different target groups to attract more buyers.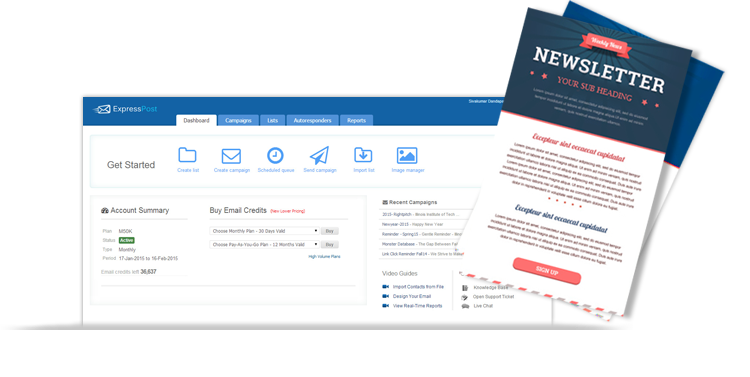 6. Product Catalog
If you are selling products that have functionality that needs to be clarified detailedly, then Product Catalog would be a great choice! In this method, you will write down and describe all the sides of your goods, which enable your clients to download from your website. Then, you will be able to easily nurture your prospects while offering them the information they want.
So, when you should use a Product Catalog? That is when you are selling various products, which require you to get a comprehensive overview of all listed ones. Also, how to create a Product Catalog? Yes, a product catalog is a hard one to make, but it often pays off. At first, you should start gathering the information that you would like to have in your catalog. Subsequently, you will have to determine the format and begin designing it by using tools that support, such as Catalog Machine.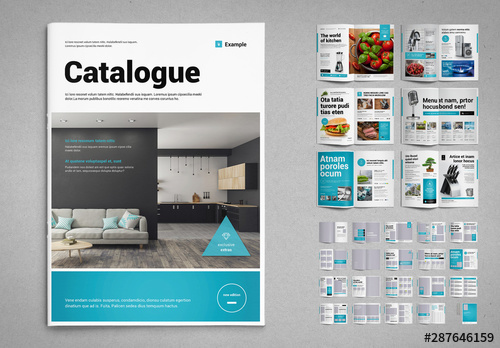 7. White paper
In the past, white papers were often created by governmental agencies, NGOs, think tanks, consultancies, and financial institutions when they need to demonstrate the findings of their proceeding research in a brief way. With the widespread growth and adoption of content marketing, then white papers are now becoming more and more popular in other industries, which makes any organization that engages in content marketing can make use of producing white papers.
On the whole, white papers are long-form, in-depth pieces on a technical subject. The purpose of using it is to position you as a thought leader on a particular topic or area of expertise. The length of white paper is similar to that of ebooks, but it is written in a more technical style than an entertaining one.
Meanwhile, a white paper is usually used to explain highly technical information and dive more in-depth than a single blog post, which makes white paper an excellent choice for educating their audience. For example, subjects of white paper on data privacy and GDPR from BDO can show the point as data privacy and GDPR are all highly specialized topics.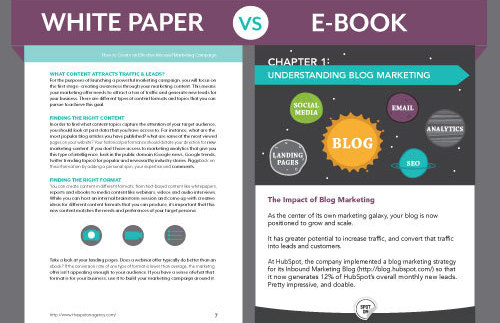 Related posts:
Conclusion
So, that wraps our article today to show you 7 Best types of Marketing Collateral to Incorporate into your strategy, I hope that you are now equipped with knowledge of marketing collateral type you need, how to utilize 6 elements in the process, then you will be able to have your entire marketing communications suite as well. In spite of your best efforts in making marketing collateral, make sure you revisit your strategy regularly to refresh it and adapt it to the needs of your target audience too.
I know, it might seem a bit overwhelming. But I can assure you that it is undeniably impressive to grasp how much creative work marketers actually do. So, don't be afraid to apply this long guide to your practical situation and gaining the success of your business! In case you still have something in mind, please feel free to ask. We are always looking to helping you!
---
Sam Nguyen is the CEO and founder of Avada Commerce, an e-commerce solution provider headquartered in Singapore. Sam aims to support more than a million online businesses to grow and develop.
New Posts
Stay in the know
Get special offers on the latest news from AVADA.