Ecommerce Link Building: The Easy Guide To High Ranking
Ranking well organically in search engines is essential to any Ecommerce business, and link building is no secret a critical skill to achieve it.
With the landscape of SEO changing constantly, the importance of link building with high quality is more needed than ever. This can be the chance to thrive and shine or losing the fierce online selling battle.
That is why we have made this article to guide you through the process of link building for Ecommerce with easy-to-follow steps. Whether you are new or have had experience in SEO, we're sure you will find something useful for yourself to get higher rankings.
What is link building and its importance?
Link building is the process of acquiring hyperlinks from other websites and link to your own website. A hyperlink is a portal for users to navigate between pages on the internet.

Search engines use these links to crawl through billions of websites on the internet, including your site. A hyperlink in the eyes of the search engines would look like this.
The reason for search engines to do this are:
To discover new web pages
To gather data on the "health" aspect of sites and decide their ranks in the search results.
While there are other factors affecting rankings like relevant keywords and content, the number of high-quality links on external websites pointing to a page surely helps to rank well in search results.
You can understand it like the more trustworthy people mentioning about you, the more credibility you can get. Much in the same way you would recommend someone to a restaurant with many good reviews.
So you can easily see that link building is one of the top techniques to gain better ranking in the search results, let's get to the next section.
Before you begin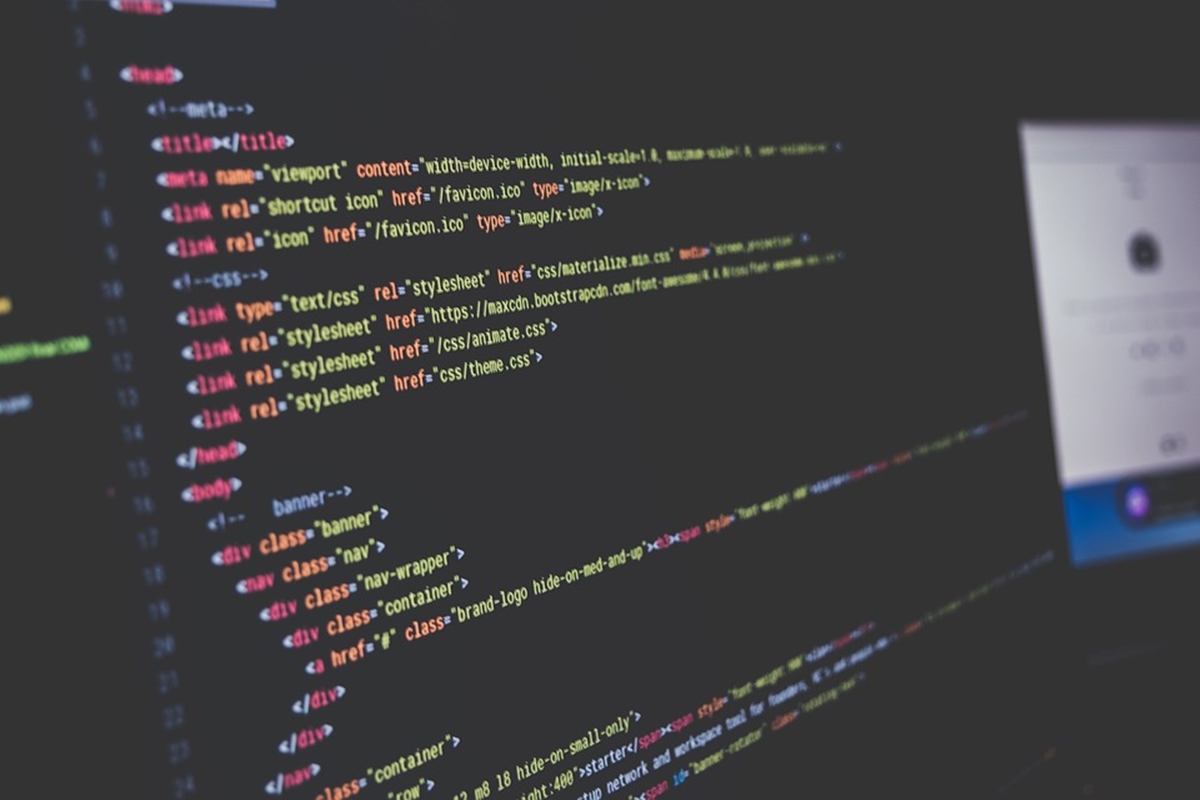 Before the pursuit of valuable links to your site, there are a few things you must have to be successful. Those are:
Make sure the technical and on-page elements are optimized
Research and understand your online audience
Create useful content for link-worthy pages
These are important for you to take full advantage of each link you acquired, so make sure you have them all checked.
Optimize technical SEO
Your site structure is vital to optimizing your Ecommerce site for search engines and visitors, which provides easy navigation to find any product you offer. To have a clear structure, have an audience-focused design with descriptive titles and header tags.
Other optimizations that can be applied are:
Implementing a site map
Have a secure site (HTTPS)
Implement a sitemap
Improve site speed
Mobile-friendly design
Fixing errors, duplicate contents
Research audience
You always need to understand your audience, but with link building, you gain the benefits of knowing which types of pages they are searching for and where they hang out online.
Different types of audiences require different kinds of link buildings. Like hobbyists can have their own site and forum, while some niches can have a whole platform to socialize.
Thoughtful research will bring not only knowledge but also the opportunity to connect with your audience in a more personalized way, therefore more organic traffic and a chance for future link requests.
Remember, play head-on with significant corporations on popular head terms is super tricky, so you are more competitive using long-tail querries to answer exactly what your audience is looking for.
Create linkable pages
Your business exists to sell your product, but your site can be much more with informational and non-promotional pages.
These rich-content pages help you build trust and familiarity with your audience, takes them more smoothly to the purchase step. And they can link directly to your product pages too.
Better yet, since other site owners haven't created content like yours, they will have to add hyperlinks to your site for better information - which is free advertising. Or you can ask them to do it.
The key to craft linkable pages is offering value beyond your products, which would benefit the audience in a real way.
Types of links
As we have mentioned multiple times, you not only need a number of links, you need high-quality links. Spamming links like a maniac may have worked in the past, but today will surely get you a penalty from Google.
In this section, we will give you a sense of the types of links out there and which you should and shouldn't focus on building.
Natural links
This is the holy grail for SEOers everywhere. Natural links are the hyperlinks you don't even have to ask for because they are edited in by other website owners.
This is much more efficient and convenient than endless emails to ask for a link or guest blog, but you need to give them a reason to do so.
The best way to do that is by having a great piece of content that you then promoted with a few key influential bloggers and make natural awareness. It can be hard to do and take time, which is why these types of links are so highly valued.
These links also hold up as great examples to Google, which can stand the test of time and are promised to make some great links building.
Manual outreach links
This is the more common type of link building, may starting from when you are still quite a small and unknown business. Basically, you contact website owners and bloggers to ask them to link to your site.
Again, you need to provide them a reason to do so, which can be your content containing the benefits for their customers or your article really complimenting their products.
So you need to contact people who have a connection to your industry and can gain benefits from being your linking-allies.
Self-created links
These types of links are not used widely nowadays, as they were often used with black-hat practices that want to fool the search engines into thinking your content is relevant and essential.
Google has since then devaluing these links and sometimes even penalized. So use them as your own caution.
Examples of self-created links are:
User profile pages
Infographic embeds
Advertorials
Blog comment not moderated
Article directories
Guestbooks
Forum signatures
In conclusion, you should avoid links that are not editorially given, and instead focus on building the editorial links that add real value to your website and business.
Ecommerce link building
In this section, we will go through all the step-by-step process of link building. Do it right, and you can sit back comfortably watching your site getting floods of natural visitors.
But if you do it wrong, you can get a penalty from Google faster than you can move a finger. With that in mind, let's identify the high-quality links to build a strong foundation for your Ecommerce site.
Find high-quality links
Good things are often rare, and it is no different for high-quality links. So we will go through a list of attributes that you should look at while finding the golden links.
Authority of the Page
This has a significant impact on your rankings since the authoritative pages give your site more authority (known as page rank) as well.
You can quickly check PageRank (PageRating) of a proxy indicator using Ahrefs - the infamous SEO tool everyone uses. Just insert URL into Ahrefs and check its "URLRating":

Authority of the site
A link's quality is also influenced by its domain's sitewide authority. A link from a widely known site like Medium will have a more significant impact than unknown sites, simple as that.
Although they are hard to get, they are worth the effort. Just enter the URL of the site into Ahref and check the "DomainRating" section.

Site's relevancy
Basically, you want links that are suitable for your own site. A bicycle Ecommerce doesn't want to be linked from… a gothic costume site.
This, in Google algorithm, can affect your site's rank since they may see you as practicing link building without noticing your friends, but just famous ones.
In conclusion, you want to get links from sites that are closely related to what you are selling on your site.
Link's position on the page
Your link can be embedded in a hyperlink right inside a relevant piece of content, or buried in a page's footer. And you want the first situation more.
Specifically, if your links are hidden away in footers and sidebars, they are not worth any near a link in the body of content.
The link's editorial place
So ask yourself, if your link appears on a page, was it because they thought your site is awesome. In that case, it is an editorial link.
If you created yourself an account on a random site and dropped your link there, it is not an editorial link.
You want your link to be placed and vouched by the site's owner on their own page to be as natural as possible.
Link anchor text
Anchor text is the blue highlighted text that is clickable, like this. These were used as Google to see if a site is talking about what they are linked with keyword-rich anchor text.
Yeah, and no doubt, people overused this, so if you built a lot of exact-match anchor text links, it would be considered spammy.
In short, don't build links with keyword included-in anchor text. But if you get a link with your keyword in the anchor text from another site, that is a win.
Nofollow and Dofollow
The code rel=" nofollow" is a tag added to a link to tell search engines not to crawl the link. This is often used to optimize your site and prevent unnecessary scanning.
You can learn more about the "nofollow" and "dofollow" tag here. When it comes to SEO and link building, you want to get "dofollow" links whenever possible.
Now that you know how to check a link's quality let's start building them.
Content marketing
We all know that content is the key to get fantastic backlinks, but merely publishing content is not enough to get you links instantly.
Certain types of content work and these are what you should be focusing your intention:
Visual assets
Visual assets can be identified as:
Images
Infographics
Diagrams
Charts and other visual-oriented content

These can work wonder when coming to linking since it is easily recognizable and original. Someone share your charts or infographic will give you a link right the way, while text content is not that simple.
Related Posts:
List posts
These are often a list of tips, techniques, reasons, best practices… or just anything people can make into a list.
When Moz and BuzzSumo analyzed over 1 million articles in 2015, they found out that list posts generated way more backlinks than other content formats.
The reasons may be because list posts are digestible, familiar, bite-sized chunks that anyone can put some time to take in.
Original research and data
Content that shows new data from industry studies, surveys or original research, these are all highly linkable in the time of data. Besides, it is a way to concretize any content with reliable facts.
So if you have original and highly-demanded data published, someone would link to you when they cited your research.
In-depth guide
A comprehensive piece of content that covers anything the audience needs to know about a given topic (or some).
Easy to know why this work, since act as an ultimate guide, it can pack an incredible amount of information in one place. Which makes your guide the go-to resources for people to learn more about the topic.
So now, with all these amazing contents, how are you going to build some links that lead to them? With a simple step of email outreach.
Email outreach
The process of generating organic links for your site from relevant linking and content has a name: white hat link building. And email outreach is the way to do it.
But how can you reach out to bloggers and site owners without going straight to their spam folder? Read this section to find out.
Find linkers email addresses
There are many people that have a high chance of linking to you. You can use a really simple strategy to find them: reverse engineering.
First, search your target keyword in Google. Then take the URL of the first result and insert it into Ahrefs, hit the "backlinks" text in the sidebar:

All the results listed are potential linkers, so the next step is finding their email addresses. And don't use their sites' contacts. It often leads nowhere.
Use Hunter.io instead to find an email address associated with a domain. This is a great way to reach out to small sites and one-person blogs.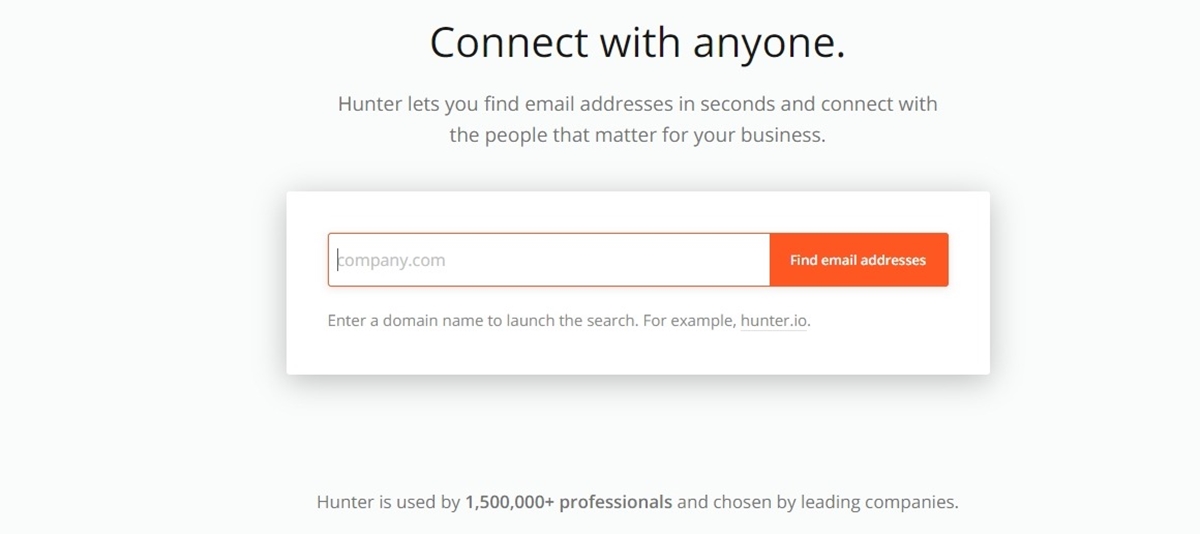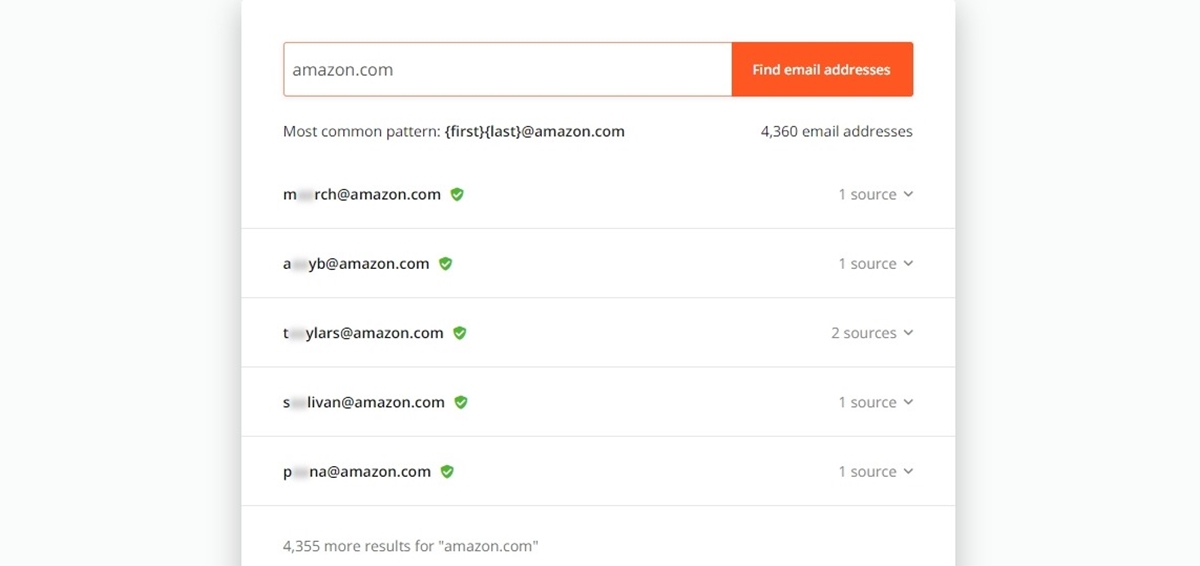 But if you want to reach out to a more prominent site, you should use VoilaNorbert. Just enter a person's name and the domain of their company.

This way, you can reach who are actually important to link with your site with their own email addresses.
Send them personalized emails
You will have to send hundreds of emails to get featured, so it is wise to have some scripts for the emails. But your scripts should still sound like you are really talking to them.
A script can look something like this.
Hi [First Name],

I was searching for content on [Topic] today when I came across your article: [Article Title].

Really good content! I especially enjoyed [something from their article].

Recently I just published a new post discussing [Your Topic]: [URL].

As someone knowledgable about [Topic] like yourself, I thought you'd enjoy it.

My post may also make a nice addition to your page. Anyway, keep up the awesome work with [website]!

Talk Soon,
[Your Name]

By this way of script, you can write personalized emails without too much effort.
Black hat links
So you learned about white hat link building, but the guide wouldn't be completed without knowing about black hat link building.
What is this? It is the black sheep, the links that go against Google's guideline, which can result in penalties from the search engines.
So the choice of dark force or white force is entirely up to you, but remember the dark side has its price.
Google Penguin
This is an algorithmic penalty that targets sites using spammy link building techniques. Google has uploaded all the rules of Google Penguin online, so it is pretty easy to avoid being penalized.
Just build white hat links and avoid suspicious links and you will be fine. Some say you can dodge Penguin by minimizing exact match anchor text, but who knows for sure.
Manual Penalty
With this, you will receive an email from someone at Google Search Console, telling that some links pointing to your site are against Google's Webmaster guidelines.
No one really knows how this works, but surely you can avoid this by looking at links your site is pointed to, and make sure your profile is clean of bad links.
You can also file a reconsideration request if you think they have made a mistake, and then disavow suspicious links to avoid penalty.
Link building tactics (with examples)
Now you have understood the process; it is time to use some tactics and get the links directing to your site. The resources you have and the industry you are in may affect, but these tactics can apply to most types of Ecommerce websites.
1. Embrace video marketing
Video content in a fast-moving time is the standard to deliver information in an easy way. This helps bring your products to life with walkthroughs, narratives, and in-depth instructions.
You can also experiment with a wide range of styles for your content, from educational to humorous comedy that is all entertaining.
But why is this good for link building? Cause it is easy to share since people want to watch it. As mentioned, visual assets are hard to include without some links to the owner or creator.
For example, if you own an online clothing store and you have a lot of knowledge when it comes to fashion. Therefore, your video content on topics such as "99 ways to lace your kicks cooler" or "The history of woman's jeans" may be really fun to watch and share.
Someone embedded your Youtube video, and you could outreach to request a link back to your original site.
You can even provide a better embed option for them, like a high-quality HD video that doesn't include Youtube ads!
2. Leverage extreme products to build links
Another way to make some buzz and links to your site is by promoting extreme products. This can be a tactic for seasonal range or a new segment that needs more exposure.
By doing this, you can avoid the boring traditional way and appeal to a bigger mass of audience.
Learn from Wish.co.uk, they made a Zombie paint-balling experience, which earned huge popularity when launched and was considered ground-breaking.

So what you can do is find some really fun products that are relevant to your business, then build links around them to drive large volumes of traffic while gaining interaction on social channels.
Who knows, these products may well be your top performance some days.
3. Use influencers to build content assets
These days, not many people like big brands and ads, so link building through your own sharings can be harder than ever.
However, what if your brand is promoted and linked by some legit influencers? People would receive easier and are happy to share to support their favorite people.
This is what ASOS did with their Insiders campaign, which let individual crate content and build links for them.
How? ASOS created sponsored accounts for fashion bloggers who would then post images of themselves using branded clothing on Instagram and other channels. These posts also have links that encourage the audience to "buy the look", which links back to ASOS.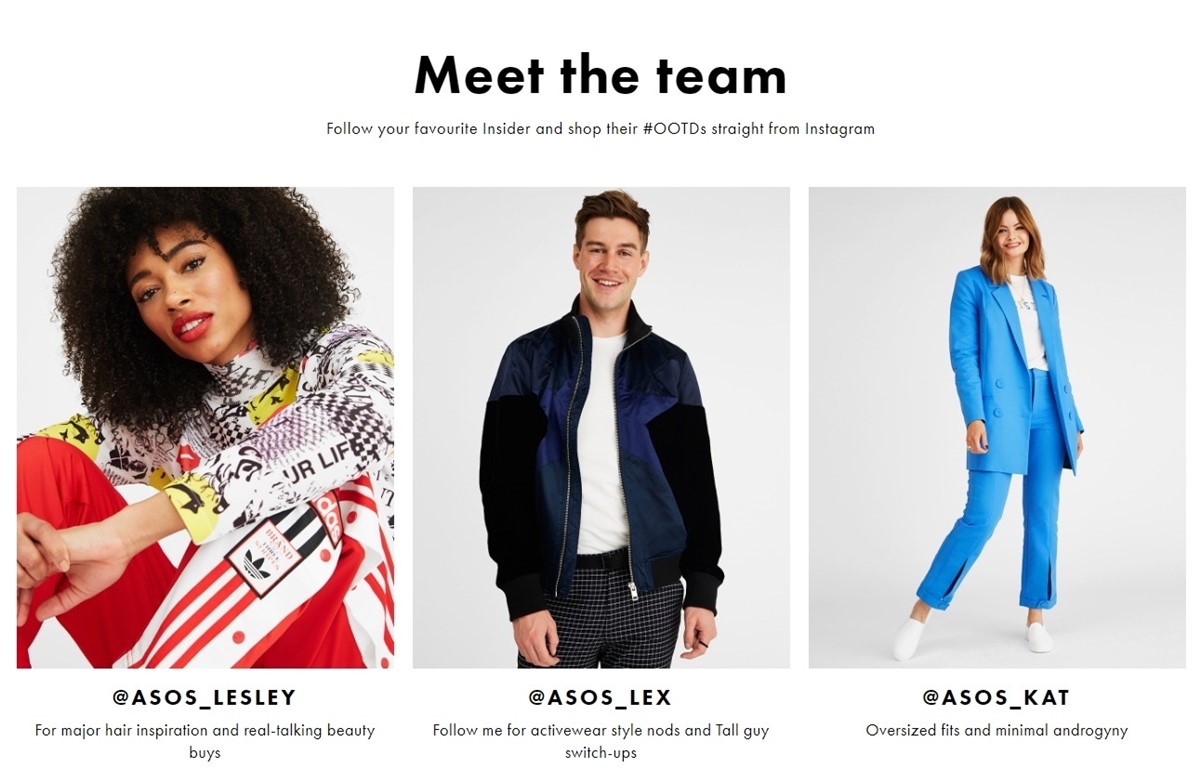 These links from media don't influence too much on organic rankings but attract natural referring domains from fashion bloggers and sites, which ultimately sold for them. That is why natural messages plus value to customers can work.
The campaign was not only low-cost but also boosted customer retention rates and reached out to more linking opportunities.
4. Provide product samples to influential bloggers
While making your content is a way, offering free product samples to bloggers in your field can be another way to secure coverage and make some interesting links to your site.
However, you should only work with bloggers who are influential in your industry. You don't want to attract the wrong attention.
Just do some research using Ahrefs to find out which bloggers have linked back to your competitors, or just Google to see, they usually post the reviews on their site too.
Of course, you will need some budget since rarely influencers would review your products for free. Free samples sometimes can work.
Remember to check the result and influence of the bloggers while also look out for the domain authority for better inbound links.
5. Use integrated content marketing and create a compelling blog
The white hat link building method will keep being a safe method for link building, and content is at the center of this strategy. And your blog is the heartbeat that provides relevant and high-quality content that can make authoritative links.
Your content should not serve only as a direct funnel to key product pages. Instead, they should serve for an internal linking purpose that builds your site's structure.
So make some interesting content with in-depth knowledge, and you will engage instantly with your customers while improving the quality of links that build back to your site.
6. Create a feature that makes your products shareable
The key to this tactic is making the product shareable to potential customers, and creating a clear path for driving back traffic into your website.
So, rather than attempting to build organic links by a guest blog post, you can direct traffic straight to a page with your creativity.
You can think of exciting features that are worth sharing, like making your own line of clothes, or the high tech gadget which helps people so much.
For example, Getty Image's Embed opened up 50 million images for free use on non-commercial websites, as long as the picture is embedded. Which of course, will link back to Getty Images.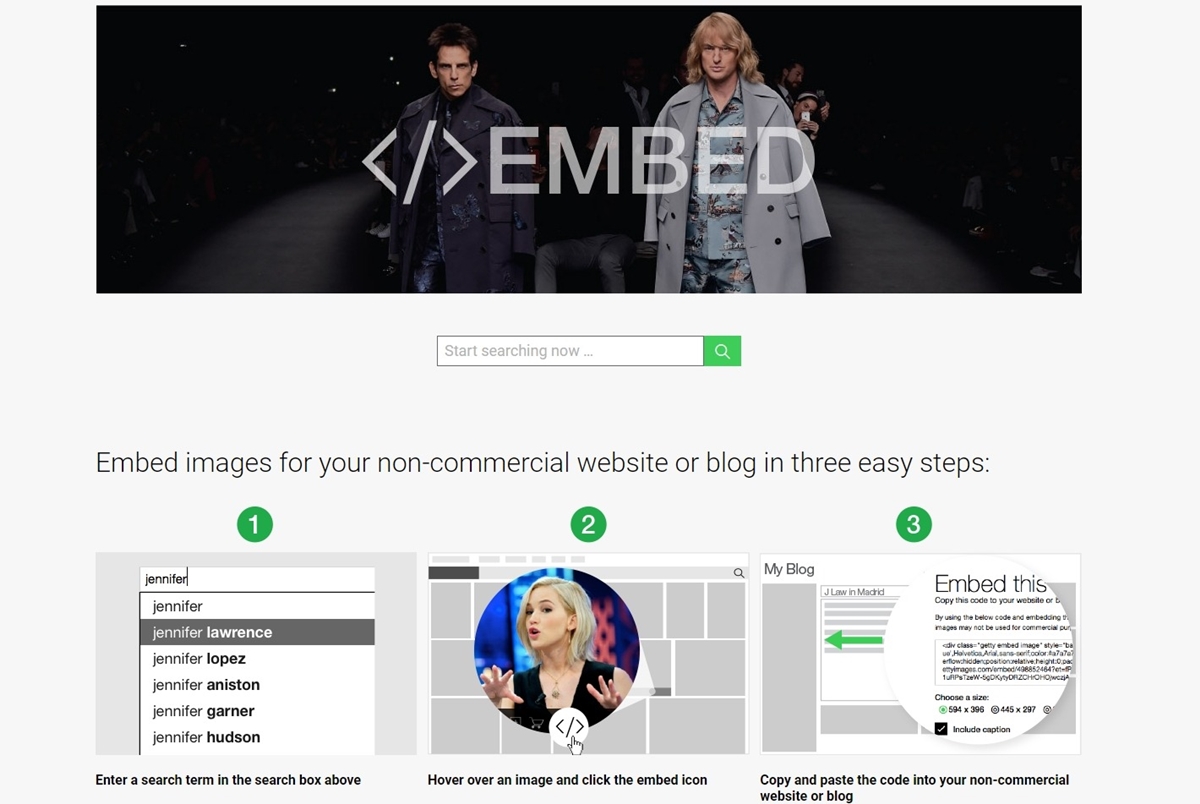 7. Build an entire community of independent brand ambassadors
Your customers sometimes are the best people to help you build links. Some guest blog posts may attract hundreds of visitors, but hundreds of ambassadors can bring thousand.
With limited availability for marketing and product at the start, your Ecommerce needs link building to drive awareness and traffic, and customers can use some attention to their social profiles.
That is precisely what Black Milk Clothing did. They built communities both online and offline, with motivation for many new brand's ambassadors.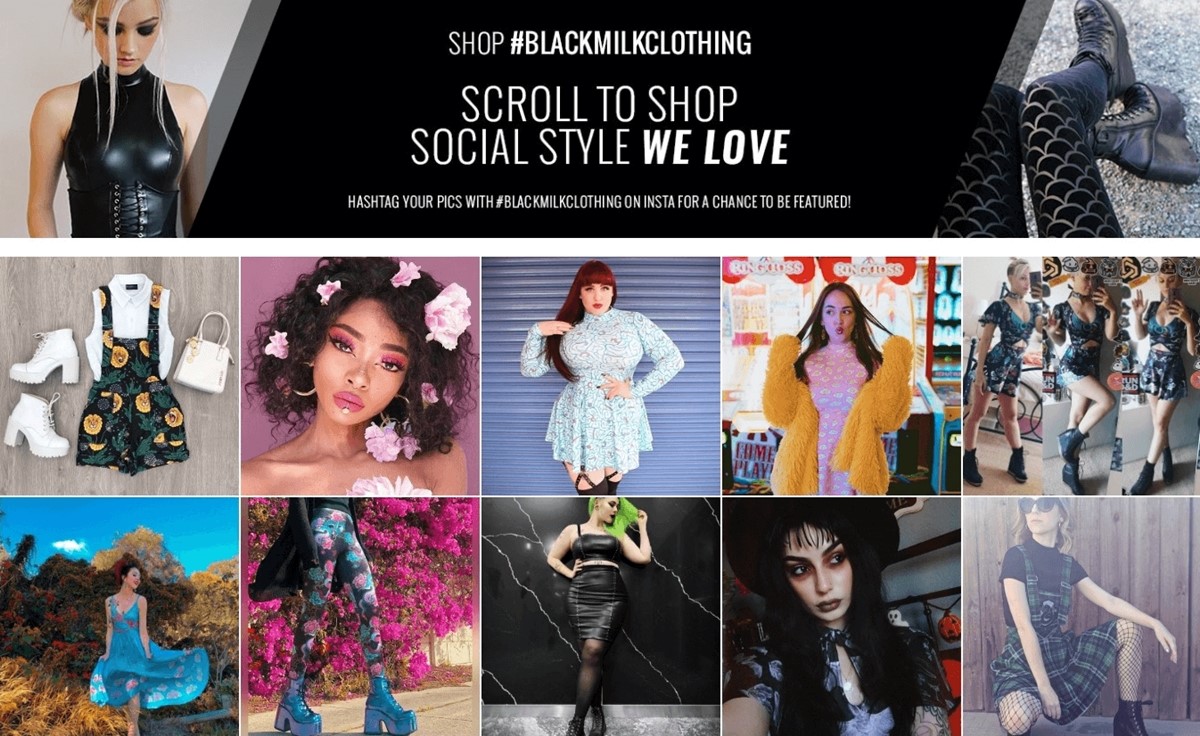 They are simply customers and fans who would share their own content with links to Black Milk products while making discussion all over the internet.
This approach empowers customers to promote your brand and build their own reputation as well. It is definitely a win-win situation. You can keep building those links to even more pages, like promotion or videos.
Case studies
Now, it is time to show you some real-life examples of link building with great results that you can learn from.
#1: Link building for Ecommerce site by Matt
Matt has an Australian site called Gourmet Traveller that sells gifts, and like everyone else, he had trouble building links to his site. 100% product pages, who would link to that?
Then he knew he had to make great content to generate links. So he published an amazing article that says: "Australian Gin: The Ultimate Guide."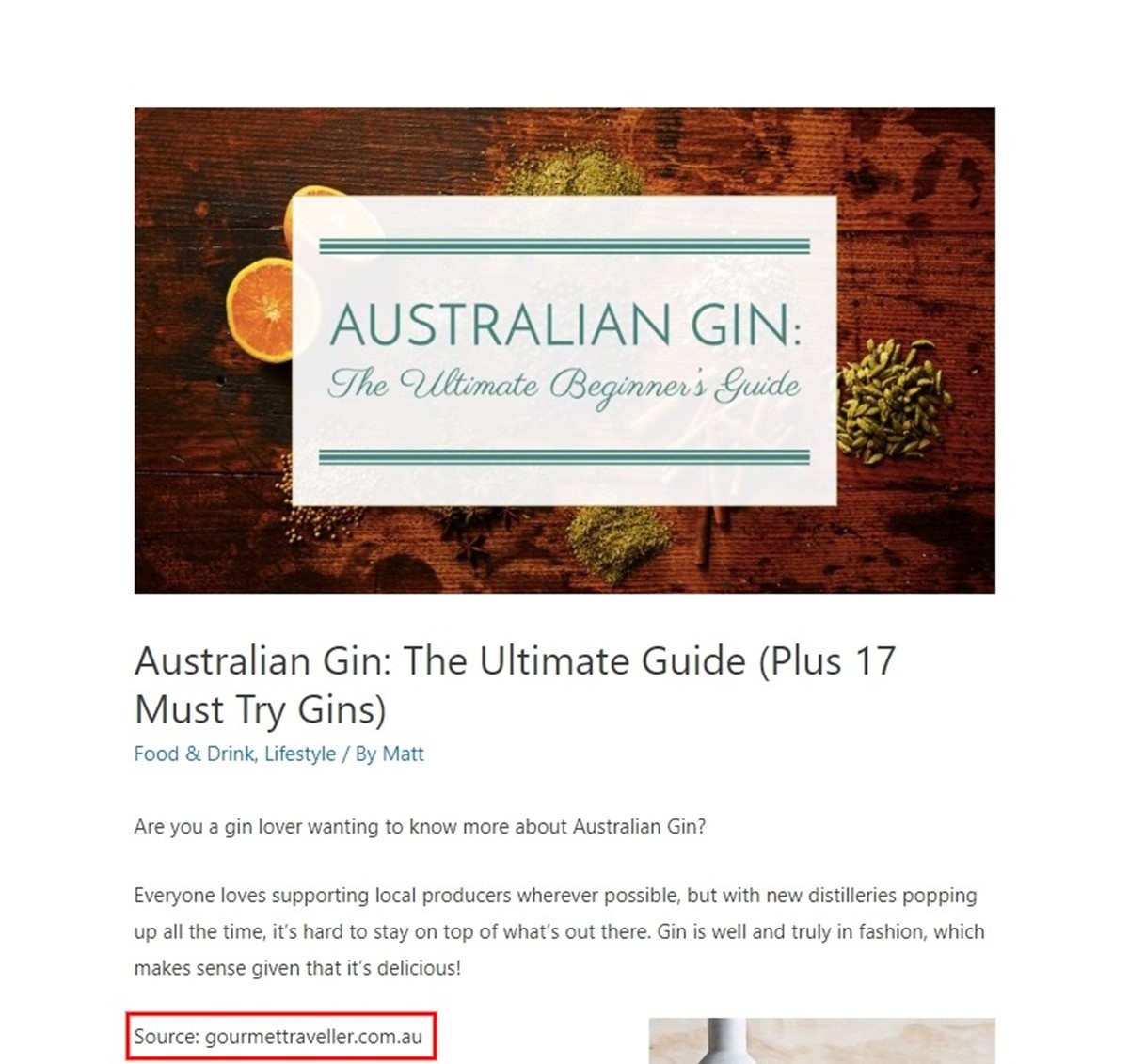 And of course, Matt rolled his sleeves to promote his content via email outreach. Many people responded and were happy to link to his guide.
All of these contributed to a rise in sales for his Ecommerce site with the keyword: Australian Gin. In fact, he even got rank #2 in Google Australia for that keyword.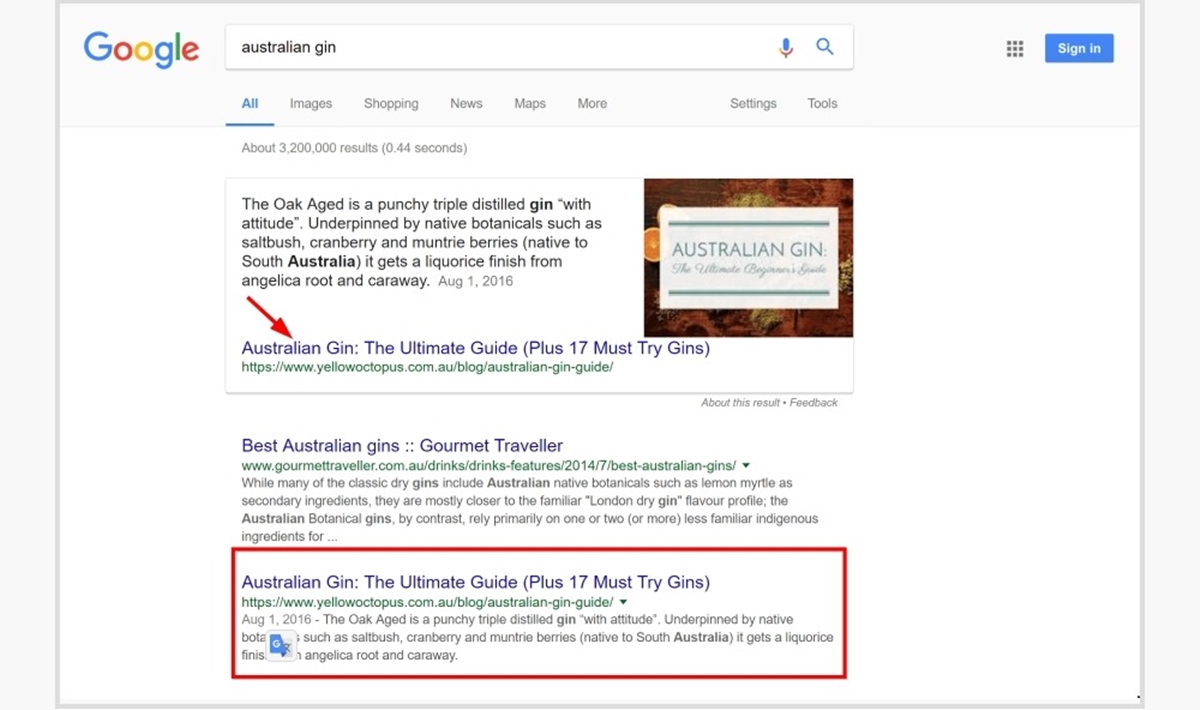 #2: The master of PR and get thousands of backlinks - Dollar Shave Club
Dollar Shave Club is always famous for its type of humor, and we love it! This video acted as a PR stunt and got 25,000,000 views since it came out.
Just with this video, they attracted over 5k links and 500k shares from Facebook for the site. That is quite impressive for a video from 2012.
So the lesson here? Make people know your products are pretty f**king great, and they will share links to your site.
#3: Newsjacking with Warby Parker
As an online business, sometimes you have unique data on some topics that you can provide or even make a landing page about it. That is what Warby Parker did.
As a glasses retailer, they rode on the wave of the Solar Eclipse in 2017 and created a contest around it. They gave away free shades to watch the event while having a contest for everyone to join on Facebook.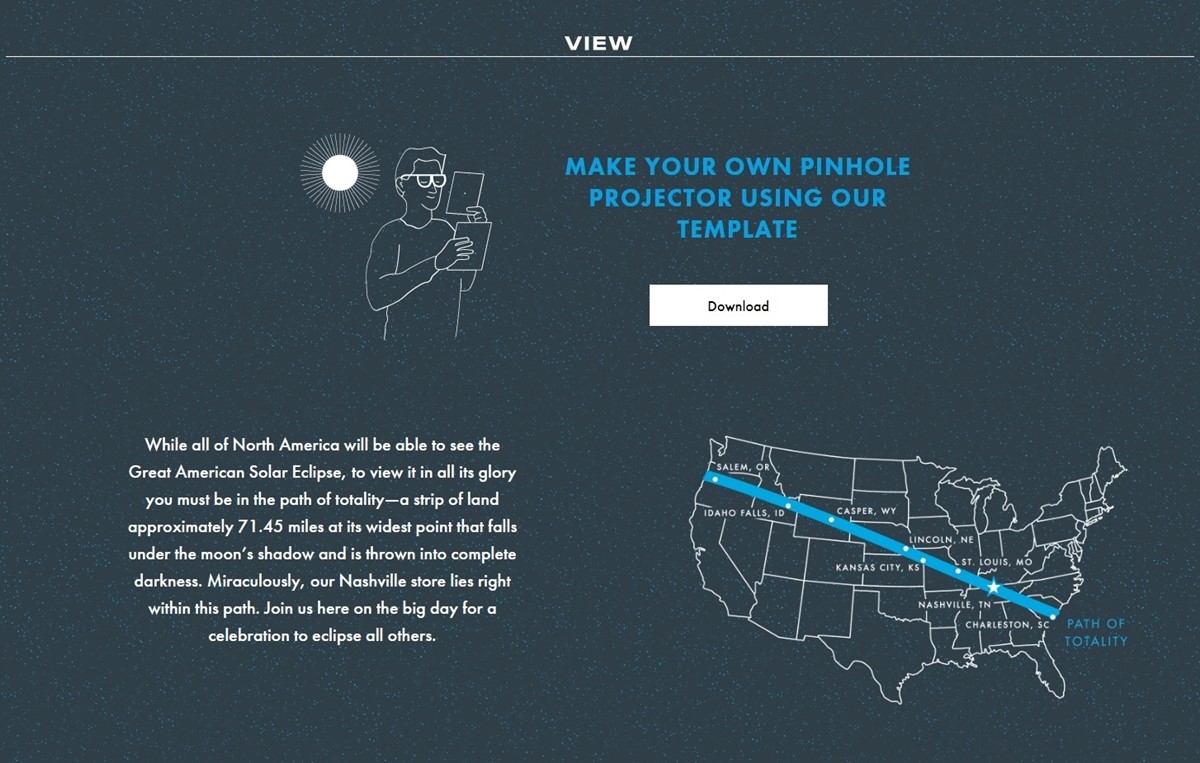 The landing page received over 200 backlinks and granted a creative status to the company as well.
So the next time some big events happen, find a way to put your brand's name next to it and earn some backlinks.
Some more tips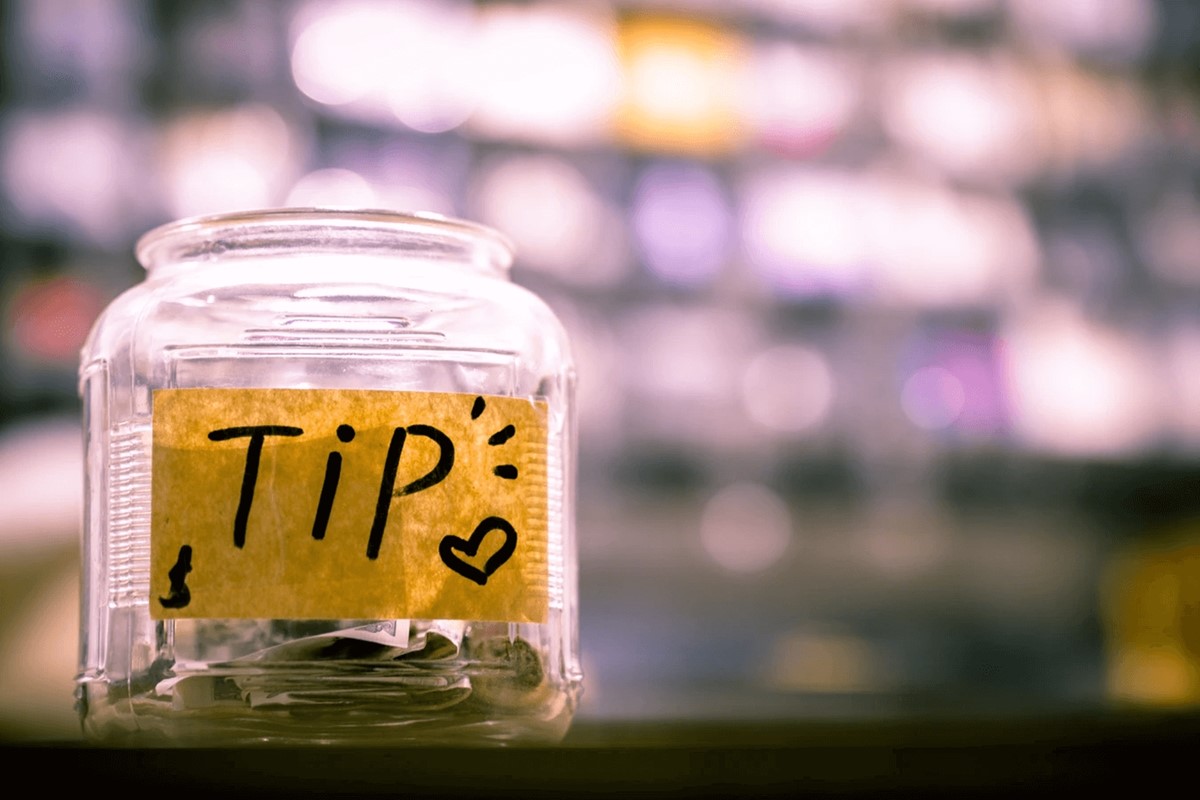 That is not all, now we will give you some more advanced link building tips that can work for your Ecommerce business. Let's see!
Get bonus links with reverse image search
The internet is wide and wild, so visual assets are sometimes hard to determine who owns them. With that in mind, some sites are probably using your images right now without you knowing about it.
Don't worry, this only means your visuals are so good people cannot resist using them. Just send them some friendly emails, and they may be more than happy to link with your site.
You can upload your pic to Google and use a reverse image search to find who may be using your image without attribution.
Create visualizations of ideas, concepts, strategies
You may be an expert and can write 10,000 words on sewing a shirt, but not everyone will read it. That is why you need to simplify your content with visualizations.
Beautiful, precise, and easy to digest; that is why visual content is much better to share.
On the other hand, these visualizations would be useful for other bloggers to use in their content, and they will happily link back to your site when they do that.
Have two steps for email process
This is the basic human touch. If with your first email, you already asked for a link, maybe they would accept and maybe not.
But with two steps and a feeler email beforehand, you can get a better result. Since you already expressed your gratitude, they may accept your offer easier the second time.
The better benefit of this is it saves you time. It also has a personalization touch that can work so well.
Conclusion
Links are hard to get, but in the end, they are worth the effort for a strong and charming Ecommerce site. The highest ROI will come from how you can maximize the impact of every single link you get.
With this guide, we hope you can find the path to build many high-quality links for your site and gain the traffic we know your amazing products deserve.
They don't call backlinks the "SEO gold" for nothing, so start digging in! And let us know in the comments how your results have been.
---
Sam Nguyen is the CEO and founder of Avada Commerce, an e-commerce solution provider headquartered in Singapore. Sam aims to support more than a million online businesses to grow and develop.
New Posts
Stay in the know
Get special offers on the latest news from AVADA.