Ecwid Reviews: Is It The Right E-commerce Solution For You?
The number of eCommerce platforms is increasing making it hard for online merchants to choose which platform is suitable for them. Each platform has its pros and cons, so it is normal for businesses to look at other services and consider switching to something more functional and cheaper than the current platform.
In the Ecwid Reviews, I will bring about an in-depth review of Ecwid, including the pros and cons, highlighted eCommerce functionality and a brief comparison between it and other platforms.
I hope that this review will help you determine whether it is the right eCommerce solution for your business. Let's get started with the definition of Ecwid and the way it works!
What is Ecwid & How does it work?
Have you ever heard of SaaS? It stands for Software as a service, which means a tool you pay a monthly fee to use it instead of owning the software. The Ecwid system is the same. As a tool for building users' online stores, Ecwid also holds similar functionalities to other eCommerce platforms.
When using Ecwid, you can set up catalogs of products, include images, pricing, weight, and so on. Moreover, you can set the shipping rates, credit card payments, and all that you need to maintain an eCommerce business.
Online merchants are familiar with eCommerce solutions like Shopify, Squarespace, or Bigcommerce. One of the most common problems with those solutions is that many of them create a closed system, making it hard to switch from one website hosting platform to another. Especially, the process of transferring files and completing extensive site customizations has never been so complex.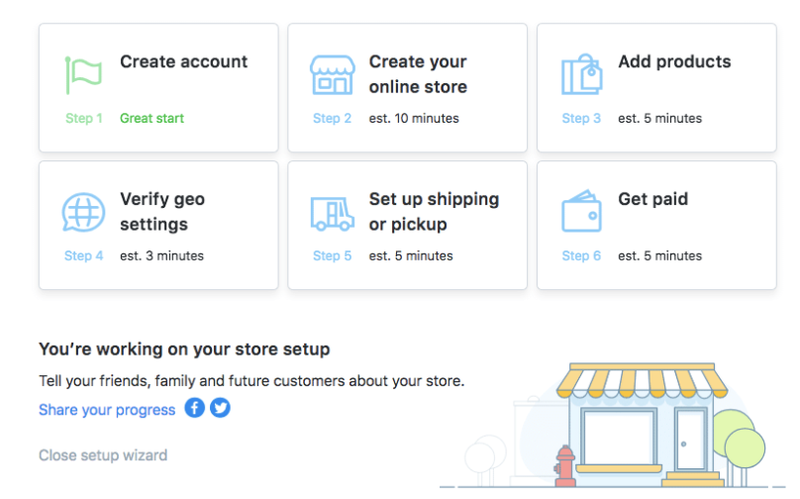 However, thanks to Ecwid, you can quickly and expensively create an online store on your current website. Instead of building up a standalone eCommerce website, you are adding a store to an existing one. It is said that Ecwid has been developing more functionalities. One of those is Instant Sites that lets you create a basic, one-page offering.
Simply put, when coming to Ecwid, you do not have to worry about setting up a brand new site but implementing Ecwid on any platforms. Perhaps, that's why the platform is called Ecwid, which may stand for "ECommerce widget". The solution will give you a widget getting placed on other sites and a few lines of HTML code to add to another social media presence. Now, your store is placed anywhere you insert this code. That seems simple, right?
How much does it cost to use Ecwid?
For those who don't know, Ecwid is one of the cheapest eCommerce solutions on the market. Let's see how much it costs for you to use Ecwid.
Free Plan
This pricing is more than suitable if you are about to sell just a few products. Providing the same unique selling points, no other competitors offer them for free like Ecwid.
Ecwid claims that the free plan costs you $0 forever for Google Shopping, Facebook advertising, Facebook pixel, selling simultaneously on multiple sites, adding a store to any website, starter site, and unlimited bandwidth, covering 10 products.
If you just expect simple requirements, a free plan is enough for you with some basic features like discount coupons, a tool to sell digital goods being unavailable, and the ability to sell up to 10 products within 2 categories.
It is great to try the product out by using the free plan before installing the paid pricing plans for more functionalities. However, since it is free, the plan doesn't work well when it comes to SEO. In case you want to make sure your product pages are linked with the search engines in the best way, let's use a paid plan to get a better result.
Paid Plans
In terms of Paid plans, there are three pricing solutions which are:
Venture Plan: This plan costs $15 per month billed monthly, or $12.50 per month billed annually. It offers up to 100 products to be sold. Using this plan, you will get support service via chat, Google Shopping, Facebook ads, Facebook pixel, pro SEO tools, inventory management, App Market extensions, multiple websites to sell products, automated tax measurement, discount coupons, limited bandwidth, and more.

Business Plan: The pricing plan costs you $35 per month billed monthly, or $29.17 per month billed annually. Paying an addition of about $20, customers using business plan will get the phone and chat support, automated abandoned cart recovery, 2 staff accounts, eBay integration, product variations, product filters, Google Shopping, Facebook advertising, Facebook pixel, SEO tools, inventory management, App Market extensions, multiple sites, automated tax calculations, discount coupons, abandoned cart saver, adding a store to any website, starter site, unlimited bandwidth, covering 1GB per digital file for up to 2500 products.

Unlimited Plan: This plan is the most expensive one which is $99 per month billed monthly, or $82.50 per month billed annually. However, what you get will be worth it with an unlimited number of products, priority support, phone and chat support, Square POS integration, automated abandoned cart recovery, 2 staff accounts, eBay integration, product variations, product filters, Google Shopping, Facebook advertising, Facebook pixel, SEO tools, inventory management, App Market extensions, multiple sites, automated tax calculations, discount coupons, abandoned cart saver, adding a store to any website, starter site, and unlimited bandwidth.
Take note that all of the mentioned products let you make use of nearly 10,000 product categories.
To sum up, here are some differences in the Ecwid paid pricing plans:
You cannot list your items on established marketplaces like Amazon, eBay, or Etsy with the Venture plan.
You cannot use product variants or enable users to use the product filters when browsing your store if you use the Venture plan.
You cannot edit existing orders or create ones manually with the Venture plan.
You can only use automated abandoned cart recovery with the Business plans or the more expensive one.
Business and Unlimited plans allow you to avail of some consultation time when building up your store. You can avail of 2 hours with the Business plan and 12 hours with the Unlimited plan.
You can only receive phone support with Business and Unlimited plans. Or else, they just provide chat support.
Multilingual features and fully customizable invoices are only available on the 'Business' and 'Unlimited' plans.
Ecwid Pros & Cons
Ecwid's Pros
With the free plan, users can approach many useful features
Ecwid offers a Starter Site package for sellers without websites
Dropshipping businesses can manage their tasks with the help of Ecwid
When using Ecwid, users can use plugins it provided for integrating with many web hosting solutions like WordPress, Drupal, and Wix
Ecwid is easy and quick to control
Users can make use of a multilingual online store with the help of Ecwid
It is simple to add eCommerce to any existing website
Ecwid is GDPR compliant
Ecwid brings about multiple eCommerce features with affordable pricing plans
Users can make use of Ecwid's POS functionality to put up a supplementary offline store
The Ecwid App Store offers a range of useful eCommerce applications
The product is much cheaper than that of other platforms
Point-of-sale functionality is available
Multi-currency selling is available and easy to implement
Users don't have to worry about state tax setting up or VAT rules since Tax rates are automatically applied on Ecwid
Real-time carrier quote functionality is available on all plans
Ecwid's Cons
Ecwid's Free Plan doesn't work well in terms of SEO functionalities
Users cannot edit their products' URLs for SEO goals
Users will not be offered product page AMP versions
It is impossible to create a complete eCommerce website on Ecwid
Phone support is only available if you pay for being a premium subscribers
The multi-currency functionality does not show the local currency at the final stage of the checkout
Ecwid App store does not have all the necessary apps and integrations
The Instant Site tool is kinda limited in terms of functionalities. It does not have a blogging tool, which is important
Ecwid review: Ease of use
Owning a new decent control panel redesign, Ecwid surely makes users handle every task in a simple and straightforward way. So, how simple is it? Let's find out!
To learn how to use Ecwid from scratch, you need to spend some time and effort. Even when you are a newbie in the market, you surely find it easy to navigate the backend end functions.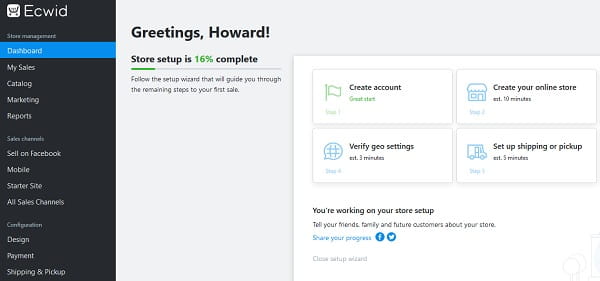 Suppose you used to use WordPress or other CMS systems. In that case, Ecwid will be even easier since all features you need to know are displayed clearly and systematically on the left panel of the Ecwid dashboard, which takes you less than a minute to get familiar with the solution. Additionally, the right side of the Ecwid dashboard displays their corresponding options, which has nearly no differences from those of other CMS solutions.
Ecwid is so generous that it asks for nothing when you first get started on Ecwid. To install the free plan, you just need to include your email address and create a password for it, and you will go straight to the backend interface.
Moreover, to set up and manage your store, you can take advantage of Ecwid's wizards for every platform you want to add to your eCommerce website. When it comes to integration, you just need to take some simple steps to maintain it fully. For example, to integrate with your WordPress site, you can click on options like Facebook and Joomla based on the locations you want to offer your sales products.
Especially, the backend onboarding process will impress you by its ease of use because Ecwid gives you the step-by-step guide through every site creating and integrating stages with just some decent photos and text. Thanks to their help, you just need to add products and them to start working on your stores.
When it comes to the visual editor, things turn into even more basic. For example, coming to its starter site option, Ecwid only looks at tweaks like product layout arrangement and alignment. Don't misunderstand that Ecwid is not flexible since you can handle this by working with a third-party editing app. In case you have background knowledge related to coding, you can rely on it to customize your templates by using CSS.
Many users invest a particular amount of their budget on online store design to freely choose and shop for custom themes from selected template marketplaces. Those themes are products made by the corporation of Ecwid and many other reliable platforms. However, it is said that this investment is not necessary because Ecwid claims to adapt to your site's existing theme. Easily put, it will scan, detect, and analyze your current fonts before applying them to your product display. All these stages are made automatically.
Another reason making Ecwid simple to use is that it provides a native shopping application for both iOS and Android, which allows merchants to download a native management application for iOS and Android without paying any extra fee. Thanks to the app, you can not only manage your Ecwid store but also give your customers another option to buy products from the mobile version.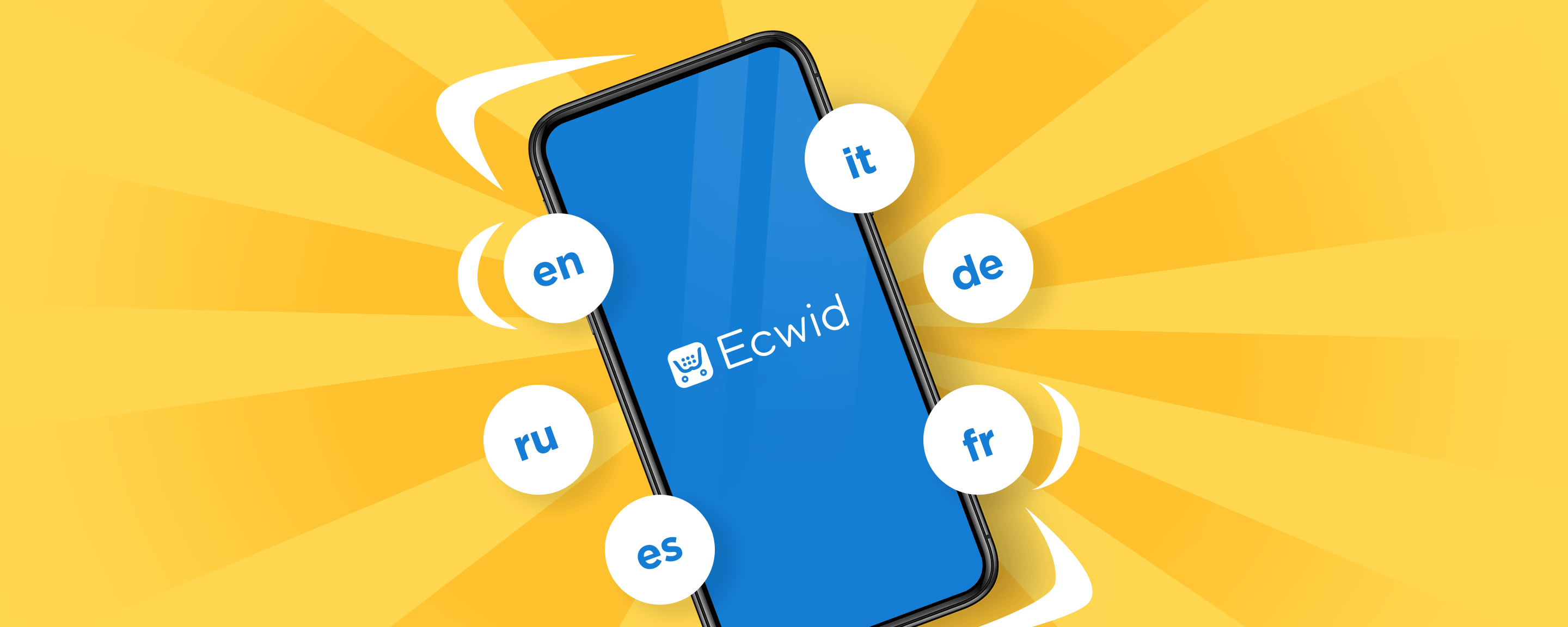 When you tend to widen your business size, it is crucial to consider reaching out to more customers from all nations over the globe. It will be rather challenging due to the language barrier, which means you need to make sure your audience can easily read and understand your content in their native languages. Ecwid makes it easy, preventing you from manually translating by offering the language tool. This feature will automatically detect and translate more than 51 languages. You are now able to offer your products for sales to non-English speaking buyers from all countries.
One note about Ecwid's ease of use is its inventory management. Luckily, not including any unnecessary tools that you might see on other eCommerce solutions, the Ecwid inventory system is much simpler. All steps of the platform are clear and easy to understand. Let's go to its catalog menu option, edit your product categories, adjust the description, name, price, image, set SEO settings, tax, and shipping options for each product in your inventory to manage it correctly.
Also, other features in terms of inventory management are out of stock product tracking, mobile device inventory management, barcode scanning, stock control management, product duplication, and more.
Ecwid Features review
Ecwid offers many impressive features. They include:
Customer Experience: Ecwid allows customers to show their shopping experiences by providing Product Reviews, Favorite Item Button, Check Out As Guest Or Create An Account, Automatic Tax Calculations, Real-Time Shipping Rates, and Automatic Language Translation.

Store Management: Ecwid offers everything you need to manage an online store, which are SEO Tools, Analytics and Reporting, Mobile Store Management App, Abandoned Cart Recovery, Promotions, and Discounts, Order Management, Inventory Management, Product Options, and Attributes, Sell Digital Items.

Omnichannel Sales: Ecwid provides stores for both IOS users and Android buyers. This feature includes In-Person Selling, Marketplace Integrations, Social Media Integrations, and Sell Across Multiple Websites.

Ecwid's shop app: Ecwid fixed its weak points and developed more features. One of those is Ecwid ShopApp for businesses who want to connect their mobile with their audience. By building up a unique mobile app, the ShopApp of Ecwid brings about more opportunities for users to engage and connect with their customers. As long as you install Ecwid ShopApp, it will automatically create and publish a native mobile app to the Google or Apple app store.

Ecwid's buy button: Another new feature of Ecwid is its Buy button. It seems to be a simple update on the surface but you will easily manage a successful transaction, tax support, shipping, and payment elements with the help of the Buy now button. To add it to your web page, sidebar, or your own blog, you need to do nothing but include a snippet of code. What's more, you don't need to care about the color and style matching since it will automatically adapt to the blog and website, which makes it natural. Additionally, you can even add the Buy now button to guest blogs and forums.
Ecwid Integration review
Ecwid also integrates with other platforms, such as WordPress and Wix.
Ecwid integrates with WordPress
WordPress (WP, WordPress.org) is a free and open-source content management system (CMS platform). It will help you create a free website or blog rather than coming with online selling capabilities.
However, you can still change your WordPress-based website into an online store with eCommerce features by integrating it with an external platform like Ecwid. To make this transformation, users just need to find the WordPress plugin that Ecwid dedicatedly adds in.
To start this simple process, you need to install the Ecwid plugin via your WordPress backend, activate it, and set up a fully-functional WordPress online store.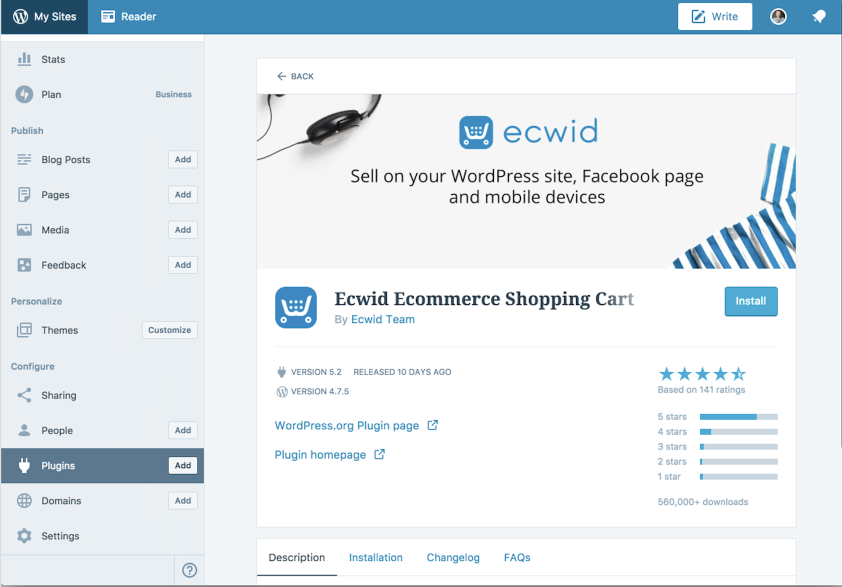 What's more, you don't need to care about the extra fees since the plugin is free of charge.
Ecwid integrates with Wix
Wix is so famous in the website building and hosting platform market. You will receive a wide range of extra eCommerce functionalities to transform your standard site into an online store. But, you will find it rather challenging in terms of dropshipping businesses.

Luckily, thanks to the integration with Ecwid, such issue is completely solved. Similar to WordPress, it takes you less than a minute to integrate with Wix because Ecwid already has a specialized app for Wix users.
Let's find it among the third-party apps on Wix, integrate the extension with your Wix website, and it is now integrated well.
Selling with Ecwid
Selling with Ecwid on Social Media
If your business is working on social media to boost the brand's online presence, you must know the challenges of selling the products through social media channels. However, Ecwid makes way for eCommerce companies, even the low-volume businesses to sell products well on many platforms like Facebook, Snapchat, Pinterest, and Instagram.

Facebook: To sell products and manage your online stores well on Facebook, let's upload your product catalog from Ecwid into your Facebook business page and display those products in your shop tab. One thing to keep in mind is that you need to pay for a Venture Business plan or Unlimited Plan to make use of this tool. As long as you apply for one of those two pricing plans, simply go to the Ecwid control panel, click on All Sales Channels, and choose Facebook. Your products are now added to your Facebook page and will be available when you enter your profile information into your Ecwid account.

Instagram: Besides Facebook, Instagram is also a popular social media channel in the world where users share their pictures with the followers or the public. Instagram is increasingly developed especially for the youth. That's why more and more businesses tend to use Instagram to sell items via Instagram Shoppable products. Before getting started, let's sign up for a Business account on Instagram and apply for a Venture Business plan or Unlimited Plan with ECWid to sell on Instagram.
Once you get them, you should ensure your account's location is correct. Then, fill your online store with the products you want to sell in a systematic way and use the Sell tool on Facebook Integration from Ecwid to bulk sync your account.
Another note is authenticating your Facebook account before going into the All Sales Channels section of your control panel and setting up your Instagram account in the Sell area on the Instagram channel.
Pinterest: When it comes to Pinterest, Ecwid does not provide the integrations it does with Facebook and Instagram. However, you can take advantage of the tags to upgrade your selling. It is an ideal way to engage with your customers on social media and sell more products. To sell on Pinterest, let's go to the Ads in your Pinterest business account, click on the Conversions button, and choose your Create Pinterest Tag option. Finally, copy the unique tag ID and add it to your store page on the Ecwid site.

Snapchat: Snapchat is not as well used as Facebook or Instagram, but it is especially famous for younger audiences. So, if your products are related to teenagers or those loving filters and pictures, Snapchat is a great option. Moreover, it will be much easier since Ecwid offers a separate Snapchat pixel for users to boost their sales and number of closed deals.
To sell on Snapchat, you should come to your Snapchat Ads Manager, choose the Manage section, and click on the Snap pixel. Next, let's create your pixel and copy the ID. Once you are brought to the Ecwid control panel, simply go to the Settings section, choose General, then Tracking, and add your Snapchat pixel. Now you can track the sales you get from this platform.
Selling with Ecwid on eBay and Amazon
Besides social media selling, Ecwid also helps users improve their sales and track the conversions by selling through eCommerce platforms like Amazon and eBay.
Selling with Amazon:
In terms of huge marketplaces like Amazon, it will be beneficial if users know how to sell on eBay. To do this, you should go to the Ecwid control panel and click on the All Sales Channels. Now, an option will be displayed telling you to click on Amazon. Ecwid provides a complete wizard that gives you the step-by-step guide to link your accounts straight to Amazon from the platform without applying for any third-party services.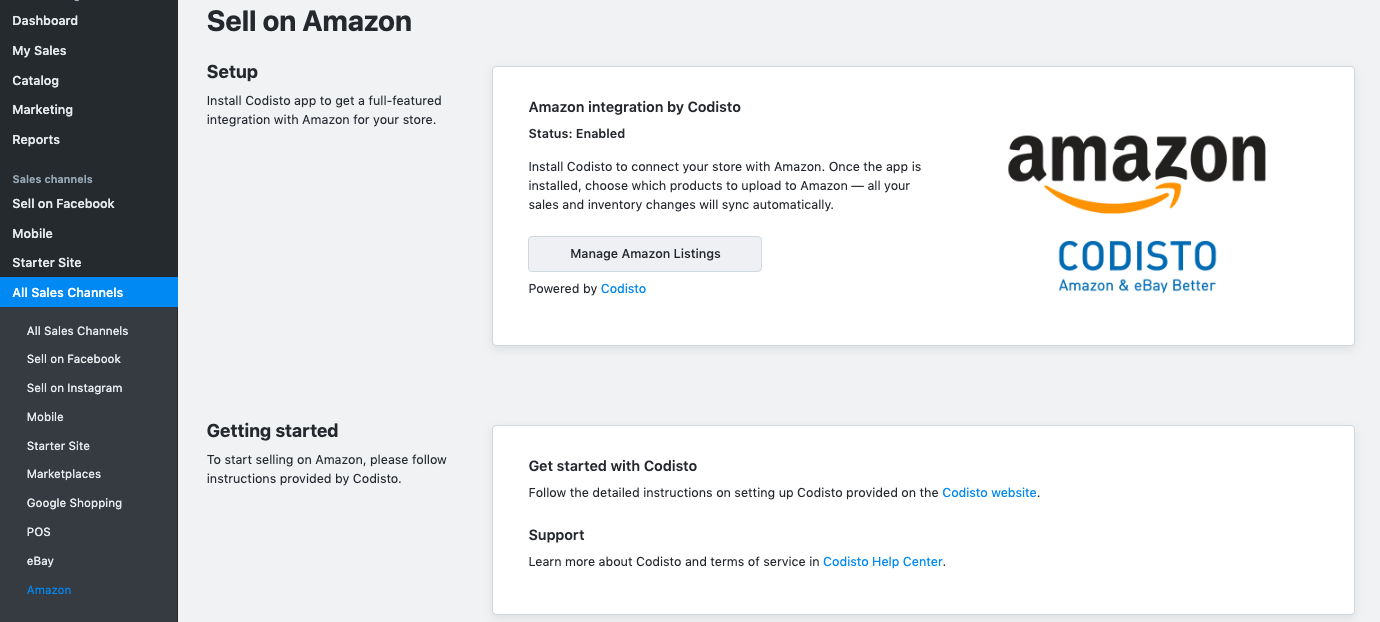 To sell on Amazon, follow the below guide:
Link your Amazon Seller account: It is the most important condition to sell on Amazon. In case you do not have one, let's set up an account, register your brand, configure taxes, prepare a return policy, and specify shipping rates.

List your products: Now, it's time you should match products to your current Amazon listing. If you don't, you can choose to create a new listing from scratch. Don't set the price carelessly but focus on the average Amazon pricing when selecting your items' prices.

Look forward to approval: Once you finish, Amazon will start its work to review your submission to see whether it matches with their rules or not. If it is, they will be published on the Amazon marketplace.
Selling with eBay
When it comes to the eBay platform, you can use Etsy to make it easier. As you know, getting as many customers as possible at a low cost is what every online business desires. In order to reach this target, they need to take into account selling on many different channels. Thanks to the help of Ecwid eCommerce service, users are able to add their stores to whatever marketplaces, sites, and social media pages they like.
If you are an Ecwid merchant and want to add your products to eBay, you are highly recommended to use Trimpo or Codisto.LINQ apps on the marketplace from Ecwid. When using those apps, you are free to publish new products to eBay, update your inventory management system, and so on.
Simply choose the app that matches your store, select the products you want to offer for sales, and are now available to sell your items to international customers worldwide. Moreover, the app you choose will help you upload product images, description boxes, prices, and inventory levels.
Ecwid Seo & marketing review
Being originally a third-party eCommerce solution to your existing website, Ecwid still offers many features helping you develop yours over SEO business. Here are some notes about the SEO & Marketing aspect of Ecwid:
Ecwid allows users to define their product page SEO meta-description.
After defining, Ecwid makes way for users by automatically pre-populating the relevant fields.
You won't receive advanced SEO editing tools by default but can implement extra SEO and marketing tools to get the word out instead.
All Ecwid stores are now indexed by Google since it has already indexed AJAX sites.
If you integrate your Ecwid site with WordPress one, you have a chance to boost the conversions and engagement since you can reach out to additional SEO plugins and the default search engine functionality on the dashboard.
Ecwid provides users with abandoned cart recovery tools, volume discounts, discount codes, and promotional pricing to help them promote their sales.
To set up extra discounts, you need to integrate related extensions.
Review Customer support from Ecwid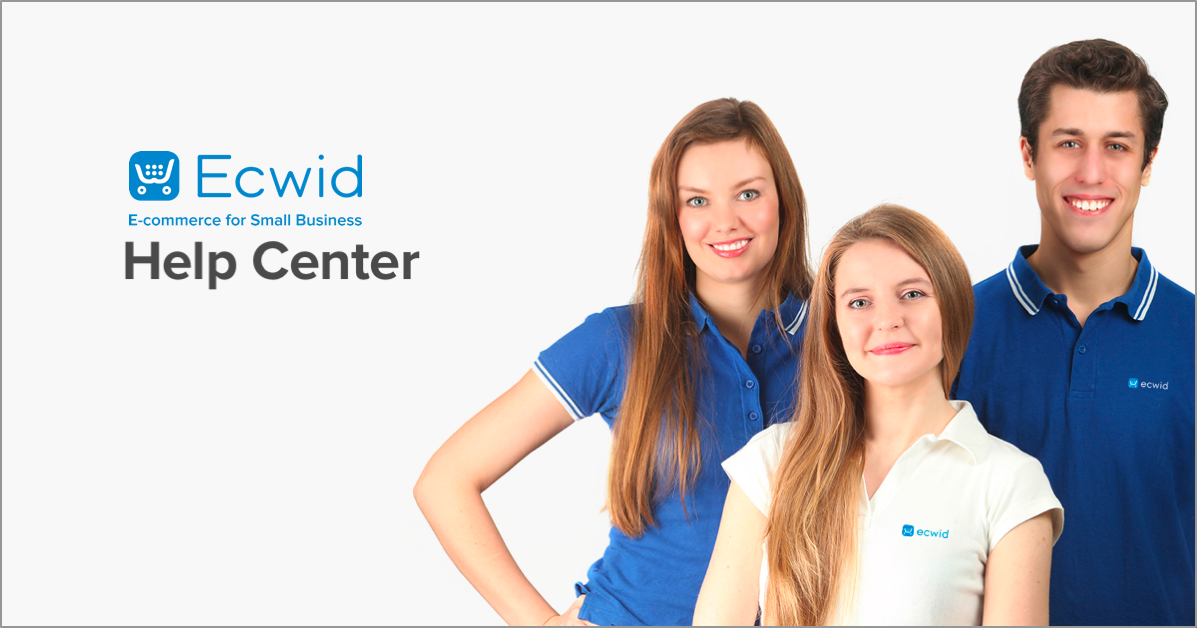 Reading through using Ecwid's customers' experiences, it is easy to find out that the Support team or customer support of the platform is a huge plus point of the app. To be more specific, it provides:
Chat With Sales features: They are signature tools of Ecwid, making the audience feel free to talk with the companies. Let's send them any questions you are wondering; they will surely reply to you soon, depending on the issue you asked.

FAQs: It is a strong and effective support section that brings about a knowledge background, email capabilities, a forum, and so on to educate audiences before they raise any query.

Other customer supports: They include phone support, online chat support, and email support. Additionally, the support team of Ecwid always tries to answer customers' questions and solve their problems as soon as possible in the highest quality.
In general, Ecwid brings about a wide variety of customer supports that you can totally rely on.
Ecwid Payments Review
There's hardly any eCommerce platform offering many useful functionalities without asking for transaction fees like Ecwid. Not only offer cheaper pricing plans, but Ecwid also charges no sort of transaction costs on any of the plans they have. That's why Ecwid is one of the most suitable eCommerce solutions for those who are expecting effective tools but still can balance the low cost and improve the margins.
In terms of Payments, Ecwid is not a payment processor, which means users need to install PayPal or Stripe to process all the transactions coming to your website.
Don't worry, since Ecwid integrates with more than 40 international payment options, making it easy to implement any of these systems. Remember that you will have to pay for these processors, and each has its fee schedule.
Luckily, you will have a wide range of decent POS card payment options. It is because Ecwid has integrated with many reputable platforms like Square POS, Clover, Vend POS, iZettle, and PayPal card readers, which help the solution change your store setup into both an online and offline system.
Ecwid vs other e-commerce platforms
Ecwid vs BigCommerce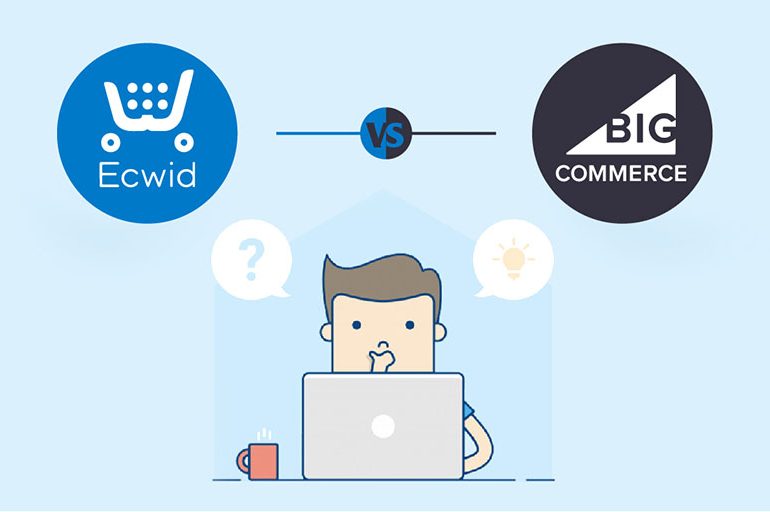 In general, BigCommerce and Ecwid have many features in common since they are all eCommerce solutions with website building and hosting tools. However, there are some differences as follow:
BigCommerce locks your website on the platform right after you finish and run it officially while Ecwid doesn't.
Ecwid has fewer functionalities than BigCommerce when it comes to the eCommerce industry.
Ecwid is less complicated while BigCommerce is more advanced.
Ecwid is for newbies, startups, small business sellers that already have websites. BigCommerce is for bigger businesses that are planning to build up an online store from the beginning.
Ecwid vs Shopify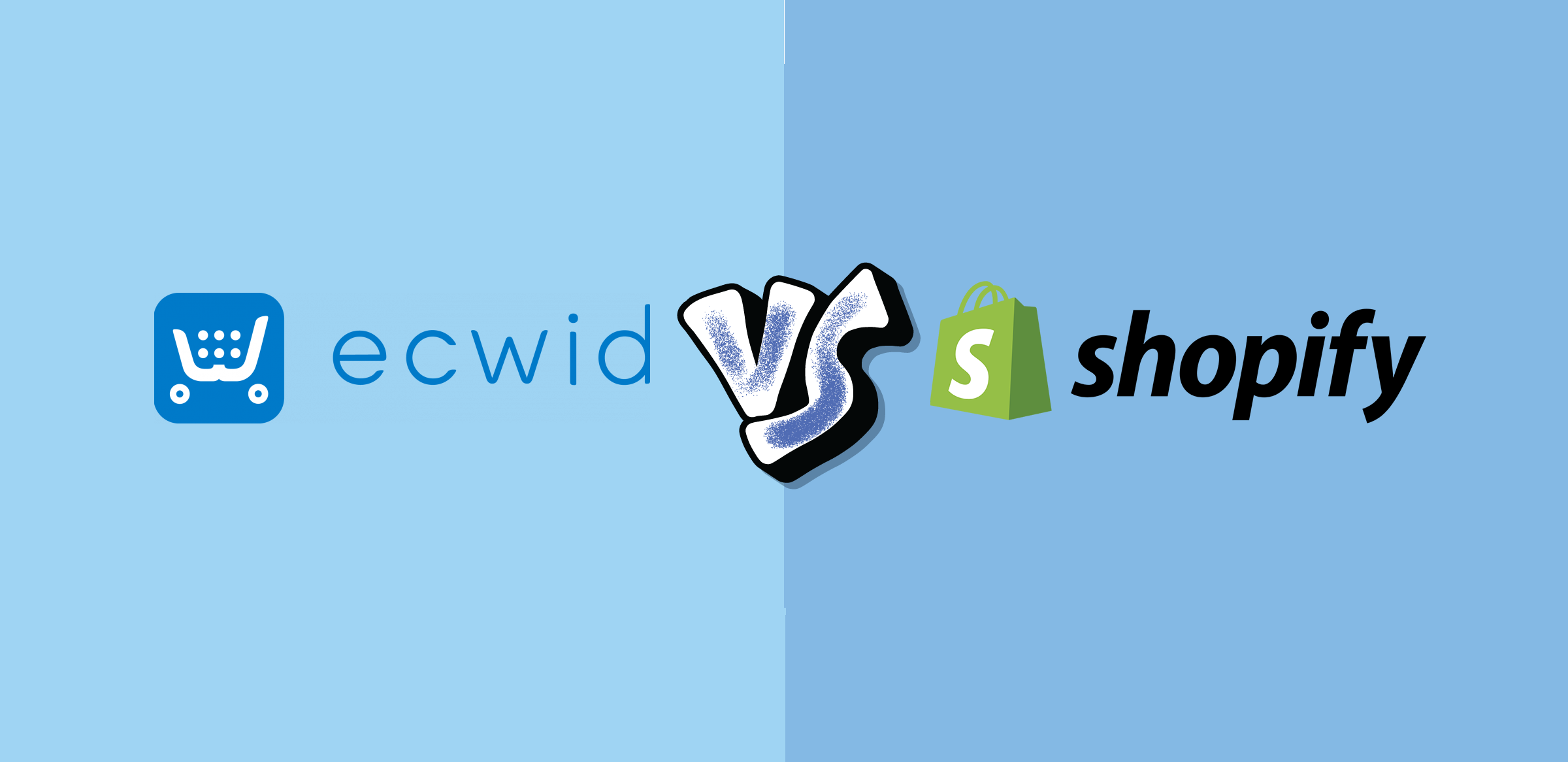 Here are some dissimilarities between Ecwid and Shopify:
Ecwid is an eCommerce extension offering services for users to switch from a typical site into an online storefront. Meanwhile, Shopify is just an eCommerce platform having a closed system that enables you to create a new online store from the beginning and even before hosting it on the platform.

Ecwid focuses on website owners who desire to include online selling features to their websites while Shopify is a giant in the eCommerce website building market.
Ecwid vs Wix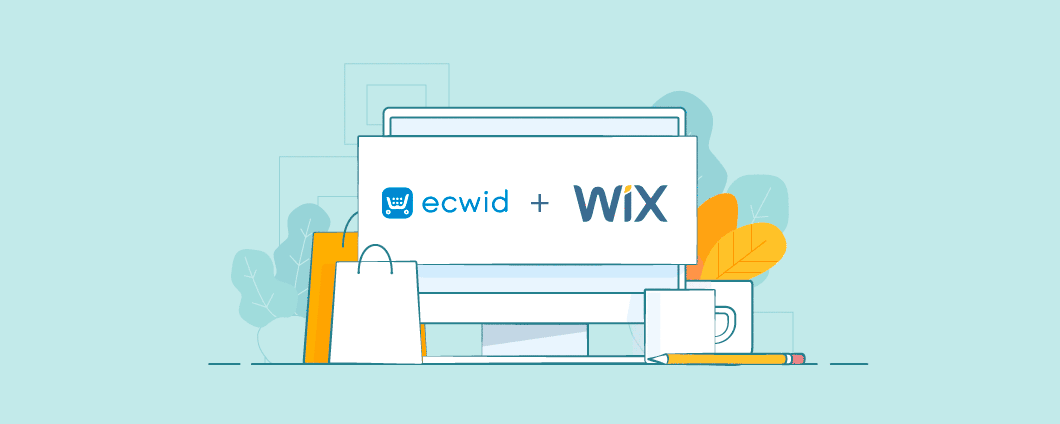 Apart from being website builders for online merchants, Ecwid and Wix seem to have no similarities.
As you know, Wix is well known as one of the best website builders on the market nowadays. Using Wix, users are allowed to customize and build up their own websites and continue to host them on the platform since they are provided with online selling extensions.
On the other hand, Ecwid works by letting its users add an online store to an existing one. So, Ecwid users already have their own websites before. Wix is a website builder offering some eCommerce integrations while Ecwid is a real eCommerce solution that focuses on helping online merchants.
Who is Ecwid for?
The review above has revealed that Ecwid is a powerful eCommerce solution that is not weaker than any giants in the markets when it comes to key features. All in all, Ecwid is the right solution for you in the following cases:
If you are looking for an eCommerce solution that is cheaper than others and has enough advanced features. Ecwid has them all with affordable pricing plans and impressive tools like attaching files to orders, selling customizable products, and more.
If you want a cheap but effective SEO solution. Other rivals with brilliant tools for solving SEO issues tend to be out-of-budget. Instead, Ecwid is one of the cheapest solutions with URL improvements helping users get their stores indexed in Google. This platform has now corrected its weak points in terms of SEO features so Ecwid is worth your money.
If you already have an existing website that is successful with a large amount of traffic and that you want to switch them directly to your eCommerce pages.
If you are looking for a plug-in for existing websites, not a standalone online site builder.
Related posts:
Final Thoughts
In general, Ecwid has the same functionality when it comes to eCommerce and it is worth trying thanks to the cheap price and effective features. Though there are many similar platforms that you can rely on, Ecwid is one that allows you to add eCommerce functionality to an existing site or to place an online shop on a social media channel. Moreover, the thing is that Ecwid makes it easy to add any website.
There're hardly any platforms that offer generous free plans as Ecwid does. Without paying any fee, users can add any type of website and even drop shipping features to platforms that do not provide it. Despite having some minor minus points, Ecwid is worth your money if you are looking for an eCommerce solution with the necessary tools and reasonable pricing plans. Remember to give it a try before making an official purchase.
Hopefully, this post is useful and helps you find out if Ecwid is the right platform for your business or not. If you like our post, remember to share it with your friends and visit our site for more.
New Posts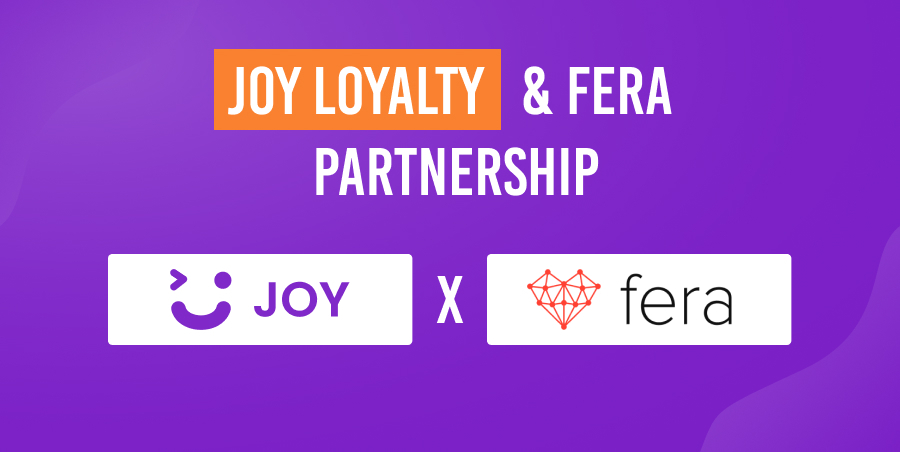 Subscribe
Stay in the know
Get special offers on the latest news from AVADA.
40k
subscribers has been joined!
Earn $10 in reward now!