11+ Best Social Media Marketing Agencies to Kickstart
Have you ever run a social media marketing campaign for your own brand? If you have, you would probably say it is not an easy task. Although social media is a powerful tool for new-age entrepreneurs, it is still a dynamic and complex platform that not many can get the hang of. With a finite marketing budget, it is understandable to spend it carefully on social media experts - who are in social media marketing agencies.
If you lack the time or skill to operate your company's social media marketing, working with agencies is an efficient way to perform audits, spy competitors, and connect with customers or potential clients. Through expertise tactics in Facebook Ads, Google Ads, SEO, Affiliate marketing, Influencers, PR, etc. agencies can help unlock your brand's growth potential.
So if you are looking for social media marketing agencies to kickstart your business, this article is for you. We are going to see what an agency is, how you can select a partner, and which are the top social media marketing agencies on the market. Let's get started!
What is a social media marketing agency?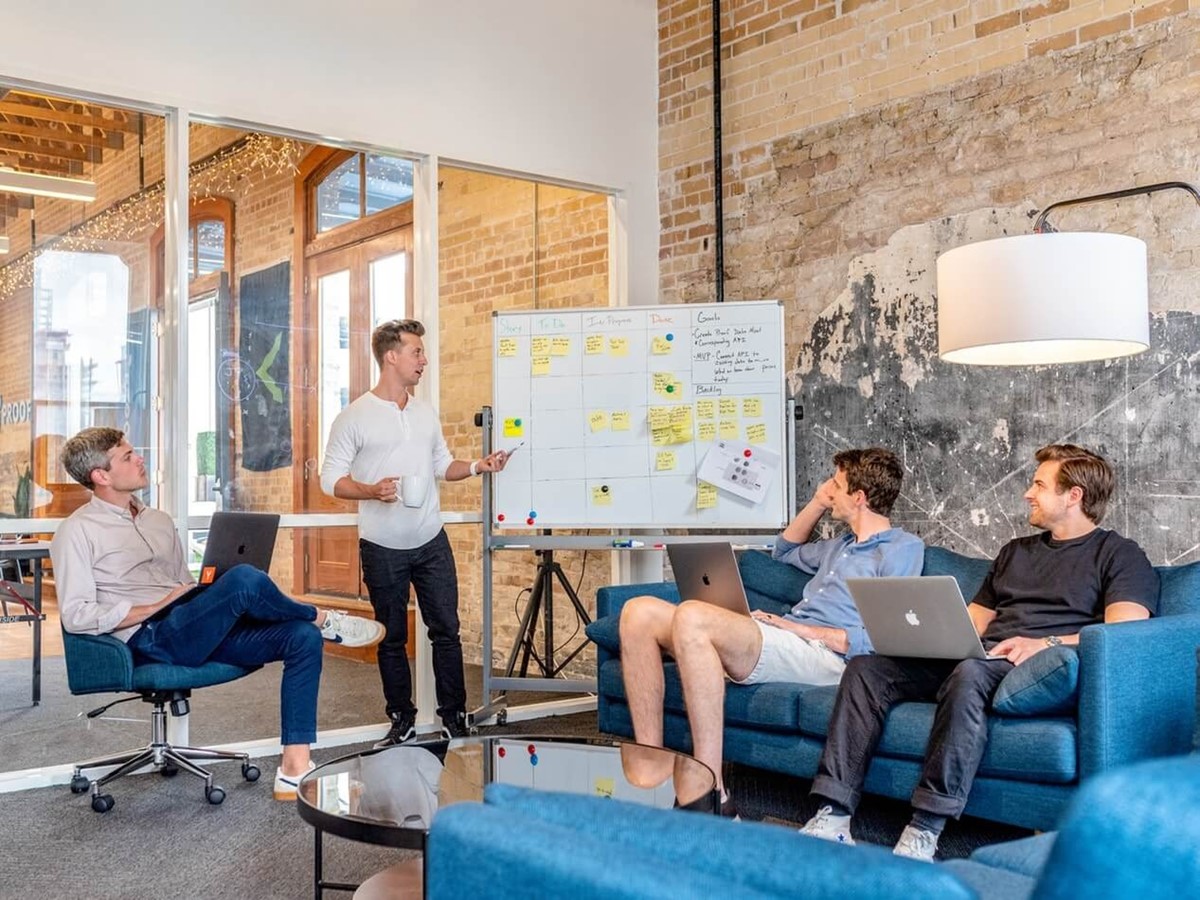 Marketing agencies have been around for a long time, since the days of Ogilvy in the 1960s. But social media marketing has just raised recently with platforms like Facebook, Instagram, Twitter, Pinterest, and more. Attracting and interesting, these platforms have gained a massive number of users - including many brand's customers or prospects.
And just like any agency, social media marketing agencies have field experts who can do magic that no one else can. Acting as a management and guidance center to approach social platforms, these agencies can simplify and improve the interactions between a company and its customers on social media.
Simply put, agencies can run social media marketing campaigns and provide knowledge that your in-house team is simply incapable of. And that is totally fine, your team may already have a handful of tasks and can't have the required expertise. And that expertise is what is worth your money.
Here are some benefits of hiring a social media marketing agency:
They know what they are doing and which is the best for your campaigns. You won't have to spend time training or experimenting like an in-house team.
They have access to top-tier tools and analytics to help manage your campaigns and produce results faster.
They can perform social audits to give your insight and a strategy specifically for your brand.
They can run multiple campaigns at once so your team can get more done.
They will spend your budget wisely to target the right audience and gain more profit.
They can spy on your competitors and find ways to improve your social presence.
They can elevate your team's social media marketing skills through collaboration.
Rather than stumbling through a rough phase of trial and error, your company can immediately gain results with the help of social media marketing agencies. Companies both big and small can work with agencies of according sizes and budgets. So the question is: Do you need one?
Some more questions can bring you the answers:
Are you struggling to grow your social followers or engagement rate?
Do you need a new perspective and expertise to define your social media goals or strategy?
Do you see a clear and definable ROI for your social media effort?
Can you know if you are spending too much money or not on social media marketing?
Do you have a budget for social media marketing but don't know how to maximize it?
If you say "yes" to any of the above, then you definitely should think about hiring a social media marketing agency. Next, let's see how you can find your right social media cavalry.
How to pick a good social media marketing agency?
At this point, let's say you are trying to choose between a list of social media agencies and wonder which to choose. Here are some major points you should consider before coming to a decision.
Digging into the company's experience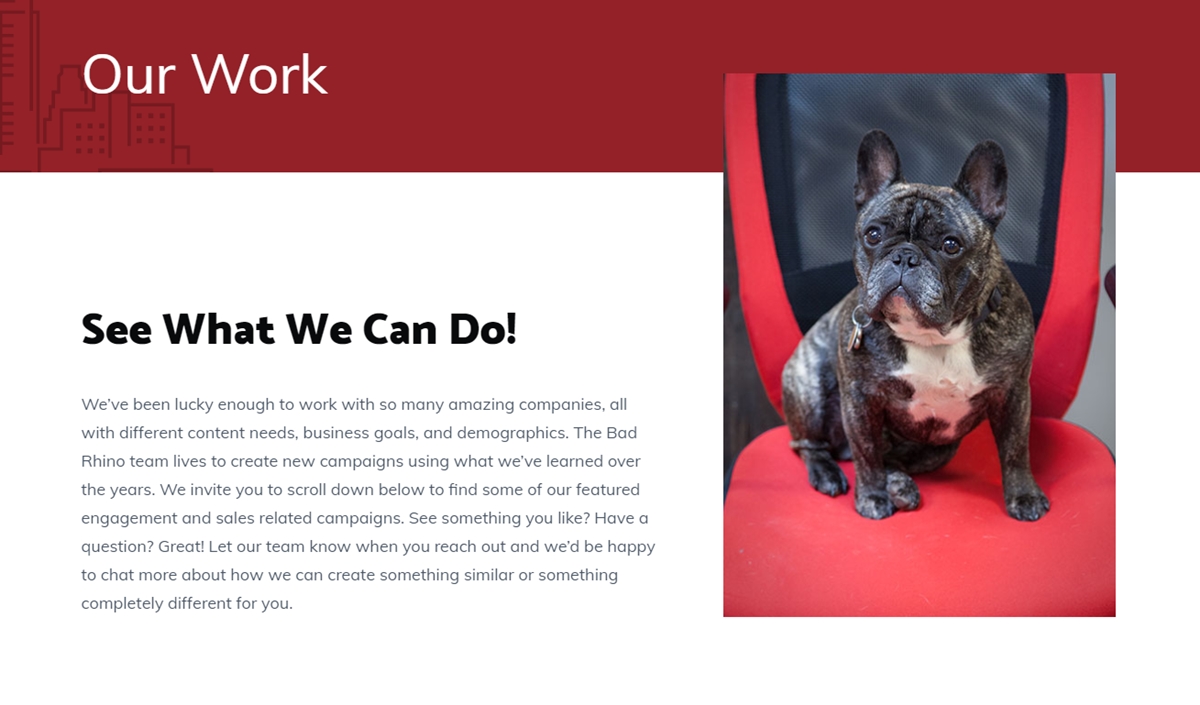 If you want to know what an agency is capable of, look at their past work. When you visit a social media agency's website, there is often a portfolio section with proven client results that you can check out. Or you can contact them to receive the portfolio by email.
See if their clients mirror your business or problems? What numbers are they boasting and how can they back them up? What type of company do they primarily work with?
This information can help you understand the capabilities of social media marketing agencies and how they can produce results for your business. Also, you will know if they actually have experience in your industry and if they would like to work with a business of your company's size. It is about fitting the best, not just considered the best by the mass.
For example: if you are in eCommerce and have fashion products, you would not want to work with agencies specializing in real estate. An agency that has experience in the fashion industry would automatically understand the complexities and problems of your business. Then you will have an easier time running your campaign.
Because that is why you want an agency in the first place, saving time by not managing every single element of your social media marketing by yourself. When you select the agencies that have suitable experience, you can address your company's desires and ask for a proposal for solutions.
If the agency actively tries to understand your objectives, has a proposal that makes sense, and delivers relevant details, you should definitely consider them. After comparing apples to apples, you can consider the price point.
Understand their pricing model and your budget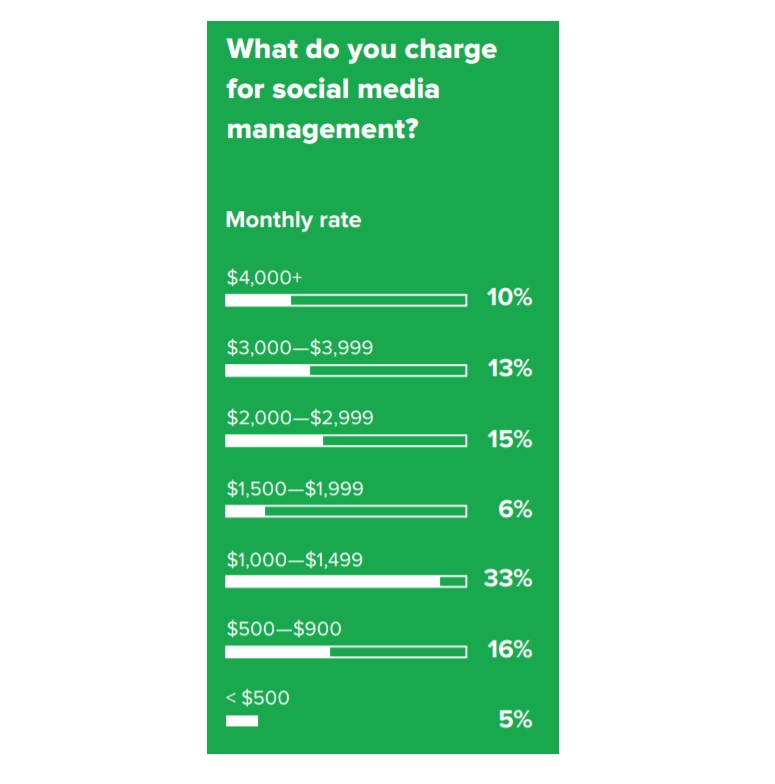 Now, you need to make sure that you can realistically afford that agency. Like I said, there is a wide array of pricing based on the agency size, your specific needs, and services. Some agencies package their services and some offer pricing based on your audience size.
Basically, there are three basic pricing models that agencies often offer:
Ad spend pricing model: The agency charges clients based on total ad spend budget. This often comes with an extra fee for management and adjustment to reach the best result.
Fixed fee pricing model: The agency charges clients with a fixed rate for certain services. The fee only changes if you want more or less services.
Hybrid pricing model: The agency charges clients both fixed and variable pricing. This means they have a fixed rate for service, but if additional audience or service is required, more fee will be added.
To keep pricing transparent and avoid getting extra charged, make sure that you fully understand the pricing model that an agency proposes. If your budget is tight, the best approach is to use a fixed fee pricing model, so you know exactly what to expect as the result. If you have some more money to see the best result possible, you can choose other models. But you should still closely evaluate the total cost for the best financial decision.
Evaluate their specialties and talents
Just like your industry has experts, agencies can have the same people. Or fraud people who claim to know it all, who we definitely would want to avoid. Which is why even though an agency may have experience in your industry, you should still find out what actual specialties they have and the talents that work for them.
To evaluate this, you should look at the people who are going to do the work for your campaign. How they develop the strategy, how they will communicate, how they manage the project. The more specialized a social media marketing agency's talents are, the better chance you have for a great result.
Sometimes, agencies may have secondary services such as SEO or content marketing. This may sound ideal for your marketing campaigns, but it may hint that they are not specialized in a certain area as well. For best results, each individual of the agency should have specific talent to deliver high value.
If the agency doesn't have required resources, ask them if they can hire specialists from other companies to achieve favorable outcomes. But the best approach is to hire an agency that has talents to do what they promise. If you want to have greater control over the result, you can require an in-house team from the agency to work at your company. This can bring better communication and coaching for your marketing team too.
In conclusion, if you are looking for social media marketing agencies, communicate your expectations clearly to find the right people. An agency is not a miracle worker that can deliver any results that you want, and if they promise that, you probably should not trust them. It is a mutual relationship that can not only form the success of a campaign, but also of both businesses. So you should treat it as such.
11 best social media marketing agencies
With an open-minded attitude and clear marketing goals in mind, it is time to look at the best social media marketing agencies to kickstart your company's success on social media.
1. AMP Agency - world-famous marketing agency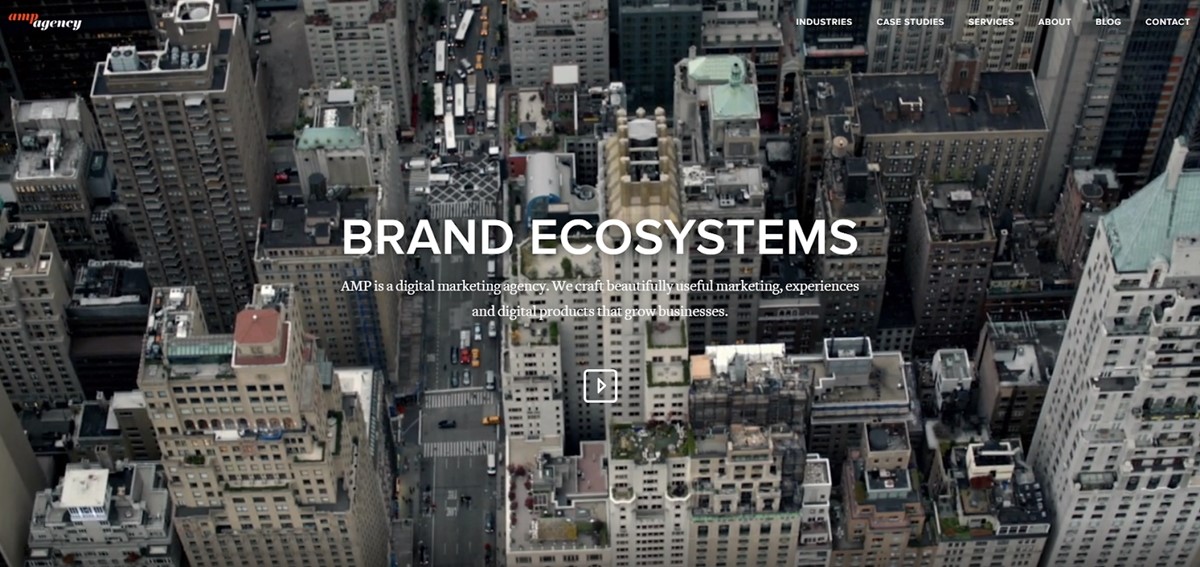 AMP Agency is a full service digital marketing agency. They specialize in marketing strategies with talents in Mobile and web social media, paid search, Integrated media, Experiential digital products, Analytics, SEO, and Paid social media. They have five branches across the United States, including one in the exciting marketing capital of New York.
Their long line of customers is impressive. You can see all the big and familiar names such as Lenovo, Xbox, Asus, Adobe, 2K, Disney, Nike, Levi's, Activision, Honda, Puma, Maybelline. AMP Agency has a different marketing approach for each business individually, which may explain their diverse customer groups. They do have a bigger mark in the gaming industry, though.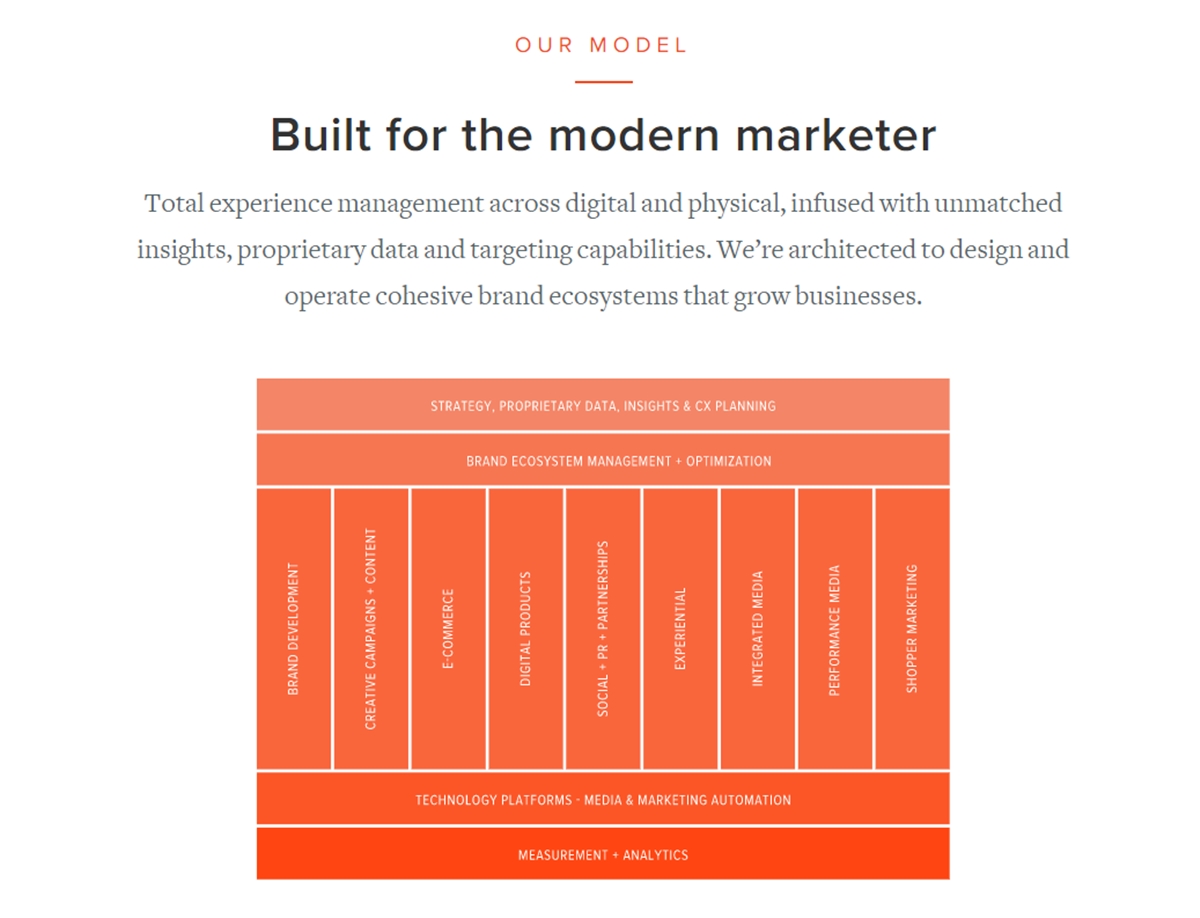 Built for modern marketers, AMP Agency promises to provide management across digital and physical, infused with deep insights and targeting capabilities. You can see their full working model in a single picture in the image above.
2. Klient Boost - Intelligent digital advertising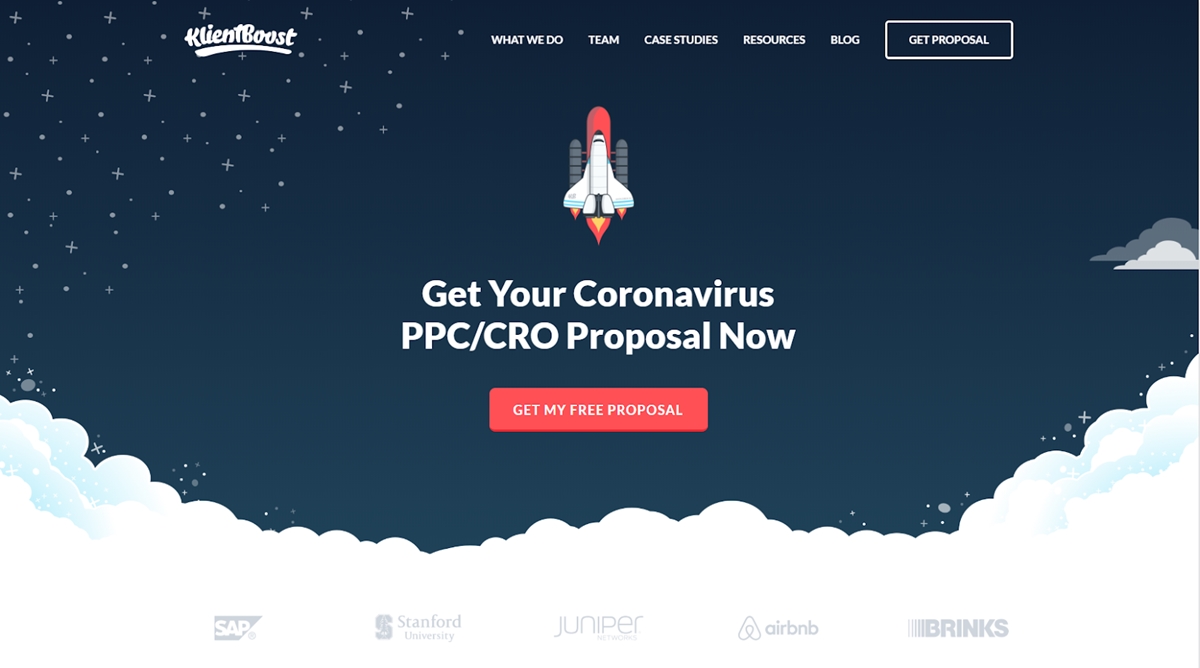 KlientBoost helps companies deliver their messages through intelligent creative conversion rate optimization and digital advertising. They divide their services into three main groups: Pay-Per-Click (PPC), Conversion, and Design. Much of this work also optimizes their clients' social media presence.
One area that KlientBoost is sure to help any business is social advertising. They can run effective campaigns on Facebook, Twitter, and LinkedIn, and custom landing pages are used to assist PPC ads. With dedication in testing ads and landing pages, their advertising has good results at a quicker rate and saves the budget.
Their clients include Airbnb, AdEspresso, SAP, ShipStation, and more. Clients get a custom dashboard to track PPC channels and track the ROI (Return On Investment) rate, which are formally updated every Monday. The agency website is a trusted resource for social media marketing too with a ton of free resources and blog posts for beginners or experienced ones.
3. PBJ Marketing - full-service digital marketing

Based in New York and Washington, PBJ Marketing is a full-service social media marketing agency that offers services in paid media, brand strategy, website design, digital marketing, social media advertising. They strive to be seen as wise counsel for their clients, who can provide in-depth business conversations, guidance, and advice.
Their social media marketing strategies have a strategic and data-driven approach to have targets, messages, and KPIs tailored to a brand's objectives. They focus the expertise round Facebook ads, Instagram ads, Twitter ads, Paid media, SEO, eCommerce marketing. PBJ aims to craft campaigns that deliver the right message to relevant audiences with conversion-focused targeting.
Their success stories lie in many customers over various fields. For example: They made 600,000 impressions for Czech Tourism, gained 200$ increase in Ad clicks for Yale Medicine, or increased 500% monthly organic traffic for astrology site Astro Style. Taking a glance at their customers, I could see many names in the Health & Medical section, though.
4. Social Media 55 - digital marketing and management

Describe themselves as a digital marketing and social media management agency, Social Media 55 is an expert at nano-targeting digital marketing to deliver stellar results for clients. They also partner with Shopify partners and Upcity, so eCommerce companies have more options for services.
Social Media 55 soon recognized the power of social media in 2014 and has delivered results with some awards between 2018 and 2019. Their solutions are tailored to any size business and are designed to maximize the clients' ability to connect with the target audience.
Their services for social media marketing included: Social media management, Social media advertising, Influencer marketing, and Social platforms marketing. If you are looking for one of the best social media marketing agencies, Social Media 55 is definitely on the list.
5. Firebelly Marketing - social media all services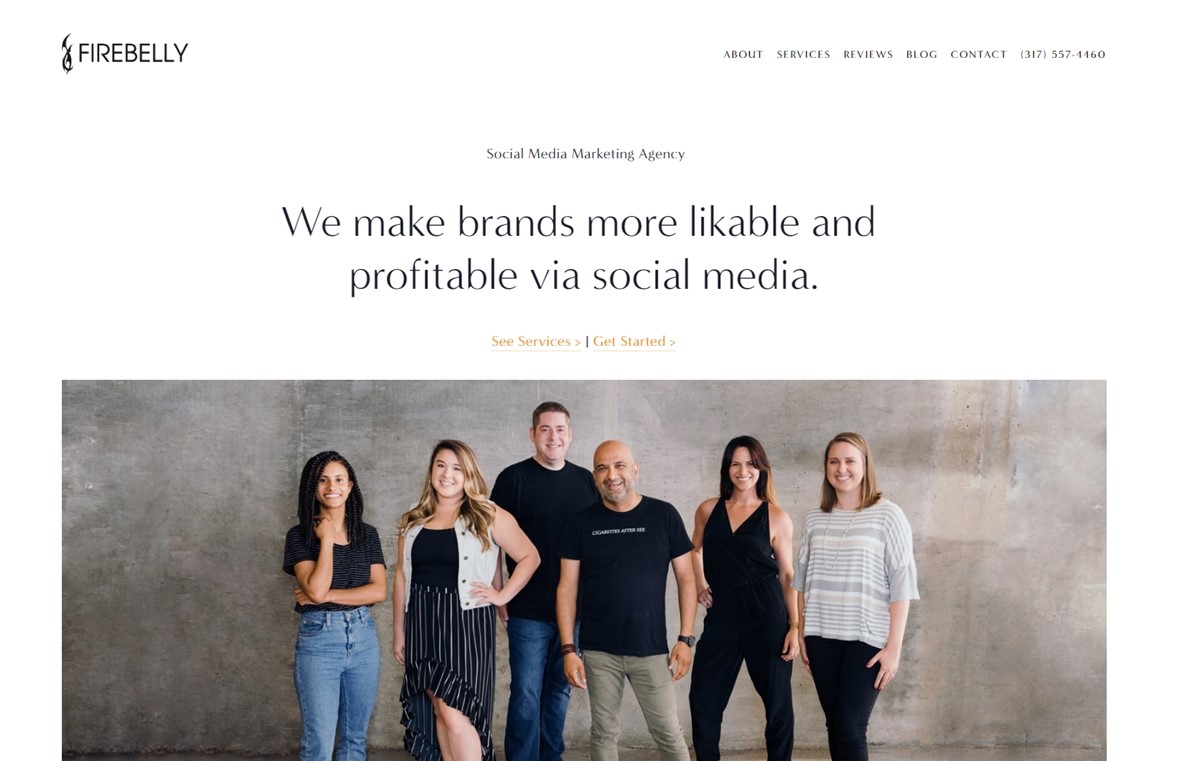 Based in Indianapolis, Firebelly Marketing started their journey in 2007 and has since worked for hundreds of clients across industries, elevating their social media status to towering heights. In their own words, the agency was formed with the core mission of making brands more likable and profitable via social media, and their success of the missions seem to prove that.
Firebelly Marketing also received status in the agency world with awards from Clutch, Cultivate, Shorty, The Communicator, and more. Their service is a great step toward understanding what you need to do with your social accounts, which includes:
Content creation and publishing,
Insights and reporting
Community management
All the well-known social accounts can be managed such as Facebook, Twitter, Instagram, LinkedIn, Snapchat, and Pinterest. In fact, they have successfully managed over $1 million in social media ad spend for their clients. With a centric target to grow the client's audience, traffic, engagement, and sales, Firebelly Marketing can daily monitor social accounts to have frequent reports and recommendations.
6. Disruptive Advertising - Facebook and LinkedIn ads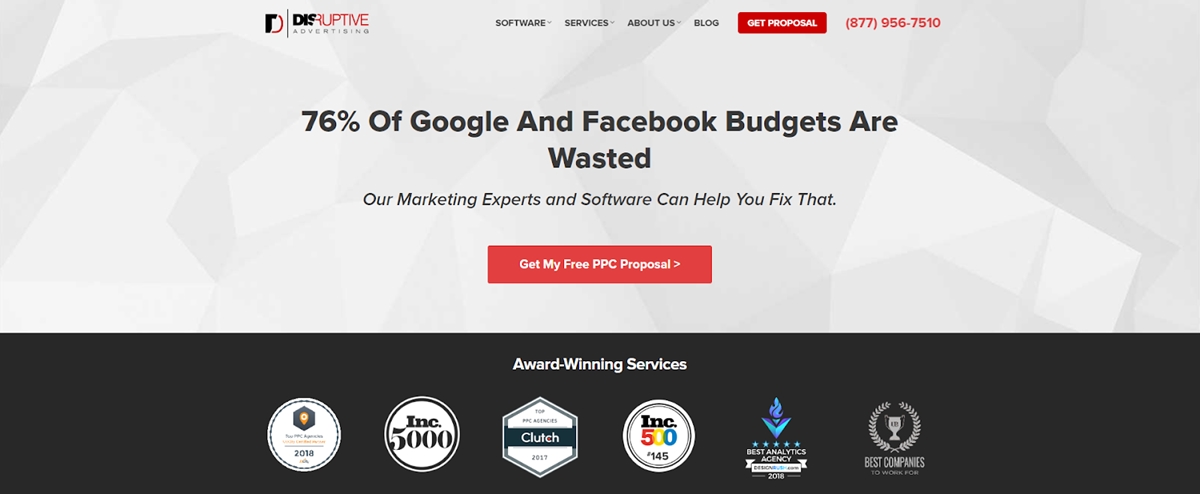 Disruptive Advertising is a social media marketing agency from Lindon, Utah, and was founded in 2012 under the name of FoundROI. Since then, they have been a rising star in the world of digital marketing agencies with multiple awards to prove their name. Their work mantra focuses on a result-based relationship with clients to provide the best result.
In terms of social media marketing, they have primary focus in PPC, Facebook, and LinkedIn ads. To maximize returns, all campaigns are optimized every week and aimed to achieve the highest yield with lowest cost possible. They claim to have experts and softwares to stop wasting 76% of Google and Facebook budgets.
Over 8 years with many clients, the team at Disruptive Advertising is highly praised for being precis, powerful, and cost effective. The marketing solutions proved to yield results in a short period of time and are sustainable over the years for brands. So if you are looking for one of the best social media marketing agencies to run your Facebook or LinkedIn account, find Disruptive Advertising.
7. Social Hire - specialist social media agency

What is a specialist social media agency you may ask? Well, Social Hire specializes in social media services tailored to recruitment teams, smaller businesses, consulting firms, and mortgage brokers with transparent pricing plans, which is why. They can help grow the brand's organic reach on social media with ideal prospects, candidates, followers, and business partners.
They complete that by formulating a winning social media strategy for every business that they collaborate with. It seems to work apparently, since there is a dedicated page for client testimonials on their site and many 5-star ratings on Google. Social Hire offer three levels of services:
Pro for companies that simply want to look professional on social media at £649 / $89 per month
Ultimate for companies that want to look professional on social media and grow their audience at £899 / $1149 per month
Ultimate + for companies that want to look professional, grow an audience and drive web traffic, gain candidate applications, client leads or sales at £1149 / $1499 per month
All the plans include researching relevant content, a LinkedIn company page, a Facebook fan page, sharing content on Twitter, and Google My Business. The higher plans have more services for social media advertising, following active users, endorsements and promotion, 24-hour social presence, influencer marketing, hosting a webinar, additional training, and more.
8. Max Audience - innovative social media solutions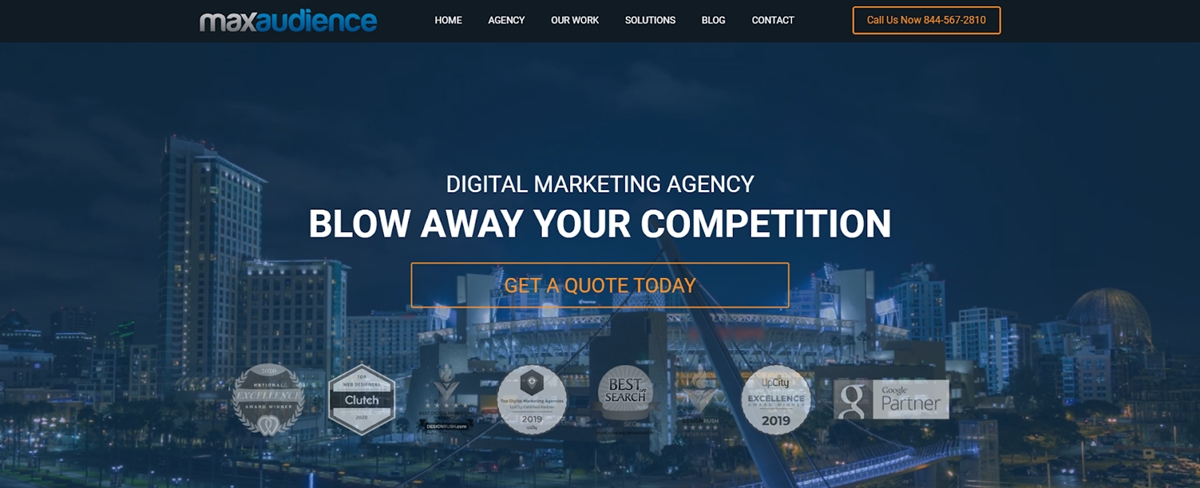 Let's go to the West Coast with Max Audience - an innovative social media marketing agency based in San Diego, California. They started their journey in 2011 and since then has worked with Intel, GM MasterCard, Lending Tree, Quicken, and more. Having over 700 clients in the portfolio, the agency is sure to promise credibility and competence.
Max Audience can offer innovative marketing approaches with database marketing, unique creativity, inbound marketing, and analytics. In a fast-moving age, this strategy brings the best of all marketing technologies to create the maximum impact in minimum time, while saving the budget as a consequence.
The downside is that Max Audience tends to focus only on San Diego county, which may be tricky to work with. But if you are in the region, the agency is a great choice to capitalize on your brand's USP while maximizing the audience on social media.
9. LYFE Marketing - full social media management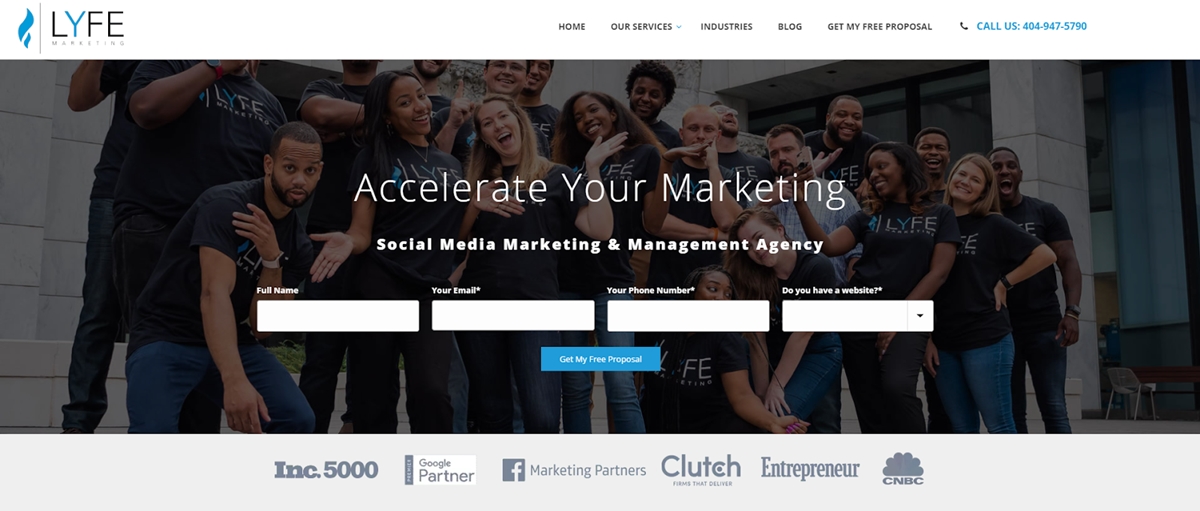 Since 2011, LYFE Marketing already managed over 2,000 social media marketing campaigns. They create and manage top-performing campaigns for clients on major social media channels like Facebook, Twitter, LinkedIn, Instagram, and Pinterest. The company claims to have driven over 980,000 leads for their clients through digital marketing.
Their services include social media, search engine optimization, and website design. There are eight services sections on their website with transparent management pricing, which are:
Social Media Management
Social Media Advertising
Search Engine Optimization
Website Design
PPC Management
Email Marketing
Content Marketing
Consultation (Online and Offline)
LYFE Marketing's solutions are tailored to each client they work with and the industries that they have experience are various too. Just a glance, I can already name a ton like eCommerce, B2B, Financial, Healthcare, Real Estate, Fitness, Nonprofits, and more. A strict five-step social marketing process is applied to gain success:
Assign your account a dedicated social media manager.
Develop a social media strategy that suits your business
Deploy advertisements and content and calendars
Growth optimization and frequent maintenance
Reporting and communication
So if you are looking for a top social media marketing agency to manage your social efforts, give LYFE Marketing a call or email!
10. Bad-Rhino - customized social media marketing
Bad-Rhino has a cool name and their social media marketing service is just cool as well. They focus on providing measurable results customized solutions for clients. Their clients are unique and they take great pride in what they have accomplished.
There is a detailed social media process which includes:
Social media audit
Create content for approval
Community building
Strategy evolution
Identify core strategies
Implementation
Frequent Analytics
The strategies created and implemented are tailored to clients to find the best fit channels and produce amazing content. Bad-Rhino believes that if we use social media marketing, we are using the most cost effective form of advertising nowadays. An ad specialist is responsible for everything related to ads - copy, headlines, images, and running. With daily monitoring, your social media campaign is promised to keep having positive results.
11. SociallyIn - smart social media marketing strategies

Last but definitely not least, we have SociallyIn - a well-known social media marketing agency based in Birmingham, Alabama. Founded in 2011, SociallyIn is determined to give every client the best social media presence and help them achieve success by adopting smart marketing strategies.
Their services are result driven and revolve around social strategy, paid social advertising, community management, content production, influencer marketing, and more. These services are split into four categories Creative & Production, Community Management, Social Paid Advertising, and Social Media Strategy.
Through nine years, they have powered the brand presence for big names such as Toyota, Dick's Sporting Goods, UMI, A3C, and the like. In the field of social media marketing agencies, SociallyIn is known and trusted by a wide array of clients operating in different industries with many scales.
Dedicated to the growth of businesses through technology and creativity, SociallyIn provides a consistent study and deep understanding of digital marketing to serve clients in the best manner. On-time and budget-specific results are a promise, and the goals achieved proves that they live up to the expectations of clients as one of the best social media marketing agencies.
Final words
Social media is a blessing and a burden for new-age entrepreneurs as well as internet marketers because the power it provides is hard to grasp. Therefore, it is not surprising that businesses look for the savviest digital nomad to do the job they can't do by themselves. This short list of eleven social media marketing agencies can help you find the experts your business badly needs.
Have you found yourself a favorable name to collaborate with? Remember that it is a relationship that not only can earn social media results but also benefit your marketing team with new experiences, so keep an open mind to learn new insights about your brand. If you have any other name, leave them in the comments section below. And as always, best of luck on your eCommerce journey!
New Posts
Stay in the know
Get special offers on the latest news from AVADA.