10+ Best Shopify Laptop Themes 2023
Are you looking for Shopify Laptop Themes? You are in the right place! 10+ Best Shopify Laptop Themes have been reviewed and manually picked up by our AVADA Commerce team from website, marketplace such as: Themeforest, Shopify Themes or TemplateMonster. Laptop Themes have been collected based on the following criteria: number of sales, reviews, ratings and social metrics. The best Laptop themes collection is ranked and updated in September 2023.
Laptop Themes for Shopify
Here is a list of best Laptop themes for shopify:
Kalles - Laptop theme by The4
Theme features
Very fast loading speed
Support 3D and video thumbnail
Clean and responsive design
30+ demos
Super flexible
Whatever you're selling, Kalles is the only Shopify theme you'll need to create a powerful online store that will give your customers smooth and seamless shopping experience. Modern design, minimalist feel, and a range of special demos, Kalles is designed for an array of different online retailers. Display your products in style and make it easy for your customers to browse, choose and purchase
More Info / Download Theme Demo
---
Computers - Laptop theme by Jetimpex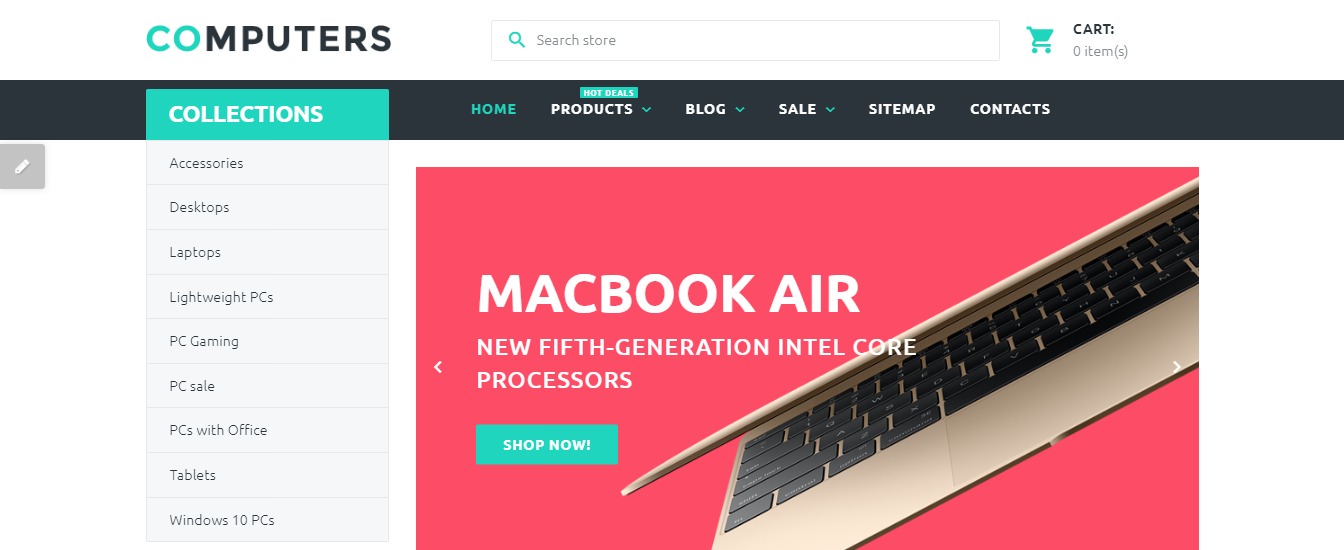 Theme features
MegaMenu
Theme Color Switcher
Slider
Mega Menu
Google Map
Selling tech products requires not only the eye-catching layouts but also the professional functionalities. Therefore, the store owners of every computer online shop are always looking for an outstanding Shopify Theme and Computer Store Shopify Theme is absolutely what they need. With the flat design flat-design, the customers will be impressed and feel convenient to go shopping in your store. Moreover, this theme includes many helpful features such as content-intensive layout with intuitive navigation. Furthermore, Computer Store theme also brings about two menus - a sidebar category list and a sticky mega menu with labels, which help admins easily apply discounts to their products, display featured offers on the homepage, so it can boost your sales by implementing cross-selling and upselling.
More Info / Download Theme Demo
---
Digital World - Laptop theme by Tadatheme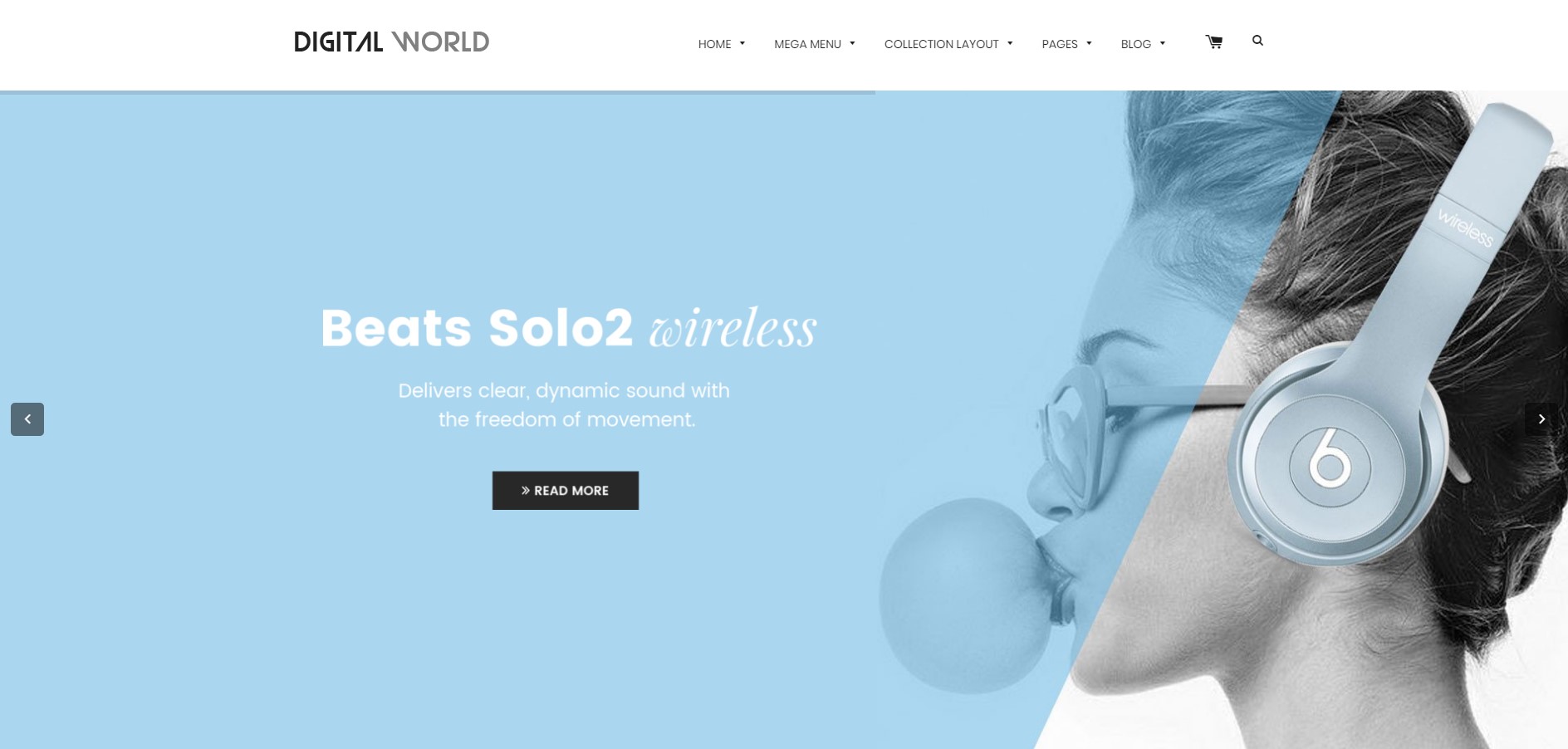 Theme features
Include 10+ homepages
Unique and modern design
Fully responsive and retina support
Support Google fonts
Easily drag and drop sections
Unrestricted colors
Include advanced filter
Digital World is a beautiful and luxurious design. This is a sample for Shopify stores and is compatible with any device. It can cater to every store such as fashion, furniture, flowers, watches, apparel, clothing, jewelry, cosmetics etc. This theme comes with a lot of advanced and modern features that bring great success to your e-commerce business. Beside that, this topic is very easy to use and customizable. You can use it even if you are a newbie.
More Info / Download Theme Demo
---
Ap Premium - Laptop theme by Apollotheme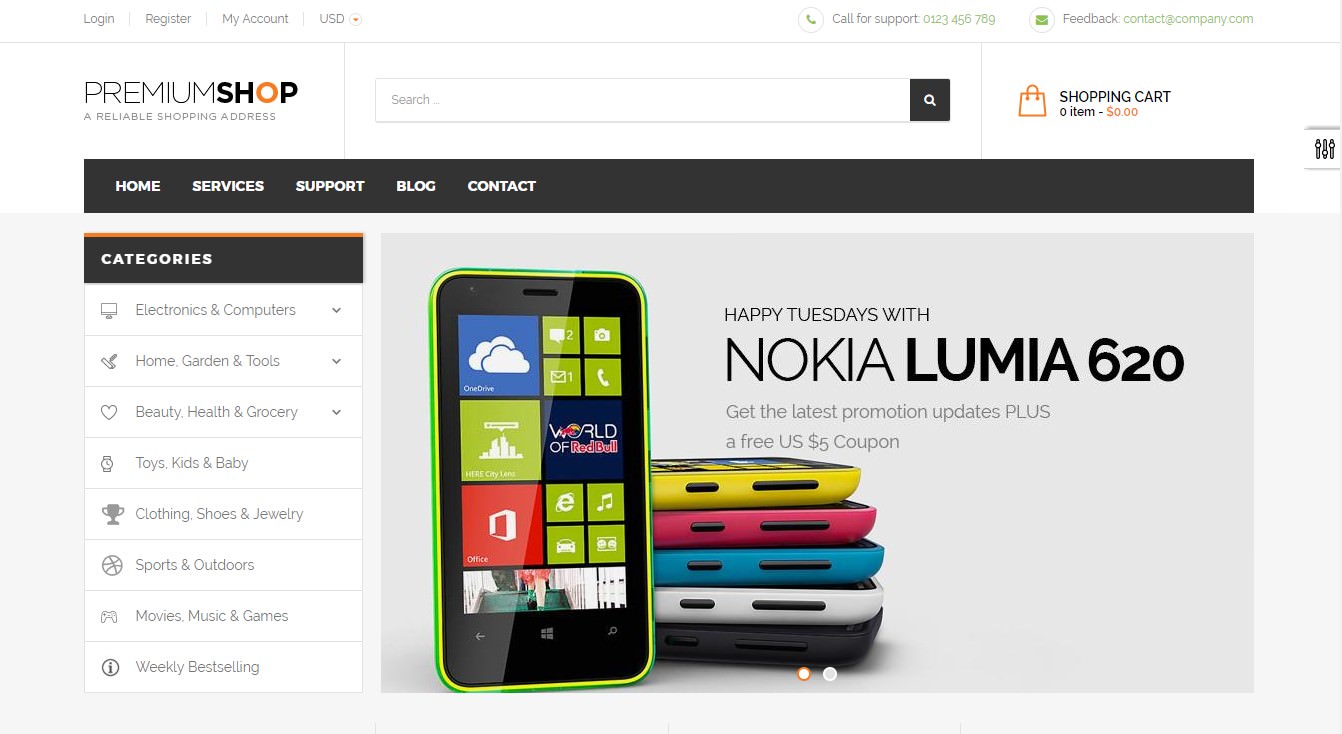 Theme features
Include 3+ homepages
One click to install
Allow searching the products quickly
Eye-catching and modern design
More wonderful modules integrated
Attractive and diverse colors
Ap Premium is an excellent Shopify theme designed exclusively for electronics, mobiles, and computers. Developed by Apollotheme, Premium Ap has a modern design, clean and eye-catching customers at first sight. In addition, Premium comes with tons of powerful modules like SEO, Ajax technology, Mega Menu, Slideshow, Blog, Layered Navigation, etc which help to improve the shopping experience for our customers. Moreover, this theme has the support of a flexible control panel. You will definitely be satisfied with what Premium Shopify theme brings!
More Info / Download Theme Demo
---
Legend - Laptop theme by Masstechnologist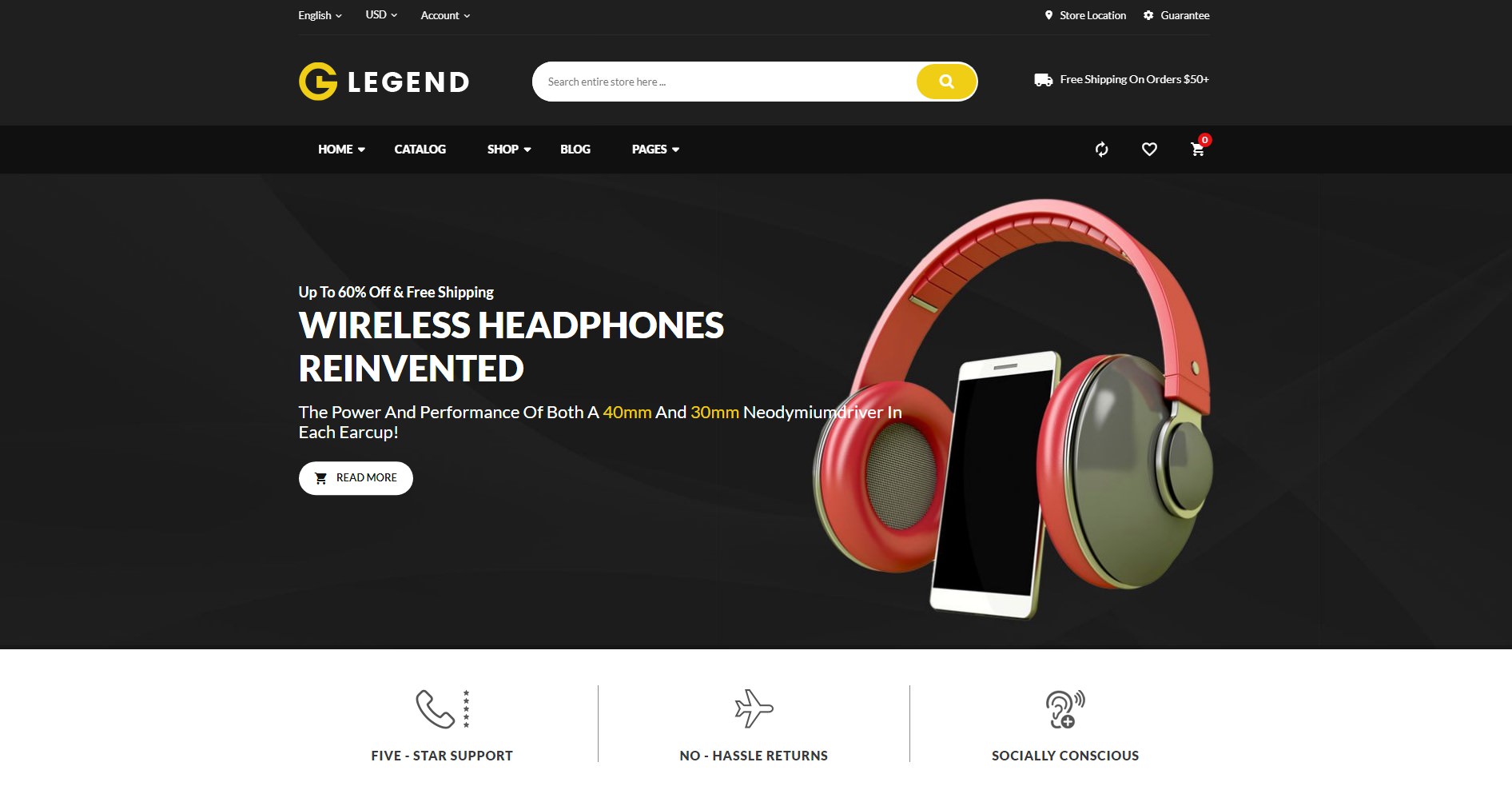 Theme features
Include 8 different layouts
Flexible Mega Menu included
Responsive layout
Grid and List view supported
Blog module included
Easily customize and install
Legend is a great Shopify theme. It includes 8 different homepage options and the most powerful modules that help your online store become the most perfect as well as make the difference to your competitors. Besides that, Legend Shopify theme includes a flexible and special control panel, it is easy to customize and install. Shop owners can easily build a shop in their style of color or home page. Do not miss this awesome opportunity, Legend Shopify theme will make you happy.
More Info / Download Theme Demo
---
Aspire - Laptop theme by Magikcommerce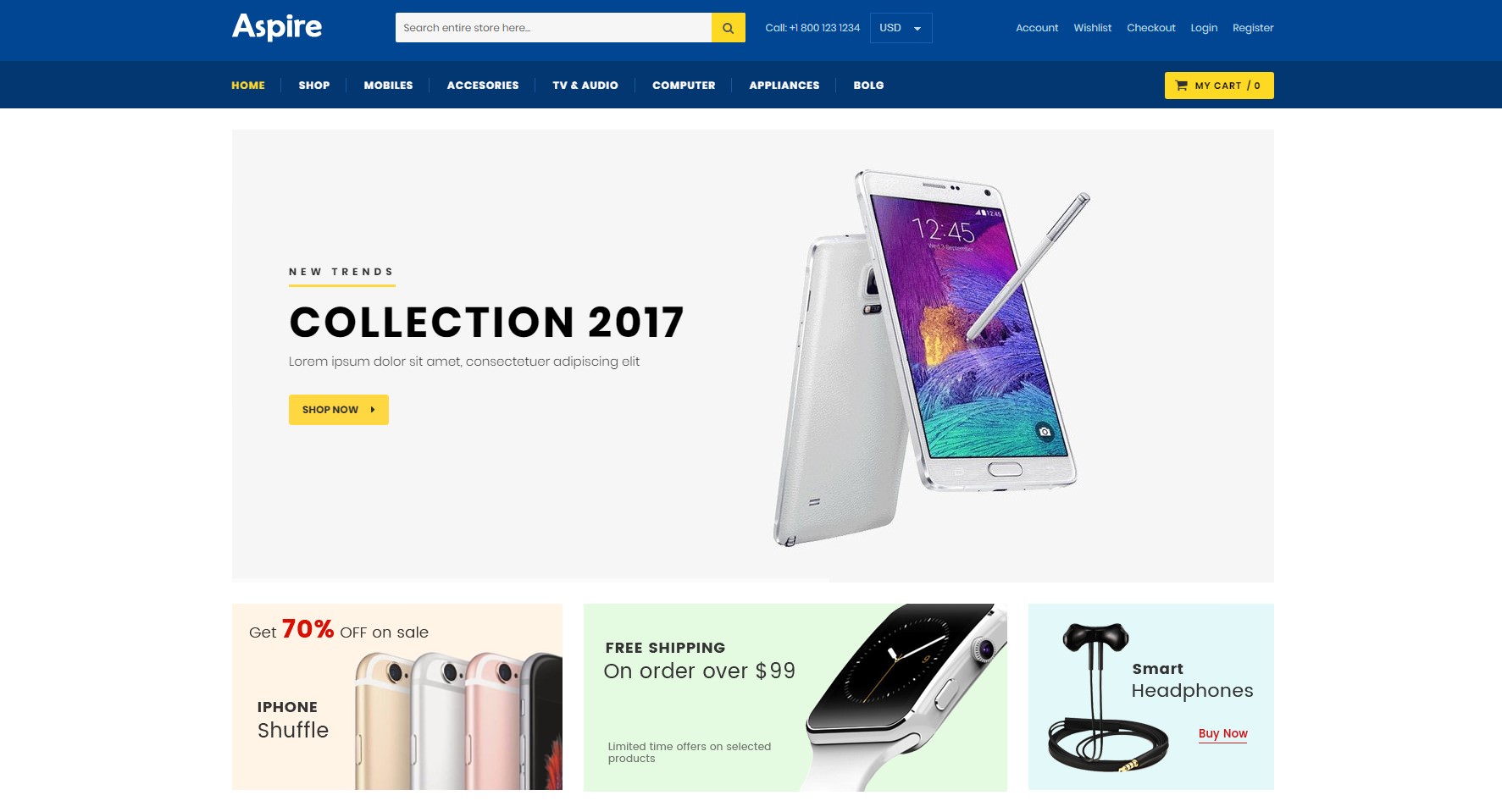 Theme features
Build on Bootstrap framework
Easy to customize
Unique and nice design
Support Blog module
Various colors
Flexible admin panel
Quickview supported
As a theme built on the Bootstrap framework, Aspire deserves a modern theme designed by the Magikcommerce team. This theme is compatible with all types of stores such as electronics, apparel, furniture, fashion, cameras, books, vegetables, etc. Aspire is a unique and eye-catching theme that attracts customers at first sight. Thanks to this, the revenues and profitability of your online store will also be greatly improved. Moreover, Aspire includes a flexible control panel that allows you to efficiently manage your store and build Shopify shop in minutes.
More Info / Download Theme Demo
---
Tote - Laptop theme by Buddhathemes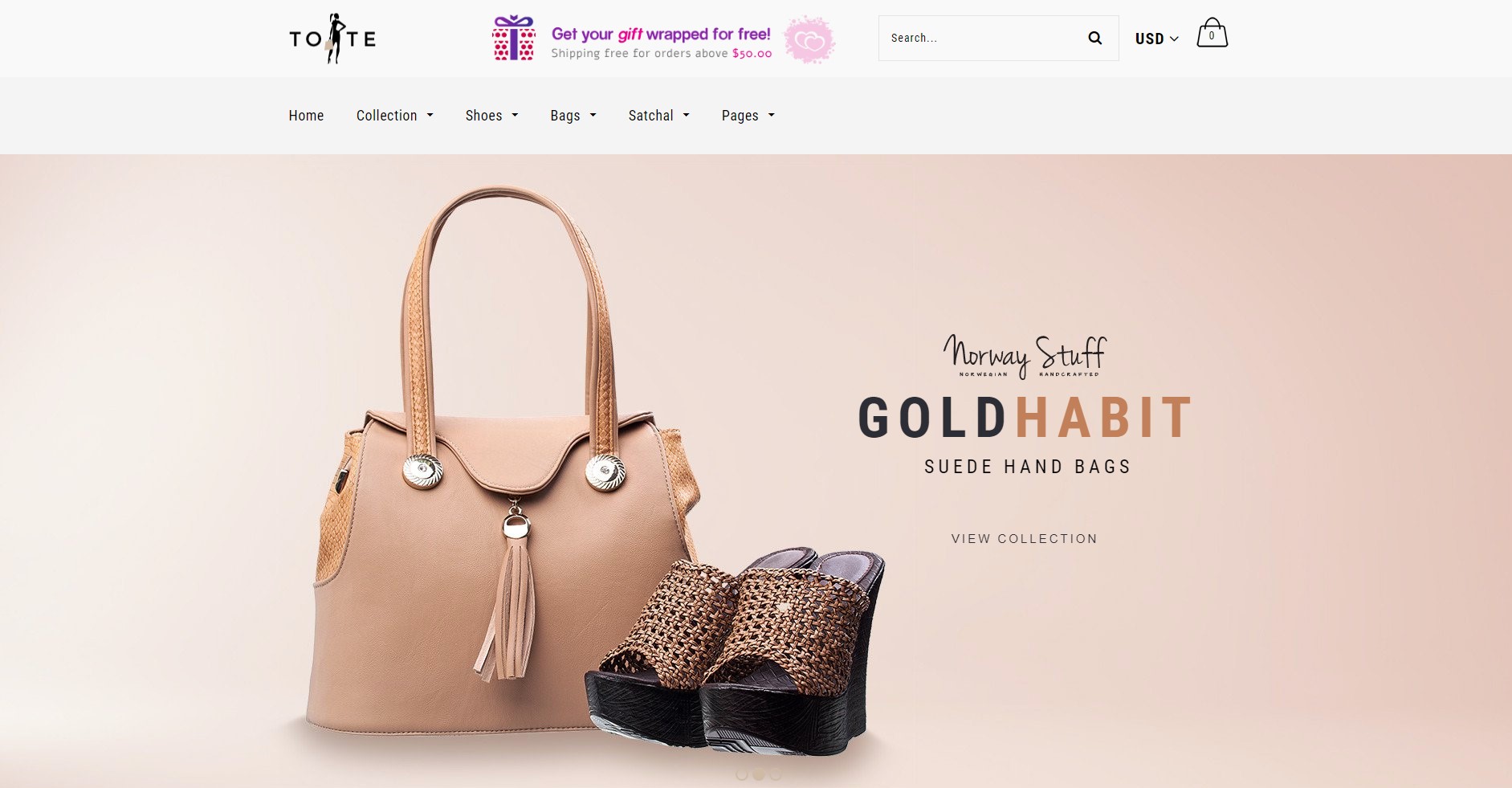 Theme features
Responsive design
Include 8 types of header and footer
Easy to drag and drop sections
Support 5 different styles of Mega Menu
Include more strong plugins
Beautiful theme
Tote is based on Sass CSS, Owl Carousel, Front Awesome and Animation. This is a clean and pleasant theme that easily stands out in the crowd. This theme is compatible with all types of stores such as fashion, apparel, watches, mobile, fruit, shoes, jewelry, etc. In addition, Tote Shopify Theme can meet all kinds of devices such as laptops, tablets, smartphones, etc. If you are looking for a theme that brings success to your business, Tote Shopify Theme is the smartest choice. Choose Tote Shopify Theme to feel.
More Info / Download Theme Demo
---
Lapras - Laptop theme by Themedeux8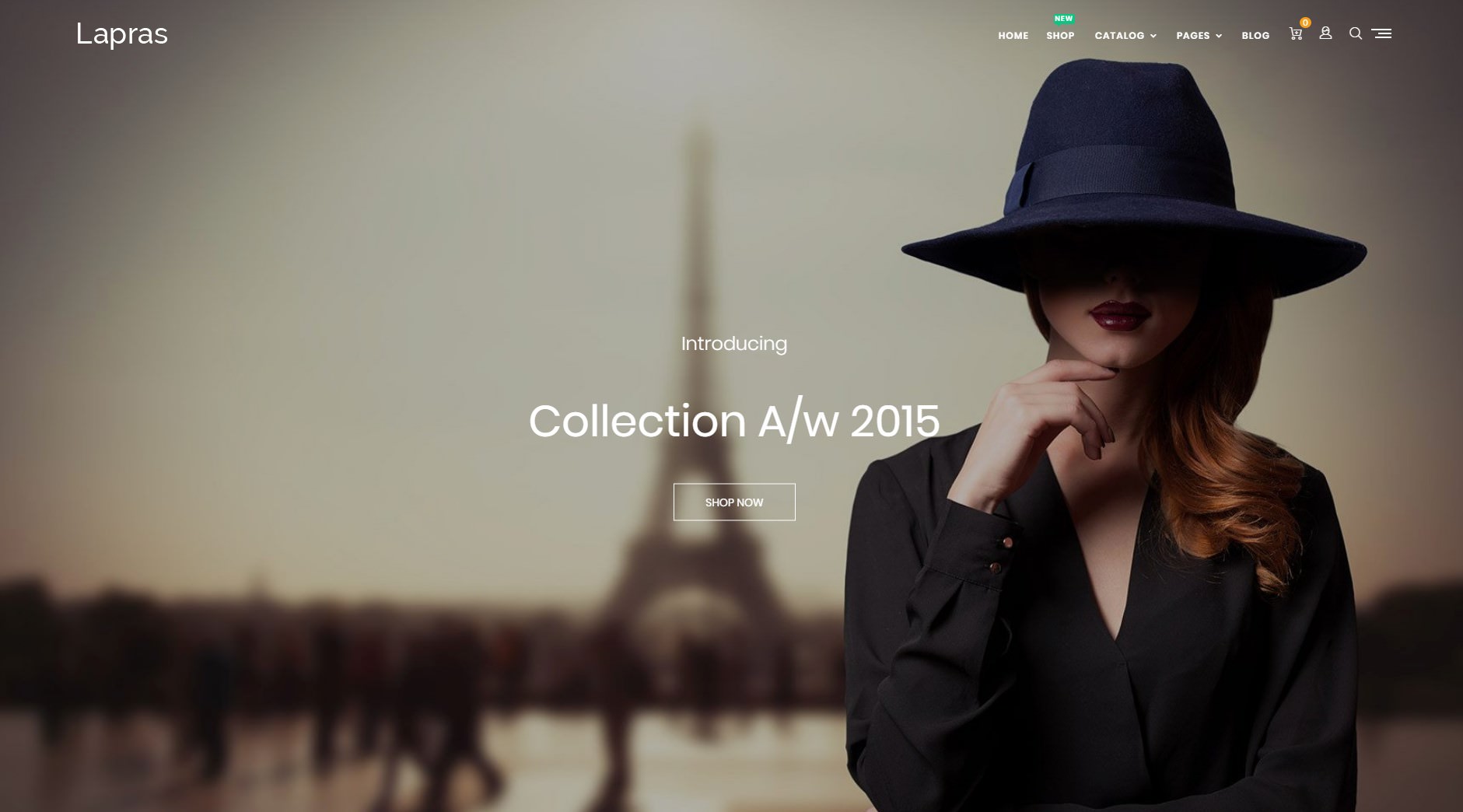 Theme features
Build on HTML 5, CSS 3 and Sass CSS
Various colors
Fully responsive
Font awesome icons included
Integrate SEO optimizer
Include 8 homepage layouts
Lapras Shopify theme is a perfect theme for online shoppers. Built on advanced technologies like CSS 3 and HTML 5, the Lapras theme promises to create the unique and difference your online store as well as help your business develop. Lapras integrates many powerful modules and flexible control panel. In addition, Lapras theme can fit all stores such as fashion, apparel, shoes, furniture, electronics, phones, etc. In particular, Lapras offers 8 different homepage options, store owners can choose the type of homepage you love most.
More Info / Download Theme Demo
---
Binerial - Laptop theme by Bingotheme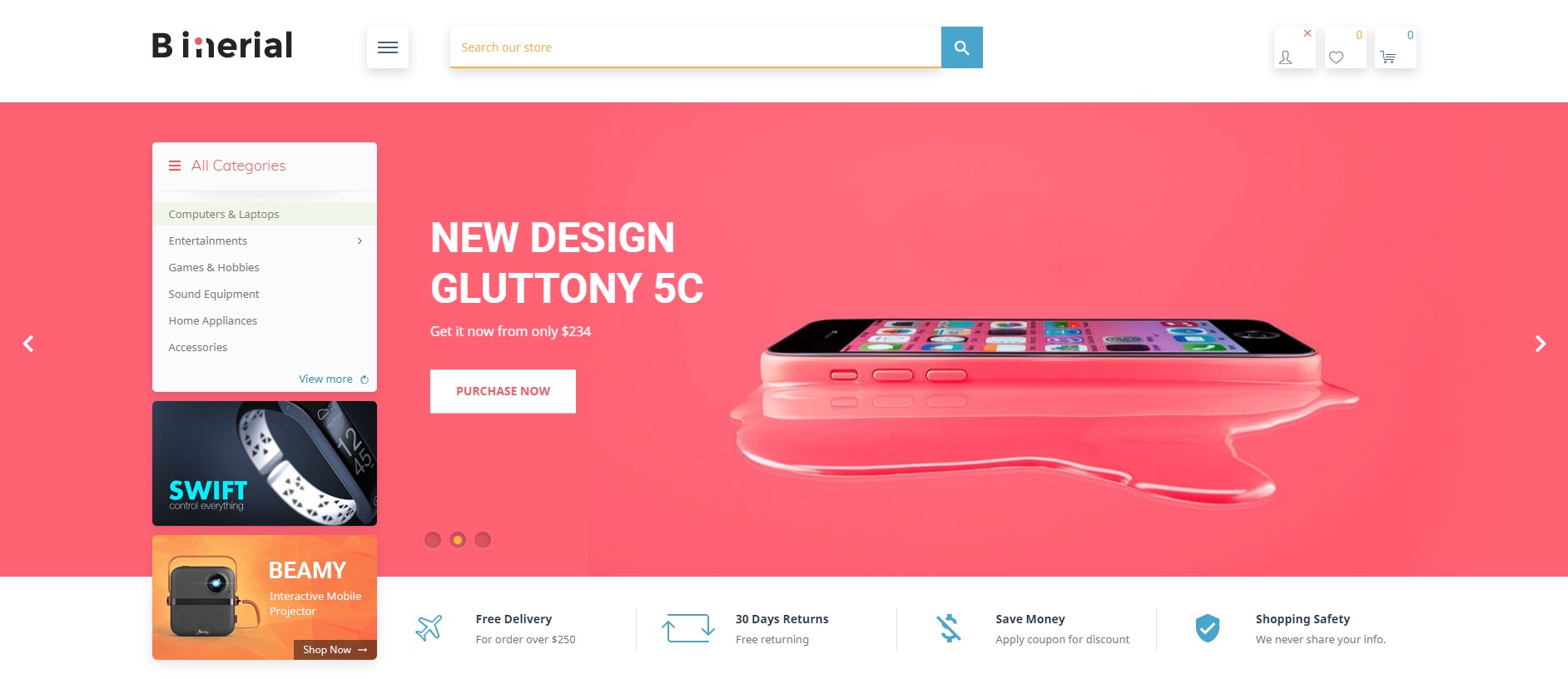 Theme features
Powerful admin panel
Easy to install and customize
Include flexible Mega Menu
Unlimited colors
HTML 5, CSS 3 & Sass CSS built
Integrate more strong modules
Binerial is a clean and modern theme for Shopify stores. Binerial is designed exclusively for electronics stores, however, it's also suitable for most different stores such as jewelry, fashion, apparel, shoes, watches, furniture, etc. Binerial has design style with harmonious color and friendly interface. This is the difference between your store and your competitors. In addition, Binerial has a flexible board administrator system even if you are a beginner. Everything is easy for you if you own a Binerial Shopify theme for your online store.
More Info / Download Theme Demo
---
Ap Gstore - Laptop theme by Apollotheme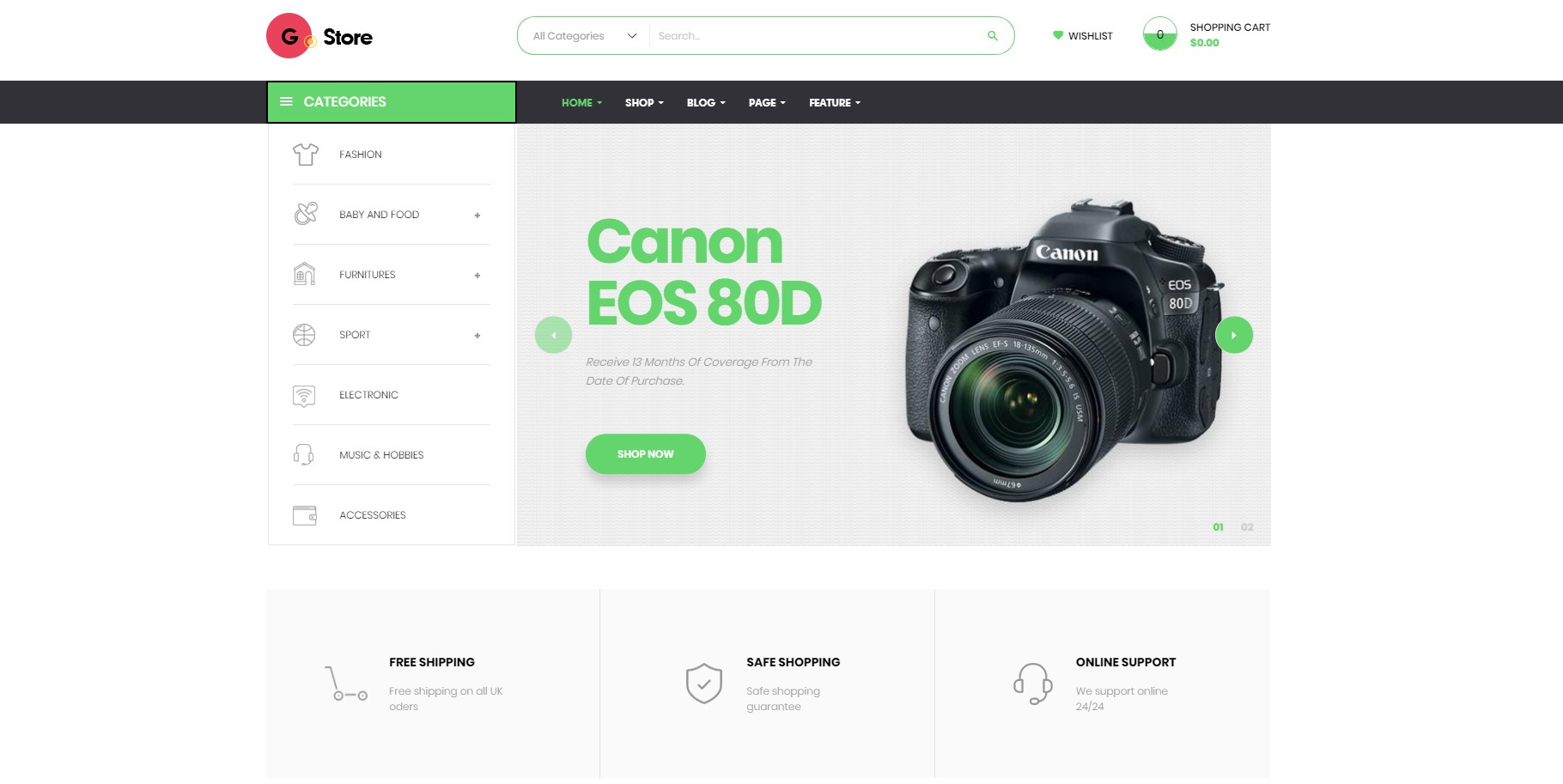 Theme features
Support Shopify sections
Support multi homepages
Strong Mega Menu included
Carousel supported
Include many flexible extensions
Build on HTML 5 and CSS 3
Ap Gstore Shopify theme is one of the most powerful and flexible topics. It is tested and can accommodate any device including a personal computer, laptop, tablet or mobile phone. If you are looking for a nice, creative website for your online store, Ap Gstore Shopify theme is a perfect choice. This theme is built with great features such as Swipe elements, animations and Owl Carousel to give the theme a smooth feel. You can build your own style. In addition, this theme is built with a large number of powerful features such as Bootstrap 3, CSS 3, HTML 5 and Font Awesome 4 that help you build e-commerce site in just a few minutes.
More Info / Download Theme Demo
---
You are using Wordpress platform? Let's take a look at the review Best Laptop Themes for Wordpress
How AVADA Commerce ranks 10 Shopify Laptop themes
These 10 Laptop themes for Shopify are ranked based on following criterias:
Theme rating review on Themeforest, Shopify Themes Marketplace, Templatemonster, MOJO Marketplace and more.
Themes' reviews and ratings.
The theme's design.
The vendor's reputation on social networks, and search engine ranking.
Social networks metrics such as Facebook, Twititer, Google+.
AVADA experts' reviews
Top 10+ Shopify Laptop Themes / Templates
Thank to every theme vendor that has made the 10+ best Shopify Laptop themes/templates list! This is the most comprehensive list of best Laptop on the internet and we are honoured to have you as part of this!
We would like to give the best commendation for all of vendors who have done the number one of Laptop brief! It is appreciated to be the most awesome and exhaustive result from searching on Google. We are pretty proud of your appearance of this task. Many thanks for your benefaction to our lives!
If you want to add or remove an item in the Laptop list, feel free to contact us at Contact us
Find more themes, please visit our Shopify theme reviews!
People also searched for
shopify Laptop themes

Laptop themes for shopify
top Laptop theme for shopify

top shopify Laptop themes