View Marketing Activity Reports on Shopify: A Simple Guide
Last updated: November 01, 2023
Marketing campaigns are necessary for every online shop. And tracking the activity of marketing campaign is an important task of a manager. That's why you need a marketing activity report for your website. If you are using apps for your marketing activity, then you can see how well your marketing is doing through the marketing activity reports.
The marketing activity reports are things that give you analytics on conversions, in detail, for example, the conversion rate, average order value, top products sold and so on. By checking this kind of report regularly, you can get the information you need to follow, from which measure the efficiency of your marketing activities that use services such as Google Shopping Campaigns and Facebook Ads.
It depends on the marketing app that's sending the data to Shopify that the results described in the reports are different. If you want to check which apps you want, you can check a list of all the apps in the integrated marketing apps on the Shopify App Store. If you want to see the data show up in the marketing activity reports, go to use one of these apps using UTM parameters. And for the last one, you can see the instruction for your particular app in order to learn how to view details on setting up your marketing activities.
Actually, you can also see reports of your marketing activity from an order's detail page. However, today, I am going to show you how to view marketing activity reports in a different way from that. All you need to do is following these 3 simple steps to finish the process.
Step 1: Go to Marketing
First and foremost, after signing in your Shopify admin account, you go to Marketing.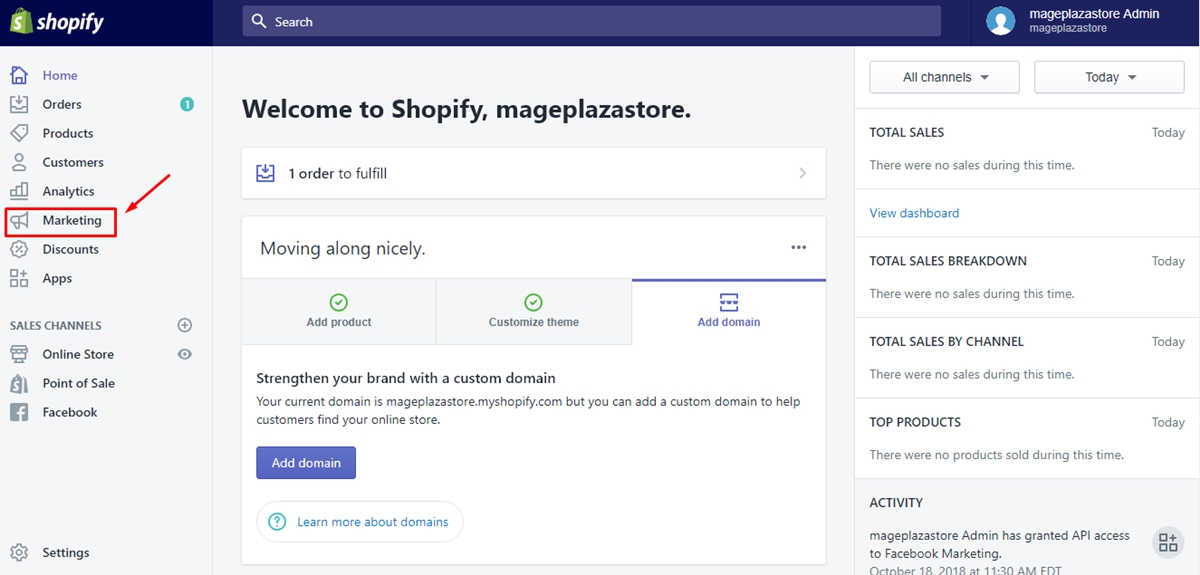 Step 2: Click on a campaign name
In the Marketing section, you can see there is a list of your active campaigns. Click on the campaign that you want to view the activity report.
Step 3: Click View report
After you click on View report, there will appear a detailed report of your campaign within 30 days. You can see an overview of your marketing campaign and decide if it is working well or not through the results in the section named Sales, the number of visits through Visits section. You can also see the Average order value, Conversion rate, Sale by location and so on. By viewing the index in each section, you will know what should be changed to make your marketing campaign work more efficiently.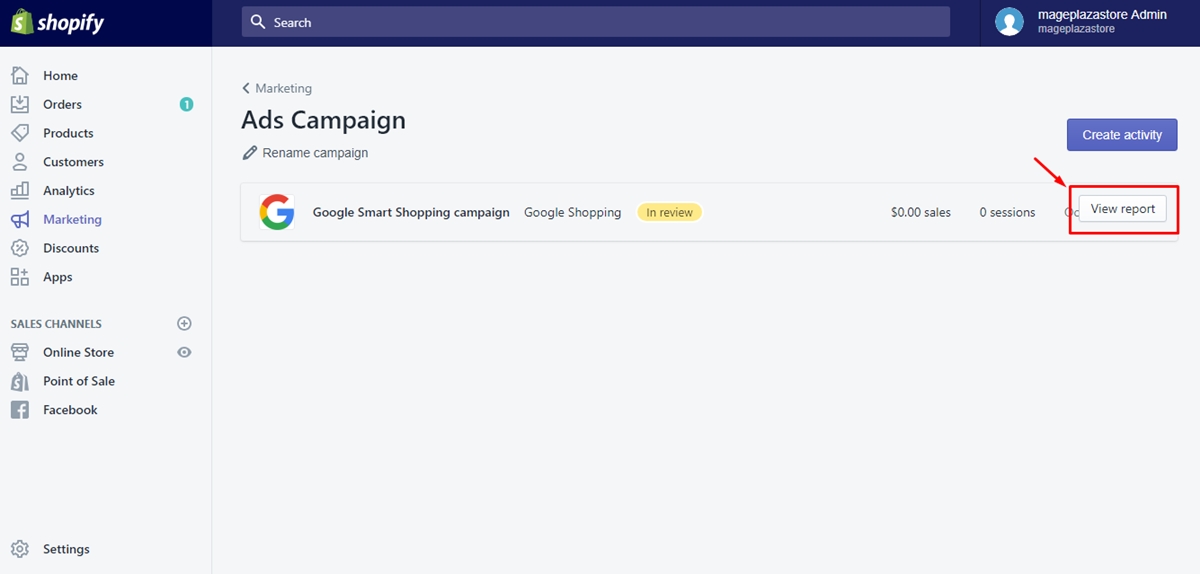 Conclusion
In the instruction above, I have shown you a detailed guide on how to view marketing activity reports with some illustration pictures added in each step to help you imagine how to do it more easily. To summarize, it's crucial for you to track the activity of your marketing campaign regularly. By this way, you will know exactly if your marketing campaign you are running is efficient or not so that you can make some appropriate adjustments to it. I hope you can manage your marketing campaign well and maximize your revenue from your online shop after reading my tutorial writing today. For further information, check out our Shopify tutorials.
Related Posts:
---
Mike is a content writer at Avada, with a love for video games, gadgets, and software. He has been writing about the industry now for over 7 years. He likes to keep up-to-date with the latest software releases. He's also an avid reader, and he enjoys spending time outdoors with family and friends. When he's not working, you can usually find him playing video games or exploring new outdoor activities.