How to Change the Publish Date of a Collection on Shopify
How to Change the Publish Date of a Collection on Shopify
Do you want to start? Get shopify free trial here!
In the previous post, I have shared with you guys the right method to create an automated collection.
But there is one small disadvantage is that once you have created a collection, that collection will be published immediately by default. But if you do not want to post it as soon as you create it, you are allowed to decide the date and time when your collection will be shown to your customers on your Shopify store.
The dates and times which you will set for your collections are called the future publishing times. You could set up future publishing for not only your collections, but also the products, pages, and blog posts.
This tutorial will show you the way to change a specific publishing date for a collection to become available in your online store for Desktop. For the shop owners who use iPhone or Android, you can also apply these steps to set up a publishing calendar for your store.
Changing the publish date of a collection on Shopify
Below is the 5-step process to change the publish date of a collection on Shopify:
Step 1: Open Collection list from Shopify Admin
At the first stage, you will have to open your Shopify admin. After that, choose the head Collections which is in the Products section.

Step 2: Choose Collection
As soon as you have selected Collections, a list which includes all the collections in your shop will appear. Then choose a collection by clicking on the name of it.
Step 3: Select Calendar Icon
In the third step, you need to click the calendar icon which is beside the words Online Store in the Sales channels section.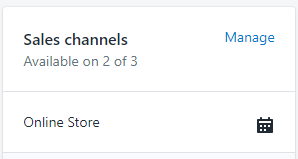 Step 4: Setup the publish date and time
At the next stage, you can choose the date and time that you want to publish the collection. And your collection and its detail will be shown on your page at the date and time that you have chosen.
For example, in here I choose on September 2, 2020 and at 8:30 am to be the date and time that the collection will be published on. And you are allowed to change these whenever you want.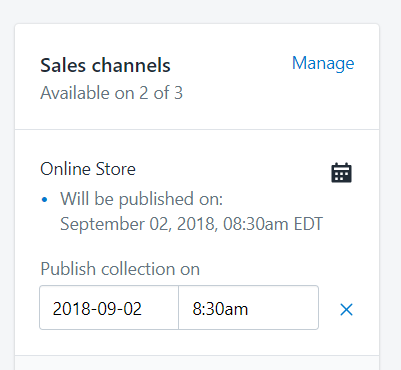 Step 5: Save publish date
The final step is to click on the Save button to apply the future publishing time which you have just set.
Conclusion
Above is a brief instruction which includes various steps that we have prepared to help you learn the method on how to change the publish date of a collection on Shopify easily. I am hoping that after having read this, you will have a clear idea about how to manage the future publishing for your Shopify store.
Related Posts:
Subscribe
Stay in the know
Get special offers on the latest news from AVADA.
40k
subscribers has been joined!
Earn $10 in reward now!