How to Set Conditions Based on Product Tags on Shopify
How to Set Conditions Based on Product Tags on Shopify
Do you want to start? Get shopify free trial here!
When you want to add some products into your collection, you will need to set the condition for that collection. The condition of a collection can be set based on various factors such as the product title, the product tag, the weight of that product, or the inventory stock.
In the previous post, I have shared with you how to set conditions based on the product title, variant title, type, or vendor. Now I will tell you the easiest way to set your conditions according to the product tags in the tutorial below.
There are a few notes that I think you need to pay attention. Firstly, you can only use one particular product tag when setting a condition to include products in your collection. Secondly, when you set a condition with a product tag, you have to enter the tag exactly. Otherwhile, the products with that product tag will not be added into your automated collection.
To help you to comprehend it, I will give you an example below, and then I will give you the detail steps on how I do it.
In this example, I will set up a condition that will add the products in which the product tag is summer.
How to set conditions based on product tags
Step 1: Choose collections
Go to Shopify page, click the Collections button which is in the Products section to view all the collections
Step 2: Click Summer Collection
In here, I click the Summer Collection to choose this collection.

Step 3: Tab Product tag
From the first drop-down list, I select Product tag.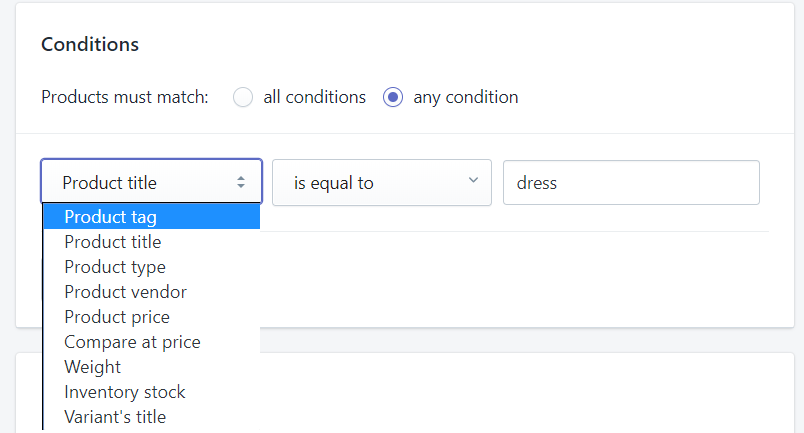 Step 4: Select Is equal to
From the second drop-down list, I will choose is equal to.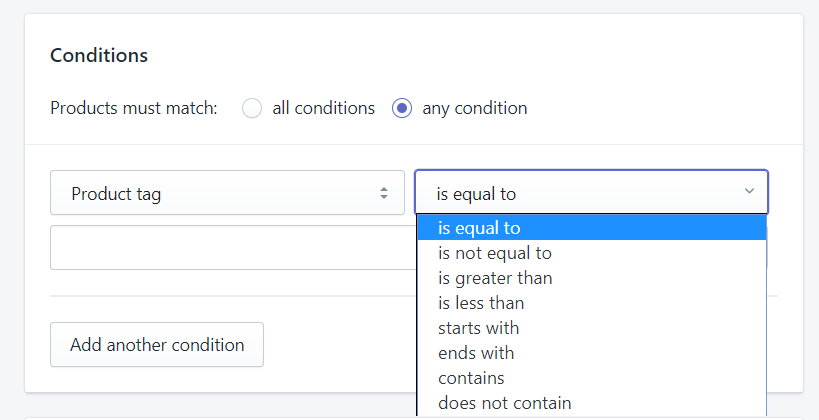 Step 5: Enter Summer
In the third field, I enter summer.
Step 6: Select Save to complete
Finally, click the Save button to apply all the changes above.
After you have saved your changes, only the products which have the summer product tag are added to your collection.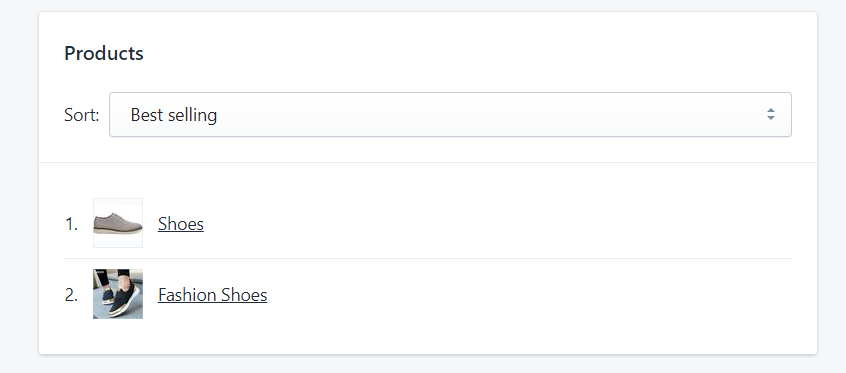 Conclusion
The tutorial above is the detail instruction on how to set conditions based on product tags on Shopify for Desktop. You can also apply the instruction and these steps for your iPhone or Android. I hope you will think that this information is helpful to you when you are managing your collection.
Related Posts:
People also searched for
set conditions based product tags

set conditions based product tags shopify,
Subscribe
Stay in the know
Get special offers on the latest news from AVADA.
40k
subscribers has been joined!
Earn $10 in reward now!