How to Cancel a Fulfillment on Shopify in Less than 2 Minutes
Last updated: November 01, 2023
Somedays, you might make a mistake when fulfill complete orders manually. When it happens, you need to cancel the fulfillment to avoid any refund or additional fee charged. If you are in this situation and you don't know what to do, follow this article and you will know how to cancel a fulfillment on Shopify.
Related Posts:
How to cancel a fulfillment
Step 1: Select Orders
Log-in to your Shopify account on the website and go to the Orders in the menu in the left. It stays in the second place, right below the Home option.
Step 2: Pick an order
After clicking on Orders, it will move to the All orders page and you will see the list of all your orders there. Find an order which has the fulfillment status as Fulfilled then press on it. The fulfillment status column is the one next to the Total and it will color grey for Fulfilled. Meanwhile, the Unfulfilled is in yellow that it is more outstanding. For example, order #1001 is marked as fulfilled in my list and I want to cancel it that I will choose this order.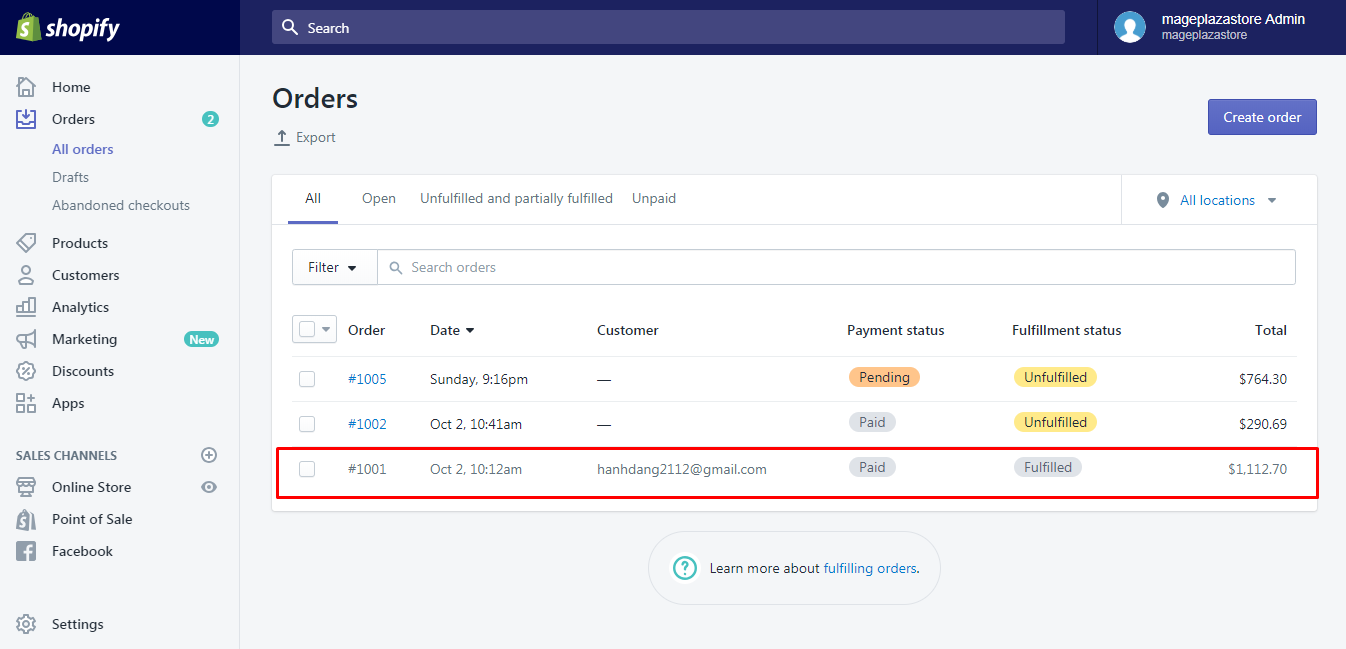 Step 3: Cancel fulfillment
The detailed information of the order will appear on your screen display. In the Fulfilled section, you will see the list of products of the order and the More 🔻 button below it. Click on that button then select Cancel fulfillment out of the options list. To get a clearer image of what you have to do, look at the picture below. Follow what I've done in step 2, it describes my screen display, which is the information of order #1001. When you choose More, four options will appear for you to select, consists of Edit tracking, Track shipment, Print packing slip and Cancel fulfillment. Hence, press on Cancel fulfillment.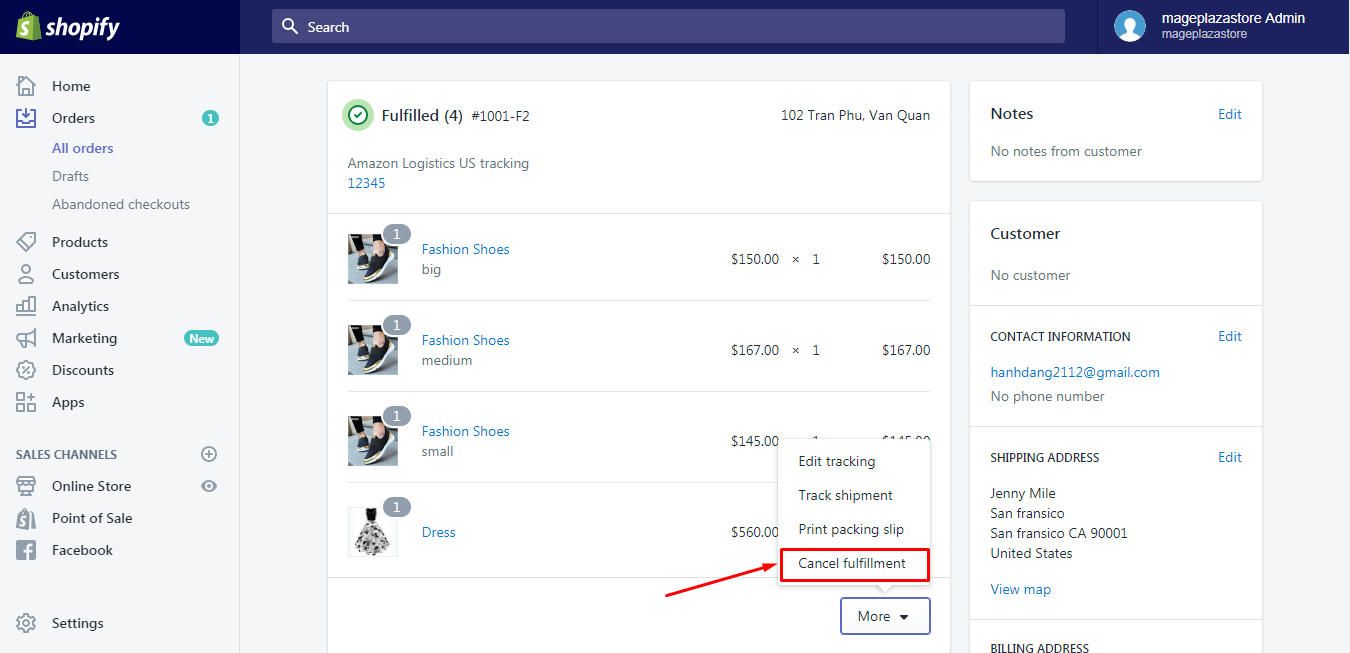 If you have completed all the steps and your internet connection is stable, the system will immediately inform you that the fulfillment is canceled, like the picture below: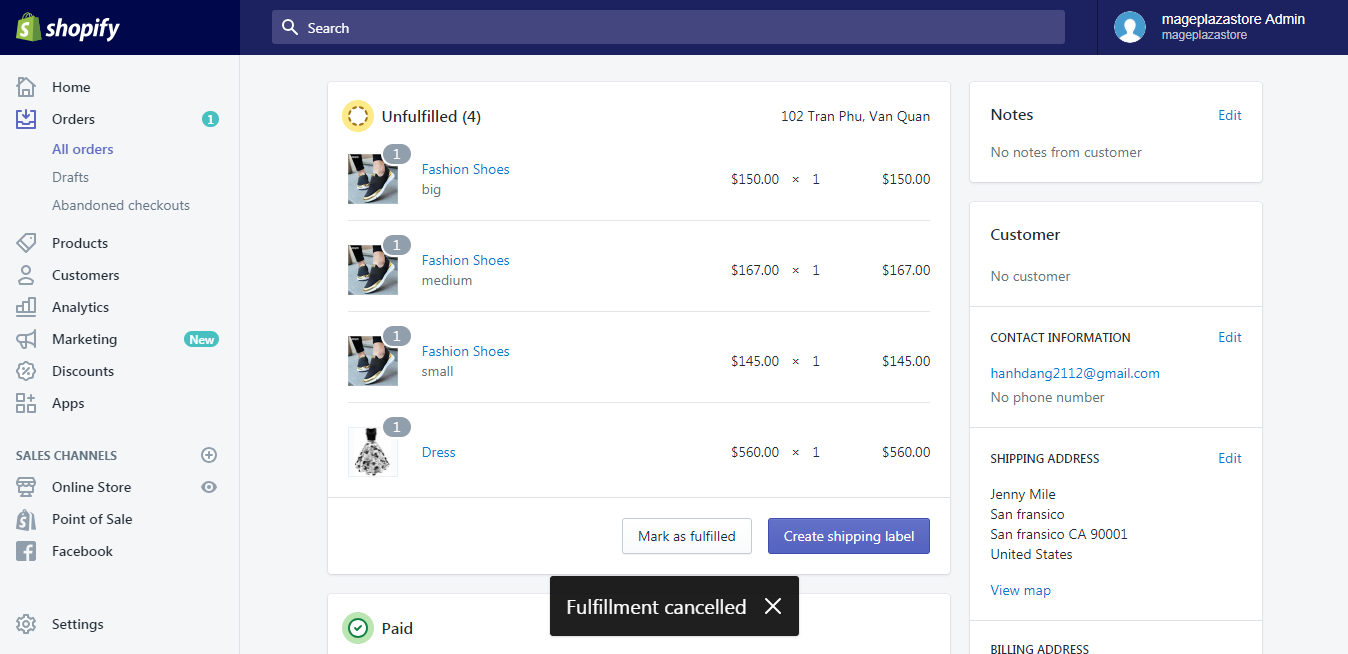 After the cancellation, you can see that the Create shipping label appears in the Fulfilled section which means that you can buy the new carrier for the fulfillment. You can also choose to fulfill the order partially by pressing on Mark as fulfilled and select items you want.
Conclusion
To conclude, this writing has given you the ways to cancel a fulfillment on Shopify together with the photos illustration for each step. There are three steps in total that it will not take much of your time to practice this action by yourself. Therefore, I hope that you can do it properly and receive some benefits from this topic.
---
Mike is a content writer at Avada, with a love for video games, gadgets, and software. He has been writing about the industry now for over 7 years. He likes to keep up-to-date with the latest software releases. He's also an avid reader, and he enjoys spending time outdoors with family and friends. When he's not working, you can usually find him playing video games or exploring new outdoor activities.