How to create Buy One Get One Free on Shopify
Last updated: December 01, 2023
As an online businessman, you might acknowledge that there exist various ways to get your sales increased and discounts can be one of them. People believe that discounts are among powerful short-term strategies that any retailers can apply whenever their inventory is still staying with them without reducing any quantity. However, there is a fact that not every discount is generated equally. Although discount sales are a good choice, Buy One Get One has been gaining its popularity recently. In order to boost your sales and profit, we will show you more details about Buy One Get One (BOGO) and how to do buy one get one free on Shopify.
Nowadays, Buy One Get One is seen to become one of the most widely used promotional methods. Because of only one reason that is for encouraging customers to insert extra products into their carts and increasing your average order values.
On the buyer's side, getting anything for free is what they expect mostly when going shopping. With Buy One Get One, customers will feel like they are having something extra that properly push them to purchase more. Recent studies also show that customers are likely to buy two times more than they could if they are offered a 50 percent discount on an item.
Why do you need to set up Buy One Get One discounts?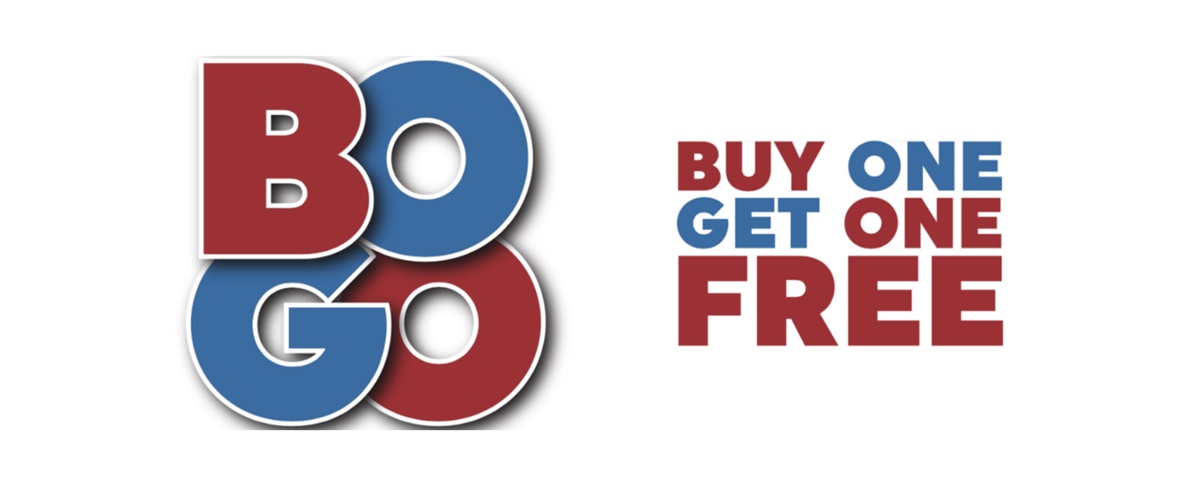 The power of "Free"
If you are asked what the most powerful word on the earth is, the answer will be Free. An economics researcher on customers' behaviors has stated that shoppers appreciate the benefits of the word Free when it is used to compare to the higher-quality products at any discounted price.
Buy One Get One benefits
As mentioned early, Buy One Get One (BOGO) is considered as a perfect discount technique to help your items become appealing to customers. For example, two big companies, including TOMS and Chipotle, are having lots of experience with BOGO promotions and they are successful with that. Even buyers can get benefits from this strategy.
Take note that Buy One Get One is ideal for you to remove the less desirable inventory quickly and maintain your profit at the same time. There is the fact that both shoppers and retailers love BOGO. According to the research, about 66 percent of buyers state that they want BOGO mostly out of the discount promotions. Besides, customers are more likely to take part in BOGO promotions since the products have additional costs as well as become more valuable because of the deal.
Buy One Get One Free Promotion Strategy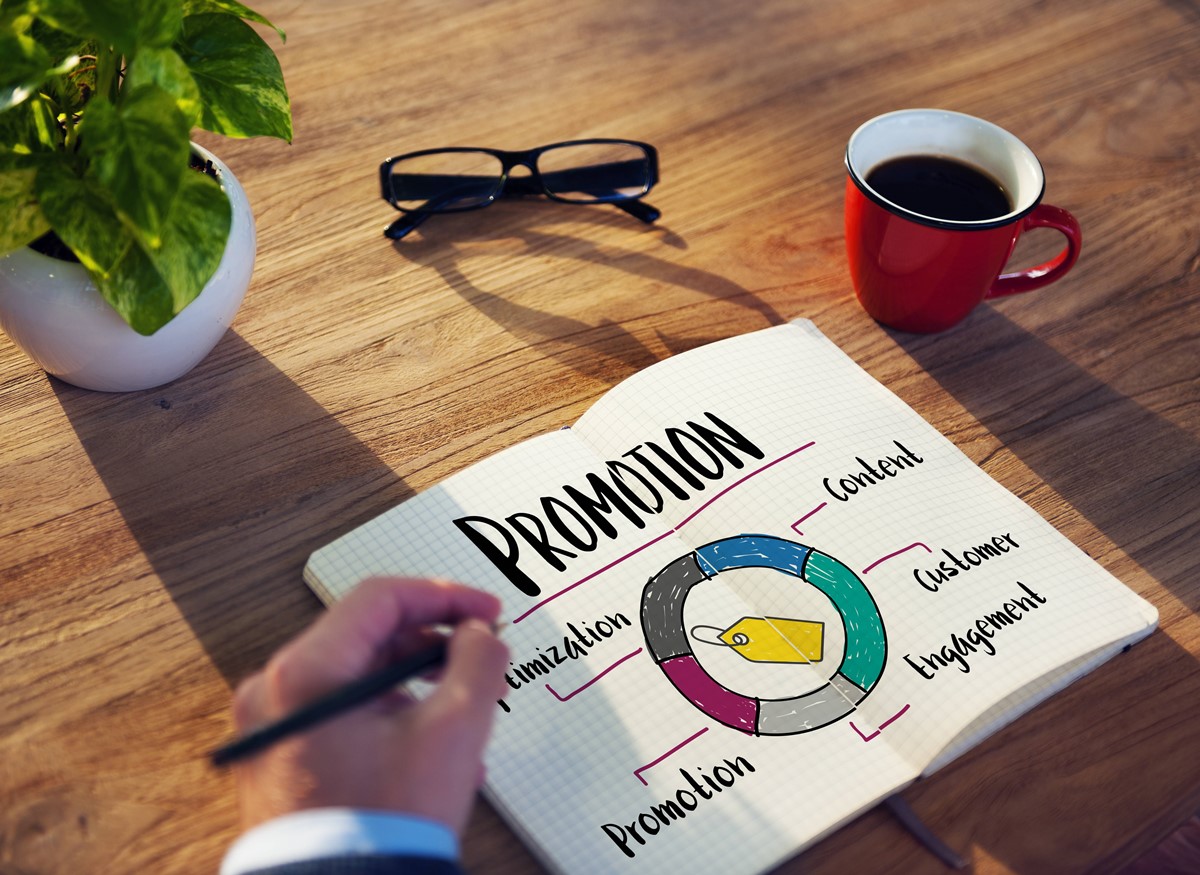 Buy One Get One plays a vital role in effectively tidying up your inventory, building brands, and driving your focused revenues. The first thing you should do with BOGO promotion is to know what your targeted products are to promote.
Select a product or collection
Selecting a featured product or collection should be the first strategy you need to think of. Shopify users can easily find Buy One Get One used for each product category. If you are managing to move out a specific inventory, you can get a new product promoted. Buy One Get One hopes to drive sales with the high-margin collection.
Know your target customers
Who will need your targeted products or collections? Definitely, your customers. Having clear ideas on your target customers will aid you in knowing how to advertise products to the customers. Also, which language will appear or what time/day is the most suitable for the customers' shopping habits.
Set pricing
Setting pricing can be the most challenging part of your calculation of BOGO promotions. For example, you are selling a product at $3; however, you can sell it at $10, which means that your profit on the sale per product is $7. At the same time, you can run the BOGO event and customers are willing to buy one for $10, then get one free. After calculating, you can have a lower profit than your full price, but you are selling twice as much the number of products.
Define the specific promotion
As you can see, Buy One Get One is the most popular formula for every promotion. Besides BOGO option, you are able to offer the following:
Buy One Get One with half price
Buy X of something to get a free present
Create the urgency
The urgency like This deal is available for the next 2 hours. That kind of pressure can make you push the trigger on that pair of shoes you are running program. Installing deadlines for your promotion also helps customers to act soon because they have a fear of missing out. As being implemented well, this kind of urgency can assist you in creating big sales, having more orders, and increasing conversion rates from your BOGO promotion.
How to set up Buy One Get One free on Shopify
Step 1: Login your Shopify account
The first thing you need to do is to log in your Shopify account by your email and password.

Step 2: Choose Discounts field
In this step, you can choose the Discounts section located on the left side to help you have access to the discount page.
Step 3: Select Create Discount Code
In case you have not created any discounts, then your page will look empty. To continue, let's select the Create Discount Code right on the page to start creating your discount coupon.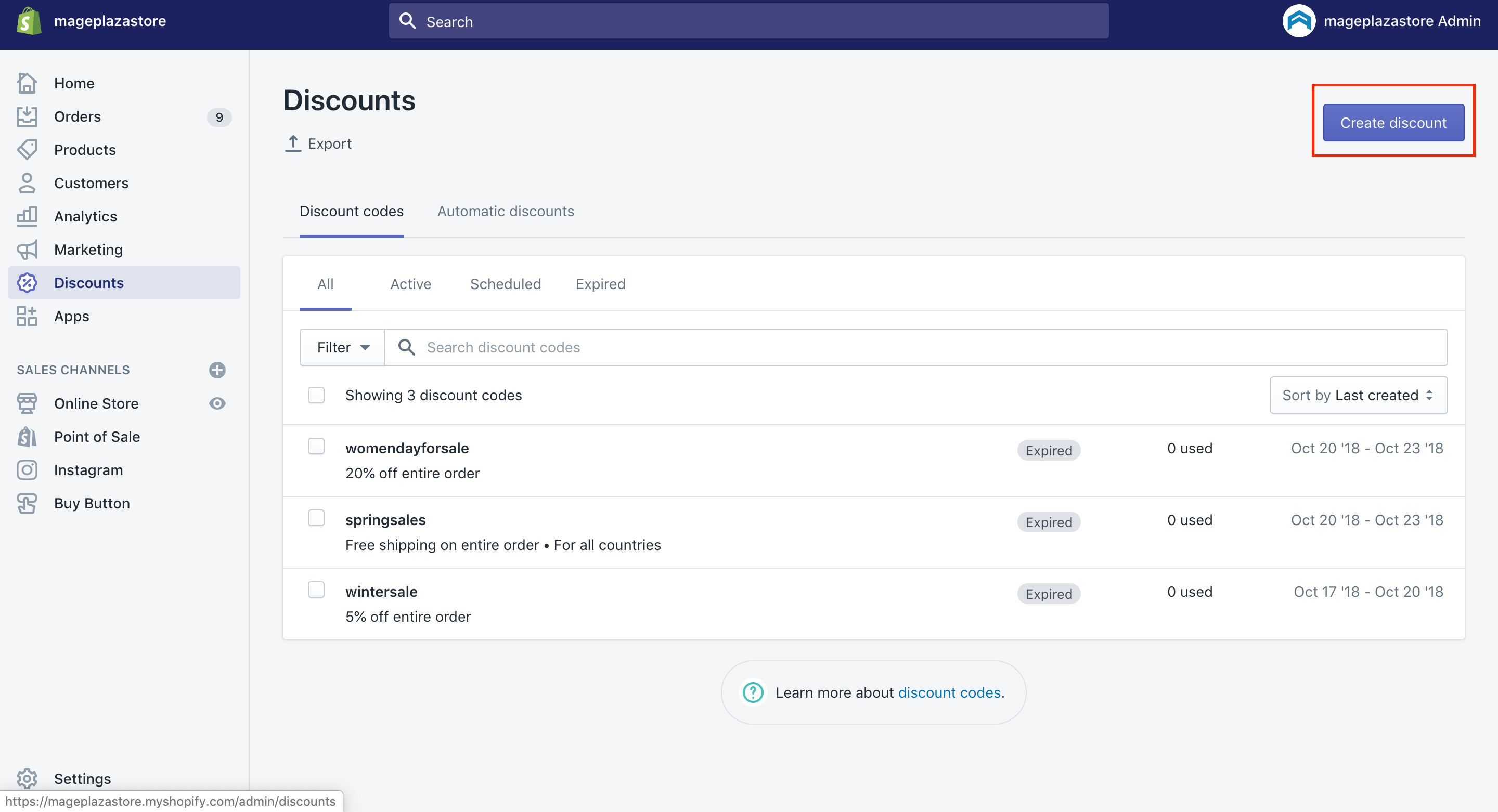 Step 4: Type the discount code
To keep going, you can enter the discount code. This code will give to the customers and they will add it to their checkout. Shopify allows you to generate code or enables you to create one by yourself.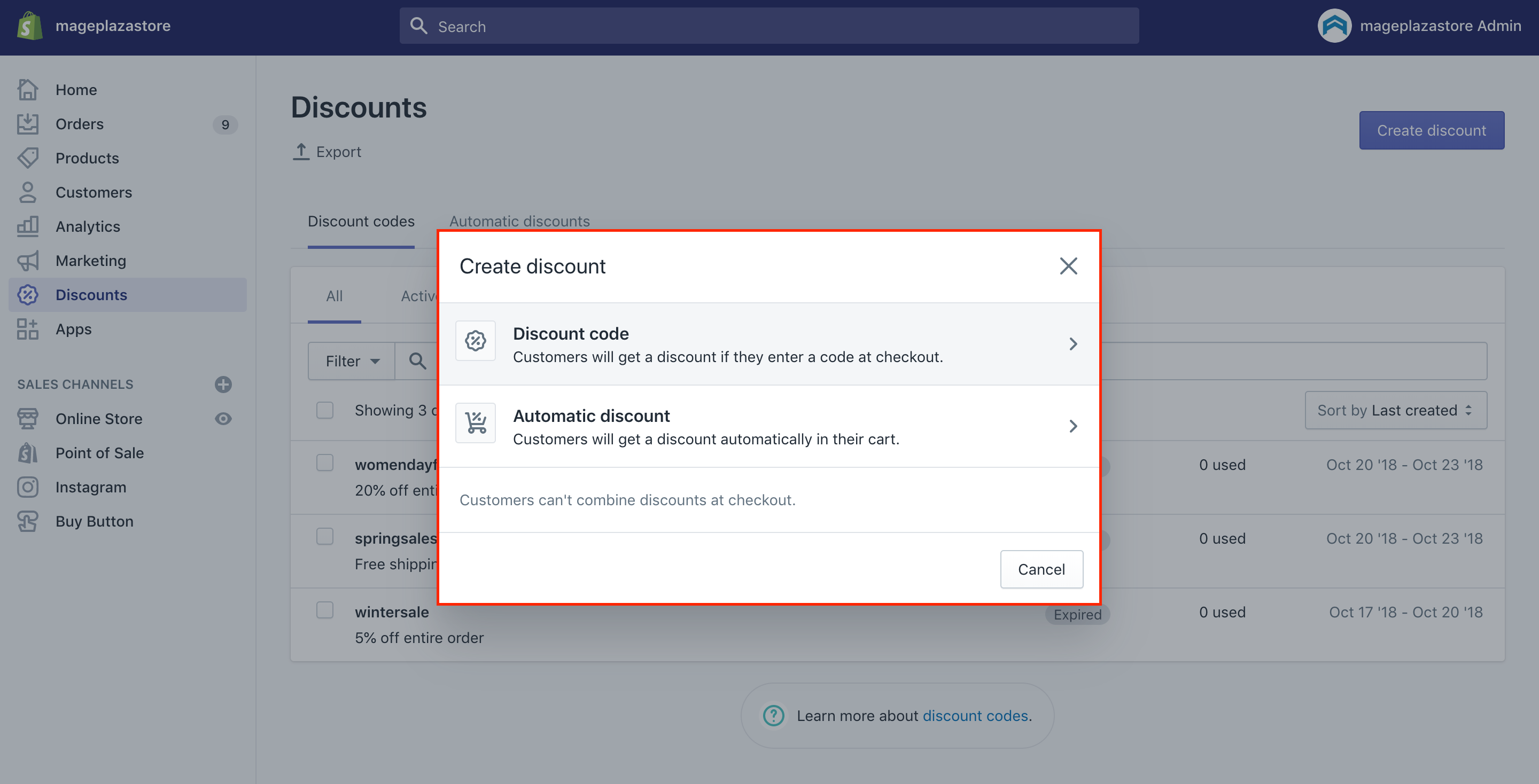 Step 5: Opt for Buy X Get Y option
On the options area, you can opt for Buy X Get Y located on the discount page.
Step 6: The Customer Buys area
The Customer Buys area is where you can inform your customers about your quality products that they need to buy to get the discount.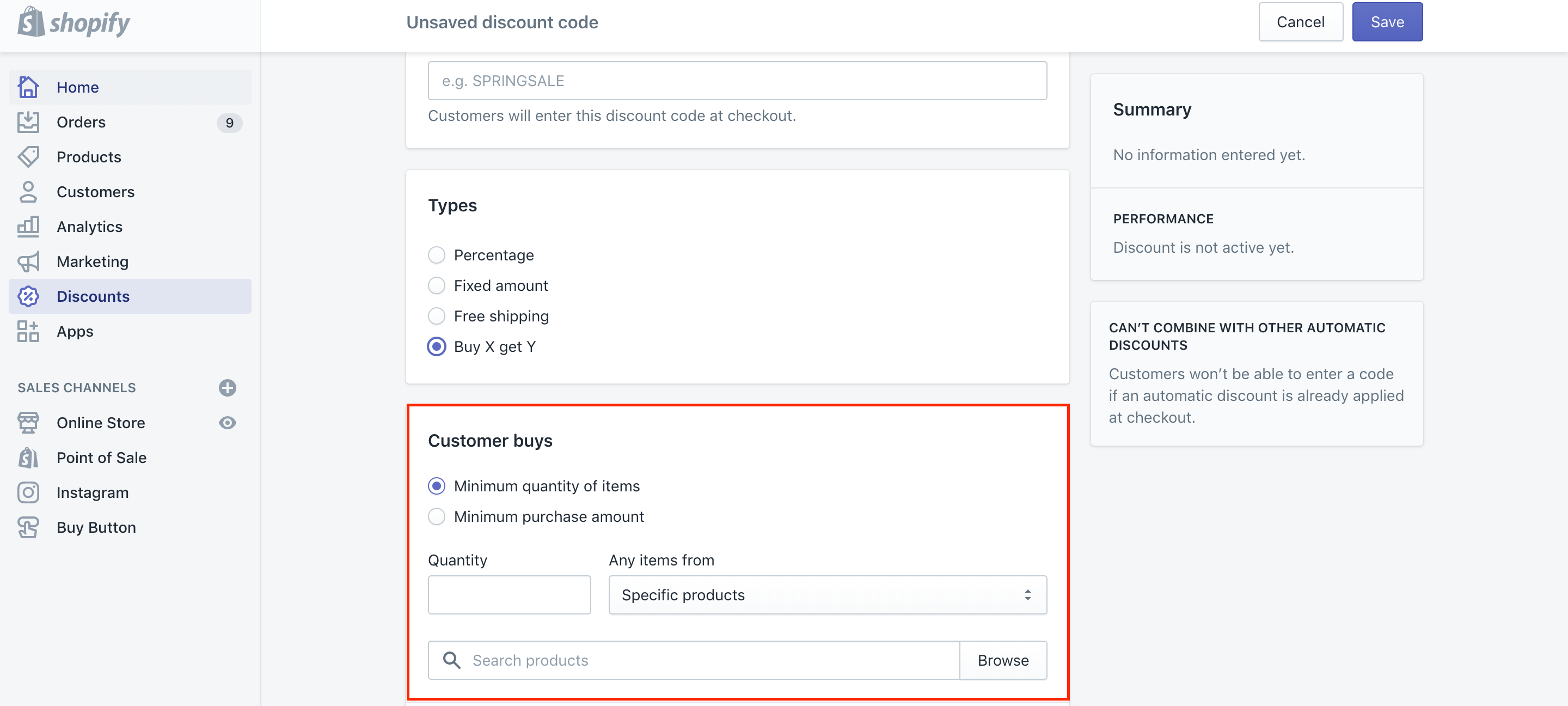 Step 7: The Customers Gets
The Customers Gets is a place where can display what your customers will take in purchasing products. Therefore, for example, customers can purchase everything at your store and they can buy an item for a 50 percent discount and they only use this once for each order.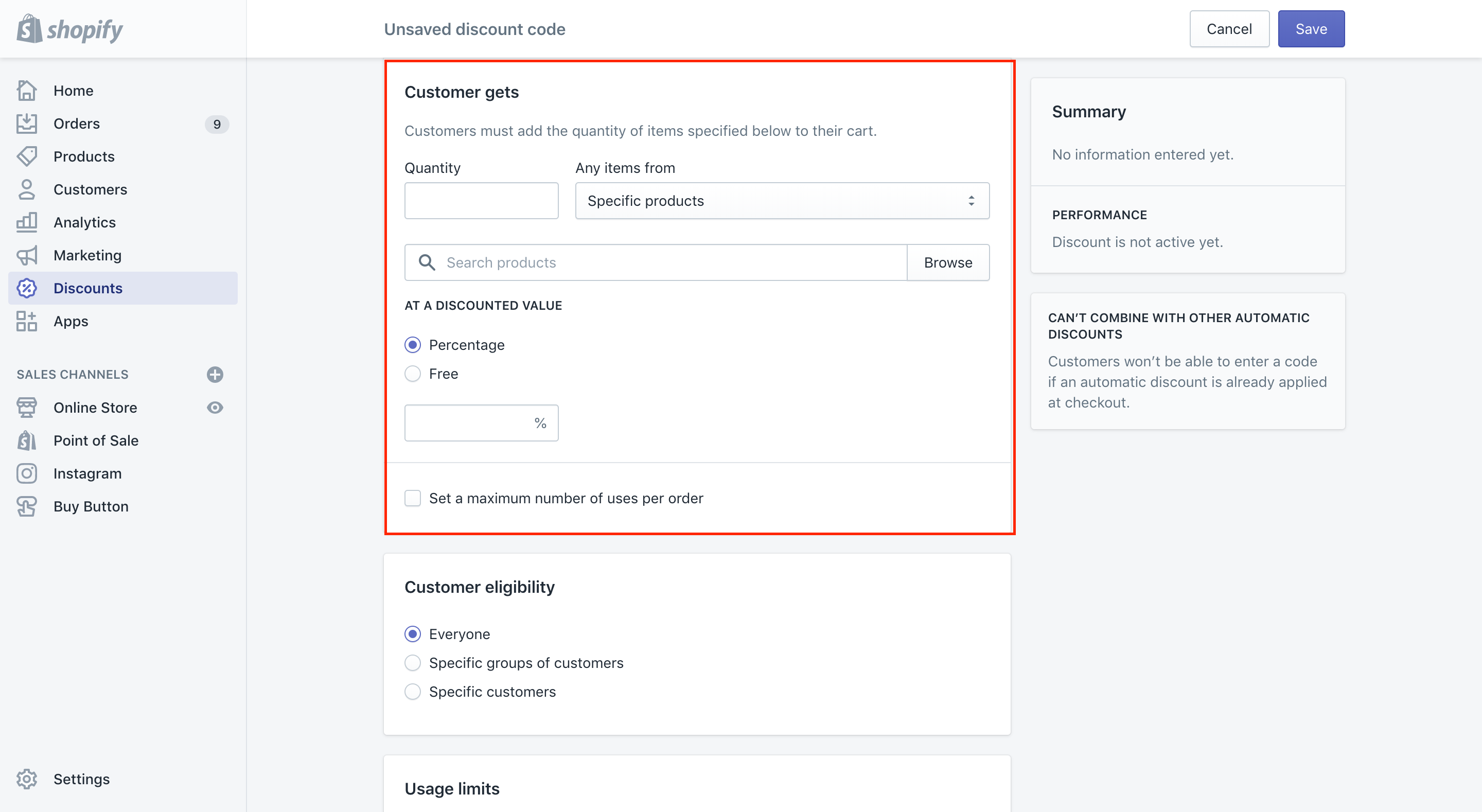 Step 8: The Customer Eligibility
The Customer Eligibility is where you can easily set the coupon to make it available for customers or to some certain groups of people or to an individual.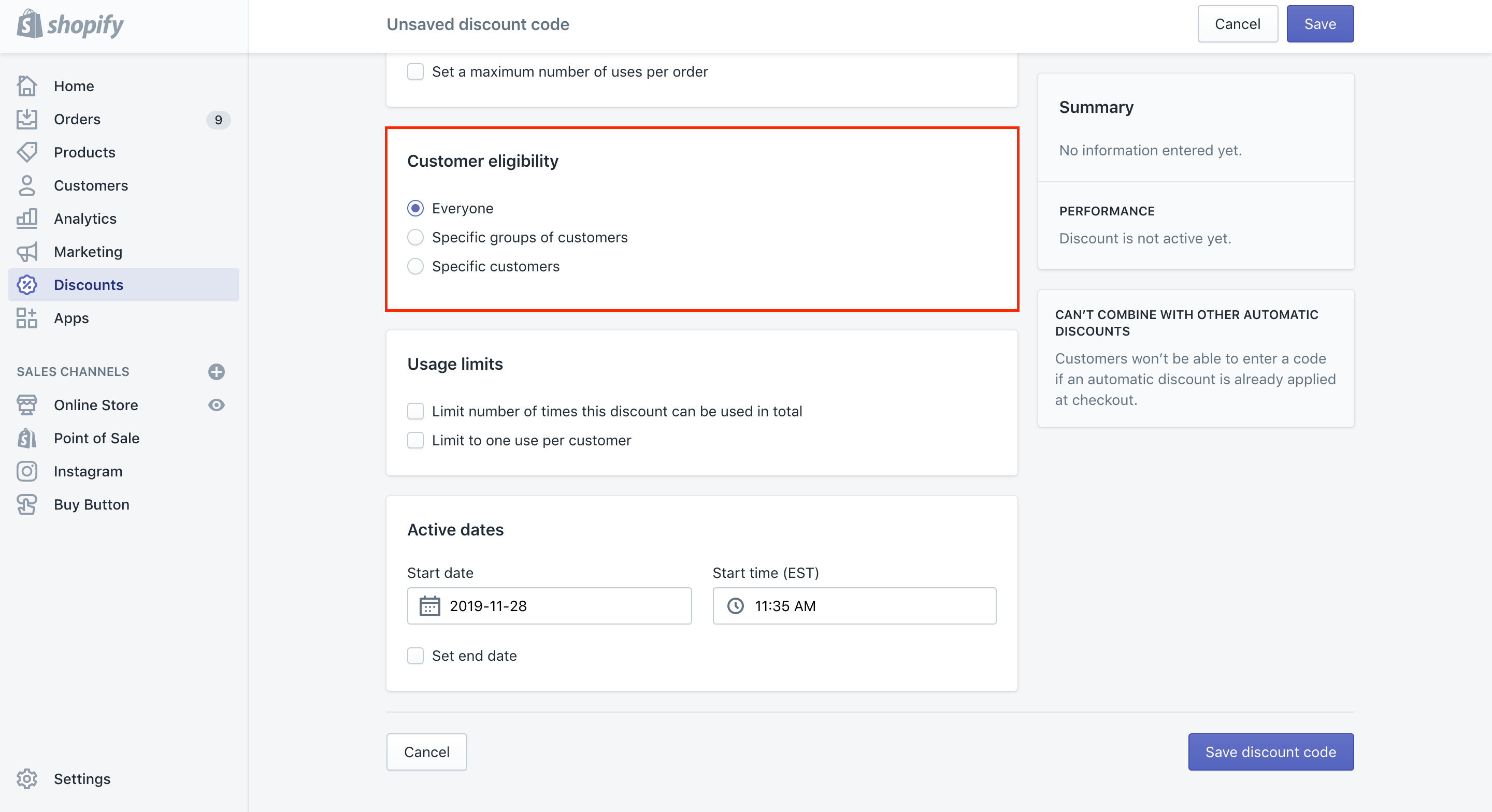 Step 9: The Usage limits
The Usage limits section is where you can set the limitation for this coupon. Shopify enables you to set up the number of times your coupon can be used, and then you can set it to restrict it to a customer. For instance, you allow your customers to use this coupon for 10 times by lots of individuals.
Step 10: Set the dates
As you can see, there are dates that will tell when the coupon is active. In case you do not save the date, then your customers will not expire.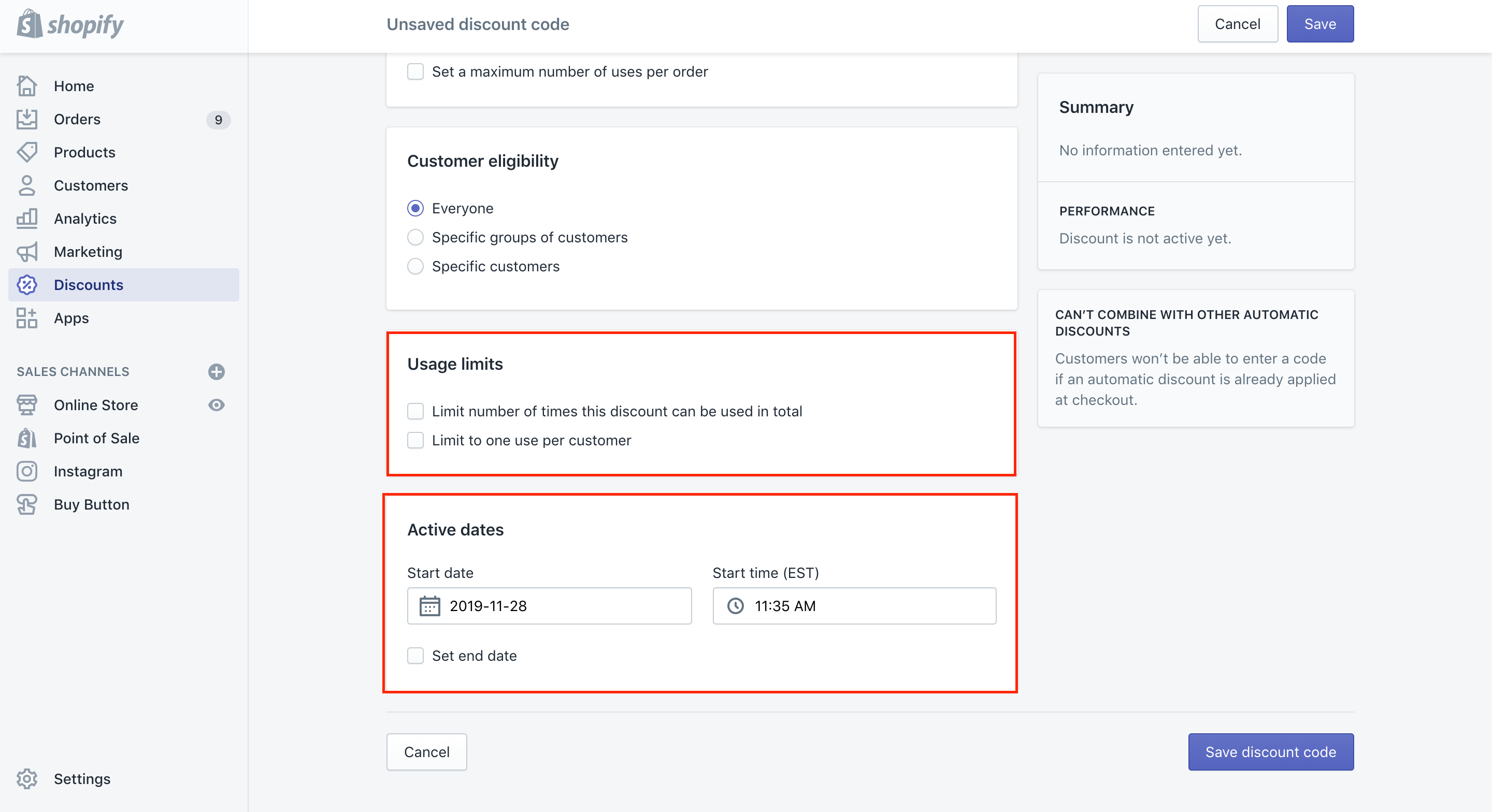 Step 11: Review the Summary located on the left
In this step, you can review the Summary located on the left. You are able to change things that need to be changed and whenever you are finished, choose the Save Discount button situated at the bottom or press on the Save button located on the top.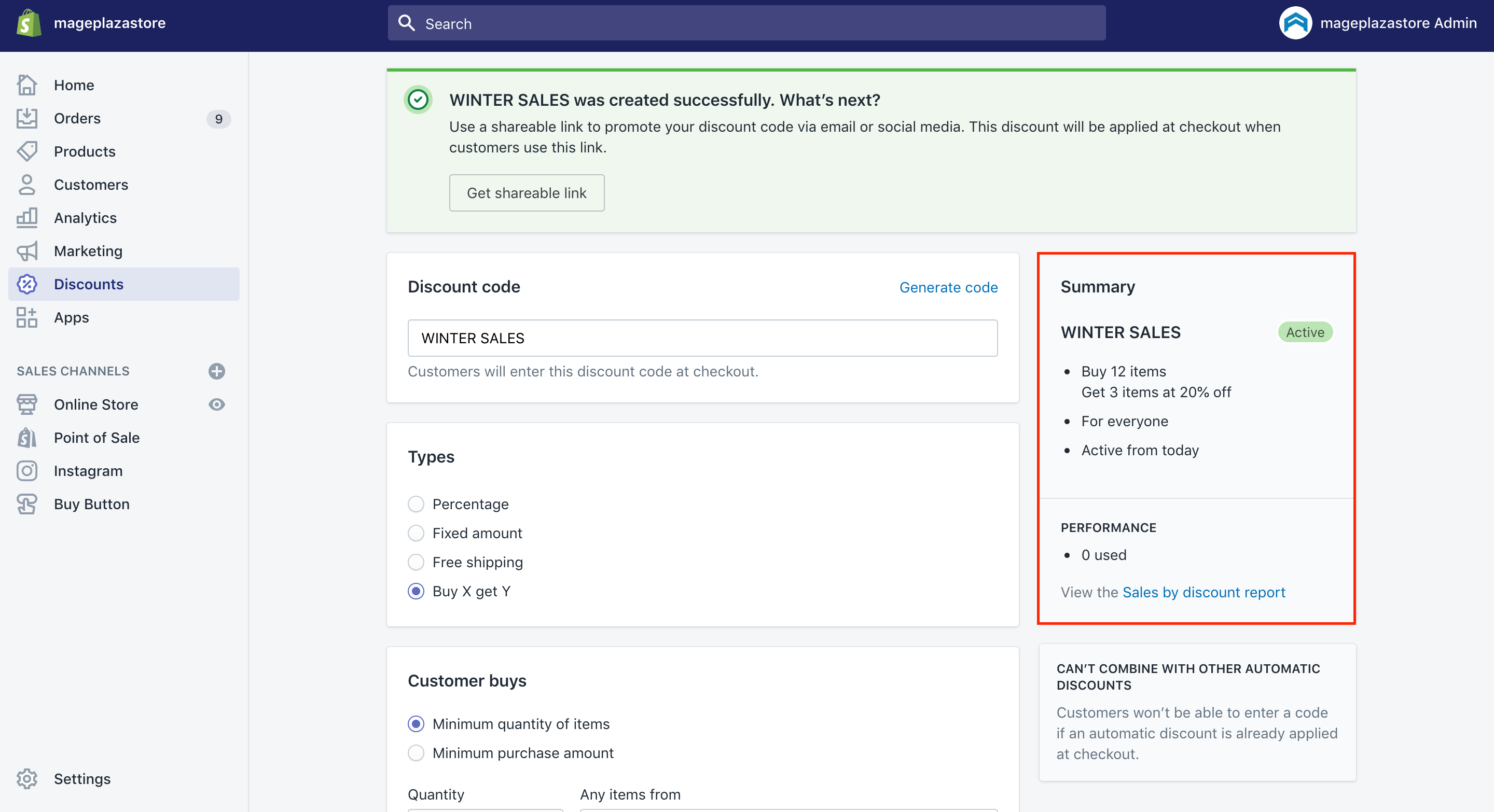 A green callout will come out, which includes the Get Sharable Link button.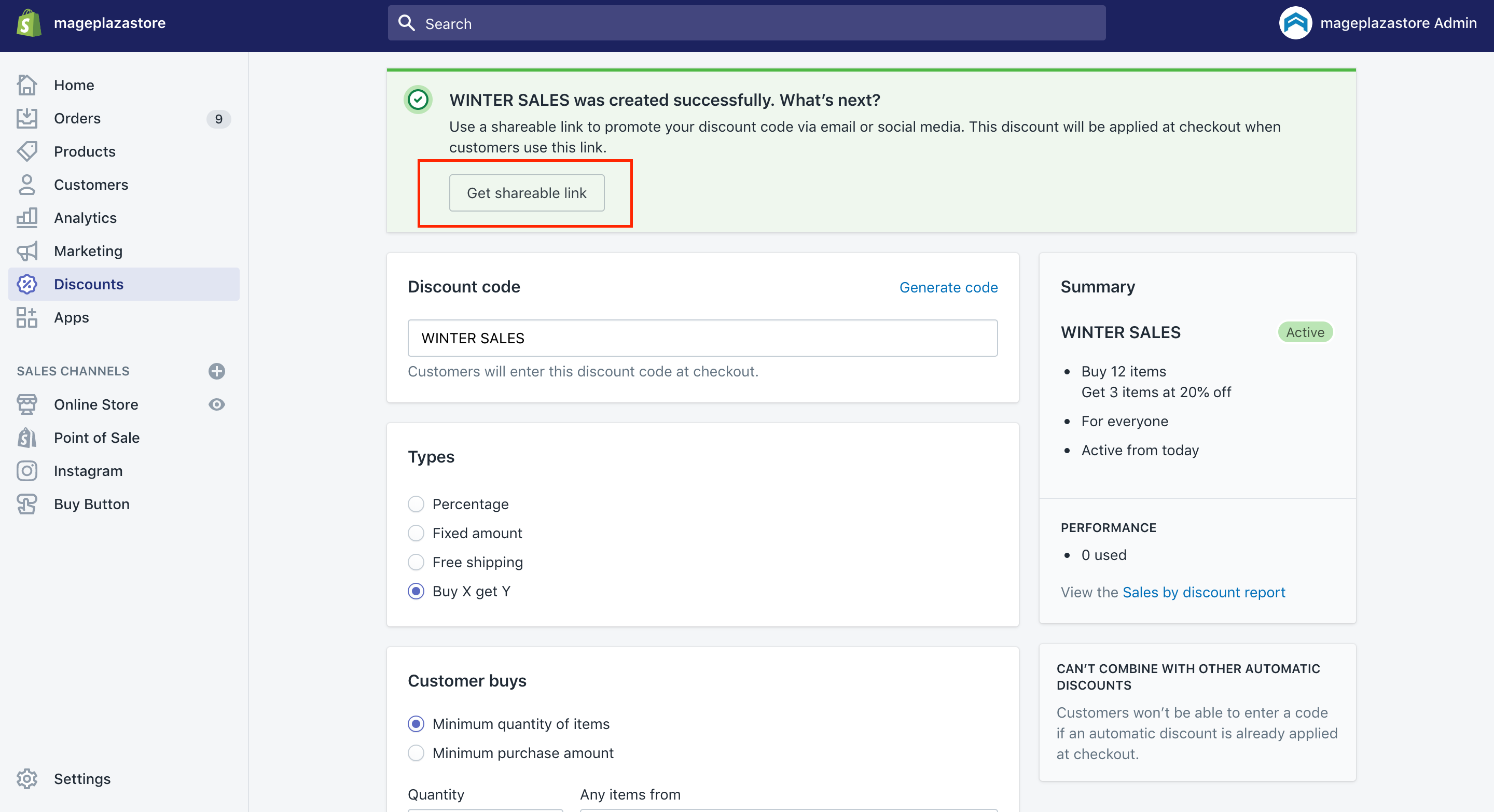 Then, click, copy, and paste the link wherever you love to.
Take note that you can easily use this code and get it shared directly with your social media and any other platforms you are currently using. After your creation, the created percentage discount on your discount list will appear. And that is the way in assisting you in generating a Buy 1 Get 1 discount for the customers.
Tips for BOGO Promotion

In order to run effective BOGO promotions, you can apply some handy tips. Basically, both customers and buyers will prefer BOGO promotion and the differences lies in a good deal and a bad deal.
Let's discover what you can do to set the next BOGO promotion which makes you become unique from the competitors.
Create target audiences
Whenever you find out what are you selling, it is every critical to acknowledge who you are selling to. BOGO can help its users to chase your retail goas, then producing loyal customers. According to the White House Office of Consumer Affairs, they have revealed that loyal customers can come up to ten times for their first purchasing.
And to make it work well, one of the best ways is to seek for a target audience. In fact, generating target audiences can aid you in reducing costs as well as time since you already have a clear idea of what you are concentrating on, which is rather than managing to appeal to everyone. When it comes to a target audience, you can make a decision about what kinds of items to get your BOGO promotion exhibited. For instance, if you are managing to boost up the backpacks, your target audiences are mainly students, which means that you can try to advertise on the platforms the students require. Having a target audience helps you occupy the love of the end-users and make your promotion become effective.
Generate urgency
The same as other promotions, creating urgency is an excellent way to express a successful BOGO promotion. By giving your BOGO deadline sales, you are encouraging and urging them to act sooner because of their fears of selling out.
Through an online shop platform, an online merchant can apply the countdown clocks to display the remaining time of the sales. As the clock displays the time running out, it can create an urgency for shoppers to stimulate them to buy products rather than later.
Advertise BOGO promotion on various channels
There remain various platforms to help you advertise your BOGO promotion.
If you have a mortar, brick, or pop-up store, you can arrive at the old schools to advertise your BOGO promotion offline. Additionally, let's cover your stores with flyers and you can use the store layout to get your BOGO promotions advertised by adding music, lighting, product displays or climate control to inform the best shopping experiences. Generally, visual merchandising is among the surprising tools to draw customers' attention and promote the BOGO advertisement.

By letting yourself investing in on-site advertising, you had better reach out to your target customers with your sites where they mostly visit. For instance, if you are placing your interest in focusing on climbers, your post-on-site advertisement should be on rock climbing forums and blogs.

There is the fact that mobile is a large part of the online retail industry. Take note that data retrieved from e-Marketer has shown that glocal eCommerce sale was much huger than $ 1.3 trillion in 2017, which takes nearly 59 percent of the digital sales worldwide. In fact, advertising on mobile channels with the help of social media, along with email marketing, can reach out to customers. You should also remember that taking advantage of all channels will guarantee to ensure that you are creating the most amazing buzz.
Leverage social media
Social media plays an important role in developing your online business and merchants are hard to ignore it. According to a recent study, about 50 percent of young adults use the Internet to actively use one or more social media channels. Relying on the target market, you can help use social media to match your usage patterns. For example, in case you are targeting baby boomers, you had better share the BOGO sales on Facebook and Instagram.
Besides using social media to boost up your BOGO sales, you can use it to solve the complains and get feedback from them. Customers who are satisfied with their orders can share the experience on social media and give a free advertisement. Of all customers who have negative comments and reviews on social media, they might expect you to reply. About 90 percent say that their loyalty to your brand can be affected negatively if the retailers do not reply.
Getting social media utilizing to respond to customers and having sales shared can be advantageous because 70 percent of customers who possess social media services with different brands recommend it to other customers.
Conclusion
The article on Buy One Get One free Discount on Shopify store helps you have a better understanding of one of the most powerful marketing tools to grab your customers to buy more to generate and boost up your sales. Effective tips for promoting BOGO also play an important role in quickly grow your business without causing any mess.
---
Mike is a content writer at Avada, with a love for video games, gadgets, and software. He has been writing about the industry now for over 7 years. He likes to keep up-to-date with the latest software releases. He's also an avid reader, and he enjoys spending time outdoors with family and friends. When he's not working, you can usually find him playing video games or exploring new outdoor activities.