70+ Welcome Email Subject Lines That Highly Convert in 2023
You might have heard millions of times that the first impression is the most lasting, right?
Similarly, the first email you send to your new subscribers can actually work wonders for your relationship with them.
The fact that you have subscribers on board doesn't mean they are ready to open and click your future emails. They can use the first email to see if your business is reliable and trustworthy. Therefore, capturing this opportunity is essential to set a foundation for a strong, long-lasting relationship with them.
Exclusive Offer: Get Shopify 93 days for just $3 + The Online Store Starter Kit
Start a 3-day free trial, then get Shopify 3 months for $1/month plus the premium package designed especially for new Shopify merchants!
Start Free Trial
In order to help you roll the right digital welcome mat and boost the effectiveness of your campaigns, we've prepared 70+ best welcome email subject lines that get clicks.
Let's explore right now!
Why should you craft high-converting welcome subject lines?
Email subject lines are vital.
After your business name, they are the first thing people read in their inbox, and most recipients don't spend lots of time figuring out if an email is relevant to them. That is why you need to craft engaging welcome email subject lines.
Some welcome subject line statistics include:
47% of people will read your email or not, depending on your subject line alone.
Around 70% of recipients use the email subject line to decide whether an email is spam
Welcome emails have 4x open rate and 5x CTR (click-through rate) than other email marketing
70+ welcome email subject lines that highly convert
1. "Getting started" subject lines
The most common welcome messages simply welcome their new subscribers. Some can get away with a blunt "Welcome," but some will want to call out what they offer or what makes them stand out.
With a simple yet effective subject line of "Welcome to Virgin America special offers and Fares to Fly By," Virgin America shows something unique about their brand.
That's proven clearly in the message itself.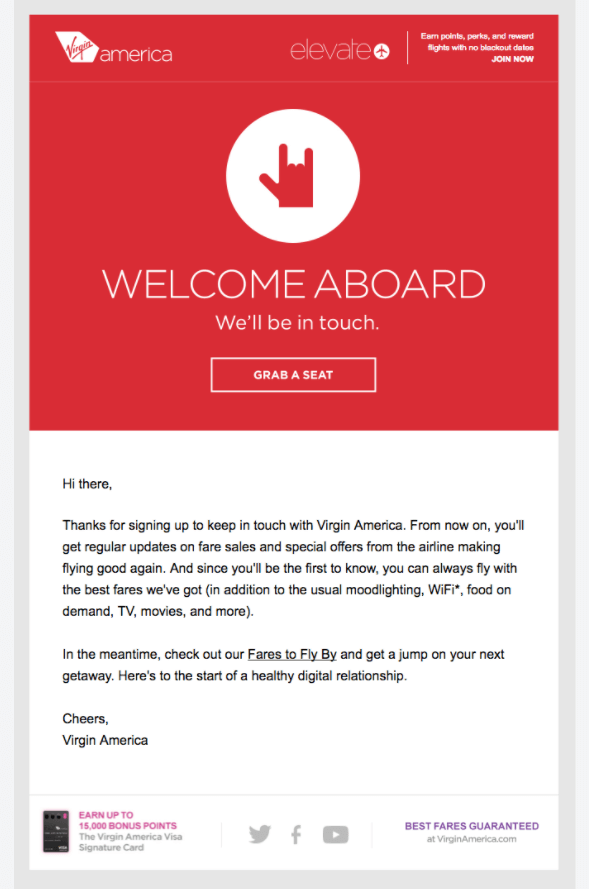 The brand puts the "I love you" hand symbol front and center. That small gesture signals that the folks at Virgin America really care about their customers. Its playful accompanying copy ("Welcome abroad") along with a casual call-to-action (CTA) button ("Grab a seat") also help position Virgin America as a hip, fun-loving brand right from scratch.
Some "getting started" email subject lines for you:
Welcome to Holland & Barrett… Let's get to know each other… (Holland & Barret)
Welcome. Now the real fun begins (Redbubble)
Welcome to the Flock (Allbirds)
Welcome to the jolliest club! (Flaviar)
Well, Hello There! Welcome to Our Inner Circle (Stila Cosmetics)
You + Grammarly = The Dynamic Duo (Grammarly)
Welcome to the Inside (Bespoke Post)
This was a good decision (Rue La La)
Welcome to the world of Magic Spoon (Magic Spoon Cereal)
Welcome to On Running - here's what you've been missing (On Running)
Hey, you're in! (Ritual)
Welcome to Food52! Make yourself at home (Food52)
Welcome to the MIELLE Family! (Mielle Organics)
Welcome to the Snuggle Bugz Community! (Snuggle Bugz)
You're on the list! (FabFitFun)
Welcome to [your brand name]! Let's get started!
Welcome! Let's get right to it!
You're in, let's begin!
You're family now. Introductions are in order.
We're here to help you get started.
We're happy to have you!
We're glad you decided to be here! 😊
Did you just become best friends?
It Only Gets Better After Hello!
Welcome neighbor!
2. Subject lines with emojis
Emoji are often a fun way to connect with your subscribers. They convey meaning without taking up too much space, and they can help break up the monotony of your inbox.
According to studies, up to 56% of companies realized higher unique open rates when they use emojis in email subject lines. However, it is also recommended that you should carefully consider when to use emojis. To be specific, you should:
Avoid using too many emojis in one subject line
Keep it relevant to your message
Consider your audience to make it work
Test it on different devices and email clients
Some email subject lines with emojis for you:
Welcome to Made In! 🔪🍳 (Made In Cookware)
🔑 There's more to unlock, [recipient's name] (StubHub)
Hello from your new friend in the kitchen 👋 🍳 (Equal Parts)
💕 Hey girl, welcome to the Showpo party! (Showpo)
👋 Welcome to Pixelbuddha - the Most Freebie - Friendly Community (Pixelbuddha)
Welcome to Dense Discovery 👋 (Dense Discovery)
🛳️ [recipient's name], the fun's just begun! (Carnival Cruise Line)
You're in. Get 15% off an L16 📷️ (Light)
Welcome to HireClub! 🍾 (HireClub)
A welcome note from me 👋 (kidly)
Welcome to the party! 🎉 (Meet Blume)
You made the list ✔️
Related topic: 33 Holiday Email Subject Lines and Most Favored Emojis
3. Subject lines with promotional offers
If you promised a promotion offer upon signup, whether it be a promo code, guide, or exclusive offer, it's high time to share it. It's not good to keep your new email subscribers waiting so long.
Remember to emphasize the offer from the get-go in order to entice your subscribers to open your emails. This will help improve your email open rates a lot. Let's see how Rigby does with its subject line of "Welcome + Free Shipping."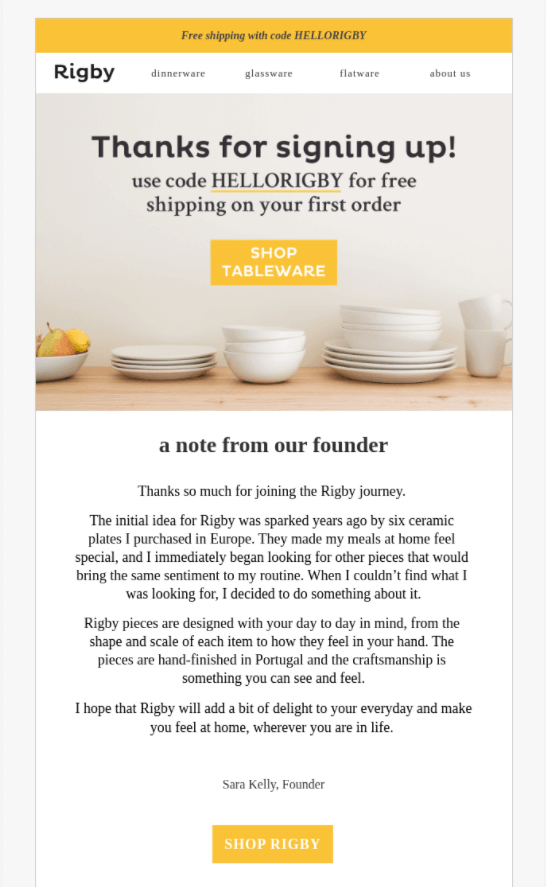 By emphasizing "free shipping" in the email subject line, Rigby can boost sales from the welcome email. This tactic works effectively for E-commerce businesses as the email can drive shoppers straight to their online store to redeem the offer.
Some subject lines with promotion offers for you:
Welcome to Hayneedle! Your exclusive discount is here… (Hayneedle)
Your welcoming 10% off. Trends, the latest updates and much more (Mango)
A Welcome Offer: 15% Off (Eillen Fisher)
Welcome! Get $25 Off Your 1st Order (Good Eggs)
Welcome ✨ (inside: free shipping!) (Free People)
Welcome! Here's Your Discount Code (Tattly)
Welcome to Zalando! Enjoy £10 off your next order (Zalando)
Welcome to the Fonts.com Newsletter - Your Free Fonts are Inside, hooray! Your 10% OFF code is here. (Fonts.com)
You made the list. Enjoy your discount code.
4. Subject lines with personalization
Personalized emails have 29% higher open rates than ones that don't use personalization. They also yield transaction rates that are 6 times higher than emails that don't use personalization.
Consider personalizing your email subject lines by including your recipient's name and use words that make them feel like you're directly talking to them.
Some email subject lines with personalization for you:
Welcome to Uber, [recipient's name] (Uber)
[recipient's name], welcome to your Youtube Community tab! (Youtube)
Welcome to TheZebra.com, [recipient's name]. Your quotes are here! (TheZebra.com)
[recipient's name], you deserve the best (Famous Footwear)
Welcome to Teachable, [recipient's name] (Teachable)
[recipient's name], let's get you moving! (Zumper)
Thanks, [recipient's name]. Welcome to Reitmans! (Reitmans)
[recipient's name], we're glad you're here!
Welcome, [recipient's name]! Your first round of weekly quotes is right here!
Hello, [recipient's name]. Welcome to the list!
Read more: The Complete Guide to Personalized Email Marketing for Business!
5. Subject lines with questions
Use questions in your email subject lines to create intrigue and entice recipients to open your emails.
Questions work well because they urge your recipients to focus on your email subject lines. They prompt recipients to think of the answers, allowing you to establish a deeper connection with them.
Just think about what is important to your subscribers then ask questions referring to it.
For instance, if your subscribers are struggling with their email conversion rates, create an email subject line along the line of "Were your emails ignored again?"
As the question is a reality they are facing, there is a strong connection between their own needs and what you are offering - making them want to open and read your welcome email.
Headspace, a guided meditation app, created not only an excellent product for a healthier, happier life but also mastered mindful storytelling.
The brand starts with the email subject line of "Ready to meditate?" to evoke curiosity and then shows something special inside the email.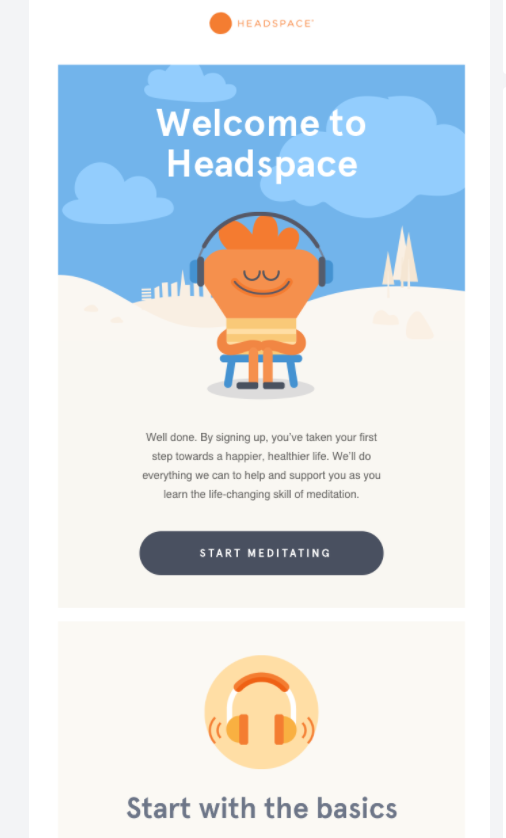 Their animations really rock!
This welcome email is something to see because of its cartoonish brand style. They use illustrations in order to provide interesting lessons and define their brand identity.
This welcome email:
Exactly tells you how the trial works
Uses an attractive lead magnet (free 10-day beginner course)
Explains what will happen when you'd like to go beyond the basics of mediation
Some email subject lines with questions for you:
Did you say "beard"? - Welcome to Beardbrand (Beardbrand)
Ready to meditate? (Headspace)
New to Our (Curious) World? (Fossil)
Are you feeling lucky? (Moo)
Ready to step up? Welcome to Activité (Withing's)
Interested in opportunities? (Remote)
Ready to know the latest seasonal trends?
Welcome to [your brand name]! Are you ready to step up?
6. Subject lines with next steps
If you offer services to your subscribers, a welcome email is a great time to let them know how to take advantage of your offer. From account login instructions to critical next steps, these welcome email subject lines can highlight what's to come.
Some email subject lines with next steps for you:
You got Ellevested! Here's what's next! (Ellevest)
Welcome to nDash: Important Next Steps (nDash)
4 Ways to Get Started with AWS (Amazon)
Log in to your Wayfair account (Wayfair)
Here's how to get started with [your brand name]!
Welcome! Here are the top 3 things to know!
1-2-3 Go! 3 Steps to Get Started with [your brand name]!
3 tips for creating an engaging welcome email subject lines
Follow these welcome email subject line tips to grab your audience's attention and entice them to open your emails.
1. Avoid spam filters & spam traps
Avoid spam words, such as "100%" or "Free"
Avoid using all uppercase letters since they seem "spammy." It might also trigger spam filters.
Avoid using too many exclamation points, as it might cause the ISP (Internet Service Provider) to tag your email as spam. s
2. Apply the 4U model
Use the 4U model in your welcome email subject lines by being:
Urgent. Adding an element of urgency in your email subject lines to encourage your recipients to open your welcome emails.

Ultra-specific. Make sure the information in your email subject line is well-consistent with your content to avoid misleading and losing subscribers.

Unique. Include unique angles to make your welcome email subject lines stand out.

Useful. Give subscribers a glimpse of the value they'll get when they open and read your email.
3. Mention your CTAs
Sometimes, the best way to write your welcome email subject lines is to mention your CTA. That way, the intent of your welcome email is clear and your subscribers know exactly what you want them to do.
This tip is perfect when you are giving something of enormous value.
For example, when you offer a massive discount, use the email subject line, "Claim Your 80% Discount Now." The message is clear and catchy.
Of course, your email subject line is just a small part of your overall welcome email campaign strategy.
In order to fully realize the power of welcome emails, you should know how to properly structure your welcome series as well as develop your strategy.
For that, we've built a comprehensive guide that shows you everything you need to know about welcome emails, from steps to ideas to craft one. Besides, if you are looking for some email design inspiration, make sure to also check out this one. And don't forget that we also offer a blog post of 11 welcome email templates to help you get started right away!
The bottom line
Now that you have a number of subject line examples for inspiration, it's high time to start coming up with your own. In addition to using the welcome email subject lines we mentioned, use the emails you received from other brands as examples to learn from.
Want to know how to optimize your email campaigns for E-commerce? AVADA Commerce has powerful features to help automate and optimize your email marketing performance.
New Posts
Stay in the know
Get special offers on the latest news from AVADA.