How to Write a Welcome Email Series
When a prospect decides to become a customer, you want to welcome them with open arms. That is also true for a website user who signs up for your newsletter or other marketing material. In both cases, someone has made a commitment to your business based on what you've given them so far, and you have a fantastic opportunity to build on that positive feeling.
Given that welcome emails have four times the open rate and five times the click-through rate of a regular email, it's critical that your content is on point. After all, your welcome email serves as the base for your branding and helps in building a relationship with your customers or potential customers.
Just 57.7 percent of brands send a welcome email to new customers, but welcome emails produce up to 320 percent more revenue than other promotional emails on average. You will stand out in a crowded inbox with a customer-focused, value-packed welcome text, ensuring a substantive interaction rather than immediate deletion.
In this article, I will share with you the best practices for writing effective welcome email series, as well as some ideas you can try out for your next campaign. Let's jump right into the details!
What is a welcome email series?
A welcome email is the first email in the sequence of automated emails that a business/brand sends to a new subscriber on their list. It is also known as a nurture or autoresponder sequence. Consider welcome emails as your subscribers' tour guide to explore your brand.
Why Is a welcome email series necessary?
Consider these emails to be the first time you encounter a new romantic partner or the first series of interviews with a potential employer. Your aim is to make an impression. You want to convince them that you are the right candidate for the job. You want them to contact you, either to set up another date or to give you the job. The same goes with your welcome series.
It helps in the development of reputation and familiarity with your subscribers, ensuring that they are not confused by your name/emails in their inbox.
It's a perfect way to set goals, share your story, and demonstrate your knowledge in your market.
This can be used to take them around your brand. Provide them with additional useful material related to the lead magnet that drew them in. You could get a customer to check out your demo if you're a SaaS company.
How to write a welcome email series
Step 1: Design your welcome series structure
Consider what you want your subscriber to do or experience at the start of their relationship with your brand. Would you want them to follow you on social media? Can they complete a survey to provide you with more information? Do you want them to be aware of your distinct value proposition (such as your generous return policy, charitable work, or high quality standards)?
Make a list of all you want to get done during your welcome sequence. Since it's best to ask your subscribers to take one action per email, each to-do on your list will have its own email. Here's a list of some common actions for welcome series emails:
Invite them to shop in a specific category.
Invite them to try a best seller.
Request that they view a video about your products or business.
Instruct them to set/update their subscription preferences after they have read a common or interesting piece of material.
Invite them to follow you on social media.
Make it a point to teach them about your brand's history.
Offer a discount or coupon code that they can use when they shop.
Remind them of the product(s) or brand's key features/benefits.
Ask them to add your email address to their white list.
Then, organize your emails in a logical manner. At the start of the series, send an email with introductory content, then followed by emails with increasingly stronger commitments. Your second email, for example, does not ask your subscribers to purchase a product. It should instead ask for a simple action, such as liking your Facebook page.
Here's an example of a welcome series structure:
"Welcome and thank you for joining our mail list"
"Learn about our outstanding quality standards"
"Learn how to solve [your problem]
"Follow us on social media"
"Check out our best sellers and use this coupon"
Step 2: Craft compelling subject lines
Each email should have an appealing subject line that will entice your subscribers to open your emails. It makes no difference what's inside if they won't open the email. The subject line serves only one purpose: to entice your subscribers to click. It is up to you to figure out how to do this for your customers.
Some customers prefer subject lines that are clear and truthful. Others like topics that are funny, clever, and vague. You need to figure this out based on your buyer personas.
Step 3: Set primary calls-to-action
As previously stated, each email should serve a specific function. Within the first few seconds of opening your newsletters, your subscribers should be able to say exactly what you want them to do. Your CTAs should encourage your subscribers to make small commitments. Micro commitments are small actions that, when combined, form a habit of action.
Asking your subscribers to watch a video, for example, is a micro commitment. They aren't committing much – just a few minutes of their time – but it prepares them to take the next actions you'll ask of them.
Also introductory or insightful emails that only aim to pass along details (such as a reminder that you're a part of a social cause or that your products are made in a conscious way) should provide a call to action. In this case, you can direct your subscribers to a page where they can find out more details.
Remove any content or photo that does not lead the reader to the primary call-to-action for another email. However, it is okay to include links to other websites in your email. Most online stores have some useful links in the header and footer. You may include links to your return policy, social media accounts, product categories, forum, and so on.
In your newsletters, you can provide a range of individual items as well as a call-to-action for each. These emails are fine; just don't send too many (or they'll become paralyzed by choice).
Step 4: Include some personalization
Even if your subscribers are new, that doesn't mean you don't know anything about them. Based on how they entered your list, you may make certain assumptions about their characteristics.
You may conclude, for example, that someone who purchased a large number of women's products is interested in women's products (pretty obvious, right?). So provide an offer for women's items in one of your welcome sequence letters. This means that the welcome sequence emails should be tailored to various consumer segments. Yes, this seems to be a lot of effort, but the rewards are undeniable.
For example, you might show more costly goods to high-spending customers. For a more basic example, if you sell smartphone accessories, show customers who buy Apple iPhone cases other iPhone-compatible accessories, while showing Android accessories to customers who just bought a Samsung Galaxy case. You can build a welcome series based on custom rules to ensure that your customers receive the right message.
9 Best welcome email ideas to try out
1. The self-introduction email
You can't presume that new subscribers and customers know everything there is to know about your business. Your welcome email should emphasize your unique selling points to reassure them that you are the right choice for them.
One word of caution: this does not imply that it should be all about you. Instead, focus on the advantages with your new contacts. This welcome email example from TravelSupermarket strikes the right balance, presenting the benefits of using their services and setting standards for future emails.
This email keeps things straight to the point by focusing on getting consumers to discover their deals rather than confusing them with conflicting calls-to-actions (CTAs).
2. The video greeting email
Showing your new audience what you have to give rather than just telling will help improve interaction with your welcome email. A short video introducing the company brings it to life in a way that text alone cannot.
This could be a message from the CEO that humanizes your brand and tells your story, or it could be video clips of your product in motion. Alternatively, as BarkBox does, you can use an animated GIF in your email to convey your brand's personality:
The GIF works alongside with the playful email copy to show new subscribers what the company is about.
3. The personalized welcome email
You can tailor your welcome email to each contact by changing the email content based on what you know about them. Zapier, for example, customizes their post-registration welcome email based on the user's signup process to make it as useful as possible.
Alternatively, you can display various content blocks based on criteria such as a subscriber's interests. Add questions to your email signup form to learn more about subscribers if you want to use this technique for your welcome email.
4. The getting-to-know-you email
If you want to keep your subscription form as short as possible, your welcome email will also provide audience insights. Use it to learn what your subscribers want, such as the type of content they want or the frequency at which they want to receive emails. This knowledge is not only useful for your strategy, but it also shows your audience that you are serious about satisfying their needs. This approach is exemplified in the following newsletter welcome: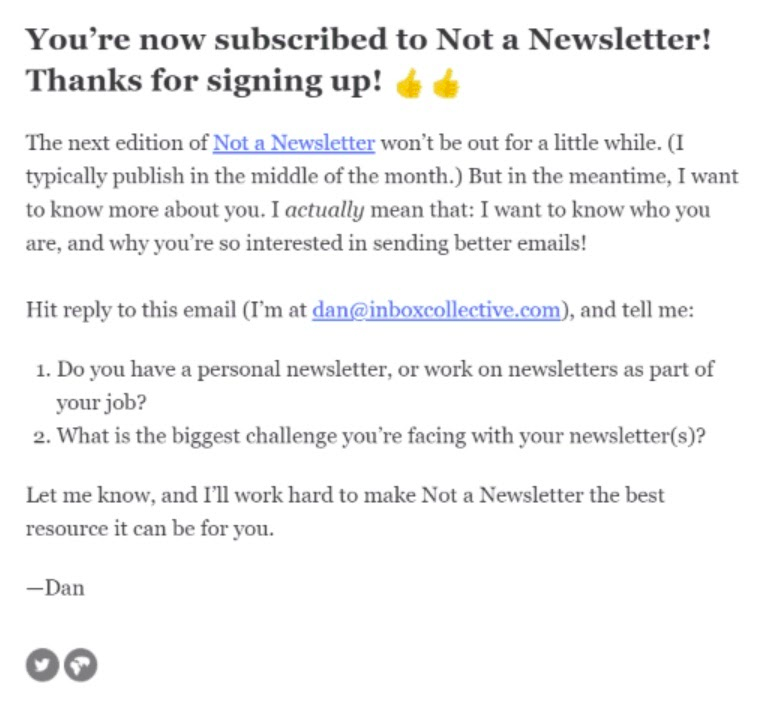 The conversational sound of the copy endears the reader, making them more open to the request. Meanwhile, the subject line of the email — "Welcome! I've got two questions for you!" — grabs attention with an emoji, then follows with an intriguing statement.
Rather than soliciting direct responses, you could share a connection to a profile update form to facilitate response collection. As a result, you'll have a better understanding of each contact's priorities and preferences, which will help you segment your email list.
5. The product showcase email
For B2C businesses looking to convert potential buyers, a welcome email is an opportunity to showcase the best products so they can't help but start searching. You could opt to highlight your signature product, or you could advertise best sellers or new arrivals.
Consider how the product imagery in the header of Glossier's welcome email template piques shoppers' attention. They follow this with a well-crafted brand pitch and a CTA button that encourages the reader to act on their piqued interest.
6. The special offer email
You can increase sales from your welcome email by using rewards such as discount codes or free shipping as a thank you for signing up. This strategy works well for ecommerce companies because the email will lead customers directly to their online store to redeem the bid.
For example, B2C retailer The Little Traveler created this welcome email template in order to provide an exclusive discount to those who sign up via their website. In order to facilitate potential visits, they complement this with useful knowledge about their physical location.
The coupon's expiration date urges consumers to act quickly, taking advantage of their curiosity while it is still fresh. To increase open rates, highlight the deal in the subject line of your welcome email.
7. The onboarding welcome email
If a consumer has converted, the goal should be to get them using your product as quickly as possible. And onboarding emails give them the knowledge and inspiration they need to get started. Content should emphasize educational tools such as tutorials and tips to assist new users in getting started and making the most of your product.
Workona, for example, sent a series of welcome emails that walk new customers through their apps. Via simple directions and a helpful GIF, the initial email enables users to take the first steps in getting set up. The CTA button then redirects them to the product for them to test it out. Finally, the customer quote adds a pleasant touch by demonstrating the advantages they get.
The emails that follow use a similar template to introduce the various features of the app. Each focuses on a consumer pain point and demonstrates how Workona's product provides a solution. The subject lines for the emails below, such as "Tip 1: Solve tab overload," highlight the value provided inside to motivate recipients to open their messages.
8. The resource delivery email
Lead magnets such as cheat sheets, ebooks, and downloadable models are excellent ways to entice potential customers to join your email list. However, if your first email just includes a link to the free resource, you're missing a trick. You've already enticed the customer, So now it's time to direct them through your funnel to a deal.
One strategy is to share your relevant material, as seen in the example welcome email below. This helps to increase the company's reputation with prospects by demonstrating your knowledge on related topics.
You may also inspire this potential audience to learn about your product by offering a free trial or a case study. Just be careful not to scare them away by being too promotional — the trick is to have something useful that will keep them interested until they are ready to convert.
9. The customer seal of approval email
Another strategy for gaining new contacts without having to brag about yourself is to let your existing customers do it for you. Using social evidence in your welcome message will inform subscribers that they made the right decision by choosing your company and promote more interaction. The welcome email from Huckberry is a prime example. By mentioning their one million-plus followers, it immediately instills credibility.
The rest of the email is strewn with customer endorsements, ranging from five-star ratings to glowing feedback, that lend credence to their claims.
Final words
That's it! I hope that this article has provided you with valuable information about how to write a welcome email series. Please feel free to leave comments below for further discussion on this topic!
New Posts
Stay in the know
Get special offers on the latest news from AVADA.