12+ Best Shopify T-shirt fulfillment apps FREE & Paid
After you start a Shopify T-shirt store, the next step is to find a fulfillment app that can help you with your store's day-to-day operation. Custom printers typically set a minimum number of orders, like 100 t-shirts, before they take your order. Nowadays, a number of companies provide a POD service, even if you only need one t-shirt. This post will provide you with information about the best T-shirt fulfillment apps on the market.
Not only can you buy t-shirts from these apps, but you can also order posters, cups, mugs, pens, and almost any product that can be printed on. The good news is that there are so many Shopify POD applications you can choose from. You need to select an app that suits you, and then you can start selling printed T-shirts in Shopify store. If the customer makes an order, you can process the order in the app, and the service provider will fulfill the order and ship it to your customer on your behalf.
What is T-shirt fulfillment?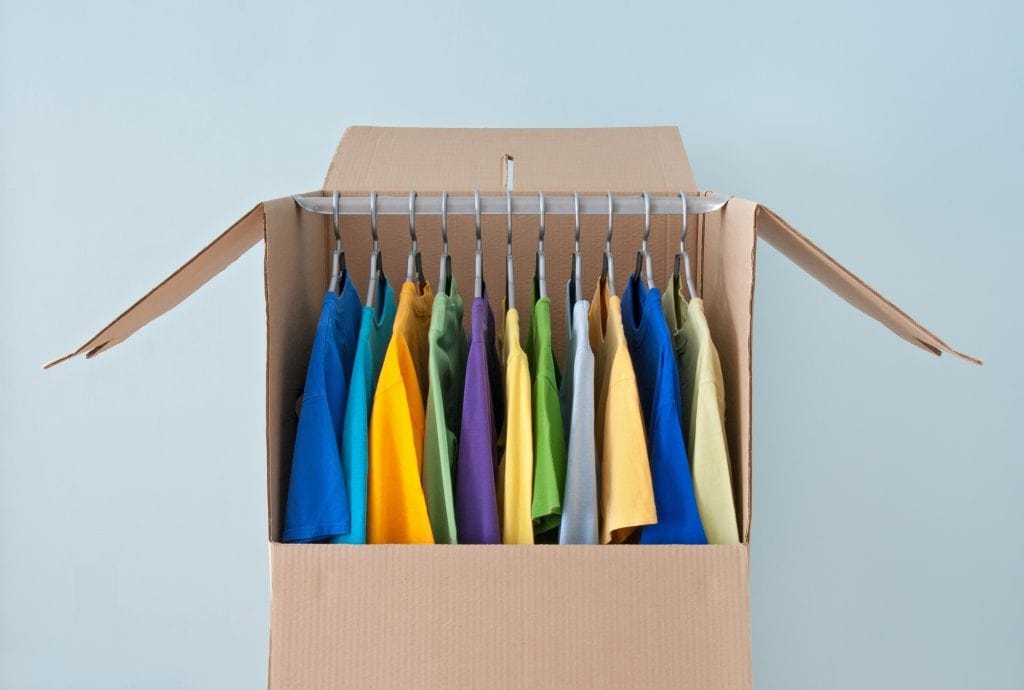 T-shirt fulfillment is when they are customized using preset or exclusive designs. When an order is made, the product's design is printed on it to produce a unique finish. There can also be an infinite number of finishes for a single product. Usually, printing and delivery are done by a third-party app known as a fulfillment center. They act as a supplier, but they also provide additional printing services as needed.
The Advantages Of using a T-shirt fulfillment app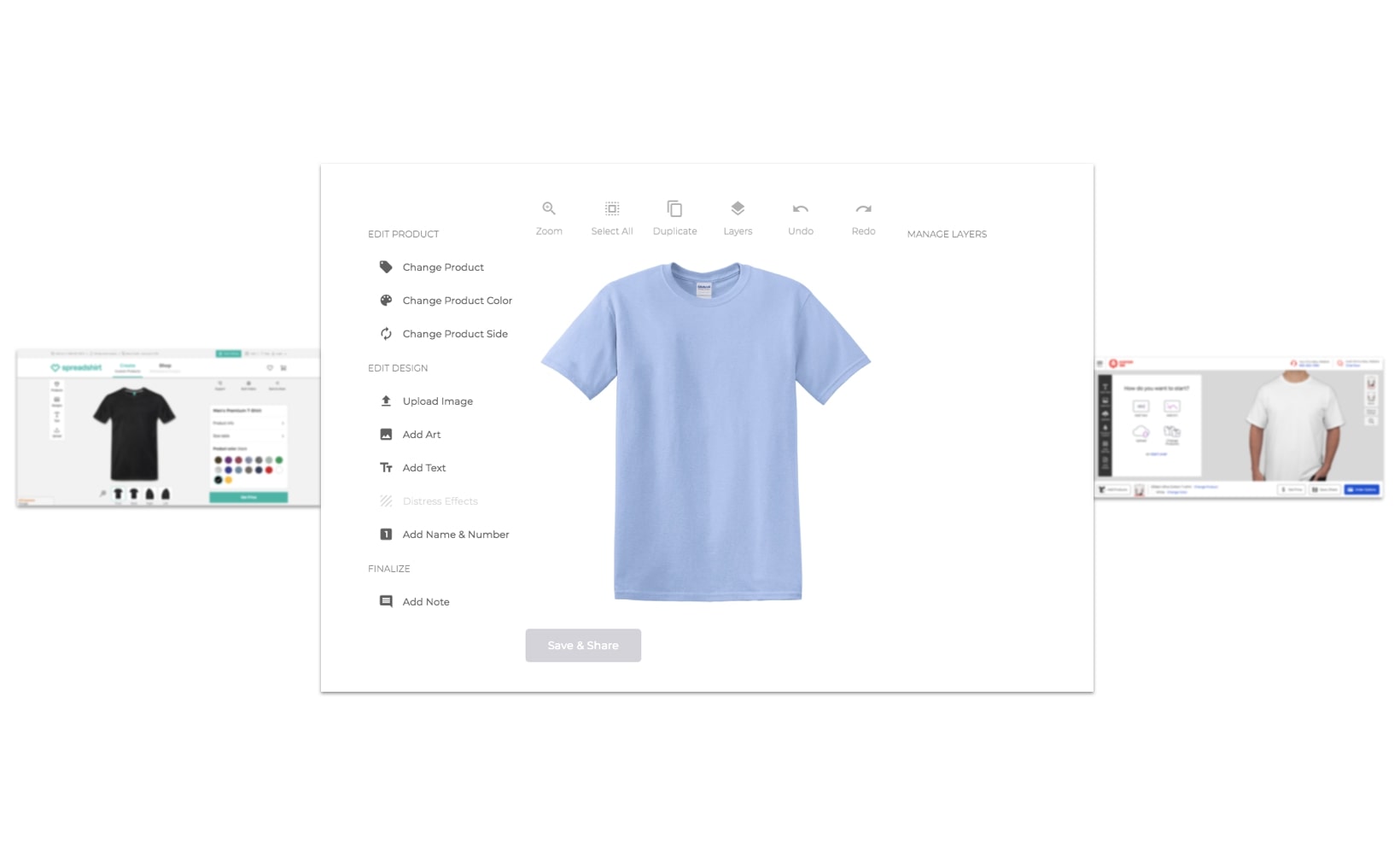 There are several benefits of using a T-shirt fulfillment app. For one thing, if you use a fulfillment center, there is no stock you need to manage. The service offered by the app will handle both stock and delivery. This will give you a better price for T-shirts, printing, and delivery. It also ensures that you can focus 100% on promoting your brand, designing new products using a mockup tool, and improving your revenue streams.
Besides, it helps you to run your company from any office or even at home. This will help you reduce costs dramatically while ensuring high-quality goods and customer support. A T-shirt fulfillment app is also a great side hustle if you don't expect a high number of sales, so look at it as an extra revenue source. It's perfect for YouTubers, writers, or podcasters.
What To Look For In a T-shirt fulfillment app?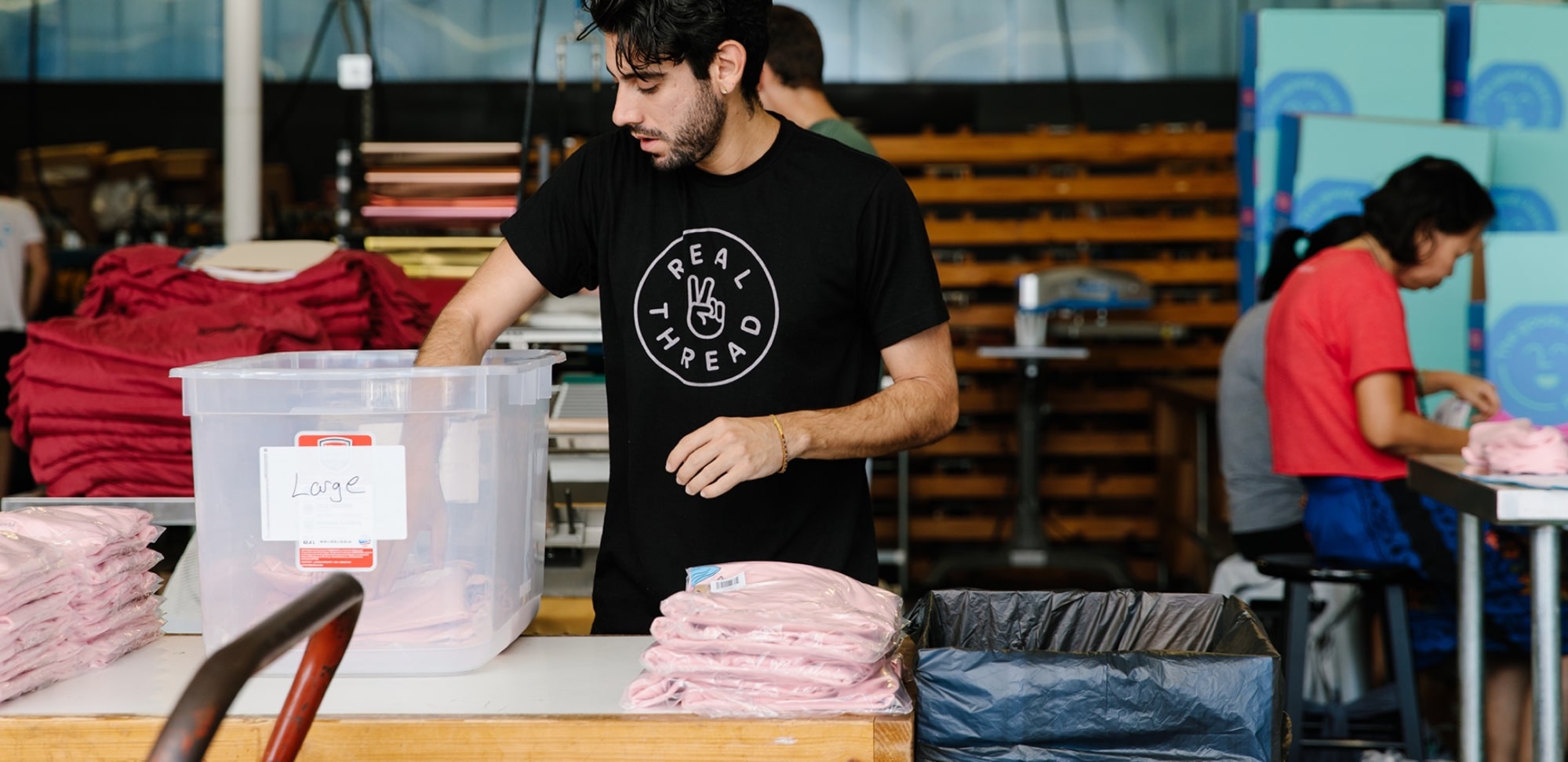 You need to look for a lot of things when you want to use a T-shirt fulfillment app. The first thing you need to consider is whether or not you want to print yourself. If you're going to do it yourself, there's no need for a specialized app. However, if you want a fulfillment center to look after printing and delivery, you can look at various things to select the right app. Many applications are unique to specific distribution centers, so you need to make sure you're satisfied with the supplier.
The first thing you need to take into consideration is the location of the printing suppliers. Some of the printing is done in only one territory. Others, though, will have several centers around the world. This would make it easier for you to serve customers around the world. However, if you are concentrated in a particular country/region, you may not want to have a supplier that offers services to a wider area.
Another factor is if you would like your audience to customize the products themselves. Some Shopify print-on-demand apps have features that enable customers to customize their products while others don't. You may also want an app that can offer a digital mockup for initial review. This will help you refine your designs before you order samples of your products. So, what are the best T-shirt fulfillment apps for Shopify stores? Let's jump right into the list!
Best Shopify T-shirt fulfillment apps
Printful

Printful provides customization for a range of different items, from t-shirts to hat mockups and posters to beanbags. They deliver quick shipping from locations in the USA, Mexico, and Europe, giving you plenty of geographical areas to sell your T-shirts. Printing is performed in-house with its own team of experts. Developing Printful goods is not as easy as other Shopify Print on Demand applications, but many users still find it intuitive.
Printful Highlights:
In-house printing, fulfillment centers are available across North America and Europe.
Shipping of products within 3 business days.
20% discount offered for sample products.
Over 160 products you can customize; T-shirts included.
Further Reading: Printful Reviews: Pricing, Features, Pros & Cons
Printify
Printify gives you the chance to customize more than 250 items and print them in more than 90 locations around the world, including the United States, the United Kingdom, China, Germany, and Australia. You can also be offered internationally with a service that gives you very affordable rates. Products can be built using an easy-to-use mockup generator. Items that you can design include t-shirts, shoes, accessories, hoodies, and more. The variety of items is wonderful and definitely one of the best.
Printify highlights:
Printing partners across the world provide lower production and shipping costs.
Review product designs in the mockup generator.
Printify handles production and shipping
Can integrate with WooCommerce and Etsy.
Further Reading: Printify Review: Pricing, Features, Products, Pros and Cons
CustomCat

With 15 years of experience providing on-demand T-shirt fulfillment service, CustomCat can help you bring in a lot of potential revenue. This service provider is very easy to print and ship objects. Some goods can be printed and delivered on the same day, but you should be looking at lead times of around three business days.
CustomCat has a wide range of goods that you can customize, and its catalog contains 550 products, from mugs and posters to t-shirts and hoodies. So, whatever you're looking for, you can easily build a wide range of custom items available in your store. One of the best features of CustomCat is that it provides DTG, Embroidery & Dye Sublimation for all print-on-demand items. They can also be personalized by the consumer so that they can add a name to every product to create a completely unique product.
CustomCat Highlights:
Offers DTG, Embroidery & Dye Sublimation print-on-demand.
Fast turnaround times, products can be shipped out on the same day as the order.
Competitive pricing for all products.
Allow customers to add further customization.
Teelaunch

Teelaunch has a great deal of expertise to help you fulfill your T-shirt orders. They have more than 170,000 feet of on-demand print manufacturing facilities located worldwide. You can also be confident that the ordered goods can be manufactured and delivered easily from their network of global facilities. You can offer a lot of items available via the app, including T-shirts, dining ware, clothes, accessories, and beverages. Your catalog of custom goods will, therefore, be complete and very appealing to customers.
Teelaunch is also great at servicing all the revenue sources. If you have a physical shop, you can take orders in-person and order Teelaunch goods manually. The items can then be shipped to you or to the home address of your customer. If you sell on Etsy, there is an integration option for you.
Teelaunch Highlights:
Integration with Etsy.
Printing takes about 3 or 4 days for orders.
Lots of different products to customize and sell.
Locations across the world.
JetPrint

JetPrint was initially a custom watch supplier. They now sell 50 styles of watches to be personalized and other items such as tote bags, T-shirts, doormats, and other items that will allow you to create a wide catalog of excellent products tailored to your branding. If they don't give what you're looking for, you can always inquire about new product lines.
Your selling can be worldwide, thanks to their worldwide drop supply network. Approximately 97% of deliveries can be tracked, providing the customers with confidence that products have been delivered.
JetPrint Highlights:
Lots of different products for customization.
Track up to 97% of your orders.
Global supply chain. Sell across the world.
Request new product lines.
SPOD

SPOD gives you a fantastic processing time, less than 48 hours for most orders to be printed, packaged, and delivered. There are 50,000 free templates that can be added to all kinds of products to help you get started. Or you can use your own photos to add to your items. If you want a preview, you can get 50 percent off the first two products. SPOD prides itself on a low rate of return, so you can be confident that consumers will be satisfied with their purchases. SPOD has had over 16 years of experience in this field.
SPOD Highlights:
16 years experience in dropshipping.
Get 50% off your first two items if you buy samples.
Turnaround times are less than 48 hours.
Create designs with your own photos or use any of their 50,000 photos for your products.
AOP+ Easy Print on Demand

With operations around the world, such as the United Kingdom, the United States, and Europe, you get high-quality goods at a reasonable price with customization. AOP+ specializes in providing YouTubers, bloggers, and other types of creative artists with a way to offer merchandise to their audience. The company guarantees that all their printing will be carefully done in-house and that everything will also be made in-house.
Numerous goods are available to customize and sell from them, including T-shirts, as well as flags, doormats, and other products. Designs and mockups can take as little as 30 seconds to generate.
AOP+ Easy Print-On-Demand Highlights:
Easy integration with many apps.
Product designs can be created in 30 seconds.
Lots of great products for customization.
All manufacturing and printing are carefully done in-house.
T-Pop

Located in France, T-pop is an easy-to-use T-shirt fulfillment app offering fast set-up and great profits. You just pay for what your customers buy, and the quality of the goods is of a high standard. When orders are to be shipped to Europe, a monitoring facility is available to keep you at the top of all deliveries. Customers are frequently updated with shipment alerts. They're all white-labeled, so consumers think it's all coming from you. A lot of great items are on sale from the supplier, including clothes, shoes, and even bottled beverages.
T-pop Highlights:
A large range of products for customization
Items printed and shipped from France. Great for stores based in France.
All items are while labeled, so you can add your own branding.
Two Fifteen

Two Fifteen deal with everything from printing to fulfillment and delivery. Their fulfillment team is located in the United Kingdom and will submit any orders within five days. All products that are printed are reviewed by a quality management team to ensure that returns are minimized. For those wanting to have a wide catalog, you're not going to be disappointed by Two Fifteen. They have over 200 items that can be personalized with numerous designs that provide a unique way to fill an online store. Some of the most common products include T-shirts, hoodies, cushions, mugs, and tote bags.
Two Fifteen Highlights:
High-quality products with individual item quality checks.
Worldwide shipping from London base.
Lots of customer support options, including live chat, phone, and email.
Five day turnaround time.
Pixels

There are more than 100 items that you can customize with Pixels, and this app is well known for its quality control and ease of customization. They have 15 centers across the world, from the US to Europe to Australia, so delivery times and costs are minimized, giving you and your customers the best prices.
They've got a lot of items on sale, including T-shirts, wall art, clothes, and other accessories. The price for each commodity is set, so you can easily measure your retail price and profit. Plus, you can change the rates that you charge to your customers at any time. There are no minimum or maximum prices to restrict the price you want to sell at.
Pixels Highlights:
More than 100 products for customization.
There are 15 fulfillment centers in five countries.
Used by some of the biggest brands such as Marvel, DC Comics, Vogue, and others.
Products are printed within two or three days after being ordered.
WC Fulfillment

If you're looking for an experienced service to help you with T-shirt fulfillment, then you can definitely add the WC fulfillment to your shortlist. They promise to print and distribute your personalized items directly to your customers within three days. Their costs for processing products are at a competitive price, enabling you to increase print profits on-demand products.
WC Fulfillment provides three to five product mock-ups for you, which can be used on your website to help convert customers. They also ensure great customer satisfaction; as long as customers are not satisfied with their purchase, the team can replace it free of charge.
WC Fulfillment Highlights:
Great customer service.
Shipping within three days.
Great low prices for products.
Factory4me

If you want to start selling designs that you want to print on products such as t-shirts and hoodies, then Factory4me is a great choice. This on-demand print service ensures that you do not have to store items and that you can use their collection of ready-to-use models to create excellent products for sale. There's even a nice mockup generator so you can see what the items look like before you put them in the shop.
Factory4me gives you the chance to add your branding elements; even the label of treatment and the label of packaging can have the logo of your brand. Customers would also not realize that a third party is involved in producing and shipping the product.
Factory4me Highlights:
Mockup generator that allows your customers to see products before buying.
Great branding options.
Lots of attractive templates
User-friendly mockup generator.
Final words
That's it! I hope you have found a suitable T-shirt fulfillment apps for your business in this article. I think they can make it easier for you to do business on Shopify. Please choose to try them, if not suitable can cancel. Please feel free to leave comments below for further recommendations on this topic. :-)
Related Post:
---
Sam Nguyen is the CEO and founder of Avada Commerce, an e-commerce solution provider headquartered in Singapore. Sam aims to support more than a million online businesses to grow and develop.
New Posts
Stay in the know
Get special offers on the latest news from AVADA.