Top 20 SMS Marketing Examples/Case Studies to Inspire You in 2023
According to studies, SMS (Short Message Service) has become the 2nd-most-preferred communication channel among generations young and old worldwide. SMS marketing keeps gaining popularity, and it is expected to increase by 52% by 2023.
However, not all SMS campaigns are created equally. Some lead to high customer engagement and conversion rates, while others cause frustration, unsubscribes, and damage brand reputation.
Obviously, you would prefer the former over the latter - but it's always easier said than done. Let us lend you a hand!
This article will walk through the top 20 SMS marketing examples/ case studies to inspire you. Let's jump right in!
Top 20 SMS marketing examples/ case studies
1. Airbnb
Airbnb enables users to list, discover, and book accommodations that suit their travel needs. Once guests have found an appropriate place, they can communicate with the host through Airbnb's website or mobile to finalize the reservation details.
Airbnb automates its mobile communications by sending hosts SMS messages with information about potential guests looking to book their place.
Once a guest requests to book a place, hosts automatically receive an SMS and then instantly confirm or deny the request on their mobile phone. Airbnb's SMS program also lets hosts and guests text each other directly about the reservation details through masked phone numbers in order to protect both parties' privacy.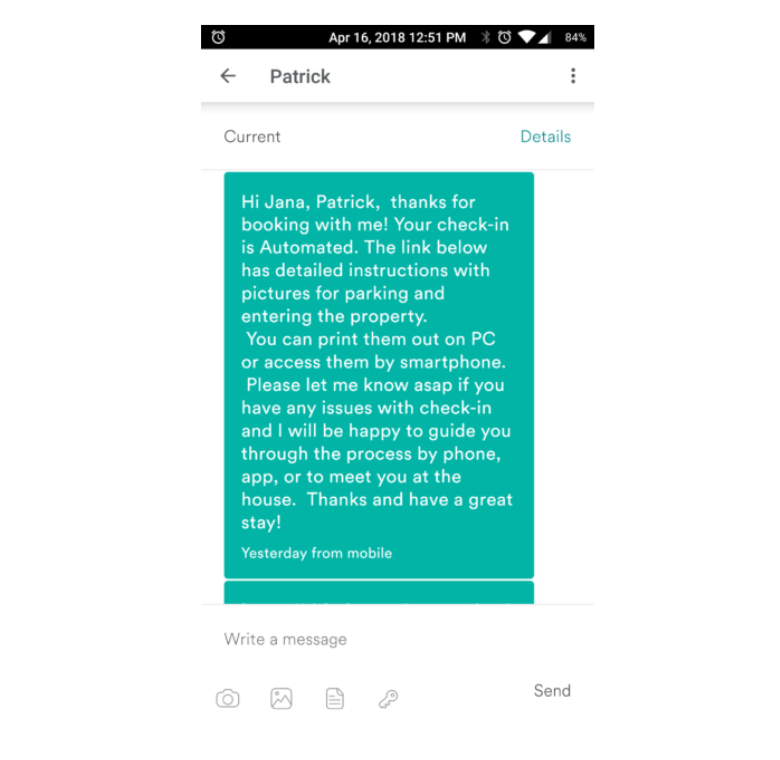 2. Game of Thrones
HBO would like to give Game of Thrones (GOT) fans a much more amazing experience than traditional TV commercials and social media posts could create. They decided to tap into the power of SMS to send personalized text messages through a campaign named the Three-Eyed Raven.
The text-powered service sent reminders, links, and clues to subscribed fans that teased out upcoming episodes. The campaign attracted 70,000 subscribers within the first two months of launching, which helped create record-high hype for every episode of the season.
3. Lyft
To complement its marketing efforts, Lyft uses SMS to facilitate real-time communication between drivers and passengers. The app sends out automated text messages to passengers when a driver accepts their ride request, arrives at a location, or changes in ride status.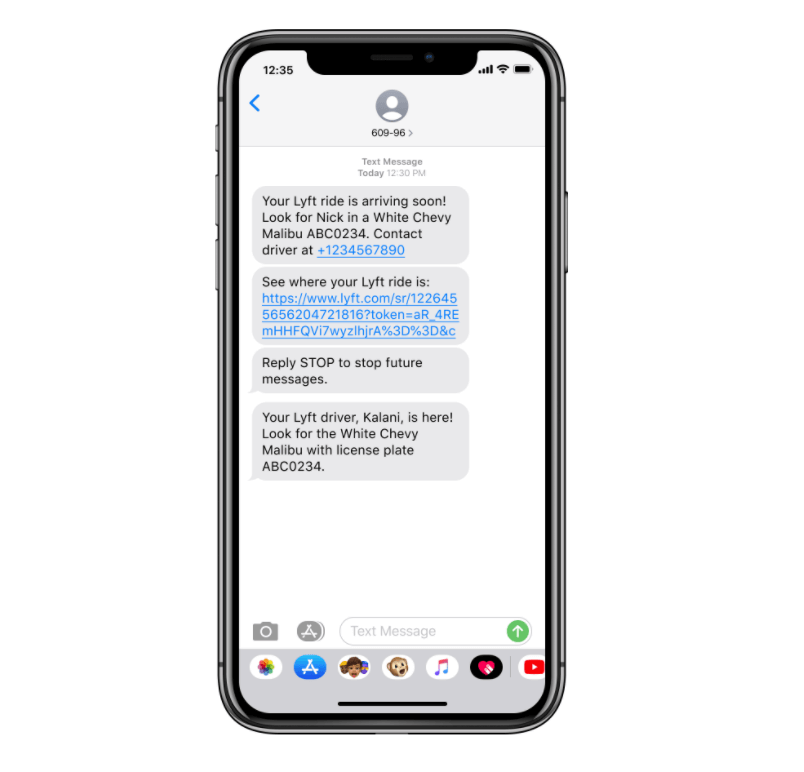 It also uses SMS marketing to let drivers and passengers communicate with each other without revealing their phone numbers. This makes it much easier for both parties to share their locations.
SMS marketing allows Lyft to cut a lot of support costs. By letting passengers contact drivers directly, its support team was freed up to be more efficient and address much higher priority issues. Its integrated email and SMS communication ensure that both drivers and passengers have a safe and positive experience.
4. Dell
Dell is considered one of the largest PC and monitors vendors worldwide, but it is not easy keeping up with all that demand. In order to keep up with order confirmations and customer alerts, Dell implemented text message marketing.
With SMS, Dell would update customers on orders, and inform customers of credit card holds. Customers were able to return quickly to the site to enter a different payment method or contact their credit card company directly to resolve the issue.
With up to 98% of SMS messages being read within 4-6 minutes of delivery (compared to 22% for email), the brand was able to keep customers always in the know.
5. Longmont Climbing Gym
The brand uses a point-based system to reward members who visit the club, share its posts on social media, refer friends, and more. Members can actually redeem these points for free guest passes, discounts on retail, shoe rentals, and even an hour-long privilege of choosing its Pandora radio station.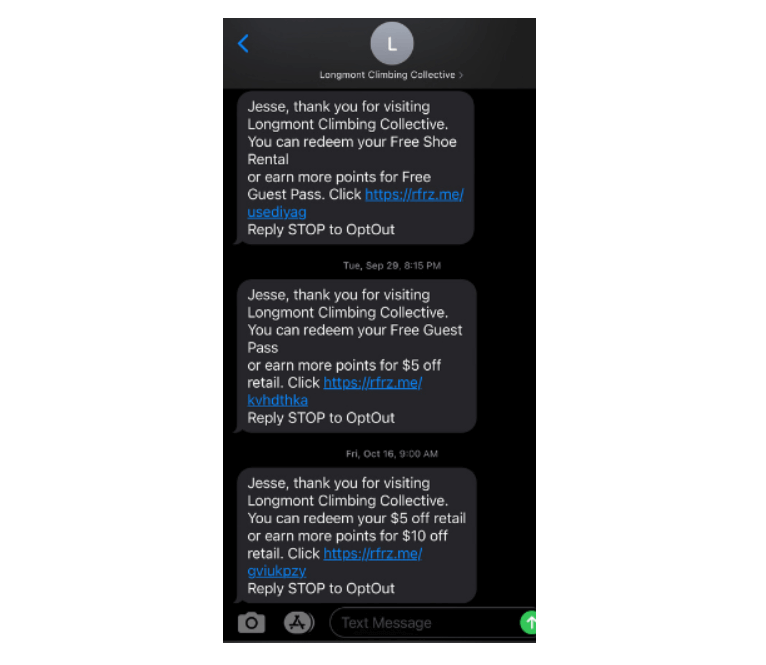 Nevertheless, without a friendly reminder, most members forget about these incentives. To keep it at the top of members' minds, the gym regularly sends out SMS updates when they earn enough points to unlock a new perk. It is a fun way to get members engaged, while encouraging them to invite friends and support the retail shop.
6. Jostens
As a provider of yearbooks, gowns, caps, announcements, and class rings for high schoolers, Jostens knew that cell phones were their best platform to reach the young people they were targeting.
The brand had previously been using direct mail and home phone calls in order to remind students about the next appointments and deadlines for payments. This cost them hundreds in postage and time. Moreover, it was difficult for Jostens to keep track of students' addresses and phone numbers.
Then, the company decided to go with text message updates. Their promotion would be advertised on diploma cards that are handed out to students. The brand incentivized students by telling them that they'd be automatically entered to win a free class ring by signing up for SMS.
Jostens encouraged students to spread the word about its new system by forwarding the message along. By switching to SMS text messaging, Jostens saw a higher student turnout for deadlines. It also enabled students to call a number for any questions they might have.
As a result, the brand could save more than $1,000 in postage alone, proving that SMS text marketing effectively targets high schoolers.
7. Hydro Flask
Hydro Flask is well-known for its vibrant-colored steel water bottles, but it is hard to convey its true nature with text alone. That's why the brand takes advantage of MMS (Multimedia Messaging Service) marketing to include colorful images of its products.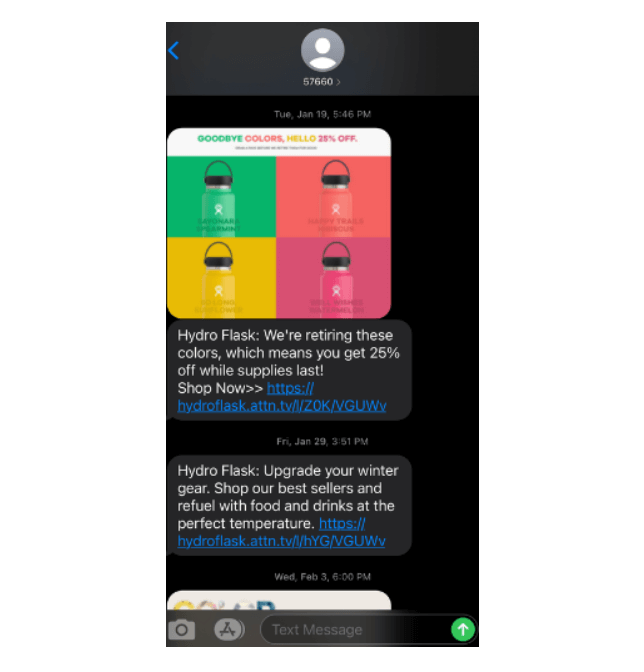 Hydro Flask sends marketing text messages a few times per month to show off its brand-new bottles and themes. The brand successfully achieves the delicate balance between showing and telling without overwhelming recipients with too many marketing messages.
Read more:
8. Delta Sonic Car Wash
The weather and the time of year significantly impact the amount of business a car wash attracts. Delta Sonic wanted to drive traffic during slower times. Email marketing offered some success, but it could not reach people quickly enough to combat weather-induced stagnation.
The brand advertised its text message club using signage at each facility, social media posts, a web sign-up form, and signage at sponsored local events. They offered a free bottle of water or a slushie as an opt-in incentive.
Over 2 years, the brand had grown its SMS list to more than 50,000 subscribers. On one rainy day, they could drive over 1,000 customers to their locations with an offer on internal cleanings. Without the use of SMS marketing, they'd have made a fraction of those sales, and their staff would have been left unoccupied.
9. Yelp
In order to boost its marketing, Yelp uses SMS to meet its users where they are most active: on their phones.
Through Yelp's SMS program, users can text restaurants to make, modify, or cancel their reservations. Businesses can also deliver text alerts to update their customers on reservation availability and wait times, and they can even directly reply to their customers' inquiries.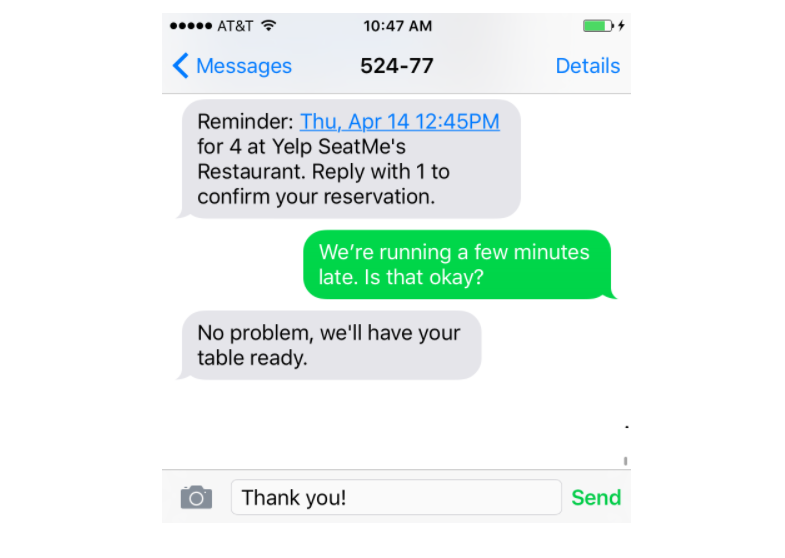 Its use of SMS bridges the gap between brands and customers through a direct and real-time communication channel, which creates better experiences for both businesses and customers alike.
10. Ross and Pines Law Firm
The Ross and Pines law firm was looking to make their communications more efficient and client-friendly. In particular, they were concerned about clients who do not frequently use email.
The company set up SMS capabilities and promoted them through its website. They identified some use cases for text messages, such as:
Sending appointment reminders
Providing directions to their office or the court
Gathering case information
Reminding clients about court dates
Receiving accident and injury photos
Answering client questions
By utilizing SMS marketing, the company noticed significant time savings, which stemmed from a reduced need for phone calls. This resulted in cases moving forward faster, and the ability to view conversation histories led to a decrease in the duplicate effort.
11. Doordash
Doordash is a food delivery platform that delivers restaurant food right to customers' doors. Through the Doordash app, people can purchase food from local merchants and have it delivered to them in 45 minutes or less.
Doordash uses SMS to streamline communications between dispatch, drivers, and customers to provide speedy and reliable service. Its SMS program lets dashers and customers text each other through masked phone numbers, protecting both parties' privacy while ensuring that orders get delivered to their correct recipients.
The platform also relies on SMS lead alerts in order to help convert interest into sales, track orders, as well as provide real-time customer service.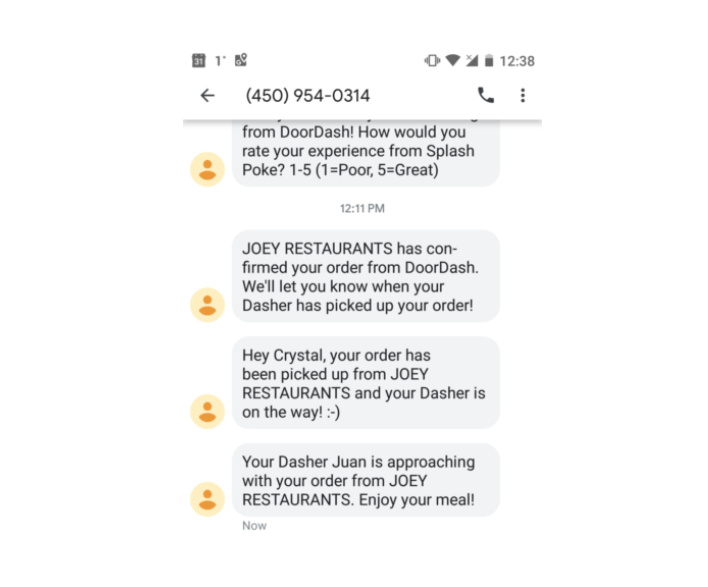 By using SMS in addition to email, Doordash can generate new sales and cut down on the delivery time, sometimes to less than 15 minutes. Its dependable communications program enables them to instill confidence and trust in the eyes of their customers.
12. Hilton Hotel
The Hilton Hotel Group successfully used SMS marketing to increase guest numbers to its hotels and build customer loyalty.
The hotel sent out important messages, such as specials and promotions, directly to its members' mobile handsets. This method allowed the hotel to instantly get the messages out at the most appropriate time.
The use of SMS marketing resulted in a 10-25% uptake of offers delivered by the hotel, and proved to be an essential part of its marketing strategy.
13. Instacart
As an on-demand delivery grocery service, Instacart delivers food and supplies to customers in as little as an hour. The platform serves more than 375 cities across the US, and targets to take the time and hassle out of traditional grocery shopping.
Instacart uses SMS to manage its order confirmations, delivery ETAs, customer satisfaction surveys, and employee shift alerts. It also utilizes the two-way communication capabilities of SMS by enabling shoppers to text customer service representatives in real-time about their groceries' status.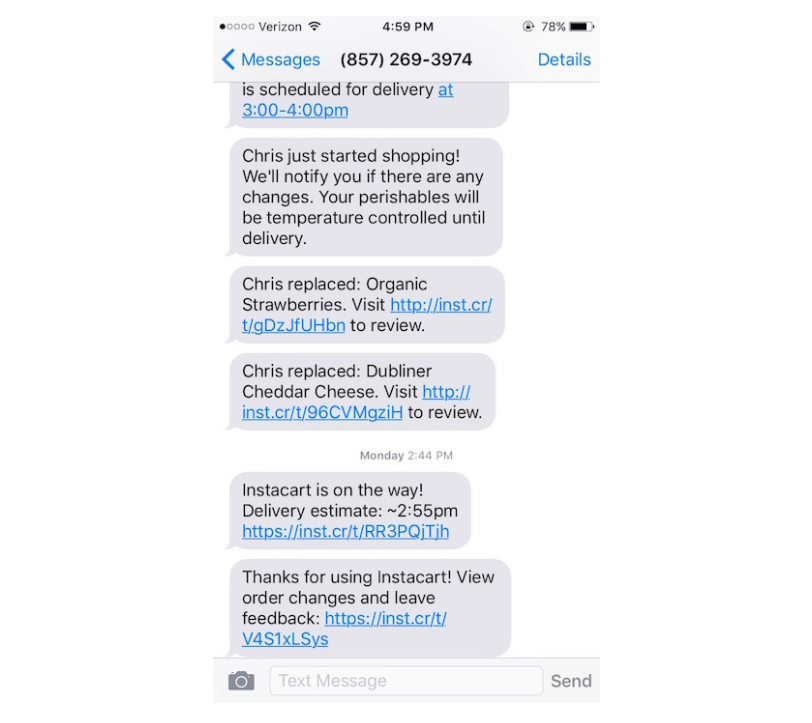 Both shoppers and delivery workers use masked mobile numbers, so they are able to communicate efficiently while keeping their personal information private.
14. National Wholesale Liquidators
National Wholesale Liquidators, a chain of 12 warehouse-style closeout discount stores, created an opt-in database of 50,000 customer's mobile phone numbers. The brand did this by offering $5 off any purchase over $25, but only after a shopper had joined their SMS marketing campaign. The promotion was displayed in-store, online, and via print advertising.
On average, customers with the promotion spent 80% more than those that didn't receive the promotion ($45 vs. $25).
15. Trulia
As an online residential real estate site, Trulia connects home sellers, buyers, renters, and real estate professionals.
Trulia's SMS marketing program lets real estate agents instantly connect with new leads. Trulia found that if a real estate agent returns an inquiry call within the first 5 minutes, the probability of lead conversion increases 100 times.
Understanding this, the company adopted SMS into its communications program to instantly notify agents when a new lead comes in. Even when real estate agents are busy on calls or assisting other clients, they can still receive leads immediately through SMS. This allows them to respond to new customers in need of assistance promptly.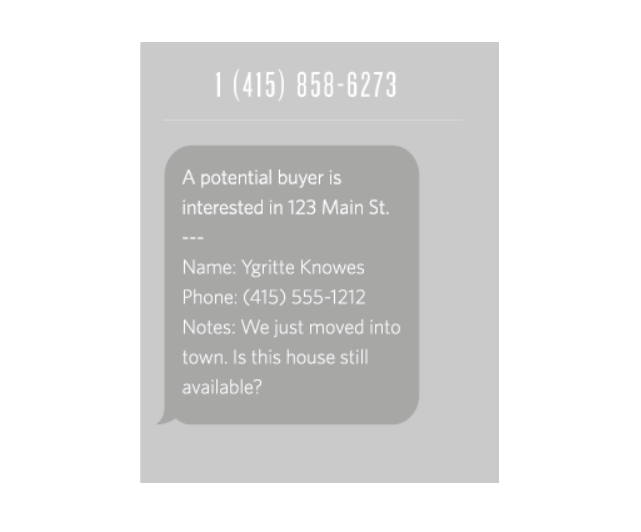 With SMS, Trulia was able to convert 60% of their online leads into customers. Its combination of email and SMS marketing enables it to position itself as a leader in the real estate industry and enhance its customer service communications.
16. Peta2
Peta2, a youth program within the Peta organization, launched an SMS marketing campaign at Warped Tour. The campaign was built to promote Peta2's "Animals Don't Smoke" initiative.
The campaign encouraged people to text "BUTT" to 73822 to "Win Free Stuff," such as a button, sunglasses, or a bag. Once opted-in, participants received an instant-win SMS message, which encouraged them to reply with a comment urging the FDA to ban cigarette testing on animals.
More than 25,000 people opted-in to the campaign at the event.
Looking for more non-profit SMS marketing case studies? You are in luck as there is one more on this list from the American Red Cross.
17. American Red Cross
The American Red Cross came up with an ingenious way to raise money for people affected by the largest Atlantic Hurricane on record: utilize text message marketing.
20% of relief funds were raised via SMS donations. Due to its convenience, this form of giving has gained popularity and some churches have even adopted a "text to tithe" option into their service.
Instead of letting you give out your credit card information, the donation is added to your mobile phone bill. Although this may not be marketing a product/service, it shows how people are more willing to spend money if they see that the charity/business is trying to create convenience.
18. The Edge 96.ONE
The Edge 96.ONE, Sydney's leading hip hop and R&B station, featured many new artists and wanted to develop a user-friendly interactive SMS service.
The service allowed listeners to find out the name and artist of the song on air with their mobile phones. By doing so, they could reduce the number of phone calls received at the station. There was extensive back-end integration at the station, so the database was updated constantly.
Before each music slot, the DJ announces: "To find out what is playing, just SMS SONG to 19757777, and we will SMS ya back the name of the song and artist!" The requester gets the name and artist of the song texted back to them.
19. Pizza Hut
In one campaign, Pizza Hut combined SMS text messaging and geofencing over 15 months.
During this period, the company set up geo-fence locations within a half-mile radius of each location. Whenever customers who had signed up for SMS were within a half-mile of a Pizza Hut location, they would receive an SMS promotion on their phone.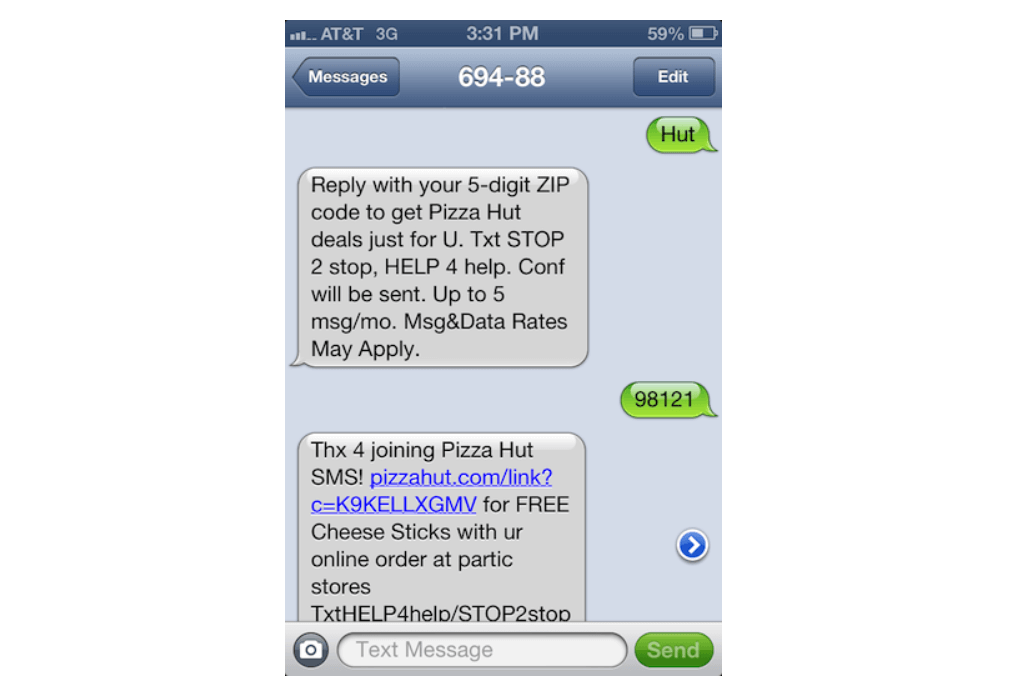 With this campaign, Pizza Hut witnessed 142% more efficiency in increasing incremental sales. Plus, it was 4.4 times more effective than TV commercials and 2.6 times more effective than online ads.
Of course, Pizza Hut may be larger than your company (they were marketing to 340 locations), but the same principles apply to companies with only a few locations.
20. Tide
Tide utilized SMS marketing to promote its new high efficient laundry detergent. The company attracted subscribers by providing the chance to win a year of free Tide HE detergent.
Initial sign-ups for the campaign were done on its official website. For people to enter the contest, they were prompted to choose their washing machine type and submit their mobile number and carrier. Anyone that signed up for the campaign was privy to special offers, laundry tips, and stain solutions - all sent directly to their phone.
This method ensures a higher interaction rate than shared social media posts, as people who subscribed are already interested in your brand. Sharing on social media channels doesn't always guarantee that all followers see your posts, but almost everyone looks at their text messages.
So far, this campaign has brought in 48,000 subscribers.
SMS marketing best practices
In this section, we'll walk you through a few best practices to help you get started on the right foot.
1. Get permission with opt-ins
SMS marketing and email marketing are typical examples of permission-based marketing. That means you need to have users' permission before starting sending them messages. This is not just good etiquette, either - it is the law.
2. Use a brand-friendly shortcode
A shortcode is often a special 5-to-6 digit number used for high-throughput, two-way messaging. These numbers are much easier to remember and type (because they are shorter) and optimized for marketing.
Wireless carriers approve these short code numbers, which means your message will be sent faster and get blocked less often. This is necessary for time-sensitive offers, such as flash sales and limited-time discounts.
3. Always provide a CTA (call to action)
Every text message should include a clear, concise CTA. Tell your recipients exactly what to do with your messages, such as "Click to Buy," "Sign up before it's too late," "Text us back," "Enroll in the program," etc.
4. Engage in real-time conversations
Unlike social media ads, TV commercials, and radio ads, text messaging should be a two-way conversation.
Enable recipients to respond to your messages and engage in a value-oriented manner. If you are sending massive campaigns, consider setting up automation to send personalized follow-up texts, so you don't leave your recipient hanging while you get to their message.
5. Combine SMS and email to get more effective results
As you can see, many well-known brands use SMS marketing to complement their email marketing. Striking the right balance between email and SMS is the key to providing a seamless communication experience for your customers.
AVADA Commerce helps you create automation workflows, which include both SMS and email to boost your sales. It's easy to create, logical, and effective. For more information, please check out our guide on How to Combine Email and SMS in Automation.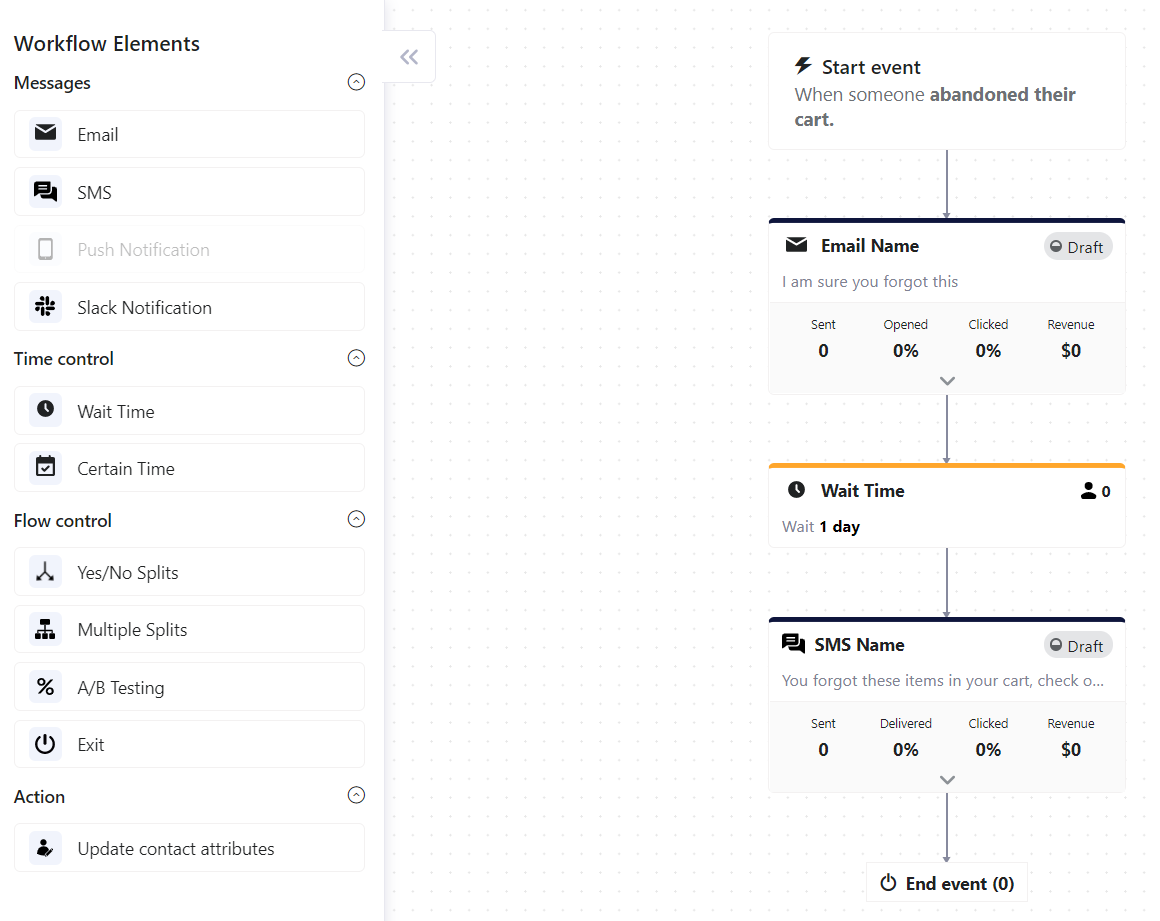 EXPLORE AVADA SMS & EMAIL COMBINATION
6. Measure your results
Monitor your click-through rates and conversion rates. This will help inform upcoming campaigns so that you're able to optimize and prioritize the right messages. If you see any problem, you can immediately implement a fix before too many recipients are affected.
The bottom line
SMS marketing is not just the future; it is the present day.
Without SMS marketing as a core part of your marketing strategy, you run the risk of lagging behind and failing to obtain the benefits of the wider reach as well as better engagement rates of catering to mobile devices.
Is your brand currently using SMS and email as part of your wider strategy? Do you find any problem with the creation, automation, or increasing engagement?
To find out how your brand can get the best out of SMS marketing, contact our team today! Thanks for reading!
New Posts
Stay in the know
Get special offers on the latest news from AVADA.