All You Need to Know About SMS Marketing in 2023
SMS marketing has been around for such a long time, ever since a simple mobile can receive text messages. But, in recent years, the spectacular rise of smartphones has paved the way for consumers to do so much more shopping from the palm of their hands. With each new platform, your customers are discovering more channels to engage with your brand.
To reach today's customers effectively, your company needs to meet consumers where they already are: on their phones. SMS marketing provides eCommerce brands with a tool to build a new top revenue channel, thanks to perfectly tailored messages to where receivers are in their buying journey. Add to the fact that many consumers now are digital natives - millennials and gen Z; they love the short and easy to consume SMS format.
This guide will share all you need to know about SMS marketing in the eCommerce world with expert tips, insights, and best practices. After reading, you will build the most powerful SMS marketing strategy and have a better ROI with your SMS effort. Let's get started!
What is SMS marketing?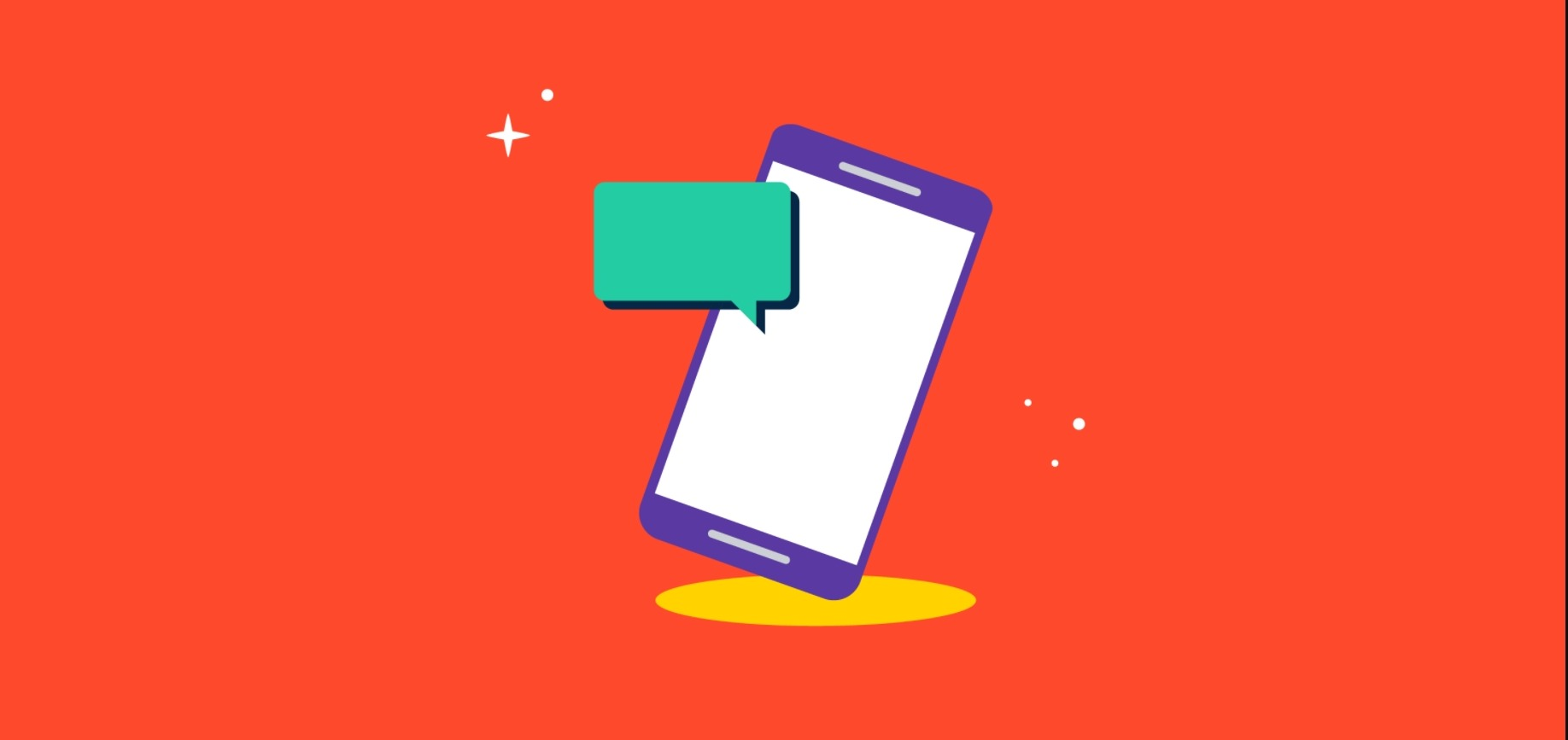 SMS stands for "short message service," or often known as text messaging. With SMS marketing, brands use SMS to connect with their customers. These messages can have up to 160 characters and can be used by companies to send customized information to recipients. They often take only seconds to get sent, giving receivers a push notification for arrival.
In the modern world, SMS is no longer a bunch of words in the inbox. The tool can also help you enhance your online presence and achieve a better engagement rate on your marketing campaigns. Your customer's mobile journey is essential nowadays, and SMS can seriously be a valuable tool.
SMS marketing is great for these three main reasons:
Boosting engagement from customers and subscribers
Increasing the brand's awareness
Generating more sales
Building a relationship with buyers
Collecting and nurturing leads for a better conversion rate
Still, SMS marketing is often an underused channel, even when it provides a unique opportunity to connect with consumers. To prove SMS marketing's potential, let's take a look at real data in the next section.
The benefits of SMS marketing
SMS marketing is a good channel year-round because there are a few aspects that make it stand out as a unique channel. Using it right, and your brand can have a great competitive advantage. Here are some real data from Zipwhip research to show you how effective SMS marketing is:
74% of consumers have zero unread texts, and only 4% have seven or more unread texts.
Multiple industries have discovered the value of SMS marketing, with the highest use in industries like real estate (73%), agriculture (65%), entertainment and leisure (63%) and then construction, machinery and homes.
76% of consumers claim to have received some kind of text message from a business.
67% would rather text with a business about appointments than by email or phone call.
43% of consumers have proactively texted a business.
But that is enough with the number; here are the reasons to use SMS marketing that you can relate to:
SMS is fast: your SMS campaigns will be received immediately, and, even better, be read almost immediately as well. 90% of SMS are read within 3 minutes, making SMS perfect for hyper time-sensitive offers.
SMS has a great engagement rate: 70% of consumers say that SMS grabs their attention well because the message is read even before the phone is unlocked, thanks to the notification that appears on the screen. This helps SMS earn more clicks too.
SMS goes well with an email campaign: While customers often hide the information from emails on the lock screen, an SMS often has an instant push notification that stays in place until it gets read. This means a customer is more likely to open at least one SMS, which leads to them checking out your email notification.
How to use SMS marketing for a better customer experience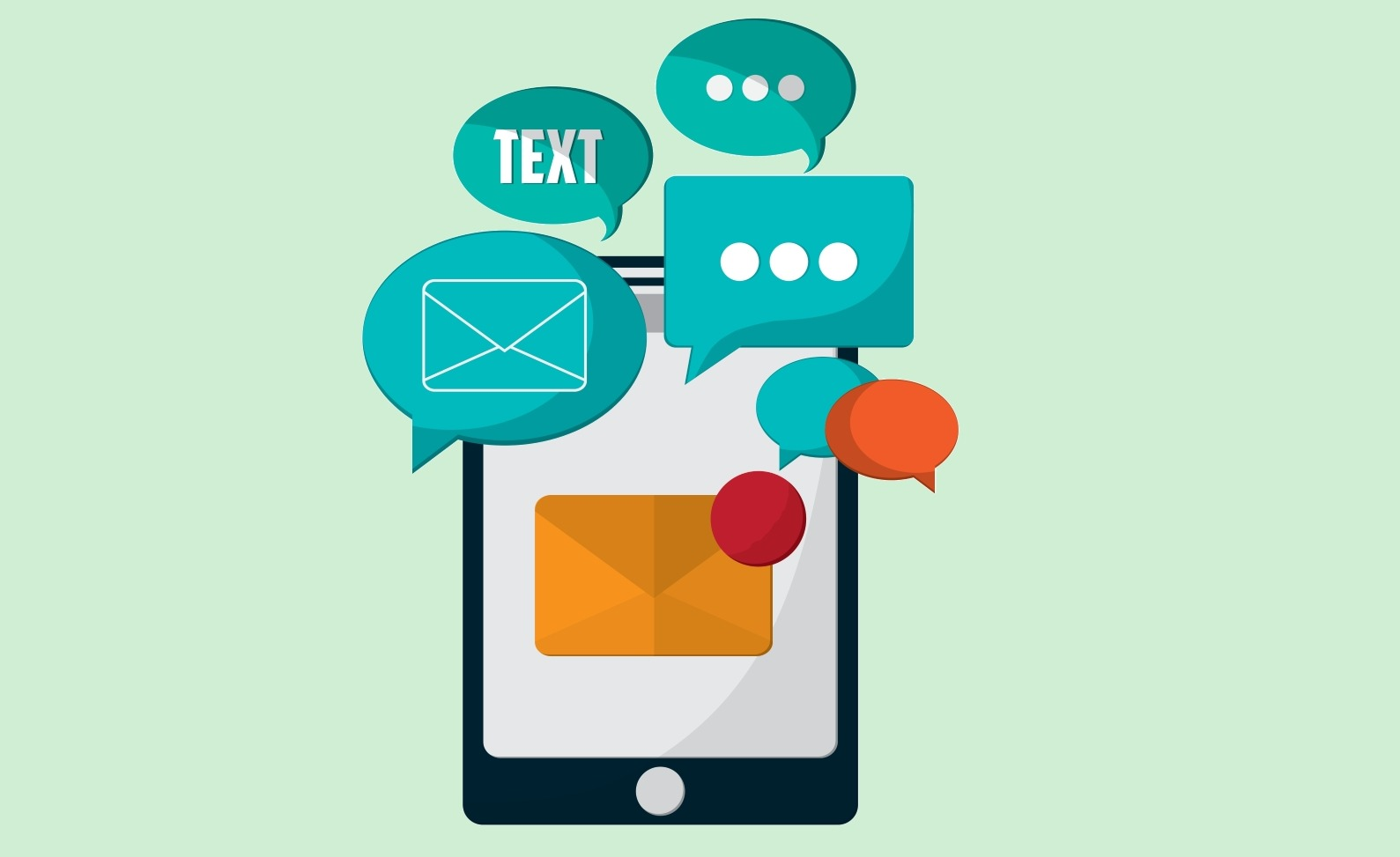 When it comes to SMS, you have endless possibilities to create a fantastic customer experience just by sending them in-time and relevant text messages. At the very least, you can include automated SMS that updates on shipping and delivery times for buyers. This kind of update information is non-intrusive and wanted by customers. Plus, it reduces the need for customer service and steps consumers take to check about their package.
Beyond that, here are a few more ideas on using SMS marketing for a better customer experience.
Reminder and celebration SMS
If doing this right, you will reign supreme in customer's minds as a brand that helps them even when they don't realize they need it. For example, you can send SMS reminding users about life events, birthdays, promotions, low on item products, subscription renewal, and more.
But you don't need to be a subscription-based company to send this type of email. You can send SMS for reminding or celebration. Unlike emails where brands often send more frequently, reminder SMS only come for worth-noting events, such as major product releases, major sales, and major events in the customer's life. This means you only need to text a customer once every 2-3 months for this type of SMS.
Conversational SMS
This is an advantageous type of SMS, showing that there are real humans behind your company to support customers. You can use it for reordering, customer service, and VIP customers. The key is to build an SMS marketing that can suit the entire funnel.
Imagine this: From the first order, you can communicate with customers through SMS. When no one is available to chat, SMS becomes more valuable, indeed. You can also set up automated SMS with a conversational tone and are not over sales.
The best SMS brands will be able to take advantage of the conversation at scale and make the support process easier for customers who prefer text instead of emails.
Sales and reward program SMS
The same rule applies as you send emails: If you can avoid being spammy or annoying, SMS is superb for your sales campaigns to have a better result. With smartphones available, now you can add website links into your SMS and track success against other channels with specific codes.
Just like any other type of marketing, Sms marketing requires you to test, measure, and redefine your approach. There reliable ways you can use to measure your success are:
The list growth rate: This helps you see the success of your effort by seeing how many more people are subscribing to your SMS list. The bigger your list gets, the more powerful your SMS campaign can become.
The redemption rate: By tracking the percentage of subscribers who buy because of a particular text promo, you know how well your SMS campaign is doing. To calculate the redemption rate, you just need to divide the number of people who redeem the coupon by the total number of list subscribers.
The churn rate: This is the number of subscribers who opt out of your text campaign. You will have a good idea of how customers are responding to your offer. If you see the churn rate suddenly spikes out after an SMS campaign, you can then review the content to determine the issues and solutions.
Cart abandonment SMS
You have heard of a cart abandonment email, then how about a cart abandonment SMS? When you combine both, you have a powerful tool to tackle the ever headache problem of abandoned carts. SMS is well suited for immediacy, while email can offer far more information.
You can create an SMS campaign to capture the buyer's attention with an image of the abandoned products, then add an email campaign to follow up and remind them about what they are missing. A little discount offer is always good in this situation. It is quite a bit of work, so get a tool that can help you automate both of these tools.
SMS marketing examples from brands
Knowing all the types of SMS marketing campaigns for brands above, you must want to know how other companies are using the tool. Here are my favorite examples that you can learn from and start sending now:
American Eagle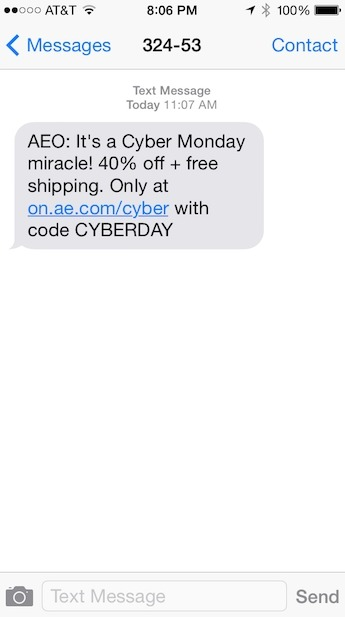 This is an excellent example of an SMS marketing campaign that doesn't sound too sale-y. American Eagle gets right into the point with the text message, and lets recipients know that there is a sale going on Cyber Monday. There is a link in the message with a unique code that will help them track traffic and orders coming from the SMS campaign.
Outer Aisle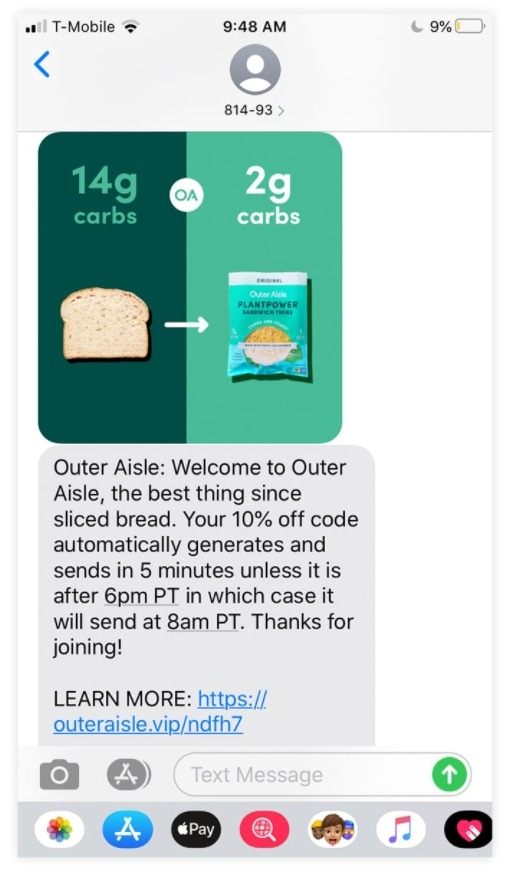 The text message inbox is usually more private than the email inbox since it is filled with messages from family members and friends. So, it is a good idea to thank your list's subscribers for sharing their numbers. This can be a simple reward as a 10% coupon for your products, like how Outer Aisle did. They also included a lovely image to explain how their product is better than normal bread.
Equal Parts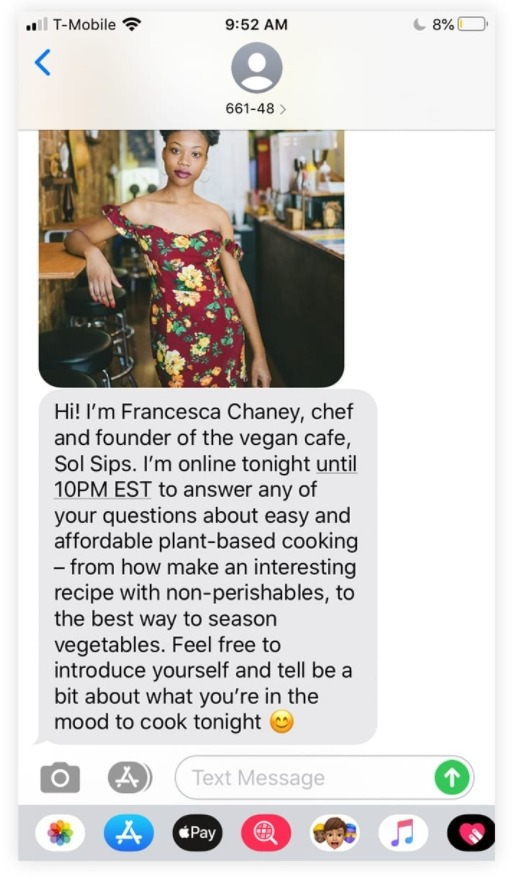 If your brand is an expert in a field, then a text message is a unique way to provide your value to the customers. Maybe you have killer tips in skincare routine or useful cooking recipes, then consider sharing weekly tips with your audience. The brand Equal Parts takes things a bit further by letting customers text with a real chef if they have any questions.
Verb Energy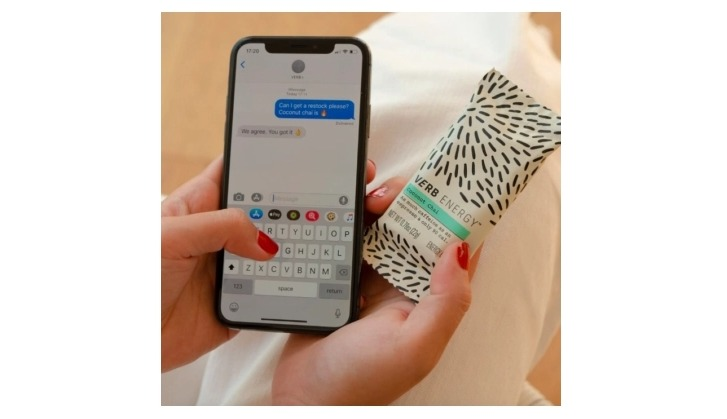 Remember the example of being a subscription-based company; then Verb Energy did just the thing with their SMS email marketing campaign. From the first order, every next purchase can be made through SMS. You can text their numbers on the energy bars and ask for a restock, or simply chat for health tips. They reply in a conversational way and not being overly sale-y, which is suitable for a channel like SMS.
How to launch an SMS marketing campaign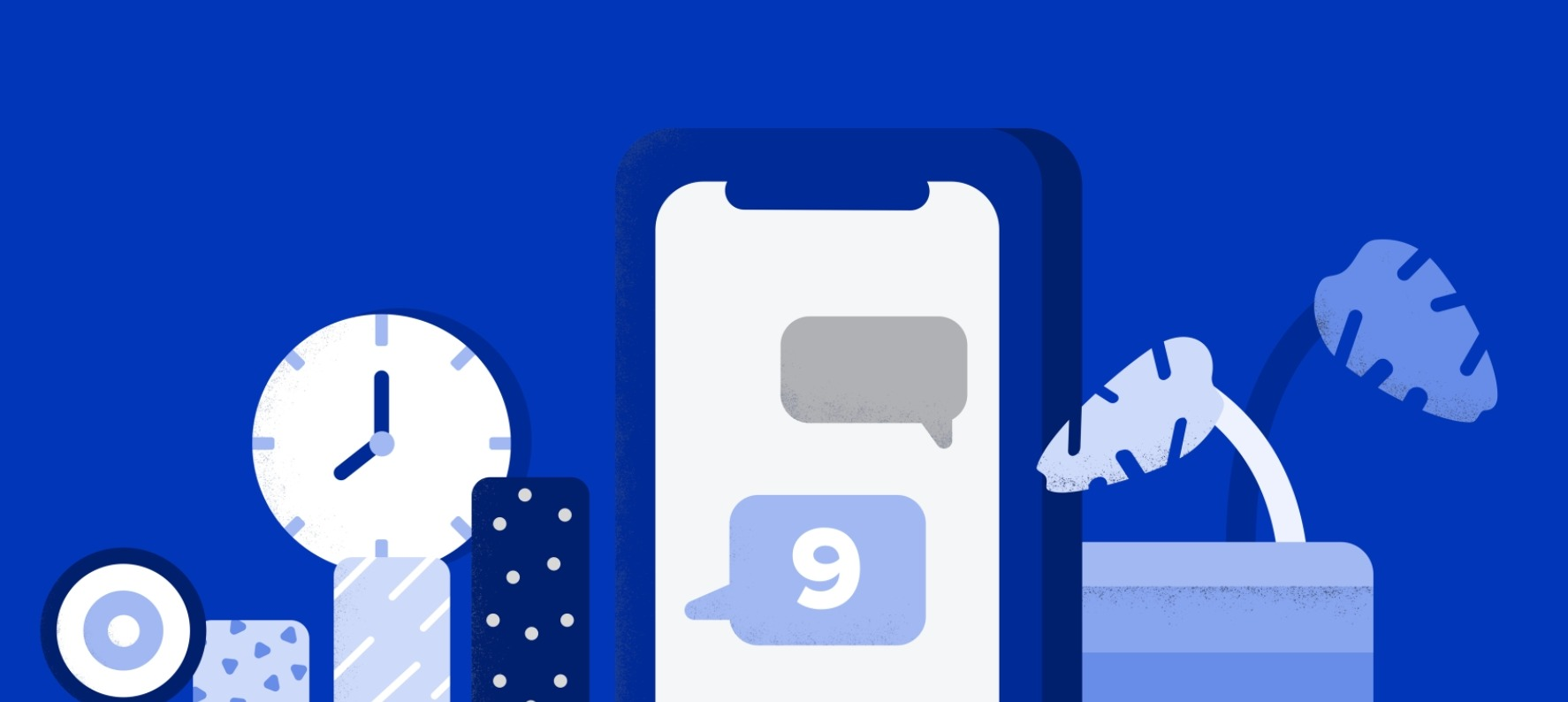 SMS marketing can be your optimal revenue-driving channel for any eCommerce business. It is easy to set up and you can start telling text messages in just a few minutes, as long as you have your list ready. Let's walk through every step of launching an SMS marketing campaign, so you can build your own high-converting campaign:
Collecting mobile phone numbers for your list
There are multiple ways to generate subscribers for your list, but it can get a bit harder than getting email addresses from customers. People are still in doubt of spam and sale calls, so make sure to let your buyers know about the value they can get. Also, you have to give them a good enough reason to trust your brand and give out their numbers.
Here are some best ways to build your SMS list:
Keywords: A short phrase or word that people can text into your brand's numbers to sign up for a message. For example: "Text SHIRT to 7099800". You can advertise keywords on ads, in store, and social media posts.
Click to text button: Add a button so mobile users can start a text conversation with you immediately. This is suitable for companies that want to start a one on one conversation with buyers.
Web forms: A form on your website with an optional phone number filed can help you grow your list.
Mobile widget: The same with the button, this is a widget for mobile users to contact you, but the widget can help them text with your brand's keyword and phone number already filled in.
Email: Weird, huh? But all you have to do is send an email with a call to action that leads subscribers to your web form or a keyword to contact your brand.
Check out section: You can encourage people to add their phone number when they check out. You can do this in the retail location or on your online store.
Facebook ads: Facebook Lead Gen Ad allows people who clicked on your ads to provide their phone number and learn more about your product or service.
In-store: When a customer completes a purchase at your store, sign them up with your SMS service by asking for their mobile numbers. Text them to subscribe them in and send upcoming special offers to sweeten the deal.
Collect phone number is easy with AVADA Sign up forms
Send messages
Once your brand has a sufficient number of mobile numbers in the list, it is time to craft your messages and start sending. Your strategy here is to create messages that your customers can engage with. Let's see how you can craft great text messages for your customers.
Set expectations:
The best way to make SMS marketing work for you is by setting expectations well. SMS becomes a natural tool for relevant information about shipping, fulfillment, and more in the funnel. Only after establishing SMS as a helpful and genuine channel can your brand then leverage it for personal upsell, loyalty programs, reorders, etc.
Basically, you will go through these there steps with your SMS marketing:
Turn on transactional messages for your list: This will provide information on shipping, delivery updates, and order confirmations throughout the customer journey.
Enable post-purchase support messages: You can send text like "How are you feeling about our products so far, and what can we do to help?"
Launch basic SMS marketing flows: Think of creating a welcome series or an abandoned cart series for your customers. On welcome messages, you should communicate how the channel will be used, like sending important updates, promotions, VIP drops, etc. This is how you set expectations for your SMSs.
This is essential because your SMSs will use this tone to communicate with the customers. Do it well and buyers won't mind you sending additional information later.
Determine when and why
One thing to remember is that SMS is an intimate channel, so segmentation and list management will help you send the right content to the right group of subscribers. Think of your customer journey and see how your SMSs can enhance the buying experience.
You can return to the section above to see the text message you should use for a better customer experience. However, each business will have different timing that is relevant to their consumers. Also, since you can use SMS with your email effort, you will need to see how both accompany each other.
For example: your email can announce an upcoming sale and your SMS provides a last-minute offer or reminds that the sale is coming to an end soon. Or your email can publicize an upcoming contest with benefits and details, while your SMS encourages people to enter the contest before it ends or announce the winner.
Managing, measuring, and optimizing
Similar to email marketing, you will see people who don't want to receive your SMSs. That is okay, you just need to make sure that your recipients can send feedback and stop receiving your text messages if they wish to. This is an essential part of any SMS marketing campaign.
You can measure open rate, unsubscribe rate, and click-through rate for the KPIs just like an email marketing campaign. The difference is that you should set goals for open rates and click-through rates much higher. If you have decent content, you should expect the open rates to be about 40%.
Additional KPIs to look at are Revenue and Earning Per Recipient (EPR). This will help you predict revenue growth and impact from the SMS marketing channel. When you see the channel's effectiveness, you can decide to further invest in it or not.
Understand your audience's needs
Your messages won't mean much to your customers if they don't have tailored messages which are relevant. Segmentation is especially essential to better understand the audience and create perfectly-targeted SMSs for buyers. For an eCommerce store, you have information like shopping behavior, customer attributes, and much more data across tools to understand consumers' intent.
With all the information available, you can create the most detailed and data-driven segments possible. Your SMS text messages will then be accurately personalized for every customer touchpoint, creating the ultimate shopping experience. Using a tool like AVADA Email Marketing will allow you to create infinite buyers' segments based on their activities and behaviors.
SMS marketing's best practices

Text marketing is easier when you know what to do and what not. Here are the SMS marketing's best practices that you should follow:
Get recipient's permission first
Just like email marketing, you need customer's consent before sending them anything via SMSs. This is simple enough, as you can use a newsletter popup to let buyers add their phone numbers. The real challenge is to keep the permission that you've earned. Start off with a written consent that lets recipients opt in.
After that, don't abuse or overuse your SMS marketing channel, it is the fastest way to reduce the number of subscribers. Make sure to include a subscribe link or a number to text and opt out. SMS is intimate and immediate, so playing it right will get you the most benefit.
Keep it short and sweet
The limits on characters and your recipient's attention spans mean that your SMSs need to get to the point quickly. Remember that your SMSs are fighting with a ton of other notifications to get noticed too.
If you have an offer, lead with that in your text messages. If your SMS has important order information, include it in the message. A link is essential to get more details about the update or offer you sent. Another good practice is to follow up the SMS with an email. The email will provide more complete information in case the customers need it.
Have a blacklist
An SMS blacklist will filter out people who requested to opt out of your SMS message service or have inactive numbers. You don't want to upset these people with more messages and it won't do your brand any good either. Only send to those who ask to receive your text messages.
Personalize the messages
Personalization is without a doubt necessary for your SMS marketing campaigns, but how can you do it? Maintain the closeness and intimacy by using the customer's first name or further personalize your offers (based on locations, previous purchases, and more). This will help build and maintain a good relationship with your SMS list subscribers.
It would help if you also considered when to send the text messages. Your emails can be sent during the night to get opened in the morning, but text messages often have sound notifications on mobiles. So a 3 AM message can result in very grumpy customers.
Auto-apply personalization into your SMS
Include a list of opt-out keywords
It would be best if you made it easy for subscribers to opt-out of the list. As soon as someone texts STOP to your account, they should no longer receive your text messages. But not everyone would read your text and send the right keywords. So, a list of opt-out keywords will provide variants of words for recipients to unsubscribe, actively or not.
The fuzzy opt-out keywords are:
STOP
Stpo
Stpop
Unsubscribe
End
Do not call
Do not text
Don't call
Don't text
Wrong number
Remove me
***k off
***k you
eat ***t
do not message
stop **ing texting
stop texting
stop sending me texts
Please remove
Remove this number
Stop all
This is only a shortened version of the list, and you can add more when you find more examples from your recipients. As you can see, there are many aggressive examples, which is something you should avoid when sending SMSs from your brand.
Must-use tool for SMS marketing
The goal of a good SMS marketing strategy is to build it into your existing working system and automate your process. You will need to connect SMS into your eCommerce platform so customers can enter their numbers and receive information quickly, while you can monitor your text messages in one place.
In other words, good SMS marketing tools will allow you to trigger SMSs based on events, have pre-built workflows, and sync data into the tech stack that you are using so you can track all your marketing efforts. Here is my recommendation for your SMS marketing campaigns: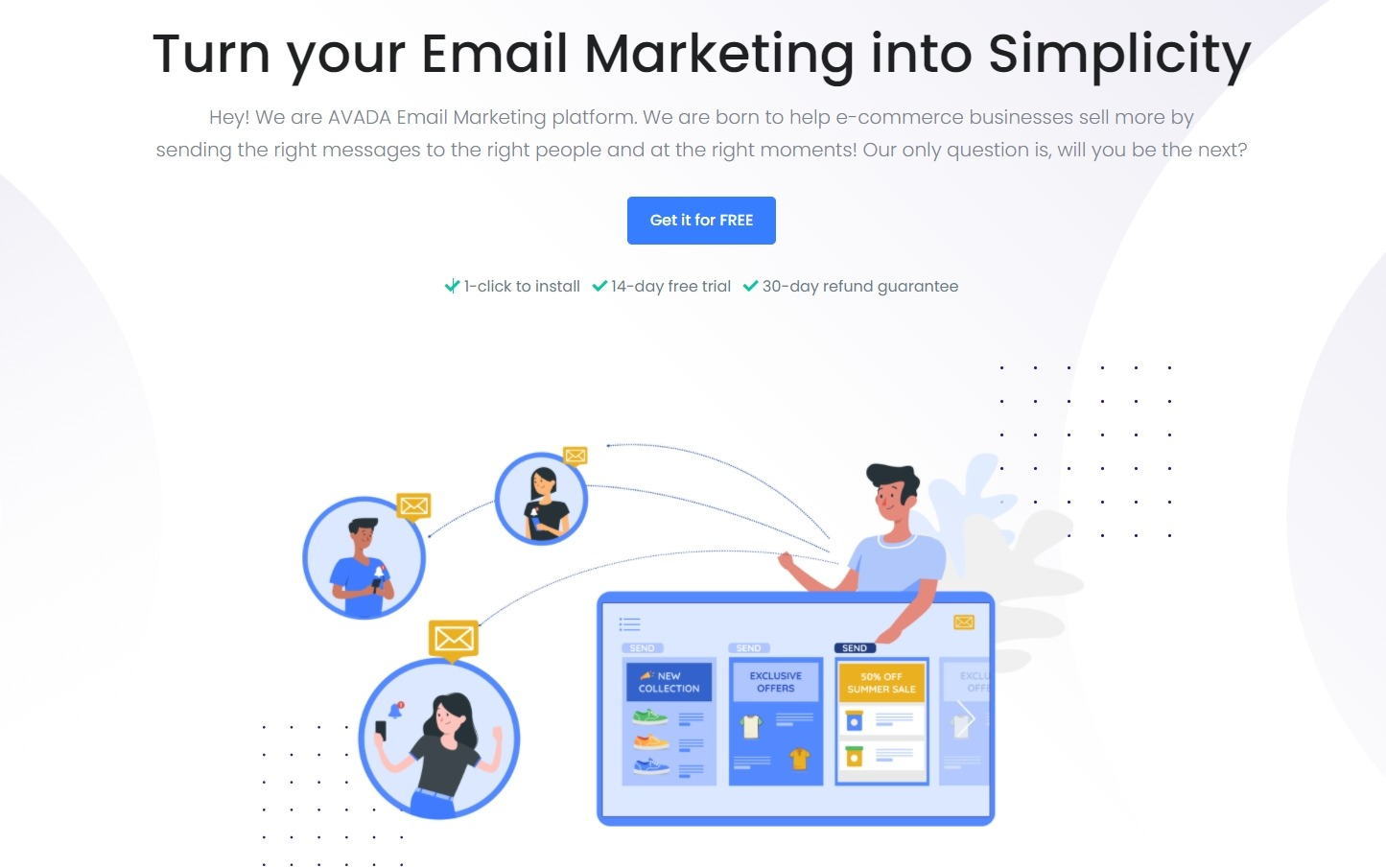 As mentioned above, SMS and email can go together well to convey information to consumers. The combination will amplify your marketing efforts and let you reach more different audiences. AVADA Email Marketing is the app you need to use both of these powerful marketing tools in one place.
Remember that SMS and email work well together because they can cover different marketing scenarios. With AVADA Email Marketing's prebuilt workflows and editors, you will see the most common cases to use your tools and edit the content for your target audience. This makes your communication much more comprehensive and relevant to your contacts.
The app is free to start using, and you get the best of both worlds in just one place! With a pricing plan based on the number of recipients, you can easily scale with a low monthly fee and get all the benefits of a well-made solution. Click on the link to try the app now.
Ready to send some text messages?
Now is the perfect time to start sending your first SMS marketing campaign. With the new world still adapting to the 'new normal,' SMS is a sure-fire way to capture consumer's attention, especially when there are already so many other notifications that they want to turn off. Whether you want to launch a simple welcome series of text messages or follow up messages with your VIP customers - the possibilities are endless with SMS marketing.
The early adopters often have the biggest gains in the eCommerce world, so build your brand off of an effective SMS marketing strategy today. Then, you can confidently grow sales through a new text channel that is reliable, just like any other technologically advanced channel.
Need help setting up an AVADA Email Marketing account or want more consultation? Contact us and get a one on one talk today!
---
Sam Nguyen is the CEO and founder of Avada Commerce, an e-commerce solution provider headquartered in Singapore. Sam aims to support more than a million online businesses to grow and develop.
New Posts
Stay in the know
Get special offers on the latest news from AVADA.