How to Start Selling Food Online? Guide and Tips
In 2017, more than 1 billion and a half people worldwide bought things online via digital devices. The more shoppers decide to go online, the more businesses and marketers plan to sell food online to serve them and boost their sales.
Customers can buy anything online, ranging from clothes, shoes to furniture. When it comes to food, maintaining a business turns out to be trickier. However, there are still tips that help you sell food online well.
That's why we have the How to start selling food online? Guide and Tips post today, which will give you all the useful information you should know to have a successful business.
Let's get started!
Why you should consider selling food online
Despite being one of the most challenging products to sell online, there are many reasons why you should start selling food products online:
Digital marketing makes things more easily
While you market your products digitally, you have multiple channels to inform about your products like social media, content marketing, online advertising, influence marketing, and more.
If you continue using traditional advertising, it's challenging to promote your products internationally. On the other hand, online promotion can make things quicker and unlimited.
Develop a large fan base
Since you maintain digital marketing, you can sell things to many countries. Your fans can come from all over the world. Moreover, when they leave a good comment and positive feedback, more and more customers will be attracted to your store.
Easy to keep in touch with customers
Unlike brick and mortar shops when you need to collect customers' addresses to entice them back into the store, businesses selling food online can get it from their disposal. Therefore, it will be much easier to send them promotions, sales, and multiple enticements to attract them to your online store.
Convenience
The most advantage of selling food online is convenience. As a customer, you do not need to spend time going out and choosing from millions of products. Instead, you just need to swipe up and down, click on a meal you want, and wait for it to be prepared and sent directly to your house. Moreover, online food is suitable for those who are disabled, elderly, or sick. They will prefer online shopping due to its convenience.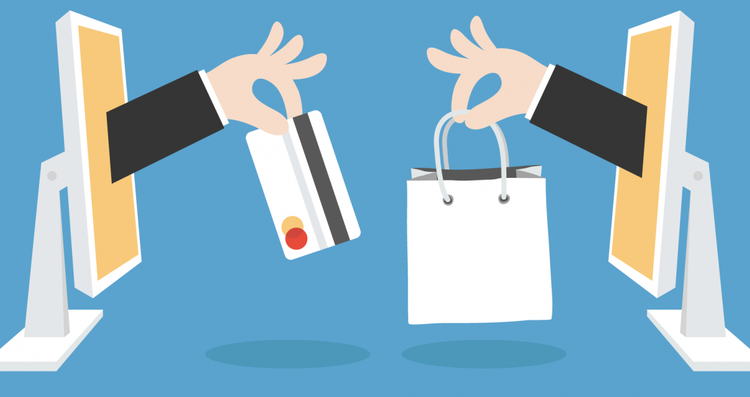 Save money
When launching an online business, you can save more money which comes from:
Renting staff members
Renting or buying a physical store
How to start selling food online
Know the law about selling food
First and foremost, you need to prepare for being familiar with all of the legal regulations for selling food online.
The law you have to follow will depend on the location you're based in as well as the food categories you offer for sales.
Before looking for the law, you need to learn, ask yourself the following questions:
Where are you selling your food items? The United States? Europe? or Asia?
Are you going to prepare and sell food out of your home?
Are you going to sell out of an industrial kitchen?
The rules when you are in the US are different from that of Europe. When you are making food in your home's kitchen, the law is not similar to when you're jarring sauce in the kitchen of your restaurants.
Let's assume you are selling food out of your home in the United States whatever channels you follow (perhaps online or by going to trade shows and street markets). You will need to follow the Cottage Food Regulations. Remember that it will be slightly different based on the state you are in. Therefore, you are highly recommended to complete a Google search for your state's Cottage Food Laws and read it carefully.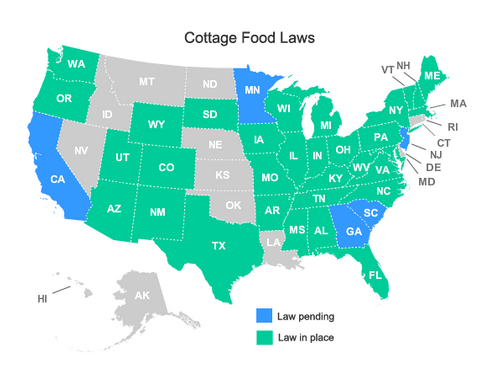 Generally speaking, wherever you are located, there are still some basic principles that are quite standard across the board:
You must have a valid business license in your operating state
You are not allowed to have pets in the home or kitchen
You must have the ability to properly store all the food (cold, dry, and more)
You must have a kitchen inspection at least once a year, which will be made by the department of health
You must have zoning clearance and all necessary permits from the department of health and the department of agriculture
All that we mentioned above are just some basic requirements, and you should completely review your local requirements before you start selling food online. When it comes to selling food in the EU, the set of laws you need to follow is totally different. Therefore, remember to reach out to your local health department and the local department of agriculture. Or else, you will likely put your business under the threat of being shut down.
Acquire a certification and permits
Now that you have learned about the set of laws you should follow when starting selling food online. It's high time you choose the correct certifications and permits you need for your online business. Like the food regulations, acquiring a certificate or permit will depend on the state you are based on.
Unfortunately, the online marketplace is such a gray area in terms of food selling. So, it is suggested you should follow the below permits, training, and certifications:
Firstly, you should complete some sort of food handling training course so that you can be a certificated food handler. When applying for this set of training, you will be taught the way to handle food well, the temperature range that your food is stored properly, how to clean your hands and dishes, food safety, the best activities to prepare food, foodborne illness, and so on. This certification will contain courses that can be completed in person or via online classes.
Secondly, you should get a permit for your kitchen from your county. To ensure that, you are advised to reach out to your county or other local government. When doing so, you can have a chance to check with them whether your home kitchen meets the zoning and food safety requirements. In case your home kitchen is not meeting the needed laws, you will need to spend money renting or buying an external or commercial kitchen space.
Next, you should get a home business license in the state. Most of the US states will ask the home businesses to be registered at the state level before doing any business activities. To obtain this license, you can reach out to the SBA website. Even when you want to run an online marketing campaign for your food items before making a sale, you are still not technically allowed until you register with the state.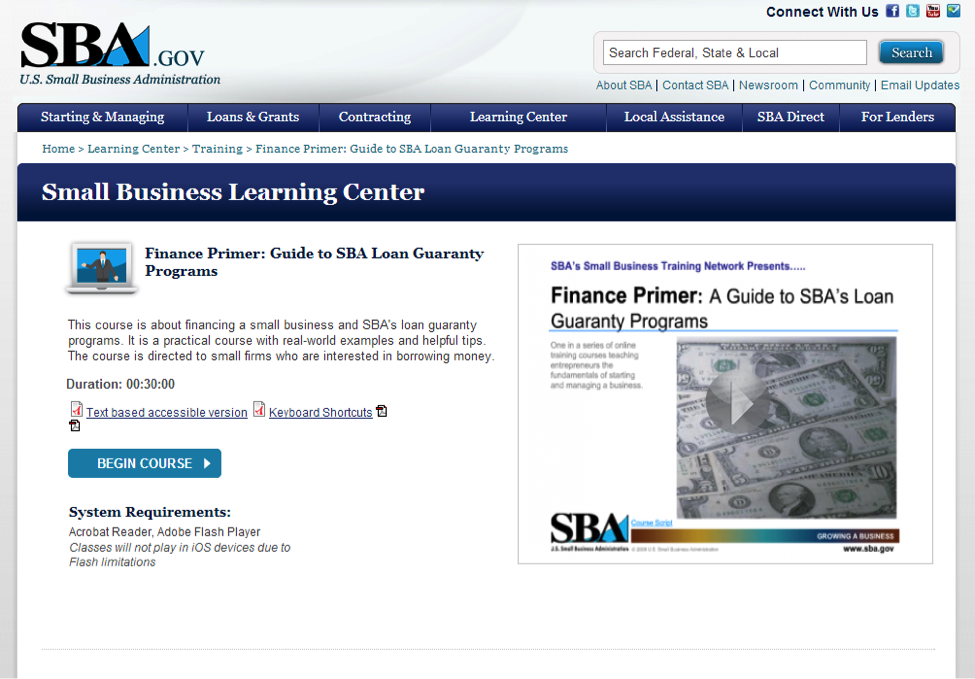 After you have obtained all the needed training and registrations, you can start making and packing up that delicious food and sell them to your customers.
In case you have already had a restaurant, cafe, or food truck and still want to offer food online via an online store, you will need to have the needed certifications and permits that we have mentioned.
Find a profitable niche
Finding a profitable niche is important since multiple online sellers offer food online.
To choose a beneficial niche, you will firstly need to find out what is on-trend at the moment. For example, you can see a waste reduction is a heated topic that every business looks at. Therefore, you can take advantage of it by cooking with misshapen fruit or vegetable.
Then, you should research to know the position of your business in the market. You may be an affordable brand, a luxurious one, or clean-eating company, and so on.
Finding a profitable niche will not be successful if you do not know how to advertise yourself. You should choose a suitable color palette for your company, text font, or logo design.
The next step is setting a budget and goal. That means you have to put a limit on how much you can afford every month. What's more, it is important to decide if you will sell locally, nationally, or even over the world. Knowing all this information will help you know the amount of money to spend on building your online store, marketing campaigns, or ingredients. By setting the budget and goal, you can also set each food item's price you should charge your customers.
Source a reliable food supplier
You may think that this step is just necessary for those cooking their own food to sell. However, the fact is that sourcing a food supplier is for any business, whether they off homemade food or pre-made goods. The most difficult thing is finding which ones are reliable.
Remember that the food industry has many shady companies, so that you need to track the supply chain first to choose the correct supplier.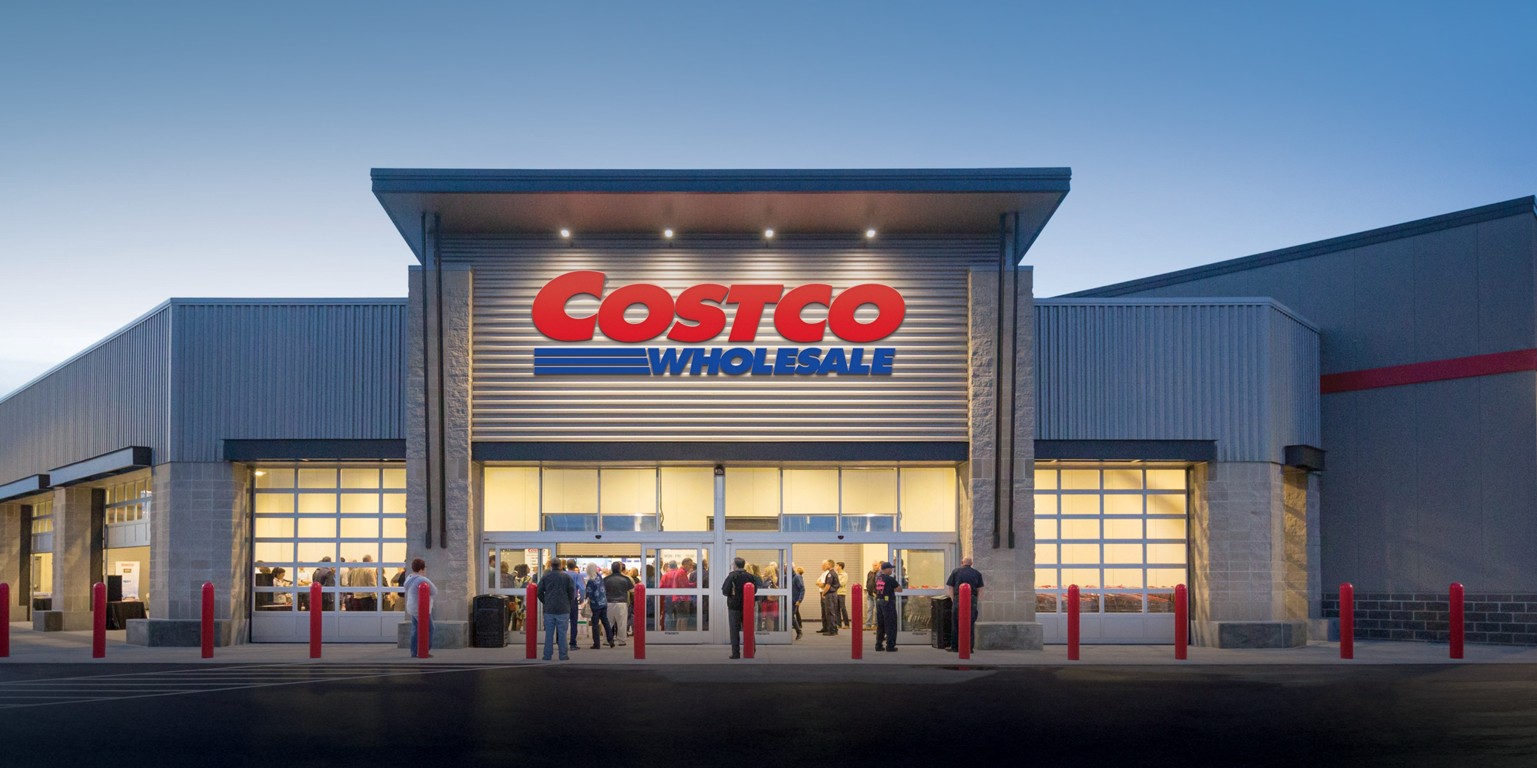 Based on our experiences as well as reviews of online sellers, here are our recommendations:
Ingredient Supplier Directory: If you are in the US, you can look at the Ingredient Supplier Directory on which the most reputable suppliers are listed. There are also many other directories available out there.

Food Master: This site is beneficial if you can source suppliers specializing in the ingredients you need.

Costco: This is a famous brand that is also a trustworthy supplier. Many small businesses or newbies start with it.
When selecting the right suppliers that are suitable for your demands, you can make a list and start checking their certifications and supply chain. This is very common, so be free to ask them for references and browse the Internet to see them. If this does matter to you, simply make sure this supplier really has the right certifications.
Create your food brand
When you have successfully developed your niche, you should spend time on the branding process. When creating one, you should build a clear idea of what food you are offering, how you are going to produce it, and who you are selling it to.
While there are multiple online stores out there selling the same food as you, the brand will explain your company and answer the question of why they should buy food from you. Take the health food brand Safe + Fair for example. Their name immediately denotes that their food is safe for those with allergies, and also nods to their fairtrade ethics of being a clean-label business.
Brand name
It is extremely important. The brand name will even go beyond what you are offering. A good business name should be memorable, relevant, and easy to spell.
Let's take an example. You name your business "John's cupcakes". Is it relevant and easy to spell? Yes, but it is not memorable and easily sticking in other's minds.
Moreover, this brand name will prevent you from getting outside the box. If you sell other food types such as brownies, cookies, and other baked goods, the brand name can restrict the future opportunity to expand your business.
So, you are recommended to try and get creative. Especially when you are going to sell worldwide, you need to set a brand name that is not easily misrepresented or lost in translation.
You can also reach out to others for advice and opinions. You can use a domain registrar like Namecheap to check if the domain name of your brand is available or not.
If you find that this name is not available and cannot be sold for a high price, you should try to think of another name.
Brand colors
Don't ever think the brand colors are not important. A great set of brand colors will be a shade and emotion and a representation of your branding strategy.
Take the famous brand Starbucks as an instance. The green color of it, which sticks into our minds, has shown that Starbucks does well in branding. When saying the name, its color will be popped into your head without showing a picture of its logo, its website, or its products.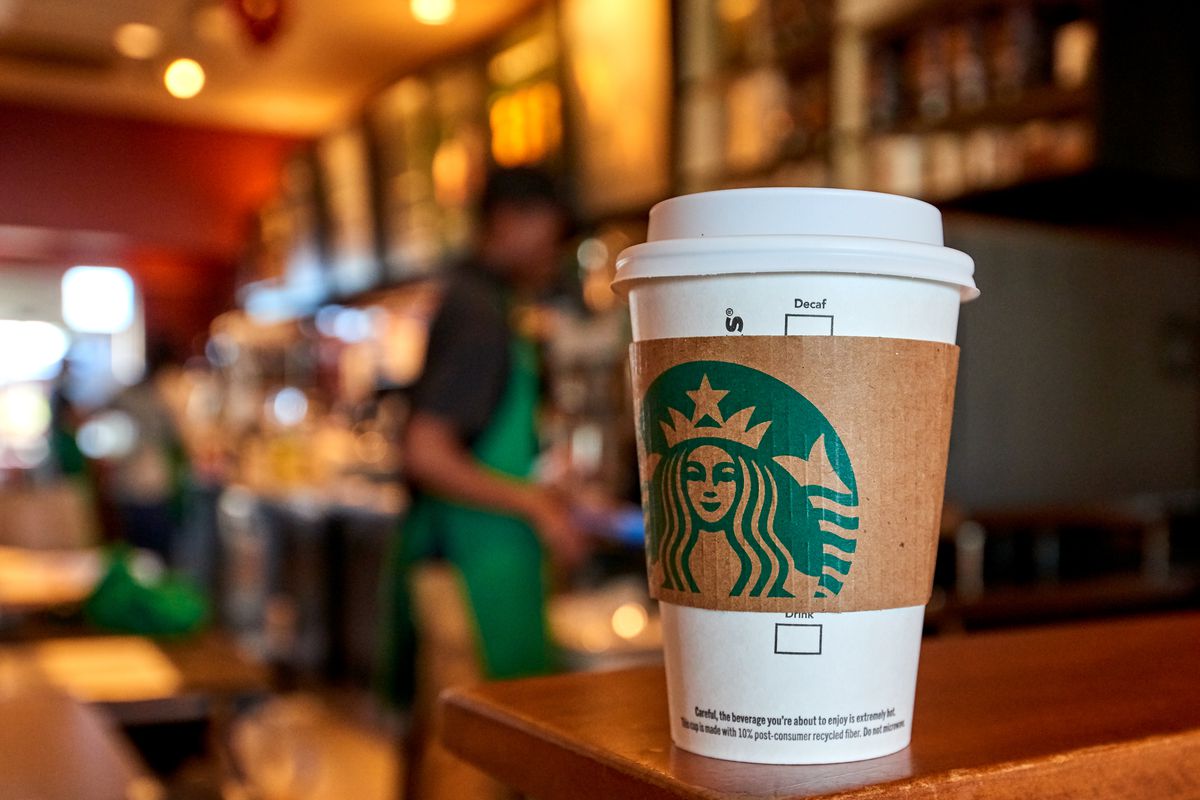 You can choose to make your brand color bold and inspiring, heated and passionate, cool and innovative, and so on. The colors that you choose to be displayed will decide the ways your audiences feel.
According to psychology, bright colors seem to be more suitable for food businesses. It is because these colors are clear and exciting, which pushes people to purchase your products more.
If you sell indulgent food, yellow, red, or orange colors are great options. If you are selling fruits, vegetables, or anything related to health and vitality, you probably should choose light and bright tones like greens and blues. Avoid a black or brown color set because it does not show that your products are fresh.
Product images
The product imagery is the factor that decides the first impression of the customers of your food items.
If you are a skilled photographer, that's great. But if you aren't, you are highly recommended to spend money having professional product images. It will help you stand out from your rivals and make customers decide to purchase more quickly.
Create an online food store
It's high time for you to apply your plans into action. Creating an online store is a very easy part that you can do to start selling food. It does not require you to know much about computers or code to set up your site. You must have known famous marketplaces like Shopify, Volusion, and more. They all have the needed tools to help you launch a website.
There are three common plans for selling food successfully from home. They are:
Online marketplaces like Amazon or Etsy
Creating your own eCommerce website with tools like Shopify or BigCommerce
Selling curated products via the supplier
Each of them has its own pros and cons and you need to consider carefully before deciding which one is the best suited for you.
When we trying selling food online through marketplaces, we have found some advantages as well as drawbacks as follow:
Advantages
If you offer products via a platform, you can have a chance to approach audiences from all over the world
You do not need to spend time and effort on managing your own website
The setup process and automation is easy to handle
Disadvantage
You cannot decide the way your products are shown
Since you are not responsible for your website so it is less credible
The marketplaces will prioritize their own products over yours.
Online marketplaces such as Amazon and Etsy allow you to create an account and list your products to offer for sale. This option is suitable for those who want to start selling immediately. When applying for this, you do not need a website setup or personalization process. What's more, you do not need to care about how to drive traffic to an online marketplace. Since the customer base is already built, you can save time and effort.
When choosing to sell food from home with an online marketplace, you need to be ready for competing with many other sellers who also are on the same platform as you. As I said before, some sites promote certain products over others and you need to stand out from others to get success within them. Also, you will possibly sacrifice your personality when using them.
Consider carefully and see if branding is important to you are not. If the answer is yes, do not choose this way.
Additionally, since you are selling your products on a website that is not yours, you will need to learn the regulations of such sites. Some basic requirements that almost every site asks for are legal documentation, licensing, and proper packaging.
Remember that, each platform has its own standards and requirements. For instance, if you choose to sell on Amazon, your business needs to get the performance targets as follow to meet its requirements:
You need to have an order defect rate of less than 1%
Your pre-fulfillment cancellation rate is less than 2.5%
The late shipping rate of your service is less than 4%
Therefore, take a note to know well the requirements of each online marketplace to choose the best-suited one for your business.
When it comes to selling food online, you can choose Shopify since this platform has certain tools for the F&B industry that may fit your needs.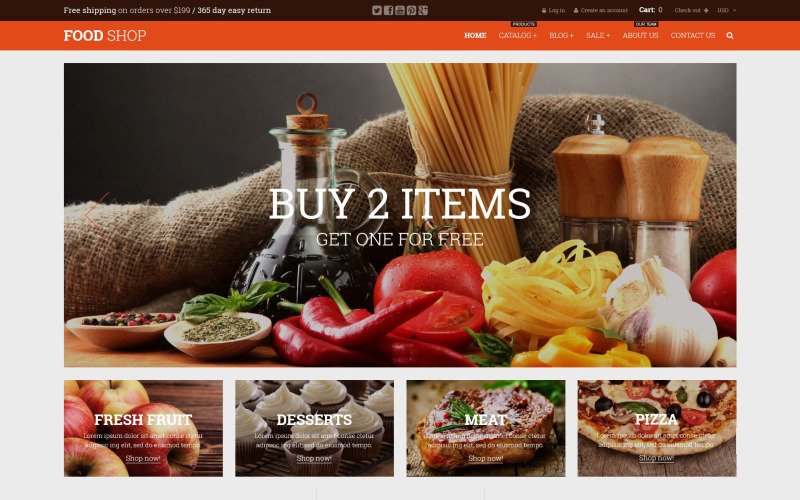 Within the theme store, you can choose the industry you are in and opt-in for the one that you want. Some of them are paid but some are free. If you are not satisfied with the designed themes, you can customize them to create your own theme.
After signing up for Shopify with the theme you like, you can now add your food items and connect the payment processor of your option. You can also set the price right away and your food will be sold at the price you decide.
You do not need to care about the hosting and domain names issue which are all handled by Shopify.
Creating an online store is half of the work. Keep going on!
Price your food products
Being too expensive or too cheap are all not suitable and can easily lead to your failure in business. Making money is not only pulling a price out of thin air. While pricing your food items, you need to take into account all of your managerial and business costs so that your price is beneficial for you. Additionally, the pre-defined niche also devotes to your pricing strategy.
You just spend time on your product quality, you need to know how to price them to prevent yourself from the business tank. Luckily, Shopify creates effective in-depth instruction on how to price your products well. Here is the way you do that:
Defining your variable costs
First and foremost, you need to define your variable costs which mean how much your food items are costing to create and sell. The factors involved include the cost of packaging, ingredients, and delivery.
For example, you offer cookies for sale. Let's find out all ingredients you use to bake them as well as the cost involved. Then, add up all of them to define the price you will need to pay for one.
Finding out how much of a profit you turn
After finding out the variable costs, you now need to create a profit margin which means how much of a profit you want to turn. To do this, follow the steps below:
Ask yourself what is the amount of profit you want to gain
Turn the percentage you have just thought of into a decimal. To do it, let's divide the percentage by 100.
Calculate how much you should charge per product. Based on a figure for your variable costs and a decimal number of the profit margin, make math by following the simple equation Target Price = (Variable cost per product) / (1 – your desired profit margin as a decimal).
Factor in additional costs
To avoid any problems, you need to factor in other costs. They may include the cost for the rental area for the food preparing process, the cost of cooking equipment, storage renting or buying, insurance cost, licensing fees, and employee salaries.
Test and review your target prices
Even when you find your target prices suitable already, you still need to test and review them very often (at least once a month). Remember that the position of your business within the market changes every day and you need to discover it to be in the right direction although the process can take you some time.
Package and label your products
Packaging and labeling of your products need to be taken care of well which will not only present the items inside but also preserve the quality of the food.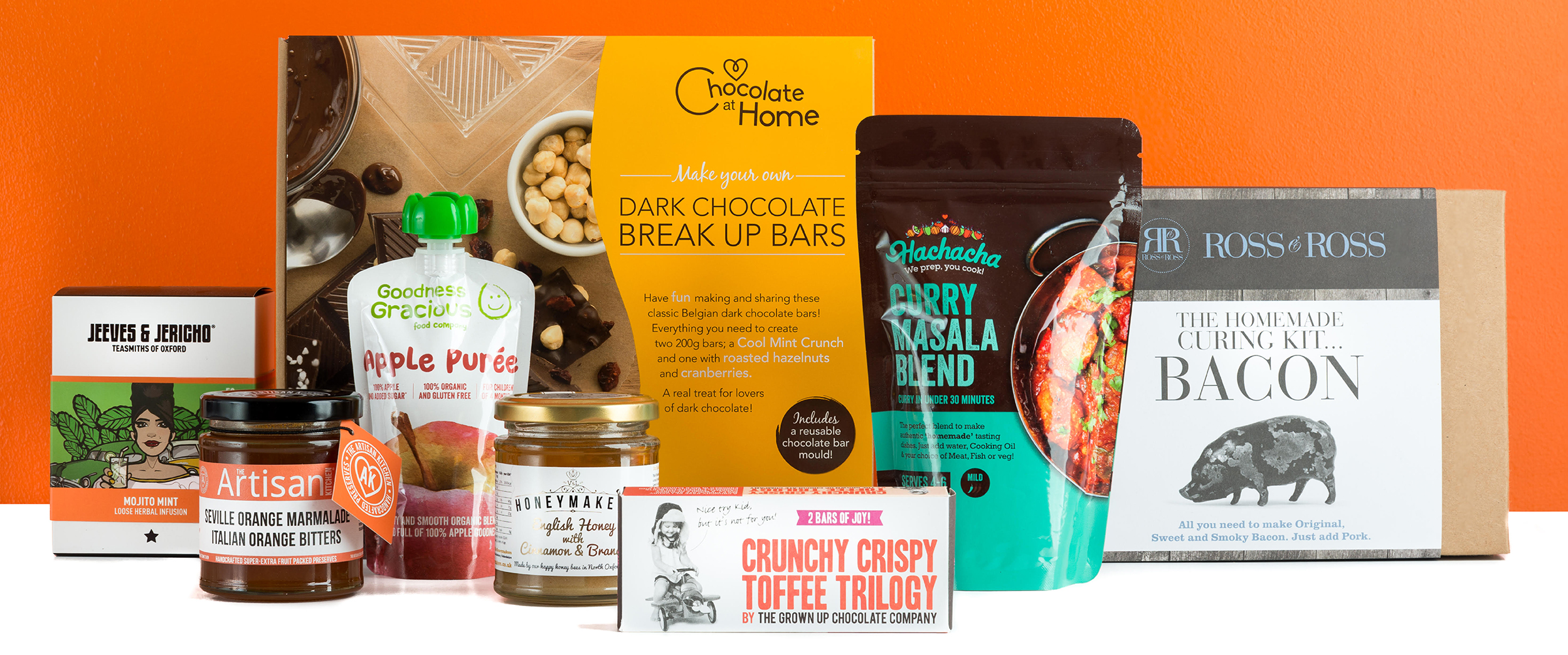 In terms of design, the package of your food items has to have your brand name, logo, and colors integrated. In addition to them, packages play a role as the box keeping the food safe. For example, the packaging needs to reflect that perishable food items need to remain cold.
Regulations related to packaging and labeling is important. There are rules that you need to follow when delivering perishable and fragile food items. According to U.S law, you must include the following information in your packaging:
The list of all the ingredients that are used in the product
The weight of all combined ingredients
The net quantity and amount of the food inside the package
The name and location of your company
The name and locations of the food suppliers
The brand name and every supplier that you connect with
The "used by" and "best before" dates
Besides, the packaging can also include nutritional information so that the consumers can know the health concerns or health benefits that your food brings about. Remember to add all this information in not only your packaging but also your online product descriptions.
However, be careful since some of the aspects involving packaging and labeling will fall in the legal scope of your running the business. Therefore, a business owner should know how to make a balance between the one which is attractive to consumers and one which meets all of those legal requirements.
Shipping
Finally, the shipping is also very important since this stage makes sure the food is of the best quality when your customers receive it. Remember the most essential factor when shipping is making it safe and meeting all the demands of the shipping provider.
In case your food items ask for refrigeration, you will need to mark your packages as perishable or fragile.
However, the address of your customers and the weather can negatively impact the quality of your food products. They can easily be exposed to high temperatures or extreme cold. In this situation, you will need to connect to a shipping provider that has climate-controlled shipments and/or contain refrigerants in your packaging. When preparing the food, make a note to insulate your packages so that you can minimize the transfer of heat or cold through container walls.
When it comes to fresh fruit or vegetables, if you do not put them in a dry condition, they will be nonmailable.
Marketing your food products
When you have completed the branding process and opened an online store, you are just getting started. Online marketing will make your business grow like wildflowers. But if you are a newbie and take a wrong move, it turns into a nightmare.
Marketing your food products will not only introduce your food to the world but also build a relationship with your customers.
There are a variety of marketing methods to get your message out there. However, we cannot list them all here. You should focus on the following marketing strategy.
SEO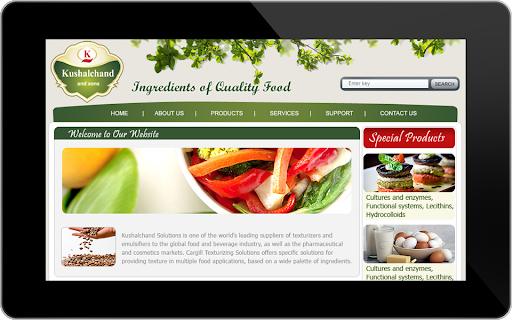 SEO which stands for Search Engine Optimization is so familiar to marketers. It is the process of making your website appear on the search engines like Google and Bing. These search engines will have their way to decide which website ranks in its search results. Nonetheless, you can consider the following key points:
Keywords: That means you need to use keywords to ensure the post you are writing about your product is related to the market as well as what you are selling. When being a Manhattan-based bagel company, you can have phrases like "New York bagels" in your product articles so that Google can easily understand what you are doing.
Metadata: Metadata is the text appearing in the search results. You need to make sure it maintains an optimum length and includes keywords that attract audiences to click on your links.
Backlinking: This way is beneficial in telling Google that your food items are well known. Then, other websites will link to your site to be looked upon, which is a kind of recommendation.
Mobile responsiveness: Google and Bing will not spend a look at websites that are not relevant to mobile and tablet devices. Therefore, make sure your website is automatically fully responsive for the mobile version.
Social media
First, you should try to increase the social following of your business' channels. It will make your company more credible. Then, customers looking for food items will easily be attracted, which is kind of engaging with customers and giving them a point of contact.
When connecting with the websites, you can include social sharing buttons. It will not only increase brand credibility but also convince your customers to share your food with their followers and friends. The sharing process via social media channels is free but effective.
Email marketing
If you look at some eCommerce website builders available out there, you can find that they build email marketing functionalities for their users. If you use them, you can fill in email templates that are designed by the website builders with your latest deals and offerings. Then, you can freely customize them and send them off to all of your subscribers.
Via an attractive email, you can get your customers' interest and make them come back to your store.
We also have some tips for you while marketing your food online:
Focus on your email list and grab your customer information before taking any marketing strategy via local markets and street festivals.
Create a food or recipe blog. Here you can share recipes of your food or the recipes which your customers can make with the ingredients you offer. This way is great to develop content for your blog, email newsletter, or social media channels. Also, you can easily recommend your products.
Social media marketing is quick but coupons, blogs, and local events are more effective.
Tips for selling food online successfully
Considering the shelf life of your products
Each food has its own shelf life. They are all different, which means whether it is challenging or not depends on the food you provide. For instance, if you sell organic food, you will have little time to work with it. But if you offer candy or cookies designed to survive the apocalypse, you will surely have more time.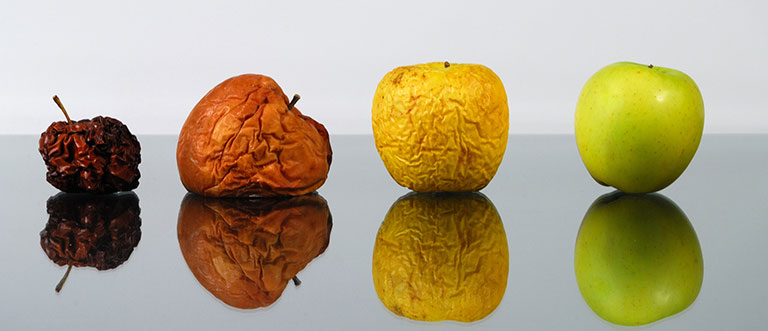 However, the similarity of them is that you need to own a fixed principle which means you have to use some math. To make sure the products are of the best quality when your customers receive them, you need to factor in enough time for them to be delivered to your third party logistics providers. What's more, you also need to factor in enough time for your products to be sold and for your customers to use them.
Durable packaging
The packaging is important not only to introduce the products inside it well but also to keep the products safe. When it comes to food items, it turns into impeccable since food is easily damaged. Once you make customers receive a damaged box or package, they will lose interest and never buy products from you again.

For customers, damaged food is spoiled food. Even though the inner bag is intact, that the packaging is damaged still makes fewer people buy it. Therefore, sturdy or solid packaging is surely a must for online food businesses. Take services like FBA for example, kitted products will need to be well cared for so that they can survive shipping procedures, which will adhere to the packaging and prep requirements set by Amazon.
Listing
When deciding to sell food online, you need to get knowledge about the products and market you are going to offer. After you open an online store, you will have to list your food items with detail and precision.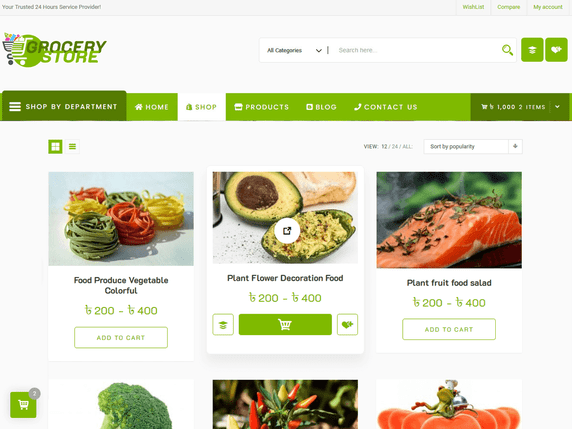 Let's imagine many online food sellers offer products like you. The key is how you introduce them to your customers. Here, photos and descriptions are important. Make sure the photos you use are all high-resolution ones even when you take a picture of your packaging or the products inside. In terms of food products, in particular, you need to focus on ingredients that are a key part of your brand but easily are missed.
Then, put yourself in your customers' positions to see what questions they may ask themselves about your products. Since they cannot touch or try the products you offer, your descriptions have to answer their questions which may be related to taste, ingredients, and the plus points making your products special and stand out from one of the other brands.
Using keywords to target rivals
After creating an attractive description, you need to care about how it draws in customers via search. That means, how customers can find you when they search for the products they need.
To do it, let's look through the shops of your competitors and write your descriptions accordingly. An important note is adding keywords to your title, bullet points as well as product description. In this way, your online shop will lead to the fact that more and more target customers can find you.
After that, you should also look for additional keywords that are not present in your copy. Program them into the back end of your listings under Search Terms in order to maximize the chance your shop is displayed when your customers find them.
Upselling your products
When selling products in the traditional way brick and mortar customers are hardly persuaded to buy more than the number they need at first. However, when it comes to online products especially food items because your customers will have the product shipped, it has never turned out to be easier to upsell.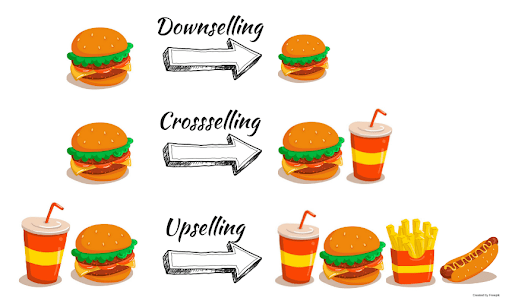 As an online seller, you can create easily accessible options for customers to buy more for a better price. Your audiences can also easily be convinced to purchase more. What's more, when offering Subscribe & Save on Amazon as well as your own shopping cart, your businesses can quickly and properly build a loyal customer base and increase monthly or annual sales.
Common questions about selling food online
Now you have known the way to start sell food online. Let's come with some common questions about this topic that are asked by many online sellers like you.
Is a license necessary if I sell homemade food?
The answer is Yes. You will need a valid state business license to meet the requirement coming from the commercial sale of any homemade food items. If you wonder how to get one, it is rather easy. You will need to pass a health inspection after meeting the health regulation standards of your district or nation. But if you are just offering baked cakes for the office charity fundraiser, a license is not necessary.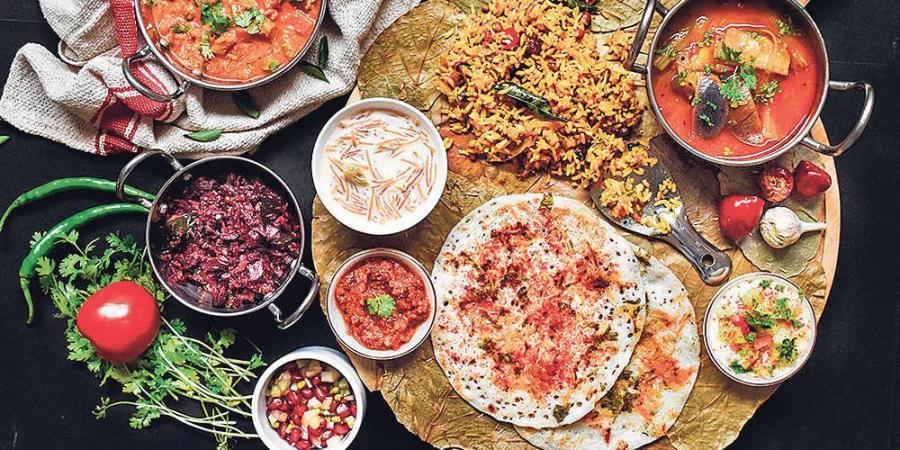 How much do I have to pay to buy a business license?
It varies. The price of a business license will depend on many factors which may be the place your store is located, the number of staff members, or even the food categories you offer. In general, the price of a business license will range from $25 up to $7,000.
If you are a newbie in this industry with a food startup or just a small business, you will still need to pay an amount of between $50 to $200.
What will I obtain from having my own food website?
When having your own food website, you can have full control over the advertising and display of your food. Website building is available to everyone so any online business owner can have their own eCommerce websites. Do some research to pick the right platform, choose proper WooCommerce hosting, and a great team of web designers. What's more, if you have your own food website, you can sell your products across different channels such as marketplaces or social media channels.
What is the cost of an eCommerce website builder?
There are a variety of eCommerce website builders that are available out there. Each of them has its own functionalities as well as pricing plans. General speaking, the cost ranging from a free plan to an extremely expensive one.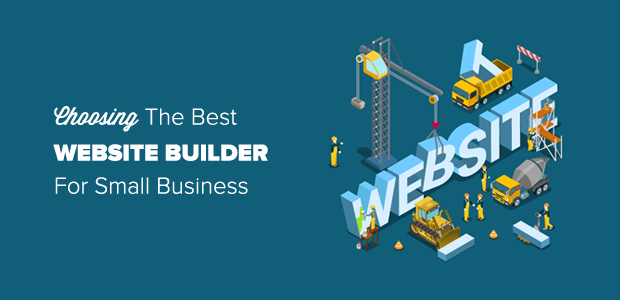 When it comes to an online food business, you can expect to pay a monthly fee of between $20 to $80. The website builders with this price will often bring about the functionalities of design, hosting, and security of your website, plus loads more.
Final Thoughts
To sum up, more and more customers go online for shopping purposes. As a result, the demand for online food also increases quickly. Being one of the riskiest products to sell online, selling food is still a great opportunity for any business owner.
However, to get success in selling food online, you will need to learn about the legal side of online food sales. Moreover, you also have to find a reliable supplier, a target market, and create a strong brand.
Hopefully, our post has given you in-depth instructions on how to start an online food business as well as some tips to avoid possible problems. With all the knowledge and careful preparation in hand, you are ready to get your food products to your customers.
If you have any more questions related, be free to leave a comment below. Share this post with your friends and visit us for more if you find it interesting.
---
Mike is a content writer at Avada, with a love for video games, gadgets, and software. He has been writing about the industry now for over 7 years. He likes to keep up-to-date with the latest software releases. He's also an avid reader, and he enjoys spending time outdoors with family and friends. When he's not working, you can usually find him playing video games or exploring new outdoor activities.
New Posts
Stay in the know
Get special offers on the latest news from AVADA.