Best Shopify One Click Upsell: Double Revenue for Your Store
As an online store owner on the Shopify platform, you will, for sure, want to maximize the profit of your company - the ultimate goal. Then, you might want to know about One Click Upsell: How to Double Revenue for Your Shopify Store.
This writing will reveal to you what One Click Upsell is, 5 Ways to Incorporate One Click Upsell into Your Shopify Store, and Top 7 Best One Click Upsell Apps on Shopify. Hope that after reading our article, you will be able to increase your revenue by twice with One Click Upsell.
Let's get straight into the details now!
Exclusive Offer: Get Shopify 93 days for just $3 + The Online Store Starter Kit
Start a 3-day free trial, then get Shopify 3 months for $1/month plus the premium package designed especially for new Shopify merchants!
Start Free Trial
Related posts:
What is One Click Upsell?
Overall, an upsell is one of the strategies to boost the value of a customer's order. In other words, if you offer a new buyer the chance to purchase more items, then it will be considered an upsell.
For instance, if you purchase a new car, then you may choose the extended warranty plan for it. Or, you can choose to add bacon to the ordered cheeseburger, which will help your meal taste so much better. The main idea is that if they offer you something besides what you order, then your order's size will increase. The so-called upsell can be SUPER effective.
When it comes to the eCommerce industry, one type of this upsell strategy is a one-click upsell. You can see this upsell strategy in some of the most dominant businesses in the world like Amazon, Apple, others that are pioneering in getting online payments.
5 Ways to Incorporate One Click Upsell to Shopify
Now, the real question is that how can you add post-purchase upsells to your daily retailing activities? The most five effective techniques to post-purchase upsells that your online store should adopt are as follows:
Thank You Pop-up Message
This so-called Thank-you pop-up message is a real-time strategy to tempt shoppers to buy more items immediately after their purchase. Once they have successfully placed an order, you can pop-up a message to demonstrate how much you are thankful for their purchase. After that, you can cleverly place your product upsells with the items that may interest them like complimentary items or product upgrades.
If you want to boost your profit, you should show them the special offers or discounts in that popup message. You can also have the option to plug-in tools effortlessly with integrated one-click upsell strategy like Checkout Boost. With this handy tool, you can pop-up a thank you message to entice buyers to purchase more items once they have completed the order placement. The algorithms of customers' behavior and interest can decide the upsells suggested. To make it more attractive to shoppers, you can show them discount coupons for their next purchase. After that, you can showcase the products that they could select from.
Normally, the vast majority of online shoppers read online reviews before choosing to buy the product or not. Online customer reviews can be very beneficial since it can drive your engagement, build a relationship and raise your customers' brand loyalty. Besides, they are trustworthy since the evaluation of the items after the customers use them.
Not only that, your customers can also post a review of the item that they have recently bought. After that, on your product review request, you can add a note of your upsell products like featured products, promos, newly arrived items, or discounted products.
Service Satisfaction Survey
Through service satisfaction surveys, you can demonstrate your attentiveness. Like product reviews, a service satisfaction survey is a post-purchase messaging request that requires recent customers to fulfill a brief survey concerning their recent shopping experience. Right after the customer receives the product, they will receive the service satisfaction surveys. They enable eCommerce merchants to have a better understanding of their customers' opinions and feedback. It can be a better way to communicate with your customers.
By specifying that the survey will be brief, you will be able to maintain a favorable engagement with their recent customers. You can also attach a link to special offers that specifically created for them.
Replenishment Reminder
Another method to incorporate one-click upsell into your Shopify store is to use replenishment reminders. With Replenishment reminders, you can entice your shoppers to buy the item that they have previously purchased one more time. The customer will receive a replenishment reminder just in time prior to the expiry of an item's shelf life. For frequently consumed or used products like beauty products, pharmaceutical goods, and similar merchandise that have a specific usable period; these reminders can be ideal.
This type of strategy will also act as a powerful frustration repeller in the case when a customer wants to repurchase your item but it is no longer in your stock. One-click upsell will give your customers a reminder to restock their items that they are interested in with a sense of urgency by stressing that the items may run out of supply. Upsell in this case requires that you should remind your customers the chance to acquire the item that they intend replenish.
Reward Program
The execution of a loyalty reward program aims to strengthen the loyalty of your customers to your brand. To do that, you can initiate practical activities that require your customers to complete in exchange for useful items granted to them like appealing deals or freebies. Furthermore, more sophisticated loyalty reward programs will not only concentrate on maintaining a relationship with the customers but also tempt them to buy repetitively.
By offering purchase qualifiers, you can design a loyalty reward program with post-purchase upsells. More specifically, the customers will need to buy the products from your checklist so that they can get the reward, for instance, a free product. This delicate way of upselling more products to your customers after they place the first order can result in a domino effect of purchase after purchase. It can be SUPER effective when you have many underperforming products. Utilizing this type of techniques to entice your customers to purchase them.
Top 8 Best One Click Upsell Apps on Shopify
Social Proof
The first app that we highly recommend in the list is Social Proof app. The general idea behind this powerful app is by displaying trustful statistics popups, you can boost customer's trust and then upsell effortlessly.
The app allows you to notify newcomers with various kinds of store activities such as purchase, reviews, add-to-cart, sign up, visitor counts, etc. Because no one will trust an empty store, a busy store with real orders going on, or will be the first sign that encourages customers to purchase more from your website.
So now, you may wonder that what makes this app stay at the top list for upselling? The answer can be found from some of the most outstanding features which are specially designed for this purpose:
Stock Left Notice or Free Shipping Popup delivers attempting messages, that creates a sense of urgency and makes customers feel compelled to close the deal before others take it or sweet discount will be gone soon
Photo Review helps to build more trust through the real image of products, which plays an important part in converting normal visitors into actual customers
Actually, each popup types is a sales boost tool, we have just listed down some of the most typical kinds that may make sense to you.
With Social Proof, you can set the time to display popup or custom its appearance as beautiful as you wish. Also, it is quite easy for admin to have popups targetted to different objects such as Geo, Page, etc. All campaign results and important statistics can be kept track through Advanced Report chart, which helps admin make proper adjustments at any time.
Candy Rack - One Click Upsell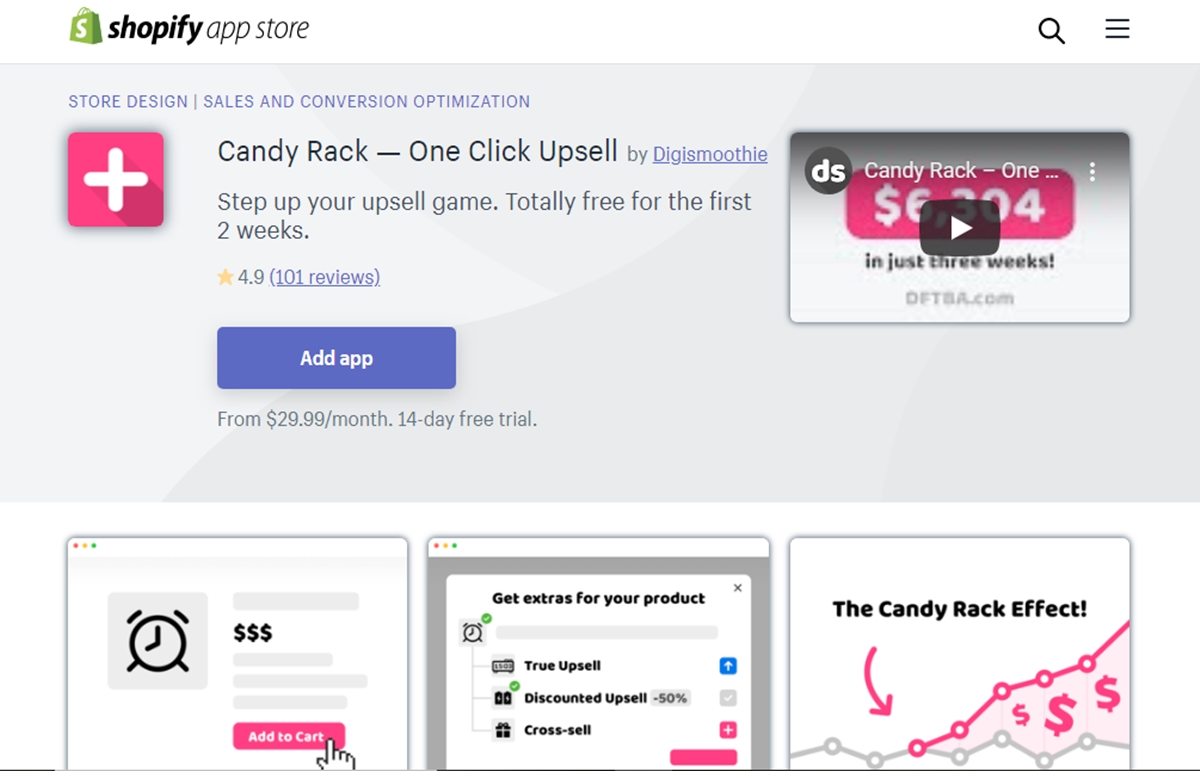 With Candy Rack, you can upsell your customers by offering additional services, premium support, gift wrap, gifts, and/or related product bundles (normally bought together). Note that if you want to offer any services or related product bundles, you can consider using the Custom Offer type that enables you to customize services to your items and customers.
The app's fully automatic upsells are based on the product recommendations API. And related upsell products are chosen automatically given the AI algorithm.
Its responsive and modern one-click upsell popup window has an attractive look on desktop and even on mobile devices. With only one simple click, the related product, gift, or service will be added to the customer's cart. You can experiment with a free 14-day trial period with full features and complete support. It can be your permanent alternative for Boost-Sales App by Beeketing.
So how to work it out? Well, first of all, you should install Candy Rack and make your first upsell and related product bundle. Then, you can set the price of the upsell or related product bundle and determine where you should present for all items or only the chosen ones. If want to offer a gift, you set the price for $0. After the customer taps on the Add to cart button, they will notice an upsell popup window with your upsell / bundle/gift. Also, to obtain the maximum sales boost, you should monitor and optimize the performance of the upsell / bundle/gift.
Some upselling tips for you. If you are a in the fashion & clothing industry, then you can upsell a gift packaging like a gift wrap. Or if you sell gadgets & tech items, you can upsell an extended warranty.
The app is fully integrated with currency converter, CartHook, vitals, coin, currency switcher, and Shogun.
One Click Upsell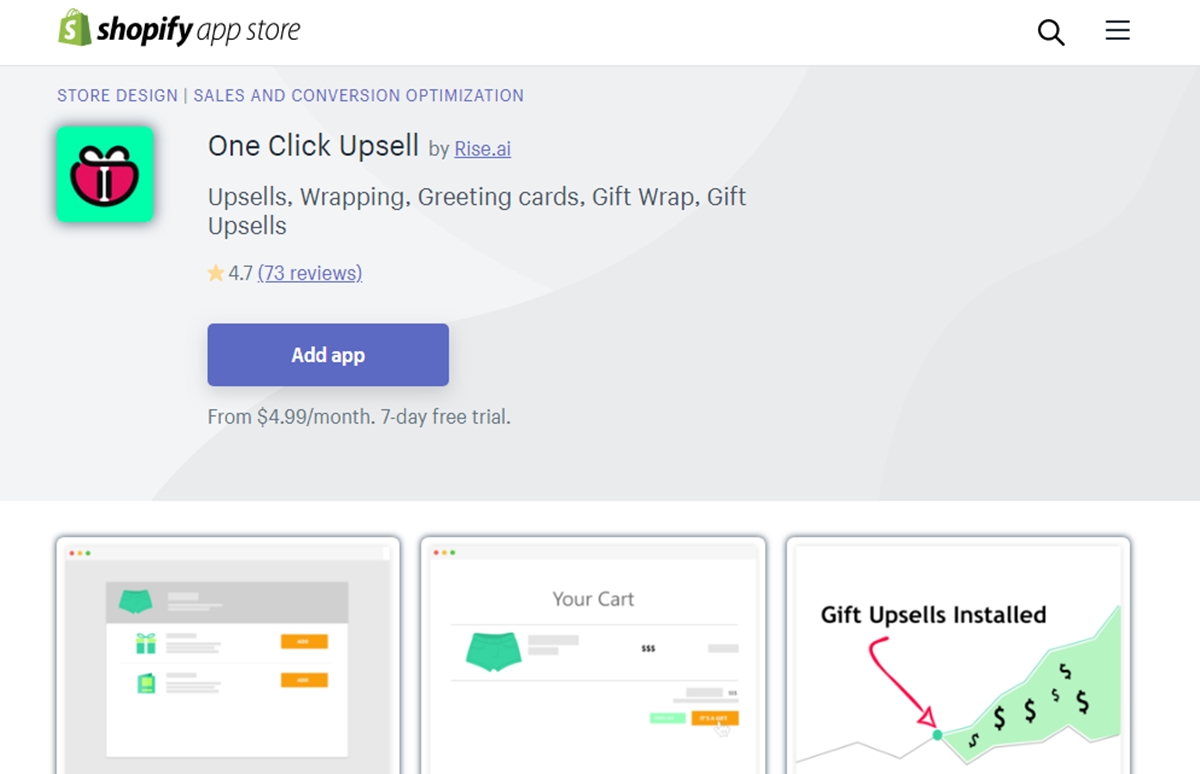 Gift Checkout enables you to show to your customers all of the additional gift services and gift upsells on the cart page. Its available features contain gift-wrapping and greeting cards.
Gift-wrapping is a gift-wrapping service that can make you cash. This feature allows you to customize the charge for the upsells - flat fee or charge per item so that you can boost the sales of your extra services. The second feature is greeting cards. You can add personal cards from customers to the gift box. It allows many service levels to fit in your customer likings such as printed, hand-written, and many more.
Not only that, there are some upcoming features like Cart Upsell that will make your best-selling products noticeable on every cart page or Express Shipping that help develop the customers' brand loyalty and drive more sales. With Express Shipping, your customers can receive the item they order speedier, and you can have the chance to determine the shipping fee. You can customize the app as much as you want as long as it suits your business.
For those who set up the app for the first time, it will be SUPER easy with simple settings page. Your job is merely to select which gift services you intend to enable and to set the fee that each customer has to pay. There you go! The app's special algorithm will be a time-saver and money-saver since it does everything needed and includes the gift options right into your cart page.
Not only that, the app is fully customizable. You can have an option to modify the design color and fonts, rename text and titles. It also custom-built an image gallery with the branded images of your store. You can also adjust the costs of upsells to charge the customers. Besides, the app can serve globally since it offers translation options for hundreds of languages. What's more, there is a comment box with predefined options, and it integrates with Mailchimp, gift wizard, rise.ai, loox, and yotpo.
Upsell Funnel Engine - Upsells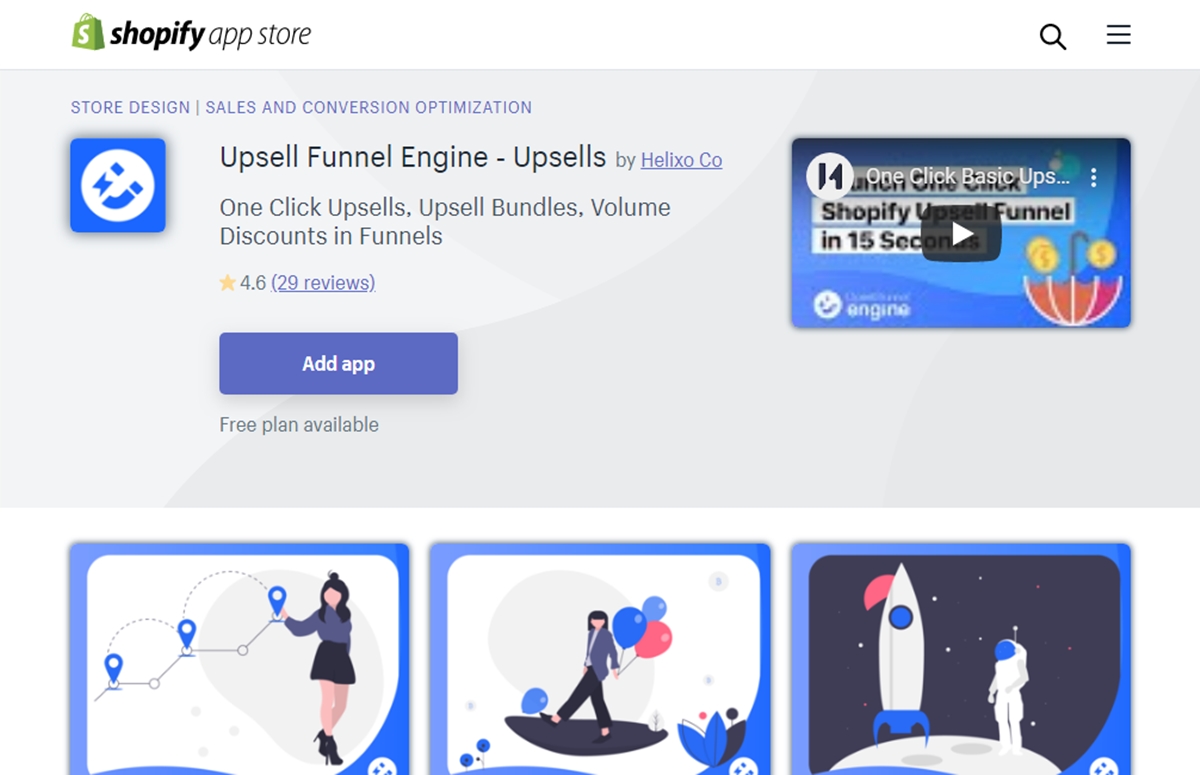 To boost your company's profit, you should take into consideration downloading the Upsell Funnel Engine app- an ultra-lightweight (9KB script) effective sales funnel app. It will allow you to give your customers attractive offers such as discount upsells, upsell bundles, or quantity breaks. Rather than compels the customer to purchase the product, it travels along with the customer journey to achieve customer satisfaction and sales boost.
So, how does it work? First thing first, it will allow you to create upsells (with optional downsells) in the Product Sales Funnel. Then, it can split test upsell offers and identity that will perform better and yield more sales. After that, you can create upsell offers on the Product page, Cart page, and Thank You page (post-purchase). The other upcoming pages are homepage, collection, and checkout page. The product upsells can be either displayed in popup or integrated into a particular page.
The app can support multilingual language translations, and the customized mini cart is integrated into the upsell offer window. You can create discounted upsells, bundles, and volume discount offers in the funnel. With Upsell Funnel Engine, you can trigger funnel by multiple products/collections/tags. The instant one-click upsell checkout feature allows customers to directly checkout to the Shopify payments page from the upsell offer.
The app also sets last-minute countdown timers to upsell offer and schedule upsell funnel offers. Also, there are immediate LIVE PREVIEW updates during the process of creating upsell offers. More impressively, the app's real-time analytics can show the report of each upsell offer in the funnel such as upsell accepts, CTR, rejects, conversions, CVR, and many more so that you can assess its performance.
If you do not gain from the app, then you will not have to pay monthly charges. And you do not have to pay additional commissions. Another feature is no bulky script injection. More specifically, the app will not change your theme with bulky scripts that result in sluggish loading times.
Also, it has lightning Speed loading thanks to CDN caching that enables loading scripts astonishingly swift after page load complete. Besides, the script is only 9KB, which is very lightweight. Its compatibility with Shopify themes and mobile responsiveness also contributes to its outstanding functionality.
SellUp - Free Upsell App
SellUp allows you to create bold, precision-based cross-sells and upsells for your Shopify store. With this powerful app, you can add SellUp just below the products main Add to Cart button. SellUp allows you to get "Frequently Bought Together" bundles or modify the upsell section title according to your preferences.
Having some fantastic in-built design settings, SellUp will help make the process of setting up themes seamless and flexible. In addition to choosing products to cross-sell and upsell, the app also allows you to decide how you show the message. Rather than display the offer's product title, you could show a call to action.
Below are what you can do with SellUp:
Create "Action Upsell" triggered from Add to Cart
Offer In Cart Upsell
Create and Display Upsells
Unlimited Upsells or Cross-sells
Popup Upsells
Rule-based per products or collections
Setup Regularly Bought Together Bundles
Enables variant upsells and One-Click Upsell
Product page based Upsell or Cross-sells
Seamless integration with adjustable styling
Display a custom message or call to action on upsells
Show or Hide Price
Not only that, it also integrates with Free Upsell App, Smart Upsell, One-click upsell, and Upsell. Also, you can experiment with its free plan, and it has the lowest priced unlimited plan, therefore, you will be way better off!
UpliftHero - One Click Upsell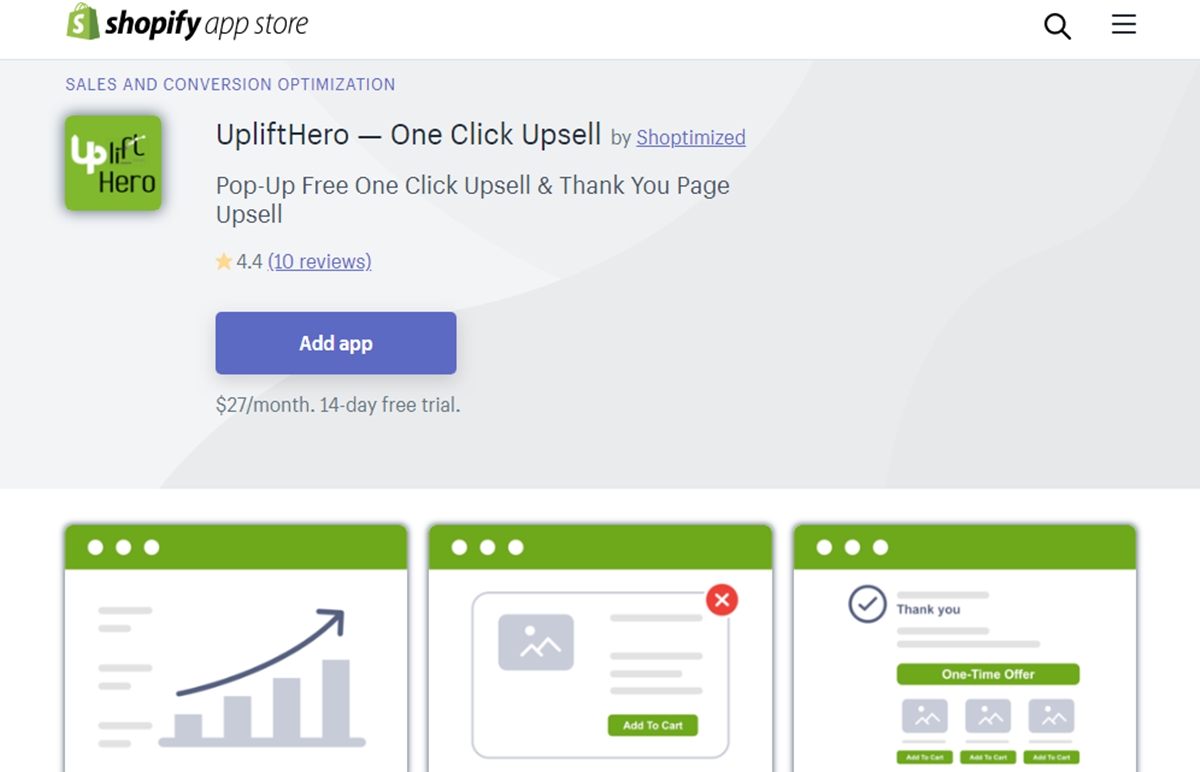 UpliftHero - One Click Upsell is a must-try and must-have application if you want to avoid abandonment due to the fact that most one-click upsell pop-ups get closed.
The drawback of a majority of the so-called upsell apps is that although they can boost your average order value (AOV), they may negatively affect the conversion rate because they heavily depend on irritating and normally buggy pop-ups.
It is without a doubt that the apps can help boost your AOV, however, the distraction of a pop-up normally reduces your overall conversion rate. In other words, you may be having a worse performance than you were without any upsell pop-ups. In this case, UpliftHero is indeed a rescuer. It regularly upsells & cross-sells products to your customers without having to interfere with their user experience or the checkout flow.
UpliftHero skillfully adds them right below your Add-to-Cart button-the place where your shoppers can easily notice when they are about to purchase. By doing this, the application can guarantee your upsells gain the maximum exposure.
With the thank you page upsell or the order confirmation page, UpliftHero can reconvert your customers. Post-purchase upsells can help you to gain more from every sale you get. Besides, the customers will keep returning to your site when they are checking their order status.
By leveraging your free shipping threshold, UpliftHero rewards and incentivizes to your visitors to add more items to their cart. No surprise that offering a free shipping threshold can significantly enhance your average order value. More specifically, by doing this, there will be a significant rise in AOV without decreasing your conversion rate. And also, it will not lead to lowered cart abandonment like other apps.
Since on Aug 13th, 2019, Shopify officially stopped working with Beeketing; they eliminated all Beeketing & BoostFlow apps like Countdown Cart, Checkout Boost, or Boost-Sales - Upsell - Cross-sell by Beeketing. Therefore, UpliftHero will be a perfect alternative for these apps and others like ClickFunnels (Click Funnels), Bold Cashier, Carthook, Sweet Upsell, VITALS, Checkout X, Hatchful, InterCart, Upsell Bundles, Upsell System, Ultimate Upsell, Magebird, Discounted Upsells, and Upsell X & Zipify OCU.
The app is fully customizable. If you want to only offer cross-sells on certain products or if you want to upsell directly from the Thank You Page, then it will not be a big deal with UpliftHero. Besides, you can select the incentive you want to offer. With UpliftHero, you can avoid displaying irrelevant upsells to your customers. What's more, it can integrate with Google Analytics.
So, with all these fantastic features, you should not hesitate to begin your 14-day free trial right now.
Instant Upsell
Another way to increase your sales is to get the most out of your customers' visit by offering smart coupon offers.
By advertising available coupons to site visitors in the form of announcement bars, Instant Upsell helps with in-store discount codes promotion. If want to set a time limit, then the application will help include a count-down timer for a sense of urgency.
In addition to showing discount codes, Instant Upsell enables customers to use the discounts right away and add the item to the cart if they tap on the offer. By doing this, the app will not let the coupon code be forgotten and make the shopping experience smoother.
In only one magical click, you can create compelling offers from your coupons. Only one second can work out the synchronization of all discount codes in bulk, which will save you a lot of time and effort.
With Instant Upsell, you can also have an option to select which discount codes will get promoted to the customers and customize the appearance of the promotion bars.
Instant Upsell combines various discount codes to one code. By doing this, your customers will not lose their discount codes since they are allowed to use only one per order with the default Shopify discount system. It also enables or disables stackable on each discount code. Besides, it integrates with Smart Popup, Eggflow, Instant Traffic, Instant Giveaway, and Instant Buy.
Candy Cart - Upsell in Cart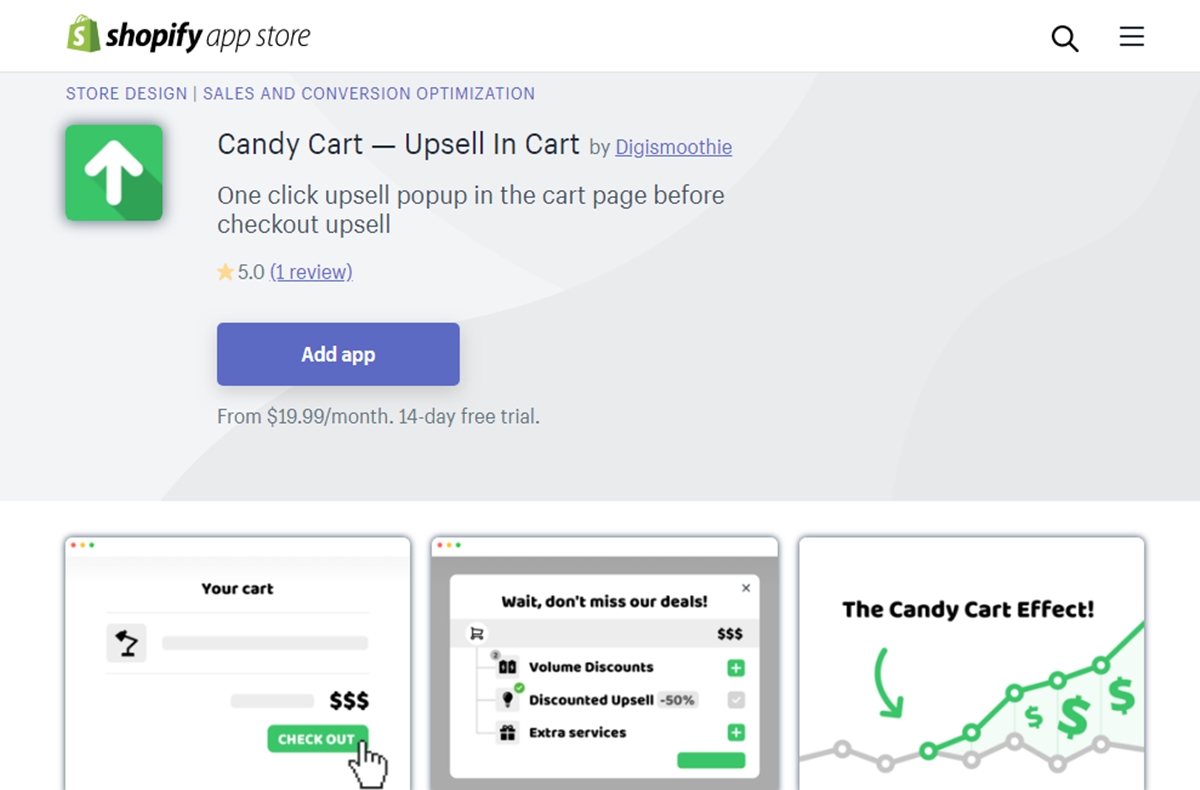 With Candy Cart, you can gain an effective technique to upselling customers. Rather than having dozens of intrusive pop-ups around the store, having only a single one shown on the cart page before heading to the check-out process may be a better choice. It will be the last chance to upsell your customer so the level of urgency concerns in this case.
The app will help show the upsell popup every time a customer taps on the checkout button. It will be your last opportunity to show the customer the best offers and hence, boost the order value.
The fully automatic upsells are based on the product recommendations API. And the related upsell products are chosen automatically by the AI algorithm.
Plus, the well-designed pop-ups look good even on mobile phones. Also, you can modify the wording (i.e. translate it) and design (colors and paddings) to properly resonate with your storefront. You can start a free 14-day trial period with full features and complete support.
To work it out, you should install the Cart Pop app and create your first upsell offer before setting the upsell details (product, service, or price) and activate it. Then, you proceed to your cart page and tap on Checkout to see the upsell popup live. For the maximum sales boost, you should monitor and optimize the performance of each upsell.
Bear in mind that CandyCart is not compatible with any custom checkout solutions or volume/tiered pricing apps. Besides, since the app is currently using draft orders, the customers can not include any custom discount coupons at check-out. And also note that Candy Cart is a solution for pre-checkout upselling, not for post-purchase upselling.
Conclusion
To conclude, we have shown you One Click Upsell: How to Double Revenue for Your Shopify Store. You must explore more information to boost your revenue and succeed in this intense eCommerce industry. Hope that after reading this, you can understand more about this marketing strategy and adopt it properly to your business.
Furthermore, if you want to speed up shopify store so that your customers will have a pleasant shopping experience, and you will be able to earn more revenue; you can check out our post: 13 Ways to Speed Up your Shopify store & X2 Sales! for more details.
If you have any questions, comments, or concerns; do not hesitate to leave a comment below or directly contact us. We are always ready to help you out in case you need anything. Furthermore, if you find our article useful, then you can share it with your social network's community. We would appreciate it if you could do that.
---
CEO and Founder of Avada. Pursueing a simple and healthy lifestyle. A friend, a husband and a dad of four children, a trainer and an influencer wannabe. He is a big fan of sports and travel, also.
New Posts
Stay in the know
Get special offers on the latest news from AVADA.