Klaviyo Reviews: Details, Pricing, Integrations, Supports
Email marketing is one of the most useful and profitable online marketing methods – a fact that few eCommerce store owners may not be aware of. Klaviyo is an email marketing tool that has helped thousands of eCommerce marketers make their email marketing execution easier. It's one of the top email marketing applications you can find in a lot of app stores, and it's pretty well known for making email marketing a piece of cake.
Before going into this review of Klaviyo, you should know that my overall impression of this app is that it's built to be a great add-on to eCommerce platforms and not necessarily a standalone email marketing tool – particularly if you're not running an online store. However, most eCommerce marketers would find its features very useful and impressive while they use them.
Now let's jump right into the details!
What is Klaviyo?
Klaviyo, as described above, is an email marketing tool designed to give you everything you need to create powerful email campaigns. If you're looking for a fast reliable way to communicate with your audience at a deeper level through meaningful emails, Klaviyo is able to help with that.
Similar to some of the top-performing email tools on the market these days, Klaviyo offers many features designed to make your life simpler, including a drag-and-drop email composer, and a range of attractive templates to help your messages stand out. There are also plenty of marketing automation tools to try if you need to move your campaigns to the next level.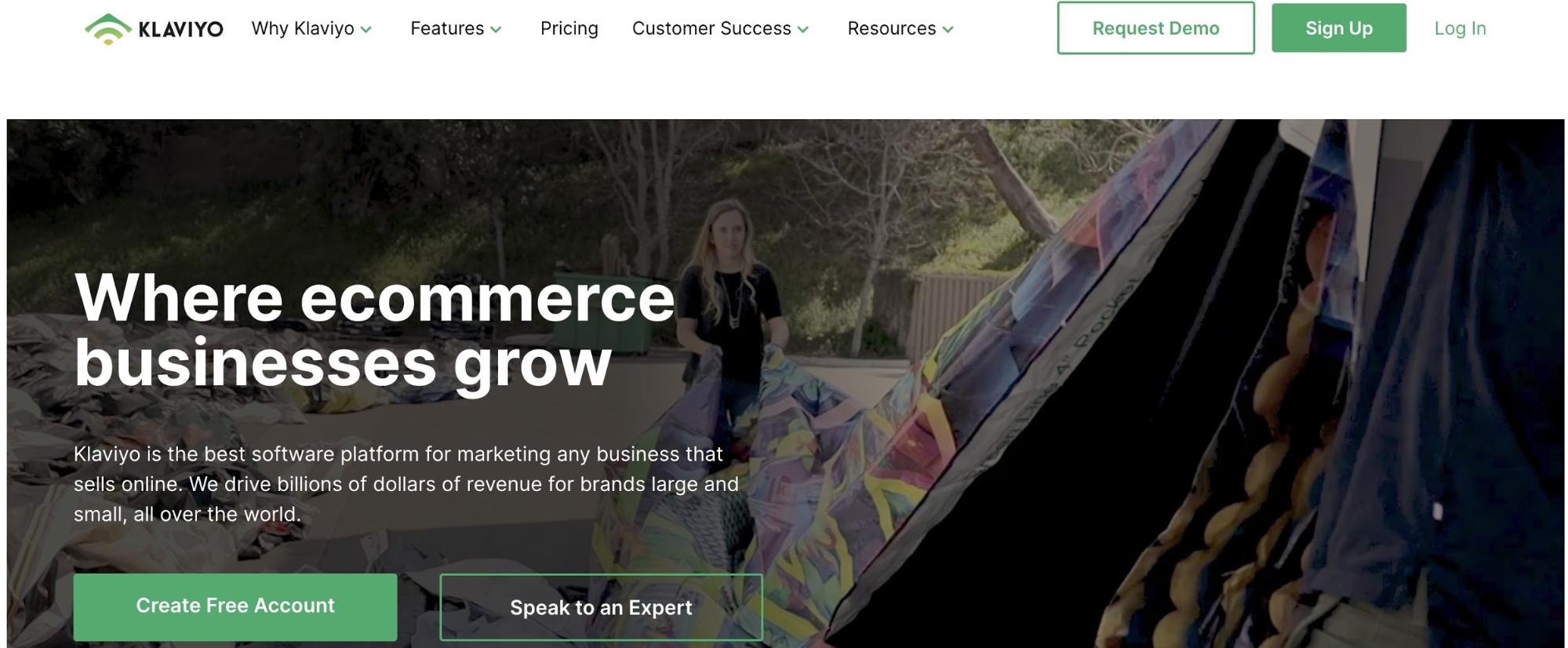 Klaviyo's features range from abandoned cart to post-purchase follow-up with the email marketing tools and email lists. With Klaviyo, you can also have features you'd expect from similar email automation services such as Mailchimp.
For example, Klaviyo's email marketing platform comes with segmentation tools to tailor your messages to your target audience, tailored product recommendations, and A/B testing. Another big bonus is this tool will improve your eCommerce business by integrating with leading eCommerce platforms such as Salesforce, Shopify, and Stripe – we'll get back to that in a minute.
What Klaviyo Offers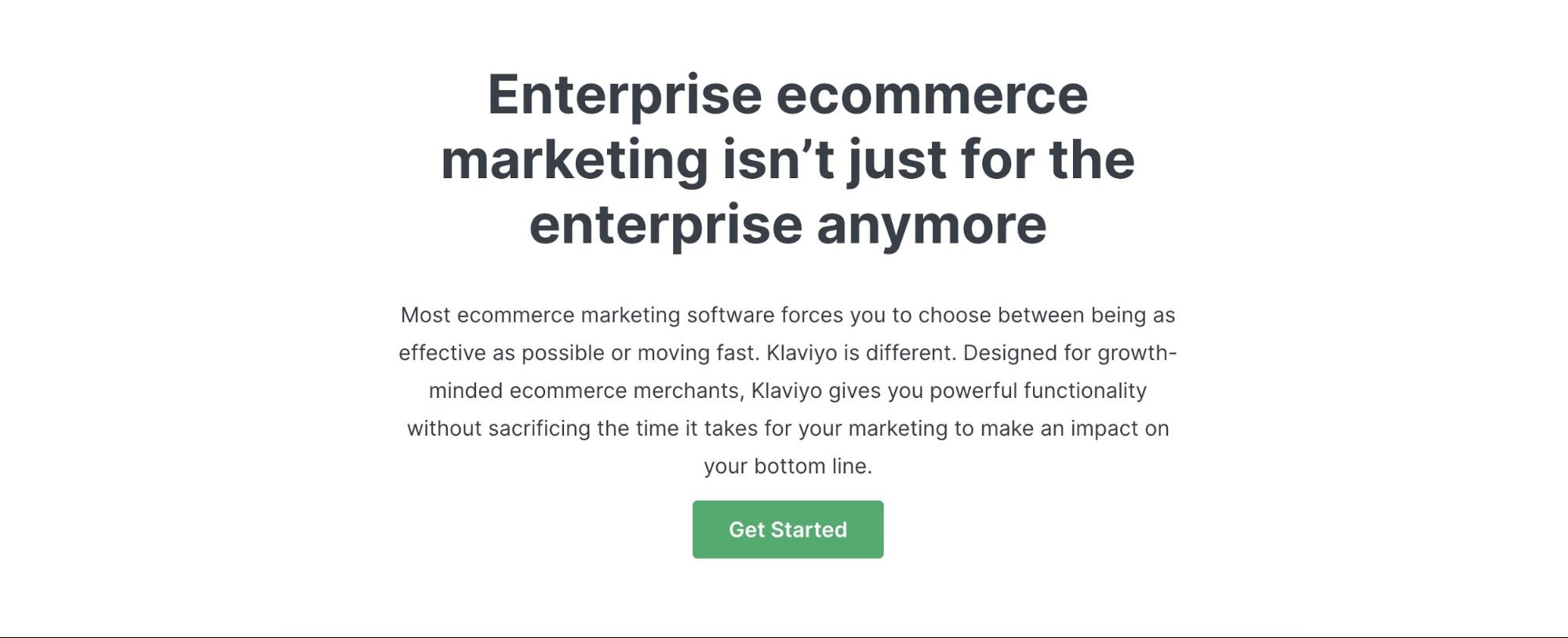 Klaviyo provides a full email marketing solution for your online shop. At its heart, Klaviyo has a drag-and-drop email composer along with numerous pre-built email templates for popular email campaigns. There are also powerful automation tools that allow you to create complex automated email workflows.
Some great features and email campaigns that you will have with Klaviyo are:
Post-purchase follow up emails
Abandoned cart flows
Segmentation based on a variety of criteria
Sync email lists to Facebook custom audiences
Personalized product recommendations
Optimization tools such as multivariate testing
Klaviyo can also be integrated with Shopify, along with a range of other tools and channels, such as Justuno, Salesforce, Stripe, and more.
Klaviyo Features Reviews
It's hard to walk through all of Klaviyo's features, but I'm going to try to cover the most important ones, particularly in terms of eCommerce. The first thing you need to know about Klaviyo is that it's a very comprehensive tool. There are plenty of ways to collect knowledge about your consumer products and customer service on the Klaviyo.com website. You'll also have access to endless reports that connect with your eCommerce tools like Shopify.
While Klaviyo lacks some of the versatility of other email marketing tools on the web today, it still has all the basic necessary features, such as a drag-and-drop builder that is easy to use when you want to personalize your emails or forms. In addition, Klaviyo content blocks also ensure that you don't make any errors with your formatting.
If you're designing an email design from scratch or using one of Klaviyo's pre-made templates, you're going to find that this tool has everything you need to stand out online. Only keep in mind that you may need to spend a little more time learning how to use Klaviyo than other tools like Mailchimp.
Klaviyo Forms and Contact Manager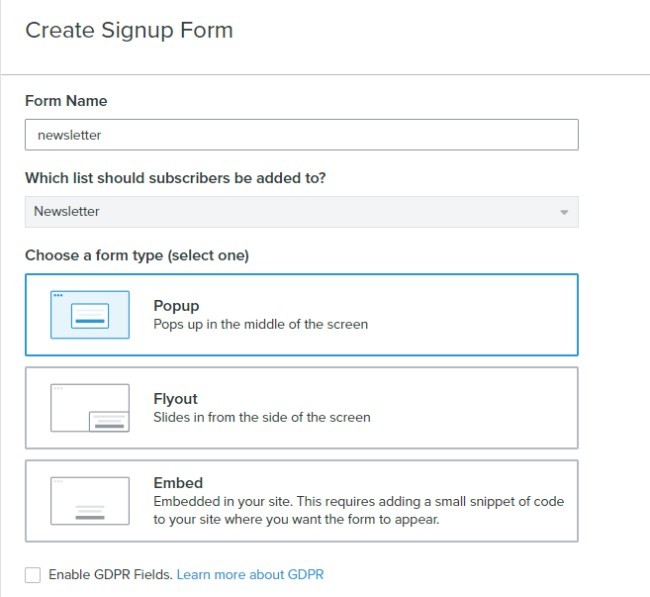 This is one of the most basic features of Klaviyo, but it's worth noting because all eCommerce stores should have some kind of functionality to collect email addresses as well as other information. In the Klaviyo dashboard, several types of forms can be produced. For example, an eCommerce company can choose to have a pop-up box or an embedded form for customers to fill in their personal details.
After that, your contact management can also be handled in the Klaviyo dashboard. You can see which subscribers are your priorities, along with the details that your customers are using to open your emails and click on the links within those emails. Overall, the interface to collect and manage your contacts is intuitive enough for even the most basic user.
List Segmentation in Klaviyo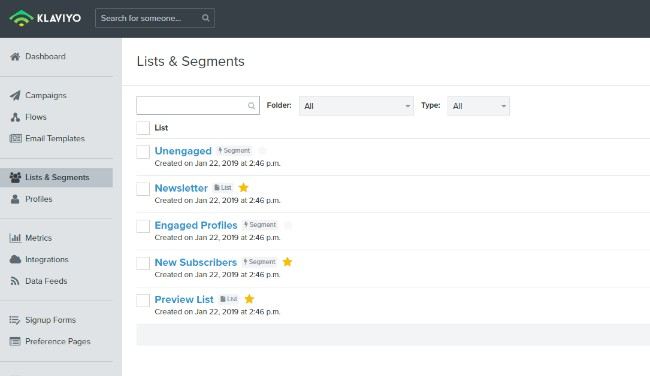 List segmentation is one of Klaviyo's best features and should be applied by just about every online store out there. In Klaviyo, you get a few default lists that categorize your subscribers from those who are more dedicated to your emails and those who may find only your newsletters interesting. You may also create your own lists and segmentation on the basis of what the consumer has done on your website or also whether they are part of a certain buying category.
From the moment you log in to your Klaviyo dashboard, you will be confronted with a variety of ways to segment your customer list. You can categorize based on behavioral and transactional details, extract information from Shopify or any other CRM you want to integrate.
In addition, you can make your groups as specific as you want, pick several different tags and goal choices at once. You can also create groups based on people who purchase those goods, or you can still buy them using coupons.
Klaviyo also has a unique collection of data science tools to bring the segmentation strategy to the next level. This helps you to find out which of your shoppers is more likely to become repeat customers, so you know where to spend additional marketing attention.
The Klaviyo Template Selection
Klaviyo provides you with a good set of templates to choose from. There's no need to create your email from scratch this way, and you don't need to be a web development expert to make it look good. Many of the models are themed, which means that you may be able to find a pre-built design that suits your industry perfectly.
Otherwise, you can select from basic templates that are often more suitable for the typical eCommerce shop. The explanation for this is that all the elements are built into the templates, and all you need to do is fill in your own information. I really like the fact that Klaviyo includes newsletter templates as well as eCommerce product collections. There are also a few templates that combine these two, so you may want to add a link to one of your latest blog posts and some of your newest items.
Klaviyo App Template Editor
This is another feature of Klaviyo. This email design tool is an easy-to-understand drag-and-drop editor. It includes design options and block elements to create your emails properly. What's more, integration with your eCommerce site will allow you to upload some of the items to your emails without having to write the content yourself.
Some of the drag-and-drop elements are split columns, buttons, social ties, and photos. You should also have a logo from your store and a few links at the top of the header which people can click on to go straight to your website.
Image Hosting on Klaviyo
Klaviyo provides an image library so you can upload any image of your choosing. All of these media things are processed and stored on Klaviyo, which ensures that you won't have to upload photos on your own website.
Social Media Marketing through the Klaviyo App
As far as social media is concerned, I've certainly seen better resources from other email industry channels. That being said, Klaviyo contains a few features that offer you an edge in the social media environment. The first is a Facebook advertising tool that segments your Facebook followers and potential customers who are targeted by your Facebook advertising campaigns. You can also easily connect to all of your social media accounts during the Klaviyo setup process.
Klaviyo Autoresponders
Klaviyo offers an impressive range of autoresponders and emails that are necessary if you're planning to run an eCommerce shop. Klaviyo calls these triggered emails "flows." Flows can be generated based on the actions of your online customers in real-time. For example, if one of your customers signs up for your email newsletter, you can create an email that sends them a welcome message along with a series of emails.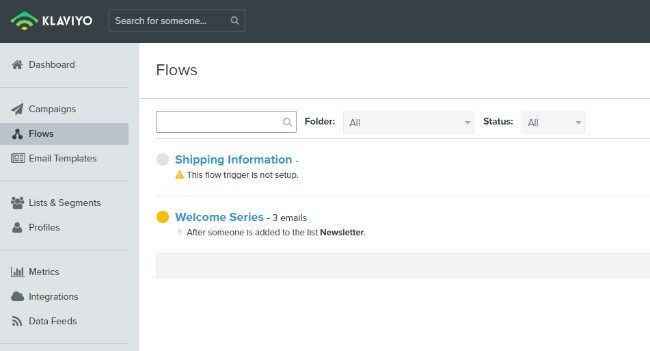 For automated eCommerce emails, the abandoned cart series is a clear example of how you can consistently attract customers back to your shop. The abandoned cart feature knows it when your customers type in their personal details, but then ends up leaving the shopping cart without making a purchase. After that, Klaviyo sends this customer an email informing them of the items left in the cart. You may also provide a discount to try to get the customer to make a purchase.
One useful thing about Klaviyo is it can help you out with your automation strategies as well. If you're new to email marketing and need some additional help, you can select the "Browse Ideas" section of the user interface to get hundreds of pre-made templates. These models can help you create any kind of autoresponder you need, from promotions for your webinars to abandoned cart emails.
Klaviyo's data analytics technology also provides real-time information that activates automation based on the unique routes that customers follow on their customer journey. For example, with conditional splits, you can add several different autoresponders to your mix depending on whether someone flags an email as spam, returns to a website page, or purchases a specific product.
The data and automation features you get with Klaviyo is one of the things that makes this product an enticing choice for email marketing.
Klaviyo Integrations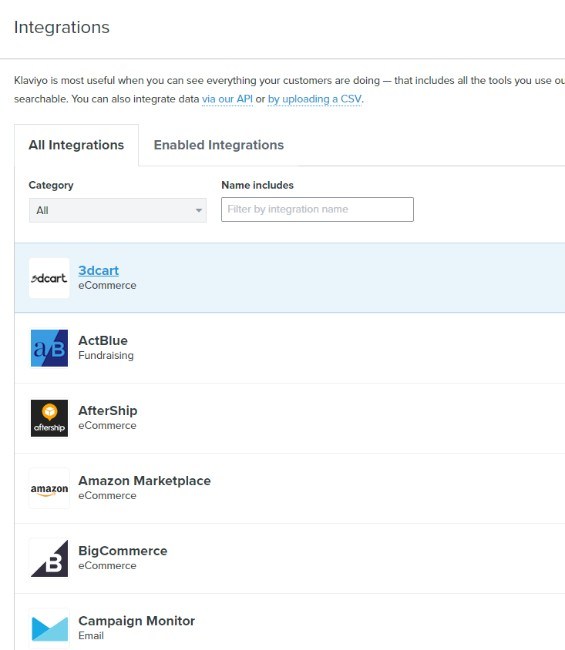 The Klaviyo platform is packed with a range of integrations for eCommerce platforms marketing tools, and help-desk apps. Most eCommerce professionals will be pleased to know that you can integrate with popular platforms such as Shopify, WooCommerce, and BigCommerce. There are also a number of integrations for CRM platforms, incentive programs, and more.
Klaviyo Integrations with Shopify
While Klaviyo has a few easy-to-use issues and is not the least expensive email builder, it does have some features that make it a learning curve. One such thing is its integration with Shopify. Klaviyo has integrations available with a range of easy-to-use e-commerce tools, including BigCommerce, Magento, and WooCommerce. It's the link with Shopify, however, that really makes Klaviyo shine. Crafted to be a vital part of the growth engine for Shopify users, the Klaviyo app is all about helping you understand your consumer experience and making the most of it while tailoring your approach to your customers.
With Klaviyo email marketing campaigns, you can immediately respond to the customer when they exit your cart or enhance the customer experience by providing personalized recommendations based on their previous purchases. No complicated Zapier integrations are required, you can connect your eCommerce platform and your email marketing campaigns in seconds. This also ensures that you will gather a lot of wonderful knowledge about your audience and what they need from you, including:
Which customers leave products in their cart
Which products customers buy
Where your customers come from
How often people use discount codes
How people respond to your forms
Using Klaviyo for your form builder and Shopify customer lists will really take your company to the next level.
Klaviyo Analytics and Reporting
A/B testing is one of the easiest ways to make sure the email marketing campaigns really pay off. If you want to make sure that you get the best results from any message you send, Klaviyo will help with that. Just go to your Flows section and check the metrics you want to track.
You can test A/B campaigns on the basis of such items as bounce rates, unsubscribe rates, and more, enabling you to see first-hand which campaigns achieve the best results. You can also connect predictive-analytics to see which consumers are more likely to make purchases in the future on the basis of their previous activities.
In addition to A/B testing statistics, Klaviyo has ROI-based reporting to get a deeper understanding of how many sales are coming from your email marketing. You can also connect to Google Analytics. Built-in website monitoring helps you to find out about your visitor's actions in real-time, and an impressive array of reports is bound to help you compare and evaluate past and potential sales.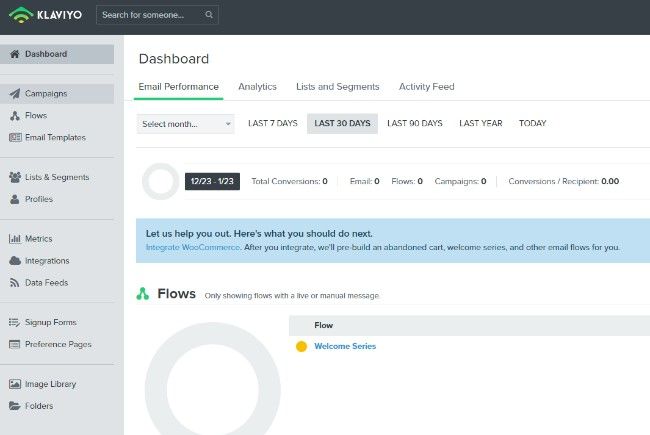 Klaviyo could take a little longer to find out when you're trying to figure out which of your email campaigns you're doing the best. Once you know how to use the analytical methods in this method, however, it's worth the effort.
There are a lot of metrics to review, and you can access a customizable analytics dashboard that's perfect for giving you an immediate overview of how those campaigns are going on. For example, as soon as you log in, you can have your homepage tell you whether your emails are being sent to the spam folder, or whether you're improving your credibility as a sender.
Klaviyo also lets you choose how you want to display your results, with options like bar graphs and line graphs that make your progress more visually appealing. Combine this wide set of reporting functionality with the integrations that Klaviyo provides with items like Shopify, and you can build a detailed end-to-end view of all that's going on in your customer conversations.
The biggest drawback of Klaviyo for most businesses is that it's so filled with features that it's hard to know where to start. For example, you can also gather information about anyone on your list to make sure that you have insights into who your most valuable VIP customers are. If you're a novice, there's likely to be so much data that you'll end up feeling frustrated.
Klaviyo Customer Support
When issues occur with your onboard plan or email customization, it's important to know that a member of the Klaviyo team is there to help. The Klaviyo Customer Support Team is getting potential customers started by preparing a free demo. This is a perfect way to see just what Klaviyo has to show in terms of its collection of features and to see a visual representation of how the system operates. You can also contact the sales team via e-mail and the phone number on the website. As for other sales issues, the website provides a FAQ page and a free trial so that you can experiment with the device on your own.
The primary way you get customer service from Klaviyo is by going to the Help Center. Here, you can search for a wide range of articles, videos, and courses on any keyword or subject. The company also shares slides and user conference resources, so you'll never miss a chance to learn more about the platform. The Support Center is also nicely classified so that you can pick any of the issues you may have. For example, there is a category of "eCommerce integrations" to learn how to interact with systems like WooCommerce and Shopify. You can also find groups for items like the Klaviyo API, ads, and sign-up forms.
Klaviyo does not have a telephone help line for technical issues. The only phone number that you can find on the website belongs to the sales team. However, most pricing plans provide email support and chat support for daily business hours on Eastern Standard Time.
Finally, Klaviyo's blog often serves as a form of customer service by providing tips and tutorials on topics such as email marketing and customer acquisition. You can also follow Klaviyo on sites like Facebook and Twitter since I know that some people like social media customer service.
Overall, I'd like to see a phone support line on Klaviyo, but at least they have a chatbox and email support that seems to be very open to messages. Not only that, but the Support Center is packed with enough informative articles to assist you with your study.
Klaviyo Pricing
Payment plans are dependent on the number of email contacts and start at $25/month, and go up as the number of contacts increase. Klaviyo also offers an indefinitely free plan that's convenient for smaller eCommerce stores or those wanting to test Klaviyo.
What's good about the free plan is that you can still take advantage of most of the Klaviyo features without spending a dime. The only restriction is the number of contacts and emails you send, so Klaviyo can expand as your business expands. Bear in mind that Klaviyo's plans do not have names, since they are purely based on how many subscribers you have in your database. Here's a glimpse of how the price rises with the number of contacts you have:
Free – 250 contacts and 500 email sends. Most of the standard Klaviyo features are provided with this plan. You will be required to activate opt-ins, and there's also a Klaviyo branding element added to your email.
500 Contact Plan – $25/month for 500 contacts, unlimited email sends.
100 Contact Plan – $50/month for 1,000 contacts, unlimited email sends.
1,500 Contact Plan – $75/month for 1,500 contacts, unlimited email sends.
2,000 Contact Plan – $100/month for 2,000 contacts, unlimited email sends.
2,500 Contact Plan – $125/month for 2,500 contacts, unlimited email sends.
3,000 Contact Plan – $150/month for 3,000 contacts, unlimited email sends.
4,000 Contact Plan – $175/month for 4,000 contacts, unlimited email sends.
5,000 Contact Plan – $200/month for 5,000 contacts, unlimited email sends.
6,000 Contact Plan – $225/month for 6,000 contacts, unlimited email sends.
There are also a lot of other pricing choices if you go past 6,000 contacts. It seems to be around $25 a month for every thousand contacts you add to your list. Klaviyo has a fantastic slider on his website to help you find out exactly how much your business will end up spending.
The maximum price choice is $1,700 a month for up to 146,000 contacts. Some of these higher third pricing plans will get you a dedicated account manager. After that plan, you need to contact the sales team of Klaviyo to find out the custom price.
Alternatives to Klaviyo
AVADA Email Marketing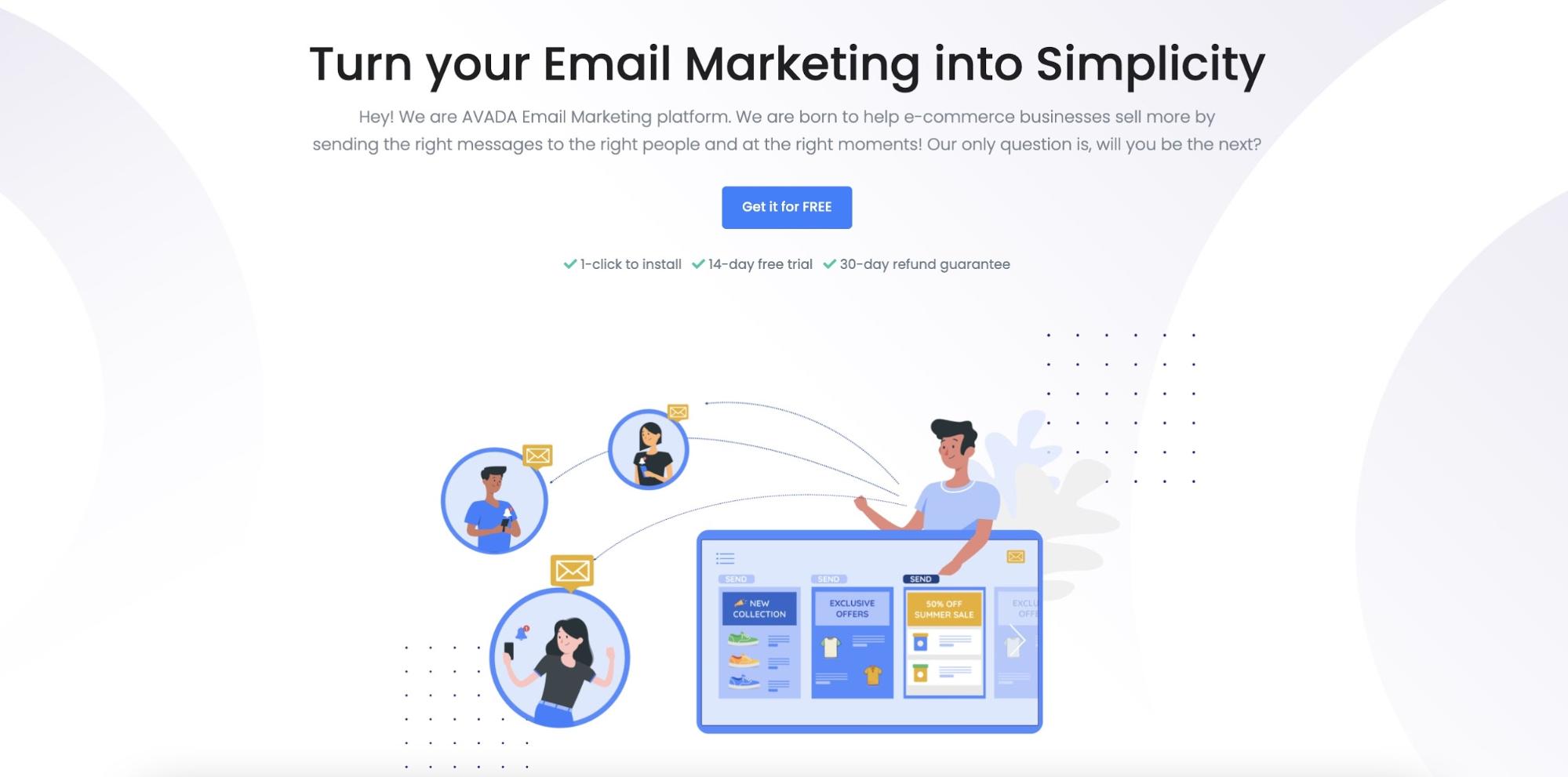 AVADA Email Marketing is an email marketing alternative to Klaviyo that allows you to create and run automated marketing campaigns, mailing lists, newsletters, and many other email marketing features that your business might require. This powerful and easy-to-use app provides a wide variety of email marketing tools, such as pre-built templates and personalized content solutions. MailChimp begins by giving you a free plan if you send less than 15,000 emails a month or if you have less than 1,000 subscribers on your mailing list.
If you sign up, you can start developing an automated email marketing campaign immediately. You can create your own newsletter that highlights any news or trends relevant to your brand. You can also send abandoned cart reminders to win back lost sales and create automated email workflows to save time. AVADA Email Marketing is highly recommended for small and medium businesses who just started dipping their toes into the email marketing world.
Pricing: Free - $9/month
GetResponse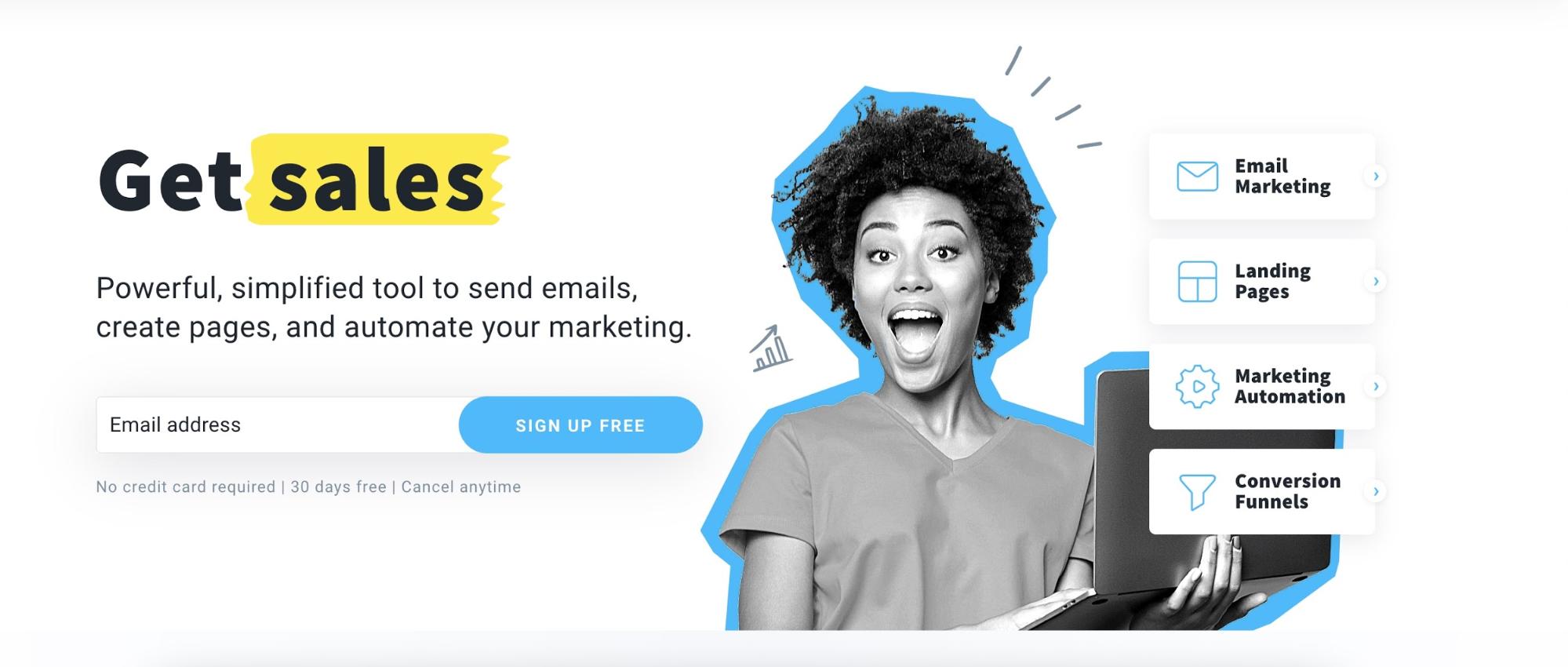 GetResponse is a robust marketing software platform that can be a great alternative to Klaviyo. It can help you build content, increase sales, and increase traffic to your website. Integrated email marketing, autoresponders, and landing pages help you automate key tasks and launch successful marketing campaigns. Advanced research makes it easy to track conversions, leads, and ROI, and learn what the customers want. Customizable template scenarios are working for you – no coding is required.
Pricing: $15 - $99/month
Omisend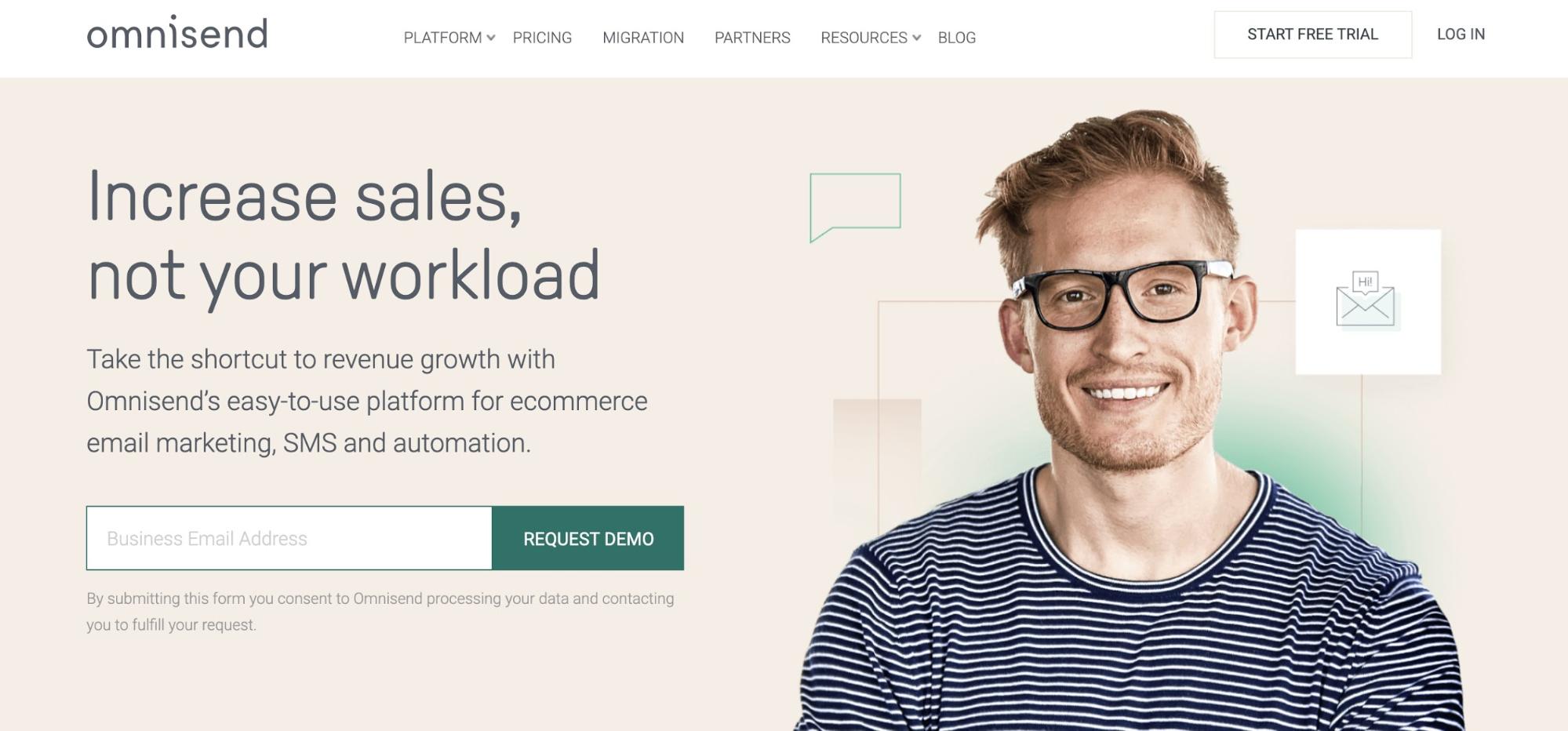 Omnisend is the best-suited marketing automation tool for experienced eCommerce marketers. The UI is intuitive and easy to use. You'll get much of the segmentation and automation features that you'll need as a rising eCommerce brand.
Pricing: Free to $168/month
Final Words
That's it! I hope this article has given you valuable information about Klaviyo that can help you decide whether it's worth it to invest in this tool. Please feel free to leave comments below for a further discussion on this topic.
New Posts
Stay in the know
Get special offers on the latest news from AVADA.