11 Kickstarter Success Stories To Inspire Your Next Big Ideas
If you have a killer product idea that can change the world but no money, how would you start? Well, Kickstarter is the answer. Since 2009, the platform has been a good place to start a business for entrepreneurs, especially those with creative item designs that can't be found anywhere else in the world. The concept is simple, you share your vision with the world, and if they love it, the whole community comes together to fund you.
While not many campaigns successfully raise the money desired, the ones that generated millions of dollars generated enough buzz to make Kickstarter so well known. For startups, the site becomes not only a viable alternative to traditional funding like bank loans or angel money but also a place for marketing and product development. The community loves it too since they can see so many interesting ideas and get to see the products first.
There are few better crowdfunding sites to find stellar examples of successful companies backed by the people. And if you are having a big idea in mind, you must be interested too. So here are 11 Kickstarter success stories to fuel your wildest dreams. They are in a variety of categories, from gaming to music or futuristic. Let's get (kick)started!
What is Kickstarter?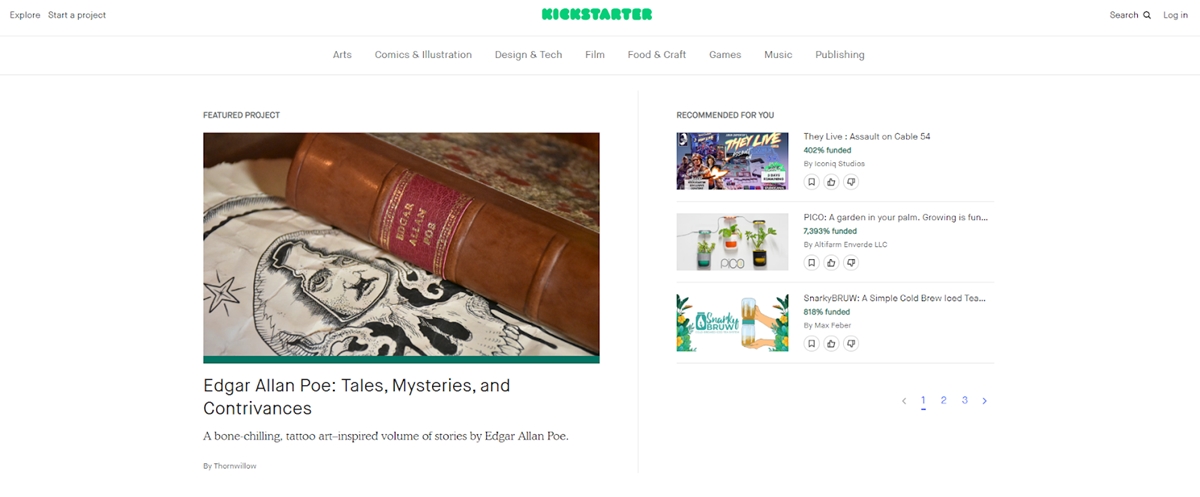 Launched in 2009, Kickstarter is a New York based global crowdfunding platform that helps creative ideas raise funding from supporters (so called backers). Creators present a project, choose a deadline, and set a minimum funding goal. This goal must be reached or they won't collect any money. To encourage backers, creators often offer attractive rewards such as custom edition, early release access, as well as special experience in exchange for pledges.
Kickstarter allow backers anywhere in the world to send fund, but currently only open slots for project creators form a small collection of countries, which are:
The U.S
The U.K
Australia
Austria
Belgium
Canada
Denmark
France
Germany
Hong Kong
Ireland
Italy
Japan
Luxembourg
Mexico
New Zealand
Norway
Singapore
Spain Sweden
Switzerland
The Netherlands
As real stats from Kickstarter suggest, as of April 2020, the platform has pledged over $4,9 billion to 181,067 successfully funded projects. The site also has over 17 million backers and 5.56 million repeat backers. Some of the most successful projects which you will see below generated several millions of dollars and also received public support and attention, 437 projects generated over $1 million, to be exact. That said, with an all-or-nothing concept, there are a huge number of unsuccessfully funded projects as well, almost 300 thousand.
The most popular project category on Kickstarter was music with more than 60,000 projects launched, but the game category generated the most dollars with $1.15 billion. Some other worth mentioning categories that attracted high volume of attention were Design, Film & Video, Technology, Publishing, Fashion, Art, and Food.
It is fun to know all these facts, but things are going to get even more interesting with the upcoming successful players. Let's meet them.
11 Kickstarter success stories:
Here are the top 11 Kickstarter success stories up to date, from ground breaking ideas to simply for fun games. Whether the creators are artists, makers, musicians, designers, or anyone, they can all share killer ideas and receive pledges from backers. Get ready to note down something you can use for your own awesome project.
1. Coolest Cooler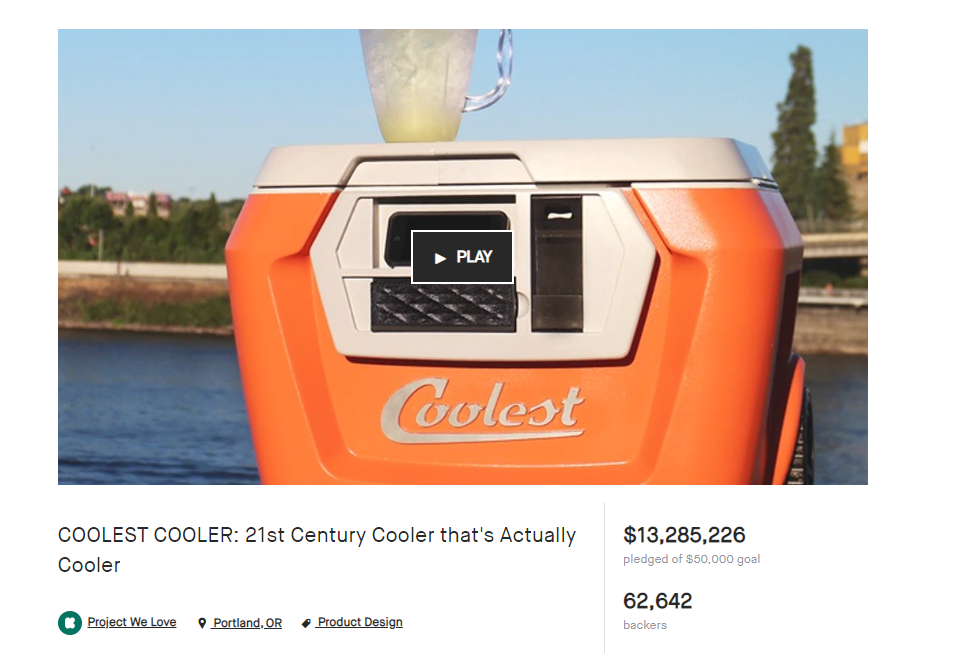 Creator: Ryan Grepper
Category: Crafts
Raised: $13,285,226
Goal: $50,000
Pitched as the "21st century cooler that's actually cooler", The Coolest Cooler is a portable cooler that has all the fun packed inside. It has a blender, a waterproof bluetooth music player, an USB charger, a bottle opener, a disk tray, and dozens of more features that provide everything people need for a picnic.
It first ran on Kickstarter in the winter of 2014 and failed to raise the goal of $125,000. Then it returned again in the height of summer and raised over $13 million, which was unbelievable and the second highest funded project on the site of all time. The cooler was sold for at least $185 and had more features with more price added.
Sadly, the production hit many roadblocks. The creator couldn't deliver the product on time, leading to the coolers being presented to the public years later. The products were also not well received with mediocre reviews on Amazon. Now, you can still access the website, but the products are unavailable.
Lesson: With the right design and features, you can pique the interest in potential customers. I mean, who would have thought they needed a cooler that can play music? But as a creator, you should also keep your words to deliver what you promised in time too.
2. Exploding Kittens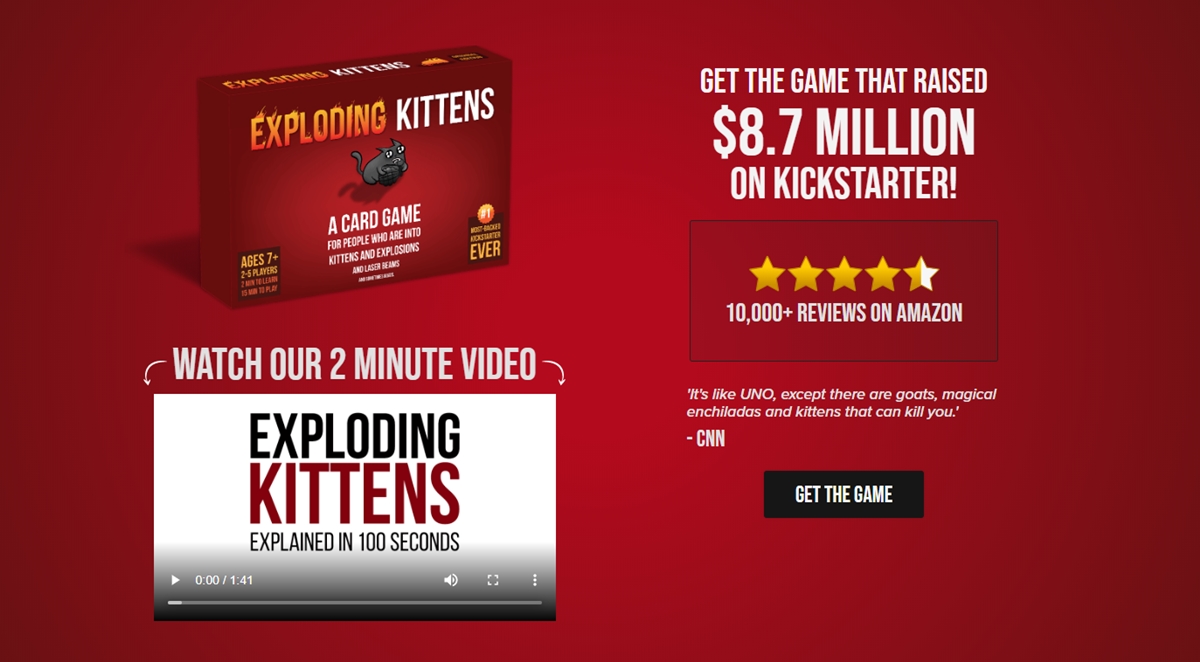 Creator: Exploding Kittens
Category: Games
Raised: $8,782,571
Goal: $10,000
You can call it a game, I would call it a phenomenon. Not many new ideas on Kickstarter could last until today like Exploding Kitten does, and it was something of a joke between the creators. Elan Lee, previous game designer for Xbox, and friends Matthew Inman (a cartoonist), Shane Small (Marvel and Xbox) decided to make a simple card game for weekend fun together. Then they took it to Kickstarter to see if it can actually be something people enjoy.
It pulled $8.8 million with the goal of just $10,000. The creators now had to make nearly 700,000 decks of cards for their backers. And the rest is history. Now, the company has printed nearly 5 million decks of cards with a mobile version and a new game project coming up. You should definitely check out their website to see all the fun they provide.
Just like that, Exploding Kittens was able to overcome the traditional rocky phase of a startup and became profitable within months. They got calls from Hollywood studios to make animated shows, toy companies that wanted to make plush dolls, and even an offer to buy back the whole company (which they rejected).
The game itself has an interesting concept with five people playing until they draw all the exploding kitten cards and only one remains the winner. It is one of my favorite games to play with friends as well.
Lesson: Kickstarter success stories don't have to start with an idea that is ground breaking, it just needs to be interesting in its own category and can keep people hooked. Having friends help too!
3. Pebble Time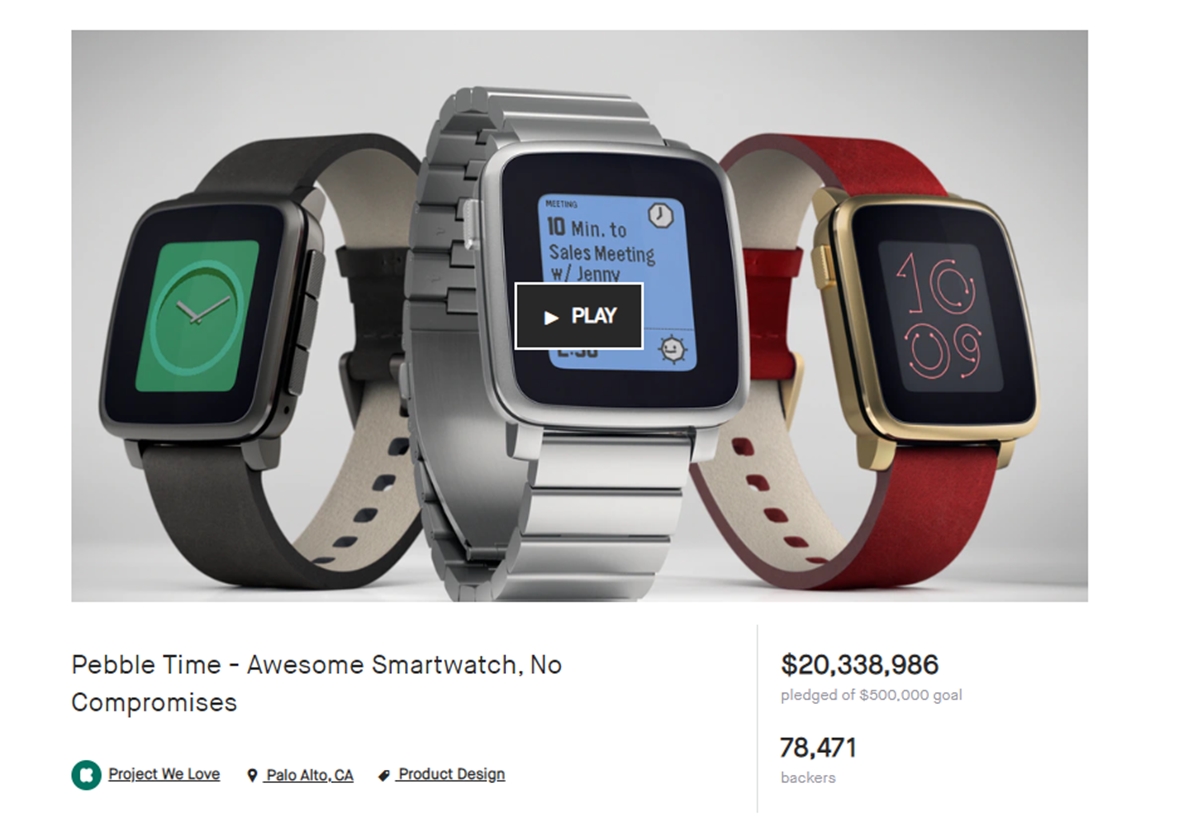 Creator: Pebble Technology
Category: Technology
Raised: $20,338,986
Goal: $500,000
It is safe to say that Pebble set some serious milestones for Kickstarter's history, that is how incredible this story went. Pebble Time still remains the biggest fundraising project on the site. It was the perfect product for the perfect time - a smart watch when technology was improving and no big company had really joined the game.
Pebble Technology actually raised funds for their products on Kickstarter for some more products and kept being successful, making it perhaps the most undisputed ruler of the fundraising platform like apex trader funding. Because of the quality and legendary status of Pebble's first products, the community kept supporting the company's products.
The watch not only looked stylish but also was easy to use with exciting features. And it is estimated that Pebble sold 1.8 million units in 2015, representing 8.6% of the world's smartwatch market at the time. Pebble was even considered the better but cheaper alternative for the Apple Watch.
But time kept getting harder for the company with new players and bad management. After that, in 2017, having racked up millions of dollars in debt, Pebble was sold to Fitbit for $23 million - an amount even lower than all their fundraising combined. It was a hard lesson for every unicorn startup.
Lesson: If your product idea hit the right time, it can even compete with the biggest technology companies. But managing to hold it running is a difficult task that not many can do.
4. Fidget Cube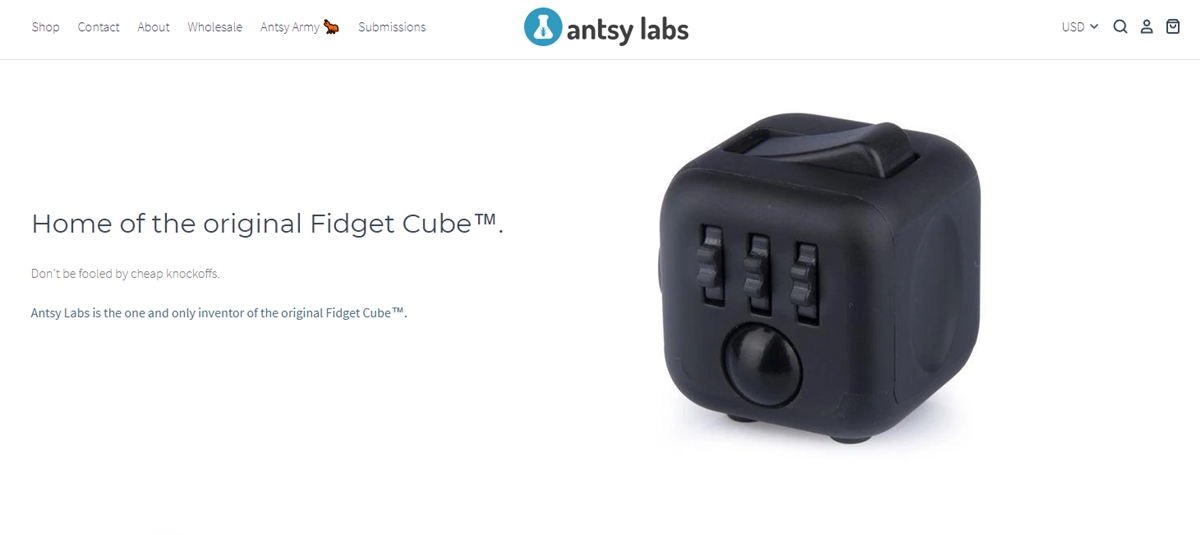 Creator: Matthew and Mark McLachlan
Category: Game
Raised: $6,465,690
Goal: $15,000
The story of Fidget Cube is an interesting one. I believe it was the toy that started the whole movement of toys for focus, which the fidget spinner took over in the following year of 2017. Created by Antsy Labs, Fidget Cube was designed to increase focus and reduce stress for adults, and the company only wanted $15,000 to start. They got 43,000% of that instead.
But the problem quickly arose since Antsy Labs wasn't prepared for so much demand. They couldn't come to agreement with the manufacturer in China and couldn't deliver in time for Christmas of 2016. Unfortunately, this led to hundreds of thousands of knockoff products flooding the market, which resulted in the price dropping heavily.
Eventually, Antsy Labs has their own line of products now and can manufacture them in different styles, configurations, and colors. But they missed the time when fidget cube was the trendiest. Now, you can buy it on their website at $9.99.
Lesson: Be prepared for your ideas, because you never know when an opportunity may knock at the door with millions of dollars to offer.
5. Kingdom Death: Monster 1.5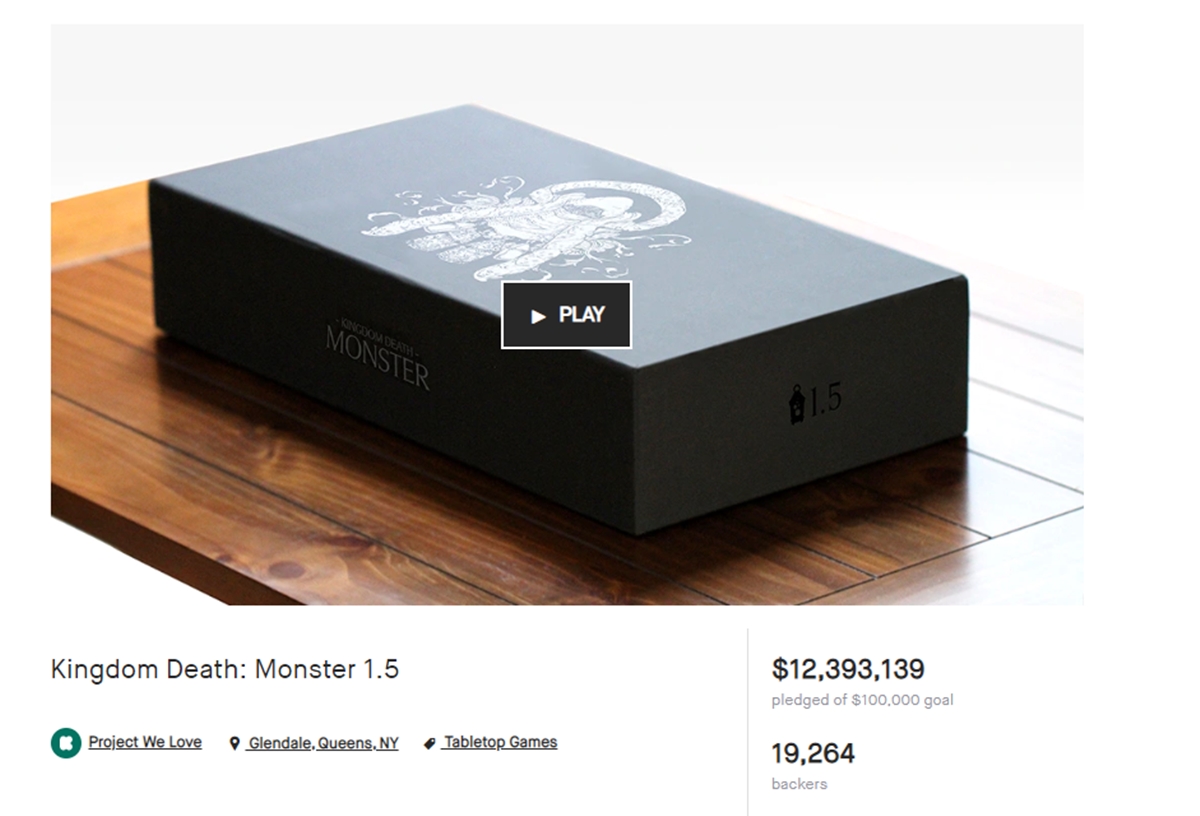 Creator: Adam Poots
Category: Game
Raised: $12,393,139
Goal: $100,000
Adam Poots, the creator of Kingdom Death: Monster 1.5, is no stranger to crowdfunding. He already swept more than $2 million with an iPhone app version of Kingdom Death back in 2009. He considered that flopped, but the Monster 1.5 version in 2016 raised over $12 million with 19,264 backers is definitely a success.
Kingdom Death: Monster 1.5 is holding the record for the most funded board game project on Kickstarter. The game is still stretching its milestones up to today and giving out new rewards for the backers who pledged. The graphic art and intricately-designed miniature pieces attracted the fans to keep supporting. It is sold for $400 on the official website.
Lesson: If you are a creator and have a specific niche, it is a good idea to make some buzz on Kickstarter and receive the support from the community. You need to be meticulous about every detail to make sure the product is worth their money, though.
6. Oculus Rift

Creator: Palmer Luckey
Category: Game & Technology
Raised: $2,437,429
Goal: $250,000
Oculus Rift is a virtual reality headset that allows you to fully immerse yourself in a virtual environment. The headset was even nominated for the "Best Of Show" award at E3 2013. Although you can find many VR headsets on the market now, Oculus Rift remains a legendary Kickstarter success story since it started the whole movement.
Palmer Luckey built the first prototype in his parent's garage and turned to Kickstarter to make his dream product come true. It was the beginning of a new company, which would be acquired by Facebook in March 2014 for $2 billion in stock and cash. Since then, Oculus has been a household name in the VR market, next to Samsung, Google, and Sony.
The product was an incredible achievement of technology and entertainment. It created a whole new genre of gaming and is becoming more and more familiar in people's daily lives. You can buy a set of Oculus Rift S at $399 nowadays.
Lesson: Be ground breaking or mind blowing to be a Kickstarter success story, that is all I have to say.
7. Snapmaker 3D Printer 2.0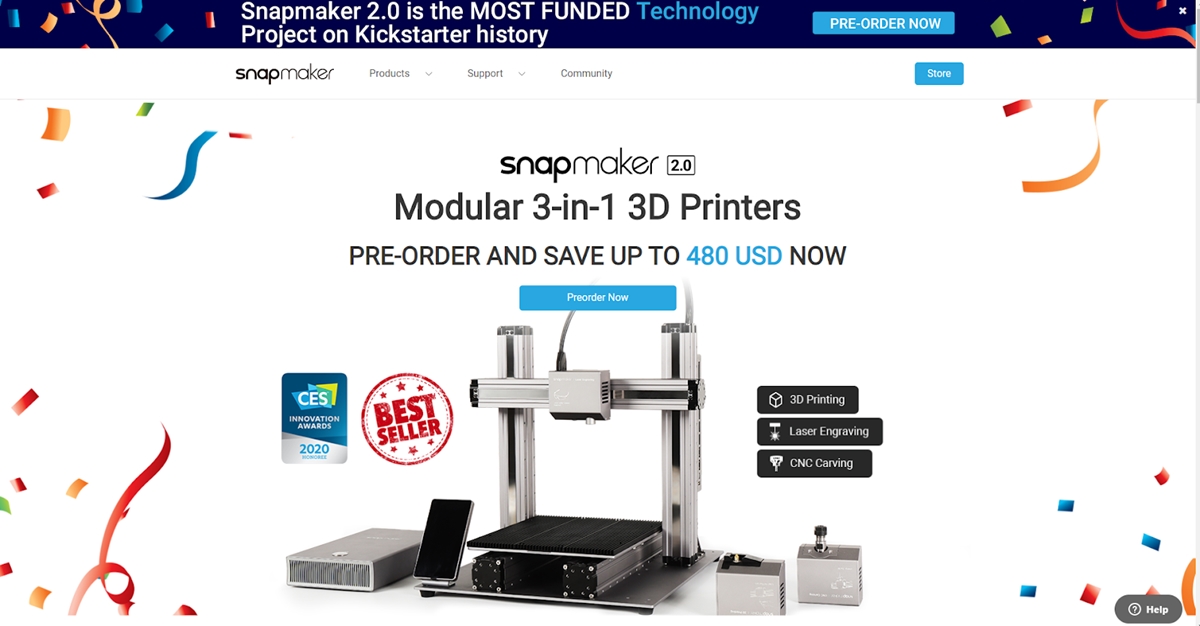 Creator: Snapmaker
Category: Design
Raised: $7,850,866
Goal: $100,000
Snapmaker already had a project of a 3D printer on Kickstarter in 2017 and raised $2.2 million, but they continued their passion with the 2.0 version. The company is now the 11th most funded profile of all time on the platform. And it is for good reason, since their products seem to stand out in a growing market.
Snapmaker 2.0 uses 3D printing technology to create models with high precision. Not only that, the machine can also laser engrave and CNC carve objects. Normally, you would have to buy three separate machines with higher price, so you can get a great deal of a powerful big machine at just $1,799.
What makes the machine even better is that it can work with most materials available in any machine shop like plastic, wood, metals, and acrylic. It takes all the headaches that new users of ten stumble on and standardized the process for a simple approach with the market.
The company is currently shipping out the pre-orders to all pre-buyers and backers. So, in time, we are going to see the product reviews coming in. But in the meantime, it is good that a Kickstarter project sees its launching day with support from the community.
Lesson: If you want to provide high quality items at good prices, crowdfunding is a good way to make sure you have customers and reduce the risk.
8. WobbleWorks

Creator: WobbleWorks LLC.
Category: Design
Raised: $3.9 million in two campaigns
Goal: $60,000
WobbleWorks creators - Peter Dilworth and Max Bouge founded the company in 2010 as a small toy company that mainly focused on selling concept licenses to larger firms. But when they made the 3Doodler- a 3D printing pen, the Hong Kong based company soon hit a jackpot with their campaigns on Kickstarter in 2013.
With the goal of only $30,000, they pledged more than $2 million for the first version and $1.5 million for the second version in 2015. Since then, they have shipped more than 135,000 units of the 3Doodler 1.0 and more than 260,000 for the second. Now, when you visit their website, you will find the versions for all ages and grades. The awesome pen starts at only $29 for small children and $79 for adults. The company is still creating new exciting creations for users to try pushing their creativity.
Cofounder Daniel Cown said that one of the biggest advantages of starting a campaign on Kickstarter is that startups can pass the stage of begging retailers for potential customers. Instead, they just simply prove that their product is on high demand through a crowdfunding campaign, then stores would naturally want to sell it.
Today, you can find the 3Doodler on all eCommerce sites and in many countries. However, since then, there have been many competitors with knock-off products on the market. WobbleWorks can't seem to have a control of this and has to lower their prices too. But 3Doodler was sure the trending product to start the whole movement.
Lesson: If you have a winning product with creative ideas, consider registering a license for it as soon as possible.
9. Shovel Knight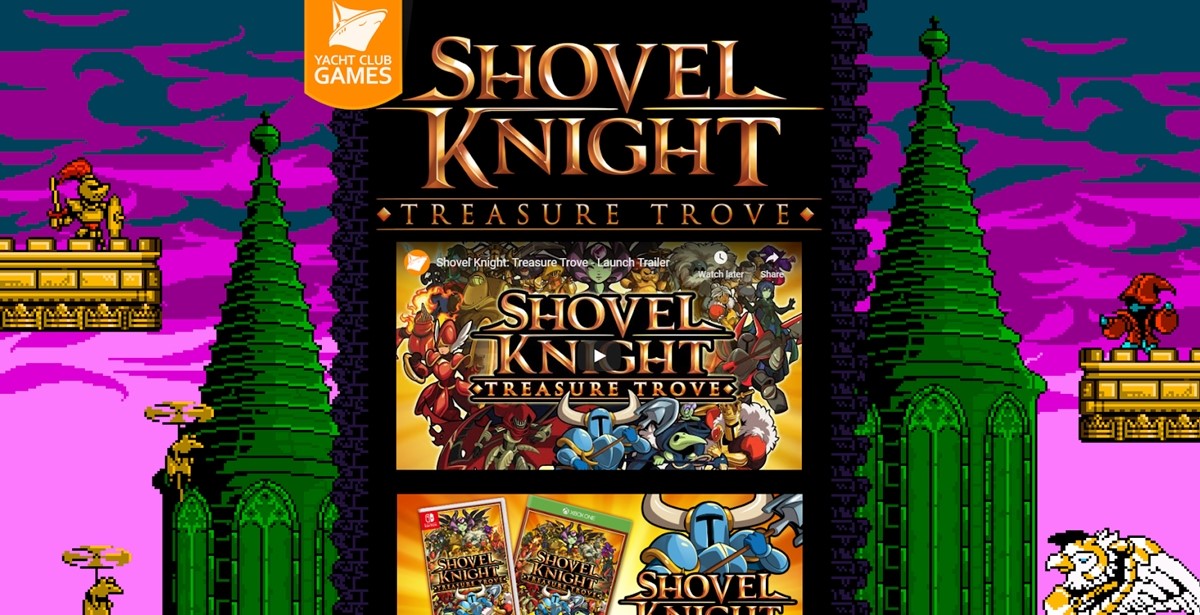 Creator: Yacht Club Games
Category: Game
Raised: $311,502
Goal: $75,000
Shovel Knight is a retro styled game with 8-bit graphics that immediately activates the nostalgia feeling like you are playing a childhood game. You are in control of a shovel wielding knight who is on a quest to defeat the "Order Of No Quarter" and the evil Enchantress to save a lover (of course). It is challenging, rewarding, and super fun to keep every player hooked.
On the Kickstarter page, the game calls itself "A groundbreaking love letter to 8 bits", which was shown in the game mechanics. But it also drew inspiration from modern hits to keep next generation players interested. It seems to work, because the game received a perfect 10/10 on Steam by players and almost perfect 4.8/5 score by experts on GameStop.
Shovel Knight was highly praised and sold well among not only 8 bit game enthusiasts but also modern gamers. Now, you can buy the game on Steam at $39.99. Until this day since 2014, the game is still mentioned as a perfect 2D game that everyone needs to check out.
Lesson: Passion, talent, and community understanding can lead to a successful product both in sales and reputation.
10. PonoMusic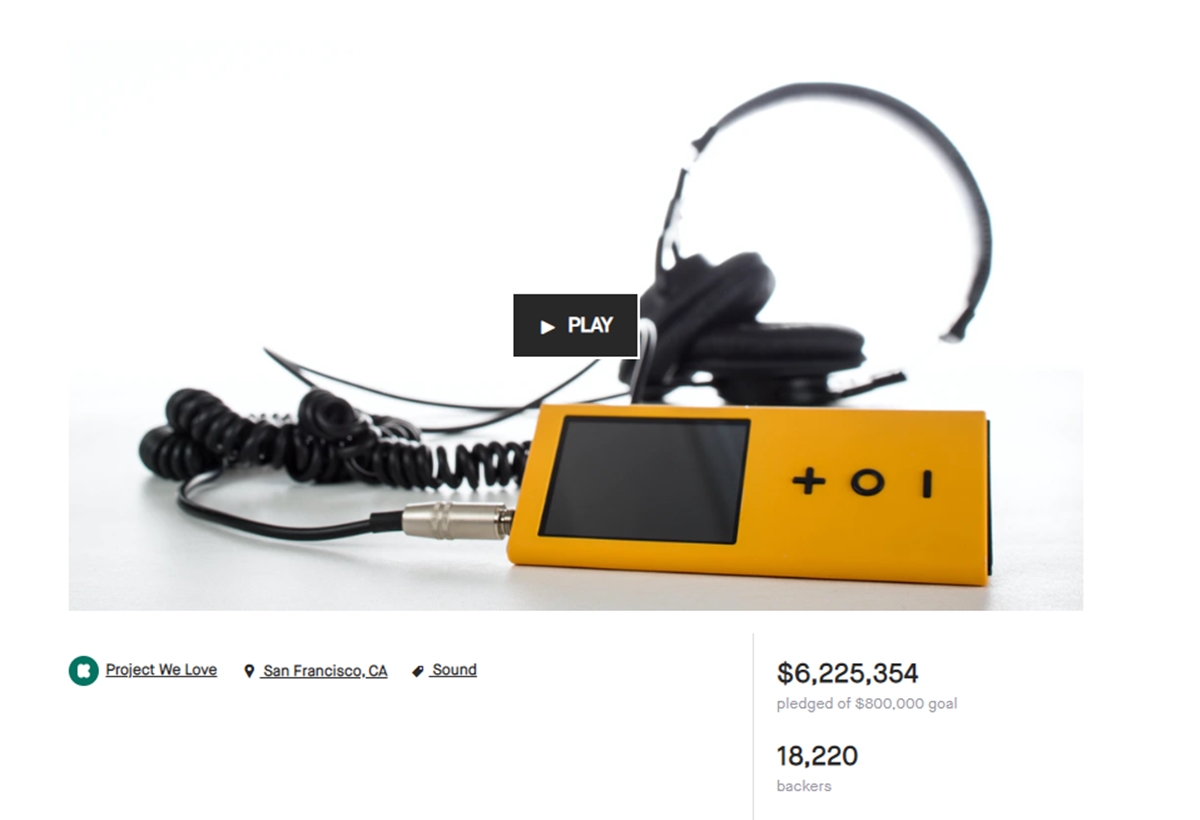 Creator: the PonoMusic Team
Category: Music
Raised: $6,225,354
Goal: $800,000
In 2011, Rock'n'roll legend Neil Young made every music lover excited by starting crowdfunding for PonoMusic - a music player that provided the best possible listening experience for digital music. It received all the praise from famous musicians such as Eddie Vedder, Dave Grohl, Norah Jones, Tom Petty, and Dave Matthews. They all describe the sound as the best listening experience ever outside of a studio.
Back then, there surely were people that supported the project with more than 18,000 backers. However, fast forward to today, Pono is no longer in business and the website is already wiped from existence. Neil Young shut down the project in 2017 saying the cost for stores and music rights was too much to handle.
Nowadays, we have Spotify as the streaming platform with high quality music and affordable price. But, Pono was the promise of the best quality ever with credibility from some of the most trustworthy names in the music industry. It was a lesson of vision and budget afterall.
Lesson: You may have a killer idea with best quality, but the budget still plays the vital role in keeping it alive.
11. Peak Design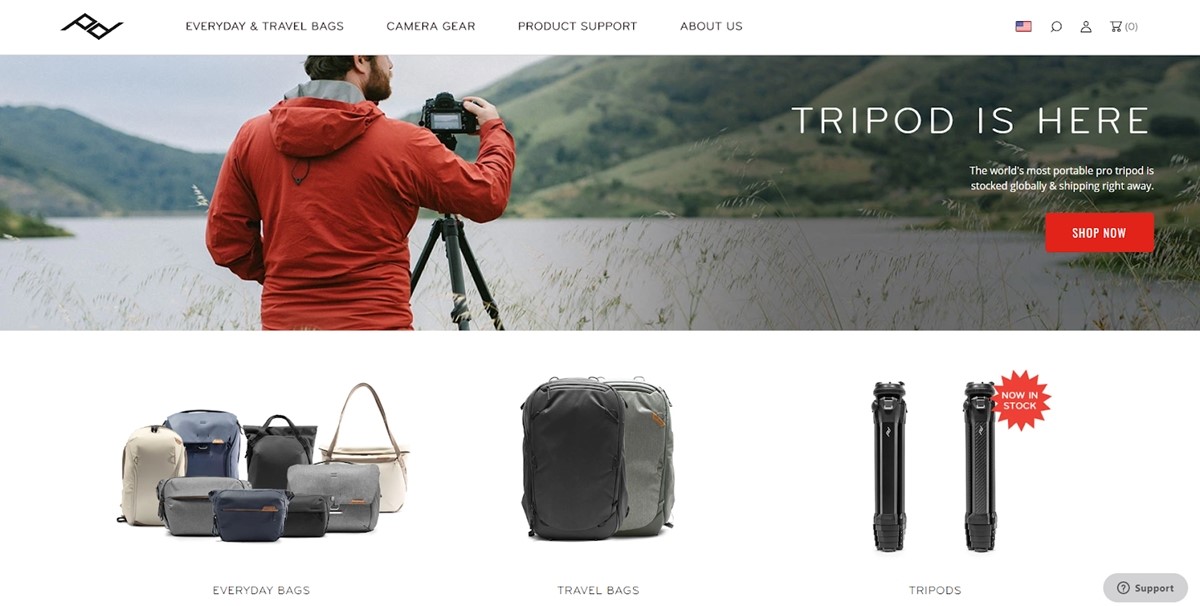 Creator: Peter Dering
Category: Fashion
Raised: $32 million in 9 projects
Goal: Usually $500,000 per project
Since the first successful campaign of a clip system for cameras in 2011, Peak Design went on to launch many more projects and became one of the most successful companies on Kickstarter. Its most recent campaign (and most successful one) - a travel tripod in carbon fiber for cameras, pledged over $12 million in 2019 and had over 27,000 backers.
But the San Francisco-based company gets more than just funding from their campaigns. They took the feedback from the backers and continued to create new products that loyal customers desired for. Kickstarter now is their third sals channel side by side with its websites and 1,000+ retail stores that offer Peak Design products.
Now, Peak Design stands for premium products among photographers, who would love to see what ideas the company would bring next. Peter Dering, CEO, always thanks the Kickstarter community for the support and feedback.
Lesson: Community is essential for a successful crowdfunding campaign and all Kickstarter success stories seem to have a helpful community as a common. Build your community.
Final words
Those are all of the Kickstarter success stories that I have for the article. Some were quick to raise and fail, but some continue to be successful until today. They are all valuable lessons that you can consider when launching your product as a crowdfunding project. One thing for sure, backers always look for unique and awesomes ideas that can fulfill their desires. Then, their wallet naturally opens to fund your killer ideas.
If you have a project that you think will make people wonder why it never existed before, then head to Kickstarter right the way! If you have a new idea to share, head to the comments section and we will talk together. In the meantime, best of luck on your journey!
You Might Also Like:
---
Sam Nguyen is the CEO and founder of Avada Commerce, an e-commerce solution provider headquartered in Singapore. Sam aims to support more than a million online businesses to grow and develop.
New Posts
Stay in the know
Get special offers on the latest news from AVADA.