How to do a Poll for Maximum Effect on Instagram?
While using Instagram as one of your main social media, you must have heard about Instagram stories. Instagram Stories help you share photos and videos with your followers through temporary posts in 24 hours. With Instagram Stories, you will have a chance to post your daily updates and multimedia, which you do not tend to share permanently in your individual wall since stories last for just one day. Moreover, you can add cool things to your Instagram stories to make it attractive such as Gifs, music, and even polls, which we will talk about today.
In this post, we will give you a better understanding of How To Do A Poll For Maximum Effect On Instagram?. Knowing how to take advantage of this Instagram feature, it will be more likely that you engage your audience, grab their attention more effectively, and promote your business work.
Related posts:
Let's dive in and read till the end to discover creative ways of doing the most of Instagram polls.
What are Instagram polls?
Users are getting used to Instagram stories feature. However, not many people know its tool to make polls in stories posts. Simply put, Instagram polls are used to raise a two-option question to your followers and ask them to vote according to their opinions. Also, you can see the results appearing under the percentage.
Polls are built as an interactive sticker in Instagram Stories. This feature is used in many cases such as when you are confused about outfits to wear for tomorrow's meeting or toppings to add in your cup of milk tea. To apply polls to your stories, you should basically take a photo or video as usual for your story, select the "poll" sticker and add it anywhere you want. Then, you are free to write out your question and customize the poll options as well.
After you share the post, including your polls to your followers, your friends and audiences can now immediately start voting and see real-time results. When someone votes on your poll, they can see the percentage and which answer is chosen more at any given moment. At the same time, your final result will also be updated when they vote. If they watch your story again later, they will see the latest results even after they have voted.
You can also view your own poll results by swiping up and opening the viewers' list for that part of your post. Here, you can see the best answer to your question and who voted and what option they click to. In this way, you will be informed about the number of votes each option gets. By this percentage, you can now compare the votes of your friends or close people and normal followers to know the opinions you should rely on most.
Unsurprisingly, when your stories appear after 24 hours viewed, your polls will also vanish. Nowadays, Instagram provides you with two different poll stickers to add to your stories: the classic poll with two answer choices you can freely customize and the advanced one with emoji slider.
Going with Instagram stories polls are two other new tools to make your daily posts even more attractive. They are a color picker for text and brushes and an alignment tool for text and stickers. If you are going to choose a color for your text or brushes, you will see a new eyedropper icon staying at the very left side of the screen. You can use it to select any color from your photos or videos and automatically apply it to your drawing tool or text when you stop holding this icon.
When it comes to IOS users, if you add text or a sticker on your post, there will be a new blue line set up to help you center them and prevent yourself from positioning it anywhere, which may be covered up when followers see your stories. This new tool of alignment will also help you snap your sticker back to horizontal if you rotate text or a sticker.
Polls feature is an ideal tool for you to engage with your audience via daily stories and learn something from their attitudes. Besides being a way to make your followers not swipe past but stop when coming to your stories, Instagram stories polls will bring you an opportunity to listen directly to what your followers and customers are thinking or feeling about your topics.
How to add a poll on Instagram stories?
After knowing about Instagram's brand-new feature to make your Stories more creative using Polls, we will show you how to set up a poll in Instagram Stories. In general, this process is super easy to perform, so you will surely get used to it after some step-by-step guides we mentioned below. Let's dive in with us to get more information.
Step 1: Open Instagram app
Starting with your phone's home screen no matter whether you use IOS or Android, tap to the familiar icon of the Instagram app, which is located to open it. Instagram will immediately open with your home feed appearing first. This case happens when you already logged in to your personal account or the one you want to post stories.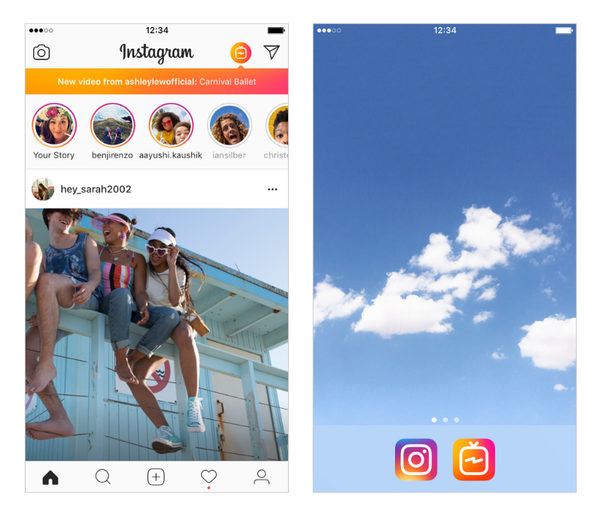 Step 2: Create a new Instagram Story
When opening, you will see that Instagram automatically appears with your home feed. Therefore, you need to swipe left from your feed to open the Stories screen which is like a camera screen of the phone. You can then take a photo or video directly from the Instagram camera to create a new story. If you have already taken your chosen multimedia and do not want to take a new picture or video anymore, you can select one from your phone gallery. To choose, you can tap the small image icon to the left of the lightning bolt at the bottom of your screen and pick the one you would like to post.
Step 3: Choose the Sticker icon
Right after you finish choosing your video or photo, tap on the Sticker note icon at the top of the screen which is the third option from the left and is designed to be similar to a Post-it-note with a smiley face in it.
Once you tap to the icon, the collection of stickers provided and updated daily by Instagram will be opened up. The collection includes millions of different stickers such as time, date, icon, gifs, and more.
Step 4: Tap to select the Poll sticker icon
Among those stickers included in Instagram's sticker collection, there is a new icon which says "Poll". Look for this Poll sticker icon in the menu of post additions and tap it to get started. Once being chosen, a poll will be ready to be created and customized then.
Step 5: Customize the question and poll options
When a poll sticker is added to your story, it's high time you fill in the question and customize the poll choices as you wish. In the "Ask a question" area, you can type the question or topic you would like your poll will be about. Remember that there is a limit in the number of words you can use when creating a question. Moreover, take a note that you can choose not to fill in this part and leave this blank if you can not find something to replace the "Ask a question" area. You can also add whatever you want or tap on "YES" and "NO" to take the place of that text if your poll is not a two-option question of yes or no.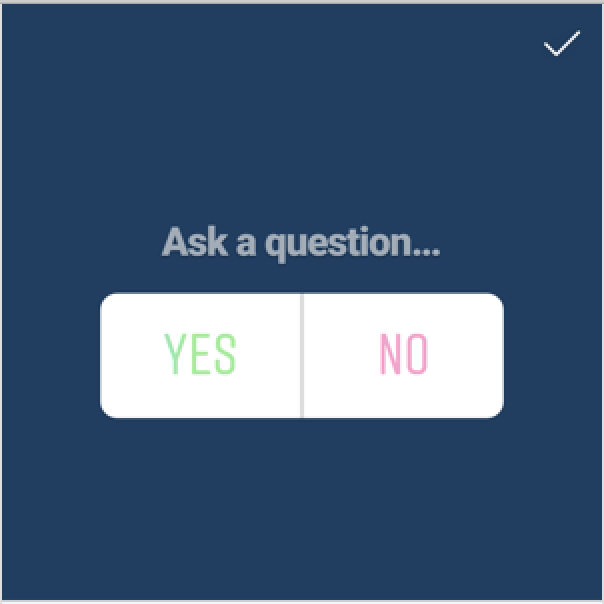 When it comes to the poll choices, set the two options you would like your friends or followers to choose from when they see your story. In the beginning, YES and No are the default selections, which means you can decide to use them in your post without adjusting or changing either of these. To change them, you should tap into the respective box and replace them by typing your choice.
Additionally, similar to all other Instagram stories stickers, you can hold and drag to change the poll's size and reposition it in your story.
Step 6: Tap Your Story or Send To to publish your story
Finally, your story is added with a poll. Once you finish, tap the text of "Done" in the upper right-hand corner of your screen to save your performance. Then, to share it with your daily story list for every follower of you, simply tap "Your Story" at the bottom of your screen. On the other hand, if you just want to share them with a group of people, tap "Close Friends" which includes all of the followers you trust and choose before or tap "Send To" and choose any group of users you would like to share.
It depends on whom you want to see the post. Your poll is now shared. Then, just wait for your followers to send the votes, and you can see the results of your poll and start rolling in after that.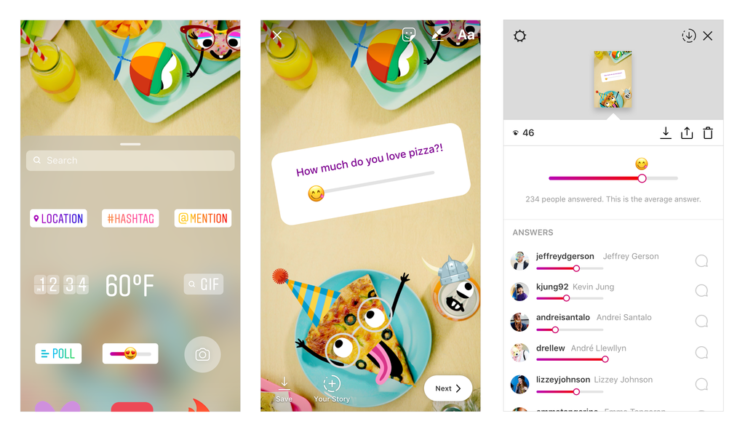 To see the result of your poll after your followers have voted, you should follow some basic guides below.
Simply tab to your profile avatar at the left corner to view your story as usual

Tab in the lower-left corner on which it says "Seen by … viewers". A screen of story viewers will be opened up in which the number of viewers and the accounts of those who watched your story appear, but the poll result will be shown as well. The result will include who voted and how many votes you have got for the whole and each option.
In terms of sharing the result, you should tap the "Share Results" button which is easy to see. It will then open up the results again in the story-creating screen in which you can easily share right back to your friends and followers. You can also add a picture or video to the story of poll results to make it more attractive.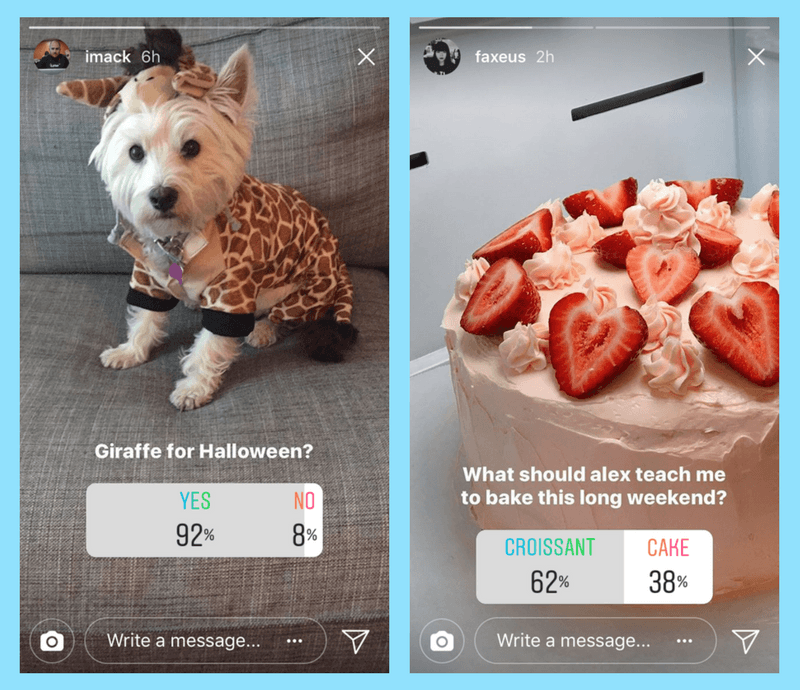 No matter how easy creating polls on Instagram Story is, there are still a few things you need to keep in mind to maximize the success and quality of your polls. Let's check out the following notes:
When designing the poll and the story, remember to position your poll in the right place, which will, for sure, not prevent viewers from watching. Keep your poll location out of the very upper left-hand corner. As you can see, this position is where your avatar will appear, and no one wants it to cover any parts of the poll question, right?

Make sure the content of the question and topic you are asking and two options to choose from.

Besides adding just text to replace Yes or No, you can also include emojis. According to user's experience, emojis are much more attentive than text, and they can help your poll more appealing

Instagram stories will disappear after 24 hours of viewing, no matter which stickers it includes. The poll feature is not an exception. Therefore, make sure you come back to view and check in on the results, or else they cannot be taken back.

In order to illustrate what you are trying to ask via your poll, you can also add imagery such as a video. However, again, you should ensure that your poll's position will not cover up the main parts of your imagery.
How to make a poll on Instagram and share it in a group message?
Another way to share polls and get feedback from just a small group of people is by sharing them via Instagram Direct. Instagram allows you to approach this great option. Here are steps to do it:
Step 1: Tap the icon of Instagram on your phone's home screen to open up the app.

Step 2: When the app opens, your home feed will appear. From that, you should tap the Instagram Direct icon which is a small paper plane staying in the upper right-hand corner of your screen

Step 3: Tab to the group in the list of direct messaging if you have already created and had conversations before. In case you have not yet, tap the plus button "+" to start a new group conversation and choose the users you wish to add to the group.

Step 4: Tap the blue camera icon in the text box and take a photo or a video in which you are going to turn into a story. Also, you can choose imagery from your phone gallery.

Step 5: Like the usual story with a poll that you post publicly, you also follow the same steps as we mentioned above. They include tapping the sticker note icon at the top of your screen, which is like a Post-It note with a smiley face.

Step 6: Again, when Instagram's sticker collection is opened up, find the Poll icon and tap it to create your poll. Customize the answer automatically set as Yes or No into what you wish and fill in the "Ask a question" area to replace the default text. You can adjust them into whatever you want, but keep in mind that there is a limit in the number of words allowed.

Step 7: Tap the Send button at the bottom of your screen to send this poll to your group.
Now that every user that you add to the group can watch your private story and send votes for your poll. In order to view the result, you should take similar steps, as mentioned. The story, together with the poll, will vanish after one day as usual.
How to make the most of Instagram polls?
Instagram Stories Polls feature is now offered in almost every account, and anyone can add a poll to their story. Some people use them not for strategic purposes; some decide to turn them into one of their business tools to promote their companies.
If you are running a business or working via Instagram, let's be creative and intentional with your polls instead of just making stories polls because you have them in your sticker collection. Now, we will introduce some of the practices and techniques you should check out to make the most of Instagram polls.
Use Instagram Stories Polls to crowdsource ideas and ask for feedback
There is no more effective way to know what your audience wants and thinks than asking them directly and going straight to the source and gathering feedback on your business working. So using Instagram Stories Polls is not only a quick but also a useful tool to perform this process.
By posting stories, including polls and topics you would like to ask, you will have a chance to crowdsource ideas, collect product feedback, and discover what content your followers or customers tend to prefer. From that, you will have a better understanding of their insights and, in turn, develop your business successfully.
Pools posted in Instagram stories may include the following content:
A product your business offer

Opinions for a product (such as size, shape, color, design, and more)

Preference for timing (day time or evening). This content is asked for deciding Instagram Live broadcasts

Preference for communication. For example, you can let your customers choose between email and text messages

The following topics for a blog post
By asking your audience questions with polls, you can get feedback from your potential customer directly. Therefore, you can know what your followers are thinking and use these data to help create your new product. Including your Instagram followers in making the products will devote to the purpose of engaging your audience and delivering new items meeting their demand.
When using Instagram stories polls as one of your marketing strategies, remember not to raise questions only without interacting back with them. As a business owner, you should be concerned not only about the right content of the polls but also letting your audience know the results.
By sharing the results, your audience will know that their time waiting is worth it because you are listening to their opinions. Therefore, take a note to post another story sharing the percentage before your Instagram Stories poll is complete and disappears (after 24 hours).
For instance, the picture below shows the posts of Jen Atkin on her Instagram. She is a famous hairstylist who has collaborated with Calpak to build up her own luggage collection. Her posts about the results from her Instagram Stories polls last year and features have indicated that audiences had helped her create her new products. The options most followers chose can now be seen in the collection. This action is one part of her promoting the product launching.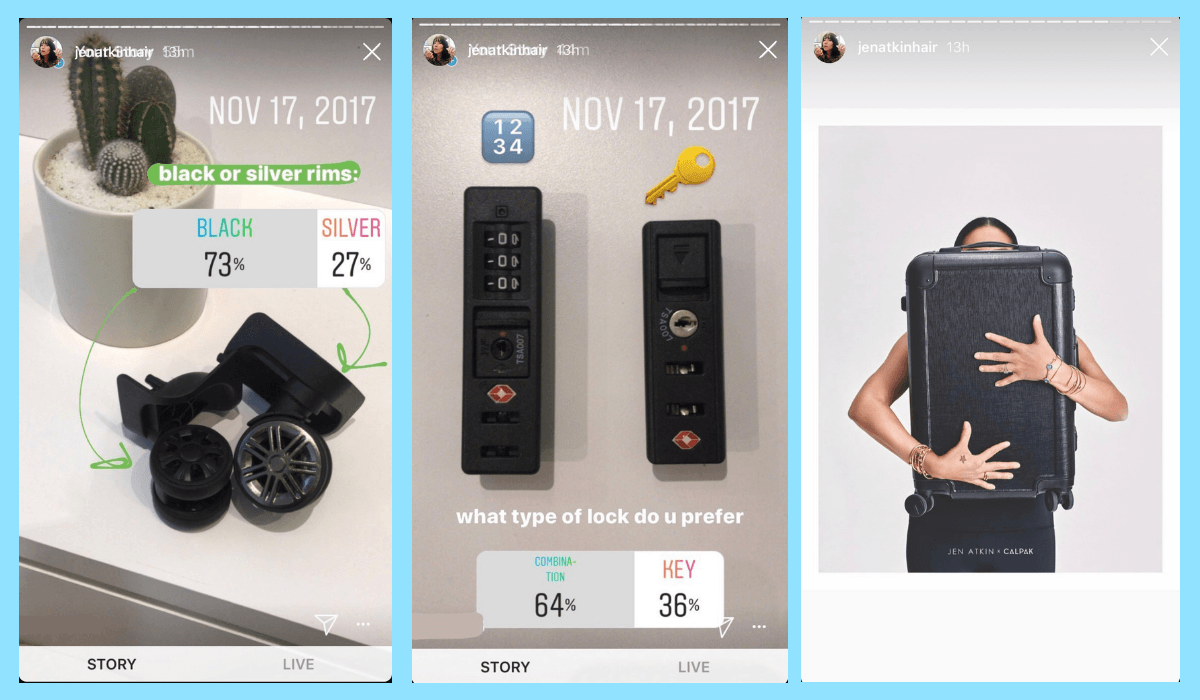 What's more, you can totally share the result twice or more times because your Instagram Stories poll results will change every minute. Your followers should also be informed about the trend and the changes. They would love to see that their simple tapping makes a difference to the overall results. After that, in the later polls or stories, they will be more likely to continue interacting with your brand since they know they are being heard.
Drive traffic back to your website with Instagram Stories Polls
Instagram Stories Polls can also be used with a feature of Instagram, which allows users to add links to Instagram Stories. This tactic has been activated since 2017, and it helps businesses a lot in driving traffic back to its brand website. In this way, companies have a new and creative way to get people to approach their website by watching their stories and swiping up. However, the "swipe up" action will hardly be made if entrepreneurs basically add a link to their stories. Instead, they are using Instagram Stories polls to catch their followers' attention and drive traffic to the needed link.
As you can see in two examples below, they all used Instagram Stories Polls to lead audiences to their links. Who What Wear is one leading online page for fashion content. Using Instagram Stories Polls to drive traffic back to their blog posts is a common tactic. They added a poll asking the followers, "How much does Meghan Markle's entire tour wardrobe cost?" and gave them the correct answer by ordering them to swipe up to discover the explanation.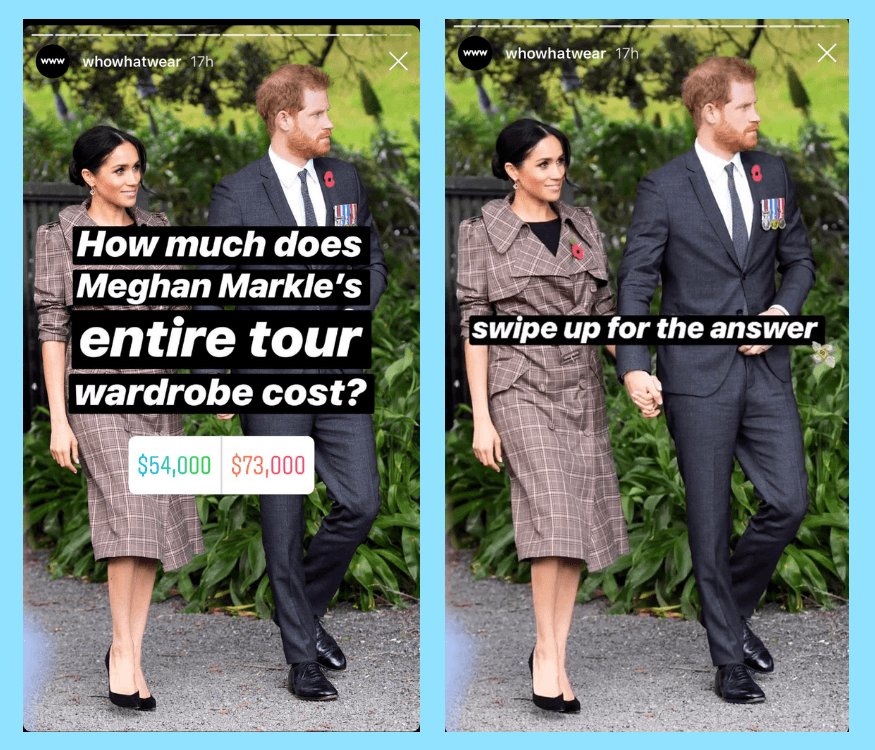 The Zoe Report is also a brand using this tool. By asking audiences, "Is it more or less than you thought," going with a statement, "This is how much you should have in savings by 30," they let their followers swipe up to read the article and find the answer themselves, which is included in the post. After reading the whole post, they can return to the story and send their responses to the Instagram polls.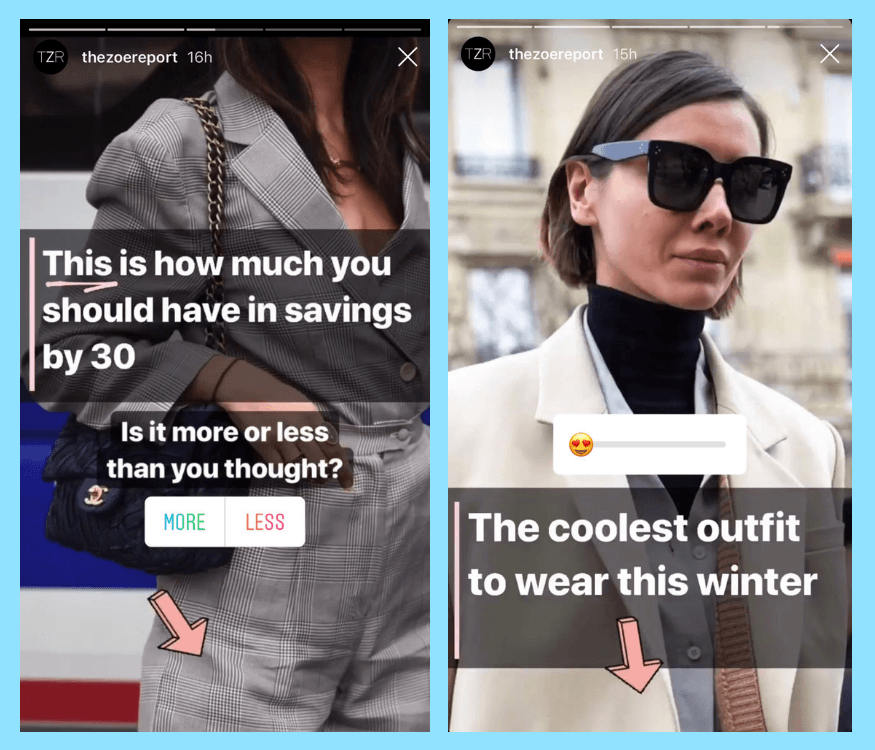 Using Instagram Stories polls to persuade your audiences to swipe up for more information is a creative way to produce much fun and interest, which helps you drive traffic back to your website or blog posts.
Use Instagram Stories Polls to learn more about your followers
As we also mentioned before, the quickest and easiest way to get to know your followers and have them communicate is by starting making questions. Only when you ask will you know the answer to the questions which you might consider. These questions may include "Would they like to see more content in your wall or stories?", "Do they like long or short captions," and more. Therefore, Instagram Stories Polls turn into a strong method helping businesses find out what their followers like, dislike, and what they want to know more from the brand's accounts.
By asking questions through polls, you will build a deeper connection between you and your audience and take advantage of their responses to tailor more content strategy which matches their likes and dislikes. From that, they are likely to come back to your account for more.
This tool is used in Market research, which is essential for anyone having the intention to write a blog post or source genuine data from audiences for a specific project. It is because when you use Instagram polls, you will have a chance to ask for input, which will contribute significantly to your research. When you have had an engagement with them already, they will become one of your test subjects, which means you can broaden the size of your subjects by including your Instagram audiences. Moreover, you can reuse the research results into additional Instagram or other social media post content.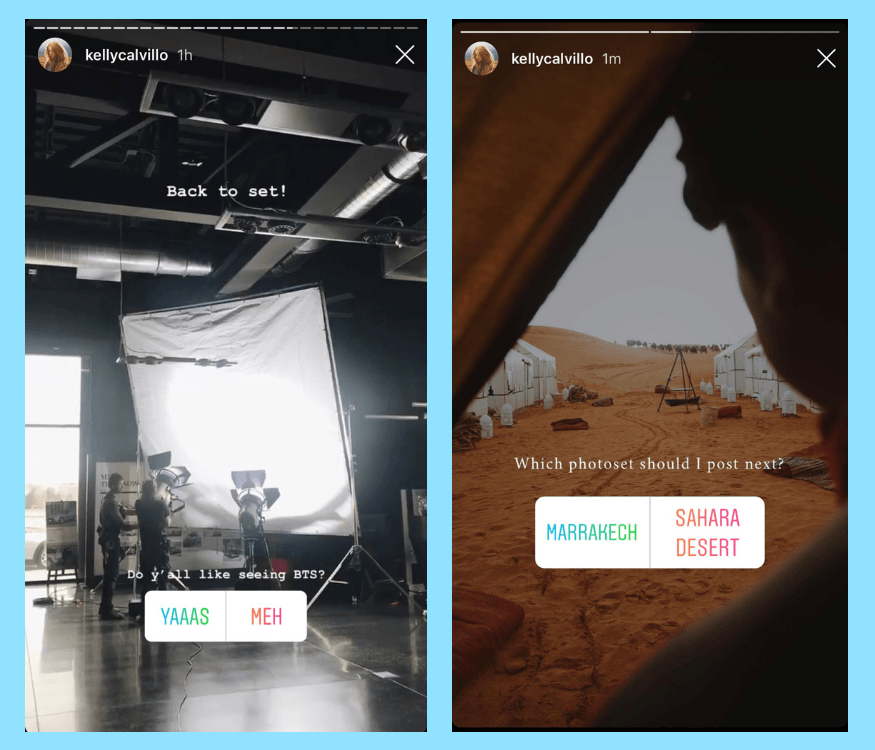 Another work-related to which Instagram Stories Polls can be applied is Plan Events. For example, if your business has a job of hosting an event and inviting audiences to take part in it. You can use the polls to ask their preference for the event details, including input on entrée options, beverage options, theme or décor options, and more.
When it comes to online contests which are regarded as a very effective tool for promoting engagement and the number of followers, Instagram Stories Polls are used to determine which prize audiences are most interested in. In this way, businesses can give their participants the prizes they like most and drive excitement about the following contest to the followers. In turn, they can attract increasing participation.
Use Instagram Stories Polls to educate your audience on your brand
When launching a product or starting a business, it is super important to build up brand engagement and credibility. So, many entrepreneurs, especially newbies using Instagram as one of their marketing tools are applying Instagram Stories Polls intentionally to help their audiences get a better understanding of their brand and general goal. To stop viewers from swiping past your stories, grab their attention, and keep them tapping forward for more, you should add a poll in your stories asking and sharing about the unique characteristic of your brand or the story of your new collection.
Check out the following example of Girlfriend Collective which is a Seattle-based activewear brand using Instagram polls to create excitement around its announcement.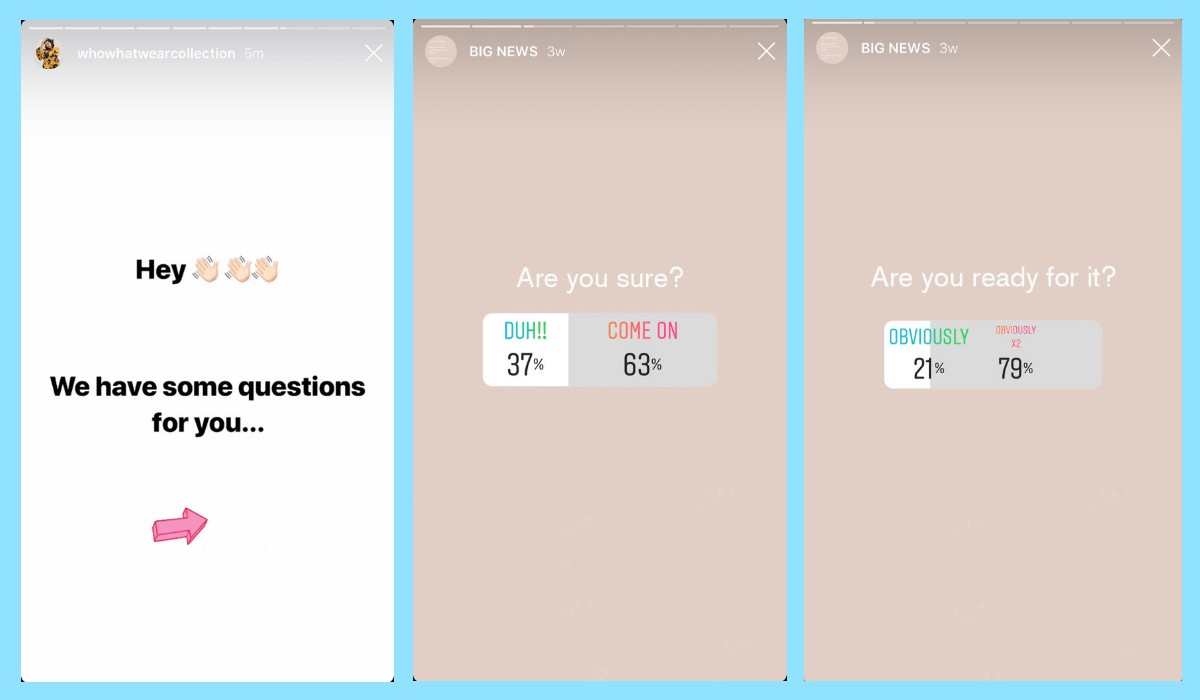 When it comes to businesses who are processing PR works mainly through Instagram, Stories Polls can be used to share their product updates, brand announcement, and more. This tool will bring about a great deal of knowledge and information about your brand, which leads to the fact that your followers will get excited about the fun and interactive elements you add to your posts.
Entertain your followers with Instagram Stories Polls
As a brand owner, you must have considered how to make your business approachable and, in turn, reliable under your customers' eyes. Using Instagram Stories Poll stickers is a great idea to let your audiences communicate indirectly and interact with your brand gradually. It is necessary to turn your account into a real "human" with which followers can be friends, not just an online brand. In this way, the preferences and credibility of the potential audience will be promoted.
The Instagram Stories Polls as a tool for entertaining your customers can be a quick game or a quiz. Don't worry if you are able to create amazing questions since the game should align perfectly with your brand only. As long as the content, images, or videos used in the stories match your brand's target and purpose, they will be a useful tool to entertain your audience, stop them, and persuade them to interact with your posts.
On the other hand, these kinds of polls do not need to require too much thought, but they should be comprehensible and fun to answer. Remember to make your Instagram Stories polls align with your brand and overall business goals, and it will create a lasting memory of your business with your followers.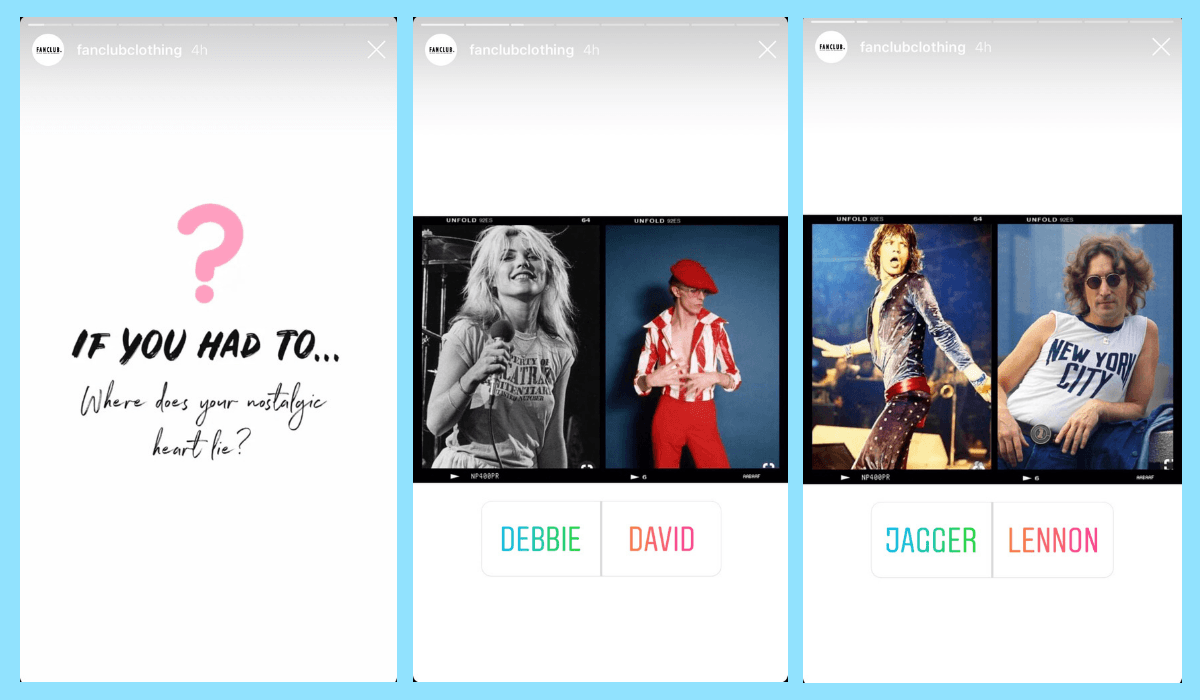 Include the emoji slider to give your followers more choices
As you know, when using Instagram polls, you can customize only 2 options. What if you want to ask your followers a question that includes more than just 2 choices? The Instagram poll does not allow you to do it directly. However, you can perform it through an emoji slider which is also contained in Instagram's sticker collection.
Businesses have increasingly used this tool hack to get creative with the emoji slider to give their customers more choice. From that, they can step away from the standard of Yes or No question and get to know more specifically about their target audience.
The basis of it lies in the fact that you will bring about more answer options when you add text next to your slider.Watchers can send votes not just by tapping as usual but dragging the slider left or right and up or down and release to submit their response. You are free in positioning the emoji slider. Vertical or horizontal? The size, location, and direction of them depend on the imagery you choose behind as long as you make sure they better fit and do not cover up each other within the story. Indeed, the emoji slider is a great chance for brands to create unique poll responses in a more creative and amazing way.
Let's check out the picture below to see what we are talking about. The account adds text and environmental background to the story, next to the emoji slider, and let the audience vote. In this way, they can know what their customers are thinking and teach them about different types of wildlife.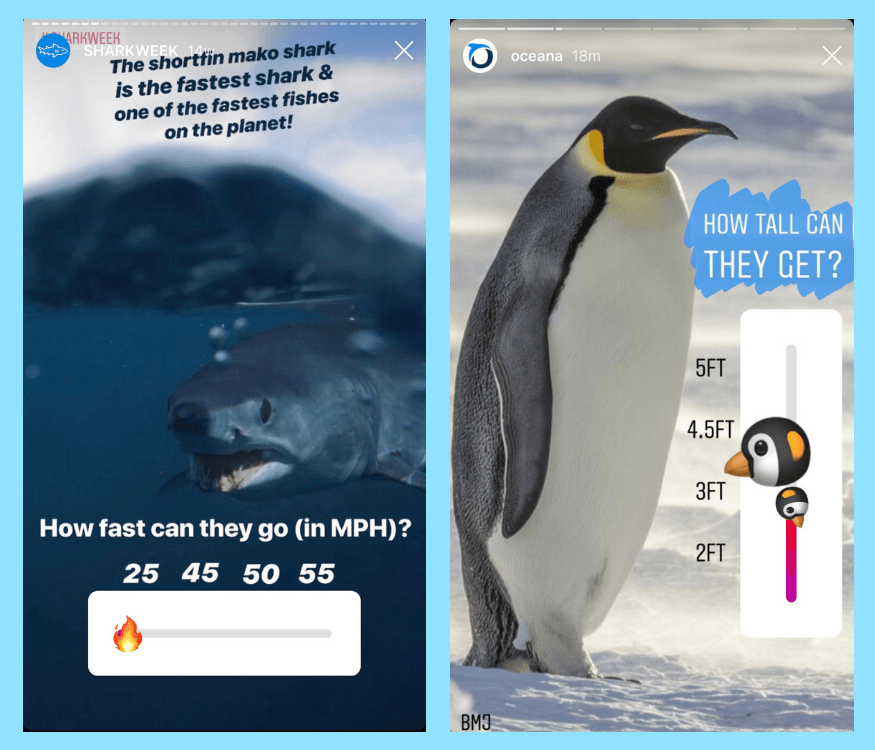 Take advantage of trending topics
Another purpose of using Instagram polls is also used for Instagram stories in general, which are taking advantage of trending topics. When it arises a heated topic or trending event that quickly spread around the world, you can use Instagram polls to engage your audience in that discussion. You need to post stories, including questions and topics that most of your followers can know, can relate to, whether you mean to be playful or serious.It is an ideal way to encourage your friends and customers to take part in and boost your engagement among the public.
Read more:
Final words
Here are all that we want to share with you based on our experience using Instagram Stories. Let's start making creative stories using polls with new ideas to add the individual element to your posts and build a loyal number of followers. Instagram stories are great to encourage your audience to take part in but remember not to overuse polls because you will probably dilute the level of responses from your followers.
We hope this article and the interesting tips provided above help you get a higher inspiration for starting using polls in your Instagram stories.Have you used this feature in your stories already? What are your favorite types of questions using in polls? Let's share your thoughts and experience in the comments below to let us know. Thank you!
---
Mike is a content writer at Avada, with a love for video games, gadgets, and software. He has been writing about the industry now for over 7 years. He likes to keep up-to-date with the latest software releases. He's also an avid reader, and he enjoys spending time outdoors with family and friends. When he's not working, you can usually find him playing video games or exploring new outdoor activities.
New Posts
Stay in the know
Get special offers on the latest news from AVADA.