How to Create an Email Signature in Gmail?
If you are like most business people, you're probably working to stay on top of your endless pile of emails!
Think about it: When you write an email, which part do you put a lot of consideration into? Is it the headline of your email, as you want to make the best possible impression on your audience? Or the body of the email, which contains your important message?
As you go further and further, you likely spend less time. Your signoff is usually "Thanks," "Regards," "Sincerely," or "Cheers." Then you just hit the send button, right? Well, you may proofread one more time and then hit send.
Wait for a second, do you think your email signature deserves some attention, too?
It turns out that creating an email signature in Gmail can be a smart means of marketing your company without doing much of anything!
Not sure where to start? No problem. In this guide, we'll dive deep into the topic, which includes how to make your own email signature and top 15 excellent email signature generator tools for your business.
Auto-show store signature on all emails
What is an email signature?
First of all, an email signature is simply a block of text that is embedded at the end of an email. You can think of it as a business card in the online world, which presents all your business information, including name, contact information, address, and website links to the recipients.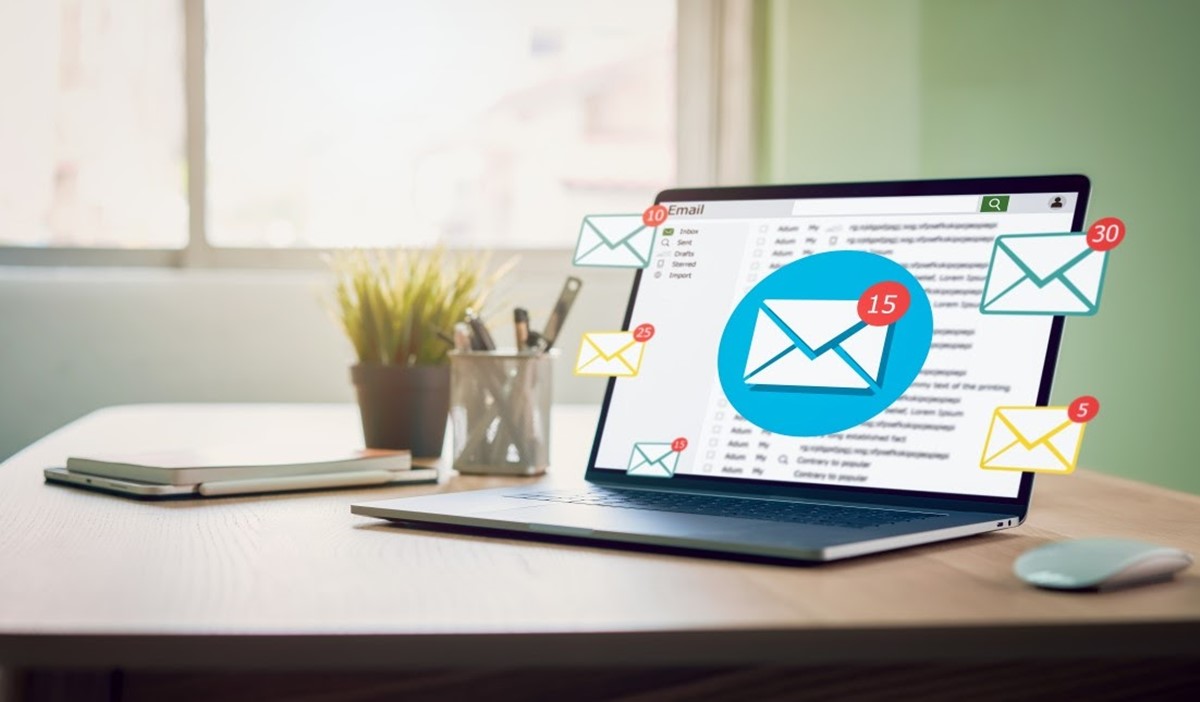 Despite the growth of social media, an email signature is still a powerful way to establish a corporate identity and market your brand to a variety of stakeholders. Because the online business does not have the facility of cards or letter pads to offer contact, your email signature can serve this purpose.
What are the objectives of creating an email signature?
The large shared number of email users around the globe indicates valuable marketing opportunities that it holds for businesses. According to a 2019 study conducted by Radicati Group, the total number of active email users has jumped to 3.9 billion. It is predicted to grow to over 4.3 billion by the end of 2023.
Successful brands fully understand the importance of email signatures and employ it as a chance to attract and build a sustainable relationship with potential audiences. In this part, we will explain the objectives of creating an email signature and why it is essential.
Personalization
Attaching a photo helps people make personal associations. If you're looking to build a close relationship with your recipient, or simply to elicit positive feedback, adding an image will create a human connection with your audience.
Professionalism
Well-established companies and organizations have marketing campaigns that consist of different techniques and strategies to draw the attention of large groups of consumers.
Email marketing is usually their priority, which is used to keep in contact with their loyal customers on a regular basis. Therefore, if a company is professionally working, they often include an email signature that provides their audiences essential information about their company.
For instance, your company's email signature may contain the official name of the company, its logo, the physical address, and telephone number. It can also help recipients verify your identity based on the information you have provided.
Branding
An email signature is a useful branding tool for your company. Every email you send is an opportunity for the recipient to get to know your brand, which can eventually raise brand awareness.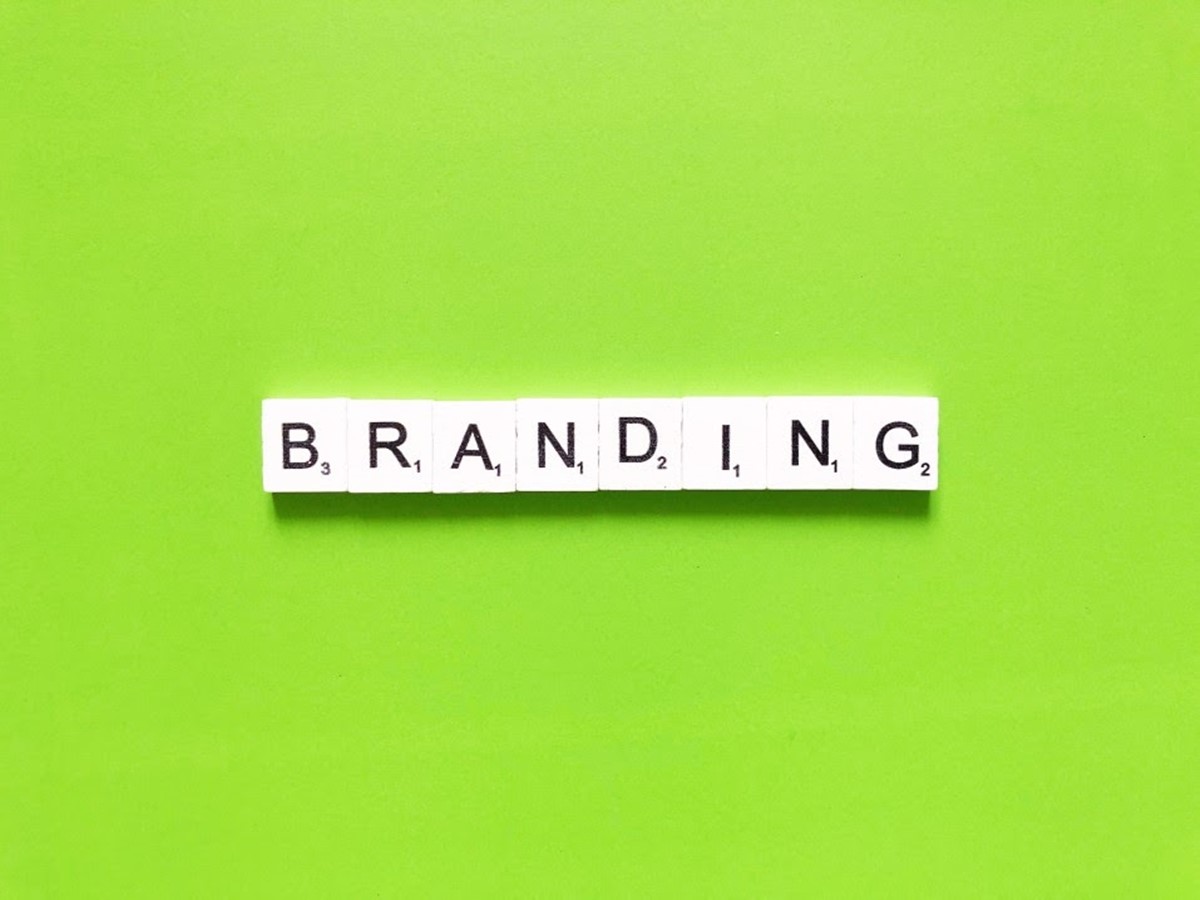 Besides, adding a signature to your email helps create a sense of trust. If the receiver recognizes your brand and company, they're more likely to reply or engage, rather than unknown newsletters or display ads.
Linking opportunities
Email signatures can give readers a quick link resource to important things. If an individual would like to contact your company quickly, they can take advantage of the links provided in the signature section.
For example, customers can easily access the company's official homepage, social media, and relevant channels just with one click.
Valuable offers
One of the best aspects of a smart and professional email signature is a Call to action (CTA) button. A CTA link will help you promote valuable offers in your email signature.
For example, your team has created an informative blog, you can include a CTA link for the blog in the email signature to leverage your brand further.
5 steps to create an email signature in Gmail
As much as you have known the objectives and importance of an email signature in Gmail, it's time to create one!
In fact, it is not difficult to create a professional email signature that will make you stand out from the crowd. All you need to do is to follow this step-by-step guide, then you will have a great looking signature, which will become a wow factor to your recipients.
Step 1: Sign in to Gmail
Launch your favorite browser and sign in your Gmail account.
Step 2: Select the Settings gear in your Gmail toolbar
Next, in the top right, click on the gear icon, choose Settings from the drop-down menu.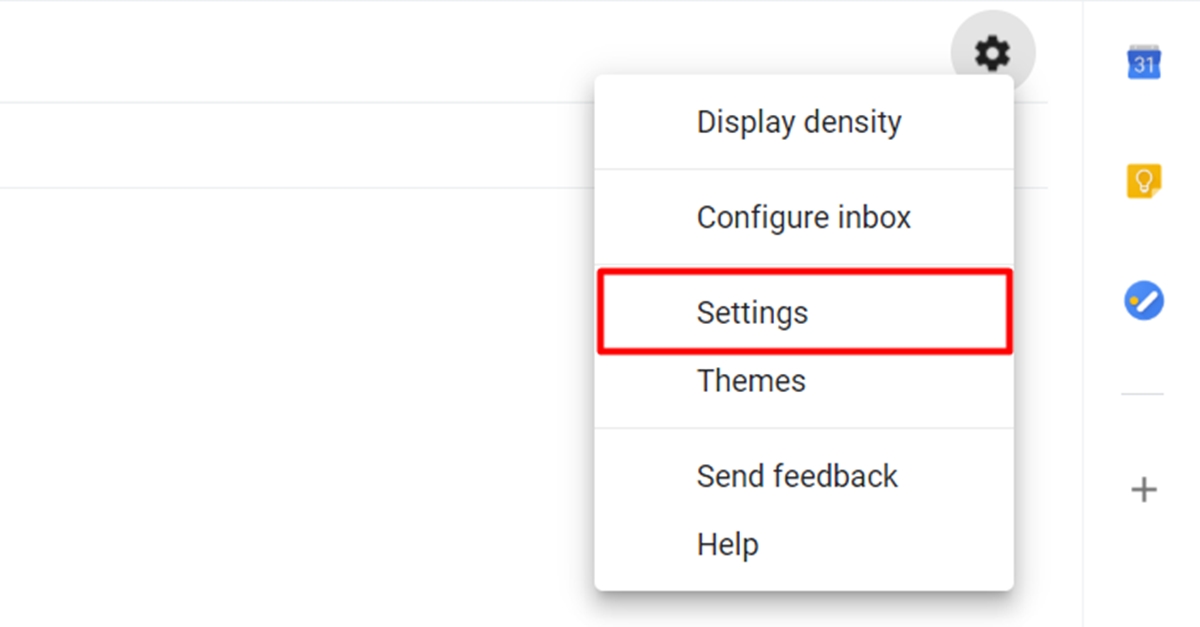 Step 3: Go to General, scroll down to the Signature section
In the General tab, scroll down until you see the Signature section, click the bubble under No Signature, and add your signature text in the available box.

Step 4: Type the contact details of your new signature
You can now start typing out the contact details of your signature. If you want your email signature to be professional, you should include these following elements:
Your full name
Job title
Company name
Physical address
Phone number
Email address
Step 5: Click Save Changes
After you're satisfied with your email signature, scroll to the bottom of the page and click the Save Changes button. And that's all! Your signature will now be ready to appear on all new messages and emails.
Top 15 best email signature generators for your business
1. HubSpot
HubSpot has a variety of templates and tools under their belt to help you create an email signature. They have clean and well-designed templates and all straightforward to get on with.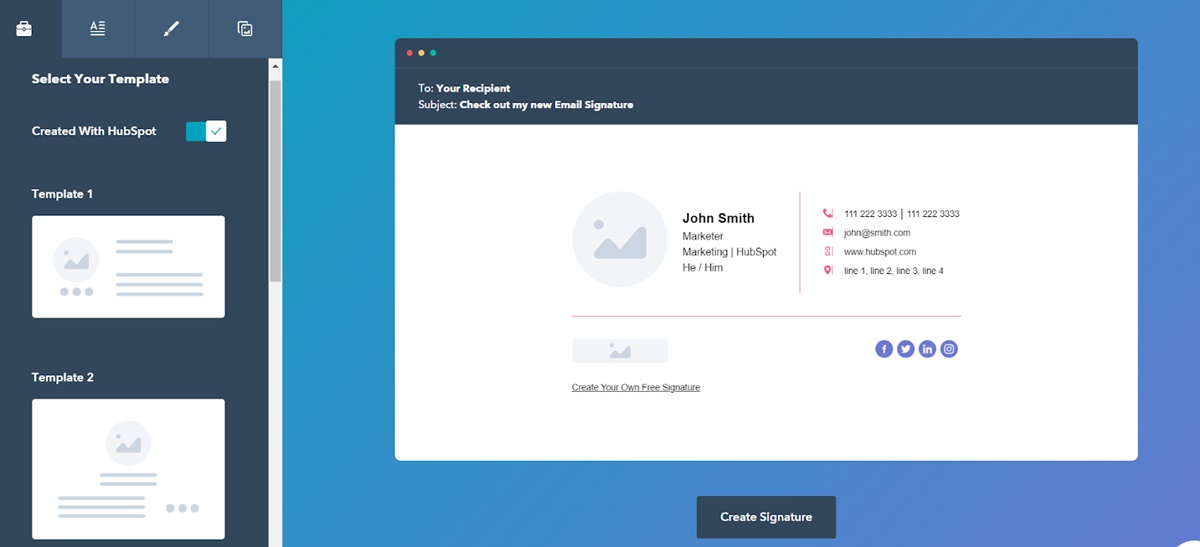 All you need to do is filling in your personal information and adding social media links in the form. Besides, you can also customize fonts, colors, themes, and other styles that are appropriate to your business. With such a personalized email signature, your email will deliver your brand message effectively.
The templates in HubSpot also allow you to add a text or image CTA. Once everything's ok, you can use it within any email provider, including Outlook, Gmail, or Yahoo Mail.
2. MySignature
This user-friendly generator will walk you through every step of building a signature. Their templates are easy-to-use, and in fact, you can use it even on the go.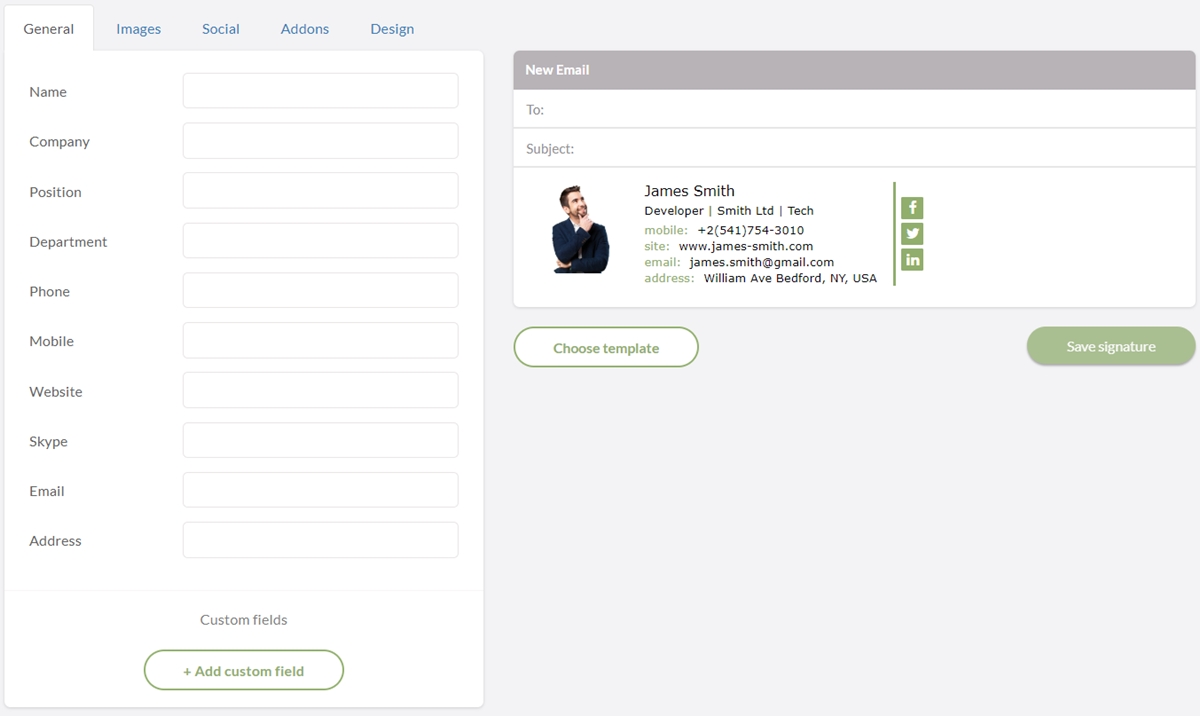 Their templates are mobile responsive, so you can start creating one right now on any mobile device with the Internet connection. Additionally, this tool has in-built analytics for tracking how well your banners, clickable images, and links are performing with your audiences.
MySignature offers both personal and business purposes, so it can fit your needs anytime and anywhere.
3. Crossware Mail Signature
Unlike other premade generators, Crossware Mail Signature gives you complete creative control of your signature, disclaimers, and adverts. There are over 650,000 people from 73 countries using their platform, which are really impressive numbers.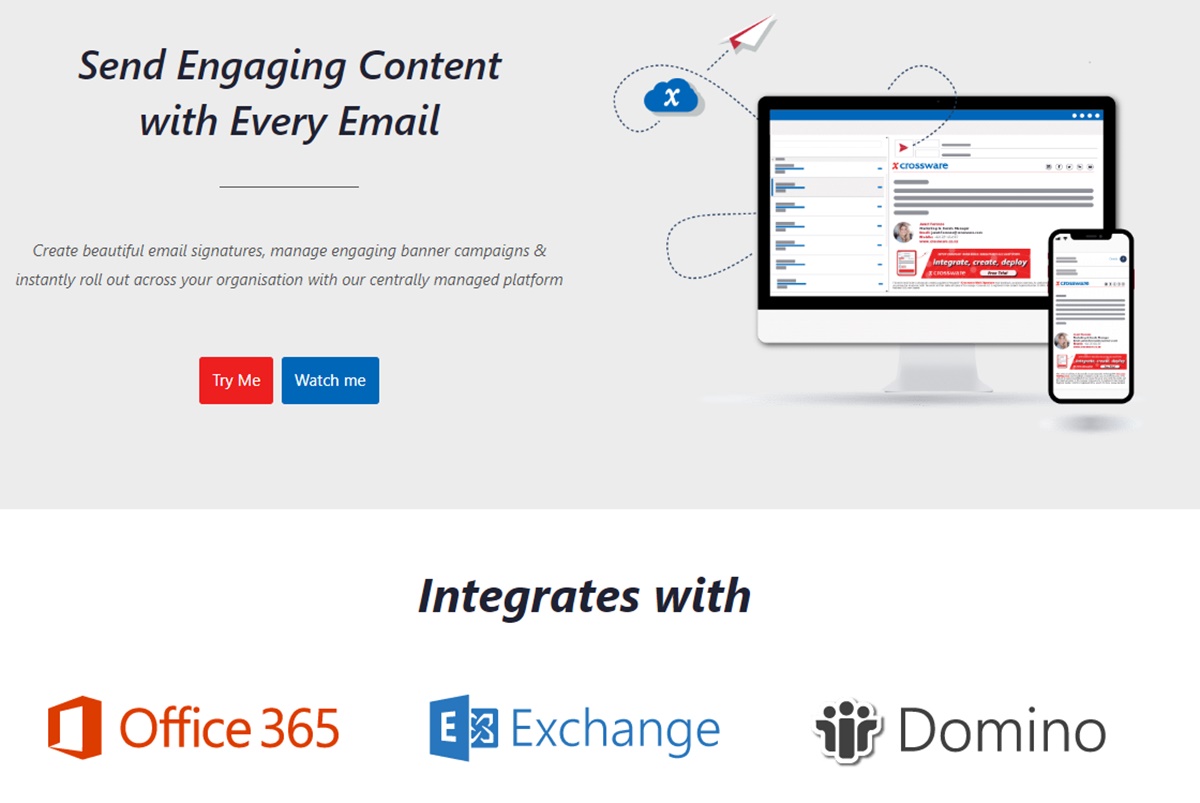 Not only are they compatible with Office 365 and Microsoft Exchange, but they also integrate with IBM Domino, which is an outstanding point from the crowd. They also have a 30-day risk-free trial for users to try it out.
4. Designhill
Designhill has got to be the most popular email generator on this list. Its templates have been appreciated by many prominent publications and brands, including Entrepreneur, Forbes, HuffPost, and so on.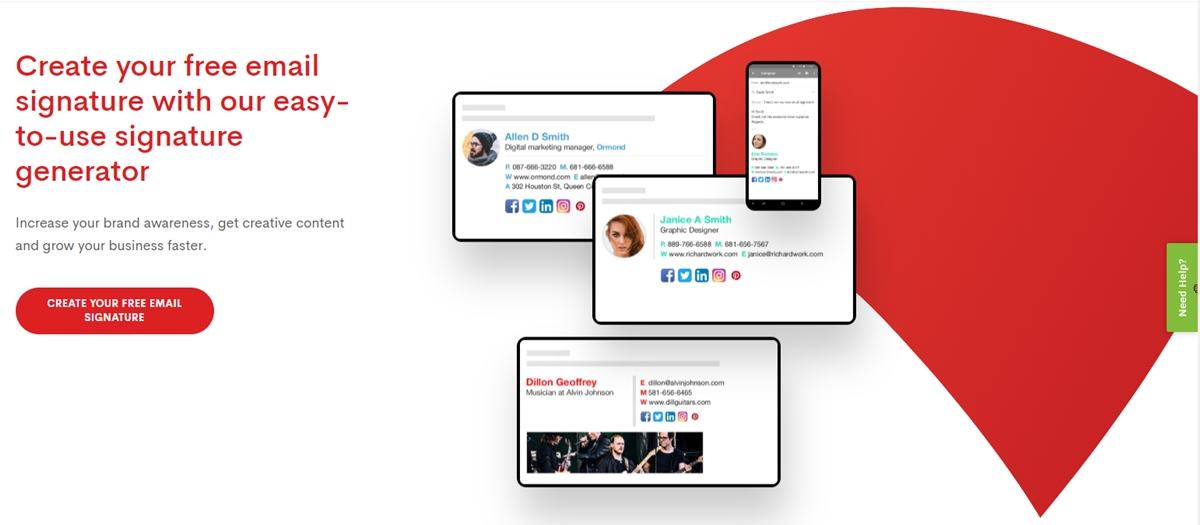 To create your email signature on Designhill, you just need to fill in your company details, select favorable styles, CTAs, and provide social media links. When all requirements are done, you hit the "create a signature" button for a great looking signature ready to be embedded in your emails.
5. Gimmio (ZippySig)
Gimmio, used to be known as ZippySig, is one of the best email signature generators on the market. It has a lot of advanced styling options and customization suited to business and design agencies that want to have awesome custom designs.
With over 40 free email templates, users can create their own pretty impressive signatures. From more than 2000 social icon variations and 44 fonts, it can help your email signature look outstanding.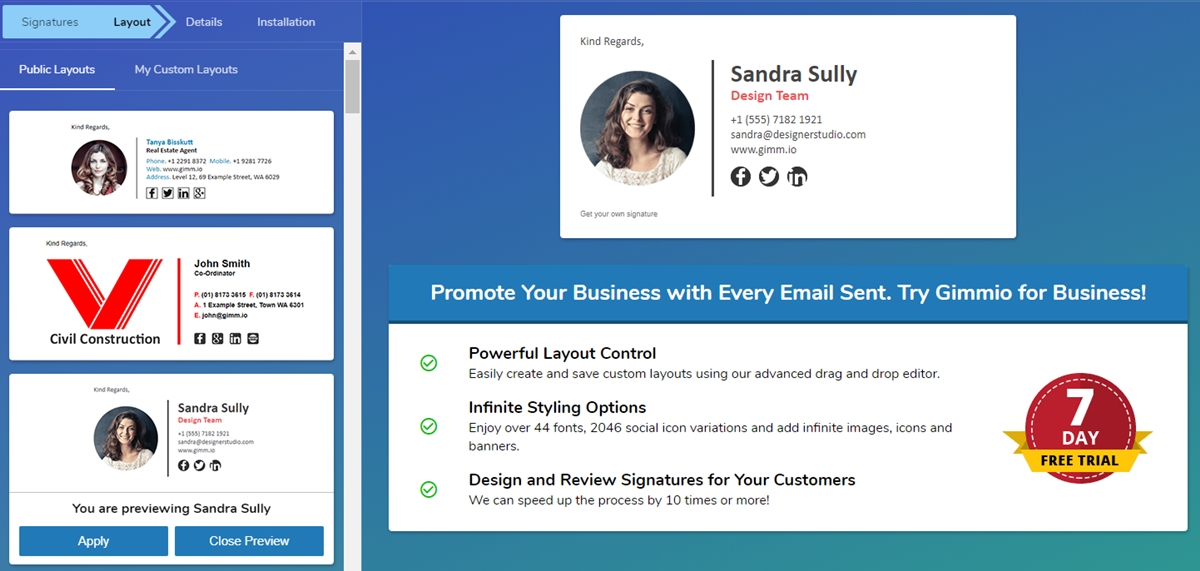 Gimmio has been rated as the number one Email Signature Generator by many brands like Template.net, Freelancer.com, and many more.
6. Wisestamp
With the ability to include social media icons, Wisestamp is another amazing email signature generator that will not disappoint you. One of its most impressive features is the centralized system, which allows companies to take control and change employee signatures, hence, providing companies with needed uniformity.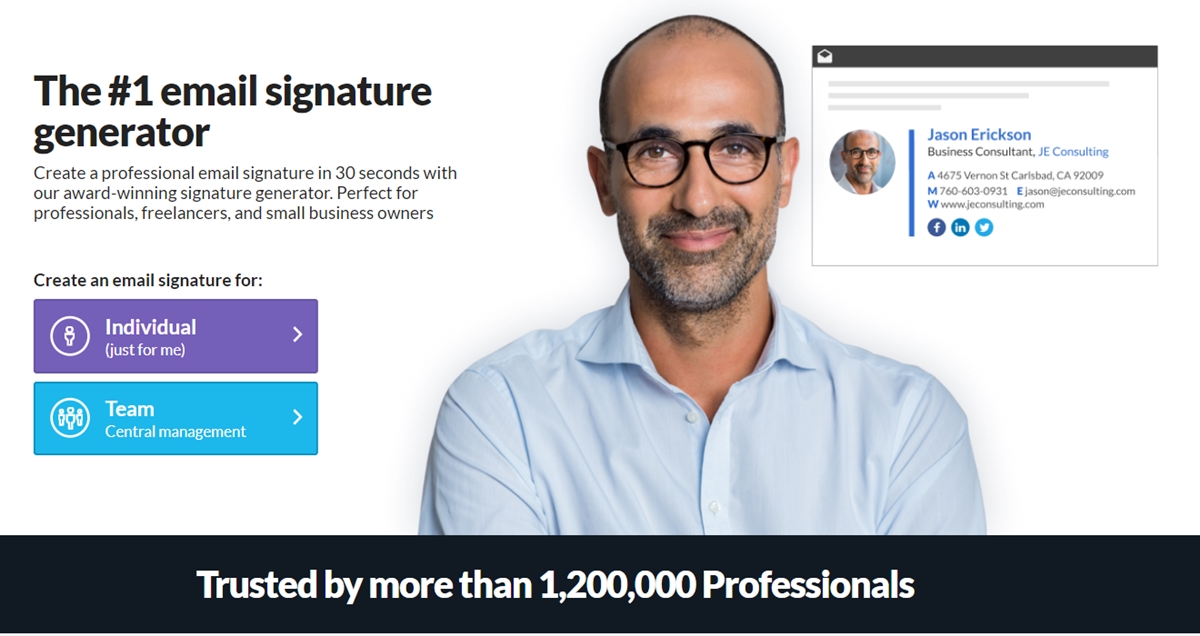 It also provides analytics of traffic flow to your website and social media channels, which is really necessary in case you want to use your signatures to gain a marketing edge.
This tool is equipped with more than 50 templates, so you can be able to personalize your brand message. However, signing up to generate a free signature can be a little bit time-consuming.
7. Newoldstamp
No matter if you are a beginner or professional in creating an email signature, Newoldstamp will be a good choice for you, because it is super easy to use and not tedious at all. It only takes you about 2 minutes to generate a signature and as little as 20 seconds to change a banner.
Besides, it offers a lot of exciting features and customization options that can hardly be found on other generators. You can integrate apps and social media badges within your email signature, too.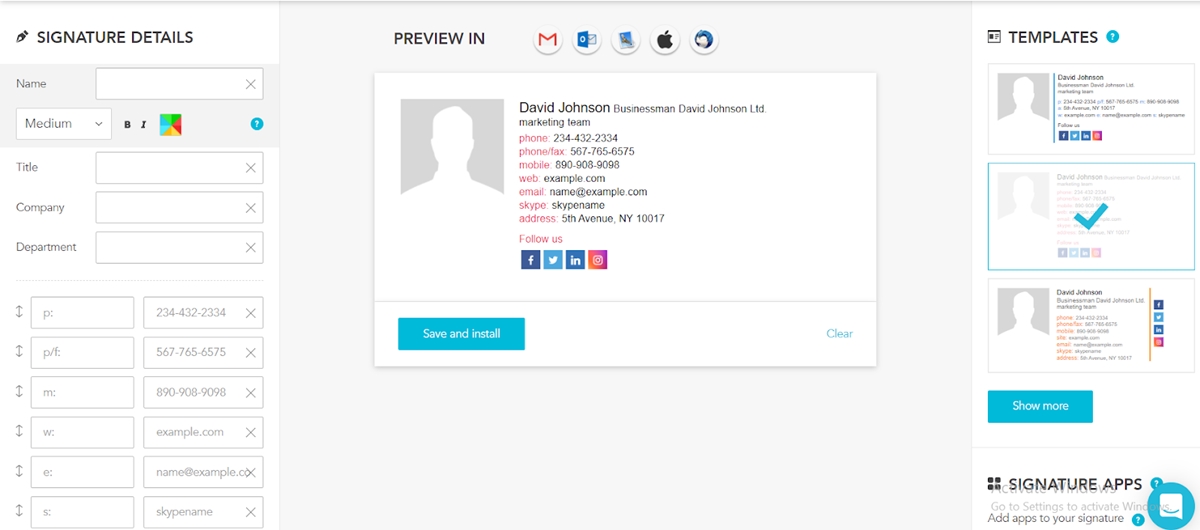 Moreover, you can add a promotional banner to your signature footer with a CTA and a link to your landing page. How cool is it?
8. Honeybook
The amount of time to build an email signature that looks perfect and yields the most benefits shouldn't eat away your whole day. With Honeybook, all you need is just 30 seconds.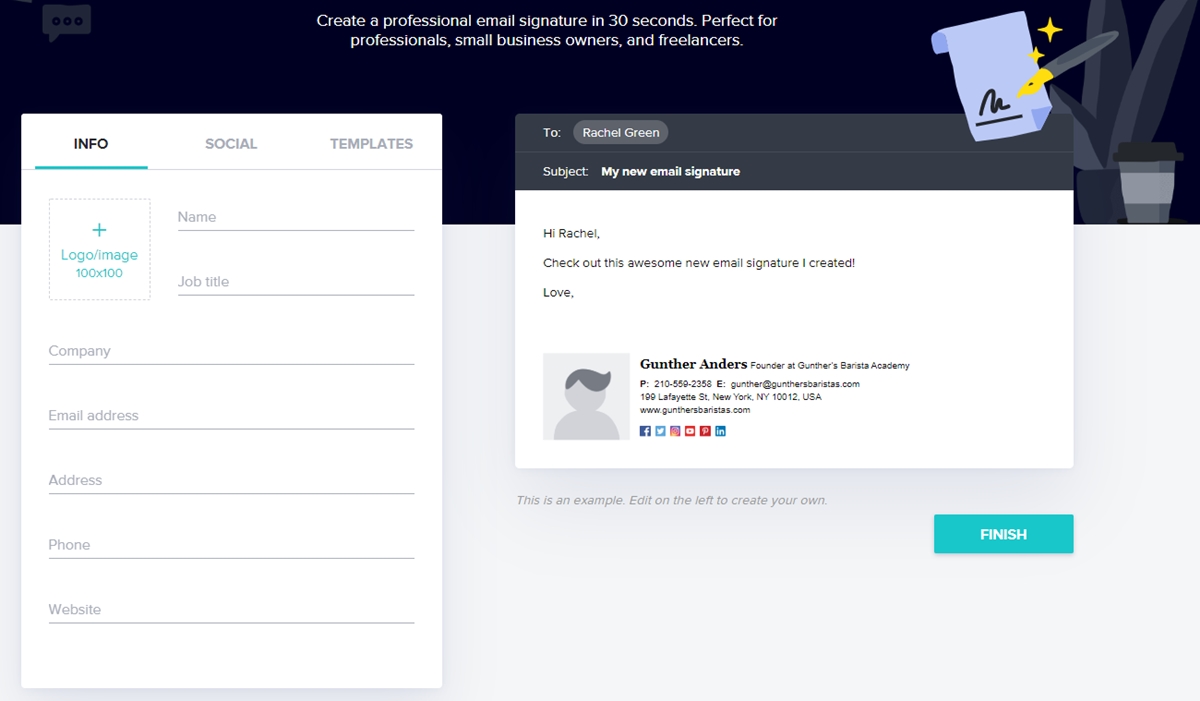 All you do is select a template, enter your personal information, add social links, and you are done. Though this one doesn't have various customization options, it is still worth trying out.
9. Xink
Xink is considered one of the best and biggest email signature generators for large enterprise customers all over the world. It is fully compatible with Office 365, Outlook, G-suite, and Mail.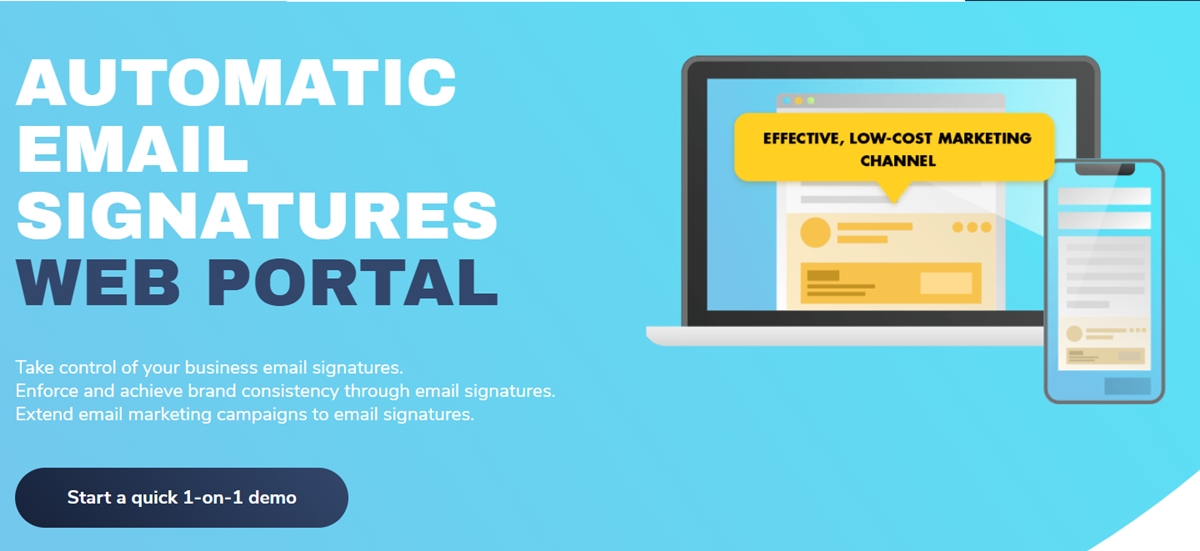 Xink's user-friendly interface lets you create and manage your email signatures for all of your company employees. Your signatures are guaranteed to look good on all devices. Plus, they also have promotional banner campaigns that you can integrate within your emails.
10. Si.gnatu.re
This email signature generator tool is definitely worth a try. Si.gnatu.re is simple to use, and it offers a slick design and customization. Customization options range from different fonts and sizes to uploading your company logos, social icons, and adjusting background, text, and so on.
This email signature generator has four tabs on the generator page along with a real-time preview. So, you just need to enter your information, add images, customize it, and finally include your social links.
11. Mail Signatures
This may be one of the oldest and original email signature generators that you can find on the web, which is owned by CodeTwo. Mail Signatures has an easy-to-follow interface and a lot of free templates available, so you will be satisfied to walk away with a pretty looking email signature.
Mail Signatures also allows you to pick your favorite email platforms in advance, so that you can customize each bit of the signature accordingly. Available choices include Gmail, Outlook, Outlook 365, Exchange Server, Exchange Online, and Thunderbird.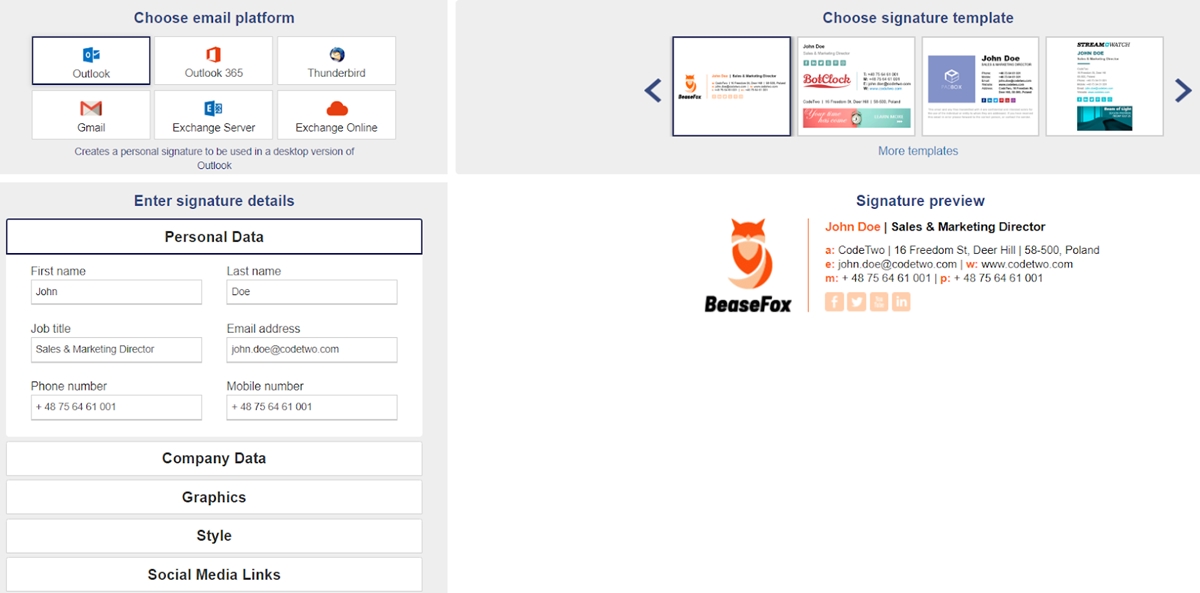 It's simple, free, and perhaps the best way for most people to create a professional email signature without any HTML or design complexities.
12. Email Signature Rescue
Email Signature Rescue has positioned itself as one of the best email signature generators available on the market. They have the following awesome features:
Over 20 templates to choose from
Thousands of different social media icons
Animated GIFs and banners
Tracking integration with Google Analytics
And so many things more.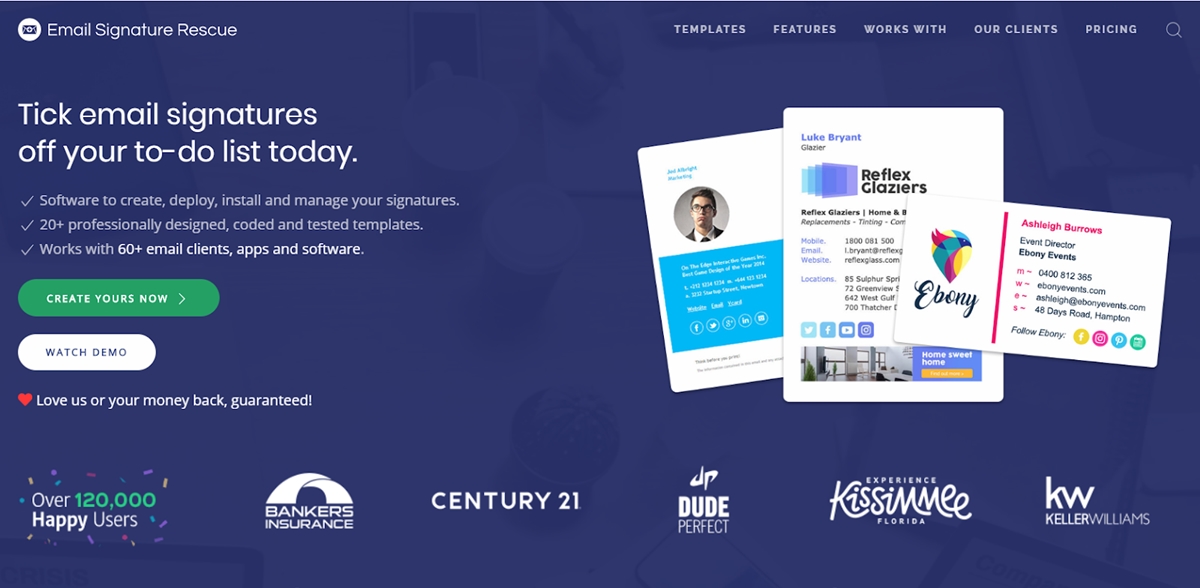 Although they offer a fantastic platform with a 7-day money-back guarantee, they don't offer a free version, which means you need to sign up before using this tool. Moreover, it's better for companies and businesses with a large number of employees.
13. Exclaimer
This tool is based in the UK and offers a basic email signature creation service for free. The free version of Exclaimer allows you to copy and paste directly into your email software. Besides, it works well with Office 365, G-suite, Exchange, and Outlook.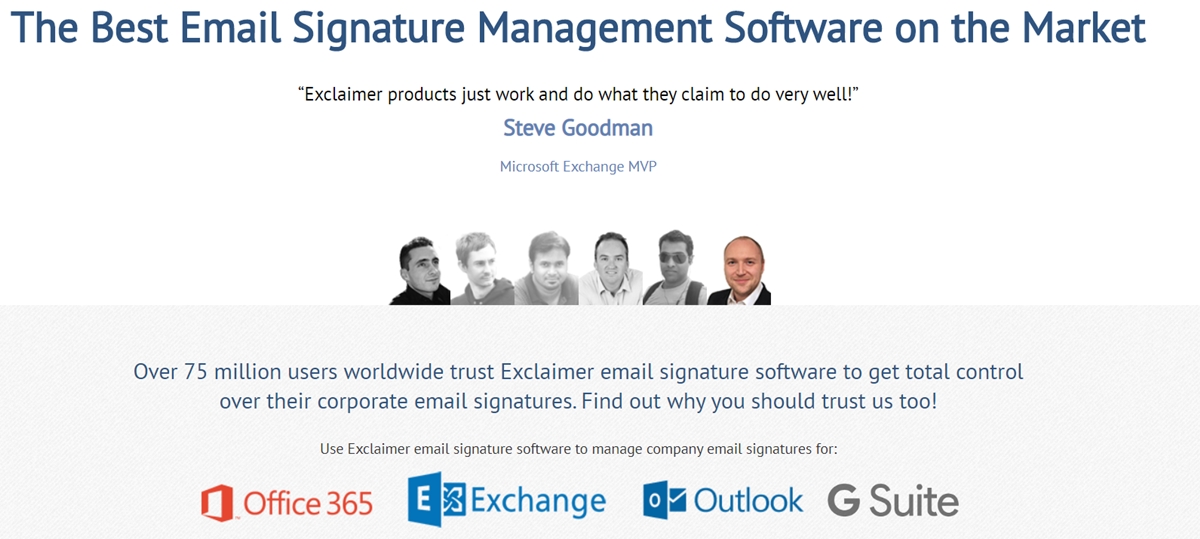 However, the number of styling and customizing options are quite limited. Additionally, the free version stores your email signature on your PC via the cookie on your browser. This could cause a problem if you were to change or delete your cookies, as your email signature may be lost forever.
But you can come up with a great-looking signature with photos along with a necessary disclaimer, so it is worth trying its free trial now!
14. Signature Maker
As the name suggests, Signature Maker is another great choice to create customized signatures for your emails. It is also helpful especially in case you wish to generate some perfect and professional handwritten digital names quickly.
The signatures you create can be signed on Word Documents, PDFs as well as legal papers and contracts in your emails. You can also use them in your profiles, forums, and personal blogs.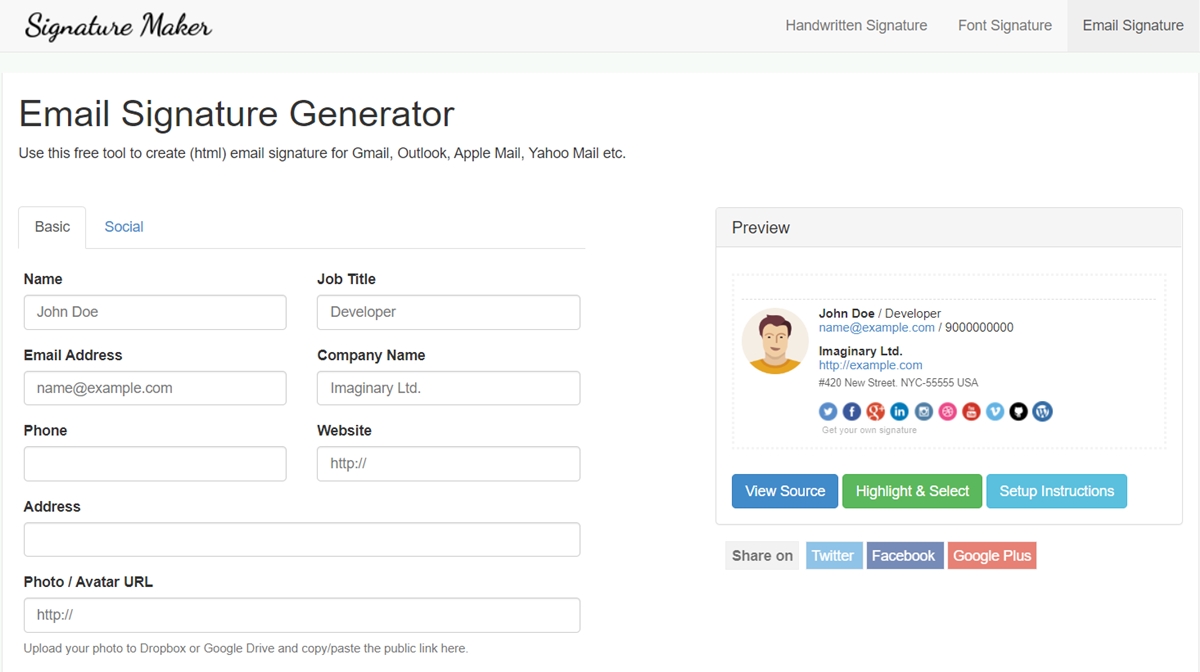 After you've entered all your details, you can see a mini real-time preview that shows how your email signature looks like. Pretty neat!
15. Mailcastr
This tool is a bit different from the above, and for good. Mailcastr does a bit more than you ask for. In addition to being an email signature generator, this tool will track all the emails that contain your created signature and notify whenever your recipient reads them.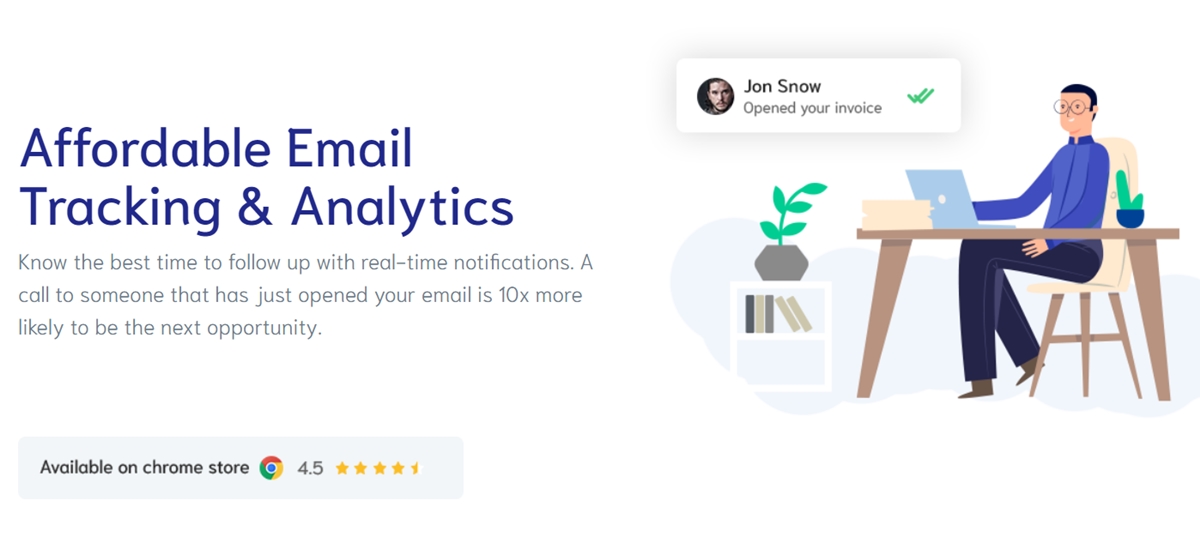 The free version of this tool can track up to 150 emails per month. If you want more than that, you can go with the paid version that costs $3 every month. It has unlimited email tracking, and allows you to generate multiple signatures. It would be awesome if you run multiple businesses, or want different signatures for personal and professional messages while using the same email addresses.
Conclusions
In this competitive marketplace, you need to take advantage of every opportunity to imprint your brand on your potential customers. Truth to be told, using email signatures is still underrated, and not all companies utilize it. Therefore, generating an email signature is a wise choice to make yourself stand out in the crowd.
This guide has provided you with the necessary steps to create an email signature, as well as the best generator tools. So, it's your turn to make your business different right now!
You Might Also Like:
New Posts
Stay in the know
Get special offers on the latest news from AVADA.