30+ Best FREE Company Name Generator in 2023
It is always hard to start a business because there is a lot of work to complete. One of the first steps to do in the process is giving your company a name, which matters a lot. Because it will represent your organization, it will help you in resonating with your audience as others can pronounce it, remember it or look for it. If you had a good brand name, then you have already had an advantage over other competitors as customers because the audience will remember your company name and visit again.
This article today will be all about Company name generator - a tool that helps you create a name and find the best company name ideas. So if you have a great business idea or so many ambitious plans to develop your company, but you can not find the right name, then you have come to the right place. 30 Best Company Name Generator Tools article is here to help you.
What is a company name generator?
A company name generator is normally created with a clever system that has real branding experience and expertise to generate a distinctive company name for you. More specifically, you just have to enter a single keyword that best describes your business and select us what sector or industry you are in, also the style of name that you are searching for. The generator will carefully design a name to help you come up with a catchy brand one with an available domain.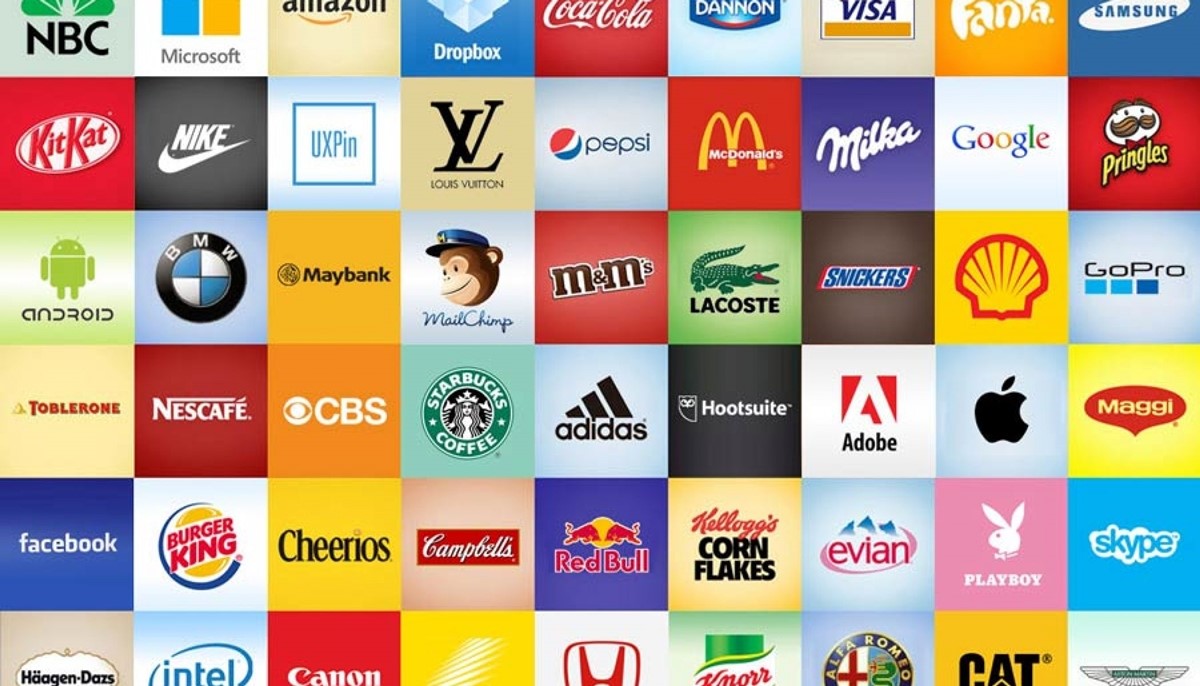 The shorter the better
A short name is always easy to remember and type. For example, when looking at the BlueHost name, it will come to your mind easier than the one named BestSharedWebHostingToday. Somehow, it is silly and plain stupid.
Make sure it's easy to read
Make sure that the name is readable. You can try this by adding K to replace the letter C. Or else, just try to avoid some words that make people confuse while pronouncing it. Just keep your brand name readable and easy to pronounce.
Avoid number and hyphen
As you have seen some domain names with numbers or Hyphens, they just look childish and a failed attempt to register the original version. For example, you can have the name: SeventyTwo.com, but don't try to get a name like 70two.com, seventy-two.com, or seventy2.com
Avoid trends
There used to be one trend that people add a 'ly', 'fy' after a word, like Weebly, Shopify, for example. This trend is pretty common. But the trend comes and goes, that's why you should not follow it because the trending words might get down in the next few years.
30+ best company name generator tools/websites for you to choose from
1. Gochyu
The Gochyu business name generator is pretty straight forward. You enter one word that is related to the business you want to create, and its algorithm with produce hundreds of business name options for you to choose from. The Gochyu business name generator with find various types of name combinations such as similar words to the word you entered, related words, synonyms, even anthonyms and several more options. They take these options and combine them with several other word/name options which eventually produces hundreds of different options. You should be advised that many of the choices are random so if you hit the "generate" button again, you might get many other options that you didn't get the first time.
2. Oberlo
You will be given hundreds of name options for your business with just a few clicks on Oberlo business name generator. You just have to enter a keyword that you think is relevant to your company's main concept. Subsequently, hit a click on the "Generate names" button to have a display of business names options' list for you to select. Just look and consider your desired business name, then simply launch your business with the name that you like.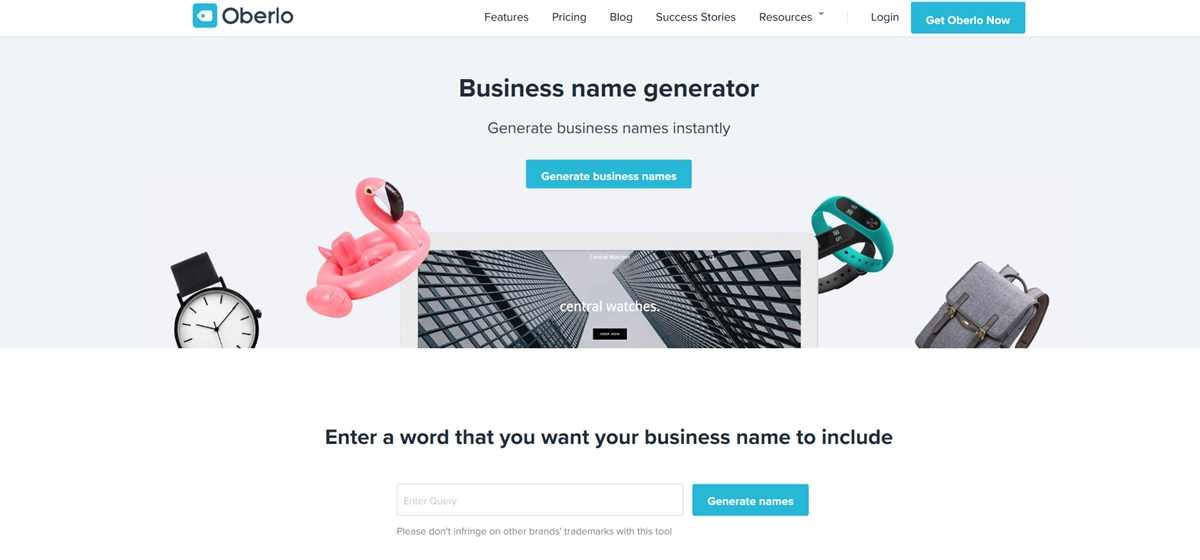 In case you have not satisfied with the results that were shown, then it allows you to keep entering until you are satisfied with the final name. In order to help you understand, I have this example: in case you don't like the results of a given term like "clothes", then you just retry by replacing another similar word, or make your search more specific to your company like "vintage clothes" or "plus size clothes". What is more, the Oberlo business name generator is absolutely free, at the same time, easy to use as well.
3. Shopify
Shopify is also a great company name generator as it filters and shows the company names with your available domains instead of just showing out hundreds or thousands of business names. Another great thing about Shopify's business name generator is when after you choose your wanted name, then you will be able to sign up for a Shopify account and launch your first store without any troubles. You will get your first online store right after when you have your business name launched on Shopify name generator by using their powerful eCommerce backend.
4. Naming.net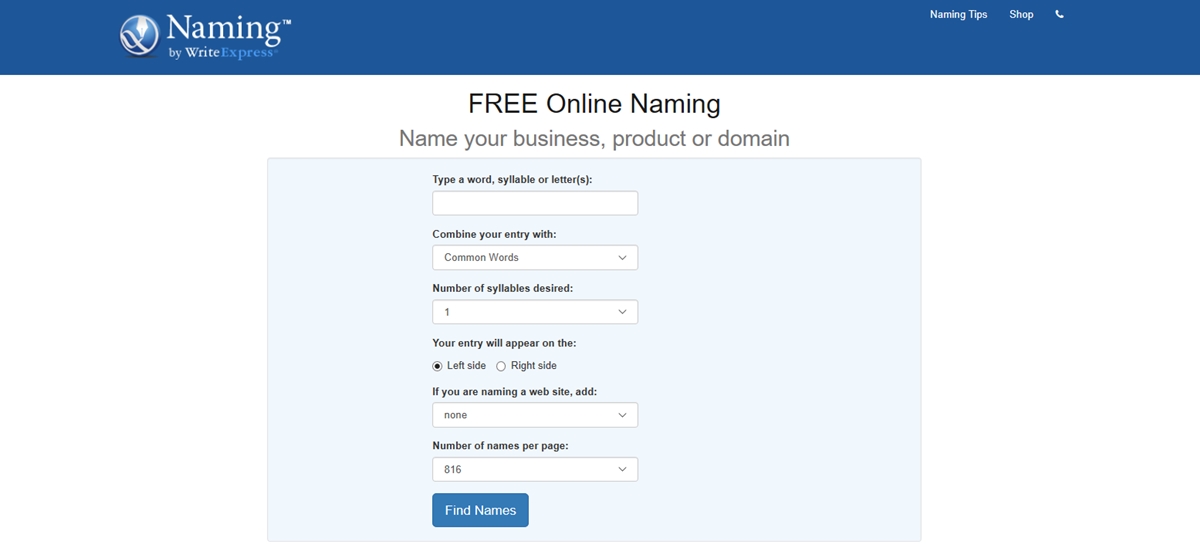 By using Naming.net store name generator, you will get your own company name ideas after typing down particular criteria of your business with a precise results. You even can specify a root word, syllable, letter, and the number of syllables if you prefer to do so. What is more, you can try adding rhymes, Latin or Greek roots, and other words for variations here. That's not all, Naming.net even brings you the ability to get some naming tips to read including naming advice and ten things to consider when naming your domain, product, or business as well.
5. Dot-o-mator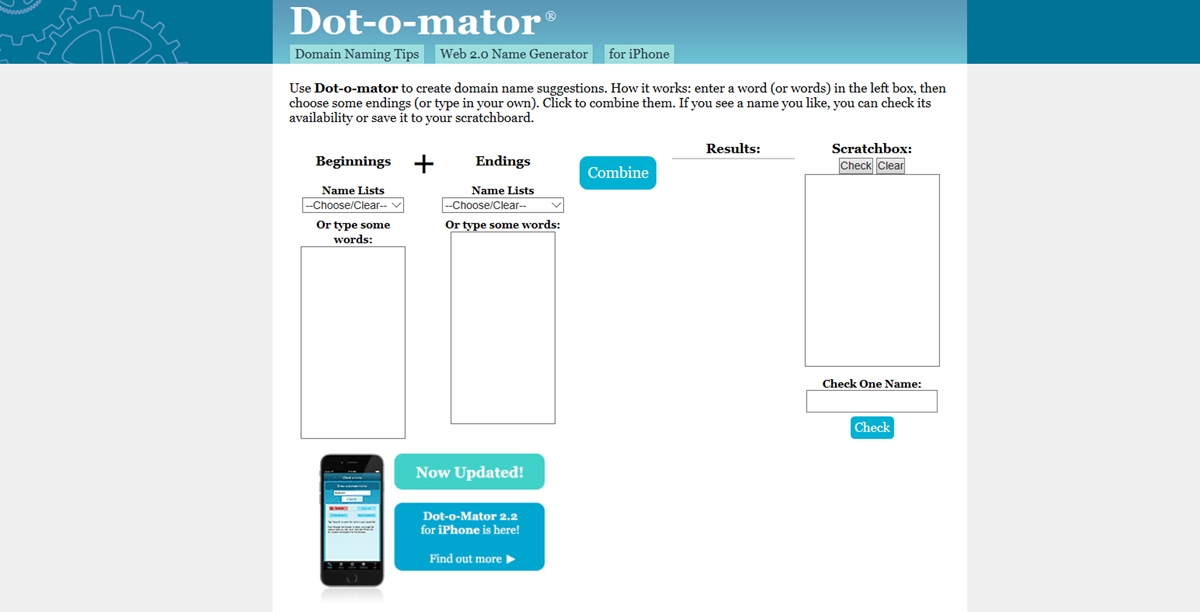 This Dot-o-mator company name generator is so easy to use when you just have to display a random name and click the button. You just have to select an option from the name lists and type your own words. Then you will get a number of combinations from the two lists that you can choose from. If you have any business name ideas you like the most, you can add it on your own to your Scratchbox. Eventually, you will be able to manually check if the domain name is available.
6. Domainr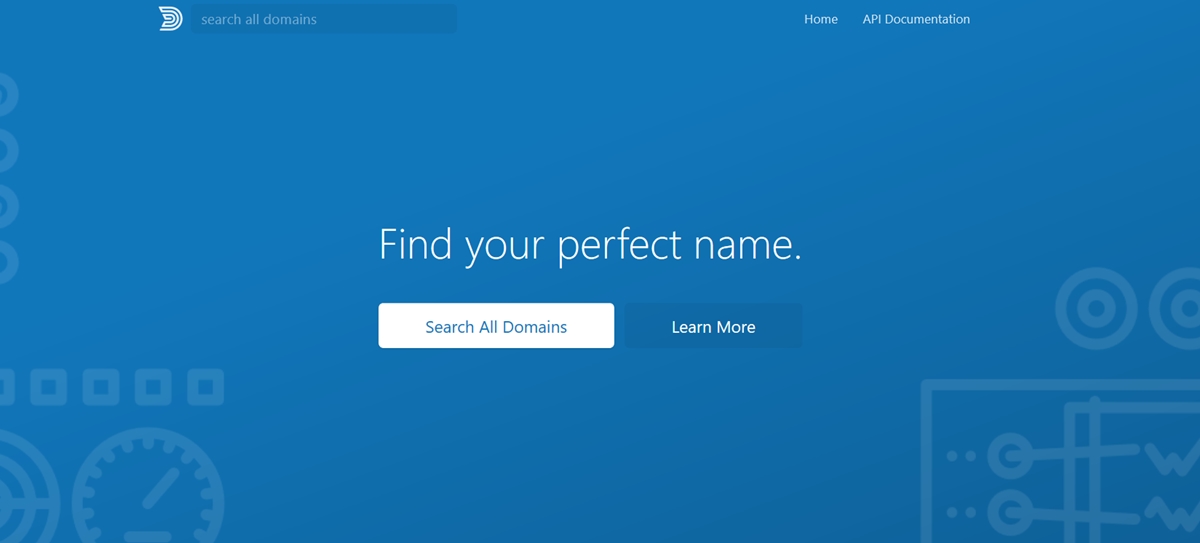 This Domainr business name generator is another good one to offer domains around some certain keywords to help you stay away from frustration when trying to find a domain name with its real-time service. A name with .com, .io, or another domain is just small things because Domainr will handle that and help you come up with the best domain name.
7. BizNameWiz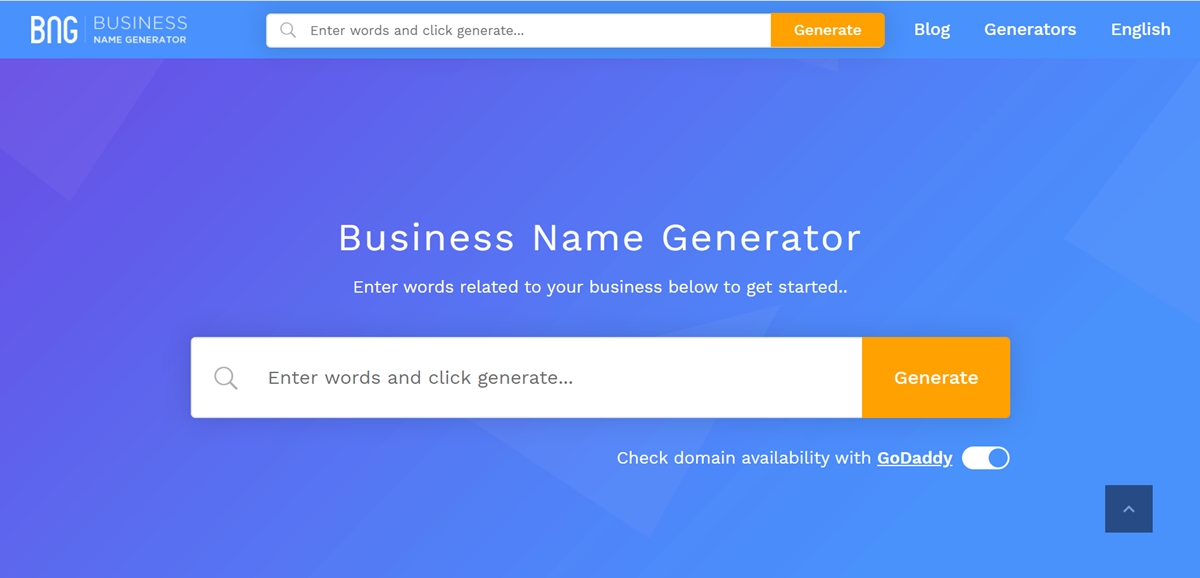 BizNameWiz is considered to be another worth-using store name generator as it will help you a lot in creating names with very less effort from your side. In order to use this company name generator, you just have to enter the words that you have in mind and just wait for BizNameWiz to create a list of business name ideas. Also, names that are already available can be identified by this tool. Additionally, business naming and branding guides are also included on BizNameWize so that you can go for a deeper look at the dos and don'ts in naming your brand.
8. Namerific

Namerific is a premium website for generating brand names. The average price here is under 10k dollars. You just have to type in your keyword or niche. As usual, you will be given the relevant brand name ideas and a logo as well. This brand name generator is considered to be a creative one and unique as well, so that you don't have to worry about other companies, which also own the same name as your premium one.
9. Name Find

Name Find is a great website that suits for successful entrepreneurs who have a sizeable budget to invest in quality domain names. You will get a selection of quality available brand names to get your most premium one. Most domain names here cost thousands of dollars but also can make sure that you will get your exact match domain name. Even when you have questions about the names, you can call or email their domain experts to get help in finding and acquiring the name for you.
10. One Click Name
One Click Name is a brand name generator that will provide you a logo, along with your domain name. There are already thousands of premium domains for sale on this generator. Every domain will be described with categories and keywords, also a cool logo to illustrate. One Click Name requires you to pay a few hundred dollars at minimum to find the name you love. As usual, you need to type your keyword or niche. Then the result will show you relevant brand names. It also presents you more about the name, like the feelings behind the name, what kind of businesses the name would be best used, or the structure of it and more.
11. Fit Small Business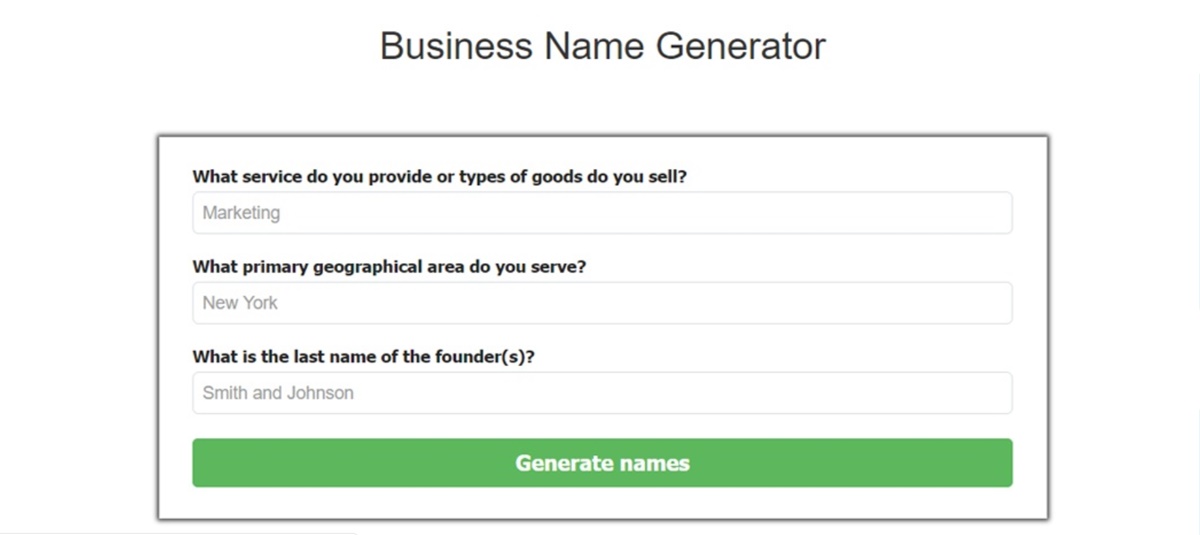 Fit Small Business is another brand name generator that will instruct you via a series of questions to help you get the perfect brand name. It will ask some questions like what type of goods you sell, the location you serve, and your last name as well. Then, you will be given a list of brand names that are usually three or more words long. When you hit a click at the domain, it will redirect you to Bluehost for Fit Small Business to receive a commission from you if you decided to purchase. Also, you will get a lot of handy tips to help you decide the kind of name you should opt for your business if you want to be guided.
12. Anadea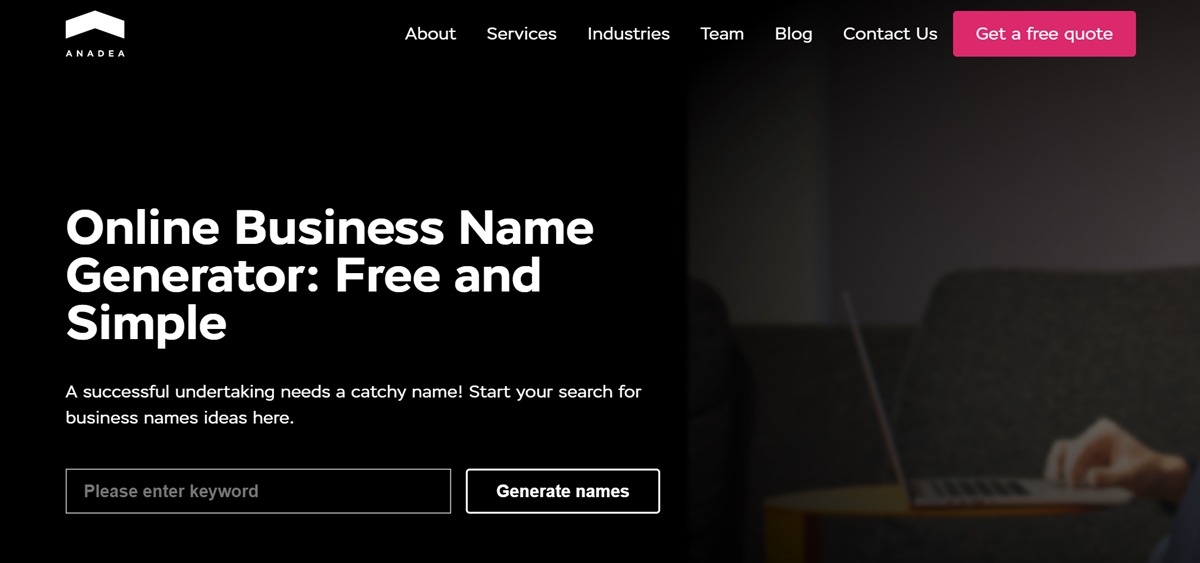 Anadea is a free business name generator that enables you to generate your business name ideas in an easy way, depends on the keyword that you offer. Anadea will give you a collection of catchy and relevant names to select. After choosing a domain, you will also get a quote for the domain and website building service. That's not all, your company name ideas will be classified by your industry category including healthcare, software, travel, tech and so on. You can also generate website and app names in the same method as a store name generator here.
13. Hipster Business Name
Hipster Business Name is considered to be one of the most creative brand name generator. There will be a series of hipster business names available for you to click through to view. Your niche will not be listed in the domain, but you can still expand your brand into other verticals if you want to. Brand names provided on this generator are often clever, funny, and catchy as well, which is suitable for those who are looking for a unique name. If you purchase a domain on this awesome online name generator, you will need to pay an affiliate commission to Hipster Business Name.
14. Namesmith
Namesmith is a brand name generator that enables you to include up to five keywords that refers to your domain name. Based on the keywords you selected, Namesmith will show you the exact keywords, blends, rhymes, pre-suffixes, and modifications. After you have your choice, you will be redirected to GoDaddy to buy the domain. Plus, Namesmith also highlights many different name suggestion algorithms. For example, they can combine two words like breakfast + lunch = brunch, from your keywords, or misspell them in cool ways, also insert suffixes/prefixes, and finally offer you with catchy company name ideas.
15. Brand Root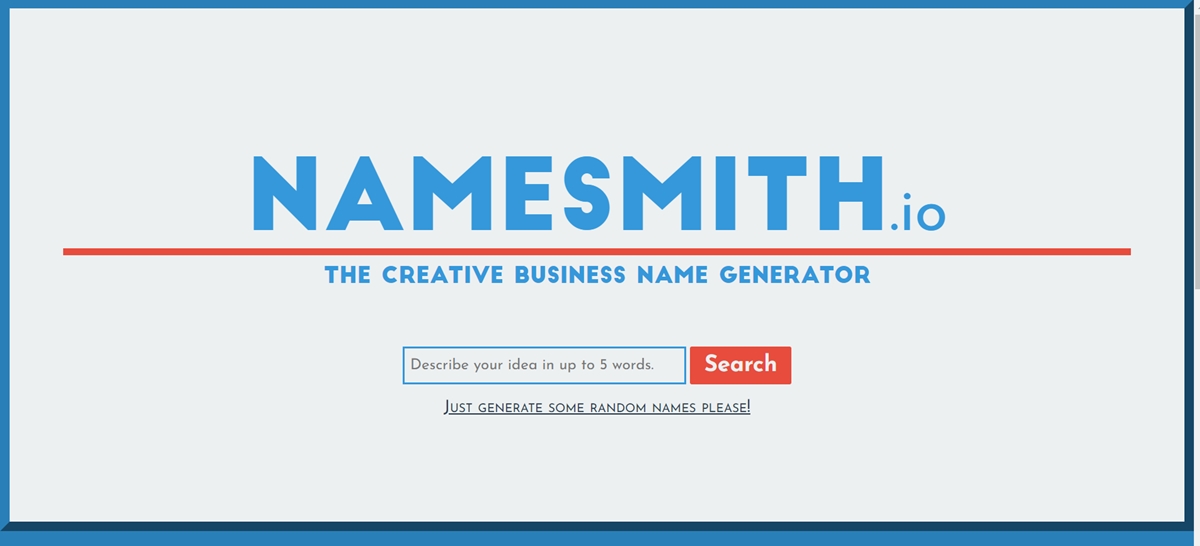 Brand Root is a creative business name generator of names, which are unforgettable to come with the registered .com domain name. All the names will be carefully handpicked and then put up for sale with a professional logo and affordable price. You just have to search by keyword or category to find a brand name for your niche. The result of the name ideas on this site is all premium at different prices. That's why you should choose your price point to avoid being shown company names outside your budget. If you want to, you can request for the logo design that comes with your name after that.
16. Getsocio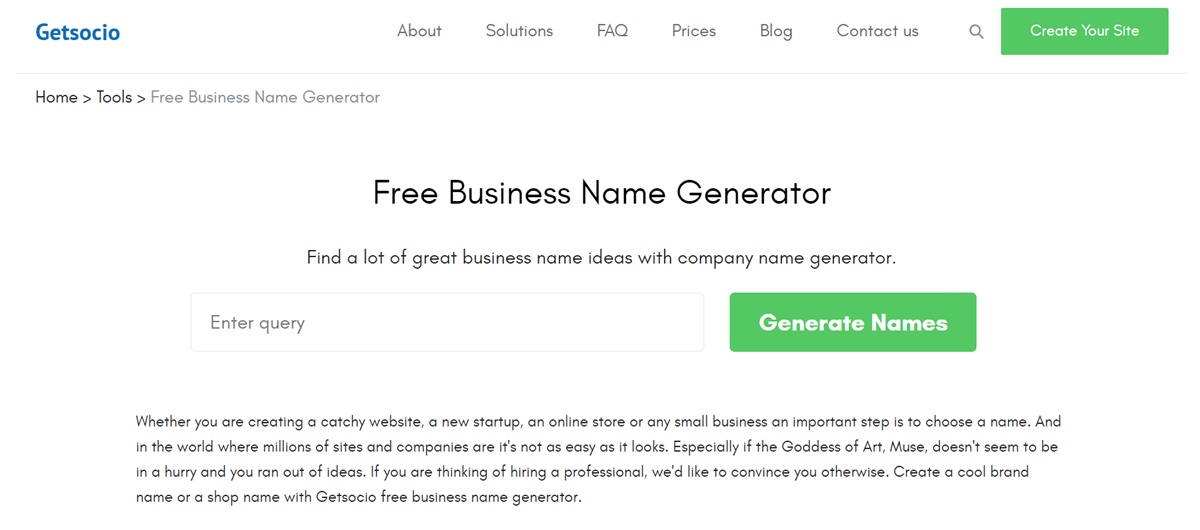 Getsocio is another company name generator that enables you to type in the keyword that you search for to include in your domain. There are thousands of possible domain names suggested to you on Getsocio. But there is a drawback in the domain name, that your domain will end in .getsocio.com instead of a standard .com as usual. After you have selected your domain, you will have to fill out information like name, email address, and password then go to generate an eCommerce store with this cool business name generator.
17. Naminum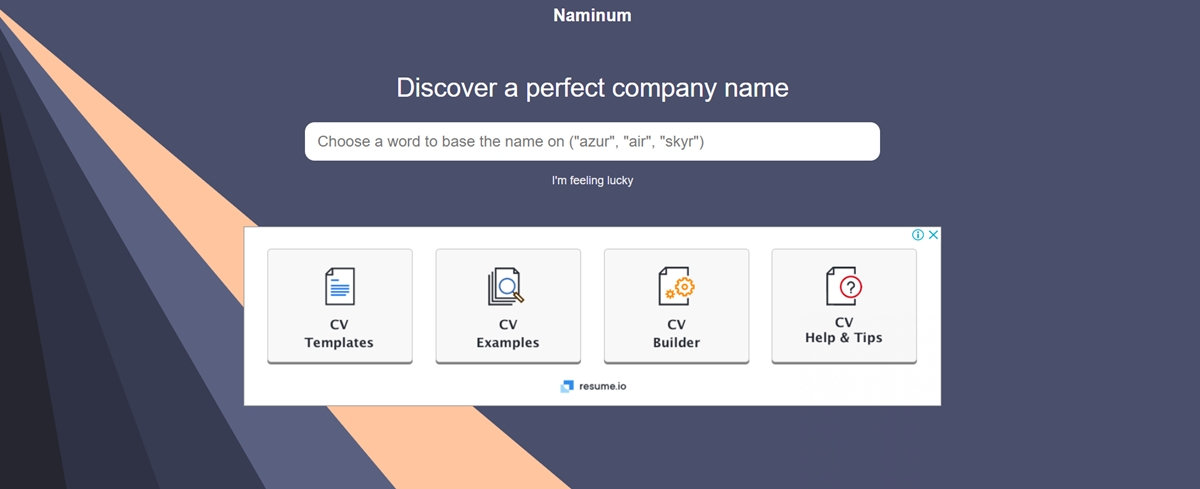 Naminum is an online name generator that can inputs suffixes to your desired keyword. Naminum would be your best choice if you are searching for a one-word domain. There is one drawback that it requires you manually click so that you can see which domains are available and which are taken, which normally needs a few before finding domain names that are available.
18. Brand Bucket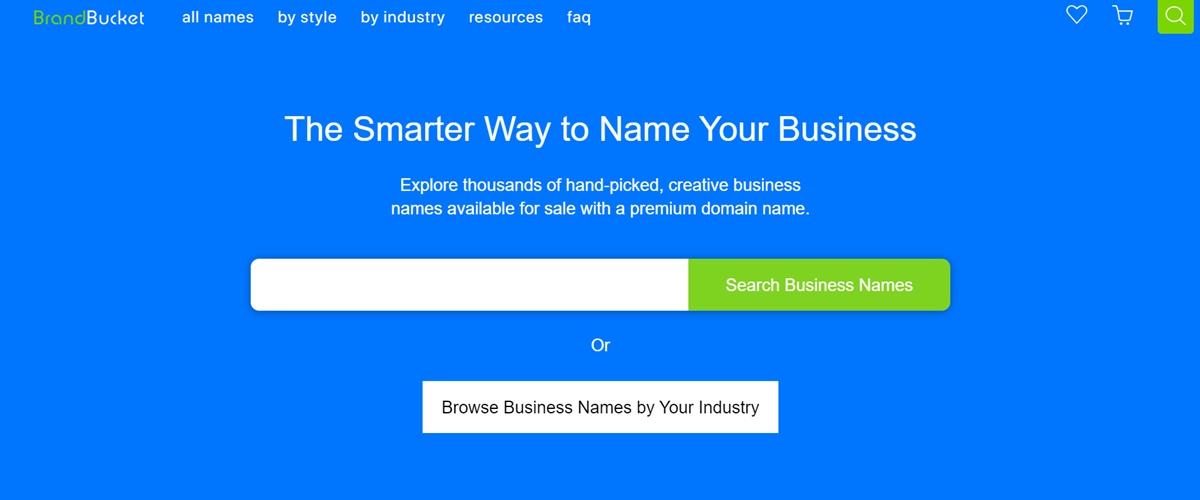 would be a perfect match if you are looking for a unique brand name with a logo. You will need to pay over 1000 dollars and receive unique, catchy and one-word names. Also, you will get a logo when you choose a domain name from this website when you request logo modifications.
19. Lean Domain Search
Lean Domain Search is created for giving the perfect brand name. You will be directed to a page where has available domains name after typing your keyword down. The top will present the green ones, which are the available domains. After you hit a click on the domain you like, it will mention in case the Twitter handle is available so you can generate a handle with your brand name.
20. Wordoid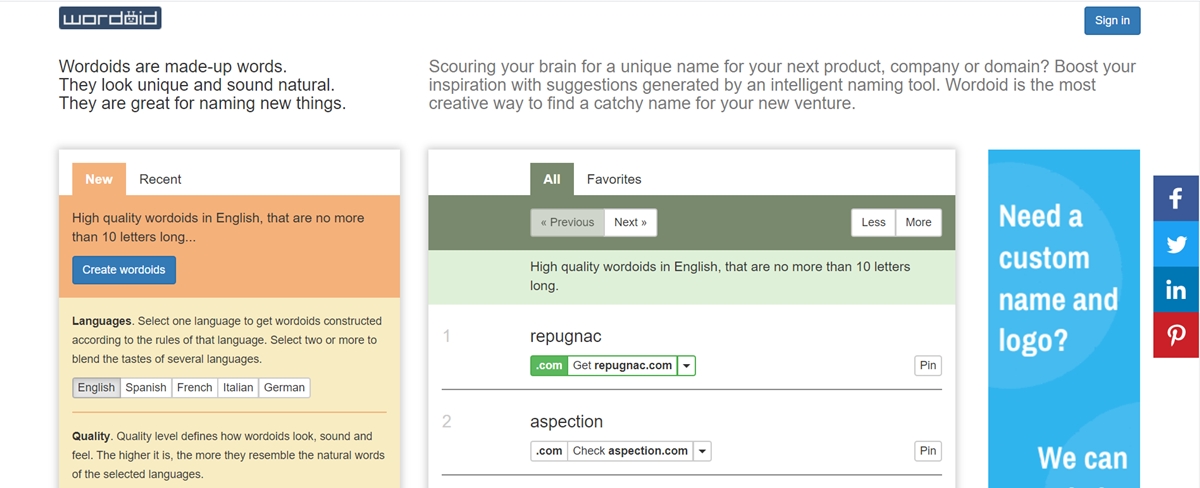 Wordoid is created to help you get available brand names. Just simply input your keyword under the Pattern part, and you click on the 'Create wordoids' button at the top, then you will see several domain name ideas on the right side. This Wordoid web can give you a great feature for altering the filter options in the column on the left side. As a consequence, you can get more precise results. Also, you can adjust your results depending on any pattern, length, quality, language, and domain name preferences that you might have as well.
21. Domain Puzzler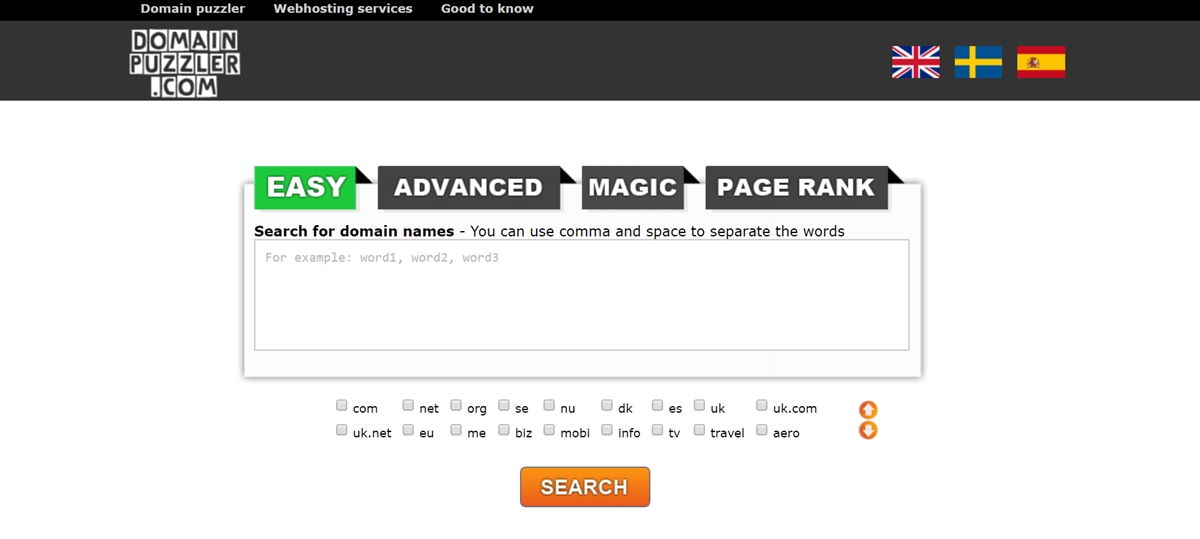 Domain Puzzler enables you to generate a domain name in three methods. The first one would be the exact domain that has the keyword. The second method would be the advanced one for you can insert other keywords that you want to see in your business name. The third one would be the one where you can type in the keyword you want and also popular words to get the matched result. Also, you are able to see the page rank of popular websites here.
22. Name Station
Name Station would be a great idea for those who look for a free company name generator with a list of great company name ideas. Just try adding the keyword you want in your brand name here, then there will be a screen with domain names shows up. What is more, you are able to sort the list to see available domains, which will help you simplify your search process. Also, Name Station also combines domain ideas to help you get inspired and get the perfect business name.
23. Freshbooks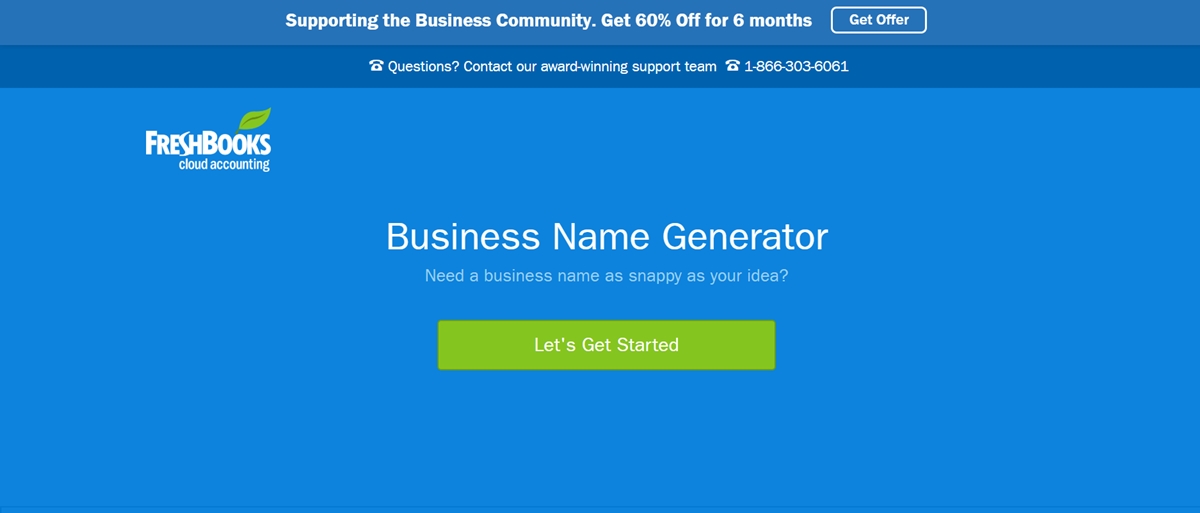 Freshbooks is a fairly interactive brand name generator. Just click the 'Let's Get Started' button on the page, then you will be prompted to choose your industry, such as creatives and marketing, trade and home services, legal services and business consulting, also information technology. After you get your industry, just type your keywords down, then it will show you some name ideas. If you have your chosen one, then it will show the result on a new page in a vibrant rectangle.
24. Wordlab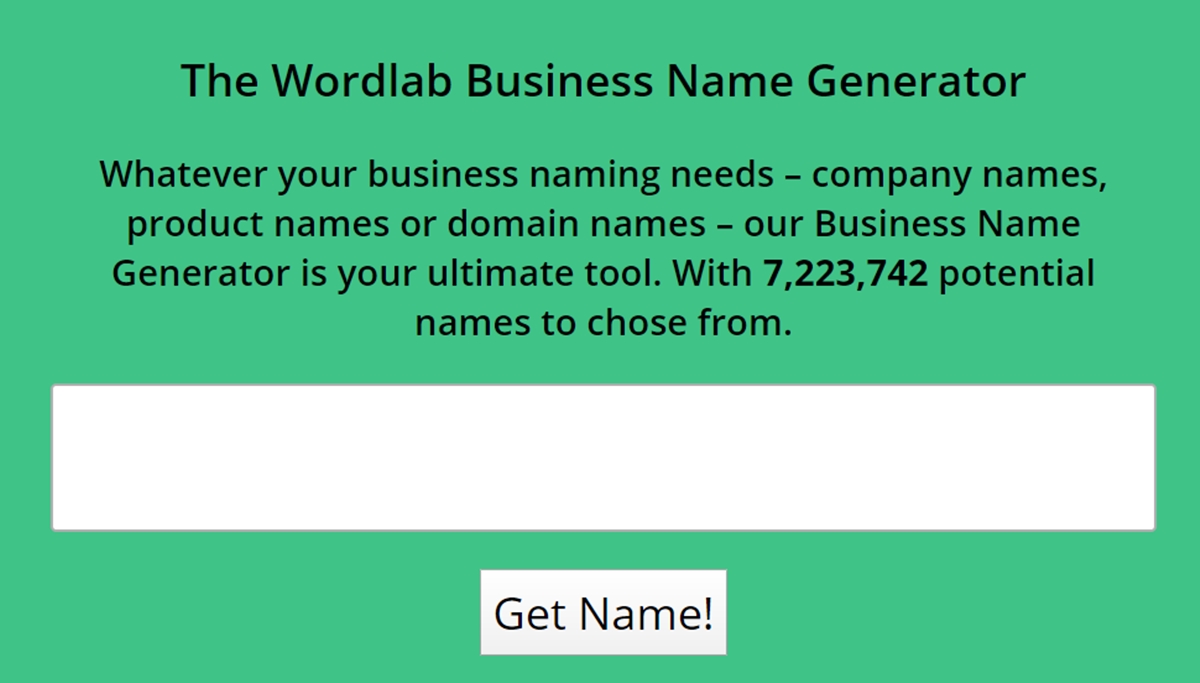 Wordlab is a company name generator that owns over 7 million potential names for you to choose from. However, they are not listed out for you, which requires you to discover them individually.
25. Name Mesh
Name Mesh is a good one if you have particular keywords you want in your new domain. It will recommend some relevant available domains depends on the keywords that you list. What is more, they also give you a list of available domains for the exact keywords that you have typed to view them easily. The page will be divided into some categories like common, similar, new, and fun after you press the button for results, which helps you get the right domain for you. The available ones will be put in the green text. Meanwhile, the red text represents the unavailable domains.
26. Cool Name Idea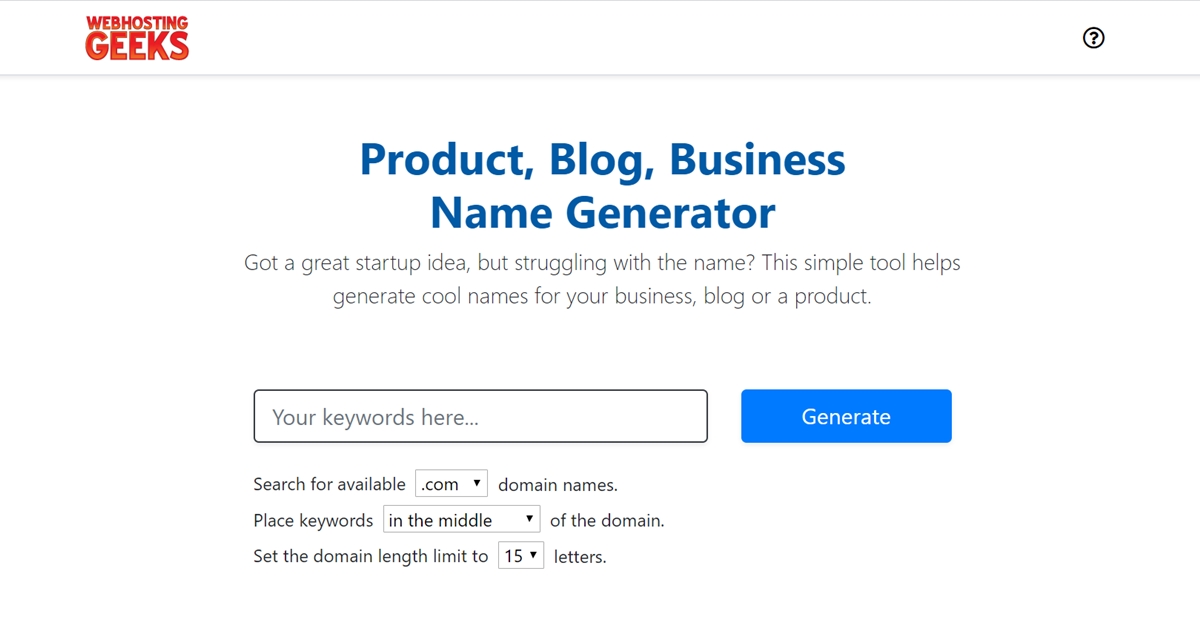 Cool Name Idea is another great business name generator. First, you will need to type down the words that describe your business, your business name's type, as well as the customer advantages of your business, also your business' traits, and the type of domain that you are looking for. After answering all these questions, just simply click at the result presented to you on the chosen name to check the domain availability. Cool Name Idea also provides you a step-by-step guideline on how to use it and which one will improve the user experience as well.
27. NetSubstance.com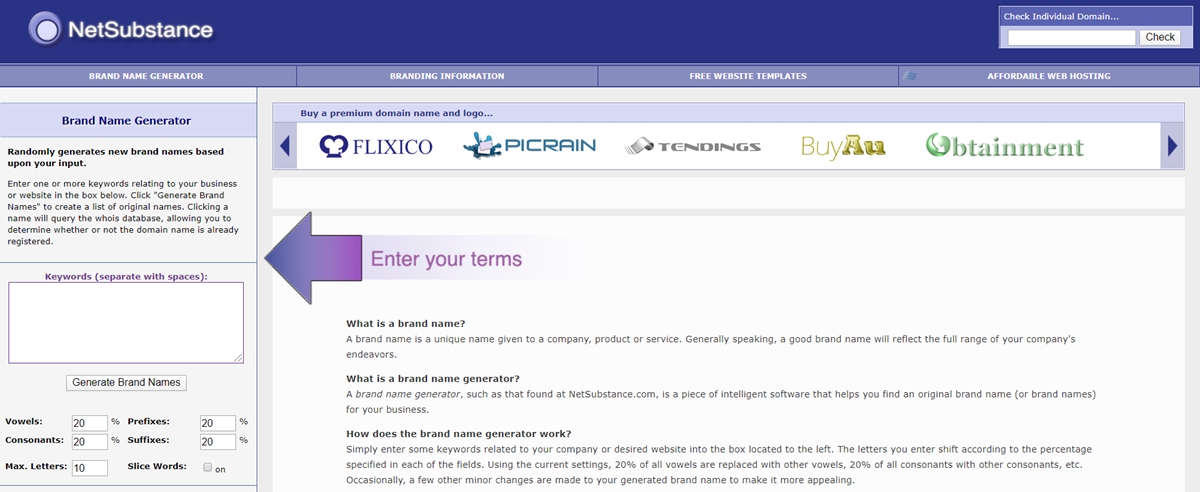 NetSubstance.com is a great one to randomly generate new business names depending on the keywords that you have just identified. Also, you are able to choose the way the letters of your keywords shift here to get more variations. After you have generated your list of names, then just click on them and see whether the domains are available. In case you like it, just purchase and create your business website that has your business name in the address.
28. Bust A Name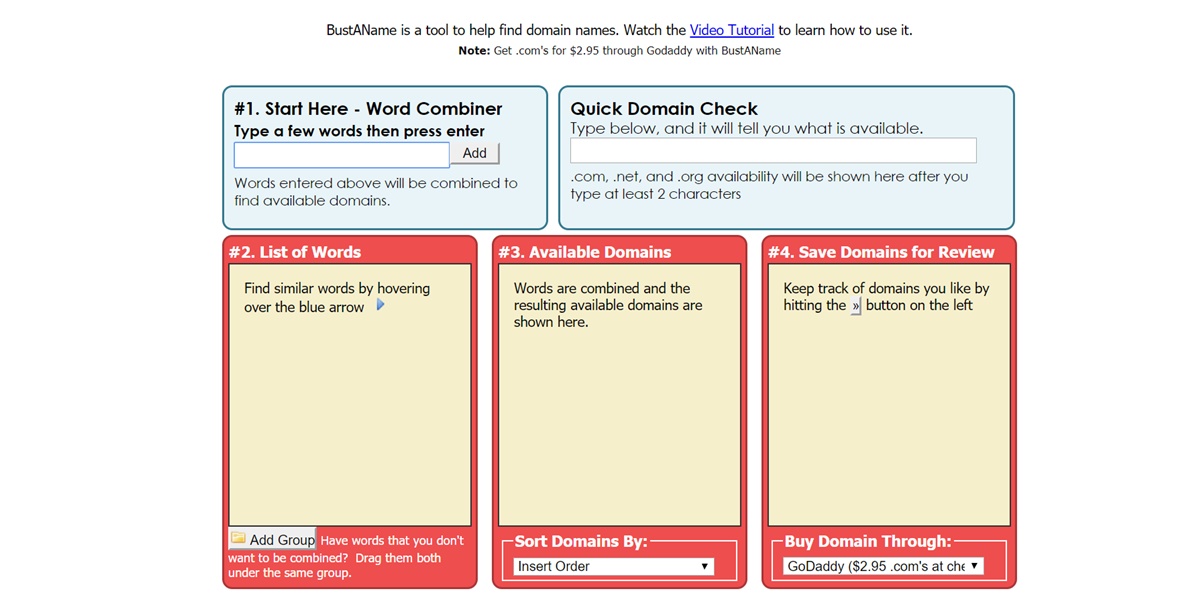 Bust A Name is also a great business name generator that adds so many related keywords and searching for available domain names. First, you are asked to add your desired keyword so that the tool can combine and search. Then, you will be able to look for some related word suggestions to get better names. That's not all, you can even input some prefixes, domain extensions, or 3-word combine choices at the end of the page of Bust A Name.
29. Panabee

Panabee is one of the coolest domain name generators in the list. Panabee is designed to play with your input keyword and give out available domain names instead of inserting multiple words. The vowels, letters from beginning or end will be removed, then it also combines vowels, swapping letters and many more actions. You will get the end results in various ways including the unreadable ones or short and cool business names. Panabee would work best if you add 2 to 3 words or your business idea here.
30. Domain Scope

Domain Scope is absolutely an advanced domain name suggestion tool that works by looking for available domains depending on input data. You are also provided the option to search by utilizing location that inputs the places name with input keyword as well as the business name ideas. Besides, Domain Scope also enables you to select some recently expired domain names and domains with existing traffic, along with a pretty amazing result.
31. GoDaddy Domain Suggestion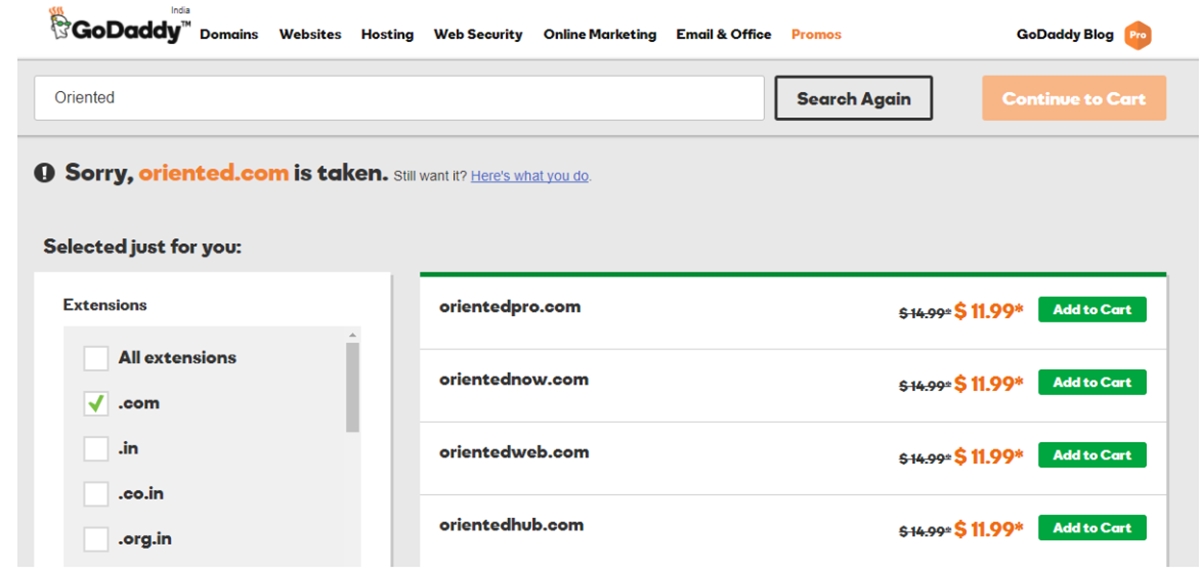 GoDaddy Domain Suggestion is not a tool to generate business name ideas in the technical aspect. However, you can still find some available names here. More specifically, when you search for a domain name that is not available, GoDaddy will get you some similar domain names as suggestions for you. Plus, GoDaddy also suggests auction domain names if you don't mind to pay more for it.
32. Renderforest
Using the company name generator on Renderforest, you can get a list of catchy and original company names that match your industry and interests. It uses AI-based algorithms to come up with name suggestions based on the keywords you deliver. With a large selection of alternatives, this user-friendly tool makes coming up with business names a breeze. It may make you stand out in a crowded market whether you're establishing a new business or rebranding an existing one.
Final Words
Have you had any choices of those above brand name generators above? Or did you have one brand name in your mind? If you haven't got one, you might need to visit some domain auction site with a multi-figure price. Just think creatively and break through the mental block to find the best possible name for your business.
That's a wrap! I really hope you like this article today about 30 Best Company Name Generator Tools. If there is something you want us to know, just leave a comment. You are always welcomed!
You Might Also Like:
---
Mike is a content writer at Avada, with a love for video games, gadgets, and software. He has been writing about the industry now for over 7 years. He likes to keep up-to-date with the latest software releases. He's also an avid reader, and he enjoys spending time outdoors with family and friends. When he's not working, you can usually find him playing video games or exploring new outdoor activities.
New Posts
Stay in the know
Get special offers on the latest news from AVADA.