11+ Best Free Blog Name Generators in 2023
When kickstarting a blog, it's a tough challenge to come up with an inviting name that can engage a large audience to read your content. The process of coming up with a name is not just about brainstorming some ideas then making the final decision. In fact, there are many other things to consider - from ensuring the name is unique and self-reflective, deciding on adding keywords to checking its domain availability after publication.
Everyone can all imagine how hard it is to handle all of these tasks manually. This is where a blog name generator comes in handy to help you minimize your efforts on unnecessary tasks. In this article, we will get a closer look at how a blog name generator works and suggest a list of 11 best blog name generators to start with zero budget.
What is a blog name generator?
A blog name generator is an online tool that helps you create an original name for your blogging site based on your keyword list or randomly suggests a name for you. A general blog name generator tends to check your domain availability and helps you register the domain name as well.
When it comes to blog naming, there are two main types of approaches to start with, whether you manually brainstorm or use an online name generator: based on keywords or based on brand.
Keyword-based name
Keywords are a group of words or phrases that are entered in the search engine to look for some specific information or solutions. Keyword-based names are generated based on the content-related words that users are digging in. For example, if you intend to start a book review blog, the keyword might be "a to z book reviews", and the generated domain name might be atozbookreviews.com. If the domain is not available, try to add some suffixes or prefixes for better variation.
The most obvious advantage of this technique is your blog will get a chance of higher ranking among search engines as the keyword is already included. However, it could have a two-bladed-knife impact if your blog content is not unique enough. New visitors may get lost in a pool of similar-sounding blog names, and your blog may not be their first choice if the content is not rich in SEO.
Brand-based name
The brand-based name is relatively opposite to the keyword-based name. It tends to have little relation to your blog content, and your visitors will have to relate to the written keywords or topics themselves. The name itself does not necessarily need a meaning, it just has to be catchy and engaging to potentially grow. However, it will take quite a lot of effort to build your brand when you are not influential enough - and the majority of success lies in the quality of your blog content in this case.
What makes a good blog name?
A blog name is not just a name - it's a concept, a branding element that associates readers with their writers' stories and experiences. Therefore, you as a writer cannot appear influential enough if your blog name is just average like any others. Having a captivating name means your blog has succeeded half-way through. The determinants of a good blog name are included in the following guideline.
Short and catchy
No further words needed. If you want to engage a larger group of audience and stick to their minds, your blog name should be easy to remember and stand out in the competition. A long and ordinary name is not a wise choice in this case.
Broad niche is highly recommended
You might already have a specific niche in mind, but going narrow with your set niche can be harmful to your content development process in the future. For instance, assume that you want to start a travel blog in New York, and in order to optimize keyword searches, you put New York in your blog name. The method may work at the beginning, but years later, when you find out that you want to expand your content to not just New-York-restricted, there's no turning back, or you will have to start a brand new blog.
Don't use any special characters
Special characters are normally not included in the domain names and blog names since they have quite a negative impact on your blog's aesthetic and vibe. Especially, hyphens should always be avoided. A hyphen is normally used to make domain names readable and to separate misleading word combinations. Using a hyphen somewhat indicates that your choice of word is just not as good.
Avoid commercial brand names
If you don't want to get issued with copyrights, then do not include even a part of a commercial name or trademark in your blog name. Writing about a certain brand does not necessarily mean adding its name to the domain. In this case, going general is a better choice.
List of 11 free blog name generators:
1. Name Generator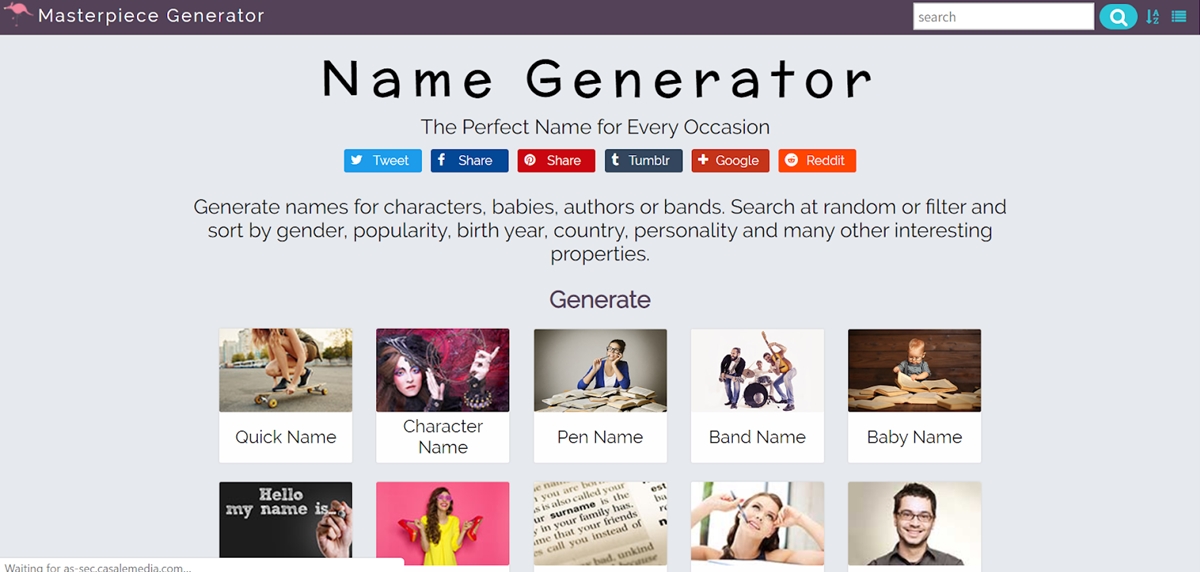 A pool of amazing ideas will "ooze" out when you play with Name Generator. This blog name generator is perfect for bloggers who seek inspiration from randomness as the generated names will be made up of your own verbs, adjectives or anything you can think of.
Especially when you don't want to type any personal or specific keywords, you can click the "Suggest" button and let the tool randomly select a name for you. The returned results will surprise you as they are unexpectedly creative, from classic combinations to interesting wordplays or puns.
However, these suggestions are limited, and the generator is not supported with the domain availability check feature. It might be a bit inconvenient as you will have to use other testing tools to check if your chosen blog name has been published, but overall, this blog name generator is still a great option for initial brainstorming.
2. Business Name Generator (BNG)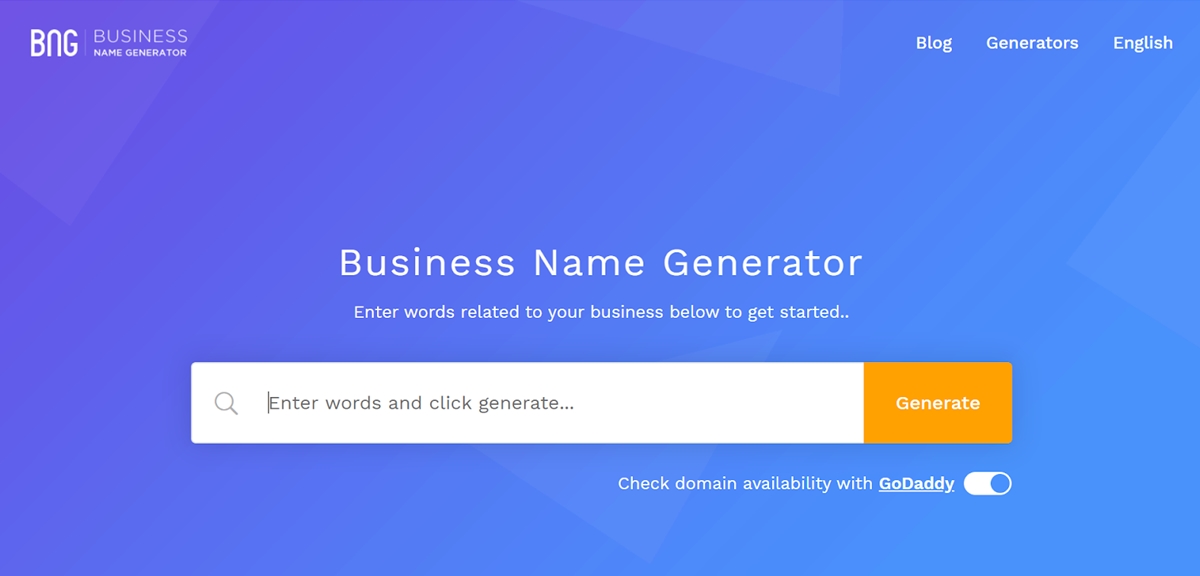 Business Name Generator is another name generator that minimizes unnecessary steps to shorten your blog naming process. You will just have to add a word or a group of words that you like, and then the tool will continuously come up with a list of name ideas. BNG also identifies which domain names are available directly via GoDaddy.
Unlike other name generators, this special platform offers several filter features including a word or character count and industry categories. Also, you can save your searches and create a list of your favorite ones to review later.
For further information, Business Name Generator also includes business naming and branding guides to give users more in-depth instructions and advice on how to create the perfect business name idea.
3. Domain Wheel
Domain Wheel is a keyword-based name generator that gives you many useful suggestions for your blog name. Just type in one or a group of keywords and the tool will automatically return you all available options. By clicking the "Search Domain" button, you'll be able to filter your results according to the selected extensions.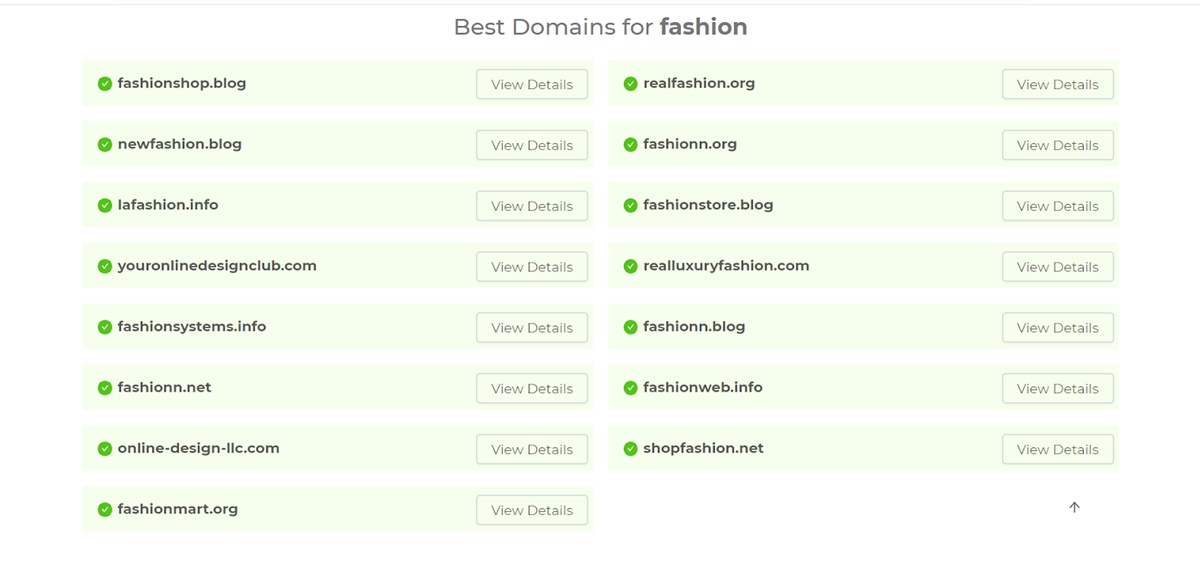 If you are not satisfied with the returned results, you can scroll down a little bit to get recommendations of random names to get some sort of inspiration. In the world of creatives, randomness might be the key.

Also, one special thing about Domain Wheel is that it will also recommend some words that rhyme with or sound similar to your entered keywords. This is an interesting and innovative technique to create wordplays that impress the audience.
4. Nameboy
Nameboy is one of the most popular names in the name generator market thanks to its ease of use and adjustability. The tool helps come up with suitable names for your blog based on your keywords. All you need to do is to enter your phrases and click the 'Submit' button. Then, it will generate tons of creative blog names for you to choose from. Nameboy's name generating system is quite similar to Domain Wheel's, so feel free to check out both.
Once you find the name you want, add it to the cart. You can also save the name for later domain registration. The domain will be registered with Bluehost, and you can buy a hosting service there as well. Add any other domain name that you already own to the cart.
Subsequently, you can check out the domain names from the cart page and buy them. When you create an account with Nameboy, you can manage all the domain names you own from that account, no matter where you registered the names.
5. Panabee
Panabee is a useful site for generating both blog and domain names. After the keywords are entered in the search bar, a list of results will show up. However, since this name generator is super random, you might not be satisfied with the very first results. This may sound risky and time-consuming, but it's an unexpectedly effective way to trigger imagination and creativity when you are struggling with blog naming.
For a higher probability of success, you should try to customize your keywords list for better variations and compare different name suggestions on social media to test the public preference and interest.
Also, the site offers a pop-up suffix menu to suggest domain availability. A blue heart indicates an available domain, while the unavailable ones are given a broken red heart. Domain availability for related social media account names or even app titles can also be examined. You can also change the domain extension to the one you want as it supports .com, .org, .net, .us, etc. and check their availability.
6. Lean Domain Search
Lean Domain Search can be considered as an evolution in the name generator market. When the keywords are entered, the site will quickly direct to a new page where only name options with available-to-register domain names will appear. The available name ideas are displayed in green boxes while the registered ones are in pink. You can sort the results by popularity, length, or alphabet. Other than that, you can also filter the names that start or end with your search phrase.
Once you click on a name, you will be directed to a pop-up window where you can register a domain name and create a site with WordPress or just register the domain through registrars including Bluehost, GoDaddy, Network Solutions, or Namecheap.
The availability of the name as an identical Twitter handle is also included in the window, but oddly, other social media platforms aren't addressed at all.
7. Wordoid
Wordoid is a great option if you're looking for some refreshing and out-of-the-box name ideas. The tool allows users to find available brand names by simply adding the keyword under Pattern, then clicking the 'Create wordoids' button at the top. On the right side, there are numerous domain name ideas to consider. The left side of the page shows an advanced feature where users can alter the filter options in the displayed column to get more precise results.
One interesting thing about Wordoid is that it supports 5 different languages for you to freely bend them together. The quality option bar from low, medium to high is also a highlight feature - the higher the quality is, the more applicable your wordoid can be.
For the length, you can set a minimum of 5 characters and a maximum of 15 characters for a wordoid. The tool also offers a domain availability check, and if you want to purchase the domain name, you will be directed to GoDaddy. The money spent may get Wordroid some affiliate commissions as well.

8. Wordlab
The name "Wordlab" really says it all - a laboratory of words. The tool has set a new boundary for name generators and brings a whole new experience to its users.
Although they have 7 million possible name ideas from restaurants, sports teams, or anything you can think of, they make their users discover themselves. There are no such things as input options or keywords, all you have to do is to press the "Get Name!" button to see what comes up until you find the business names you like.
This method may sound risky and random, but the suggested ideas, with unlimited creativity, are totally worth a try, whether you're stuck or overwhelmed with the blog naming process.
Also, when you become a member of Wordlab by signing up a Wordlab account (for free), you can open a topic for your naming project on Wordlab Forum and let the people of Wordlab community suggest some names for you. Suggestions from other people might trigger some ideas to start with.
9. Name Mesh
Already had some keywords in mind? Name Mesh is here to help you with the rest of the naming process. Name Mesh is one of the most domain-centric name recommending tools as they give domain suggestions based on your keyword list.
When the keywords are entered, the site will divide its suggestions into 8 categories including "Common", "New", "Short", 'Extra", "Similar", "SEO", "Fun", "Mix" to help users select the most suitable domains for their demands. Thousands of various name ideas are respectively suggested based on these categories.
Name Mesh also provides a signaling feature for domain availability check: the available domains are in green text, while the unavailable ones are displayed in red. Moreover, this name generator does not limit title characters for users to match their preferences. Especially when users have some ideas for a compound name, NameMesh is capable of "consulting" if the word groups are meaningful or attractive enough, which will considerably fasten the naming process.
10. IsItWP
IsITWP was initially a tool for WordPress only, but it can be applied to optimize your blog naming process as well. By simply adding some keywords or a possible brand name, then click the "Generate Names" button, and you will be suggested with tons of interesting and highly-applicable blog names.
The results are returned with different domain names for you to choose from. When you've decided on a name from the suggested list, you can click "View Details", and IsItWP will enable a domain availability check via Bluehost. Since the number of name generating clicks are not limited, you can start a new search with new keywords again.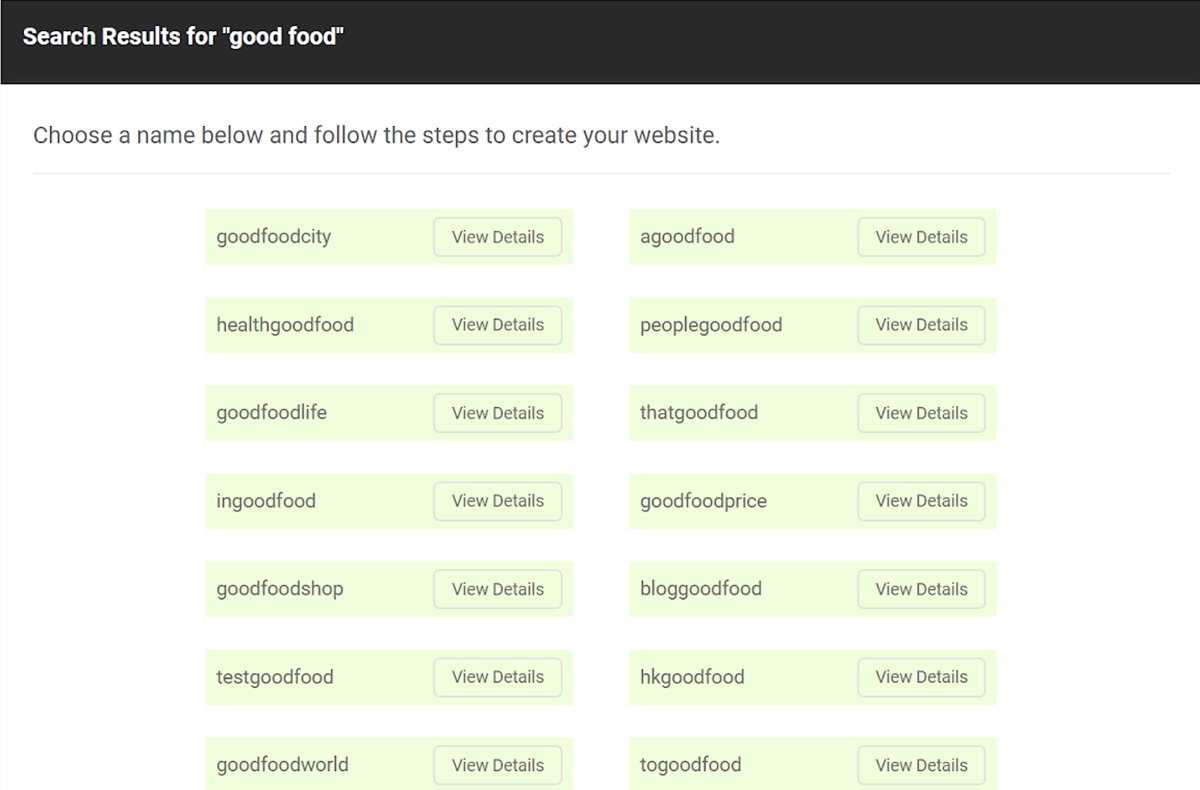 11. NameStation
If you're looking for a free blog name generator, NameStation will provide you with a list of great name ideas. You'll add the keyword you want in your brand name and a screen with domain names will appear.
You can even sort the list to view available domains to simplify your search process. They'll provide you with pages of domain ideas that can help inspire you to create the perfect blog name. By combining creative thinking with powerful research tools, this name generator can help you find an outstanding blog name that attracts a huge audience.
Final Words
Overall, choosing a proper name for your blog takes a lot of work, since the chosen name will be your personal branding trait that defines who you are as a writer. Therefore, it's necessary to make wise investments in your time management, since you will not like the idea of rebranding or renaming your blog once you've run your blog.
Take advantage of technology by using these blog name generators, or even combining these tools together to trigger some ideas and creativity. Good luck on building your name.
You Might Also Like:
New Posts
Stay in the know
Get special offers on the latest news from AVADA.