14 Best FREE Social Media Management Tools for Marketers in 2023
A marketing strategy can't be comprehensive enough without the implementation of social media. In fact, in today's technology-driven market, your social media presence is what really matters to extensively take the lead. An all-in-one inbound marketing strategy involves the simultaneous combination of various social media platforms such as Facebook, Twitter, Instagram, Youtube, LinkedIn, and many others - but keeping track of multiple running accounts would take a whole time and effort.
Each platform operates under a significantly different algorithm, and it would be extremely time-consuming to go through every account in a repetitive process: making posts, checking messages, managing reach and engagement rates, etc.
There must be an optimal solution that synchronizes this frustrating and inefficient process while maximizing the performance of your social media presence. The best and most modern way to streamline the operation of your social media is by utilizing social media management tools, and they generally don't even charge a penny.
In this article, we will take a more concrete look at the 12 best free social media management tools, and find out what are the best tools to meet your needs.
Getting started with social media management
What is social media management?
Social media management is the process of controlling the contents posted on your social media channels such as Facebook, Twitter or Youtube, and their interactions with readers on the platforms.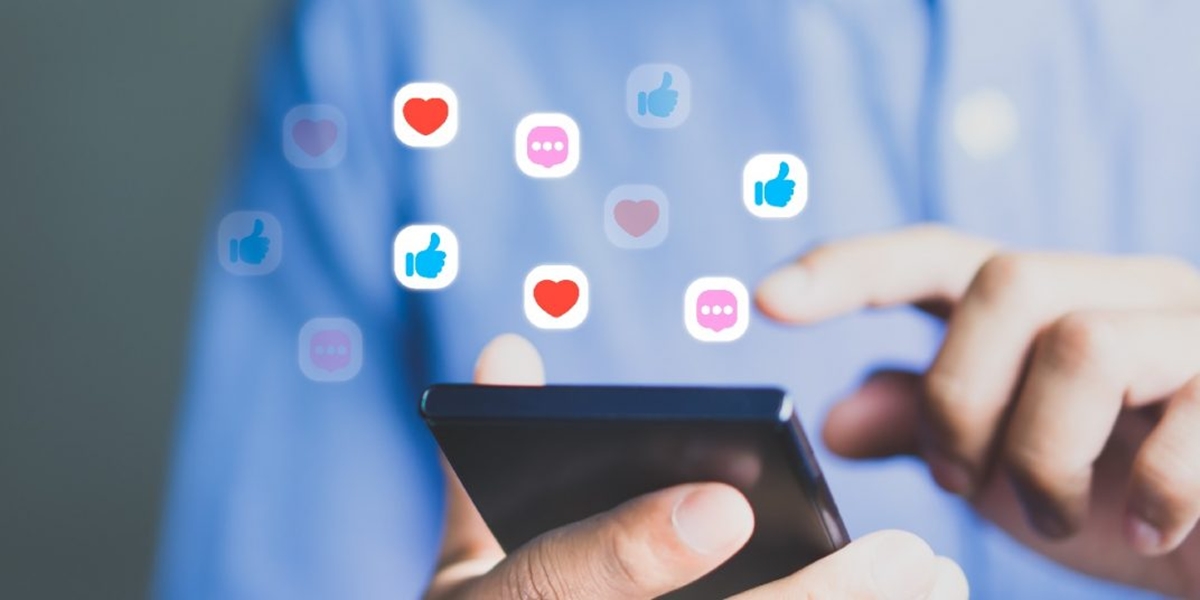 Other than posting content and updating your social media profiles, social media management is more about engaging new visitors and maintaining the brand's existing public presence reputation. A social media manager must excel at dealing with every social media activity to develop an inclusive strategy on how to look for opportunities to increase reach and visibility with original content.
Key elements of social media management
Social media management is a general process - and to break it down into smaller pieces, the following are some specific activities that a social media manager has to handle:
Create original content
Schedule posting timeline
Monitor comments to sort and respond
Track posts engagement
Analyze posts' performance reports and analytics
Manage multiple accounts across different channels
Using social media management tools
There are two common methods to manage your social media - by using social media management services or tools. Social media management services tend to focus more on elements that help improve the quality of your promoting content, such as targeted posting or sponsored advertisements. However, this method only works when you have built a solid foundation for your social media marketing strategy.
For beginners who are looking for a low-budget solution and demand to increase the quantity of your content first, the integration of social media management tools might be the best choice as these platforms can help manage your projects with the comprehensively designed interfaces. Not to mention that these tools are relatively affordable or even free of charge to help you kickstart your plan in the most money-saving way.
The following section will provide you with a list of the best free social media management tools to test with zero budget.
List of 13 top-rated free social media management tools to organize your accounts
1. Socialoomph

Socialoomph has been stable in the market since its establishment in 2008. The tool may not appear with a various feature list, but its post scheduling and queueing functions are powerful enough to outperform many other competitor platforms.
Contrary to its overly simple interface, Socialoomph offers more benefits than you think. With Socialoomph, you can manage your postings as a team or an individual, from assigning posts, adding associates, organizing privileges and configuring post approval. Your posts will then be perfectly scheduled at the exact time and location of your choice - then added on your social feeds automatically as you have queued. Apart from scheduling and queueing, Socialoomph also provides other significant features such as RSS feeds, bulk uploading, self-destructing posts or post flood control.
Like the majority of social media management tools, Socialoomph has both free and paid pricing plans. With the free plan (Personal Suite), you're allowed to schedule unlimited posts (three posts per hour) in one profile account as one user. Premium plans on Socialoomph are exceptionally affordable - even the Business Suite version, which is the most expensive, only costs $55 per month. All these paid plans can be billed monthly or annually, with annual payment earning a 10% discount. The prices vary depending on the number of features and functions, so you can consider the best choice for your business's scale and needs.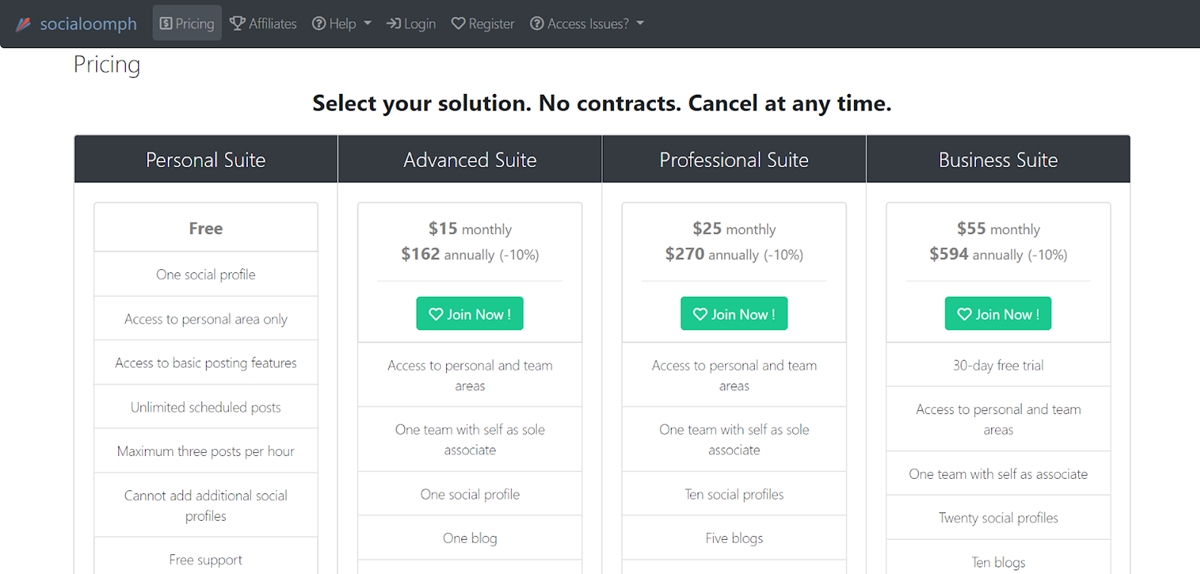 2. Hootsuite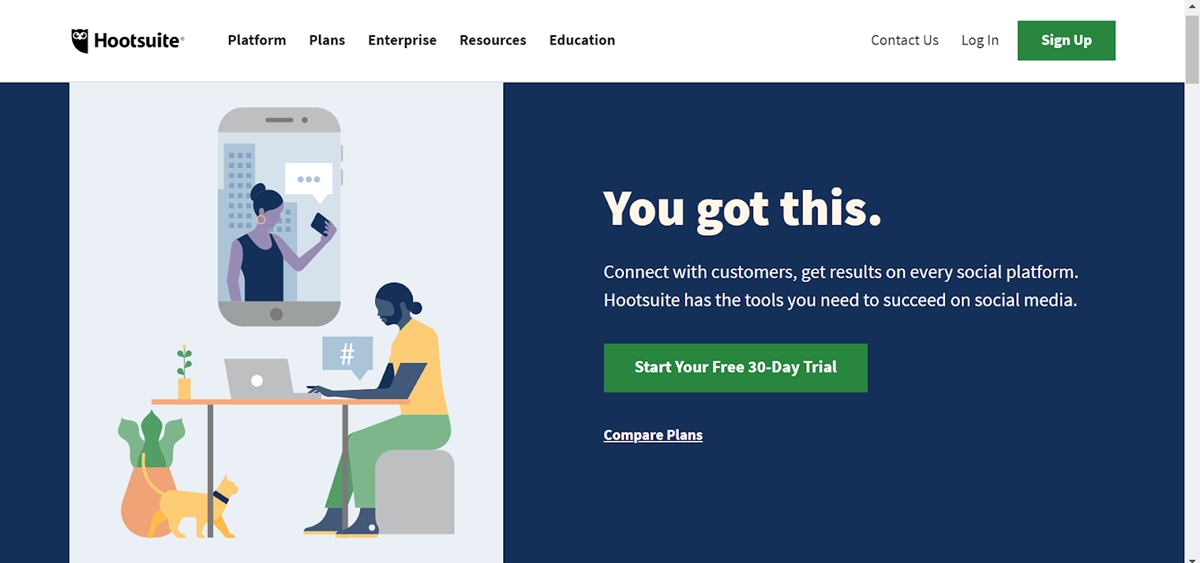 Hootsuite is one of the most popular and effective tools that provide what you need to win over the social media game. Like any other tool, Hootsuite offers both free and premium plans, with the free plan being relatively sufficient for the initial stage of managing your social media accounts. When you start the free plan, you're allowed to manage three profiles at once, schedule around 30 posts a day and integrate with over 150 other apps at ease.
This platform operates strictly with the stream system: you add a tab for every of your social media accounts on the streams, and each account has a stream as well. For example, for one Twitter account, you can set streams for your scheduled posts, your mentions or your shared posts.
Hootsuite mainly focuses on posts publishing - and in order to experience comprehensive social listening capabilities, you will have to install a separate app called Hootsuite Insights. There are numerous ways to publish your posts on Hootsuite based on your own requirements, and no matter what method you use, you will still be equipped with advanced features, especially the post scheduling and publisher screen. The best thing about Hootsuite is the ability to Schedule Instagram Posts, Facebook posts, and LinkedIn posts in advance and then have them sent out at the best time with the help of AI.
Pricing plans on Hootsuite are quite affordable. Apart from the mentioned free plan, there are other 4 paid plans: Professional, Team, Business, Enterprise, with the price ranging from $19 to $599 per month. As for the Enterprise version, the price is custom depending on how you contact and negotiate with Hootsuite. Though the free plan is quite robust, we would still recommend paying some money to fully experience the premium features.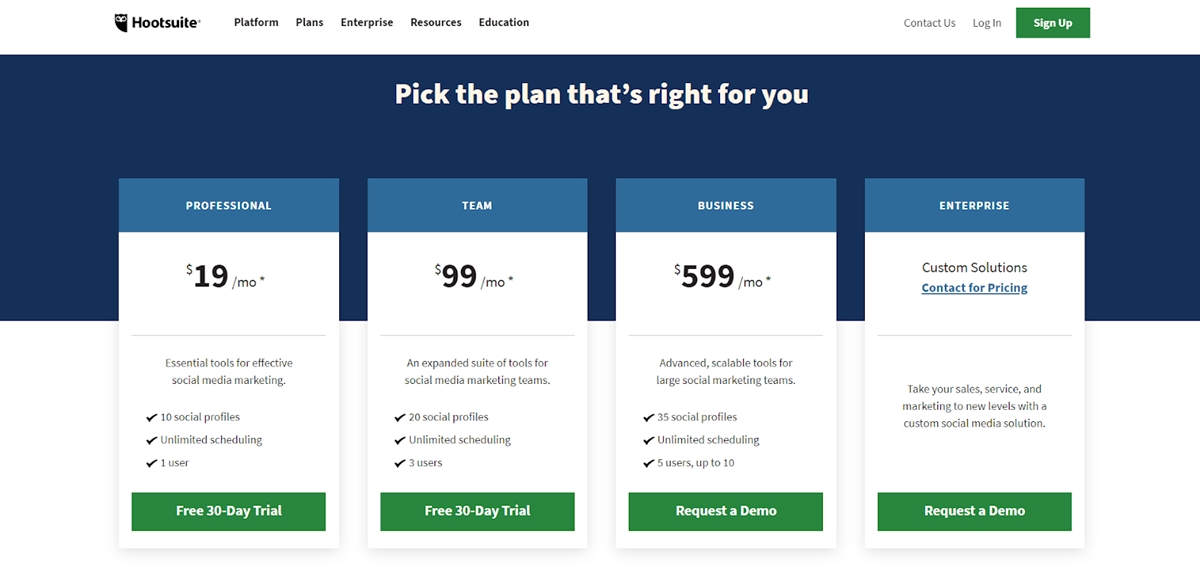 3. Buffer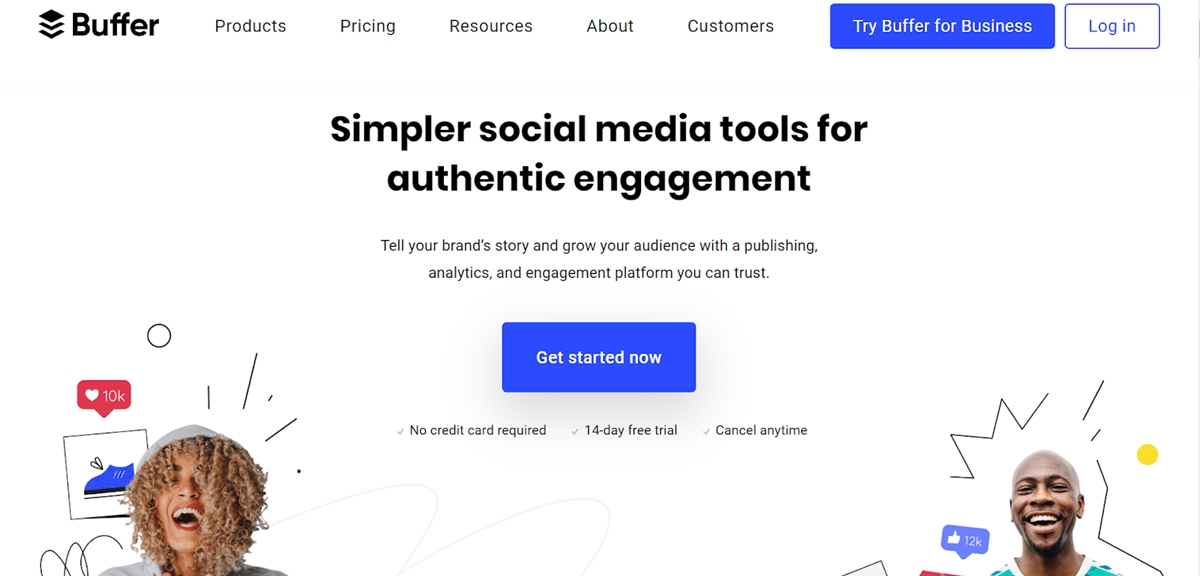 Buffer has been a prominent name in the market for quite some time. The tool is an all-in-one solution for social publishing, with many outstanding features to manage multiple social media profiles seamlessly.
Of all the features, the scheduling functions on Buffer are the heart of the platform. You can easily organize your scheduled posts in a queue list and scroll to monitor them across various social channels. With Buffer, you can also keep track of your users' activities, then the tool will suggest the perfect time to post and engage based on the frequency of these activities. The platform offers both free and paid versions, and if you choose to start with no costs, you can link 10 scheduled posts across 3 different social media accounts and have one user.
Also, if you test Buffer publishing with the free trial, the results may not fulfill your expectations. There will be only three menu items at the top of the main dashboard - Queue, Analytics, Settings - along with your attached social media profiles. And things are not what they seem - you can only create and schedule (up to 10 posts), and Buffer won't queue them or hand you a proper analytics report other than a list of posts you created in weeks.
About the prices, except for the free plan, Buffet offers other paid versions specifically categorized for post publishing and analyzing. For social publishing, you can choose from the Pro, Premium and Business plans - and you will get a full Buffer publishing feature list from $65 per month only. For social analytics, there are two monthly Pro and Premium versions, starting at $35 per month. You can opt for annual subscriptions for all plans to save up to 20%.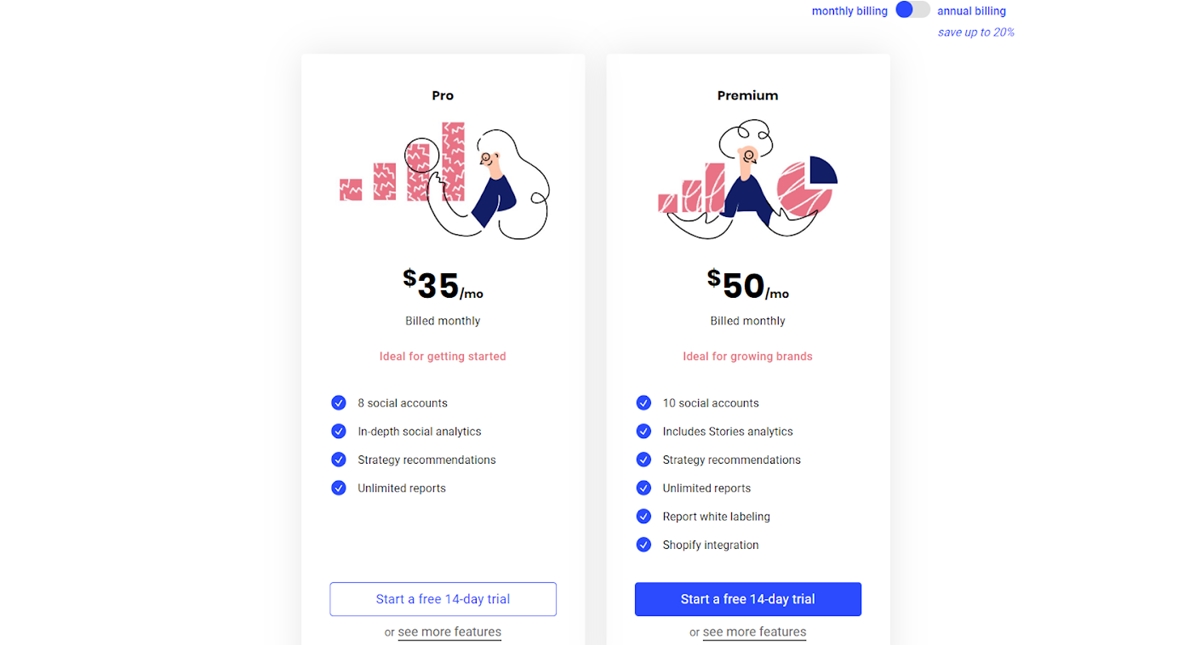 4. Planly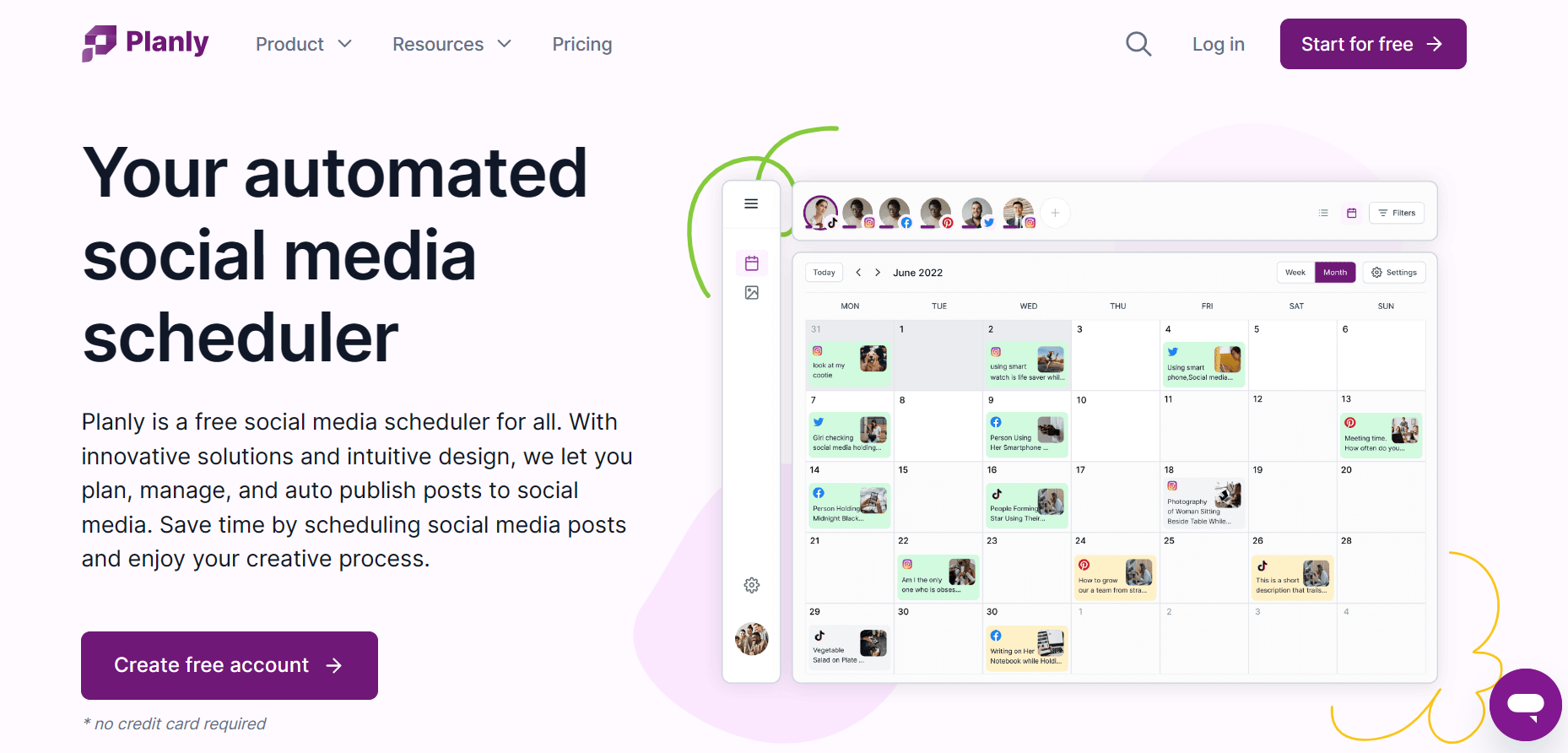 The best social media post-scheduling tool for content creators, social media influencers, entrepreneurs, and those working with a social media team is Planly. With Planly, it is possible to schedule posts on social media platforms such as Instagram, TikTok, Twitter, TikTok, Pinterest, LinkedIn, Facebook, and Google Business Profile. The main difference from other social media scheduling tools, Instagram posts, carousels, and reels will auto-publish a further push notification. So you can schedule your posts and videos in just one step. You can change your posts to any other day using a drag-and-drop calendar.
You can download the picture, video, or GIF you will use when scheduling using Planly's unlimited Media Library, or you can add it to the calendar by dragging and dropping it from the device.
Another advantage of Planly is that it has a free plan. No credit card is required when using the free plan. Here you can add 1 user and 2 social channels. You can also schedule 50 posts for each social channel.
In the starter plan, by paying $15, adding 1 user and 4 social channels, 100 post scheduling is possible for each social channel. The Pro plan, which users most preferred, costs $40. Here you can add 4 users and 8 social channels. This plan is ideal for marketing teams. Scheduling 200 posts for each social channel is possible in this plan. The plan with the most features is the Gru plan, which is convenient for those who share multiple social media accounts. The price of the Gru plan is $80, and it is possible to add 8 users and 16 social channels. The best feature of this plan is unlimited post-scheduling for each social channel. You can use your free trial for 14 days for each plan.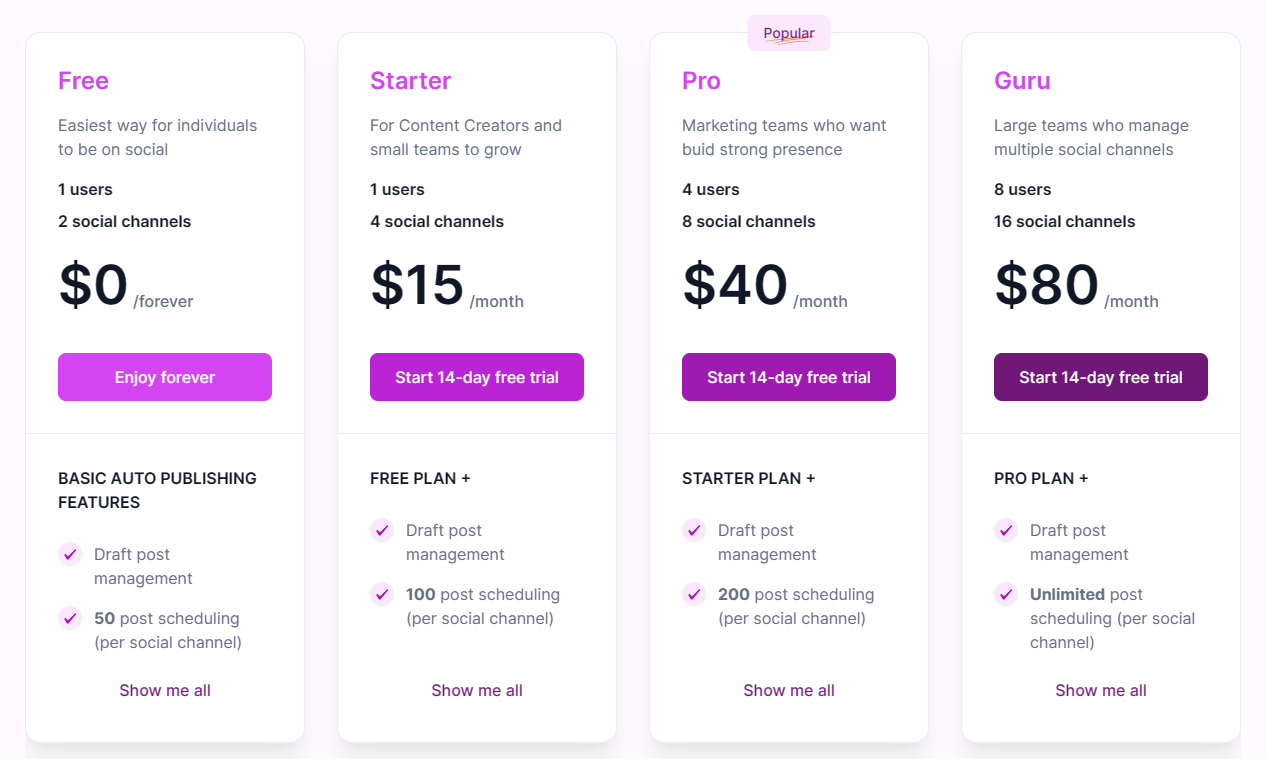 5. Loomly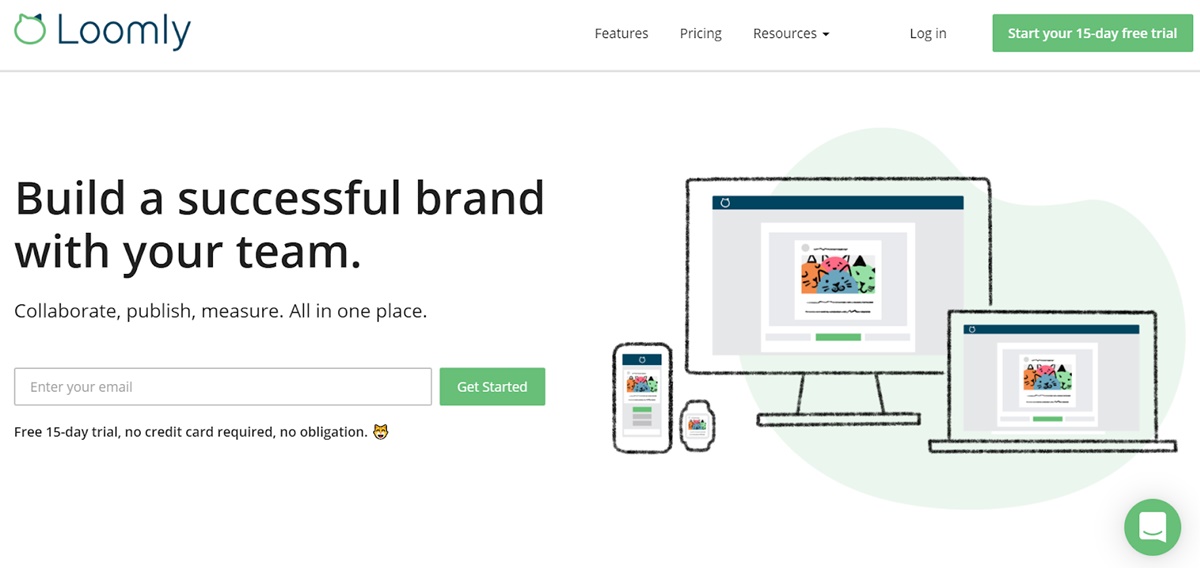 Founded in 2015 and through numerous advancements, Loomly has become one of the most robust social media management tools in over a span of only 5 years. The tool has been great assistance that helps structurize the management process for many social media managers.
When you first access Loomly, the first thing that attracts you will be the super-friendly interface. Loomly has succeeded in delivering optimal user experience by providing lots of white spaces and black texts. You can connect your Facebook, Twitter, Pinterest, LinkedIn, and Instagram profiles to Loomly, but for Facebook, you will have to post with your business accounts and not your personal ones.
On Loomly, your post managing process will be optimized in the workflow system, and Loomly will suggest then ask you to select a workflow that is suitable for your business scale. Every step of the social management process is made clear and concrete enough to streamline your work, so you don't have to worry about missing any important steps.
Also, Loomly's feature list is extremely useful and versatile. Apart from the automatic post scheduling with calendar, the platform generously offers many others such as post ideas for inspiration, ads manager, post and ads mockup, post viewing and dashboard, interactions manager or advanced analytics.
Pricing on Loomly varies depending on your own needs for your business. There are 4 fixed paid plans ranging from $34 to $332 per month, with annual payments saving up to 25%. There's also an Enterprise version and you will have to contact Loomly to negotiate the prices. Loomly doesn't include a free plan, but you can try all of their paid plans for 15 days free for initial testing. The most recommended plan by Loomly themself is the Standard version for $76 per month.

6. Later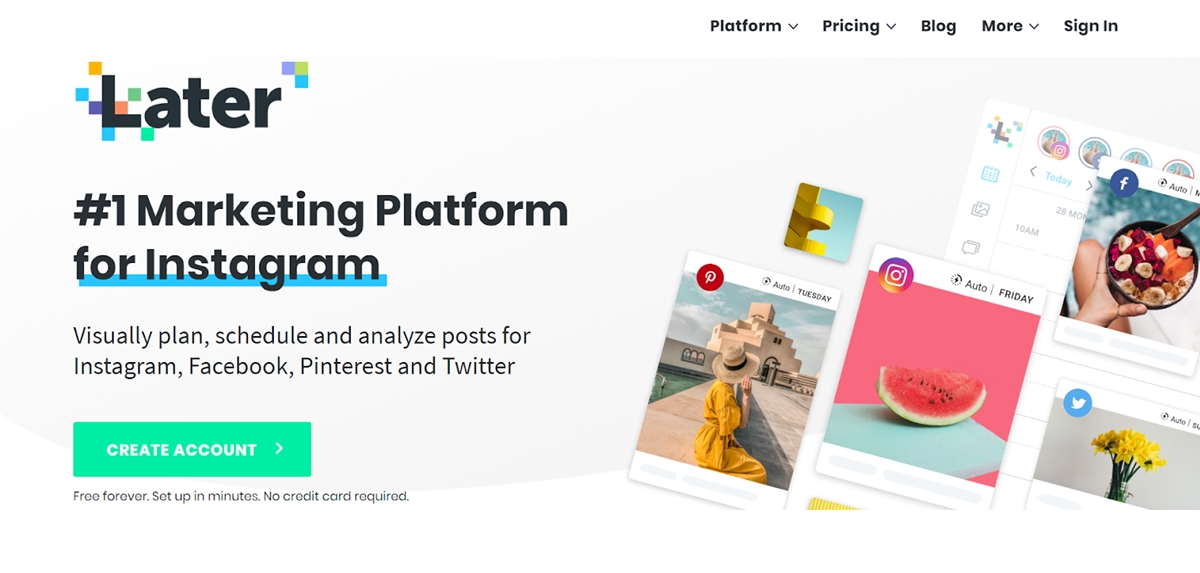 Everything about Later is visuals - it is one of the best platforms to bestow your social profiles a fresh and appealing look that captivates the public's eyes. The tool works well with Facebook, Twitter, or Pinterest, but its emphasis is mainly on Instagram - and that's why it prides itself on being the number one Instagram scheduler.
Unlike other social media management platforms, Later requires you to add an image first, then insert the corresponding text content later. Because Later is a visuals-centric tool, its highlighted feature lies in the media library. Before you start your post, you can upload a new media, or reuse what is already existent in the library. You can add any notes or labels to your posted graphic, or use a Star to highlight them. Thanks to these features, filtering posts on Later is no longer challenging as you can sort your images by the added Labels or Star, by the type of media or by the time frame your images were posted. Later offers unlimited media storage, so no worries to adjust it.
As mentioned earlier, Later is an Instagram-featured platform, so its functionality to support Instagram users are obviously more optimal than Facebook, Pinterest or Twitter, although setting up these platforms on Later is relatively easier than Instagram. You can plan your Instagram feed for one week with a drag-and-drop, organize your Instagram media in one place, analyze your posts' performance with Instagram analytics, or search any Instagram posts by using hashtags to find suitable content for reposting.
Pricing plans on Later are quite various. Later does offer a free plan allowing one profile and 30 posts for one social platform - and you can schedule your photos with the visual planner, upload unlimited images to the media library, access the saved captions, search by hashtags, and see your basic Instagram analytics. The paid plans are relatively affordable, ranging from $9 to $49 per month, and you can save up to 17% with yearly billing. The higher the plan is, the more advanced and diverse features you can get.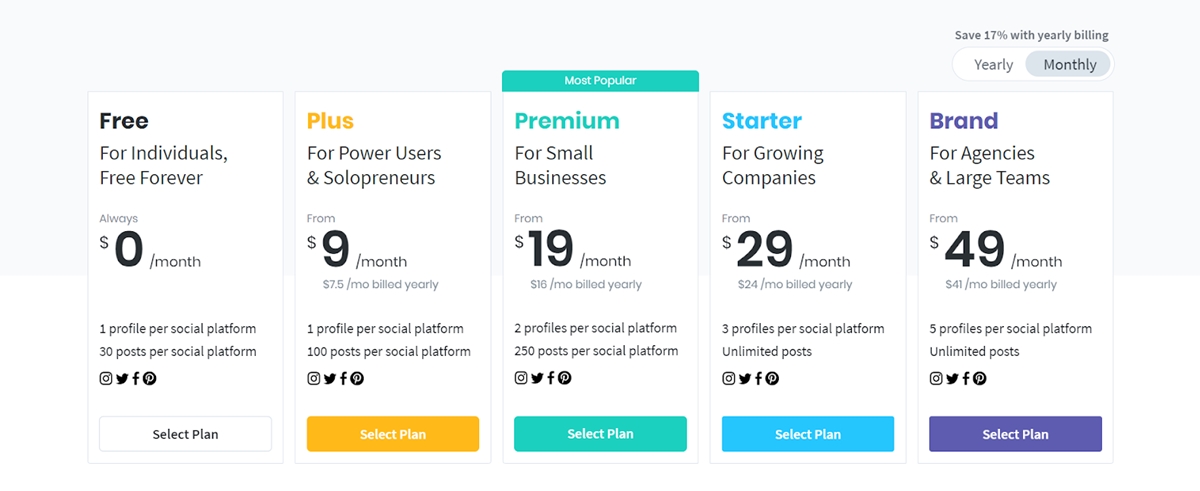 7. Plann
Plann is a tool that offers a variety of features to help users optimize their social media strategy, Plann is also a powerful social media management tool that helps businesses and individuals plan, schedule, and analyzes their social media content. With Plann, users can easily create a content calendar, schedule posts, and track performance.
One of the key features of Plann is its user-friendly drag-and-drop interface, which makes it easy to create a content calendar and schedule posts. Users can also easily repost content, set reminders, and even collaborate with team members on the platform. Additionally, Plann offers a range of customizable templates, making it simple to create consistent, visually appealing content.
Another major benefit of Plann is its analytics and tracking capabilities. The platform offers in-depth insights into the performance of your social media accounts, including metrics such as reach, engagement, and follower growth. This information can help users identify what content is resonating with their audience and make informed decisions about their social media strategy.
Overall, Plann is a comprehensive social media management tool that offers a variety of features to help businesses and individuals plan, schedule, and analyze their social media content. With a user-friendly interface, customizable templates, and robust analytics, Plann is an excellent choice for anyone looking to improve their social media presence and grow their audience.
8. Meet Edgar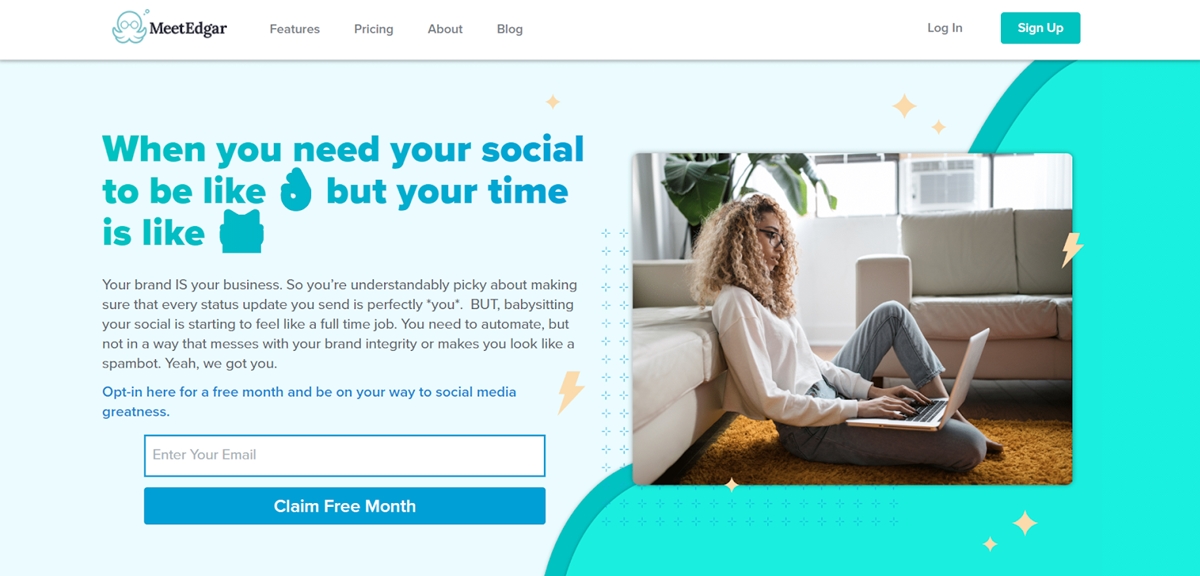 Meet Edgar may not offer a comprehensive feature list like other social management platforms but it is an ideal option for businesses that aim to engage by queueing and emphasizing content. The tool is not supported with full social listening capabilities, but it does include the basic functions that are adequate to streamline your managing process.
Post scheduling on Meet Edgar is relatively competitive compared to other tools. You can schedule your content at ease with different categories across multiple social channels. Meet Edgar will suggest some default categories so you can consider choosing them directly or customizing them to fit your styles and purposes. Once your social accounts are connected to Meet Edgar you can start your scheduling by selecting the time and date for your posts throughout the week and deciding on the category for each post.
There are various ways to create posts on Meet Edgar. You can directly add your original content or import content through an RSS feed or the CSV spreadsheet that includes all the posts. All your content will be easily managed in Edgar's library. Once approved, your content will be queued for the next 2 weeks, then Meet Edgar will automatically select the most newly-updated posts to add, but you can shuffle your posts in random order.
About the pricing, Meet Edgar only offers one default plan for $49 per month, with annual payment saving up a month of subscription. You can test the features with a free 14-day trial in advance, and when you have decided to pay, you will get access to Meet Edgar's full feature list, with 25 social profiles available.
9. Sprout Social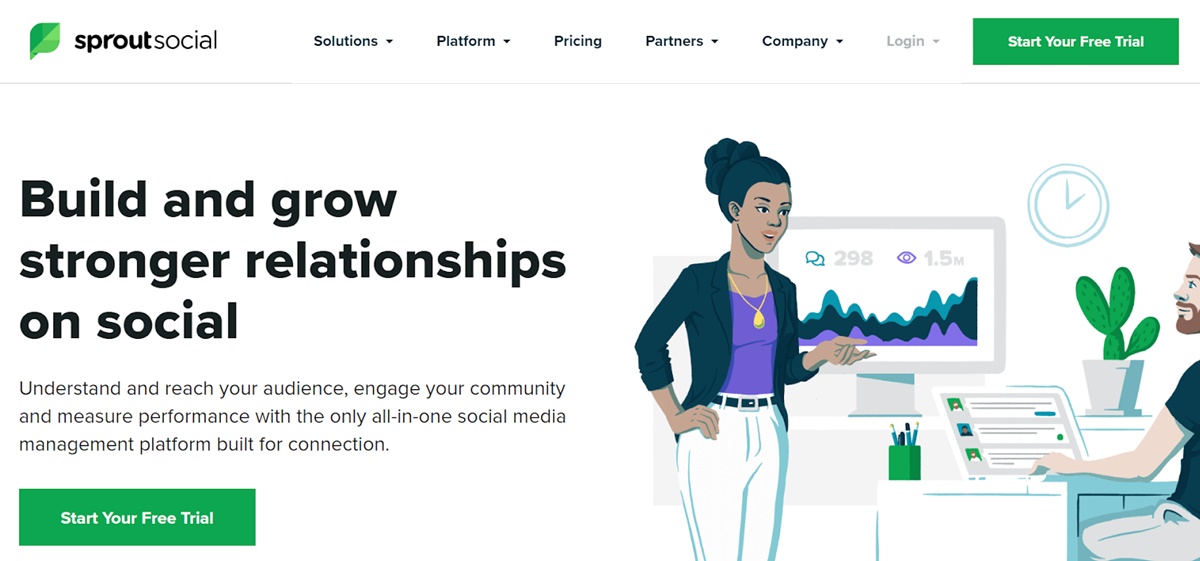 Sprout Social is one of the most optimal solutions to connect your social media accounts seamlessly. The tool is widely trusted by more than 20,000 brands and organizations as it delivers users the ultimate usability and satisfaction with a powerful feature list.
The platform is designed with an extremely intuitive user interface to guarantee users a smooth experience. It features 4 main social modules - listening, publishing, engagement, and analytics - with each module holding robust advantages. While the listening functions help to convert trends data into practical marketing strategies, the publishing functions play an important role in reaching the targeted audiences with the scheduled and planned content. Your posts will then be streamlined and monitored with the engagement features, and their performance will be analyzed using social data and dashboards.
Besides, Sprout Social even supports a Smart Box to gather all your social messages in one place. You can easily combine and monitor your inboxes however you want.
Unfortunately, Sprout Social is not generous enough to include a free plan, but there's a free 30-day trial for all the paid versions where you can experience the full feature list before deciding to pay. The paid plans range from $99 to $249 per month, and they vary depending on the number of social profiles you can manage and the number of features you want for your business' scale and needs.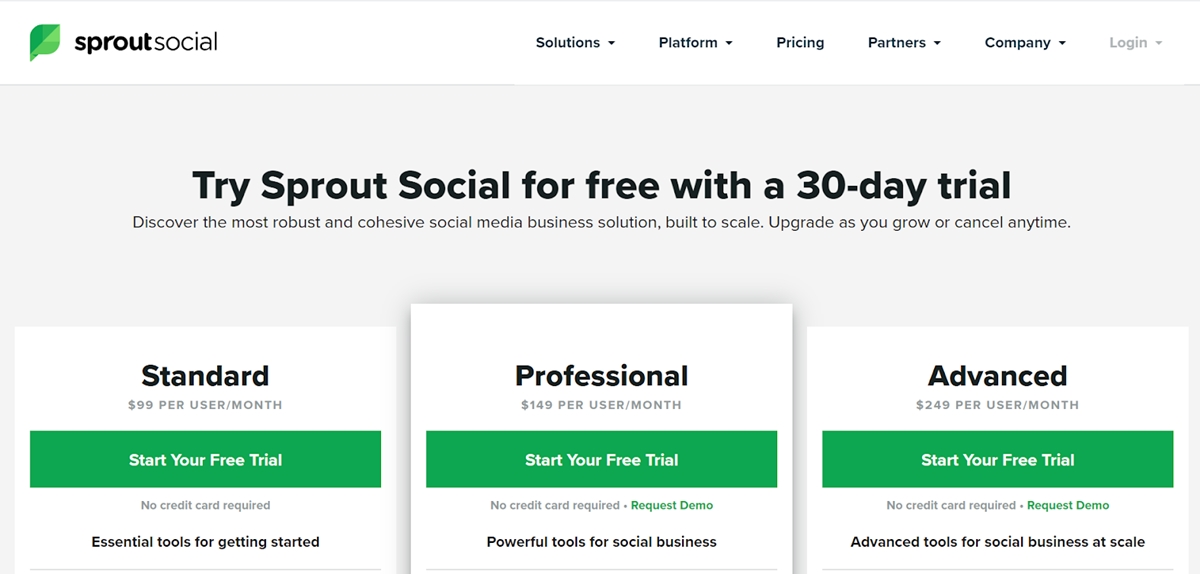 10. Nuelink
Nuelink is a comprehensive social media management tool that streamlines all aspects of social media marketing. It was developed in 2022 by Kreatinc, an IT services and consulting firm, as a solution to their struggles to find an affordable and powerful social media scheduling and automation tool. Nuelink now offers plenty of features that cater to a broad spectrum of users hoping to grow their business through social media, including social media scheduling, automation, cross-posting, and management.
With Nuelink, users can schedule and post content to 12 social media platforms, including Facebook, LinkedIn, Instagram, TikTok, YouTube, Twitter, Pinterest, Google Business Profile, Telegram, Webhook, Discord, and Slack. Besides posting to multiple platforms with one click, users can set their content to Evergreen and make the most out of it. Nuelink's social media automation feature allows users to auto-post content from other platforms without doing anything. They also offer a pre-built content library, link shortener, and analytical tools.
What sets Nuelink apart is its social media cross-posting feature, which allows users to auto-post their social media content from one channel to all of their others. This feature makes the most out of users' content and is only offered by a selected few tools. Nuelink also offers social media management features, allowing users to access all their social media channels in one user-friendly dashboard and create and manage different collections to sort their posts and schedule content.
Overall, Nuelink is an all-in-one tool that caters to social media managers, E-commerce sellers, bloggers, YouTubers, content creators, influencers, and small business owners. With its many features, Nuelink simplifies and optimizes social media marketing for its users.
About pricing, Nuelink's high-quality automation features come at an affordable price, starting from $25. Hence, stores can easily achieve a 5/5 rating for value for money from their satisfied clients.
11. Promo Republic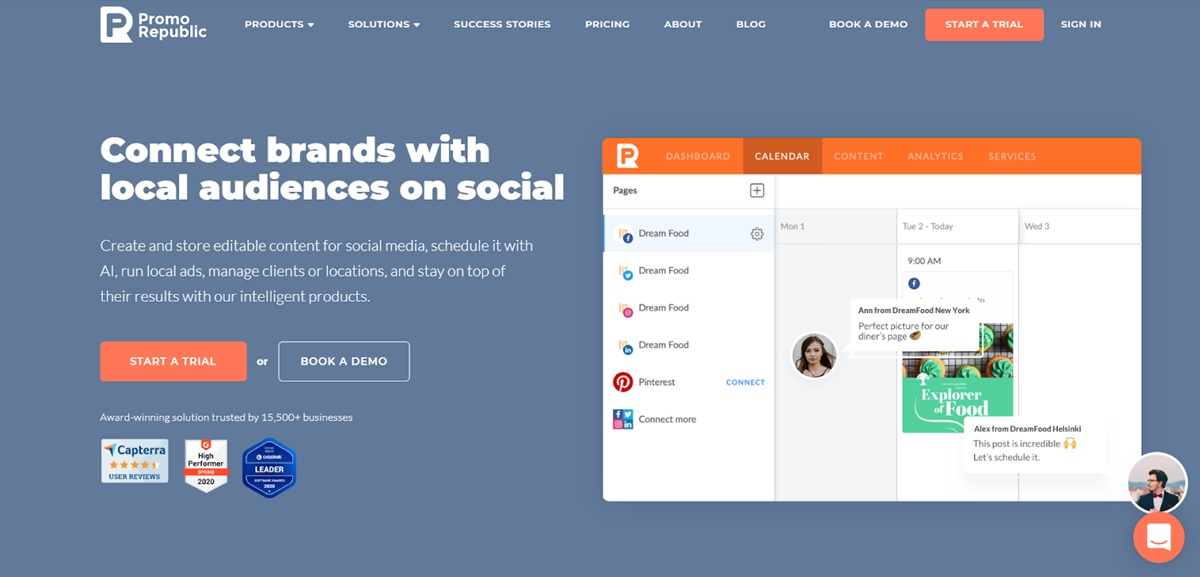 Unlike the usual social media management tools, Promo Republic mainly focuses on beautifying your post with the most high-quality graphics. The platform offers great assistance to help you create beautiful post designs without leaving the app for another graphic generating tool.
Despite the graphics-focused feature, Promo Public still provides sufficient fundamental functions to help you manage your social channels. The platform will suggest a suitable schedule for your specifically different posts on multiple social accounts, but you can add any modifications to your preference. Then, you can organize your post scheduling with the centralized calendar that shows your content and modify your time setting.
One big advantage of Promo Republic over its competitors is the enormous storage of post ideas, with the number of 100,000 ideas ranging in diverse topics. Most of these designs come with an eye-catching media graphic that is related to your post content, articles, quotes, or upcoming events set in the calendar. You can easily customize these ideas into practice with Promo Republic's in-built graphics editor.
For the pricing, Promo Republic does not offer a free plan, but you can get access to the free 14-day trial of the Standard and Professional paid plans for initial testing. There are 4 premium plans starting at $49 per month, with the Enterprise requiring you to contact their team for custom pricing. The higher the plan is, the more benefits you will get in terms of features' quantity and quality.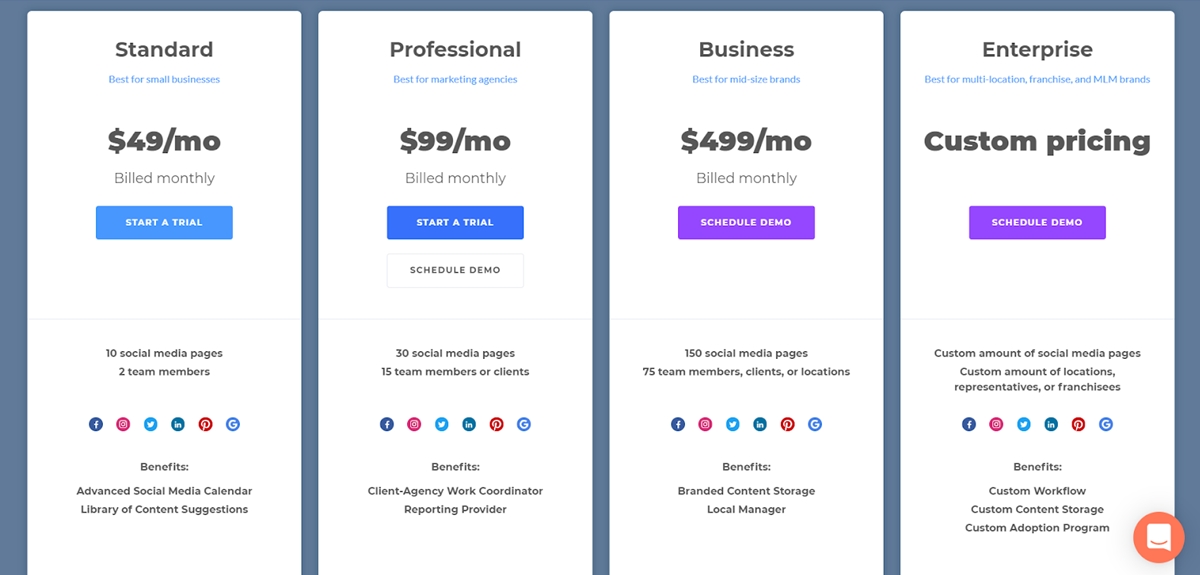 12. Followerwonk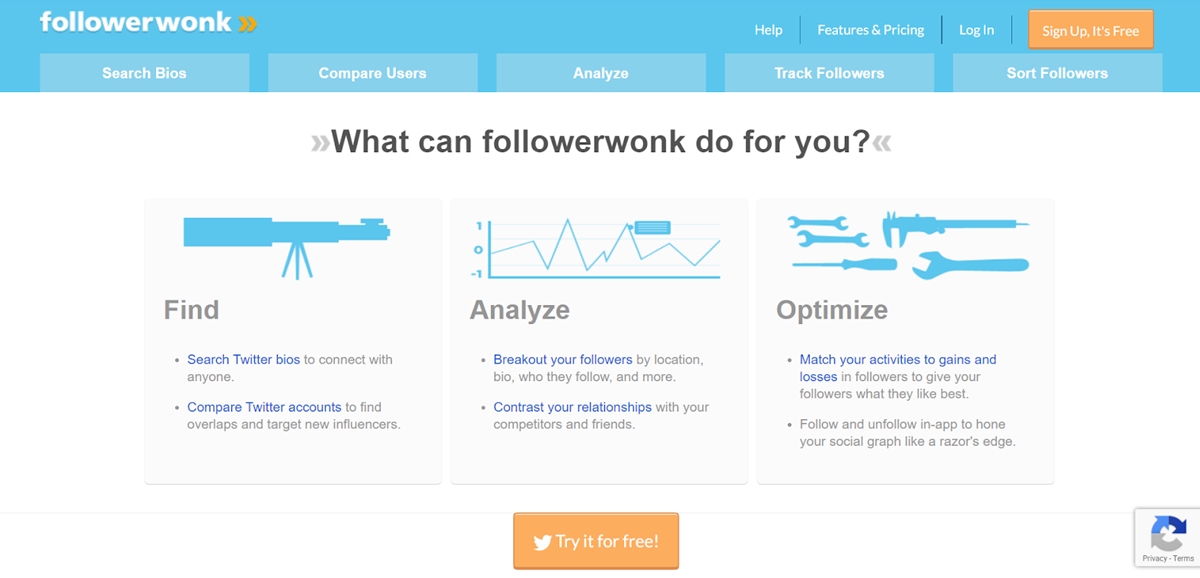 Followerwonk does not operate as a traditional social management tool that focuses on post scheduling and publishing, but it digs into the deepest customer insights. This Twitter-centric tool is an optimal solution if you want to outperform your Twitter presence from your competitors.
Followerwonk allows you to sign up your Twitter account, "investigate" the Twitter bios and compare among various influential profiles. With the search bios tool, you can actually look for the related keywords that potentially help to discover your customers or even employees.
Analyzing your followers has never been easier with Followerwonk as you can break out your customers by their location, bio or accounts they follow while contrasting your relationships with competitors. You can also see your competitors' following status: who they're following, how many followers they have or even how many hours they've been active on Twitter.
As for the analytics tracking feature, Followerwonk users can view the authority rankings and data reports on your followers' engagement and interactions, while the tool helps match activities with the gains and losses in followers to improve your content posting and posts management.
Followerwonk does offer a free account accessed to one profile - but anything free of charge would come down with certain limitations. To experience the full feature list with unlimited access, we suggest you should go for the other two paid versions for $29 and $79 per month, respectively. The annual subscription will give you some discounts as well.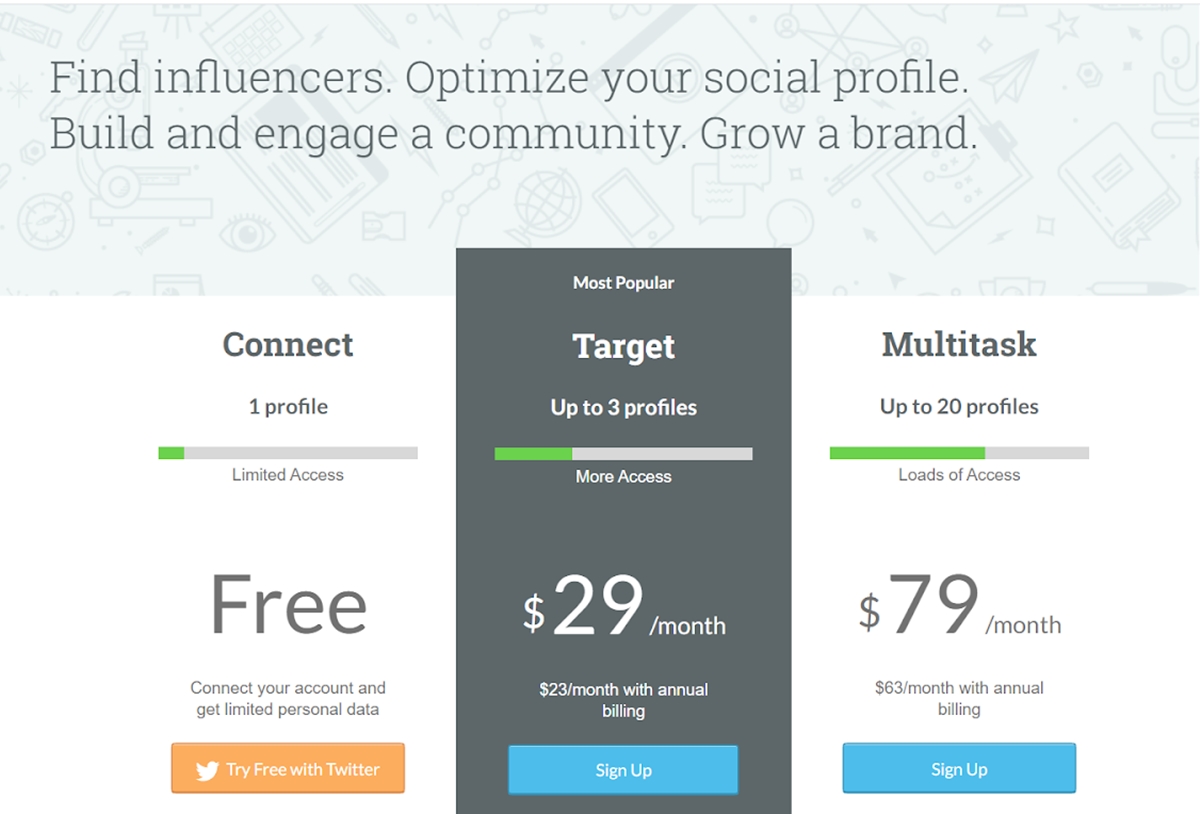 13. Sendible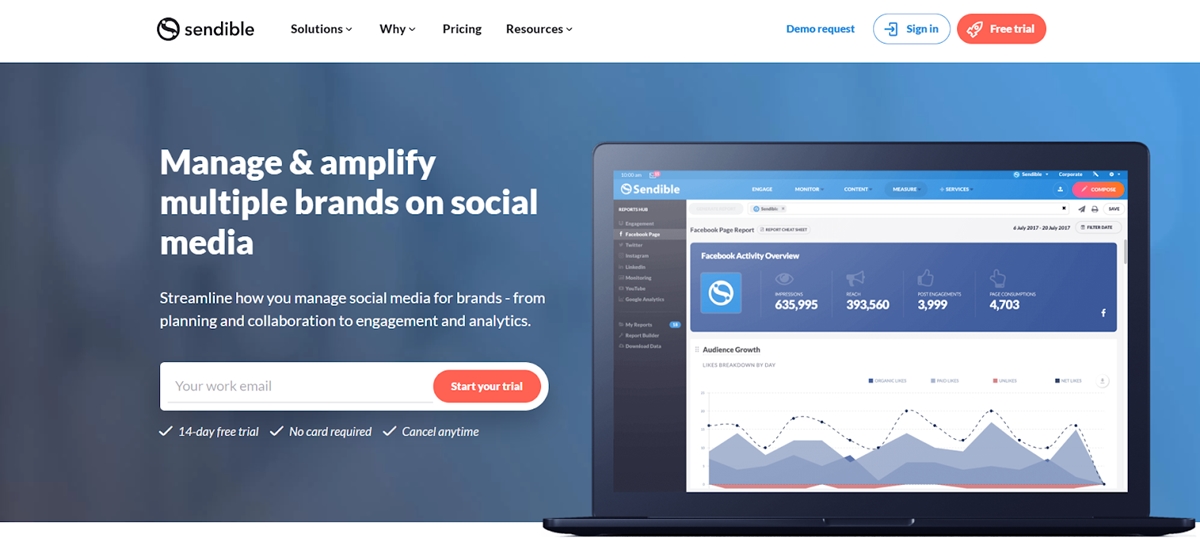 Founded in 2008, Sendible was initially designed to offer API integrations of social, blogging, email and SMS. Over more than a decade, the platform has significantly evolved and further updated a social media management tool to their feature list, making it more cohesive than ever.
The most competitive advantage of Sendible over other platforms is the ability to publish fresh content. You can schedule your posts through queues or upload them in bulk while utilizing the interactive calendar for precise time and location settings. Also, Sendible has an amazing capability of identifying trends with its custom analytics reports that present useful information such as the most optimal posting times on each channel or statistics of web traffic from social. Besides post scheduling and analytics, you can enjoy many other optimal features such as team collaboration, social listening or mobile optimization.
Additionally, what most users love about Sendible is its integration with Canva - the number one graphic auto-creation platform. Since Sendible is not supported with an in-built editor, the integration of Canva is perfect enough to help users create beautiful images to optimize your content.
Pricing on Sendible varies quite significantly, ranging from $29 to $299 per month. The Sendible team has classified each plan for each enterprise's scale, with sorting features and prices. You can test Sensible's functionality with a free 14-day trial for all plans to get the first-hand experience and see which version is your best match.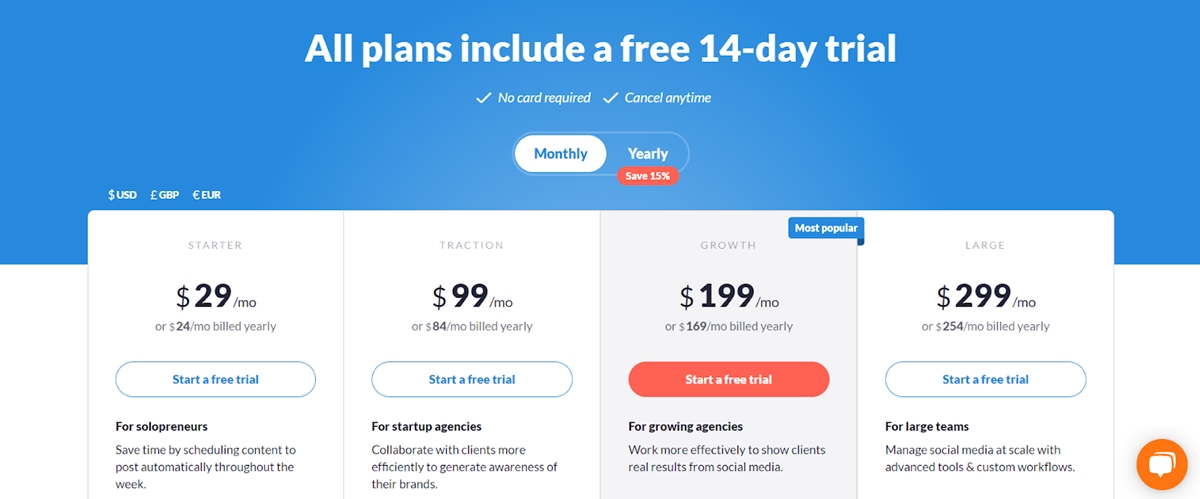 14. SumAll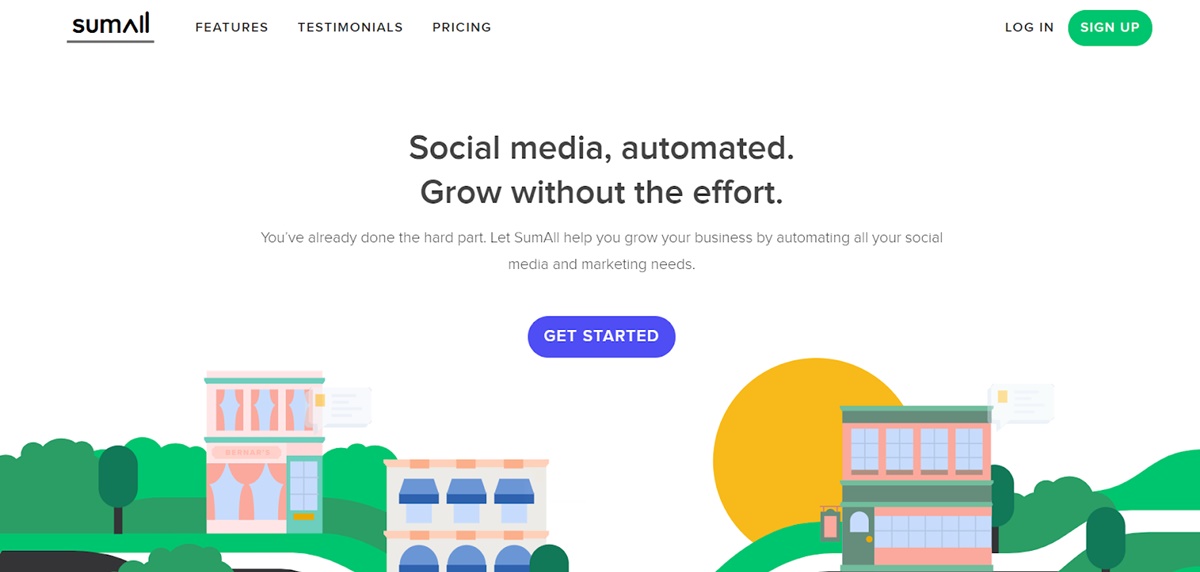 SumAll is an all-in-one solution if you're specifically looking for a social analytics management tool. The platform can dig deep into your customers' insights and analyze the engagement rates of profiles from multiple channels such as Facebook, Instagram, LinkedIn or Twitter.
Management on SumAll is time-saving, as everything is operated under automation. All you need to do is to prepare a fresh and appealing content, then SumAll will take care of the other works, from exact scheduling, post publishing to sharing milestones or top products. Also, with SumAll's comprehensive analytics, you can track the data of your sales, ads, or posts' performance metrics at ease - consider setting up a daily or weekly email receipt to get instant updates on these analytics such as the number of likes, followers, retweets, replies, mentions, and many others.
And surprisingly, with all of these attractive offerings, SumAll is totally FREE of charge with no other premium paid plans. This is an ideal option for small businesses that need to prioritize their investments to other business-building elements. Hurry up to get full access to this amazing platform with no costs.
15. Milanote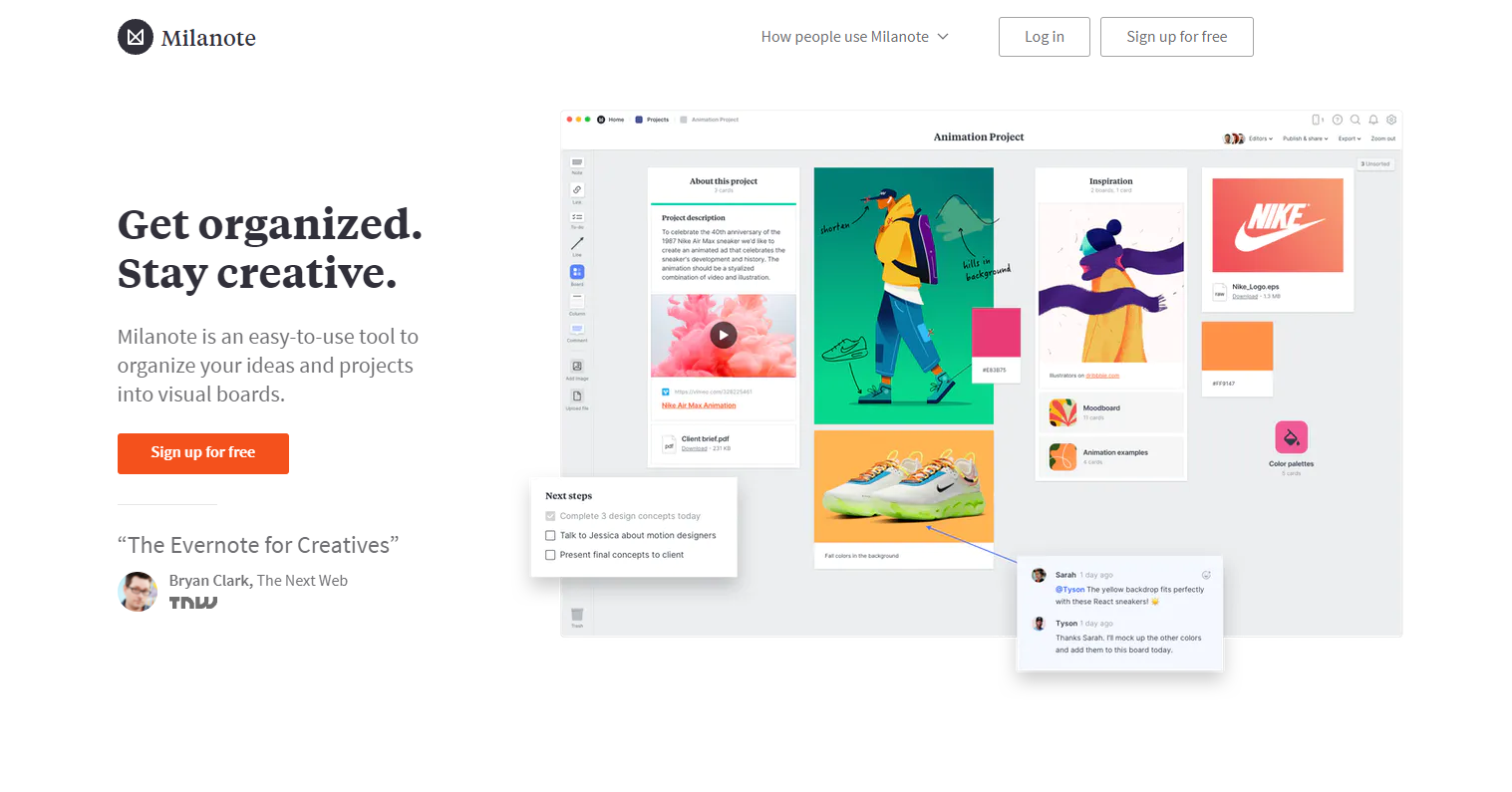 Milanote is a tool for organizing ideas and projects into visual boards. It provides a free-form canvas where you can arrange images, text, files side by side in one visual workspace. By design, it feels a lot like working on the wall in a creative studio - visual, tactile and sometimes a bit messy - Milanote is a great fit for marketers and designers who work in teams remotely.
Anyone can sign up for a Milanote Free version with limited storage, Pro version is at $9.99 per month, teams plan is at $49 per month both billed annually.
Final Words
The path to winning over social media is getting tougher day by day, as the transformation from physical to digital is accelerating wildly. And in order to keep your business up to date with every one of these platforms, you need an inclusive social management strategy. You may consider using the management services, but for small businesses that need to tighten their belt, a free solution might be the most optimal choice. Using a free management tool will keep your effort focused, and as you become more competent with the tools, you can take full advantage of them to lead the game.
New Posts
Stay in the know
Get special offers on the latest news from AVADA.