Home
>
WooCommerce
>
Docs
>
Top 10 Wholesale Prices Premium Plugins to Drive Sales for WooCommerce Store
Top 10 Wholesale Prices Premium Plugins to Drive Sales for WooCommerce Store
Last updated: September 01, 2023
As the world has gone online, almost every company has transferred its operations online. A WooCommerce shop is one of the most flexible and powerful ways to set up an eCommerce site. When you extend your business to wholesale, you don't have to take on the risk and cost of building a shop in your own neighborhood or across the nation. Still, third-party assistance will help manage your wholesale business smoothly.
That's why in the article today, we will be taking a look at Top 10 WooCommerce wholesale prices premium plugins that you can hardly miss out on. Keep reading to see what name would be included in the list!
Why should you use a WooCommerce wholesale prices premium plugin?
WooCommerce provides both free and premium versions, however, if you're willing to put in the time and effort, then it is recommended to install plugins on your WooCommerce website to get some of the features you want. In this case, a WooCommerce wholesale plugin seems to be more helpful. Using a plugin like this, you may provide your customers the opportunity to purchase in bulk.
Other than that, WooCommerce wholesale plugins also bring back a wide range of advantages to online brands, including:
Increasing conversion rates for wholesale: Your wholesale clients must be able to quickly and easily find what they're looking for. If you have a portion of your website devoted only to wholesale transactions, this would be fantastic! Moreover, you must present your customers with all of the information they need to make an informed decision.
Availability: Another advantage of using WooCommerce wholesale plugin is the fact that clients may shop whenever they want. As a result, customers will no longer be forced to visit your website during business hours in order to buy from you - they may shop at their own convenience, and they can submit orders at any time.
Smooth processing system: Key aspects of company control and agility have been achieved via automation. These plugins can be utilized to automate a variety of operations, including customer support, online order fulfillment, making automated PDF invoices, product inventory organization, company analytics, and user behavior. In this way, not only can you bring back the best wholesale shopping experience but also save up more time while processing the orders.
Order forms: Now, without having to add multiple items into the shopping cart, you will be able to set up a separate form designed for the wholesale customers with the help of WooCommerce plugins. All of the shipping and tax information that your wholesale customers need can be seen in one place on one form, which fastens the shopping process for them.
What to look for when choosing a WooCommerce wholesale plugin?
Up to the present, WooCommerce is offering thousands of wholesale plugins with different pricing and set of features. But if you want to operate a successful wholesale WooCommerce business, you will need to consider all of the given alternatives carefully. Thus, you should seek plugin packages that include everything you need, such as the following factors:
Wholesale accounts: In order to utilize your website as a wholesale distributor, customers must first join up as wholesale distributors on your website. A WooCommerce wholesale plugin should have this feature covered.
Displaying products: Generally speaking, the discount wholesale pricing is based on the number of things being bought. A good plugin should enable you to create a table so consumers can see the various wholesale pricing slabs based on the number of units they are buying.
Private wholesale price: You may not want to reveal the wholesale price to your retail consumers. In this circumstance, you may choose to separate your retail and wholesale consumers by creating two separate e-stores. A password-protected WooCommerce shop for your wholesale clients/distributors would still be available to all other WooCommerce customers, but it would stay hidden from the general public.
Diverse user roles: For wholesale distributors and consumers, the plugin should allow you to set up different user roles for each of them. A different user role and access and capabilities should be assigned to them so that they aren't categorized as ordinary clients of your eCommerce shop.
10 best WooCommerce wholesale prices premium plugin to drive your sales
At this point, you have already known how WooCommerce wholesale plugins can help to expand your business. Follow up will be a list of top 10 best WooCommerce wholesale prices premium plugins for you to choose from. On the basis of the factors to consider that we have mentioned previously, picking the right one for your website will no longer be a difficult task.
WooCommerce Product Table by Barn2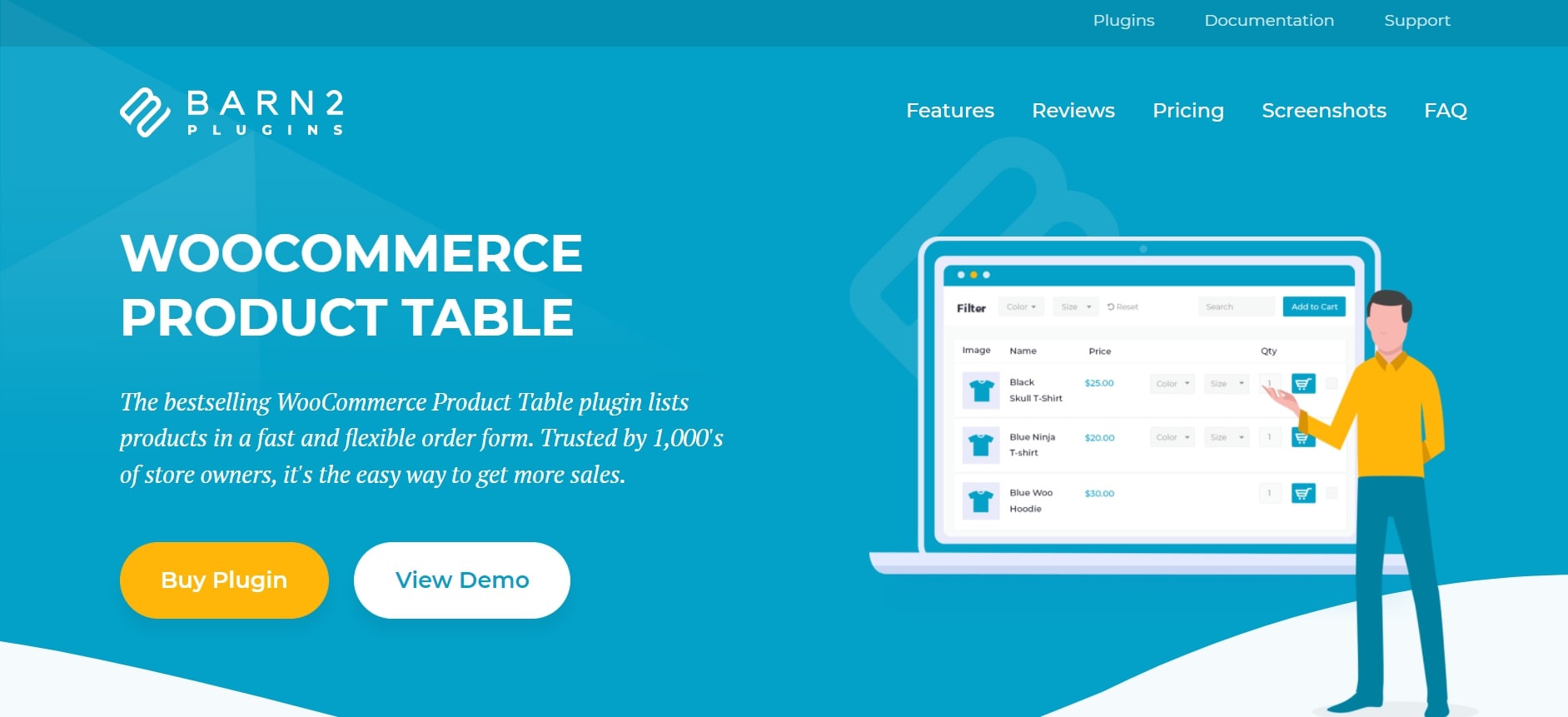 WooCommerce Product Table by Barn2 gives your retail and wholesale customers to be served in a new way. Using this plugin, you can create as many wholesale roles as you like and set different rates for each one. For example, you may give different discounts to different user roles by doing so. The ability to create global or category percentage discounts is another feature you may make use of with this tool. Besides, wholesale pricing for particular items may also be added for further control over price.
Outstanding features:
Set up as many wholesale user accounts as you want
From your dashboard, you can approve and manage large numbers of wholesale users.
Users who are not signed in will not see price and "Add to Cart" buttons.
Each wholesale user position may have its own set of pricing and discounts.
The wholesale price of each product and variant may be set at a global, category, or specific level.
Price: $99 yearly for a single site package.
WISDM Customer Specific Pricing by WisdmLabs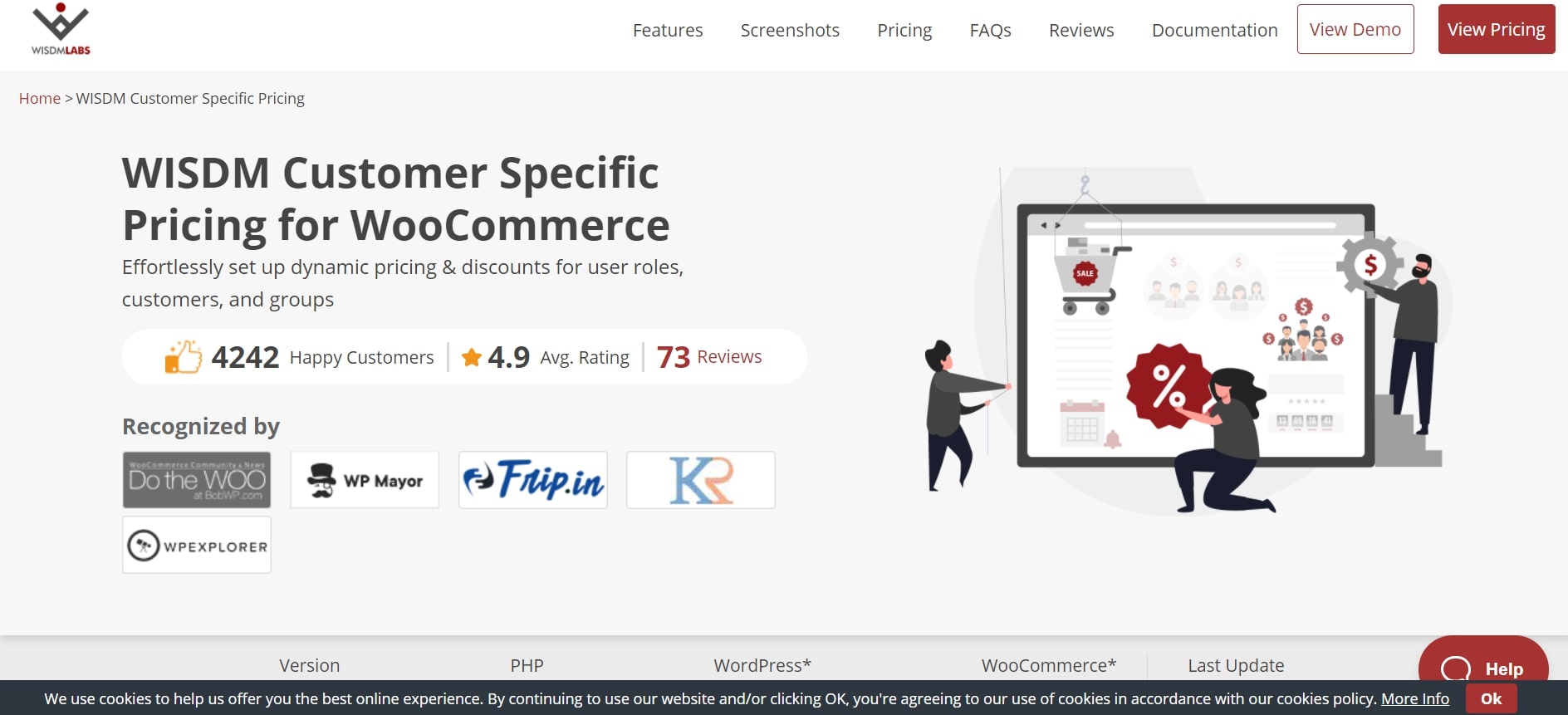 WISDM Customer Specific Pricing by WisdmLabs allows you to set up and modify wholesale pricing and discounting policies. Also, you can construct a custom catalog page for each of your wholesale partners so that they can see it after logging in. Your customers' favorite goods may be shown on this page, saving up much of their time for wholesale shopping. Add-ons like this one allow you to add wholesale pricing and discounts for basic and variable product variants.
Outstanding features:
Specify wholesale price for individual items, user roles, and product categories at your discretion.
Consumers might choose to conceal wholesale prices from merchants and other customers.
A dedicated page for wholesalers is created to make them feel valued.
To qualify for wholesale discounts, you must have a certain number of goods or categories in stock.
The setup procedure is simple and does not involve any code at all.
Price: $80 annually for a single website.
WooCommerce Wholesale Suite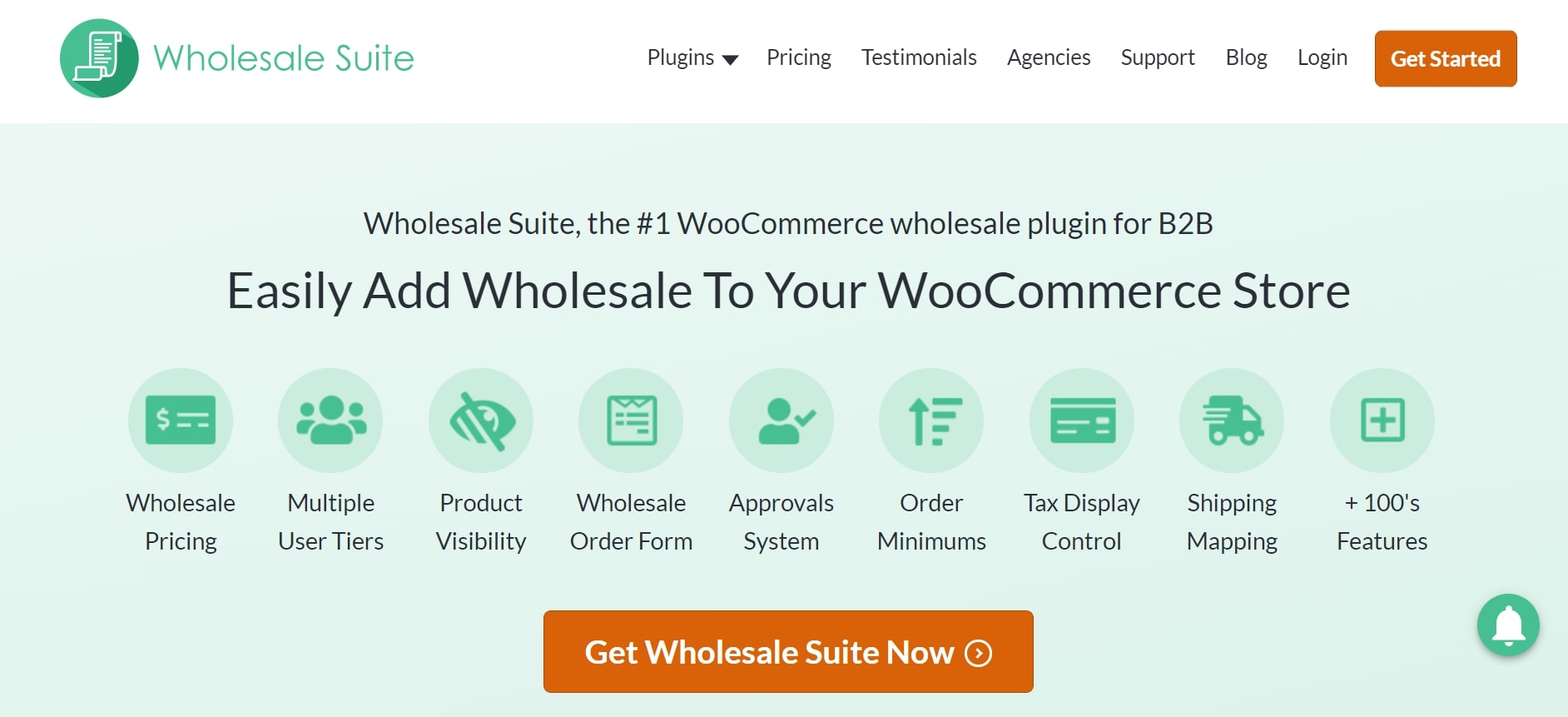 Using the WooCommerce Wholesale Suite from WooSuite is a great method to increase your wholesale store's sales. The features of this plugin are designed to deliver on the promise of wholesale without the headache. Wholesale clients may backorder your out-of-stock products using the powerful solution.
Outstanding features:
One-page ordering procedure that is simple to use
The ability to define dynamic pricing for wholesale clients is simple to implement.
With a wide range of wholesale pricing choices, you'll be able to govern your wholesale company with ease.
Save a lot of time by using automated registration forms for wholesale clients.
Price: An annual license for this plugin starting from $159. If you wish to gain complete access to WooSuite's 14 plugins then it would be $349 every year.
ELEX Woocommerce Catalog Mode, Wholesale & Role-Based Pricing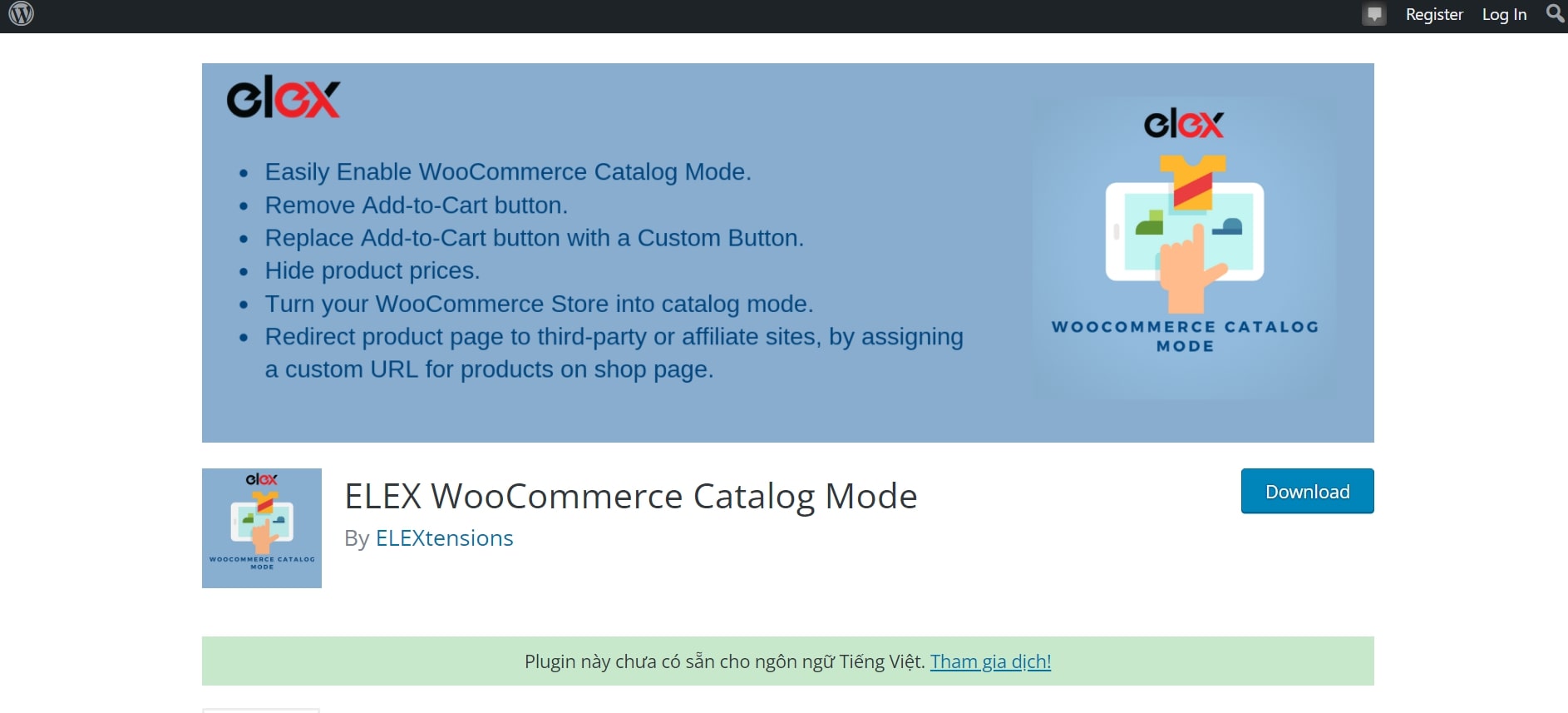 ELEX Woocommerce Catalog Mode, Wholesale & Role-Based Pricing has a wide range of features, including the ability to handle wholesale customers more effectively. Add custom user roles and configure price or discounting criteria for wholesale purchasers in a flash with this plugin. As a bonus, this wholesale rate will not be shown to other customers.
Moreover, you may allocate various tax classes to wholesalers registered in your shop and even make pricing modifications for goods that are either simple, variable, or grouped.
Outstanding features:
Specify wholesale price in terms of a fixed dollar amount or a percentage of the total value.
The option to exclude wholesale purchasers from paying taxes in an effort to boost sales
Multi-tiered pricing options for your wholesale customers
Set up wholesale pricing for both basic and complex items with a wide range of variants.
Ensure that wholesale clients are not able to see pricing that is not available to the general public.
Price: ELEX annual subscription will charge online merchants $79 for only one website.
IGNITEWoo – WooCommerce Wholesale Pro Suite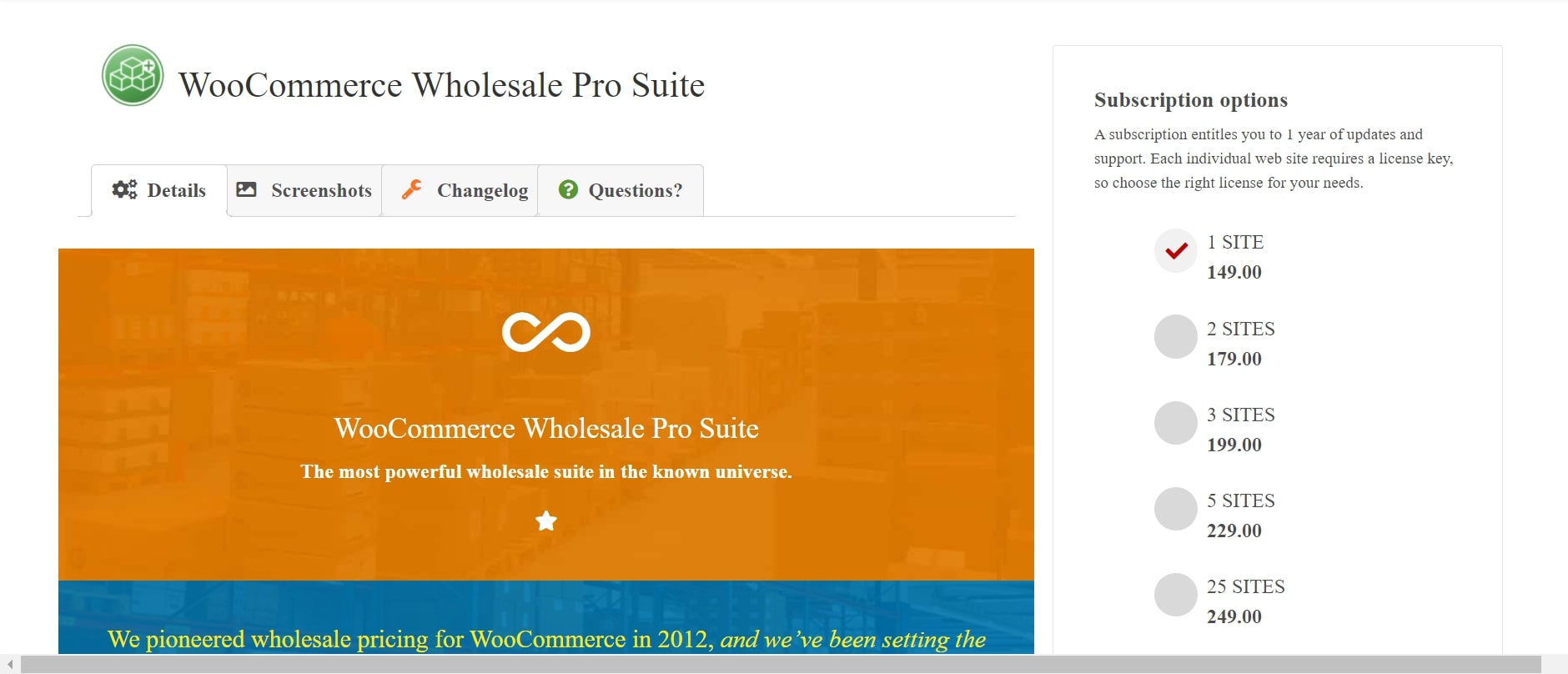 IGNITEWoo – WooCommerce Wholesale Pro Suite is a powerful plugin that offers you complete control over your wholesale website's pricing and maintenance. It's possible to set up distinct wholesaler price structures depending on different roles. Additionally, you have total control over whether or not wholesale and retail consumers may see product and pricing information.
A unique feature of this plugin is that it allows wholesale customers to place backorders for goods that are temporarily out of stock. You will be offered control and compatibility over shipping, payment gateways, and common dropshipping extensions to boost your wholesale activities.
Outstanding features:
Make it simple for wholesale customers to get quantity and cart savings.
If a wholesale buyer's purchase doesn't satisfy the minimum quantity criteria, use personalized messaging to encourage them to order more.
The multi-tier pricing system allows for the creation of various wholesale price situations.
Facilitate the ordering of out-of-stock goods by wholesalers
Price: just like other WooCommerce wholesale premium plugins, IgniteWoo charges up to $149 as the annual license fee.
Wholesale for WooCommerce Pro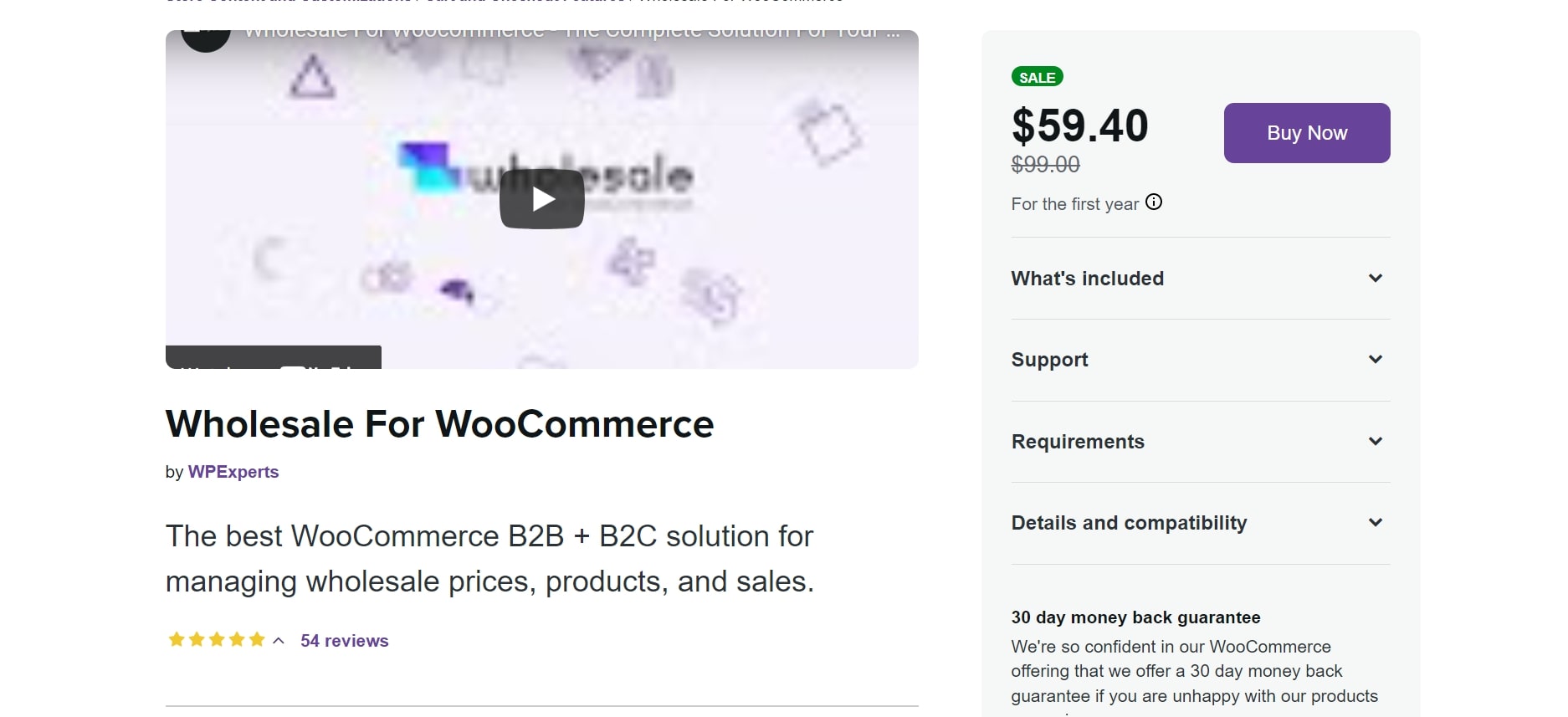 Wholesale for WooCommerce Pro is another great option when it comes to WooCommerce wholesale pricing plugins. Its standout feature is the ability to establish numerous wholesale user roles with this multi-functional plugin. For each job, you may even create discounting rules. Wholesalers will find this to be a one-stop-shop for all of their selling needs.
Outstanding features:
Wholesale pricing for basic and changeable items may be created quickly and easily.
In order to promote larger purchases, establish price guidelines and discounts for your wholesale clients.
Discounts on wholesale items or users may be applied in either a set or percentage-based manner.
Customers' purchasing preferences are identified by creating and managing several wholesale user roles.
To encourage wholesalers to purchase a certain amount of a product, set a minimum quantity demand and attach a discount.
Price: the fee for this plugin is pretty affordable - only $99 yearly for a single site.
B2Bking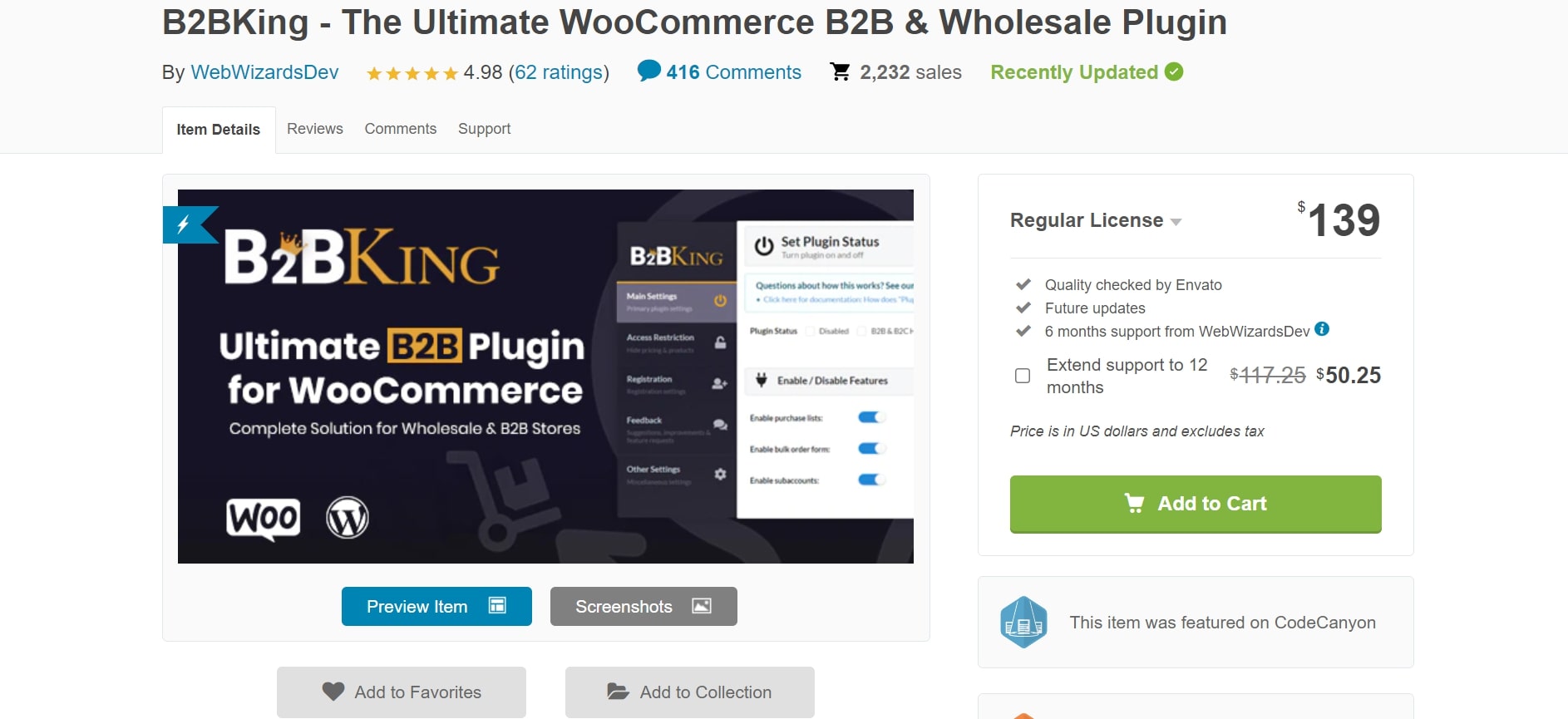 B2Bking is a WooCommerce wholesale plugin that may be used for almost any type of online businesses, from entrepreneurs to small companies, medium-sized and even large corporations. Once it is installed, B2B users, B2C users, and logged-out users may all be added (and their access permissions controlled) by businesses. Conversations, dynamic rules, groups of customers, and so on help B2B sellers to respond to requests, service their clients/resellers, and manage their company more effectively and efficiently.
Outstanding features:
There is no limit to the number of groups that you may create.
Order forms may be created for wholesale bulk products.
Lock or conceal your own shop and pricing using a Private Store.
Effective interaction between customers and the retailer.
Price: One-time payment for B2BKing will start from $147 along with free trial available.
Dynamic Pricing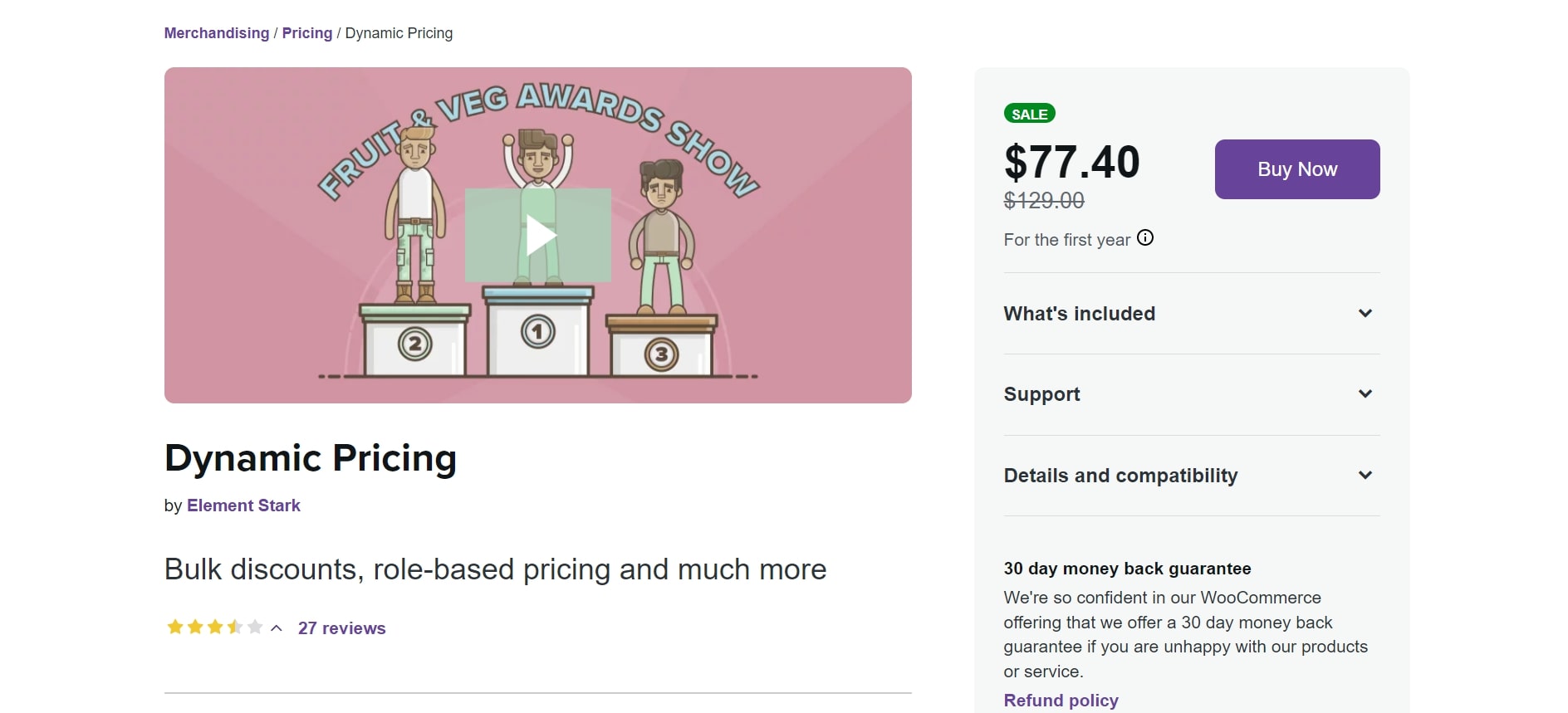 Dynamic Pricing is WooCommerce's official plugin for dynamic pricing in your online shop. The plugin has advanced product pricing, which lets you set different prices for different types of items depending on various criteria, such as the number of products bought or the amount spent by a given client. You can then reward the loyal consumers by offering them special discounts in order to keep them around for a longer period of time.
Outstanding features:
Comprehensive documentation is provided as a means of assistance.
Easy-to-use interface and features
Beginners and small enterprises can benefit greatly from this product.
Price: $129 for annual subscription.
Wholesale Market by CedCommerce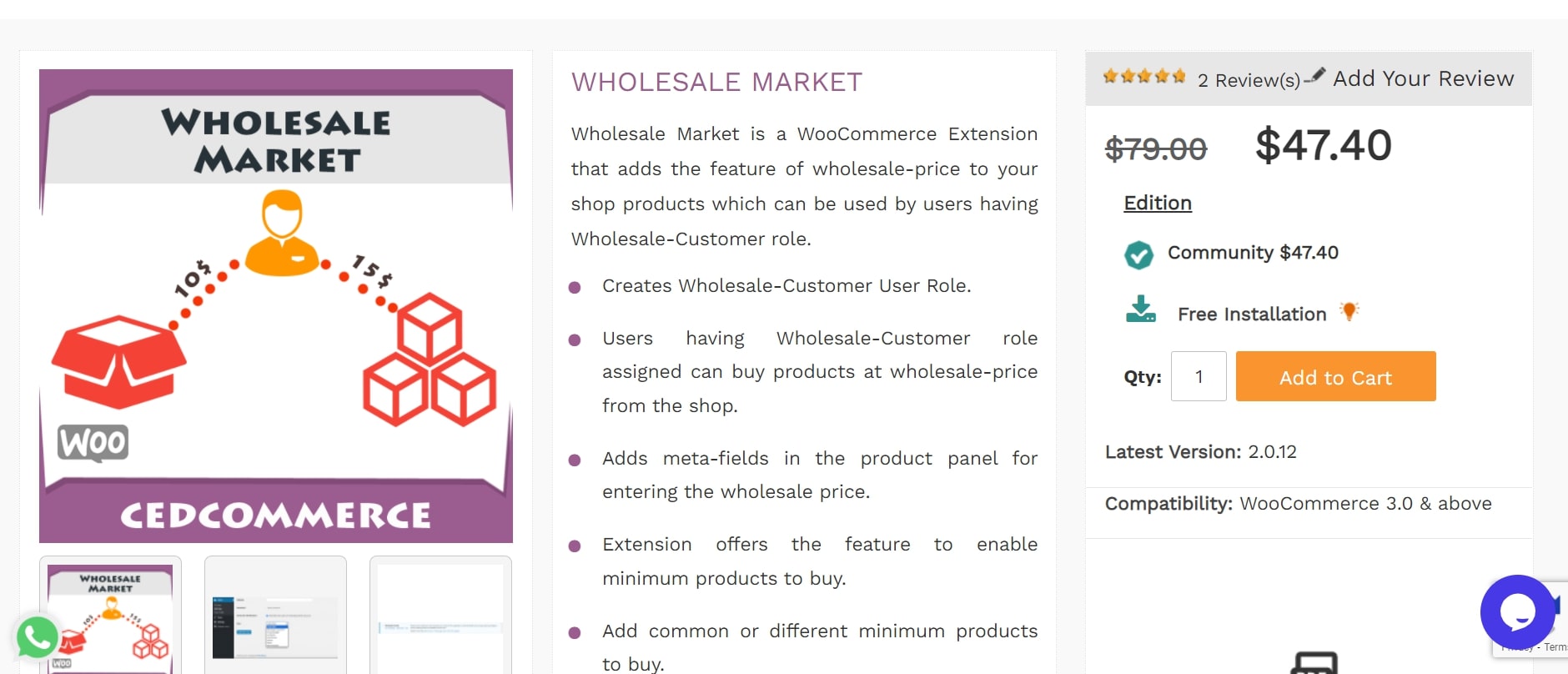 With the Wholesale Market by CedCommerce plugin, it's easier than ever to keep track of your wholesale customers and provide them with the individualized attention they deserve. This extension allows you to specify the minimum quantity of a product that a wholesale client must buy in order to qualify for a discount. You may also offer wholesale customers discounted prices on the shop's and a product's details page.
Outstanding features:
The wholesale price wording may be edited on the store page and the item page.
Wholesale role requests may either be handled manually or directly by the client.
Assist wholesale clients with VAT and tax payments.
For wholesale clients, you might choose to conceal the standard retail price.
Wholesalers should use quantity multipliers as a buying guideline.
Price: annual license will charge you $69 for a website solely.
Wholesale Pricing Pro for WooCommerce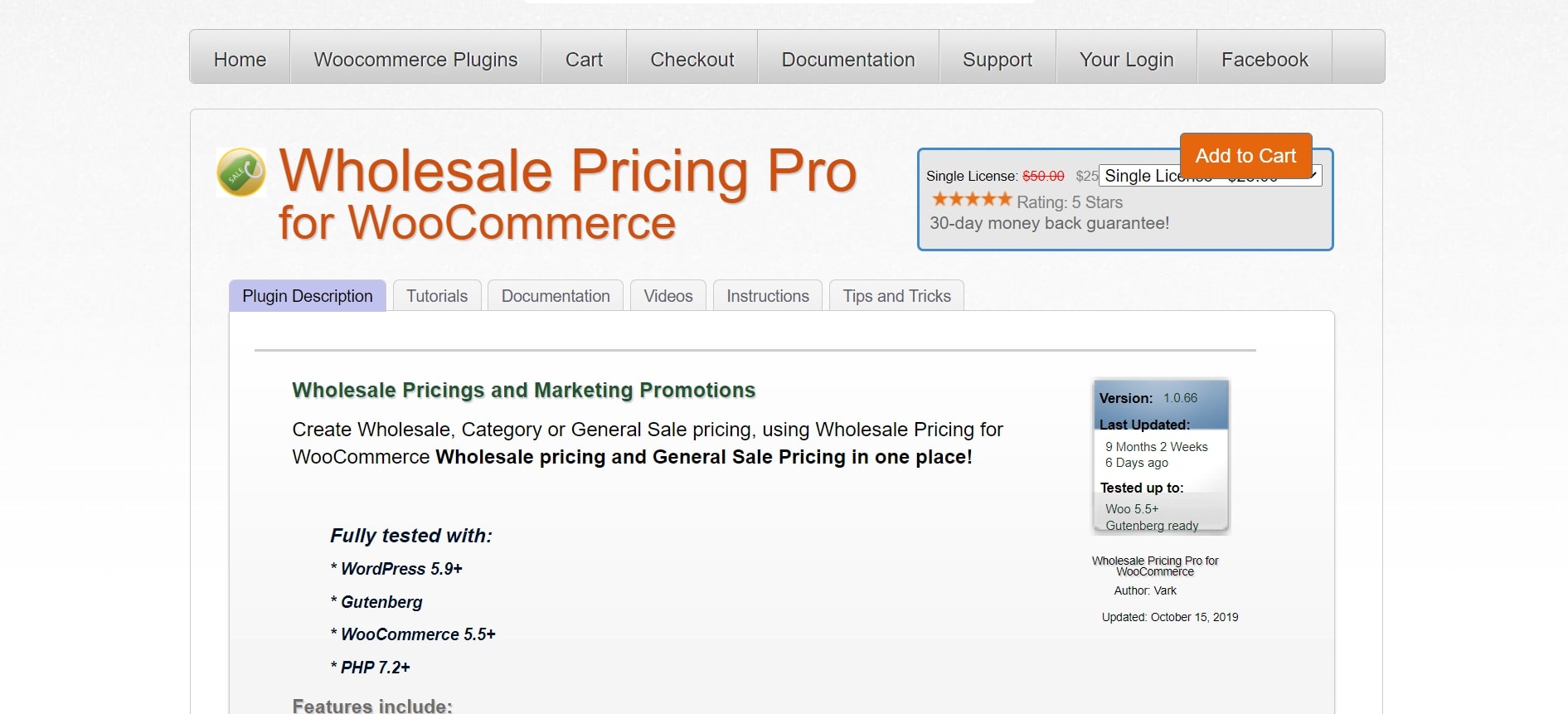 With Wholesale Pricing Pro for WooCommerce, any form of wholesale price or promotion you can think of may be achieved. Simple price rules can be set up with this plugin, which allows you to show reductions on your catalog pricing for wholesale customers with great precision. It's also possible to plan sales and create price levels for the whole shop and for each of the many product categories as well as individual items.
Outstanding features:
Rule groups may be applied to the entire shop, wholesalers, items, etc. by category or product type.
Audit and keep track of wholesale purchases and discounts.
With a single rule, you can put an entire category on sale.
Based on the items and product categories, wholesale purchasers should be able to apply discounts regulations.
Price: only $25 for a single website annually.
Conclusion
Managing wholesale and retail clients on the same website will become much easier with WooCommerce wholesale plugins. If you have a lot of choices and features to choose from, it may be tough to make a decision. Therefore, we hope that our article today on Top 10 best WooCommerce wholesale prices premium plugins has provided all of the possible alternatives. You may use these criteria to determine which WooCommerce plugins are best suited for your business.
---
Roger has over 4 years of experience in SEO. While in college, he started learning about SEO and showed a passion for the field. Right after graduation, he embarked on SEO projects and achieved great success. After years of working, he has learned deeply about SEO. Currently, he is the SEO team leader at avada.io