9 Best WooCommerce Wholesale Suite Plugins For Your Store
9 Best WooCommerce Wholesale Suite Plugins For Your Store
WooCommerce is incredibly popular worldwide because of its adaptability to a wide range of requirements. Several business owners use WooCommerce to run wholesale stores. You can quickly set up a wholesale WooCommerce store with the aid of plugins. You may set several price options or restrict access for wholesale clients based on your needs. With that stated, there are many WooCommerce wholesale plugins on the market, each claiming to be the finest! It's like looking for a needle in a haystack to find the perfect wholesale plugin.
That's why today's article will give you the top 9 best WooCommerce wholesale suite plugins for your store. You will have access to all required features and functions to let you accept and deliver wholesale requests by installing a single WooCommerce Wholesale plugin. This section will discuss what qualities to seek in the top WooCommerce wholesale plugins. In addition, we will highlight the most acceptable wholesale plugins that are presently available on the market. So, let's dive in!
Why do you need a Wholesale suite plugin, and what makes a good one for your online business?
Before we go into the list of the top WooCommerce Wholesale plugins, it's vital to understand what makes them unique. Below are the five criteria we used to choose the finest WooCommerce Wholesale Plugins. Here's a look at these pointers, along with a full explanation of why they're vital. It should eventually assist you in selecting the finest WooCommerce Wholesale plugin for you, as well as in your research:
Allow the creation of private WooCommerce shops for wholesale products: Some of the WooCommerce Wholesale plugins we mentioned here enable you to safeguard and hide your wholesale business from casual consumers.
Allow users to toggle between retail and wholesale pricing: The plugin should offer a simple user interface that users would intuitively grasp how to utilize.
Have a Wholesale Pricing Tables support: It is common for wholesaler websites to present price slabs to highlight the cost of a product based on the number of units ordered.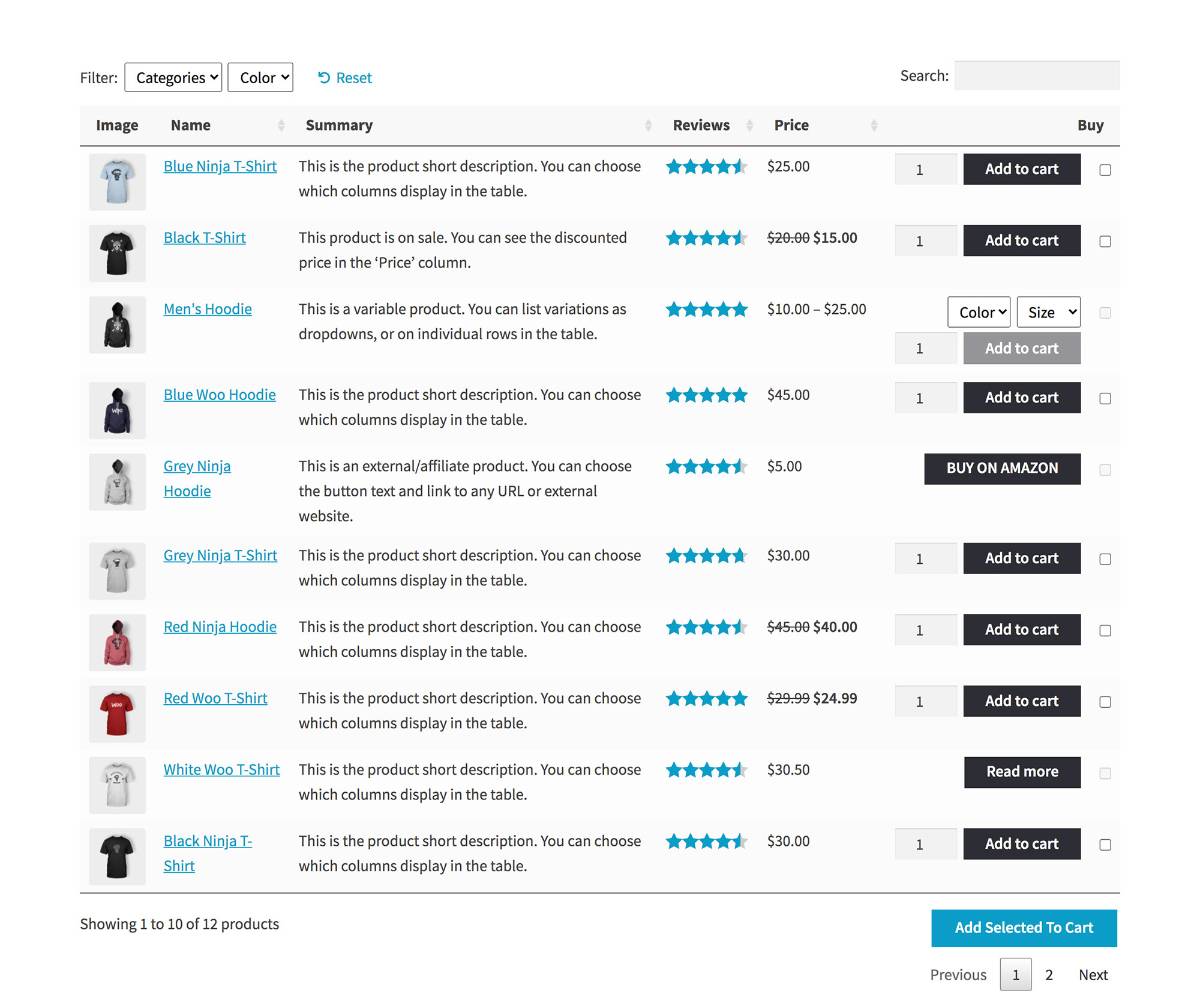 Accept Wholesale Orders Requires using Support Forms: When placing a wholesale purchase, wholesale clients and distributors may have unique needs. You may put the consumer at ease by communicating effectively and demonstrating that you are open to hearing their wants and expectations, which is critical in completing the purchase.
Users can sign up as wholesale customers: Finally, your wholesale plugin should allow customers to establish a new wholesale account on your website. They will have access to the wholesale storefront and some beneficial features unique to their purchasing requirements if they have a wholesale account.
9 best WooCommerce wholesale suite plugins for your online store
WooCommerce Wholesale Suite by WooSuite
WooCommerce Wholesale Suite by WooSuite provides a robust Wholesale solution that includes creating an order form, wholesale pricing, registration, tax administration, and other features. It grants you access to particular capabilities that enable you to cater to both b2c and b2b consumers, resulting in a unique experience for both groups. Because this is a Woosuite module, it is best appropriate for those who intend to utilize the Woosuite plugin in the first place. This includes users who want to simplify the whole ordering process to provide a speedier and more advanced user experience.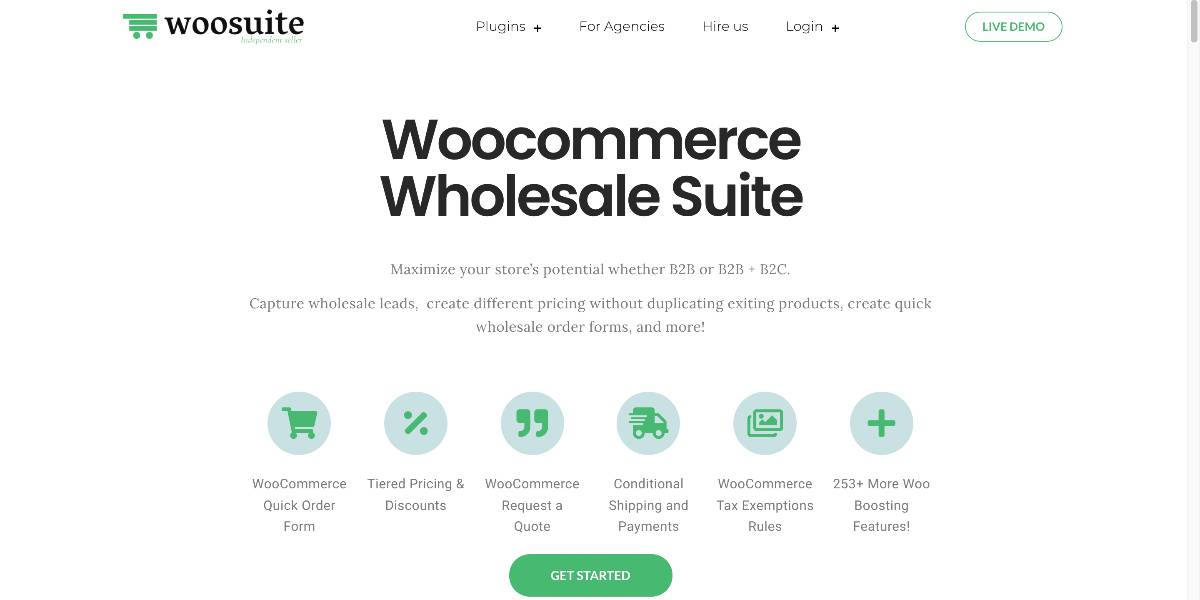 Outstanding features:
Make it easier for wholesalers to identify and order the items they need by streamlining the ordering process.
Create Woocommerce wholesale registration and login pages that can be automated with email approval or rejection from customers.
You may ask for any information you want using the plugin's registration builder, such as VAT number, how they heard above you, file upload, and much more.
Depending on who is using your checkout, you may enable and disable payment methods.
Wholesale pricing may be configured based on user responsibilities, minimum order quantity, or product type.
Price: The plugin and its modules are licensed for usage on a single website for $139 per year.
WooCommerce Wholesale Prices
The WooCommerce Wholesale Prices plugin will assist you in establishing wholesale pricing on your WooCommerce store. This plugin's functioning is reasonably straightforward. It provides an additional pricing field for each of your goods to define a wholesale price. Customers who wish to offer wholesale prices can now be assigned the wholesale user role. When wholesale buyers check in to your site, the wholesale pricing is instantly shown. With the plugin, you may enter wholesale pricing for both essential and variable items.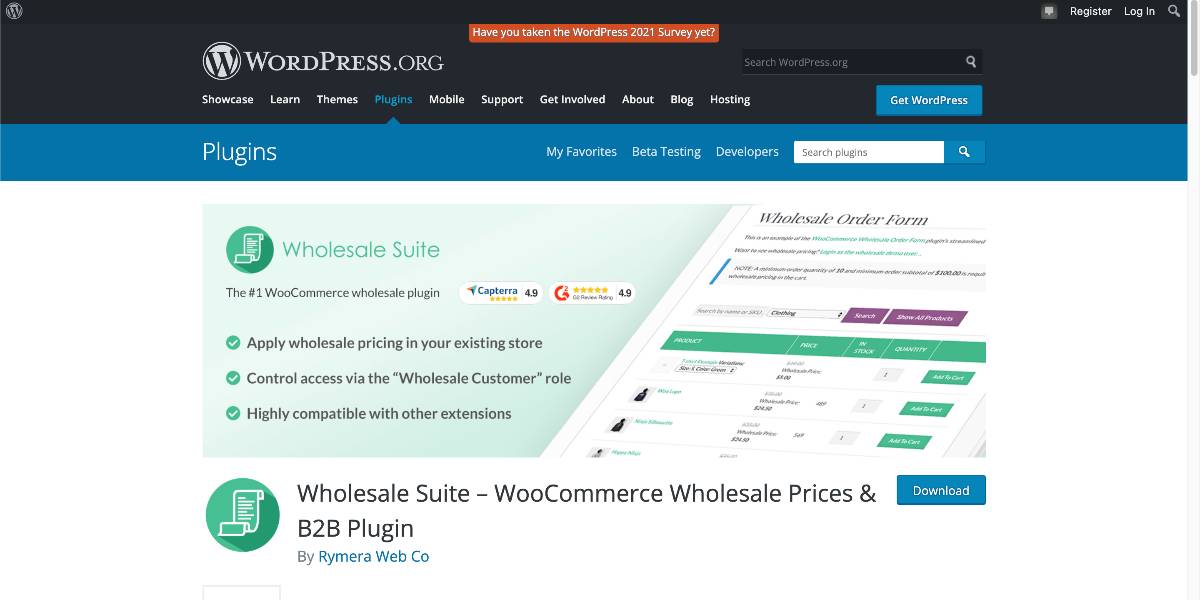 Outstanding features:
Set wholesale pricing (different prices per product) for Simple and Variable product variants.
Display or conceal the retail price from wholesale buyers.
Optional private store/WooCommerce catalog mode (hides price & add to cart until login).
WooCommerce coupons for wholesale customers should be disabled.
Make changes to the wholesale role and wholesale pricing wording.
Price: This plugin is free to download for WordPress-based stores.
IGNITEWoo WooCommerce Wholesale Suite Pro
IGNITEWoo WooCommerce Wholesale Suite Pro includes a slew of solid features to assist you in creating and managing an exceptional wholesale e-store. The plugin consists of everything from setting up wholesaler user roles to establishing different product pricing or category pricing. You may also reveal or conceal your wholesale prices and even particular goods from your retail clients, making them exclusively available to your wholesale users. It will also inform you which goods are in a growing market and should target to stock up on more of them.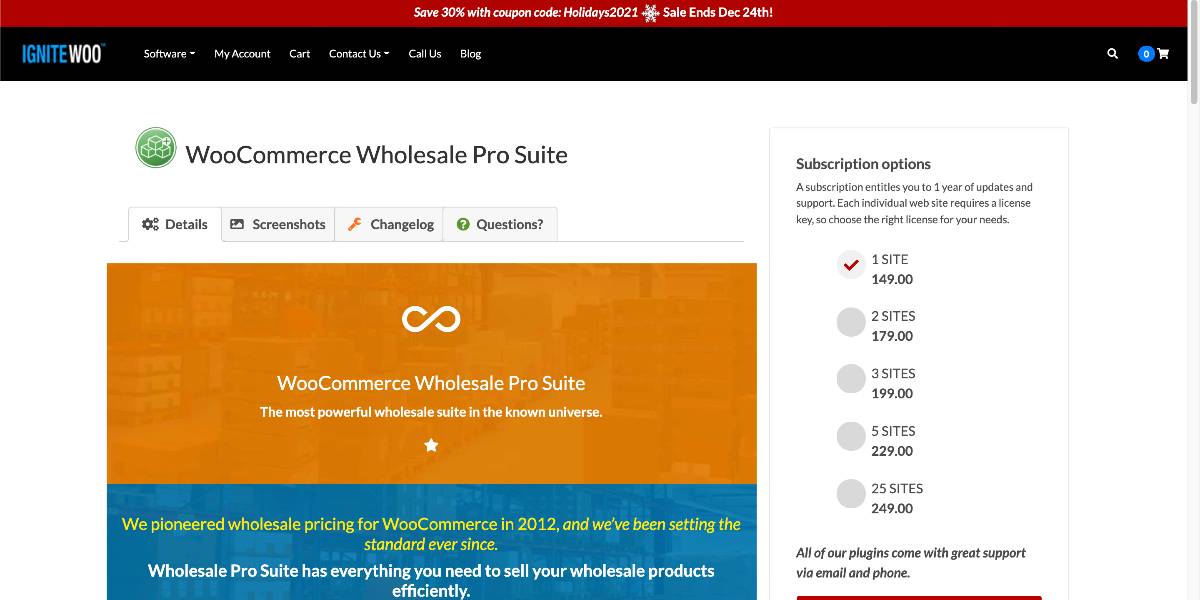 Outstanding features:
Provide quantity discounts throughout your whole product line, or on select product categories or individual goods, or total cart quantity
Hide your wholesale items or variants from retail customers and your retail products or variations
Choose which delivery options your wholesale purchasers are permitted to use.
Allows you to design multi-tier role-based pricing for whatever use case you may have
When a buyer's order does not satisfy your minimum and maximum criteria, show them a notification on the product page, as well as the cart and checkout pages.
Price: The annual cost of a single site license for IGNITEWoo WooCommerce Wholesale Suite Pro is $149.
WooCommerce B2B
WooCommerce B2B is a feature-rich wholesale WooCommerce plugin. It is an all-in-one solution that gives you access to all of the required bells and whistles to help you smoothly manage your business-to-business eCommerce site. WooCommerce B2B is ideal for users that want to create an exceptional experience for their retail and wholesale customers. Users will have extensive discretion over how they price their items, as well as a plethora of complex choices for managing their client base.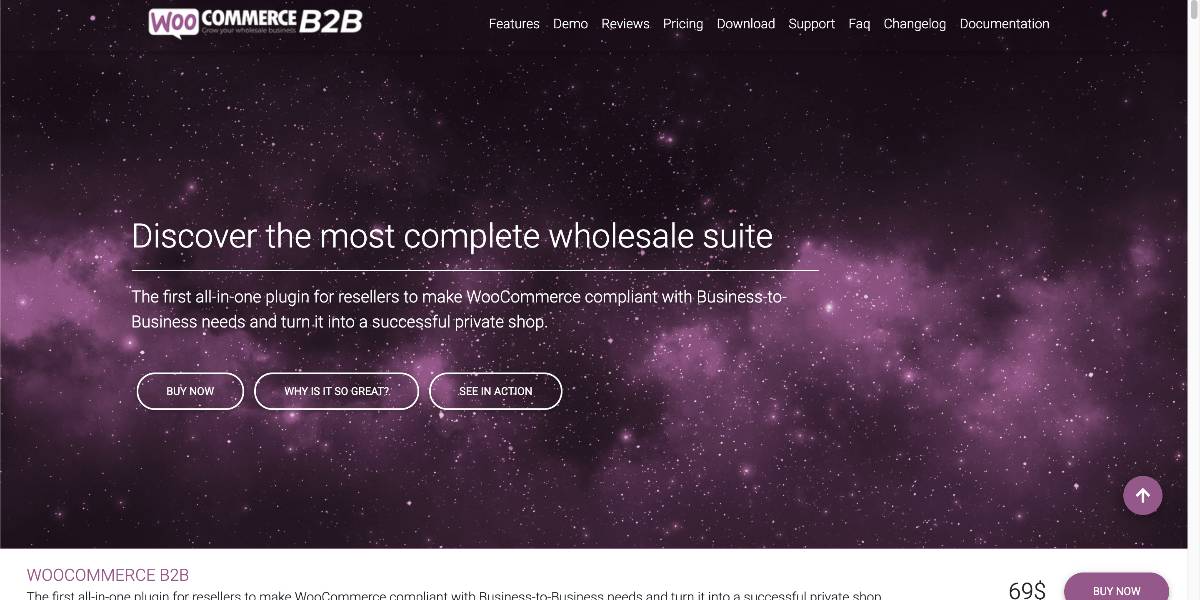 Outstanding features:
Only registered and logged-in users see the pricing
Allow visitor consumers to view product prices that include taxes
Option to build client groups and then provide customizable discount percentages to each group for catalog price list differentiation
Accept or reject user registration requests. This provides you ultimate control over who does business with you on your platform
Live search functionality is built-in, with advanced filtering and sorting options
Price: The standard package is $69 and includes a lifetime license to use the plugin on an unlimited number of websites.
WooCommerce Wholesale Suite Plugins
The WooCommerce Wholesale Suite Plugins includes three dedicated plugins to assist you in expanding your wholesale eCommerce shop. The Wholesale Prices Plugin, Order Form Plugin, and Lead Capture Plugin are all included. All three plugins work together to provide you with a unified and smooth experience when operating your wholesale business. If you want to build a high-end wholesale website with many sophisticated features and functions, the WooCommerce Wholesale Suite is the way to go.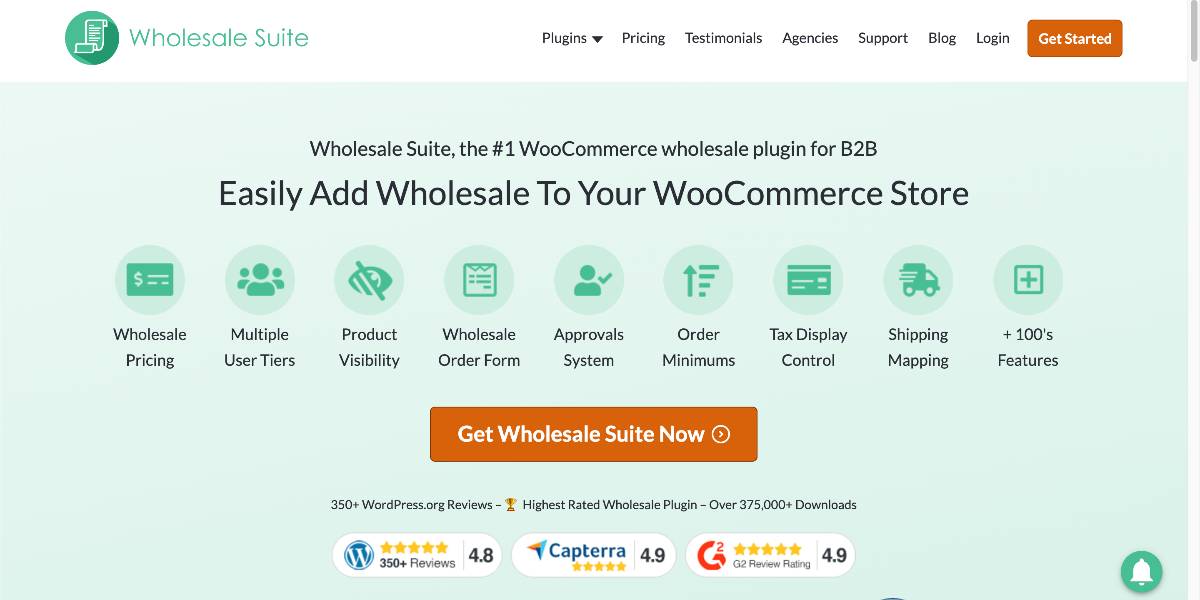 Outstanding features:
Manage wholesale pricing across several tiers with ease, either by fixed price or %. There are several price possibilities.
Meet your country's most stringent tax standards and regulate pricing and tax presentation as needed by law.
Order and product minimums may be easily enforced. Minimal subtotals and numbers can be controlled by role.
Control product visibility based on user role to classify items and categories as wholesale or retail.
Require wholesalers to utilize specific shipping and payment gateways. You can also include optional surcharges.
Price: The Growth Bundle costs $297 a year and allows you to utilize the three plugins offered on a single website.
ELEX WooCommerce Catalog Mode, Wholesale and Role Based Pricing
ELEX WooCommerce Catalog Mode, Wholesale and Role Based Pricing plugin is a powerful B2B plugin for WooCommerce. It essentially serves as a dynamic pricing tool, allowing you to establish wholesale pricing for select or all of your items. It has a plethora of capabilities, the majority of which may be used to put up a robust wholesale shop. To begin, you may create specific wholesale user roles and then give different discount rules to each user role. You may also set up the plugin to not display wholesale pricing to your typical retail clients.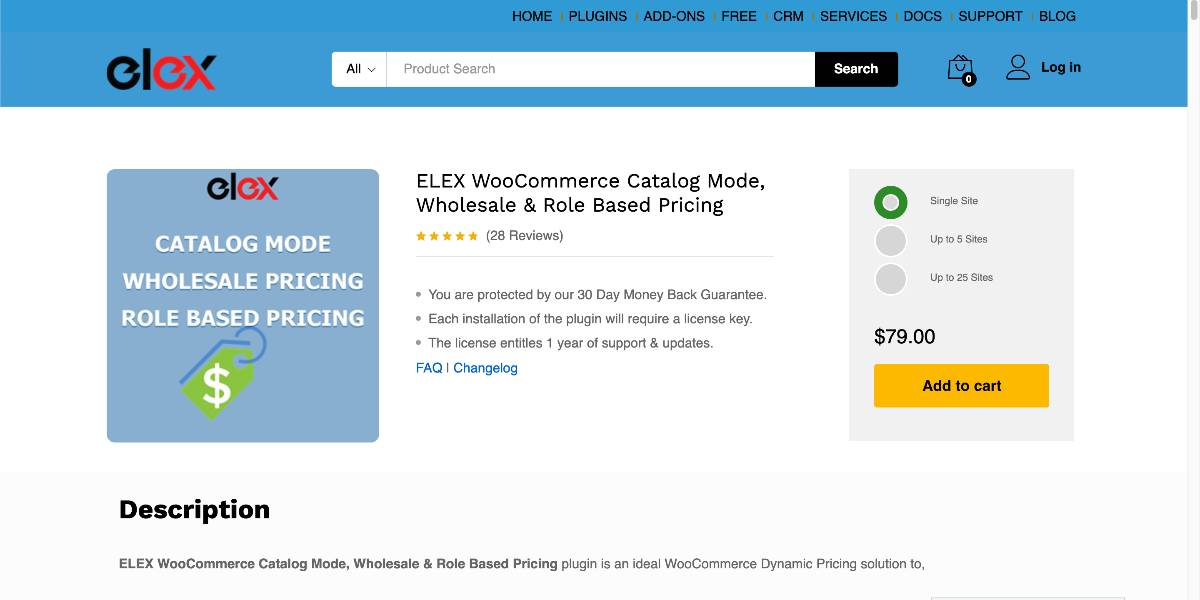 Outstanding features:
Create multiple price methods for different categories of users
Individual product pricing should be set depending on user roles and individual users
The plugin extends role-based pricing one step further by providing Role-based Pricing for individual versions of a variable product
Set up pricing changes depending on user roles to give discounts or add a markup to special product prices
Provide special pricing and discounts to your wholesale clients by selecting the customer role, the customer, and the categories
Price: The ELEX WooCommerce Catalog Mode, Wholesale & Role Based Pricing plugin costs $79 for a single-site, one-year license.
Barn2 WooCommerce Wholesale Pro
Barn2 WooCommerce Wholesale Pro plugin is an excellent tool for setting up a distinct wholesale storefront. It's a perfect choice for users that want to keep their wholesale and retail consumers precise while still giving a customized experience to each user base. The plugin not only allows wholesale user registration but also allows you to create an infinite number of wholesale user roles, assign special pricing to each position, and even set up global or category-based percentage discounts.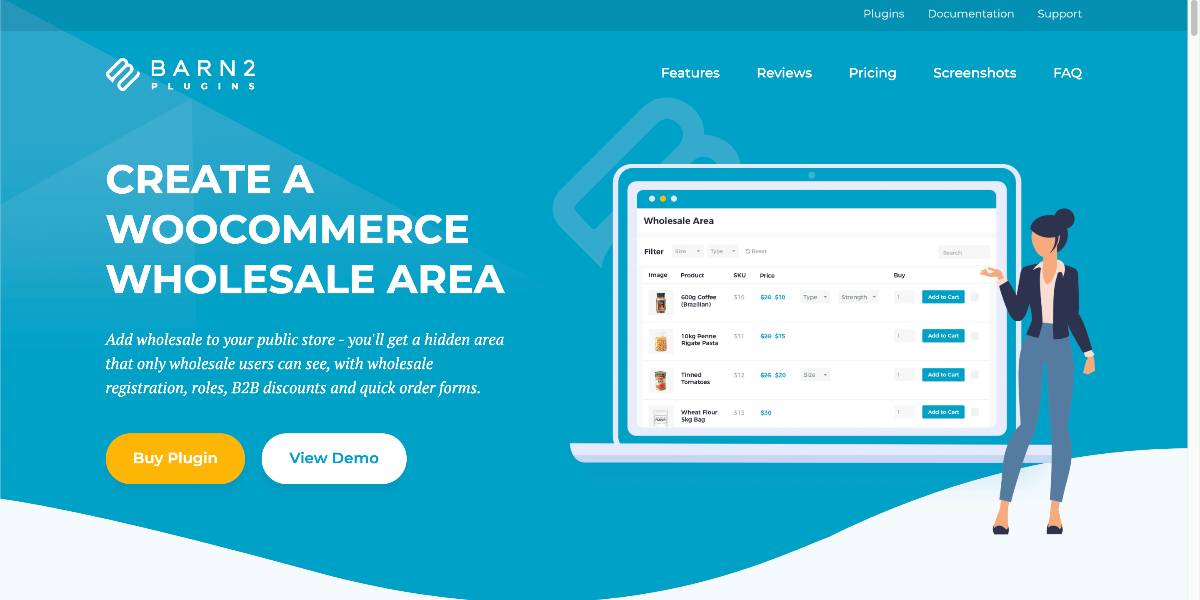 Outstanding features:
Create an infinite number of wholesale jobs, each with its own set of wholesale discounts
Offer customizable wholesale signup form with email and moderation options for new account approval
Flexible wholesale pricing enables you to define wholesale prices per role using global or category discounts, as well as product-specific rates.
You can open a wholesale-only store or run a private wholesale store in addition to your current public shop.
Managing who sees what parts of your store: display and conceal product categories, taxes, coupons, payment, and delivery choices, and so on.
Price: A single site license to utilize the Barn2 WooCommerce Wholesale Pro costs $99 per year.
Wholesale for WooCommerce by WPExperts
Wholesale for WooCommerce by WPExperts is a brilliant WooCommerce plugin that allows you to exclusively promote and restrict wholesale prices to wholesalers. What makes it unique is that it is a multi-functional plugin that will enable you to establish numerous wholesale user roles. Furthermore, you may set discounting rules for each job. This functions as a complete solution to help wholesalers sell more effectively. Aside from that, its fantastic wholesale registration form makes it easy to onboard distributors.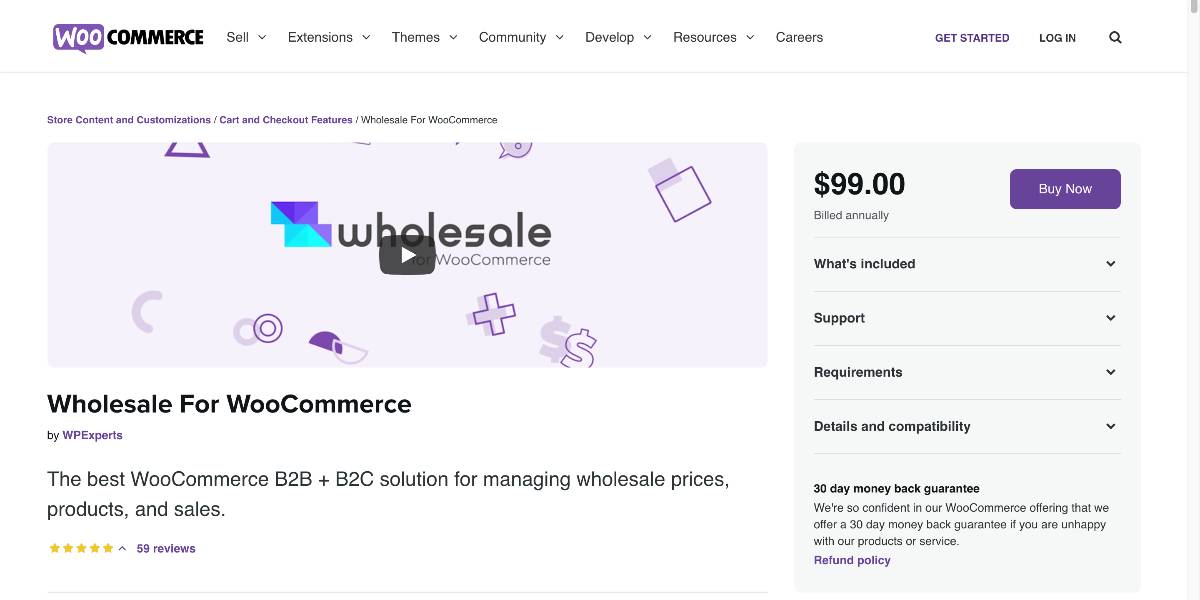 Outstanding features:
Create a versatile business model that handles wholesale pricing and discounts at the global, category, and individual wholesale product levels.
You may define different discounts and rates for different user roles
Define your store's user role hierarchy based on your business needs.
Make product variants accessible just to wholesale buyers
Create a filter for wholesale and retail orders on your dashboard.
Price: This plugin will cost you $99 for an annual subscription.
Booster For WooCommerce
Booster For WooCommerce, formerly known as WooCommerce Jetpack, is a plugin that adds extra bells and whistles to your WooCommerce store. It's an excellent choice for people unsatisfied with vanilla WooCommerce and who want additional functionality but nothing too hard. Its functioning is relatively simple, allowing you to choose minimum buy quantities to receive discounted wholesale pricing. It's ideal for those who only wish to set up a simple alternative for potential wholesale clients.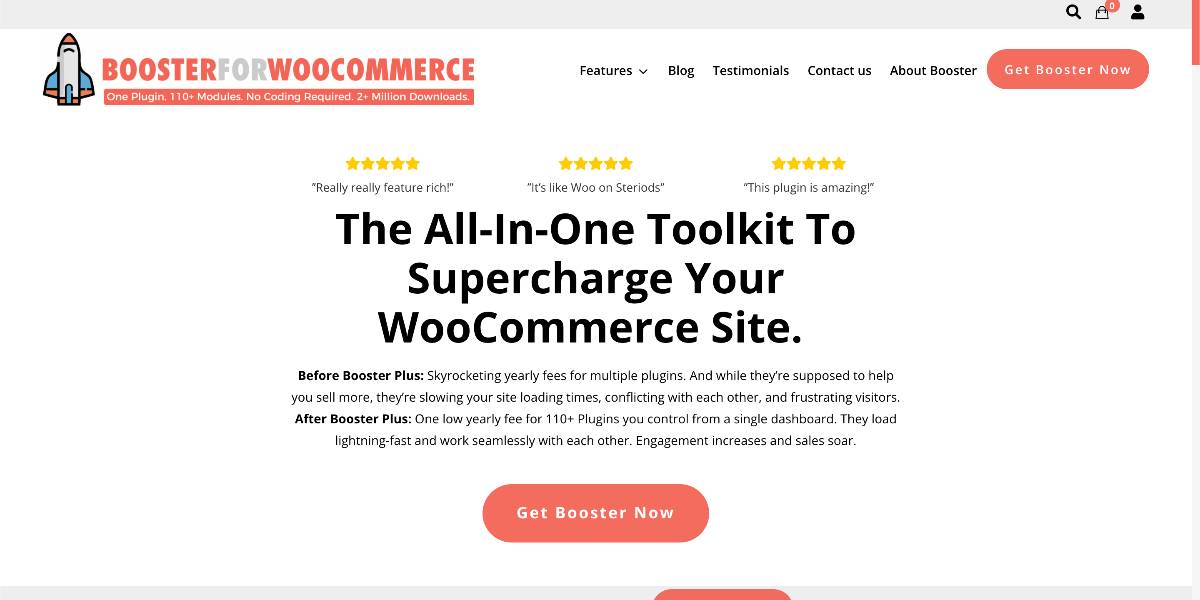 Outstanding features:
Set up different discount levels so that the more things your clients purchase, the more money they save! Set the minimum quantity and discount for each group quickly and easily.
It should allow you to hide some information from users who have checked out of their accounts, such as discounted rates.
Allows you to display discount details on the cart page.
You can only add a discount to a customer's order if no other discounts are available.
Only apply the discount depending on the total number of goods in the cart.
Price: Booster for WooCommerce is available for free download, and it includes the WooCommerce Wholesale Price module.
Conclusion
Suppose you are a newcomer to the WooCommerce marketplace and want to experiment with wholesale pricing. In that case, you may utilize one of the free WooCommerce wholesale pricing plugins covered in this post. There are also some solid premium choices, which you can upgrade to when your business expands, and you want more sophisticated capabilities.
We hope the list of the 9 best WooCommerce wholesale suite plugins for your store will help you manage your online business. As you can see, we made an effort to offer a wide range of plugins with varying functionality and pricing ranges. Please look at all of them and find the most appropriate B2B plugin and peak your sales!
New Posts
Subscribe
Stay in the know
Get special offers on the latest news from AVADA.
40k
subscribers has been joined!
Earn $10 in reward now!