12+ Best Shopify Material Themes 2021
Are you looking for Shopify Material Themes? You are in the right place! 12+ Best Shopify Material Themes have been reviewed and manually picked up by our AVADA Commerce team from website, marketplace such as: Themeforest, Shopify Themes or TemplateMonster. Material Themes have been collected based on the following criteria: number of sales, reviews, ratings and social metrics. The best Material themes collection is ranked and updated in September 2021.
Material Themes for Shopify
Here is a list of best Material themes for shopify:
Everything - Material theme by Tvlgiao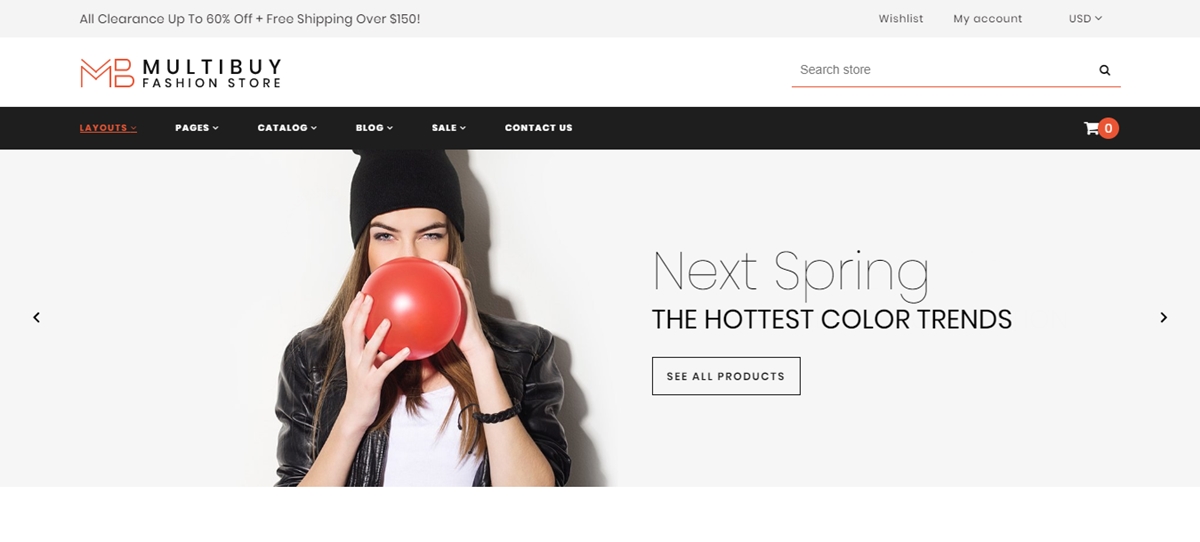 Theme features
Provide more than 100 eye-catching themes
One-click installation
Support the Products Dropshipping Ready
Bring the Mega Menu
Support Multi Currency
You want to have a theme that supports every field for your store, Everything is what you are looking for. It is designed with the most effective features, so it is such a Premium Multi-Stores Shopify Theme. The ThemeForest trys to solve all your problems by adding as much as tools in this theme. For an example, this theme is not only responsive for all devices but also it is valid with HTML5, CSS3. There are more than 100 creative designs for the store owners to use to make the Shopify store more impressive. Moreover, by supporting the Oberlo App, the Everything helps the users to access dropshipping business from Aliexpress. In addition, another feature is Proxima Nova font which has a unique layout for your store. Moreover, the Block and Sections helps boost the appearance of the layout. Last but not least, the Translate Editor tool will be the solution to expand the market to the world.
More Info / Download Theme Demo
---
Quickshop - Material theme by Roartheme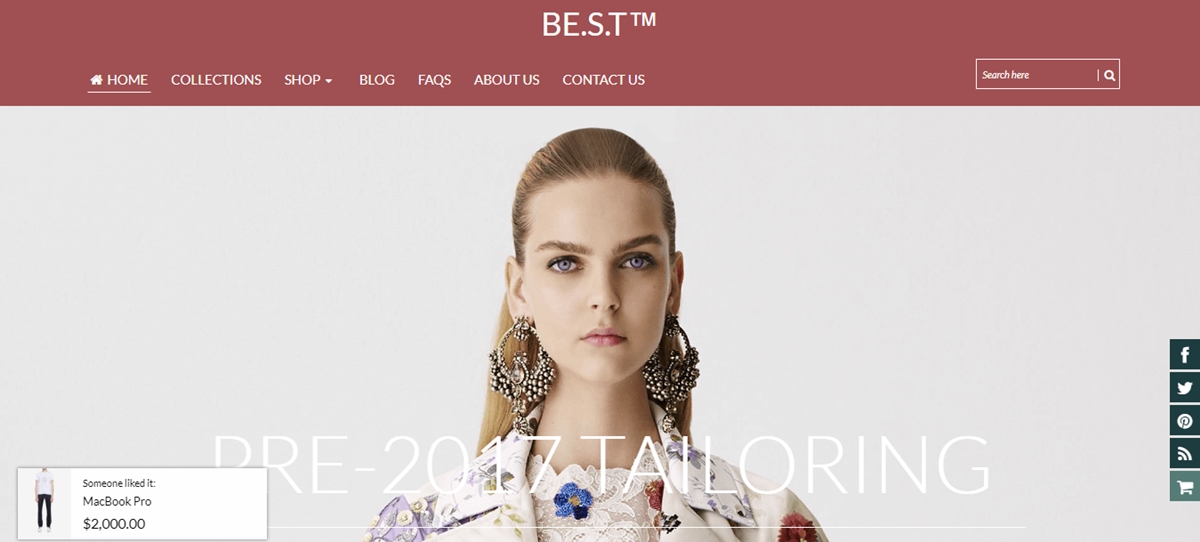 Theme features
Support the variant images
Provide advanced filter
Easily sort by features
Get notification on products
Offer Count-down on side
For increasing the sale for the Shopify store, the QuickShop theme is the most effective theme with a beautiful and fully responsive layout. The Shopify store owners would like to have the tool to promote their products, with this app, it is easy for them to display the products more beautifully. It helps attract the customers with smooth and modern HTML5. Moreover, it looks great by the fully responsive feature, your products images will be perfect on all devices. In addition, QuickShop is user-friendly and easy to customize so the users can decorate their stores and their products in their own way. There are many templates for you to choose such as fashion, clothing, digital gadgets, etc. Finally, this app allows the users to increase the SEO efficiency by Google's rich product snippets and Count-down tool on Slider.
More Info / Download Theme Demo
---
Material - Material theme by Roartheme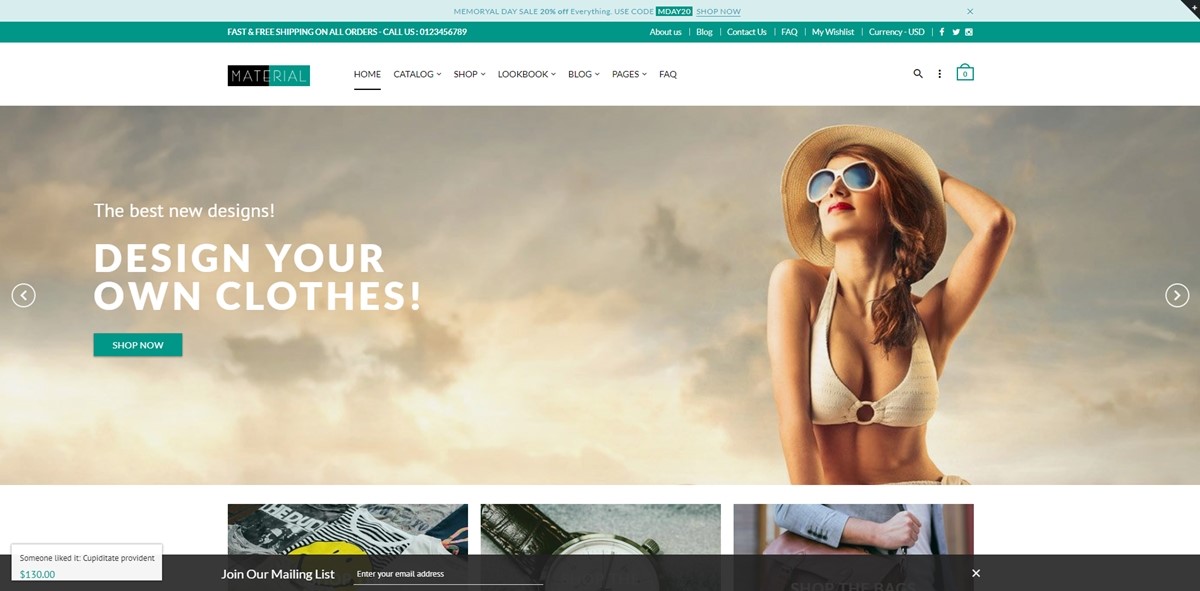 Theme features
Multiple Purpose Themes
Allow putting Video as a single slide
Provide Advanced Filter Module
Bring Mega Menu Styles
Support Responsive Design
The lastest Shopify Theme of Roar theme – the Material theme is developed with the most gorgeous new layouts. There are multiple features which are innovative and high-technology designs. This theme allows users to synthesize the guidelines for store management. Moreover, by combining with an experimental interface, Mega Menu easily fits all your needs. To give you the best UX, this theme also is integrated with Advanced Filter Module, Instagram Feed, QuickShop, Color Swatches, etc. Besides, the store owners enable using this theme in multiple browsers because this theme enhances the visual and motion experience. Especially, there are many apps such as Video Module, Infinite Scroll will support your business. Last but not least, the Material theme is fully responsive, which means that it can work smoothly and perfectly in all devices like MAC, PC, iPads, etc.
More Info / Download Theme Demo
---
Bazien - Material theme by Roartheme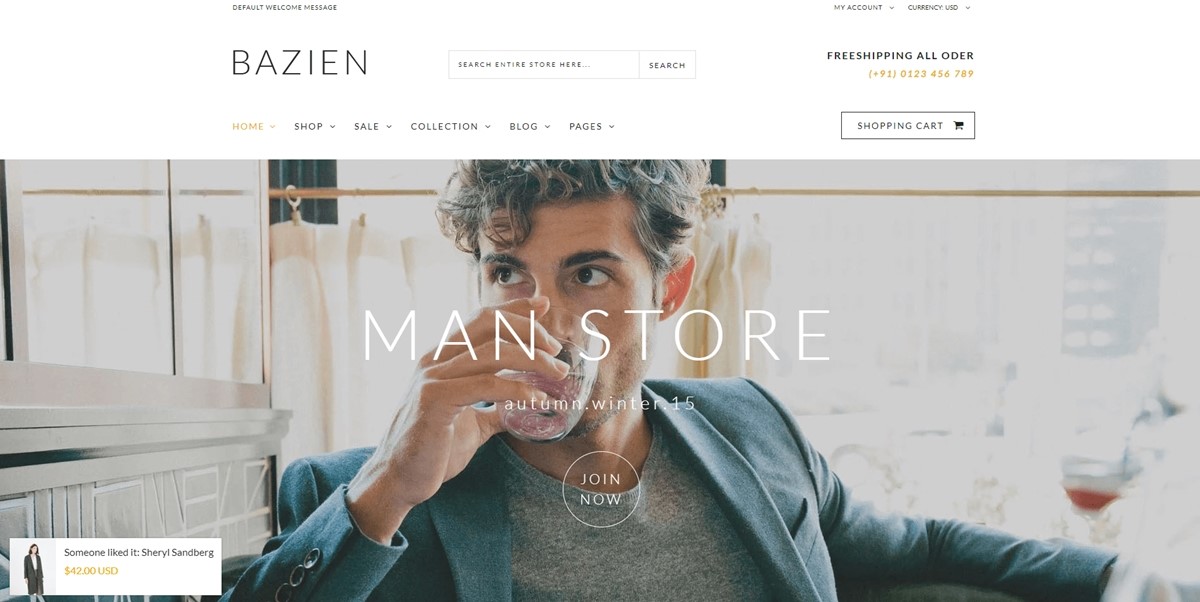 Theme features
Material Design
Video Slider
New Filter Module
Advanced Mega Menu
Beautiful Layouts
Bazien theme is a premium Shopify theme with advanced and customizable theme panels. It is easy for any Shopify store owners to use and install this app. Moreover, with the fully responsive features, your products will be shown with the best views in different devices. This app allows users to choose the most suitable homepage among more than 6 demos and 4 header options. In addition, by the Mega Menu, the shop owners are easy to update the top menu and set any features in their pages. Besides, the Font Awesome Icons will help your vector icons are customizable with the size, color, drop shadow. Last but not least, your shops will be designed with the best colors because this app provides an unlimited color which is trending for your background, logo, text, and any buttons.
More Info / Download Theme Demo
---
Hosoren - Material theme by Engotheme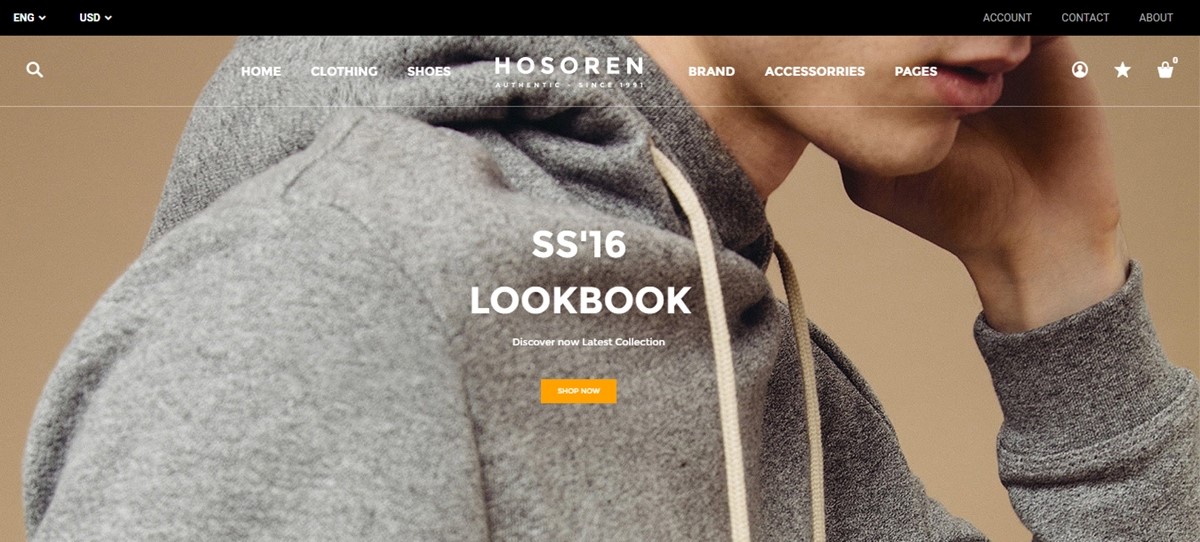 Theme features
Support Carousel Product Slider
Provide Themepackage and Oneclick install
Support unlimited colors
Advanced Mega Menu
Beautiful Layouts
The Hosoren Shopify theme is considered as a clean, gracious eCommerce solution for any Shopify stores, especially in fashion. With many charming templates, this theme makes your store appearance more professional and attractive. Moreover, the Hosoren was designed with many effective tools such as Ajax Toolbar built-in, Previous & Next functionality for the product view page. In addition, by a retina ready feature, your products will be perfect on various devices from mobile phone or PC. This theme also allows the buyers to maximize their purchase by Smart menu and Product zoom tool. Besides, the Best Seller Product features will help the users to manage their business as well as boost the sales.
More Info / Download Theme Demo
---
Decortica - Material theme by Halothemes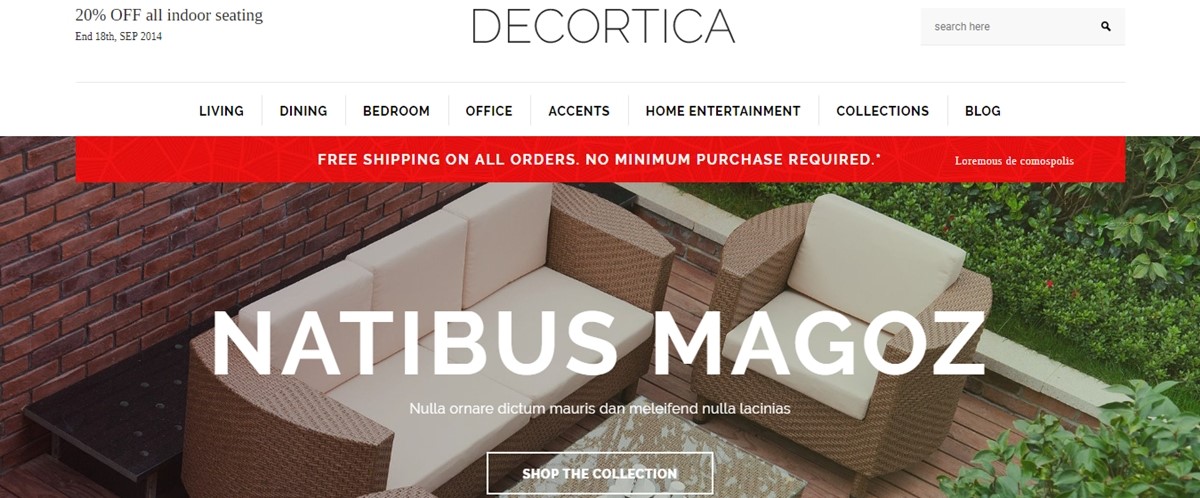 Theme features
Bring the Color Swatches
Support Dropdown Login Module
Provide Bootstrap 3X
Provide Mega Menu
Support Responsive Web Design
The furniture theme called Decortica is the responsive Shopify template. With the powerful features for any multiple purposed stores such as the online furniture store. Moreover, the DECORTICA focuses on modern flat design flat-design and simple 3 model schemes. The responsive feature is also one of the best tools for their stores to perform the product perfectly. In addition, this Shopify template enables displaying off the contents arranged properly, which attracts more customers shopping at the store. Besides, by the large Responsive Web Design (RWD), it is compatible with all devices, such as desktop, iPhone, iPad, Android, etc. The Mega Menu Module, Dropdown Login Module, Product Filtering by Tags Module are effective to support your shoppers to easily find the expected products. Last but not least, with Powerful Theme Settings, it is easy for the store owners to customize their stores.
More Info / Download Theme Demo
---
Woodwork - Material theme by Jetimpex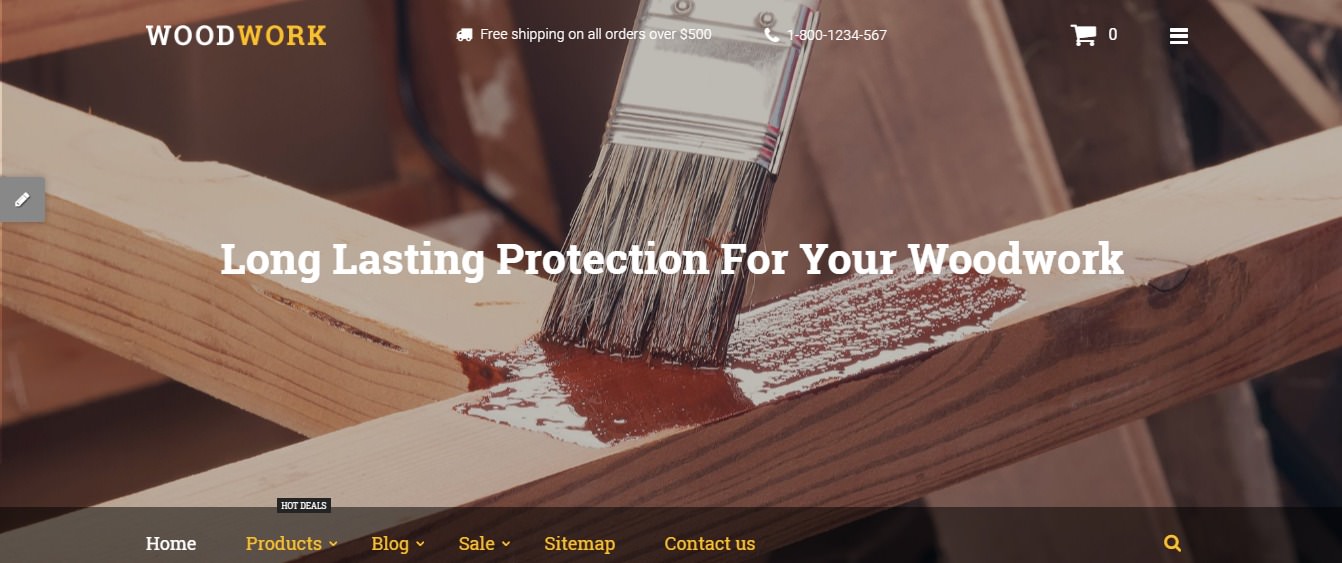 Theme features
Stick-to -Top menu
Blog
Crossbrowser
PSD included
Parallax
Such a responsive eCommerce solution equipped with two types of menu, the Shopify theme is specially designed for materials and furniture stores. Moreover, this theme, with two main menus. For example, a burger menu has options allowing visitors to create an account, log in, change the currency, and check out and a mega menu which can arrange product categories in columns, display sale items, and blog post previews, etc. Moreover, the visitors will update all the hot deals in a certain product category; therefore, the store owners can attach a label informing of that to the corresponding menu item. In addition, the products are displayed as a carousel, featured items are supplied with a quick view option. Last but not least, the add-to-cart button and new / discount badges will be the best solutions for buyers to buy products conveniently.
More Info / Download Theme Demo
---
Building Materials - Material theme by Jetimpex

Theme features
Blog Articles
Image with text overlay
Gallery
Testimonials
Featured Products
Building Materials is the template especially designed for building materials stores. This theme includes many useful features such as custom content, map, etc. Moreover, it also supports Single product that is suitable for any stores. This theme allows admins to display their products on collection list, and highlight them by image with text. Building Materials Shopify Theme is one of the best solutions for visitors to have the latest news about the stores by Blog Articles. Last but not least, the Product Carousel and Featured Products can help customers find out the best suitable products for their expectation.
More Info / Download Theme Demo
---
Windows & Doors - Material theme by Jetimpex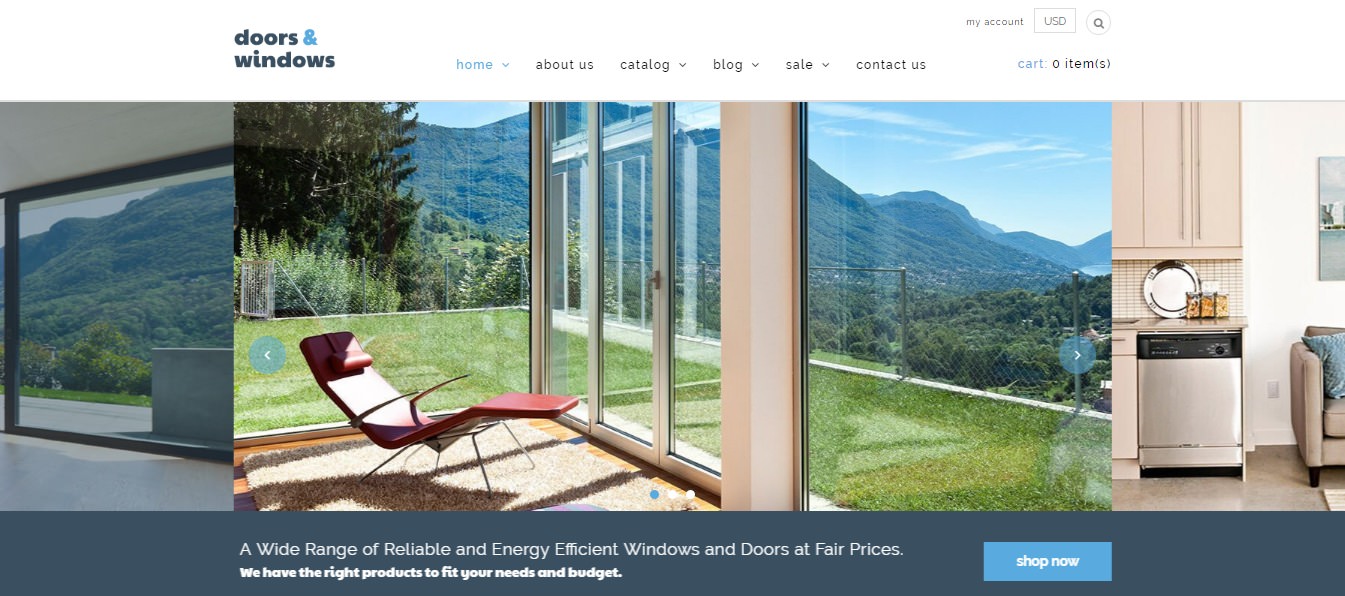 Theme features
Blog
Google Map
Product Carousel
Gallery
Psd included
Valid semantic coding
If you are looking forward to a perfect Shopify theme for building materials, doors and windows, Windows & Doors theme will be great for your online business. This theme allows store owners to create a unique homepage on their own from 16 ready-to-use sections. Furthermore, it is also the ideal theme that brings customers the best buying experiences by Slideshow, Featured Product, Product Carousel, Gallery, Image with text features. Besides, Blog articles, Collection list, Single Product will be the tools helping the purchase process much more better. It is easy for admins to install and use this theme by user-friendly and fully-documentation. Last but not least, Jetimpex brought about amazing tools in Windows & Doors such as PSD files, Google Map, Sorting Options, etc.
More Info / Download Theme Demo
---
Tile Stone - Material theme by Jetimpex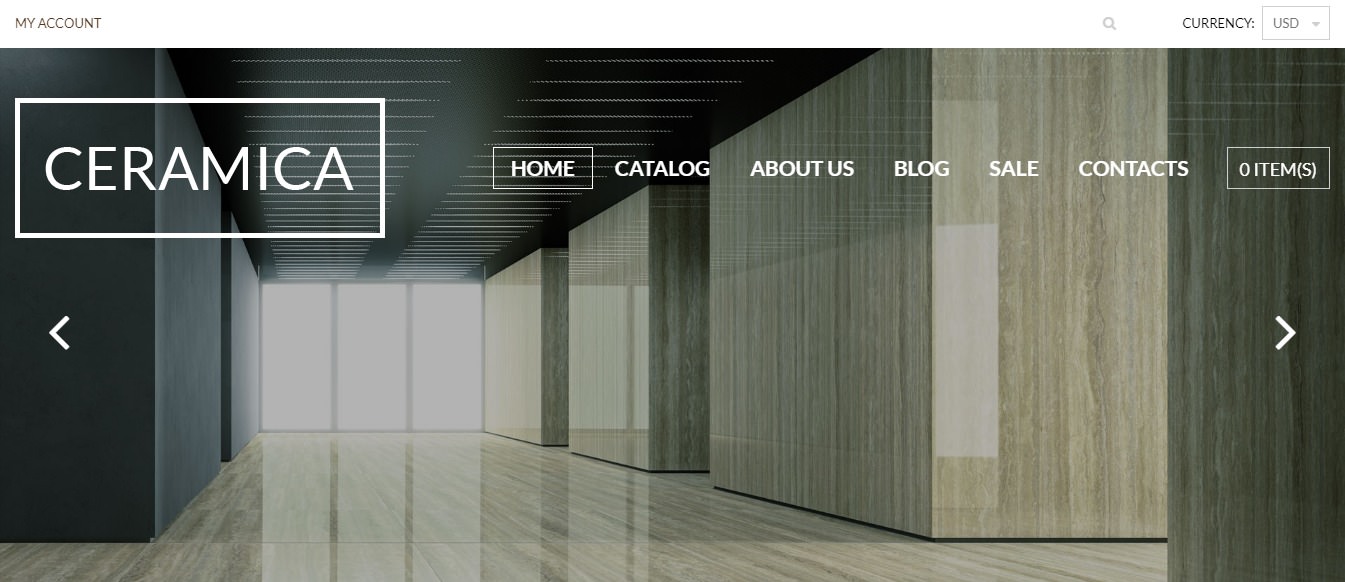 Theme features
Multilaguages and Multicurrencies support
Text columns with images
Sildeshow
Image with text overlay
Logo list
Advantages
Such as an ultra-responsive Shopify theme for construction, Tile Stone will help your building materials online store become much more profitable. Furthermore, it includes a plenty of awesome features such as easy-customizable homepage. Moreover, there are various layouts that allow store owners to create a stylish homepage and solution with plenty of complexity. Built with CSS Grid, it is free for admins to choose the block and show up your products the best by the design grid. This Shopify theme has multiple outstanding features such as a pleasant, clean design and a neat contact form, a rich choice of Google web fonts, a newsletter subscription, etc.
More Info / Download Theme Demo
---
Binerial - Material theme by Bingotheme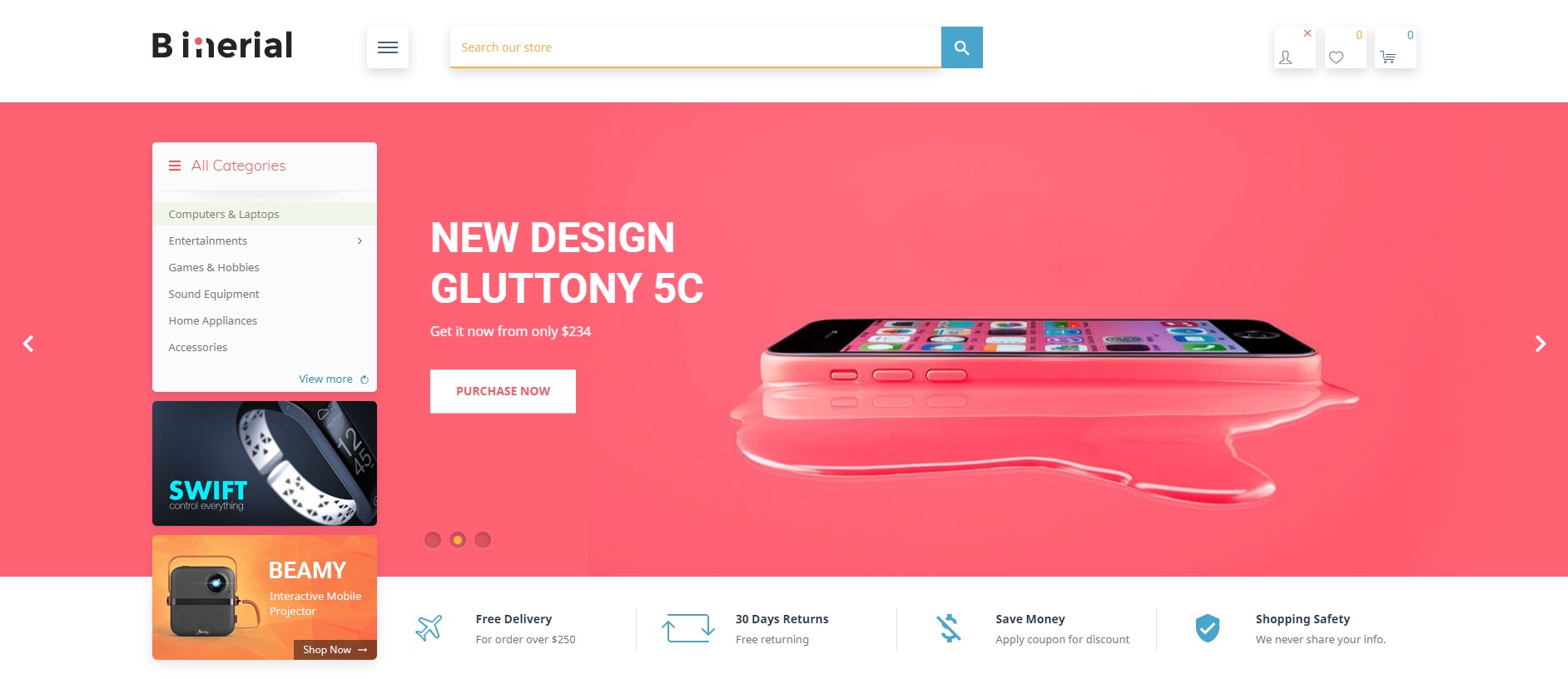 Theme features
Powerful admin panel
Easy to install and customize
Include flexible Mega Menu
Unlimited colors
HTML 5, CSS 3 & Sass CSS built
Integrate more strong modules
Binerial is a clean and modern theme for Shopify stores. Binerial is designed exclusively for electronics stores, however, it's also suitable for most different stores such as jewelry, fashion, apparel, shoes, watches, furniture, etc. Binerial has design style with harmonious color and friendly interface. This is the difference between your store and your competitors. In addition, Binerial has a flexible board administrator system even if you are a beginner. Everything is easy for you if you own a Binerial Shopify theme for your online store.
More Info / Download Theme Demo
---
Garden Centre - Material theme by Buddhathemes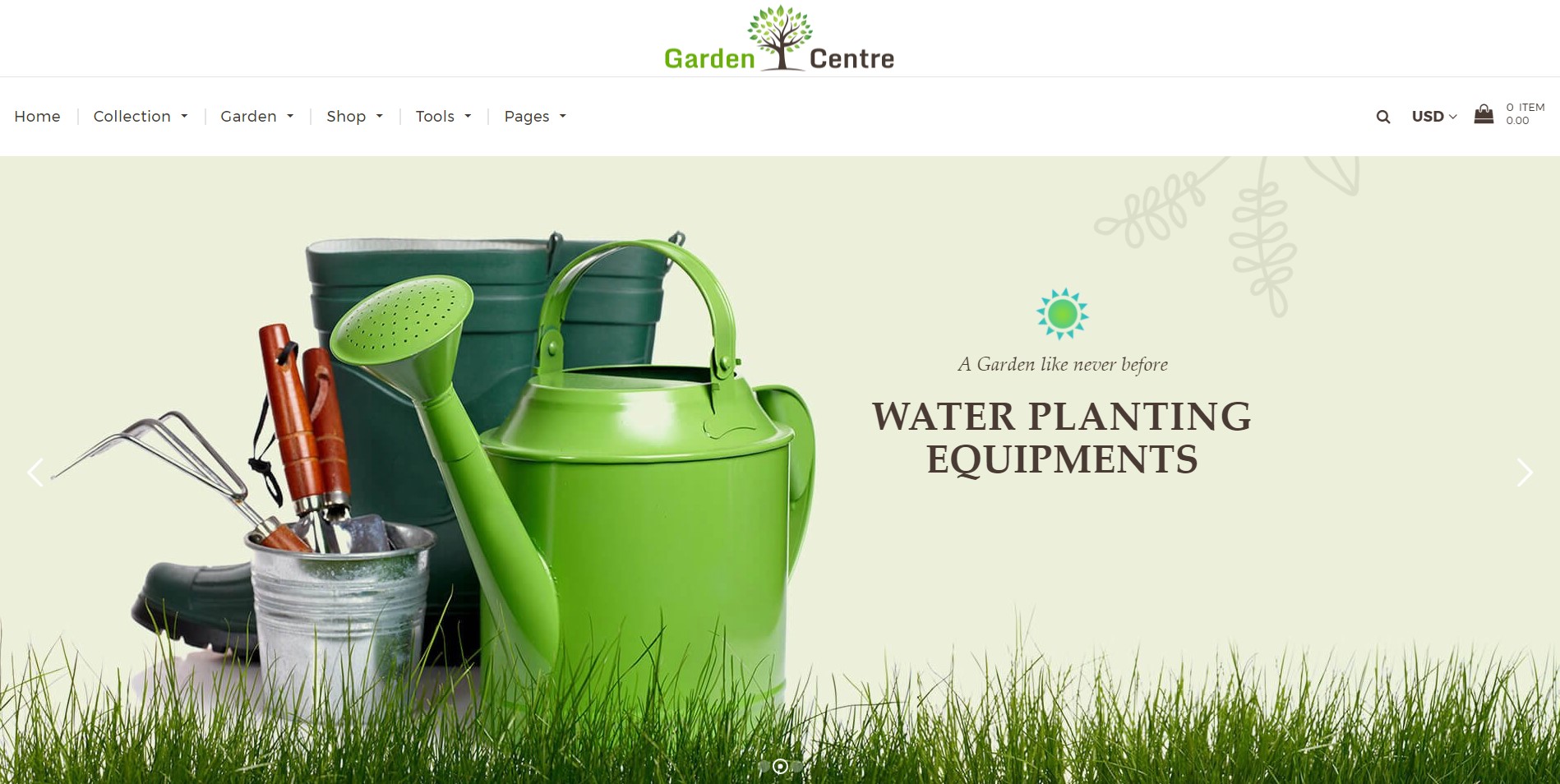 Theme features
Fully responsive design
Include 5 different styles of Mega Menu
Support Revolution slider
Support multi currency
Include ton of powerful plugins
Easy to customize and install
8 types of header and footer included
Comes with tons of great features like Font Awesome icons, Mega Menu, Related Products, Blog, Revolution Slider, etc, Garden Center promises to give customers the best experience as well as create the unique for Your online store. In addition, the Garden Center is designed to assist with address searches, gardening, commercial access, and walkways. Plus, with the smart and flexible control panel, whether you're a new store owner, it's easy to use the Garden Center Shopify Theme. That's great!
More Info / Download Theme Demo
---
You are using Wordpress platform? Let's take a look at the review Best Material Themes for Wordpress
How AVADA Commerce ranks 12 Shopify Material themes
These 12 Material themes for Shopify are ranked based on following criterias:
Theme rating review on Themeforest, Shopify Themes Marketplace, Templatemonster, MOJO Marketplace and more.
Themes' reviews and ratings.
The theme's design.
The vendor's reputation on social networks, and search engine ranking.
Social networks metrics such as Facebook, Twititer, Google+.
AVADA experts' reviews
Top 12+ Shopify Material Themes / Templates
Thank to every theme vendor that has made the 12+ best Shopify Material themes/templates list! This is the most comprehensive list of best Material on the internet and we are honoured to have you as part of this!
We would like to give the best commendation for all of vendors who have done the number one of Material brief! It is appreciated to be the most awesome and exhaustive result from searching on Google. We are pretty proud of your appearance of this task. Many thanks for your benefaction to our lives!
If you want to add or remove an item in the Material list, feel free to contact us at Contact us
Find more themes, please visit our Shopify theme reviews!
People also searched for
shopify material themes

material themes for shopify
top material theme for shopify

top shopify material store themes