Shopify Exit Popup Apps 2021
13+ Best Shopify Exit Popup Apps from hundreds of the Exit Popup reviews in the market (Shopify Apps Store, Shopify Apps) as derived from AVADA Commerce Ranking which is using AVADA Commerce scores, rating reviews, search results, social metrics. The bellow reviews were picked manually by AVADA Commerce experts, if your app about Exit Popup does not include in the list, feel free to contact us. The best Exit Popup app collection is ranked and result in April 2021, the price from $0. You find free, paid Exit Popup apps or alternatives to Exit Popup also. The Top 50+ Shopify Free Apps for Every Store.
13 Best Exit Popup Apps for Shopify
Here is a list of 13 best Shopify Exit Popup apps:
AVADA Marketing Automation by Avada commerce
AVADA Marketing Automation is tailored for eCommerce websites who want to build customer list and convert more sales. The platform supports all needful tools for your marketing: Automations workflows include Abandoned Cart Email, Welcome Email, Transactional Emails, Cross-sell and Up-sell Email, etc. All workflows are pre-built with a ton of presets.
Also, AVADA allows stores to send mass emails via newsletter campaigns with pre-designed templates that look like a pro. With AVADA Email Editor, everyone can edit email and build a beautiful branded template with our powerful design suggestion tool.
Besides, you can send SMS Automation and mass SMS to your customers using AVADA to get an ideal open rate up to 98%.
Another main function that AVADA offer is stunning Sign-Up form to collect quality leads for your shops. With a dozen of advanced functions such as Re-engagement, Double opt-in, Email validation, etc. you can collect potential list and higher the chance to convert them successfully.
AVADA offers Free plan for 500emails/day and 1000 contacts. Pro plan starts from $9 which enables unlimited sends and many advanced features. Just explore it yourself!
Highlight features
Automation workflows: Abandoned Cart, Welcome, Transactional emails, Cross-sell, Up-sell emails
Newsletter campaigns
SMS automations and newsletters
Drag and drop email builders for non-tech people
Ready-to-use email templates
Stunning Spin-to-win & Popup to collect leads easily
Advanced segmentations and reports
Price: Free
Rating:5.0 / 5
Popup Pop up Notifications by powr.io
With Popup Notifications, you can create your perfect mailing list popup or e-newsletter signup popup and collect email addresses on your dashboard.
When the customer accesses your link, it acquires feedback with a survey popup, or add clickable photos (like emojis) to accumulate feedback and critiques immediately out of your popup. Announce flash sales or create urgency with the aid of embedding a Countdown Timer and featured product pics for your popup. Offer unique cut price codes or promotions with a custom name to the motion button to redirect users to your income web page. Display your popup without delay while your web page loads. Restore your popup to the pinnacle or bottom of your site, so your customers see the popup on every page. Get greater fans for your social channels by adding all your social hyperlinks to popup.
Moreover, there are the automatically welcome emails sent whilst a user signs and symptoms up via your popup. Control the frequency with which popup ought to seem to the identical visitor.
Highlight features
Show your pop up quicky
Can adjust the location of pop up
Can add social link to pop up
Automatically send welcome email to new users
Support text in any languages
Price: 0
Rating:4.5 / 5
Wheelio ‑ Gamified pop‑up by It trading d.o.o.
Your company wants to take advantages of Facebook to boost sale revenue? Would you like to create an advertisement without time-consuming? Wheelio is absolutely your answer. The would generate wheel-shape popups to capture customers' interest. Wheelio offers a lot of benefits. First, the app connects with Facebook, in particular, Messenger to send to visitors welcoming messages and provide customer care service. In the inbox, shoppers can ask questions and your staffs would response and persuade them to buy store's items. Second, Wheelio allows shops' admins to collect buyers' data via their email subscription. Thanks to these email, your company can send recent information related to discounts or sale-off season to customers as well as some questions to survey about their attitude about your brand, therefore, you can adjust your wheel popups. In additions, admins are able to adjust the design of popups and add some animations to attract buyers. Last but not least, the app enables you to integrate with other software such as recart, mailchimp, sendlane and so on. Wheelio offers two packages: basic plan ($14.92 per month) and pro plan ($54.92 per month).
Highlight features
Gather customers' emails
Collect Messengers subsciptions in a fun way
Create pop-ups for advertisement
Provide awesome animations
Avance PRO packages with validato and segmentation
Price: From $14.92/month. 7-day free trial.
Rating:4.8 / 5
Personizely Exit & Email Popup by Personizely
Personizely is a conversion marketing toolkit that allows your business to convert visitors with stunning email seize, reduce deserted cart with goes out popups. Prevent dropping customers.
You will be provided a coupon pop up or go out offers proper before they begin cart deserted cart. Lead seize and grow your email listing by using showing visitors a reduction pop up. Convert your visitors into Facebook messenger subscribers using our integration with Recart and exit rational generation. Besides, you can boost income in your saves by suggesting frequently offered products collectively on product or cart pages. Endorsed merchandise is a pleasant way to boom the average order fee. Moreover, to push your traffic in the direction of purchase utilizing developing a feeling of urgency with a countdown clock.
You can persuade clients to purchase an extra high priced, top-rated, or upgraded version of the product they're buying with one click on upsell popups and smart package upsell. All of these features will bring more customers to your store.
Highlight features
Provide messenger popup
Show visitor discount email popup
Suggest products that buy together
Offer sales countdown timer bar
Can show sales motivator bar
Price: $29/month
Rating:5.0 / 5
Email Popup Wheel Game Pop ups by Tada
Tada is the Shopify app that gives your website's pop-up the magic it needs to boost your number of customers! The application has been created by a group of international entrepreneurs that were tired of regular email pop-ups and were looking for something more fun and more attractive. Tada offers interactive pop-ups that allow your visitors to play a little game in exchange for their email address. Gamification is a powerful tool in e-commerce as it reinforces the relationship between the merchant and the potential customers. The application integrates with popular email marketing platforms such as Klaviyo and Mailchimp. See your emails data in real time with Tada's dashboard that allows you to analyze subscribers, revenue, click-through-rate and much more. In addition to offering gamified pop-ups, the shopify app also offers elegant full-screen pop-ups that'll make sure your visitors won't miss what you have to offer. To make certain they reflect your brand images, the pop-ups are 100% customizable. Last but not least, Tada offers a free plan that allows you to go up to 5000 impressions, which is very attractive!
Highlight features
Choose between fun gamified pop-ups or elegant full-screen pop-ups
Capture more subscribers and increase store conversions
Simple to install and to customize designs
Control the customer journey with Tada's dashboard
Works with Kalviyo and Mailchimp
Price: Starts from $0/month
Rating:5 / 5
Smart Popup by Eggflow
This pop up will show discount and exit popup for the customer while they open your site. You can base on this app to design your popup which unique to the customer.
This app will show a price proposition with a short submission form for customers to fill in the facts. Popup supplying a discount code for customers maybe in alternate for an email address. Coupons can be imported mechanically out of your save and are copyable for customers to use straight away. Popup window with a call-to-motion button to steer clients to particular websites. Pop displayed inside the middle of customers' display screen flow. Popup with call-to-action buttons is displayed at the bottom of customers' display screen waft. Display time and triggers may be adjusted.
Last but not least, the popup can show 2 or more popups in turn on the identical page to test which one provides the best result. You just need to install this app to attract more customers.
Highlight features
Build email of contact list
Make flexible triggers
Can make a test between 2 popups
Make coupon popup
Support quick integration
Price: 0
Rating:4.4 / 5
Easy exit popup by Thinkconvert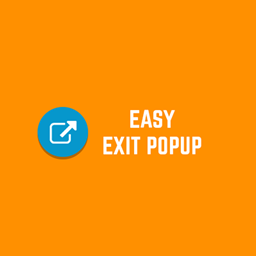 Easy exit popup by ThinkConvert aims at converting abandoning visitors into your sales. In fact, the app allows you to showcase a pop-up window that can add discounts and offers or promotional messages before visitors go away, then, you can have another chance to take them back. Easy Exit Popup is highly customizable and this allows to track the visitors' movement. With the app, users can show or hide the popup when they can leave the site, or they visit the site. Besides, the time to display can be selected and set up. Also, it is easy for users to modify your template design and set up images as backgrounds. Moreover, users can change the text of heading or sub-heading, colors of coupon background and text, and thank-you button text and its colors. Take note that the app is easily installed without requiring any coding knowledge and offers only 3 days of free trials.
Highlight features
Allow customers to see the popup with its background colors
Let customers check popup with left or right background photos
Change template design
Set up photos as backgrounds
Price: $4.49/month. 3-day free trial.
Rating:4.1 / 5
Exit Popup & Coupon Popups by Storeya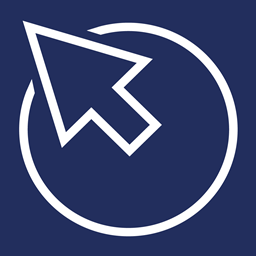 As a merchant, you might know that most of the store visitors who leave your store, they are not likely to return, hence, this is the reason why you need Exit Popup and Coupon Popups. The app aids in converting your visitors into customers in a minute before they disappear. With the app, you can easily track the movement of each visitor in real-time since it can detect the millisecond as your visitors display the intention of abandoning your website and promoting them to stay as well as purchase products. In addition, you can close your sales with right-away offers and require no coding skills. The app automates customer acquisition and provides users with A/B Split Testing. Take note that Exit Popup can achieve new leads for the upsells in the future and any language can be well translated. Don't forget that the app can show the offers on some pages based on traffic sources.
Highlight features
Track visitors' movements in real-time
Detect when visitors disappear
Increase conversion rates thanks to targeting rules
Automate customer acquisition
Translate every language
Price: From $9.99/month. 14-day free trial.
Rating:4.8 / 5
Free Exit Popup, Coupon Popups by Poptin
Let's say you have a wonderful store page with the considerable investment, time and effort to build it. However, you still struggle to find a way to increase the low conversion rate. So, why don't you let Free Exit Popup, Coupon Popups to be a factor to make your store become more effective or boost your sale? The main function of this app is showing the right message of a special offer at the right time so as to convert a visitor to a very potential customer. Apart from that, the customers could easily ask questions to your store by Facebook or Whatsapp chat widget and interact with store fan page as well. Moreover, the pop-up could receive personal emails from customers, which is very valuable to work on email-marketing campaigns or CRM. There is a very fancy feature of this app with the aim to prevent customers from leaving store's page with nothing: Exit intent pop-up. Furthermore, you could decide a time for a pop-up display depend on how customers scrolling and clicking on your page. On the other hand, Poptin offers users with a full statistical dashboard which records the information about visitors, views, conversions, etc. Finally, you would never be worried about an interface of pop-ups because a variety of completely responsive and well-designed templates are prepared to make your store look really dynamic! Hurry up! With just 1 minute to install, you will be able to experience our very cool application on free plan with 1,000 popup views per month.
Highlight features
Broaden Email list
Engage customers by recent chat and social media
Create an exit intent pop-up
Full statistical dashboard
Simple to customize and install
Price: Free plan available. Additional charges may apply.
Rating:4.7 / 5
Knowband ‑ Exit Popup by Knowband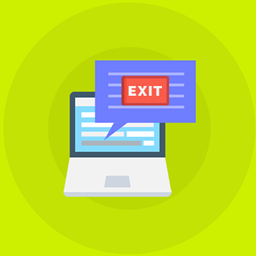 If you are thinking about creating an exit intent popup for your website, Knowband - Exit Popup is bound to come in handy. Knowband - Exit Popup allows online store owners to take total control of how popups are going to be displayed on their store by providing popups with easily edited and personalized titles, different colors and texts of the button, background images and so on. This enables store owners to create attractive look and feel for their site, which helps capture the customers' attention when they are leaving the store and lure them into making a purchase. As a result, cart abandonment rate is reduced and conversion rate is raised. In addition, Exit Popup can create a graphical statistics report of showing how many users stayed on the site by redeeming the coupons from the app. This really works for any store owners who want to measure the effectiveness of their popups. Install now and experience these amazing features free of charge.
Highlight features
Reduce cart abandonment
Boost conversion rate
Absolutely customizable look and feel
Generate graphic report of coupon performance
Automatic customer account registration
Price: Free
Rating:3.2 / 5
Popup Maker Sales Pop Exit Pop by Sygnoos
Popup Maker is a group of all the famous popup types. Enormously customizable factors of Popup Maker's editor enable you to create a mixture of numerous paperwork and elements packed in one.
You may have them both, in separate popups and encompass them in a single, as a group. Subscription tool is the remaining tool to help you grow your electronic mail list, getting extra subscribers each hour, every day. You could ship computerized emails as soon as the person subscribed. The purchaser will acquire newsletter through email marketing campaigns are sent. Provide net push notification with targetted messages via computing devices and cell browsers. Encompass video URLs in the popup to reveal your promotional ads, tutorials, music films, or something you desire.
You could insert a button and personalize the decision-to-motion activities to your internet site. You may use the button to show discount coupon codes in your customers that may be copied properly from the button. Let install and enjoy this app.
Highlight features
Provide all available popup types
Can create well loking popup
Provide detail statistics
Often send email marketing campaigns
Create web push notification
Price: $8.95/month
Rating:4.6 / 5
SP (Sales Exit Intent Popup) by Tengrowth
This Sales Exit Intent Popup app provides popups capture clients' interest and cause them to rethink their purchase decision in your gain. The sales Popup app through TenGrowth helps you to grow sales by using enticing with clients in a more dynamic way.
Your income, exit, or discount pop up will no longer only inform, however it also convert traffic into buyers. With the decision-to-action button, you may make unique offers and redirect clients to the product or series page. You can add a countdown timer to create a sense of urgency. Limited services seem greater valuable, so use urgency and scarcity to make customers prevent hesitating and purchase. Use the email pop as much as acquiring the contacts of your dependable and ability clients right into a handy dashboard.
When downloading this app, you can use these statistics for your advertising and income activities to make shoppers return and buy more.
Highlight features
Can gather emails to retain buyers
Don't require coding to unlock pop ups
Provide special discount to attract customers
Provide sales countdown timer bar
Choose different trigger for each popup
Price: 0
Rating:5.0 / 5
Exit Popup ‑ Exit Intent by Ossos
With this simple but powerful Exit Popup, you may be able to reduce Cart Abandonment. You will be provided the store time and growth earnings. This Popup will show a discount popup earlier than site visitors go away without buying and near the sale.
Exit Popup tracks the cursor actions of your visitors in actual-time. It detects while the visitor is leaving your internet site and shows Popup. Numerous patterns to pick out from and custom backgrounds to make your popup appearance special and professional. This Popup shows up as soon as according to the consultation to keep away from being silly and distracting. This Popup smartly detects while a consumer wants to exit your web site. This Popup has specific patterns to select from. This Popup integrates with Shopify and helps to close the sale before people leave.
Besides, this Popup works out of the box. So you could use it proper away with zero configuration, converting textual content, photograph, conduct, and reductions could be very clean and simple.
Highlight features
Can reduce cart abandonment
Can tracks the cursor movements
Provide popup with special look and professional
Can integrates with Shopify
Do not include any credits
Price: 0
Rating:5.0 / 5
How AVADA.io ranks Shopify Exit Popup apps list
These above 13 Exit Popup apps for Shopify are ranked based on the following criterias:
The ratings on Shopify App store
The app's rank on search engines
The prices and features
The app provider's reputation
Social media metrics such as Facebook, Twitter and Google +
Reviews and assessment by AVADA.io
Top 13 Shopify Exit Popup Apps
Special thanks to all vendors which contributed the best 13 Shopify Exit Popup apps. We honestly recommend you to give every app above a try if possible. We create Shopify apps review series with the aim of helping Shopify online stores find the best Exit Popup for their website. All of the information on the review (including features, description, prices, and links) is collected from the vendor's website or their own published page/ selling channels.
The list of the 13 best Shopify Exit Popup apps is kept up-to-date on a regular basis by our team. Please feel free to reach us out if you have any questions related to this app review.
Don't see your app on the list? Wanna contribute more content to this review? Contact us
People also searched for
shopify exit popup apps

exit popup apps for shopify
top exit popup for shopify

top shopify exit popup apps