How to Integrate Shopify with Quickbooks
Last updated: December 01, 2023
In this post, I would like to provide you with an easy peasy guide to integrate Shopify with Quickbooks. As a shop owner, surely accounting matters will make you spend a lot of time and effort on it. What's more, figures can make you feel headache and can be confusing. Therefore, integrating Quickbooks and Shopify will be a smart solution. When these two applications are integrated, they will create a tremendous power to help your online store grow stronger and prosper.
With advanced features, diverse approaches, easy to understand interface, QuickBooks is accounting software for business owners who want to manage finance accurately and effectively without having specialized knowledge about accounting. Hence, let follow the content below to learn more about Quickbooks and how to integrate Shopify with Quickbooks.
Related Posts:
1. What is Quickbooks?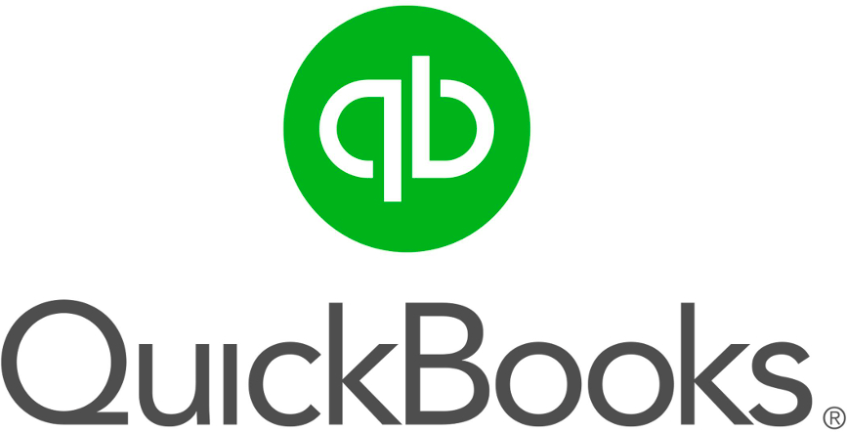 Are you a start-up or managing a small company? The company doesn't have too many employees? Need an accountant but can't hire more staff to save money? If the answer is "Yes" to all of the above questions, Quickbooks will be a great solution for you. Founded and operated by Intuit, this advanced and user-friendly Quickbooks accounting software is designed to assist small and medium-sized businesses (SMEs) in performing accounting jobs with ease.
The special feature of this software is that you will not need accounting experience or knowledge to use it. With a simple design, you can confidently bring Quickbooks into the company's management process to improve work efficiency.
Quickbooks has extremely prominent features such as automatic synchronization of all data on devices such as computers, iPad, Android, and iPhone. It allows users to access online with any device and anywhere. This accounting software provides you with data security and is easy to set up. Besides, Quickbooks can customize according to the type of business to be the best and most suitable for your business. The user interface is designed to be intuitive and sophisticated. You can track the operational status of the business at any time.
Furthermore, Quickbooks provides features such as creating invoices, quotes, and orders quickly with company logos and custom fields on demand. Therefore, you do not need to have the relevant knowledge to use the software. It can back up data automatically and help you track inventory. In particular, Quickbooks can create value-added tax reports (GST / VAT) and allow multiple users to access them at the same time. In terms of benefits, it helps you save money and time on bookkeeping, and you can spend more time on business. Besides, Quickbooks is automatically updated to bring the best experience.
How Quickbooks eCommerce integration improves the customer experience
When integrating Quickbooks with Shopify, you will experience Quickbooks and take advantage of the utilities it provides for your Shopify online store. With Quickbooks, there are countless benefits you can have. Next, I will present three things about how Quickbooks eCommerce integration improving the customer experience.
First of all, you will find Quickbooks super useful because it can synchronize your sales, product and customer data. No matter how big your business is, there will be a lot of figures about sales, products, and customers. These numbers are different and confusing. Therefore, they need to be strictly controlled and accurate. Synchronizing this data is great because it saves you time and effort. These figures will be automatically synchronized in real-time.

Secondly, Quickbooks can keep your accounting always accurate and up to date. We all know that accounting is a very complex thing that every shop owner faces. However, with Quickbooks, you will find it easy like a piece of cake because this is smart accounting software that can handle multiple numbers at once and ensure high accuracy. In particular, its update is a benefit you cannot ignore. Whenever your store has a new database of customers, sales or products, Quickbooks will update immediately.

Thirdly, you can obtain a true view of your business. In other words, you can closely monitor the performance of your business through the figures and statistics that Quickbooks has calculated and presented. From there, you will know clearly about the accounting situation of the business and make the most promising plans for the future.
How to integrate Shopify with Quickbooks
Integrate with One SaaS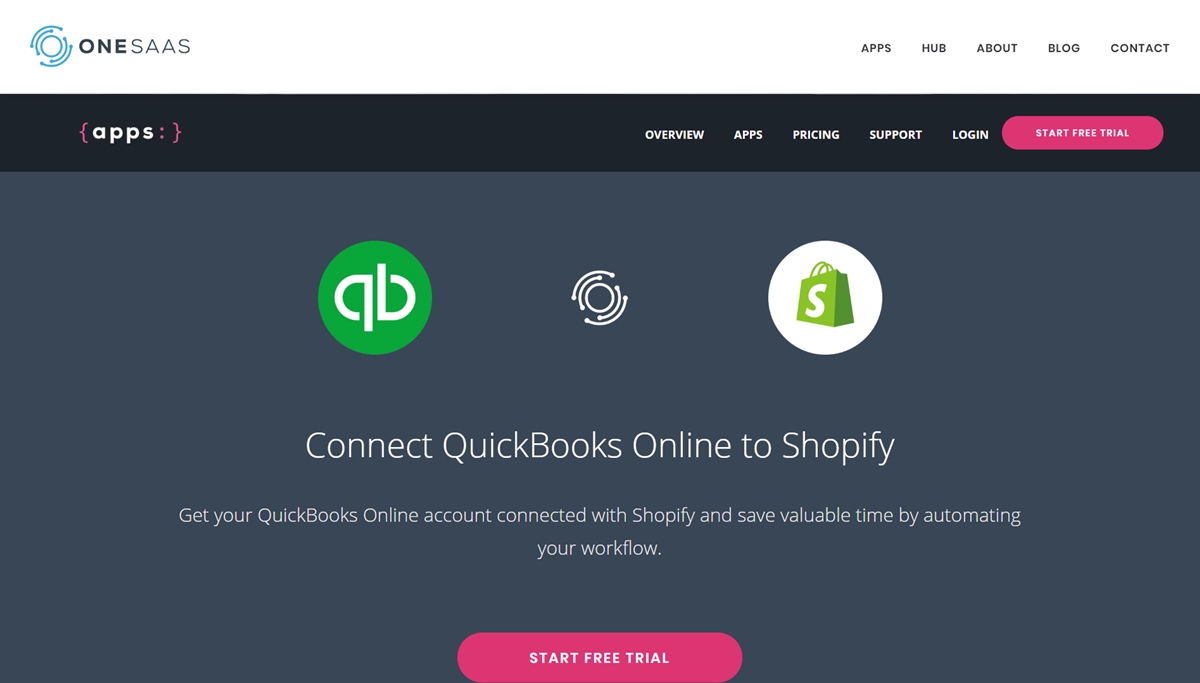 One Saas is one of the best apps to help you integrate Quickbooks with Shopify. It brings convenience and quickness, so you do not need to do much and still can integrate the two software in a blink of an eye. One Saas is easy for you to set up and has great features as it automatically shares data between fulfilment, inventory management, accounting, billing and voicing, email marketing. This will save you time and effort to enter data. Moreover, it helps keep your store's data up to date and accurate in all respects. Besides, if you encounter any difficulties with this application, there will be a very enthusiastic support team for you.
You're probably wondering what you need to do to use One Saas to integrate your applications. I would like to tell you a little more about this. To integrate Quickbooks and Shopify, the first thing to do is to add these two software to your One SaaS account. Next, you can customize your workflow as you like to get the best fit. Finally, you only need to set the integrated synchronization frequency and start date. The rest of the work will be entirely done by One Saas and you just need to enjoy it.
For the price, you can own a trial of One Saas for seven days to experience the most intuitive way. Then, take a look at the image below to know about the different prices that One Saas offers to choose the right price package for your business.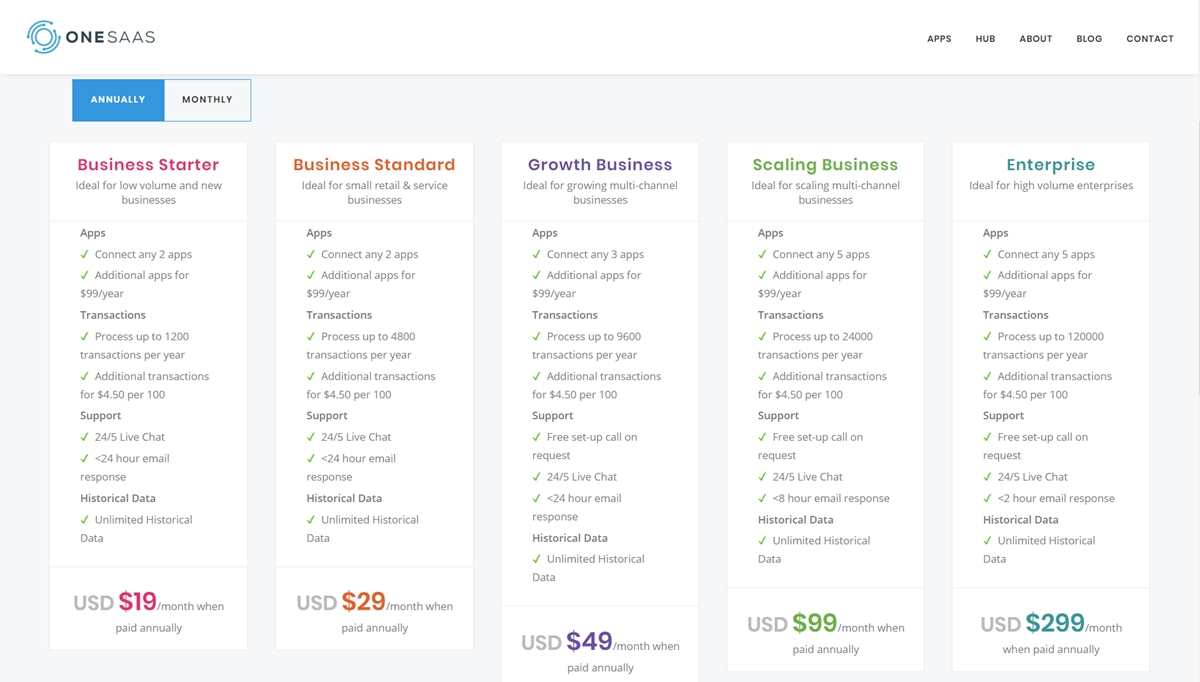 Integrate with A2X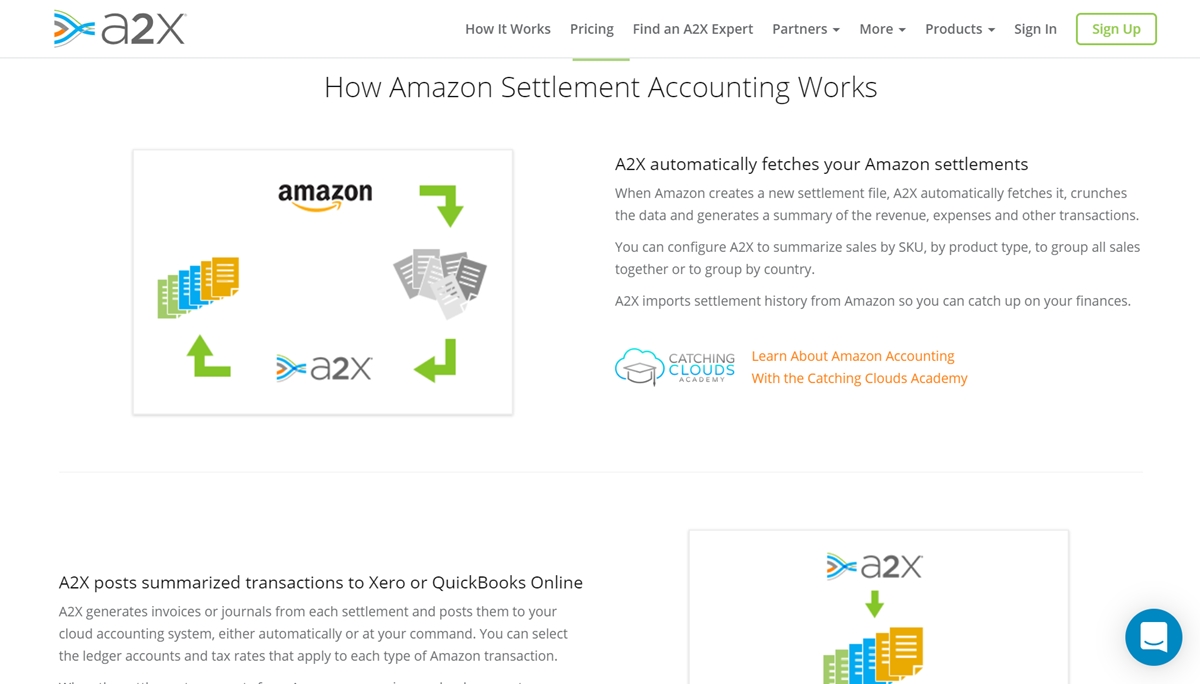 Similar to One Saas, A2X is also an application that helps you integrate Quickbooks with Shopify quickly and effectively. However, these two applications have their own unique and distinct differences. Follow the way you can integrate the two applications using A2X below and learn its amazing features.
To integrate Quickbooks and Shopify by using A2X:
Step 1: What you need to do is go to a2xaccounting.com/shopify.

Step 2: Then let tap on Sign Up Free and then select Sign up with Google. Since A2X uses Google for account login, if you already have Google login, simply click Use my current email address. Or not, you need to select 'Create an account' to create a new account to login.

Step 3: After you have entered all the information and agree to the Google login terms, let connect A2X with your Shopify shop next. To do this, click on the green button which is Connect to Shopify in your A2X account. Then, add the same information as your Shopify store name and select Connect.

Step 4: You will be redirected to your store immediately. In the next step, you will need to log into your Shopify account and authorize A2X and Shopify to connect.

Step 5: In this step, you will return to A2X and connect it to Quickbooks. This part is very simple because A2X gives you the option to connect to the accounting software. Therefore, all you need to do is tap on Connect Now with Quickbooks. Finally, you only need to complete the connection.
A2X gives you lots of interesting and useful features. It can generate summary reports with a payment summary of Shopify. This ensures accuracy and makes it easy to track the business situation. Also, A2X can save time reconciling and provide you with accurate bookkeeping. In particular, it also brings many benefits of accrual accounting and meaningful automation.
Here are the plans and pricing provided by A2X for you to choose.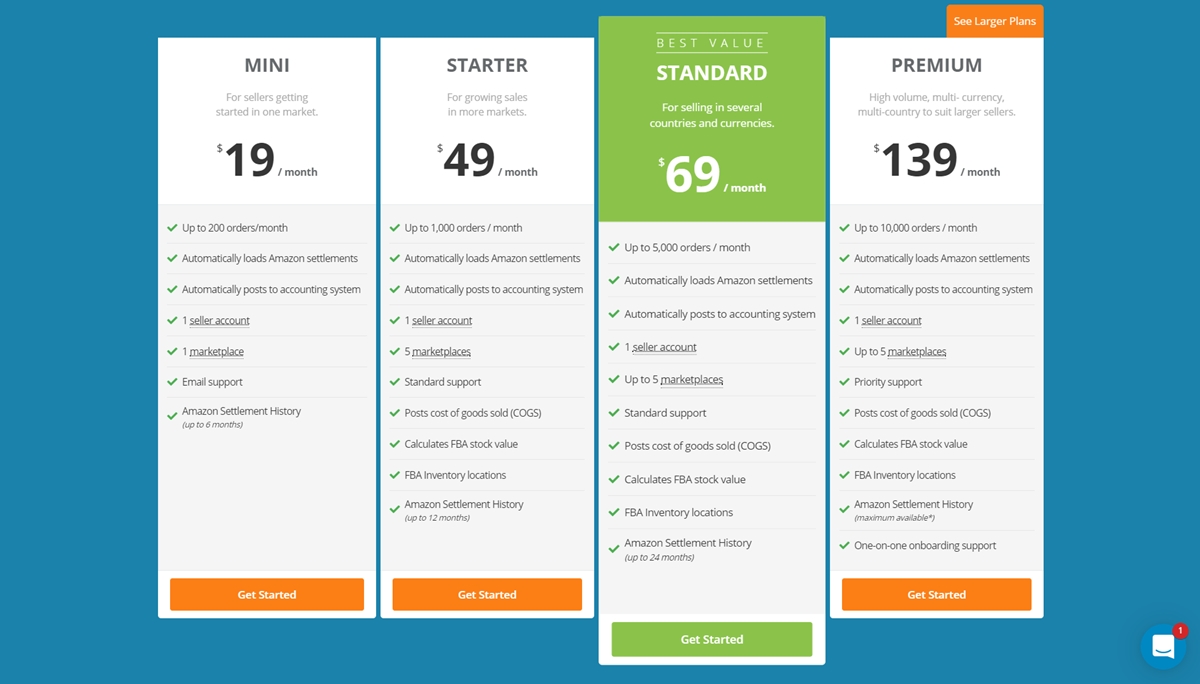 Integrate with Zapier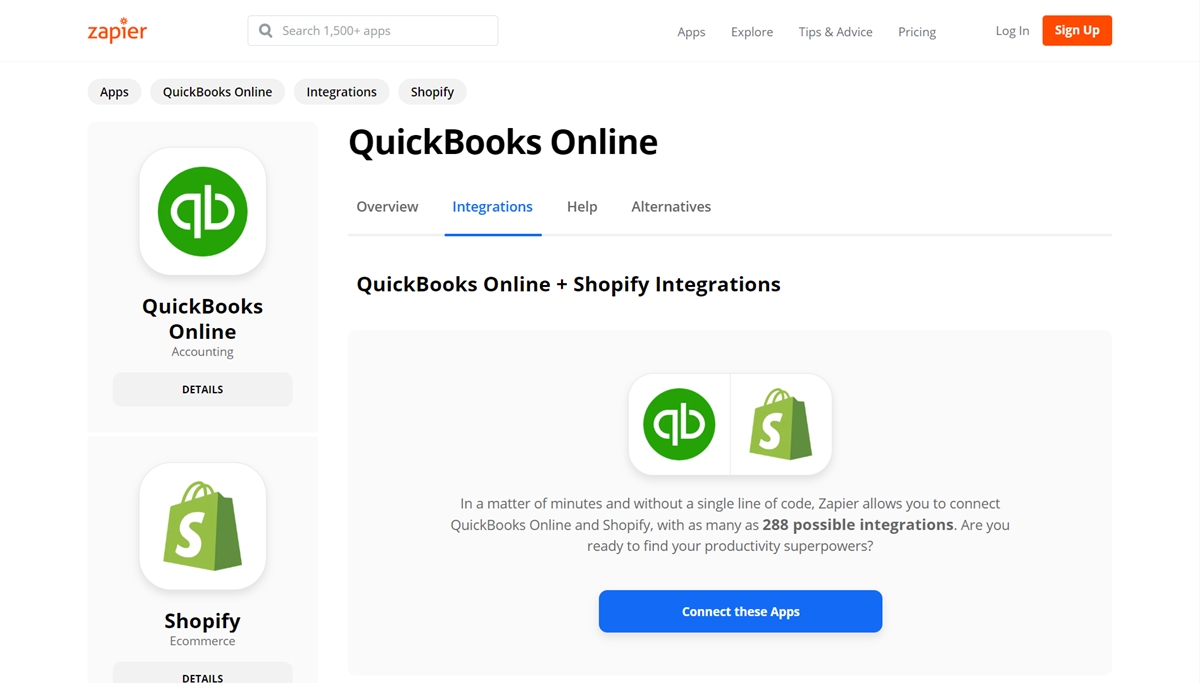 Zapier is an extremely optimized application that allows you to integrate Quickbooks with over 1500 other applications including Shopify. The process is very fast to help you automate the business on Shopify and own Quickbooks powerful accounting software. In particular, in addition to the original desire to integrate Quickbooks with Shopify, you will have more than that with Zapier. Quickbooks and Zapier can bring great experiences to you because they can automatically generate invoices and sales receipts. Furthermore, once a sale is successfully made, you can use Zapier to take care of your customers sincerely. It helps you stay connected with your customers and encourage them to be your loyal clients.
To connect with Quickbooks using Zapier, you can follow these steps:
Step 1: Tap on a button called Connect a New Account when start creating a Quickbooks Online Zap.

Step 2: Enter your Quickbooks information including email/user ID and password.
Step 3: Select Authorize to allow Zapier to access your data on Quickbooks.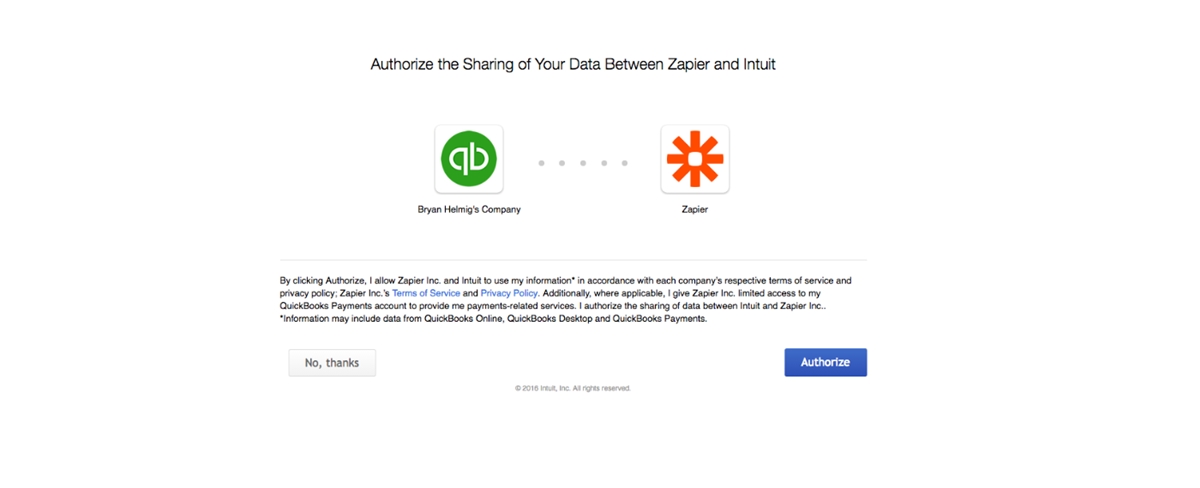 Step 4: You will see the account has been added and connected to Quickbooks successfully. Next, click Save + Continue to save the account and continue to connect with other applications.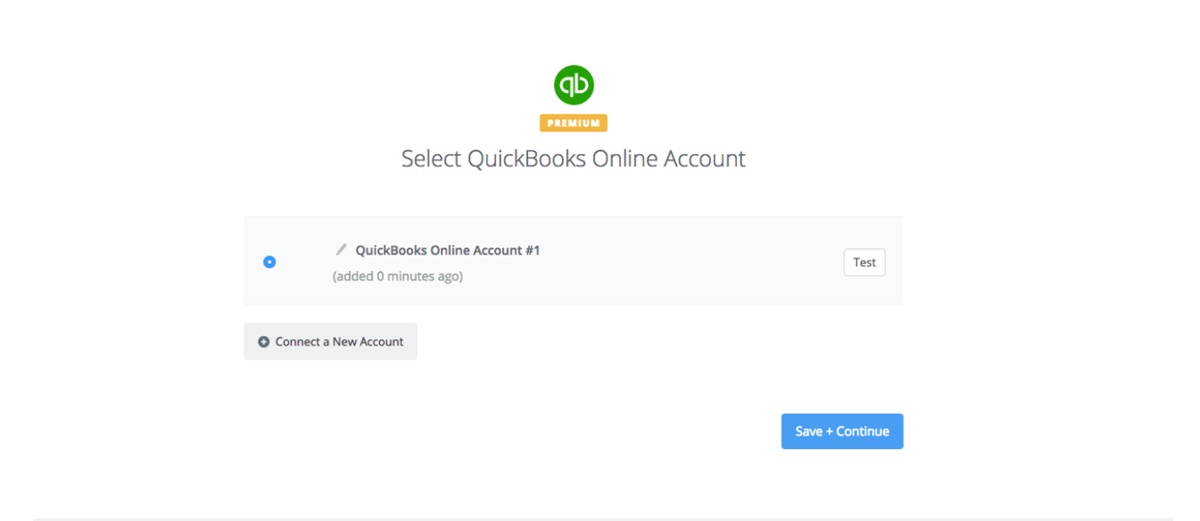 Below, I would like to provide you with Zapier's plans and prices for you to consider: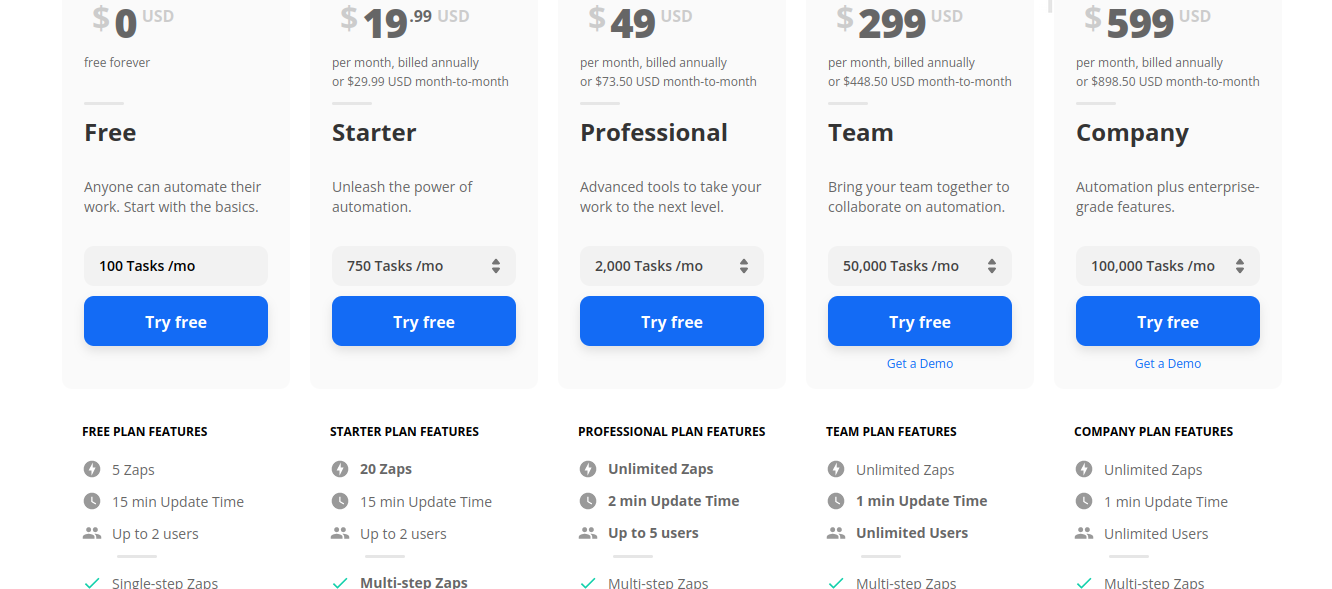 Integrate with Autofy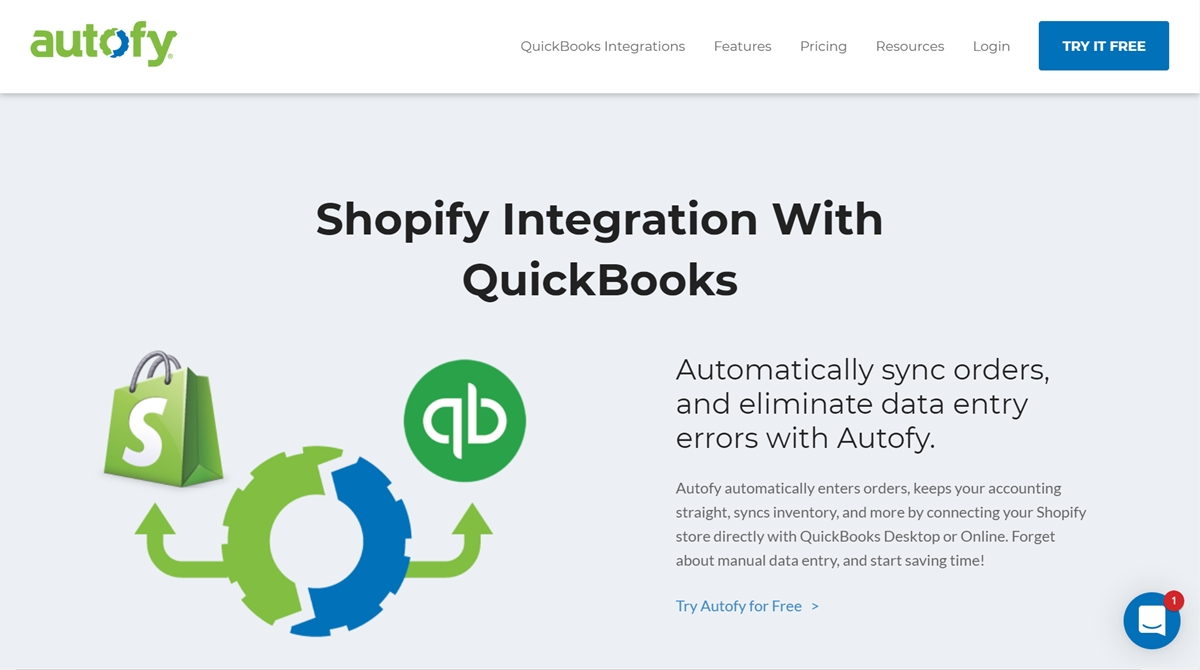 Autofy is a professional application connecting the Shopify store with Quickbooks. All versions of Quickbooks, including Quickbooks Desktop and Quickbooks Online, are supported by Autofy. With Autofy, you can save a lot of time by its automatic synchronization. It can synchronize data about products, customers, orders and ensure accuracy and speed. In particular, you can easily set up Autofy. Here is a price list for you to consult and choose Autofy as a powerful tool: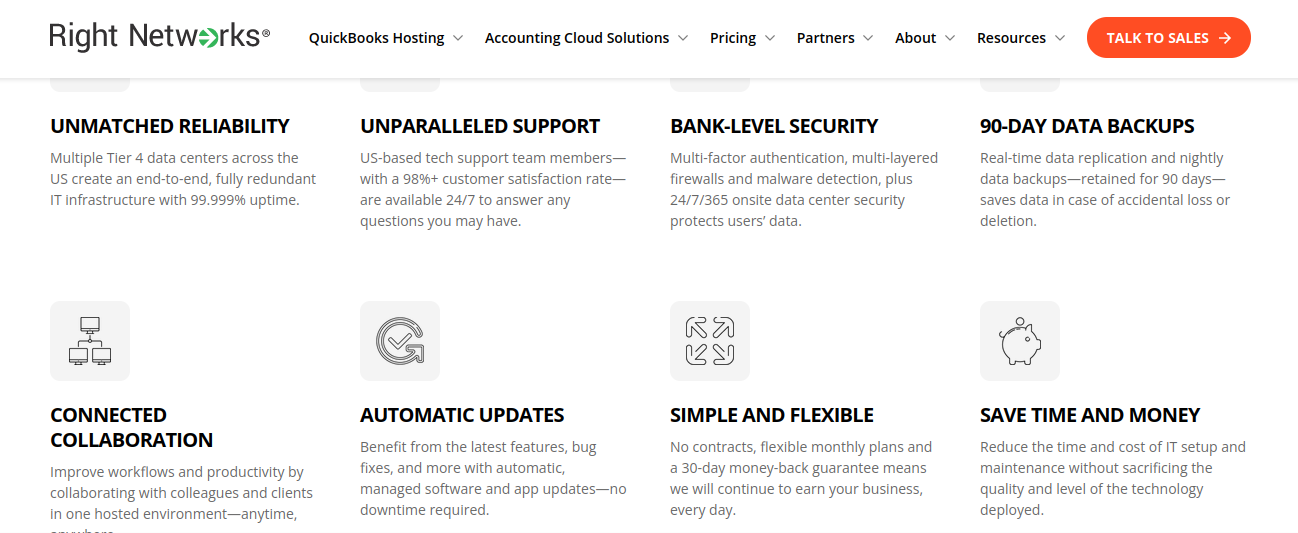 When should you integrate Shopify with Quickbooks
In this section, I would like to give you some specific cases that you should integrate Quickbooks with Shopify. As a shop owner, it is worth considering spending money to integrate these two applications. There are many unnecessary cases to do this to save money for your store. However, if your store is experiencing the following situations, integrating Quickbooks with Shopify is a more beneficial option.
First, if you're experiencing overselling, it's highly recommended that you should integrate Quickbooks with your Shopify store. This is an extremely effective and intelligent solution. When overselling occurs, or in other words, your product sales are not stable and exceeds the actual supply, your customers will probably not be able to buy the product they want. This will make them uncomfortable and they will get bored with waiting for the product to restock. As a result, the customer experience will be degraded and your revenue will decrease. So using your Quickbooks for your store will help you keep track of those metrics and avoid this situation.
Secondly, having too much data will take a lot of time for you to enter manually. When selling products on Shopify, you will have a lot of data about products, orders, customers, and inventory. Therefore, just imagine entering them manually is enough to give you a headache. You will have to spend a lot of effort also. Moreover, due to having to handle too many numbers, there can be confusing and lead to significant damage to your store. Certainly, you would not want this. Instead of spending a lot of money hiring employees to enter those data, you just need to spend a little money to use Quickbooks. All your data will be automatically added quickly, neatly and accurately. Why not?
Thirdly, when your customers encounter the problem of shipped orders sent wrongly or late, they will probably feel bad and annoying. This has a negative effect on their experience and they are likely to lose trust in your store. Gradually, the number of customers and the reputation of your store will be reduced. Therefore, integrating Quickbooks with your Shopify store is essential. It makes it easy for you to process orders quickly and send them to customers correctly.
Next, you should use Quickbooks immediately if you encounter losing data to system crashes. A system failure will cause a major event for your store and cause you a lot of losses. Customers who are experiencing shopping when they encounter this problem will not want to continue to order. Your system will also take a fairly long time to restore and ensure security. Hence, let use Quickbooks to ensure the safety of both the data and the system of your store.
Finally, if your store has too many products or you're inexperienced in marketing, it can make product descriptions messy. When customers see the product, the product description is the inspiring words that motivate them to make a purchase immediately. So make sure they are arranged in an eye-catching and logical layout by using Quickbooks along with compelling content to attract customers right at their first glance.
Summary:
Above, I have introduced you to Quickbooks and detailed instructions on integrate Shopify with Quickbooks quickly and conveniently using smart applications. Also, you can determine when to use Quickbooks for your Shopify store to take advantage of it. Integrating Quickbooks with Shopify will bring many benefits and help your store become more powerful and have more loyal customers.
I hope you find something beneficial in this article and wish you more success with your business. Want to sell new products like ebooks and make more money from that? Let visit our post about How To Sell Ebooks On Shopify or learn more about Best Shopify Integration Apps
---
Mike is a content writer at Avada, with a love for video games, gadgets, and software. He has been writing about the industry now for over 7 years. He likes to keep up-to-date with the latest software releases. He's also an avid reader, and he enjoys spending time outdoors with family and friends. When he's not working, you can usually find him playing video games or exploring new outdoor activities.