5 Steps to View All Chargebacks and Inquiries on Shopify
5 Steps to View All Chargebacks and Inquiries on Shopify
Do you want to start? Get shopify free trial here!
If you get a chargeback or inquiry on an order using Shopify payments, first thing happened is that the evidence will be collected and sent to the credit card company on the due date by Shopify. You can also send the evidence by adding it in the Shopify admin, however, it must be practiced before Shopify sends the responses. If you miss the time, you cannot add your evidence and it may be a disadvantage to you. Because after the evidence submission, the problem will be addressed around 60 days. One more thing is that you can only track your chargebacks and inquiries if you use Shopify payment as your payment provider. Therefore, if you meet all the above conditions and you want to view all chargebacks and inquiries on Shopify, check the following part to know the process.
How to view all chargebacks and inquiries
Step 1: Go to Orders
Sign-in to your Shopify account then click on Orders on the left menu.
Step 2: Choose Filter orders
In the All orderssection, choose Filter orders
Step 3: Select Chargeback and inquiry status
A box will appear and ask you about the properties of the order you want to filter. You will see a drop-down menu for Select a filter... with a number of options, like Status, Payment status, etc. Choose Chargeback and inquiry status staying in the seventh place in the list.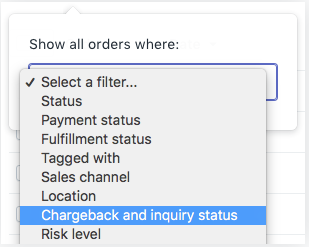 Step 4: Press Open
In the same box, Show all orders where, continue by click on Open in the Select a value... drop-down menu.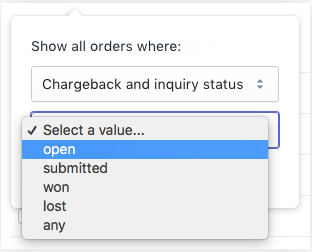 In the Select a value menu, you can see that there are four types of status of chargeback and inquiry. It consists of open, submitted, won and lost. The one with open state means that the responses have not been sent yet and you can add the evidence. If it is classified as submitted, it means the evidence of your chargeback or inquiry is considered by the credit card company in order to make the decision. Lastly, the won state implies that you won the chargeback while the lost indicates your losing.
Step 5: View chargebacks and inquiries
Press on Add filter to see the result.
After completing all the above steps, a list of all orders with chargeback and inquiries which has not sent to your credit card will appear in your screen display.
There are cases that you may get lost in chargebacks that Shopify provides you with a chance to recover this loss in sales for each affected order which is called Chargeback responses. By using it, you can add more evidence directly from Shopify and the system will help you to send it to the credit card company.
Conclusion
In short, this writing has introduced to you the process of how to view all chargebacks and inquiries on Shopify. I also attach illustration pictures for important steps that it will be easier for you to imagine what to do. There are some additional information and notes related to chargebacks and inquiries combined into this post as well. With my effort to bring to you the best things I know, hope that it can benefit you or at least you have a good reading time.
Related Posts:
Subscribe
Stay in the know
Get special offers on the latest news from AVADA.
40k
subscribers has been joined!
Earn $10 in reward now!