How to Buy a Domain from Shopify
How to Buy a Domain from Shopify
Do you want to start? Get shopify free trial here!
A domain plays an important role in the online store. It is like your online store as a home and a domain is your home address. Hence, you really need a domain so that your customers are able to visit the shop. Shopify has a helpful function which allows you to buy a domain if you haven't had one. This writing How to buy a domain from Shopify is for you to get an indispensable thing for your online business as the domain.
Before buying a domain from Shopify, you should be aware of what a domain is. If you've already known, skip this part and go straight to the main part of the post.
What is a domain?
A domain that represents a network resource such as a website, displayed by letters or numbers in alphabets instead of the server's IP address, the purpose is to make the user easy to access that network resource and also represent the purpose and brand of the website owner. The domain is unique and it is allocated to the subject who completes the pre-registration.
Note: You can consider which domain you like most and decide to purchase. Even if you leave Shopify, you still keep ownership.
How to buy a domain from Shopify
Step 1: Go to Domain
After logging in your Shopify account, click on Online store in the SALE CHANNELS section. Then, select Domain.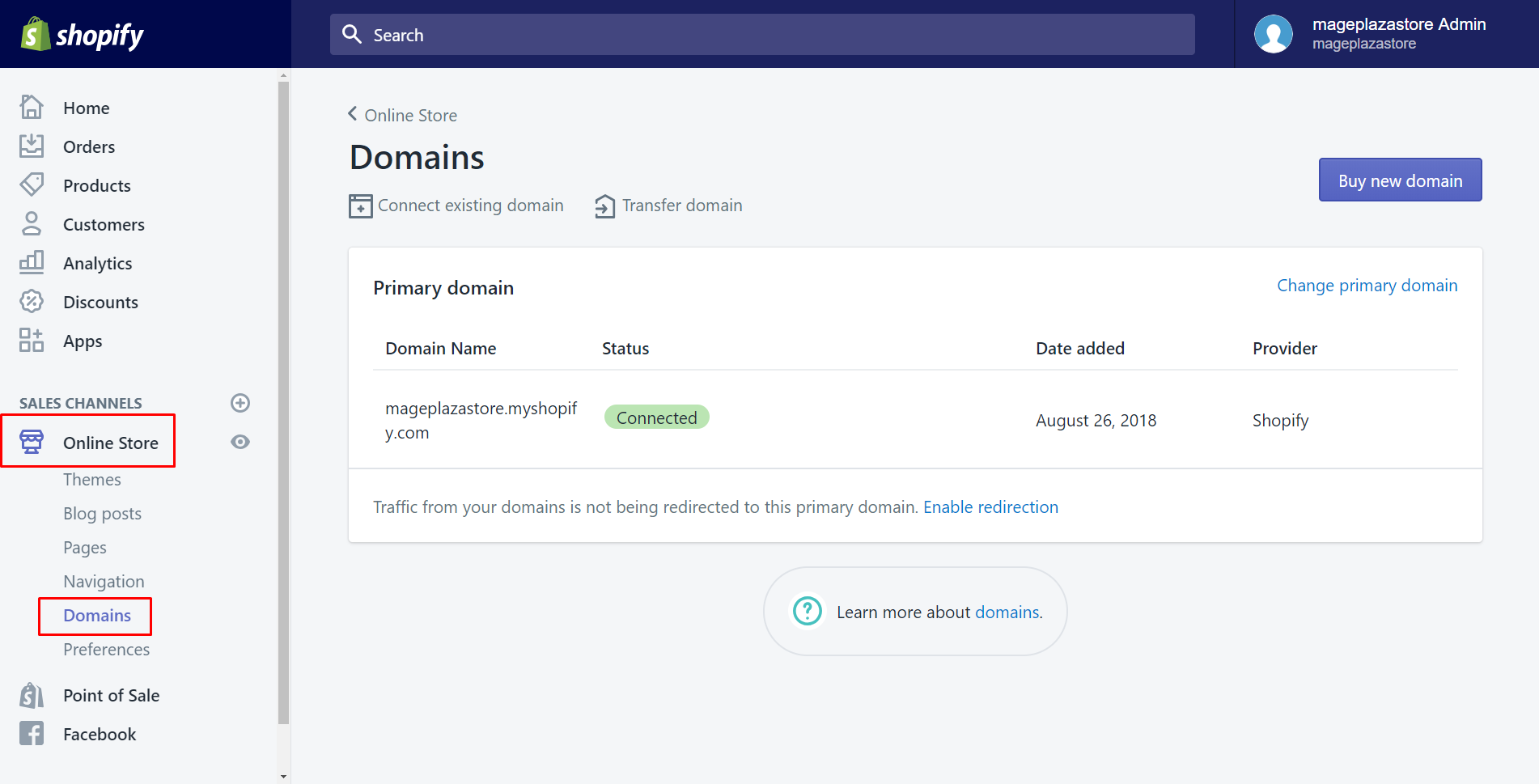 Step 2: Click Buy new domain
Tap on Buy new domain button on the right of the screen.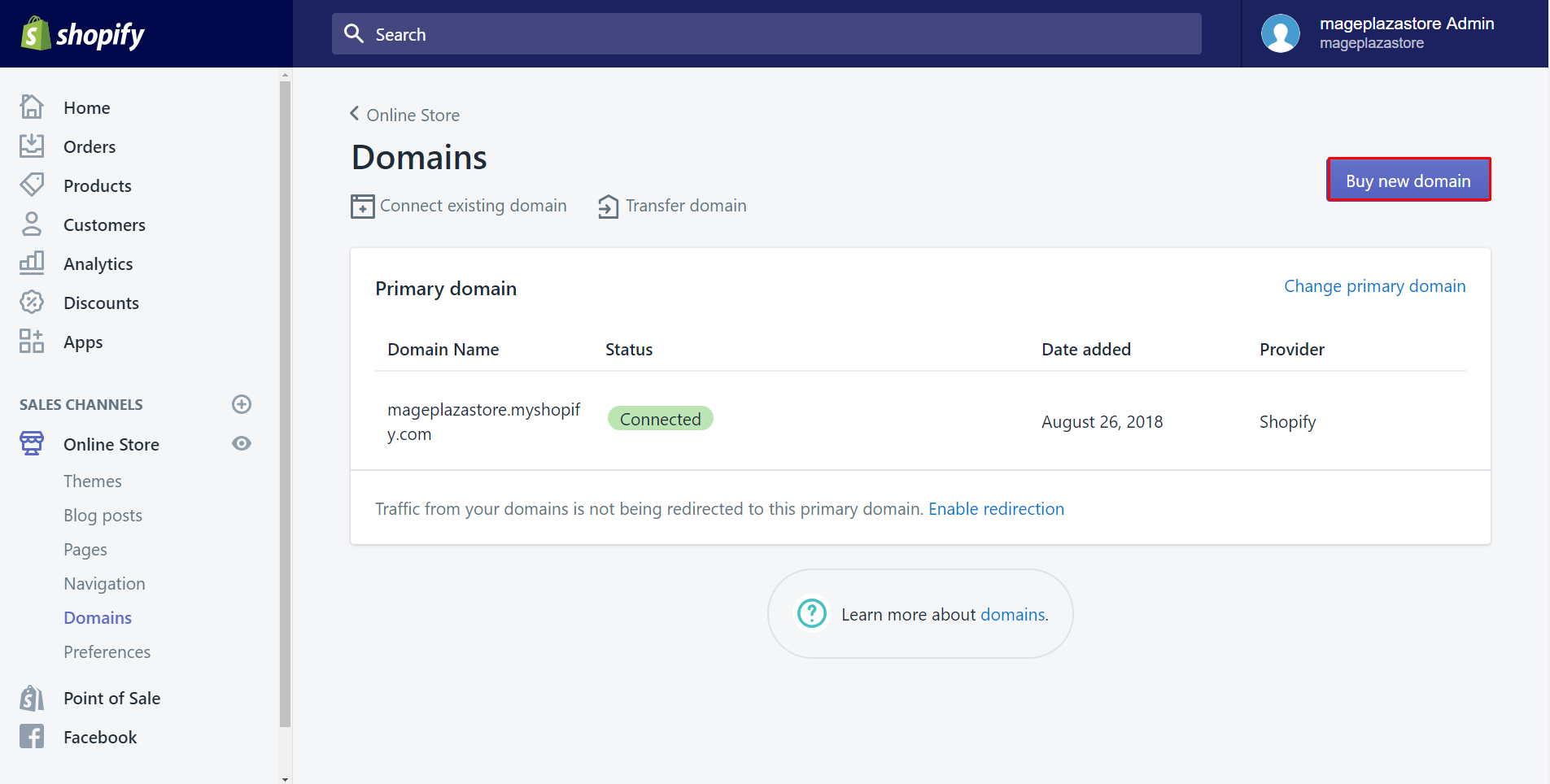 Step 3: Enter the domain
In this step, you must have an ideal domain after thinking fully. Afterward, enter the domain in the field. It should be concise and special so that customers can easily remember. For example, many businessmans have named their domain by their name of the brand.

Step 4: Choose suitable domain
A list will come out to show you available domains with their extensions and their prices. The extensions can be in common style (such as .com or .biz). They are also displayed by country extensions (like .ca or .uk). What's more, they include the premium extensions (such as .blackfriday). Consider carefully to choose which is suitable to buy.
Step 5: Buy the domain
After reviewing thoroughly, click Buy to get the domain you expected.
Note: If you want to buy anything from Shopify, remember your online payment in Shopify must be activated. If not, visit these posts to carry out How to set up Shopify Payments or How to activate a credit card payment provider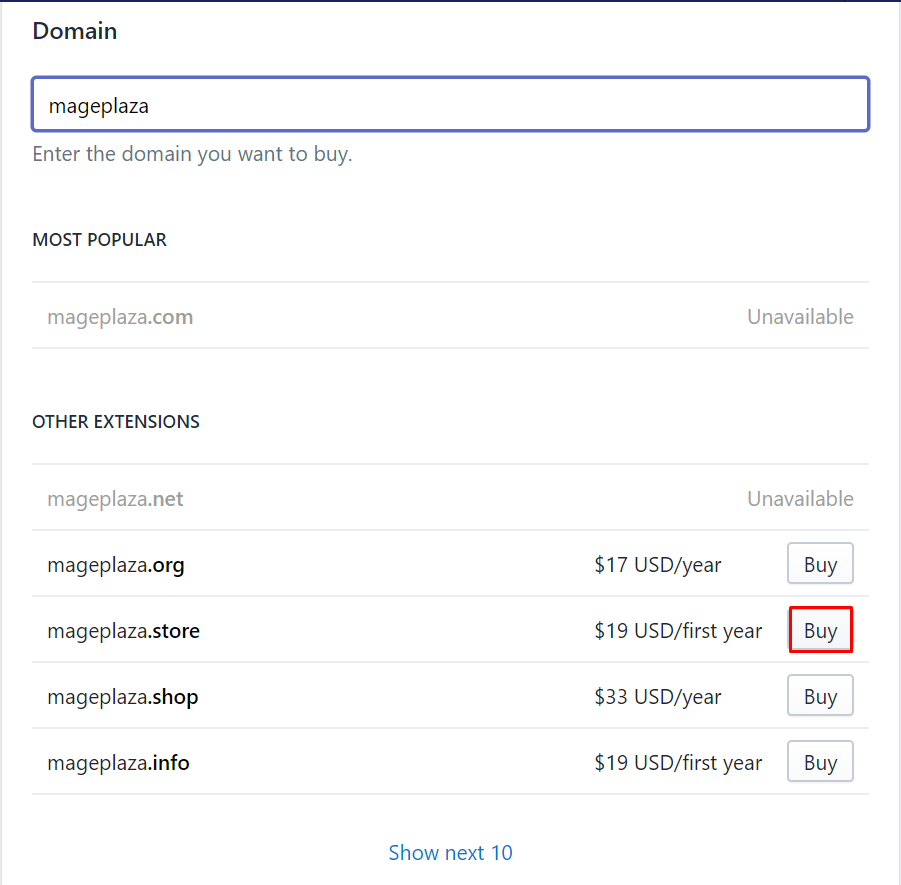 Step 6: Take an overview of the purchase
In this step, take an overview of the purchase:
Review personal information: Shopify will automatically get your information from the Shopify account you've logged in.

Check Auto-renew this domain every year to have the domain renewed before it expires.

Confirm if the domain offers WHOIS Privacy. WHOIS Privacy is a useful service to help you keep the privacy of your information. In other words, if you don't have it, people can look up the information of the owner of the domain. Therefore, make sure that the domain selected has WHOIS Privacy. If not, you can click Cancel to choose another domain which isn't on the WHOIS Exception list.

Read the ICANN policy and the Domain Registration Agreement.
Step 7: Complete buying the domain
Make sure that everything is accurate. Choose Buy domain to get it. Finally, Shopify will send you an email confirming your purchase. Your new domain takes about 48 hours to start working.
Conclusion
This is a step-by-step guide takes you through how to buy a domain from Shopify. It helps you follow and make a better decision to have an ideal domain. I suppose that you would set the domain after buying it. Hence, the article how to set your primary domain may help you.
Related Posts:
Subscribe
Stay in the know
Get special offers on the latest news from AVADA.
40k
subscribers has been joined!
Earn $10 in reward now!