How to Add Sliders in Shopify
Last updated: December 01, 2023
While the Internet is getting ubiquitous, there are many online stores that have been mushrooming and are developing their booming businesses. Therefore, the online marketplace has currently been more competitive, along with websites vie with each other to help grab customers' attention.
As you already knew, Shopify is known as an online portal that is mostly trusted by thousands of businesses all over the world. Also, Shopify offers a convenient online platform to aid you in displaying a variety of products. More businesses nowadays are looking forward to supplying a competitive edge to their own listing by making it become attractive to catch customers' attention. While you are choosing a banner slider app, it is critical to opt for which one with suitable features as well as functionality.
In this article, you will be instructed on how to add sliders in Shopify with handy and simple steps.
Related Posts:
Benefits of using slider apps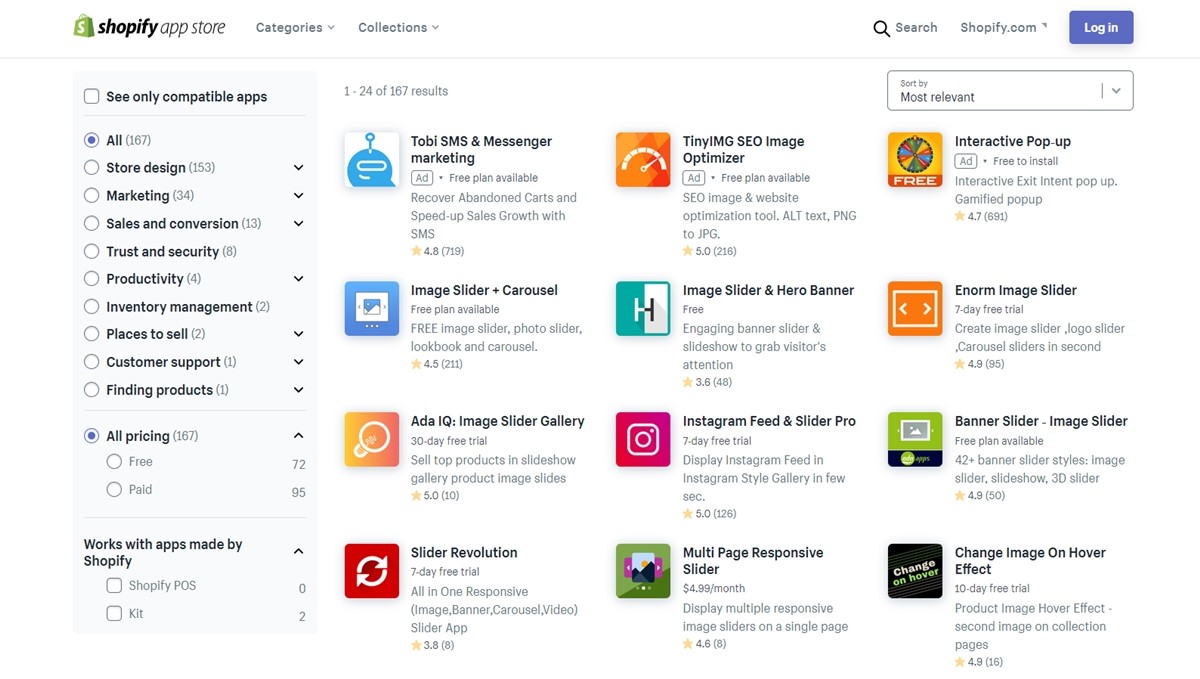 A good banner slider app is also useful to help you generate rich and appealing banners in your online marketplaces. Before going further, let's go with us to take a closer look at why you had better use slider apps on your Shopify store.
No need for code
If you are just a beginner, you do not need to worry. This means that creating rich content even by beginners is so easy. Top banner slider apps now have intuitive Graphical User Interface that anyone can master it in no time. You will see that generating attractive content has never been so easy like that.
Mobile Responsive
Take note that slider apps are mobile-responsive, which means that a perfect banner slider app will enable your content to be shown across all devices from desktops, tablets to smartphones.
Easily customizable
Slider apps in Shopify help you customize your content to the maximum. Its handy features enable you to have maximum control of your content so that it can be customized easily.
How to add an image slider app in Shopify
In order to begin using items, you should take a few quick steps below:
Step 1: Set up the app
The first thing you have to do is to set up the app. To perform this action, let's open the Shopify store and type the app page. You can push the Get button to add the app to your website.
Step 2: Adjust the app
Then, you can insert the app data. Slider text as well as adjustments of the design. After adjusting, you will receive a personal installation code. You had better keep the code for its further use.
Step 3: Insert the app to the page
In this step, you can enter the Page section and find out the page to get the app embedded. After that, you can embed the code in your HTML format to get the edits published.
Step 4: Done
Now, everything is ready to set on fire. You can open your store now and enjoy your rewards.
The top image slider apps
It is time for you to sort out some of the best image slider apps. We hope that you can find out your most suitable apps for your store.
Image Slider and Carousel by Powrio

As you wish to grab customers' attention, one of the useful ways is to make your sites become more attractive. Thanks to the beautiful Image Slider and Carousel by Powr.io, you can entirely equip yourself and enhance your slider better.
First, you have to have a customizable slider to add slider captions, buttons, custom slider arrows, videos, slider borders and many more in order to create image slider POP. Additionally, beautiful slider transitions can give you about 18 different slider transition styles and insert slider thumbnails to create your own image slider standouts. With Image Slider and Carousel, you are allowed to set up your image slider on a loop to ensure that the customers will not miss any important information. Furthermore, Image Slider and Carousel users are able to choose the slider speed in your slider. You can display your collections in sliders. This collection will help present the perfect step and attract visitors with pretty slides.
POWr Image Slider and Carousel are very simple to put in. You can create your Image Slider and insert it into pages of your Shopify stores with free download.
Banner Slider by Secomapp

Banner Slider developed by Secomapp will provide you to customize, upload, and show many sliders. Basically, this app aids you in supporting more than 40 sliders. Should you think Banner Slider is hard to use, it might have a mistake. Banner Slider offers you back-end management that can assist in making, editing and removing both sliders and banners with ease. Before refusing to display them in the front, you can have your sliders previewed. Furthermore, Banner Sliders will provide you with embedded codes for each slider so that you can insert it into pages and files.
Moreover, this app lets you optimize the loading speed or SEO. To admins, they are able to make a variety of sliders as well as preview themes. Linking to every banner photo is also permitted and your time will be saved will since features are uploaded in bulk. With 14 days of free trials, Banner Slider will give yourself a trial test to experience those amazing features.
Enorm Image Slider by Enormapps

Enorm Image Slider app is known as among best Shopify marketplaces that can support the Shopify store owners to generate as well as display multiple sliders. Those beautiful lookbook pictures will cause a great impression on any online sellers by useful features from Enorm Image Slider. Thanks to the app, online merchants can customize images' sizes, add links or add any texts. Hence, any app users can feel free to use their own creativity to generate more shops comparing thousands of competitors in their competitive marketplace.

Master Slider run by HulkApps.com is here to help any eCommerce entrepreneurs to attract their customers' attention and increase engagement with gorgeous sliders. With Master Slider, you are able to select from its 5 pretty pre-designed templates or generate your own banners and get them customized to match your online store's design with drop as well as drag editor. In addition, this app can gran customers' attention and raise engagement with your own store. Also, if you want to change your sliders, you can do it with Master Slider and customize them for SEO in order to increase your rank on the search engines. Furthermore, Master Slider enables you to set slider start and end date for the sliders for promoting and keeping customers staying updated with special promotions and offers. You should have this app installed in your store to see the differences.
You will be amazed at more Best Shopify Image Slider Apps. Don't forget to share your comments.
Conclusion
The complete guide on how to add slider in Shopify and best Shopify Image Slider Apps hopefully satisfy your requirements. If you have any feedback or questions, don't hesitate to send us and contact us for further explanation.
---
Mike is a content writer at Avada, with a love for video games, gadgets, and software. He has been writing about the industry now for over 7 years. He likes to keep up-to-date with the latest software releases. He's also an avid reader, and he enjoys spending time outdoors with family and friends. When he's not working, you can usually find him playing video games or exploring new outdoor activities.