How to Add Fonts to Shopify Theme
Last updated: December 01, 2023
According to the Nielsen/Norman analysis, online visitors can just read about 28% of the content on a page. Moreover, almost of them just spend an average of 15 seconds on a website. That is the reason why they need to invest in the ways these words or blogging are expressed such as fonts.
When online sellers want to build an eCommerce site, beautiful fonts will help them to attract their visitors to stay longer on the sites. Therefore, they can boost their sales easier. In addition, it can minimize their interaction costs by making their page clear and beautiful. When the content on that page can be attractive enough, the Shopify store owners enable saving a lot of money.
By this article How to Add Fonts to Shopify Theme, the Shopify store owners will be supported to break up their content to be more digestible.
Related Posts:
How fonts impact user experience?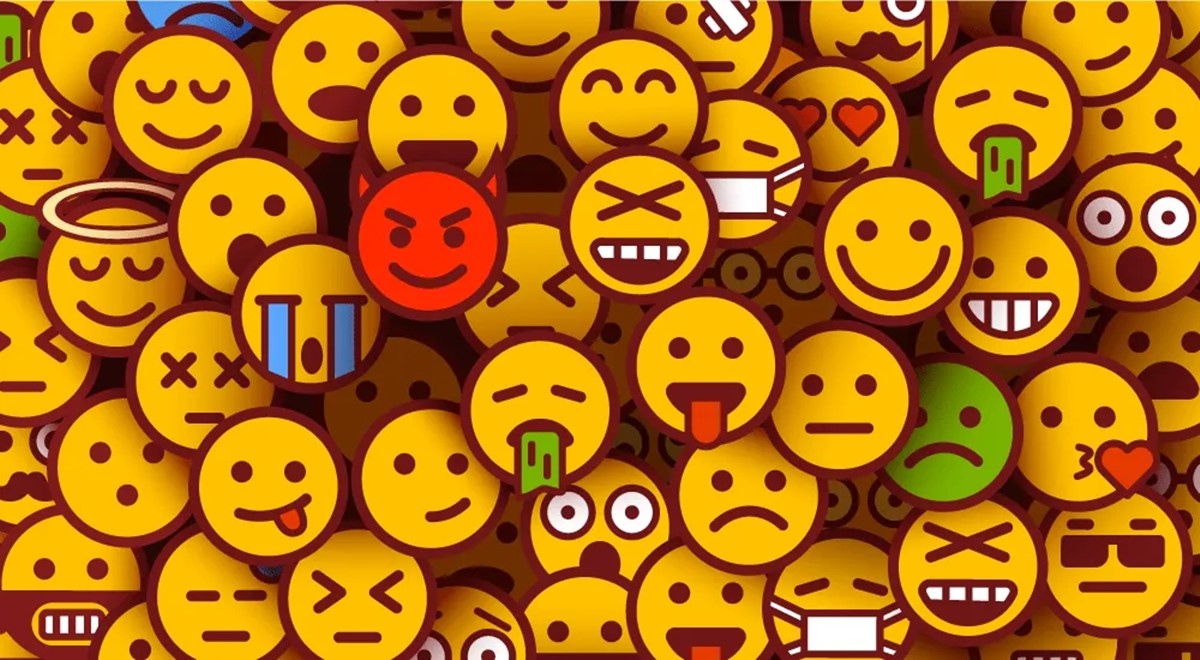 When the fonts are used correctly, they will help readers stay longer on their page. The Fonts To Shopify Theme have a great impact on our emotions. In Shopify stores, attractive fonts can improve their appearance as well as sales. Fonts affect the seller's emotions in two things.
Bringing cognitive bias
The first way that fonts can affect their emotions based on the culture we grow up. From different cultures, we have different associations with certain connotations between specific fonts and font styles. For example, in England, sans serif fonts are popular in tabloids, but this font is commonly used on the official U.S. government.
We will have different feelings from different fonts in the context. In addition, in the same content, the different fonts will bring different messages to customers. It can have a trustworthy and professional appearance or childishness for your company's blogs.
Make the content more objective and increase readability
There are some fonts that are more readable allows online sellers to inspire their messages easier. The harder fonts express, the worse shopping experiences are. The texts should be reported with the best performance.
Moreover, screen resolutions also are necessary for online sellers because of better experiences. Therefore, serif fonts liked Georgia is getting more and more popular. For example, it used by the print press, the serif fonts help the eye move from letter to letter faster. Because computer screens usually have low resolutions, Serif fonts can be used with using vectors. Therefore, sans serif fonts were created as bitmaps by default.
Enable experimenting with font's styles and sizes
For online sellers, the fonts which come along with multiple results are tested such as Georgia, Arial, and Verdana. So which font is the best for their website? This question can be answered by reading these paragraphs.
After testing these fonts, the measure shows that the performance of these behavioral metrics such as bounce rate and time-on-page. By analyzing the number of clicks on the article, the store owners can have the notice from online shoppers. The confirmation of better results when using the variation of Georgia can be displayed on the average time-on-page.
Besides, the experiments of sizes when using Georgia indicate that the best sizes for the best readability and engagement among these cases 14px, 15px and 16px. The best performance with the highest level of engagement is from 14px. The study also brings about the result that 20 and the bigger size is the most readable font sizes, which increases the reader's attention.
Add fonts on Shopify interface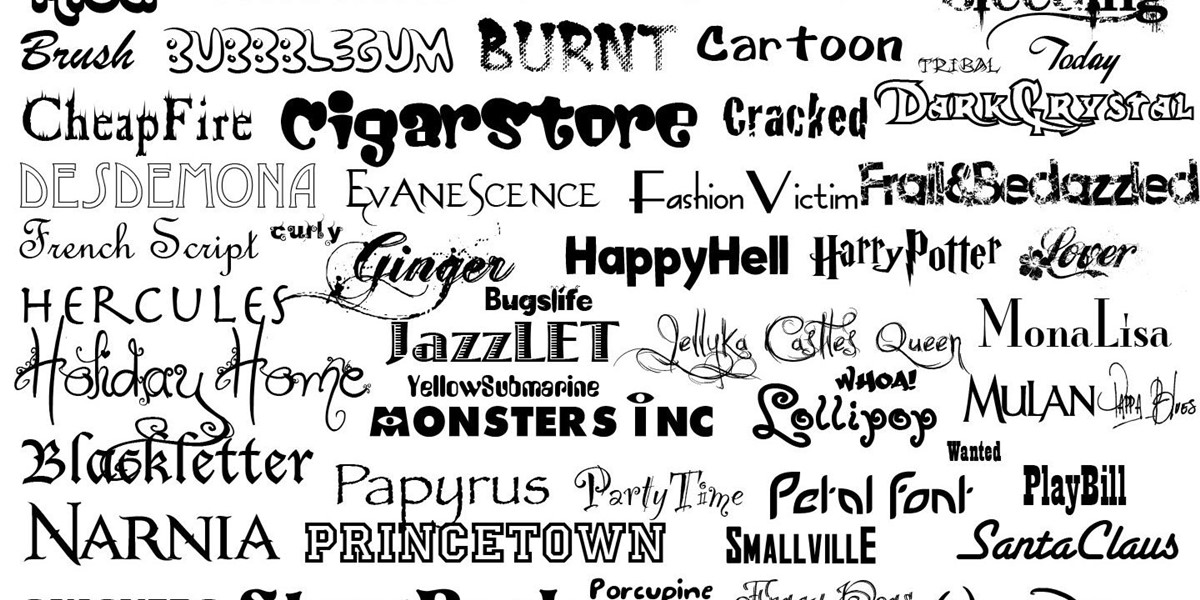 There are available fonts on Shopify that are promising for online sellers to choose from. Before you search for a custom font to add to your store, please check if Shopify already have what you're looking for as the Shopify font library provides you with numerous options for your store. Here are how you can browse through all the standard fonts on Shopify:
Step 1: Go to Themes
On the Shopify store dashboard, online sellers enable logging in to the Shopify account. And then, it is necessary for them to click to Online Store > Themes.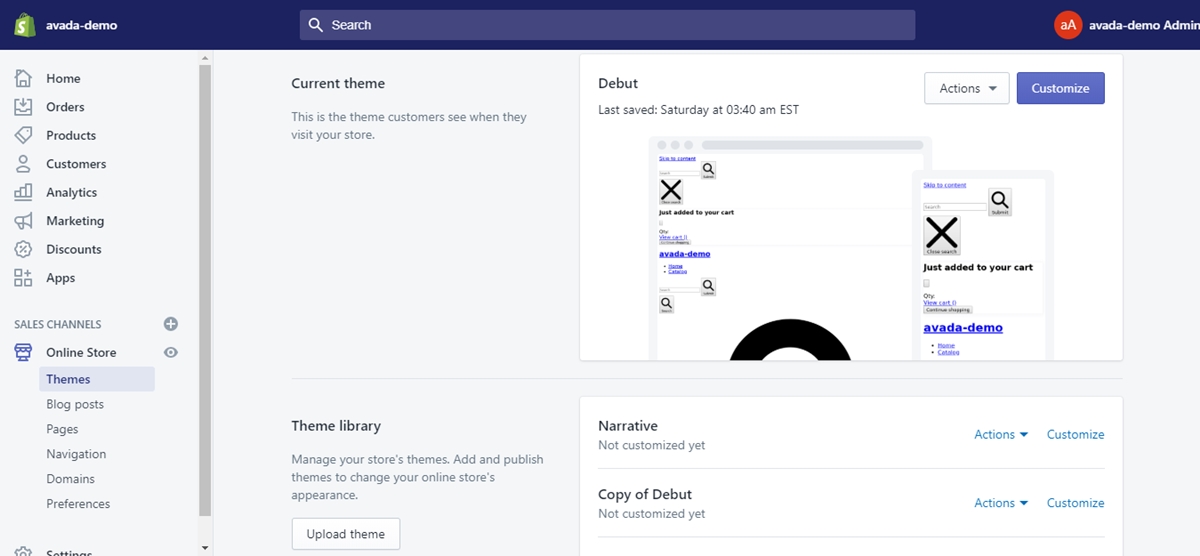 Step 2: Choose to Customize
On the Theme section, online sellers continue by selecting Customize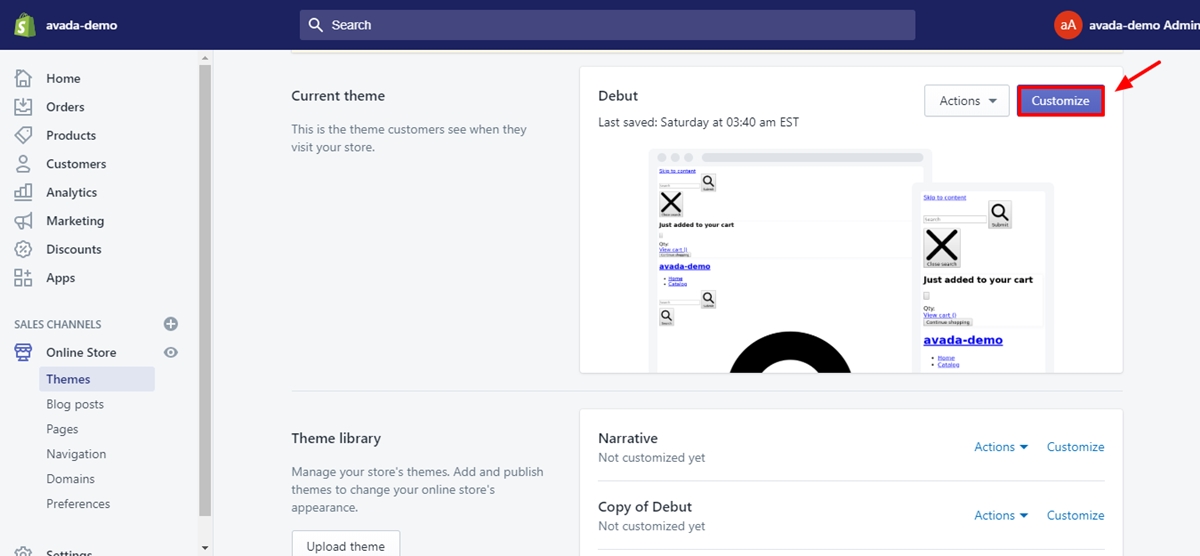 Step 3: Click to Theme settings
At this step, they can choose to customize the theme by choosing Theme settings.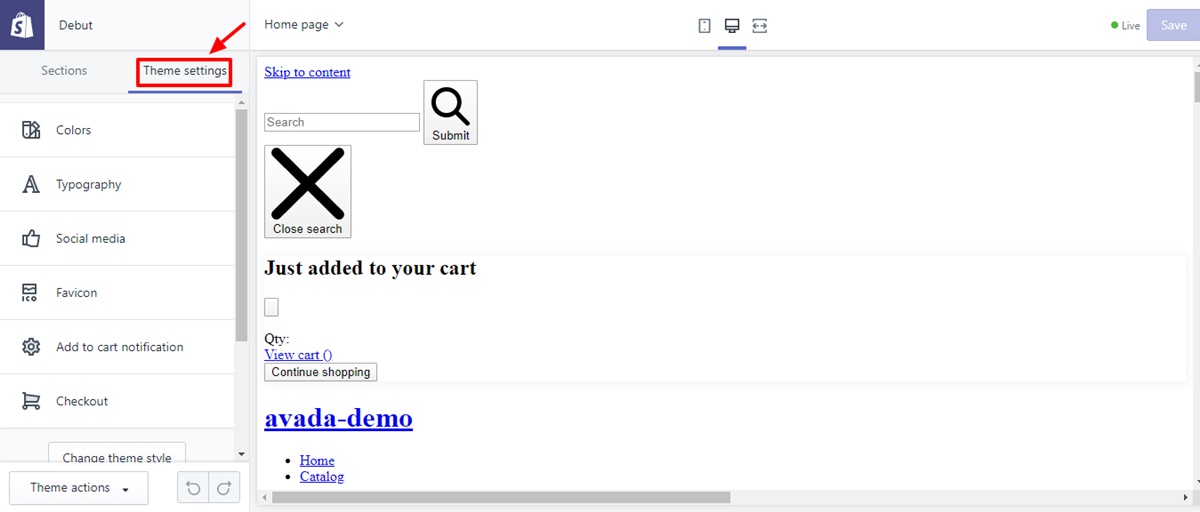 Step 4: Select Typography
After that, online merchants choose to Typography to add the fonts.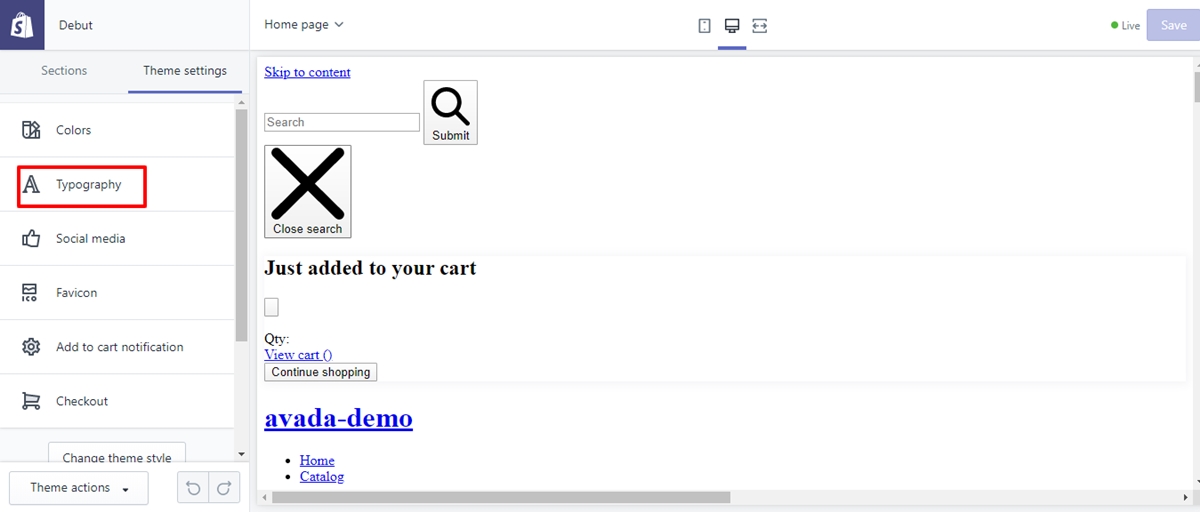 Step 5: Click Change
Shopify store owners can continue by selecting the Change button to add fonts.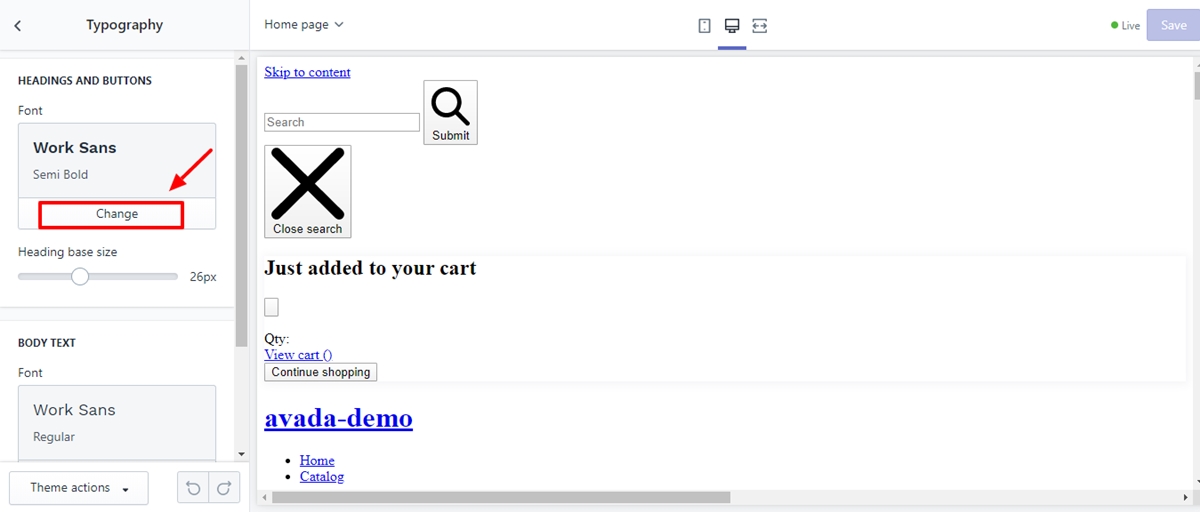 Step 6: Search on the Shopify font picker
By searching or scrolling on the Shopify font picker, it is easy for online sellers to pick up the suitable fonts in the available list.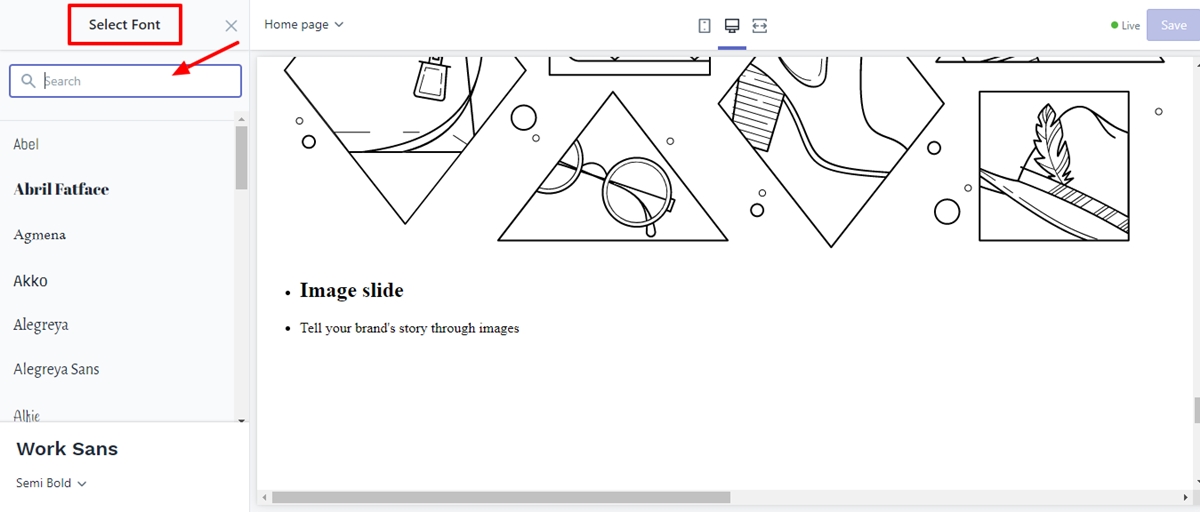 Step 7: Choose the font
After choosing the best and most suitable font that you want to use, online merchants can click on the Select button.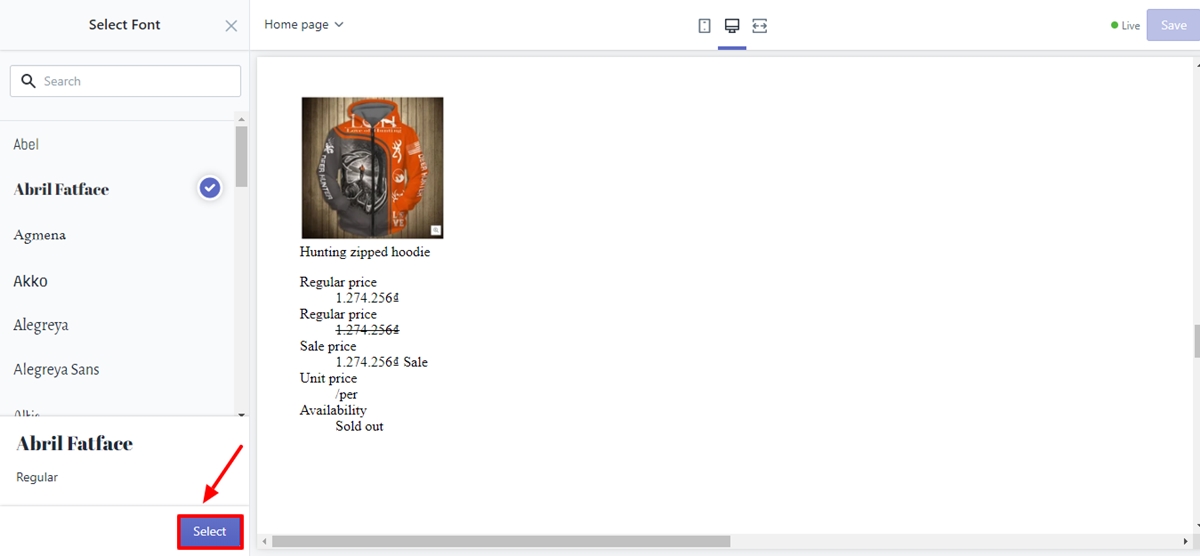 Step 8: Click Save
To confirm the above changes, online sellers click to Save to confirm your changes.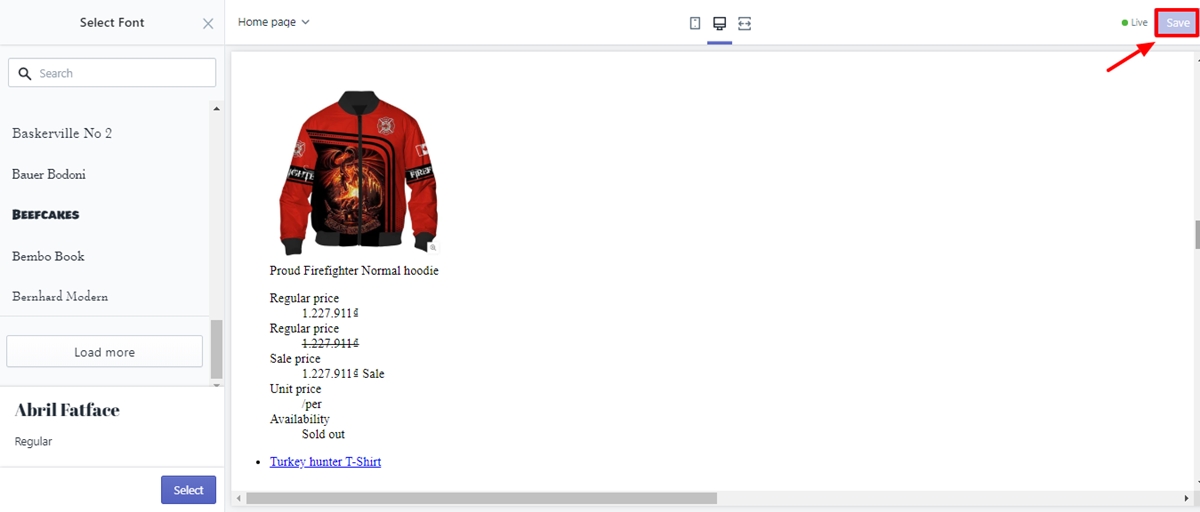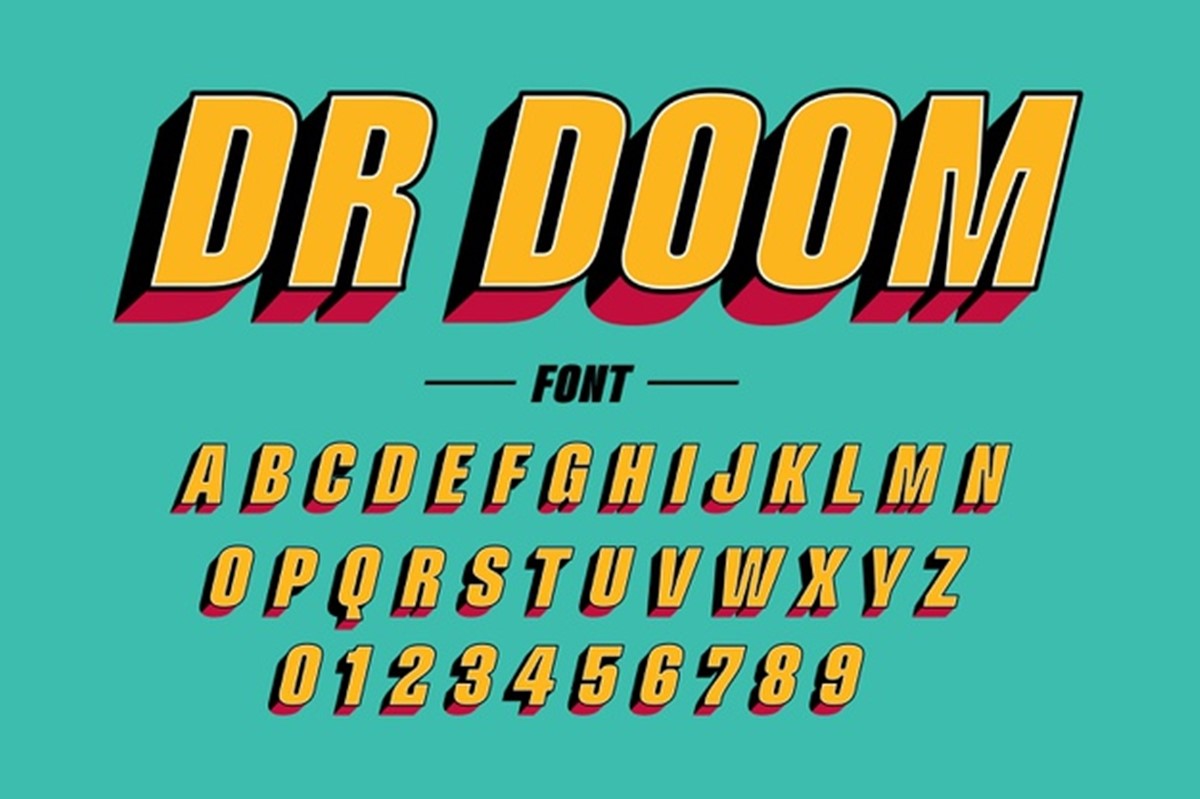 Description
Without the requirement of coding knowledge, Fontify provides the tool for online sellers to add any fonts to their online shops. The Shopify store owners can utilize both Google and customizable fonts. In addition, Fontify will help shop owners to upload the font file. When online merchants want to use this app, it is possible for them to increase the sales as well as boost customer satisfaction.
Besides, this app also allows users to import the fonts by uploading them. Besides, they can make their work in their stores more beautiful and professional. The only thing that they need to choose is their favorite or the most suitable font.
Highlight Features
Google is a valuable source for online sellers with tons of existing fonts. By using Fontify, they can choose and assign their elements such as h1, h2, h3, h4, h5, etc. This tool can be the best tool for any online sellers because of multiple highlight features:
Easy to install: instead of default fonts, Shopify store owners can choose to upload from downloaded fonts.
Customizable feature
A lot of available fonts
Include all Google fonts: After installing this app, the Google fonts are available when they drop downing and assigning these fonts
Be compatible with all themes in Shopify
The reports will be documented regularly
Provide immediate support
Rating
There are 57 reviews from their customers who have used this app. The Fontify app is ranked 4.6 above 5 stars.
Price
The Fontify app costs nothing to install in the Shopify theme. But if you want to have premium features, they can have to pay additional charges.
Where to get fonts for Shopify theme?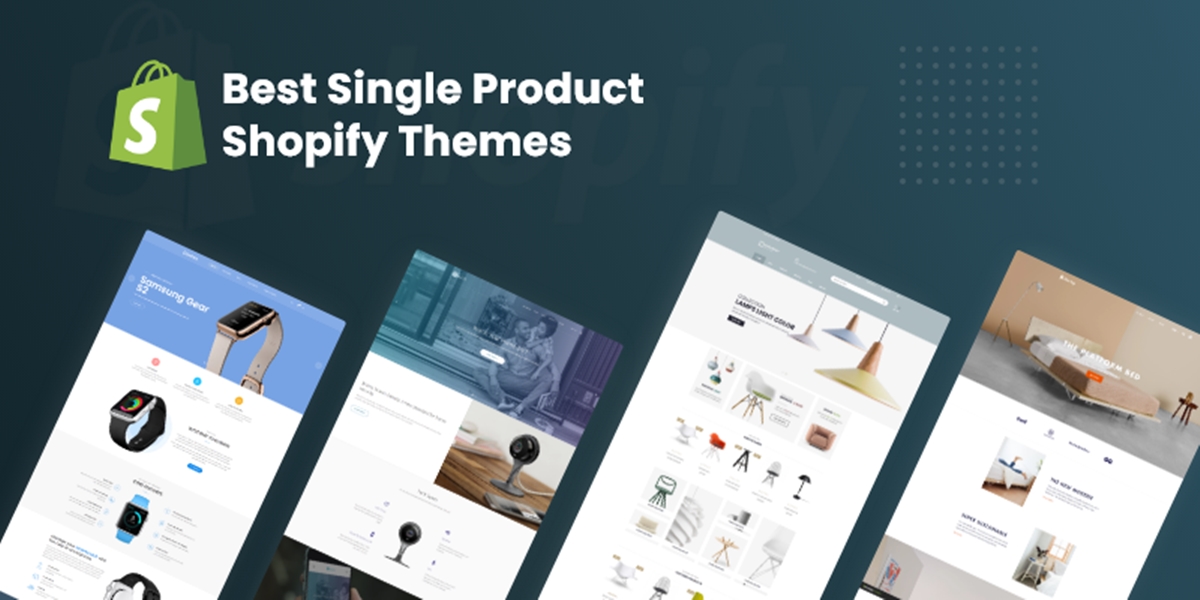 Depending on your brand, online sellers can choose the most suitable fonts for them because sometimes the fonts work well for a shop will not work for others. A cursive font, for instance, is perfect for a flower shop, but it is weird for a medical supply store's homepage. Therefore, it is essential for online sellers to choose the right font for their Shopify store.
Shopify font library highlights
It is easy for the Shopify store owners to choose a font among the excellent fonts in the Shopify library. The listing of beautiful fonts can be your suggestions:
Georgia Pro
The New York Times mainly uses this beautiful font since it is easy to see. In addition, Georgia Pro font is characterized by a certain type of simple grace so that the country's paper usually chooses this font. When visitors see this font, they will feel pleasant for their eyes. Without drawing too much attention to itself, it brings about a high quality for many different sites. Besides, Georgia Pro is also the best choice for stores associated with literature when they want to mimic the highbrow vibe.
Roboto
Compare to Georgia Pro font, Roboto is less modern than it, but each of us has its own uniqueness. Roboto is a good font for technology sites because of a clean and legible font.
Waza
To add feminine touch into the Shopify store, Waza is the perfect font for you. With the cursive appearance, this font will bring elegance and a unique style for your shops. However, it can sacrifice some legibility when adding Waza to the stores.
Shadows Into Light
If you are looking for a unique performance for your store like a font that was drawn by hand, this Shadows Into Light will be the best. Especially, when your stores are selling handmade goods or crafts, it is highly recommended for online sellers to add Shadows Into Light to their shops.
Righteous
The vintage stores will be happy with this Righteous font. This particularly groovy font is so suitable for any counterculture apparel
Google fonts for Shopify theme
Google which is a giant technological company, provides the most popular and effective tool for online sellers. By offering a great and free service like Google Fonts, it helps the users to make the web fonts using easier and reduce the costs. Google Fonts has been launched for more than 10 years for millions of users around the world. Since 2010, it has been a wide selection for online sellers who want to have open-source fonts. Not only Google provides this tool freely, but it also takes care of the servers without any cost.
The premium Shopify themes can be found Out of the Sandbox. It has integrated with the best Google fonts and it is easy to select the most suitable fonts if they use the typography menu in their theme control panel. These steps below will be a guideline for online sellers to access Shopify Typography Control Panel
First of all, in the main admin panel, Shopify store owners can click Online Store.
Then, on the Online store listing navigation bar, they can continue by choosing Themes
After that, online sellers could click on the ` Typography` option on the right side. Right after, there is a list of fonts dropping down, which allows them to pick up one of them including Google Web Font option. By doing this step, it is possible for them to use all of the great fonts, but it had better restrict from one to three fonts in the Shopify themes. As a result, these fonts not only bring about a visual appeal but also speed up site loading time.
When online sellers go to the sub-menu of Themes, they can continue by selecting a blue button in the upper right corner named ` Customize Your Theme` to edit the current theme.
In the Out of the Sandbox, there are some Google Fonts that we highly recommend for online merchants such as:
Roboto
Originally developed by Google for its Android phones, Roboto now is available for free for any device and even on the Out of the Sandbox site. Since it is super legible even when it is in small sizes, this font is a great option for any Shopify store. Therefore, it is suggested for a shop with a lot of visitors coming from mobile. However, because it is a bit more modern and blocky, it will be the best option for softer look stores.
Cabin
Another choice for online sellers to have very clear and legible typeface is Cabin. But with a more friendly vibe, it provides a softer look among Shopify themes so that it is the right choice for online merchants for selling outdoor and handmade products. Offering the same with similar look and feel of Cabin, the good option is Lato.
Corben
The vintage appearance or feelings come with this Corben font. This font is highly recommended for Shopify store selling handmade items or even luxury goods. Other choices for the retro look are Josefin and Josefin Slab.
Arvo
The easy to read font is Arvo is the great choice to create fun and friendly feelings for your shops. Especially for selling baby goods, handmade goods or even clothing, Arvo is amazing font for them. Kreon could equally look as Arvo.
Open Sans
Open Sans, which is available in both a regular and condensed version, is another widely used Google Font that's highly legible. This font is so versatile that it can easily be used for everything from technology and electronics Shopify stores to high fashion and kids stores. The condensed version, meanwhile, is a great option for headings and navigation bars where space may be limited, but you don't want to sacrifice legibility.
Lora
As Georgia and Times New Roman, this font is also popular for online sellers. Moreover, with a clean font, Lora provides the users a bit more of a traditional look, but it will make the Shopify stores outstanding because of subtle differences. Lora is also very versatile so that it could be used in any store, especially in fashion and luxury stores.
Parisienne
Parisienne is suitable for fashion or cosmetic sites with this lightweight and friendly script typeface. In addition, because of a script font, it is harder to read than other above fonts so that it is better to use with headings at a larger size. The product descriptions with more detailed texts also can use this font.
Other Google Fonts
Shopify store owners have multiple choices with a ton of Google Fonts which are integrated into Out of the Sandbox themes. These platform can be included with hundreds of fonts by using these instructions.
Read more: How to find out what theme a shopify store is using
Conclusion
Online sellers want to make their money by organic traffic from search engines through advertising. These Shopify themes or fonts The font can be in small or big sizes, but they can make your shops more professional. In addition, they can boost customer'satisfaction with eye-catching fonts. Therefore, it is high time leveraged to site and your search rankings so that they can expand their business opportunity.
We hope this tutorial How to Add Fonts to Shopify Theme? will bring you the best solution to stimulate your visitors to stay longer on your sites and to maximize their competitive advantages. Last but not least, online merchants can leave any questions about Shopify fonts in the comment section, we are happy to answer it.
---
Sam Nguyen is the CEO and founder of Avada Commerce, an e-commerce solution provider headquartered in Singapore. Sam aims to support more than a million online businesses to grow and develop.